All about vacationing in Mexico.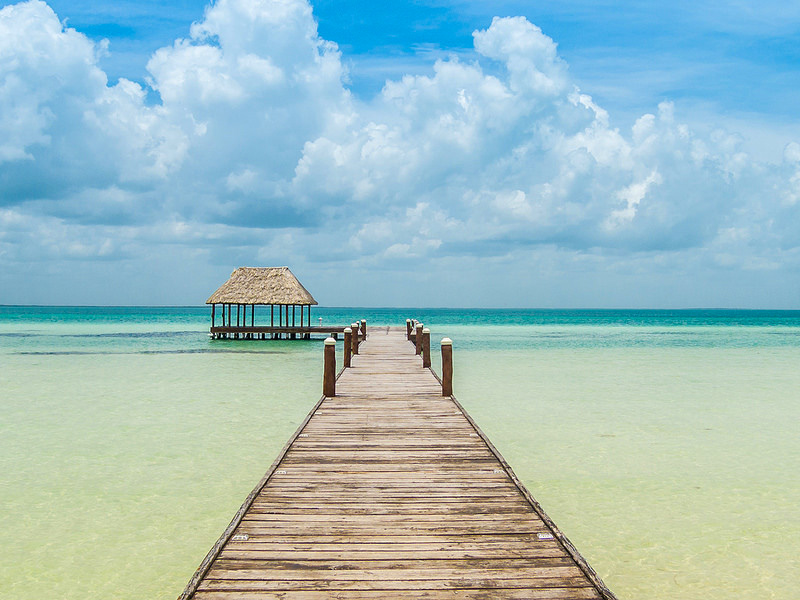 Detailed overview for those who want to vacation in Mexico! When and where to go on vacation? Weather and seasons. Where to find the best resorts. Prices in 2022 and tips for tourists. Map of resorts and videos about Mexico.
Mexico is a country with an ancient history and unique culture. Its coastline is famous for its sandy, palm-lined beaches that stretch along the shores of the Pacific Ocean and the Caribbean Sea. Despite the long and expensive flight, Russian tourists are bravely mastering this destination for vacation.
Content:
When to go on vacation in Mexico
The coast is warm all year round: +30°C during the day, +20°C at night. Significant fluctuations in temperature are observed in the mountainous regions of the country, and it is worth considering when planning excursions inland.
Seasons in Mexico
From May to September (sometimes until October) the rainy season lasts: strong gusty winds and a lot of rain falls, especially in the south of the country. Holidays in Mexico during the low season are good because nature blooms and delights with bright colors. Do not think that the beach holiday at this time can be put a cross: as a rule, it rains during the day or at night no more than two hours (sometimes can be very short), and in the morning is warm and sunny. Evenings are dry and cool. Not all regions are prone to tropical downpours; they are mostly in the highlands, the south of the country, and coastal areas south of the Tropic of Cancer.
The hurricane season begins in late July and remains dangerous until late October. The most frequent hurricane season is along the Pacific coast, less frequent along the Gulf Coast and on the Yucatan Peninsula.
Dry and clear weather from November to March are the coldest months by local standards. According to feedback from tourists, the best vacation in Mexico is at this time: the rainy season is over, the sea is warm and comfortable, no extreme heat. Many tourists come from Europe, Canada and the United States, and prices reach their peak. Below we'll take a closer look at the weather in Mexico in different months.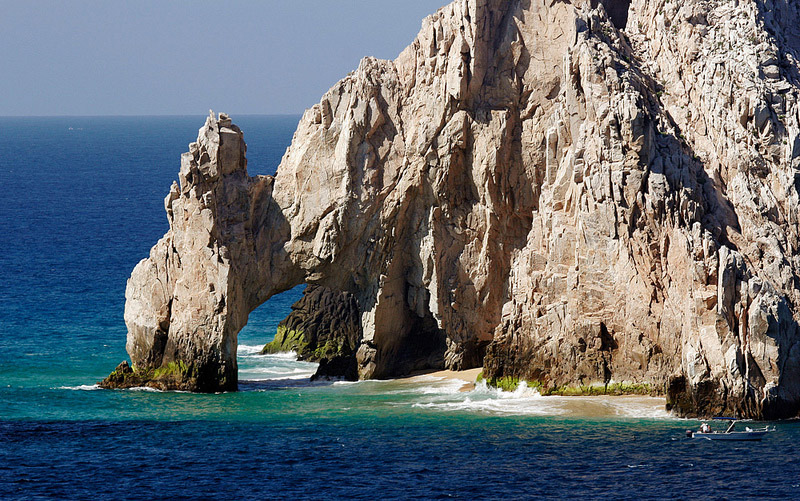 (Photo: David Schroeder / flickr.com / License CC BY-NC-ND 2.0)
Weather in Mexico in March, April and May
In early spring, temperatures tend toward +30. +33°С. Temperatures in the Pacific Ocean coastal waters are +25°C, the Caribbean Sea +27°C. Early spring in Mexico is an ideal time for a beach holiday on the coast, as the humidity is not yet as high as in summer, the rains are rare, and there is no threat of hurricanes yet. May holidays are already overshadowed by the beginning of rains and the water and air temperatures are 1-2°C higher.
Weather in Mexico in June through September
Summers in Mexico are hot and humid, with daytime temperatures in Acapulco, Cancun and the Riviera Maya reaching +32. +34 ° C, the water in the Caribbean Sea +29 ° C, the ocean +27 ° C. Rains are frequent, with a growing danger of hurricanes from midsummer.
Weather in October-November
From mid-October, the rainfall intensity decreases and hurricanes subside. Temperatures remain in line with the summer. In November in most resorts in Mexico the heat drops to +29 ° C, the exception is Acapulco.
Weather in December and February
Winter in Mexico is the best time for a beach holiday. The weather is perfect on the coast: in Cancun, Riviera Maya during the day +28 ° C, in Acapulco and Puerto Vallarta +31 ° C. The water in the Caribbean Sea is +27°C, and in the ocean +24°C. It may snow in the mountains, up to +20°C in Mexico City.
(Photo: S. Alexis / flickr.com / CC BY-SA 2.0 license)
Where to vacation in Mexico
Tourists prefer the resorts and beaches of the Caribbean Sea, although the Pacific coast is considered less crowded.
The most visited Caribbean coast resort in Mexico is Cancun. Why do tourists choose to vacation in Cancun? It is located on a long and narrow sand spit. One part of the coastline faces the bay, where the water is always calm. The second part – with strong waves, here like to vacation surfers and young people. There are excellent hotels and infrastructure, and from Cancun is convenient to visit archaeological sites (such as the pyramids in Tulum, and the ruins of the city of Coba).
Riviera Maya is a 140-kilometer tourist area with wide beaches south of Cancun. Among vacationers in Mexico, the most popular is the young resort of Playa del Carmen, which grew up on the site of fishing villages. Here the beaches are not crowded, there are all conditions for snorkeling and diving. Nearby are the National Park Shel-Ha and Shkaret.
Among the diving and fishing enthusiasts is very popular on the island of Cosumel: a huge coral reef, luxury hotels and dive clubs. Much of the island is occupied by jungle.
On the Pacific coast there is the busiest resort of the country, Acapulco. In the last century, it was a favorite resort of American millionaires, and still many tourists coming to Mexico prefer to vacation there. The city is famous for its hot climate and active nightlife. It has the best casinos, discos, restaurants, and bars.
Los Cabos is an elite resort. The main contingent vacationers – wealthy Americans. Here the most expensive hotels, and the price level is higher than in Acapulco. Athletes and lovers of SPA prefer to rest in Puerto Vallarta .
If you want a quiet beach vacation in Mexico, pay attention to the resorts of Punta de Mita, Costa Alegre, Huatulco and Puerto Escondido on the Pacific coast.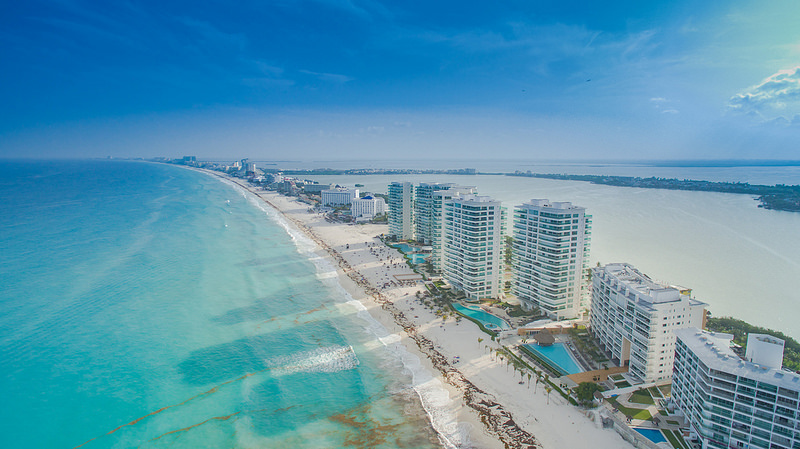 (Photo: dronepicr / flickr.com / CC BY 2.0 license)
Vacation Prices in Mexico – 2022
Let's talk a little bit about vacation prices in Mexico in 2022, using the most popular resort, Cancun, as an example.
Flight. The cheapest air tickets, which are from Moscow to Mexico City for Fall 2022, cost from 33 thousand rubles per person (round trip). Flying to Cancun is a little more expensive – from 34 thousand rubles. We recommend searching for tickets on Aviaseils – so you will find the most inexpensive. Read also the guide on how to find cheap airline tickets.
Food. To eat at a cheap restaurant will cost from $ 3 to $ 7 per person, in medium-price restaurants dinner for two with alcohol – about $ 30-35 dollars.
Breakfast at inexpensive establishments in the hotel area is $2 to $5.50, a budget lunch is $3.5 to $8, and dinner is $6 to $10 per person. Want to eat even cheaper? Get away from the tourist area. If you're staying in an apartment and have a kitchen, you can save money by sometimes cooking on your own. Fruits and vegetables are cheap in Mexico.
Video – Supermarket grocery prices in Mexico
Hotels. Planning a vacation in Mexico in high season? Better book in advance. If you want to live on the coast in the hotel zone (that is on the sandy strip), be prepared to pay a tidy sum for the hotel: the average price – about $ 80 per night for a double standard. Although there are budget hotels (from $ 40 per room) and early booking deals in hotels of medium price. If you decide to stay in the city, you can find a room for about $ 20 per night. Looking for a hotel is recommended on Roomguru.ru, it finds the best price.
Transportation. The ticket for public transport is $0.5 per trip. A cab from the airport to the hotel area of Cancun costs about $40-50 (you can order a transfer at Kiwi Taxi online from $35), a bus from the airport is $5-8.
Entertainment and attractions. Swimming with dolphins costs from $160 (45 minutes). Fishing is from $150. Excursion to Chichen Itza – from $ 80 per person. Admission to the sites is about $4-5.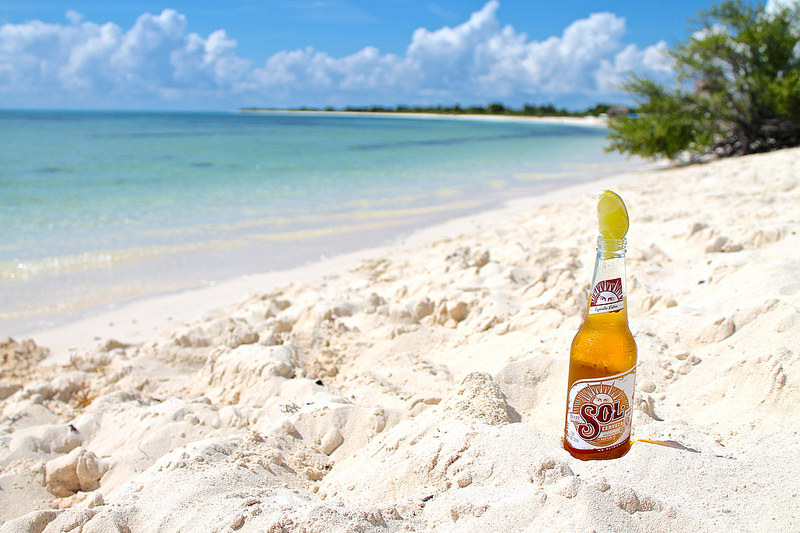 (Photo: Carnicula / flickr.com / CC BY-NC-ND 2.0 license)
Mexico tour prices in 2022
How much is an all-inclusive vacation to Mexico in 2022? High season tours from Moscow to Cancun all inclusive cost from 220 thousand rubles for two people for 14 nights, 3-5* hotels, 1 line). All-inclusive" tours to 5-star hotels start from 280 thousand rubles for 14 nights.
You can have a rest at least twice cheaper – from 110 thousand rubles if you live in the Downtown Cancun in the hotel 2 * without food (14 nights). Full board in a 5-star hotel in the hotel area costs from 188 thousand. If you want to save money on a vacation in Mexico, it is better to go in the off-season or off-season. You can try to catch a hot tour.
How to buy a last minute tour? Compare the prices of all popular tour operators and choose the best option with the help of Level.Travel and Travelate services. We also recommend studying 7 rules of online searching for cheap tours.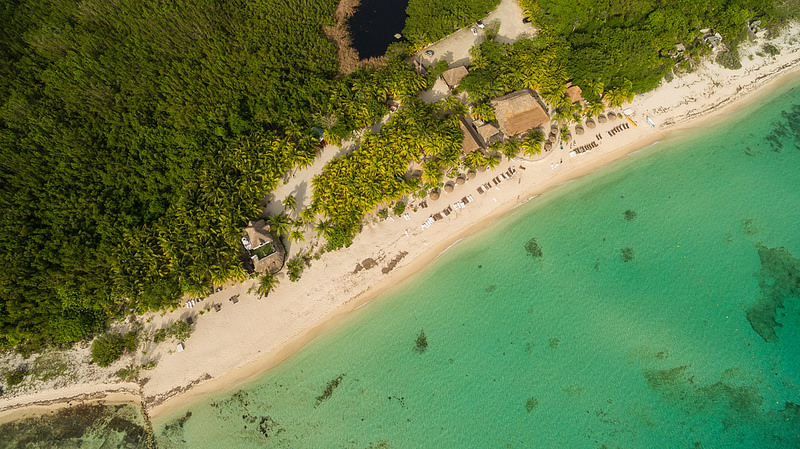 (Photo: dronepicr / flickr.com / CC BY 2.0 license)
What to do? Entertainment and excursions.
Fans of outdoor activities in Mexico can go surfing, diving and fishing. Those who are not indifferent to shopping can explore local boutiques and markets. For young people who lead an active nightlife, running nightclubs and discos.
Also enjoy museums, art galleries and colonial architecture. Unforgettable will be a trip to the capital – Mexico City, a city that the number of historical monuments could well compete with Rome. Tourists in their reviews are advised during a vacation in Mexico City to visit the National Palace, the Constitution Square, the Cathedral, the Church of Holy Communion, the house-museum of Frida Kahlo, Museum Templo Mayor and the Square of Three Cultures.
Equally fascinating are trips to ancient settlements: the Mayan pyramids of Teotihuacan, Chichen Itza and other places. It will take all day, but the experience is well worth it. In addition, Mexico has a large number of national parks and nature reserves, which you can visit with children.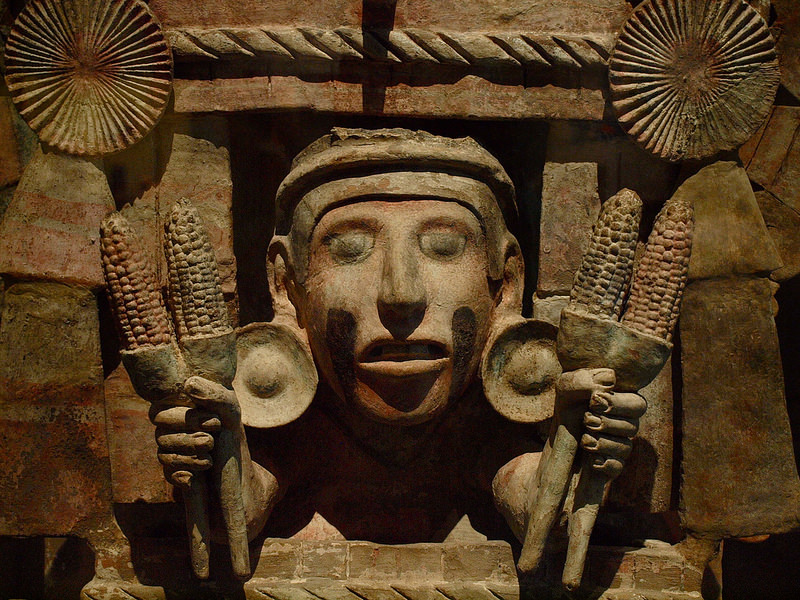 (Photo: aljuarez / flickr.com / CC BY 2.0 license)
Holidays in Mexico with children
The flight from Russia to Mexico takes at least 12 hours, so not all parents dare for such a long trip with a child. However, the Riviera Maya, according to reviews of tourists, is ideal for holidays with children. There are long wide beaches, hotels with well-groomed green areas and a mini-club for children, nearby is a nature reserve Skaret with turtles, butterfly park and pink flamingos.
There are many family-friendly hotels in Playa del Carmen and on the island of Cozumel. Schoolchildren will be interested in attractions and excursions to ancient cities. From the age of 10, you can already take your first diving training.
Tourist reviews about holidays in Mexico
As noted by tourists in their reviews, the main disadvantage of rest in Mexico is the high cost of the flight and its duration. Otherwise, the vacation is beautiful – turquoise-colored water, white sand, picturesque nature. Mexican cuisine will please fans of "hot". The hotels usually have several restaurants, and the buffet is standard almost everywhere.
Lodging prices in hotels are in a wide range, but excursions are mostly expensive – $100 to $150 per trip. But the bus service is well developed, and with a basic knowledge of English or Spanish, many attractions can be seen on their own.
All about vacations in Mexico 2022 – tours, prices, and tips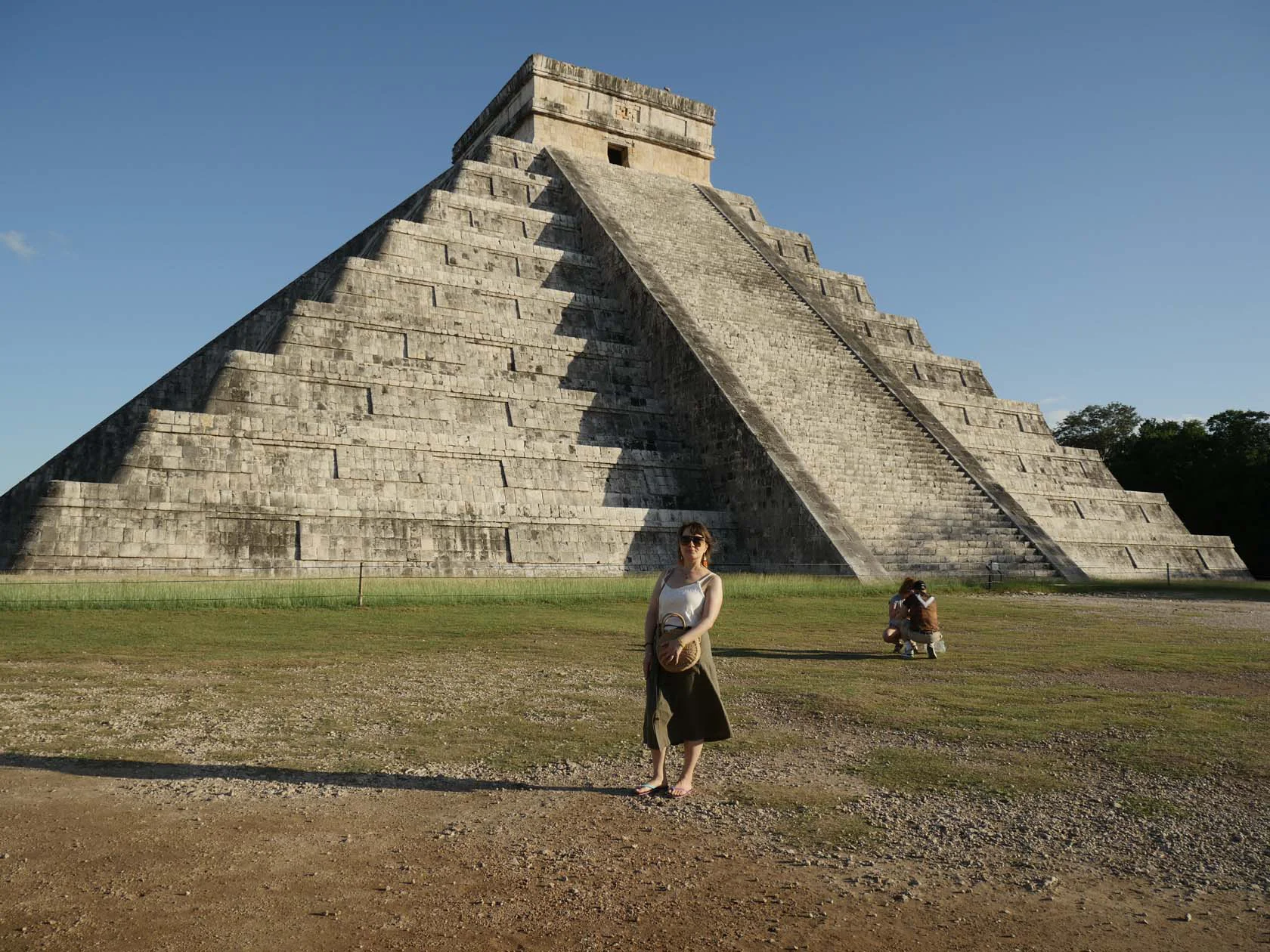 How much money do I need for a vacation in Mexico – the most important question that always worries people in the first place. I will tell you how much it cost me for a New Year's tour to Mexico and share my impressions of the holidays in the Mexican Caribbean.
Cancun and the whole Yucatan can be a great option for a budget trip to the sea all year round, the main thing is to know where and how to buy the tours, well, and some more nuances, which I will tell in this article.
How to rest in Mexico inexpensively – 8 rules
The cheapest way to rest in Mexico is a package holiday. If you're not going on a big trip to Latin America, where Mexico is one of the points of the trip, or if you want to vacation in Mexico not more than two weeks, I see no point in flying there "on your own", because just the plane tickets can cost comparable to the whole tour (which includes tickets and hotel, and travel insurance, and transfer).
Because vacationing in Mexico is possible year-round, the seasonality of Mexican resorts is weak and more related to the vacations in America, when demand exceeds supply, rather than the season. Depending on the date the cost of a tour to the same hotel and the same tour operator can differ twice!
Buy tours online – for the hundredth time I've told you and my practice is the main proof that buying tours online is no more complicated than buying airline tickets or any other thing online, the savings can be tremendous!
For comparison – one and the same tour, to the same hotel, on the same dates in Mexico cost me 50 thousand for one me, while the tourists who bought the same exact tour in a regular travel agency paid about 150 thousand for two! Given that the single is 25-30% more expensive than the duble, they overpaid by 2-2.5 times more, at least. And that I do not even remember about my tour to Zanzibar, which I bought for 60 thousand and a penny, and the other tourists bought the same at the agency for half a million!
Tourist season in Mexico
Another important aspect that affects the price of the department is the time when it is best to go to Mexico, specifically in the Yucatan Peninsula, where the best Mexican resorts are located. In general the seasonality in Mexico is not particularly pronounced, the average monthly temperature of water and air is almost the same about 30 degrees (which is relative to our Russian gradients winter-summer, so generally), you can swim here all year long. But still seasonality in Mexico and it affects the demand for travel, too.
See this month-by-month chart for Cancun's temperatures and rainfall:
Weather in Cancun now
Winter
Winter in the Yucatan…high season and winter! Which was a bit of a surprise to me, since I'm used to tropical countries being tropical countries so you can go there any time of the year and not feel the difference. Yes, Mexico is warm even in winter and you can swim, but still, in the evenings or in the morning you want to put on a jacket or even a sweater, 20°C in the morning, it's invigorating, you know. The fruit in Mexico in winter is not very good either, there is no choice and everything (mangoes, pineapples, strawberries, watermelons) is wooden and tasteless.
Spring
Almost ideal time to vacation in Cancun is March-April-May. It almost doesn't rain, but there isn't much heat yet, and most importantly (for me) whale shark season begins, which you can swim with in Mexico.
Summer
Summer in Cancun is very hot, especially it can be stuffy in the city, besides, it is very humid, because in Mexico in summer, the rainy season, especially a lot of rain in June, when it can rain for a week, and because of the high humidity activated mosquitoes, which are known to be carriers of dangerous tropical diseases such as malaria and zika fever. By the end of summer the threat subsides, but mosquito nets and insect sprays should not be neglected.
Autumn
Statistics show that October is Cancun's rainiest month of the year. Although the rains are not as heavy and pour more often at night, it can still be humid in September and October. The sea can get a little stormy and bring tons of algae ashore on the beach. The beaches of Playa del Carmen and Tulum are particularly affected.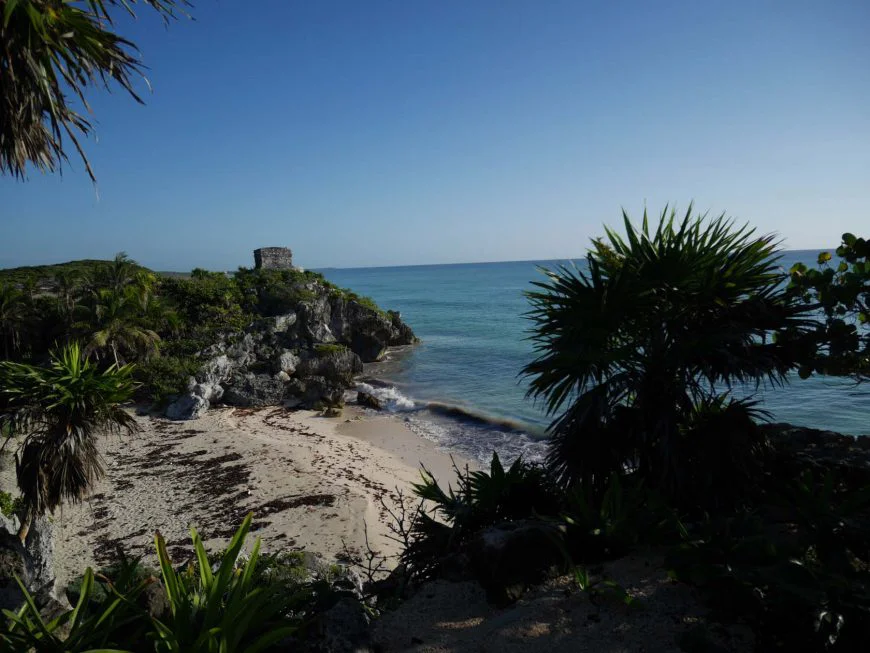 Resorts in Mexico, which to choose for a vacation
The Yucatan Peninsula has several key resorts where you can come on vacation, let's consider them by the price/quality ratio of rest. As a rule, packaged tourists are accommodated in those hotels, which bought the tour operator, so the hotel you choose you are likely to live with their own classmates.
For some people this is a plus, and for someone it is important to keep in touch with their compatriots, even on vacation, but in general there may be some disadvantages. For example, in my case, the tourists in our hotel from our flight was so much that the check-in took a few hours. So the first day could be considered completely lost.
Now let's talk about the specifics of the key resorts you can visit on the Caribbean coast of Mexico.
Cancun .
The most famous and most expensive resort is Cancun, the most expensive area of Cancun is the Hoteliera area – a sandy spit between the ocean and the lagoon, where lined up, if not the most expensive hotels, but some of the most expensive for sure.
The sea near Cancun is turquoise and bright, the sand is snow-white, but very often there are quite big waves, which makes it very difficult to swim. Only at the beginning, where the beach is closed from the big waves of Isla Mujeres, you can swim, below – a real paradise for surfers.
Cancun beach is 22 kilometers long. From above it looks like the number seven, which divides the resort into two parts: a short and a long one. More often it is called the Hotelier area, or the "seven" area.
My opinion – if you can NOT save money, it is better to go to Cancun (even better in the large free-standing hotel clubs, but in a package tour, I have not seen them).
Playa del Carmen
For me, I chose Playa, a small resort town in the Riviera Maya between Cancun and Tulum, across from Cozumel Island, where they like to take tourists on island vacations. There are big chain hotels that are all-inclusive and quite comparable to the hotels in Cancun in terms of quality of service. But in general, there is a more democratic atmosphere here, a lot of not only vacationers, but also expats, because in the resort area Playa is one of the most budget-friendly resorts for long-term accommodation.
And there are hotels like mine, where 4* – to put it mildly, an exaggeration, and issued only for the fact that the hotel is located literally on the main street of the resort town. But for the price for which I bought this tour, I almost did not even get upset. Some tours of the Golden Ring are more expensive to buy.
Tours in Mexico and the major expenses
As I wrote in the beginning – the cheapest way to come to Mexico is to go on a tour, the pluses here is not only the lower cost of recreation, but that many things just do not have to bother. Sometimes such a vacation is also needed.
The cost of the trip already includes a direct roundtrip flight to Mexico, which already included luggage 20 kg and 5 kg of carry-on luggage, transfers from the hotel and back, travel insurance, accommodation at the selected hotel (I took a breakfast, but if you can get all-inclusive for a small money, it will be superb, because food in resort areas are never much cheaper).
His trip to Mexico, I bought a month before the trip, but if you have Schengen or U.S. visa, you can buy earlier, but the electronic entry permit, which I processed myself issue the day of its registration and the rules within 30 days of issuance you must already enter Mexico. Read more about these nuances in the article – how to apply for a permit to enter Mexico.
At the time of my trip the cheapest tickets were hotels in Playa del Carmen Nina, Tukan on December 20. That's the second and I chose, with breakfasts, although if I took more and dinners would not particularly upset, because the cafe of the hotel, perhaps its best part. In Cancun, a 3 for the same dates was twice the price, so I figured that the difference could organize my meal.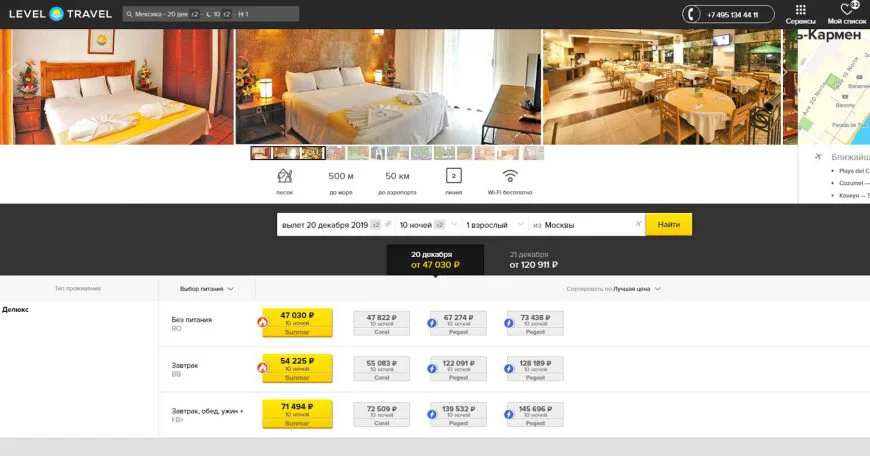 Please note that on December 21 this same tour to the same hotel was more than twice more expensive, only for the reason that it was captured on December 31. For me, where to spend the New Year is not a matter of principle, in any case, the "extra" 70 thousand to me, he certainly is not.
Of course, if you do not have a problem to rest super-budget, it makes sense to spend time and compare how much it will cost a holiday on their own with a separate hotel booking and buying airline tickets.
Flights from Moscow to Cancun
Excursions
The main expenditure of any trip is always excursions. The cost of any day tour in Russian-speaking guides from $ 70-100 dollars, many profitable prefabricated tours, where you can visit multiple locations in 1 day. Even more profitable if.
For example, here are the prices for the most popular tours of Cancun in such combinations of attractions:
Chichen Itza , cenote Ik Quil, the city of Vailolid excursion can be purchased from $44-63
Coba pyramid, cenote, Tulum from Playa it is possible to buy from 45-56 dollars
Excursions to Isla Mujeres (Women's Island) can be booked from 42 dollars
Useful information
And give a brief useful information on a vacation in Cancun
As I have already written, the visa to Mexico – almost a formality, because it is issued free of charge, it is made easily and simply, independently through the Internet in a few minutes, and some categories of people, for example, if you have a Schengen visa or a visa to the United States and did not need to get it at all. That does not mean, of course, that you are guaranteed to be let into the country. Now the requirements of the Mexican customs to the tourists tightened and always require to show a return ticket and hotel reservation, so to understand this important issue, I recommend to read my article on how to get a visa to Mexico (and electronic permit) by yourself.
Time
Cancun is in the UTC-5 time zone. The time difference between Moscow (UTC-3) and Cancun is 8 hours. For those arriving from Russia, the time should be adjusted based on the region from which your arrival is from: Kaliningrad 7 hours, Moscow and St. Petersburg 8 hours, Novosibirsk 11 hours, Irkutsk 12 hours, Vladivostok 15 hours.
Exchange rates and money
In Cancun and other resorts in Yucatan dollars are used in the same currency as the local peso, even the prices everywhere are shown in double – in pesos and dollars. And even if they are not, you can always ask.
Sometimes the exchange rate is even more profitable than to exchange dollars to pesos, and then buy the local currency.
$ – I was at first confused by the $ sign everywhere, because to me it is the traditional icon of the U.S. dollar. But as it turned out, the Mexican peso has exactly the same designation. I had to get used to it, and sometimes ask what currency the price was in.
To quickly orient yourself in prices multiply in your mind the price in pesos by 3.5 to see how much it is in rubles. For me personally it is even easier to orient in dollars.
You can see the current Mexican peso exchange rate against the dollar and the ruble on my website online
At the time of writing the official exchange rate of the Mexican peso to the dollar is 18.76. The closer to 18 you see the exchange rate at the exchanger, the better.
For me personally it is easier to remember to keep track of prices (expensive-cheap), I will tell you how much Mexican money is in rubles.
1 peso is 3.42 roubles.
5 pesos – 17 roubles
10 pesos – 34 roubles
20 pesos – 68 rubles
50 pesos – 170 roubles
100 pesos – 341 roubles
1000 pesos – 3418 rubles
I was surprised to find out that in Mexico there is almost no contactless card payment, and in general it is not recommended to pay by card here, unfortunately there is a lot of card fraud. They take more money than you need, and make a copy of the card, so be especially vigilant and don't give your card to anyone.
Security
Mexico is not the safest country for tourists, but in the resort towns try as much as possible to shield us from the Mexican reality, where the poor population is very poor, where drug cartels are brutal and the level of corruption is very high. Nevertheless, the guards in the stores (especially jewelry stores) are almost always with guns, the streets are patrolled by police and during the holidays even by the military, and it is better for tourists especially not to go into Mexican ghettos.
The same goes for car rental, in this case you should strongly think how important it is for you to travel by car, especially if you are not good in Spanish, because it is almost a norm that Mexican "policeman" specially comes up with violations and fines, saying simply, "milking" the naive tourists. It is useless to look for a way out of this, the corruption in Mexico is worse than in Russia.
Actually, the only advice is to be careful, because Mexicans know a hundred and one ways to rob tourists, from taking things and money to stealing card data, when you will not even know that someone is writing off something from your card.
To stop unauthorized withdrawals in time, be sure to keep your phone number active abroad, which could receive SMS messages about the withdrawals, or regularly check your online banking and see if everything is okay.
And I'm not scaring you here, I'm just warning you.
Cab
I originally planned to travel by bus, but the recent news, when the robbers broke into the buses robbed the passengers in broad daylight, and just before my trip even stole a tourist as a hostage and she was not found, greatly tempered my ardor and desire to tempt fate, most likely nothing would have happened to me, but I did not particularly want to take risks.
Uber is forbidden in Mexico, and cab prices in the resort towns are pretty hefty, especially if you ride alone.
In the above price list the fares from 5th Avenue Playa del Carmen are in Mexican pesos, the left column is for a car for 1-4 people, the right column is for a van for 5-8 people so you can navigate.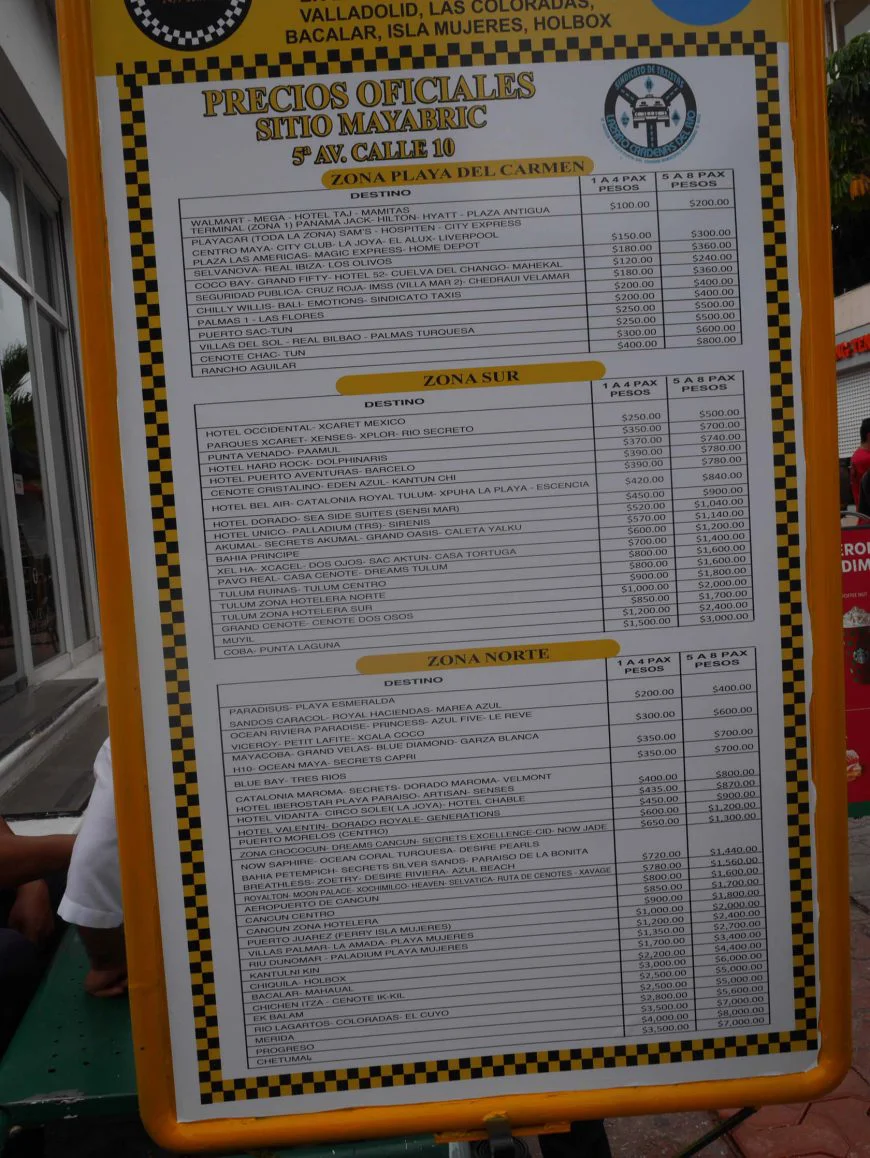 Well, order a Kiwi Taxi, which operate legally worldwide, well, and have Russian-speaking support, which is sometimes important.
Finally, how much does it cost to eat in Mexico?
Food costs vary, depending on how you're used to eating out, whether you need alcohol, and how much you care about the quality of the place you go for lunch. Because you can find luxury expensive restaurants and budget eateries everywhere.
As I said before, I took a hotel + breakfast, the price for breakfast in our buffet was almost symbolic – 16 pesos, for this money the cook would make eggs with a filling of your choice, some Mexican food, some vegetables, a couple of meat dishes, rolls, drinks and fruits, different every day. Everything is pretty tasty and I didn't notice a lack of food.
Lunch or dinner here could be had for 23 pesos, which is quite acceptable considering the variety and quality of food.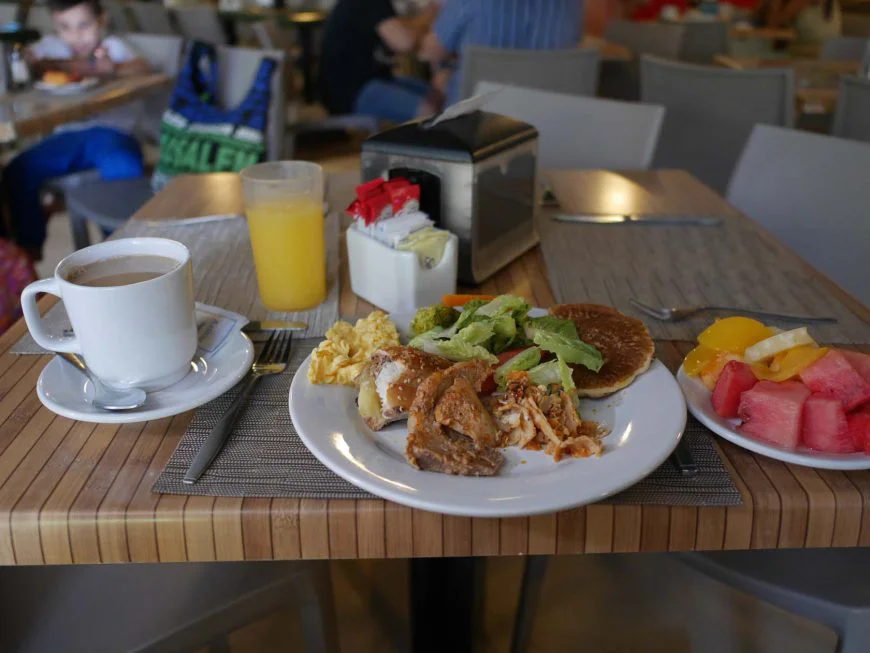 Since there was no fridge in my room, I couldn't even buy some fruit, so I had to eat in a cafe, which didn't bother me, because besides breakfast I had 1 meal, something in between lunch and dinner.
And that meant I could experiment and try different dishes in different restaurants – starting from Thai (which even has a Thai owner), ending with Brazilian, where the buffet system and a million kinds of meat you can eat as long as you can.
And of course I tried the authentic Mexican cuisine, though in a chain restaurant Don Sirloin, but with tacos, guacomole and real mariachis as entertainment.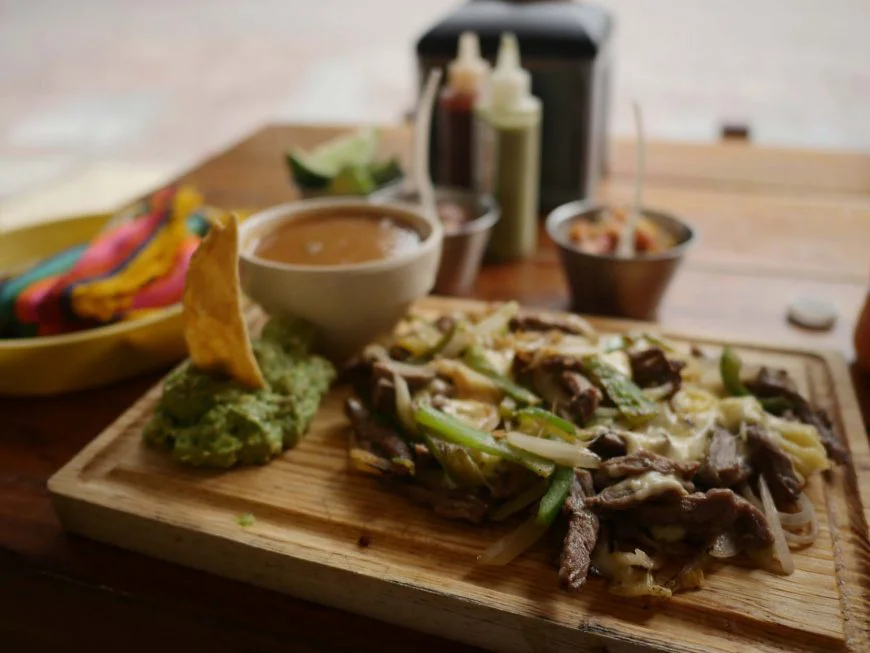 If there was a fridge, we could have eaten in a supermarket, the Walmart was a couple of kilometers away, there was a great selection of prepared foods, fruits, meat, and even cacti, which of course I took for a test. They taste totally tasteless (but they must be healthy), they say the locals fry them, but I think they would have been good in a salad too.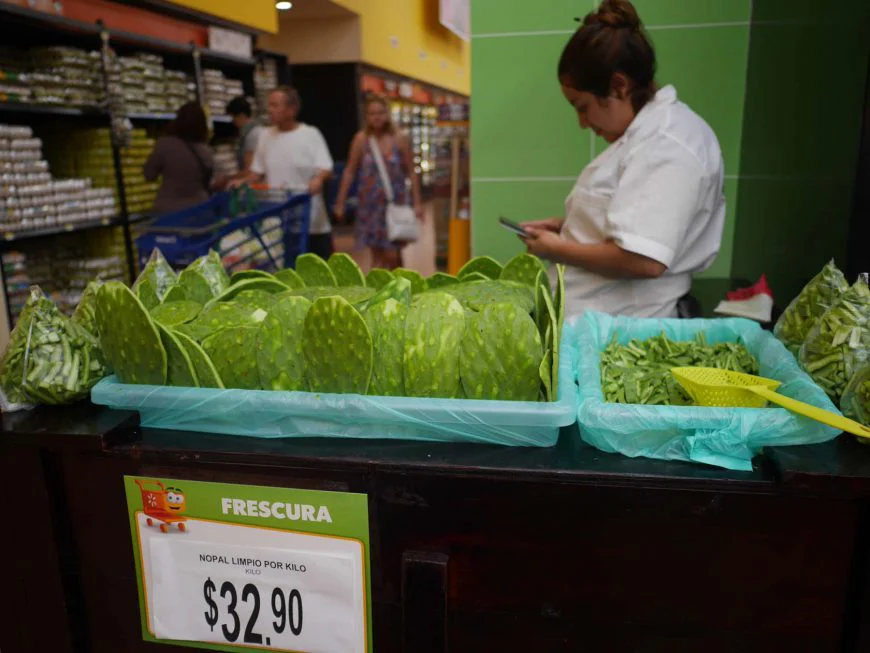 The tequila prices in Mexican supermarkets are around 200 pesos per bottle, in tourist places more expensive, but also the varieties are different.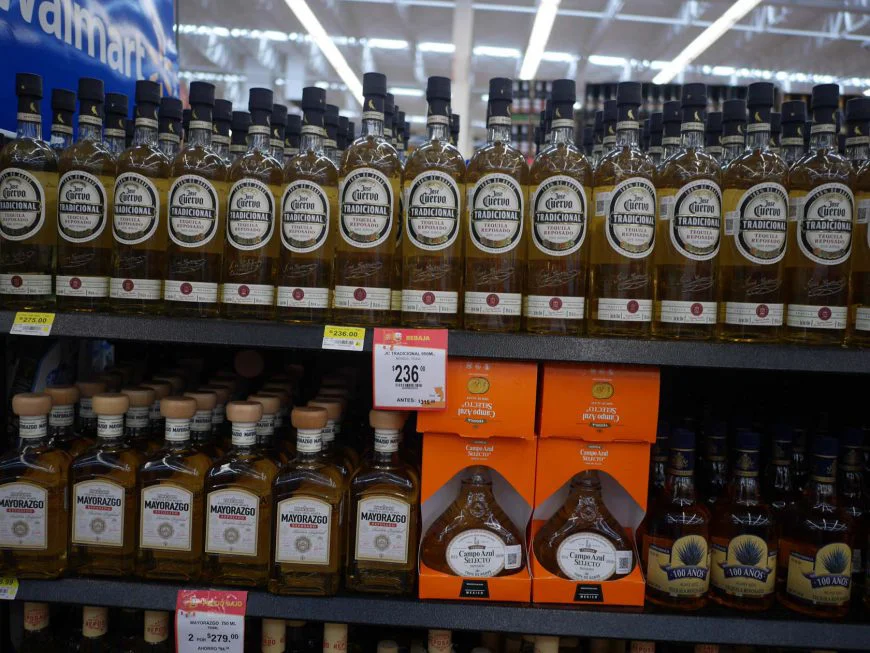 Tip
The key point is that almost everywhere in the service area you will be expected and sometimes even required to tip (in Spanish propinas). Honestly, it's a difficult subject for me, for many reasons, but more often than not I don't argue and pay 10% of the amount. When I think about tips for some reason I always remember an episode of "Dumb and Dumber" where the main characters become unexpected millionaires and give out dollars to the staff like wrappers of candy.
You are expected to tip the restaurant, the driver on the excursion, the guide, the maids, the bag-puller, etc.
Accordingly, figuring out your expenses, some part of the money you will have to spend on service.
All in all, these are all the key expenses of a trip to Mexico I've covered. I will be sure to supplement this post, as well as talk about my experiences on vacation in the Caribbean in other articles. If you have any questions on the subject, be sure to ask them in the comments, I will try to tell you everything I know.