Holidays in Side with children.
The former Greek colony of Side has now become a popular Turkish resort. Consider the features of holidays with children in Side and its surroundings, the best hotels for family vacations and prices for tours in 2022.
Features of holidays with children in Side
Side is one of the quietest and calmest resorts in Turkey. Most hotels are aimed at people with average income, and recreation prices are lower than in green Kemer or respectable Belek. There is no active nightlife and little entertainment, the atmosphere of the resort is quiet and decent – almost ideal for a holiday with children. On the other hand, there is not even a water park in Side – you have to go to Belek or Alanya.
Side has sandy beaches, the most suitable for recreation with kids are on the west coast, there is a shallow bottom and shallow water. Side has no special attractions, but it has a lot of preserved monuments. The historical part of town is compact, you can walk around on foot or take a sightseeing bus. There are cafes and stores in the center of Side, although holidaymakers prefer to go to cheaper Manavgat for shopping.
You can take a bus or a cab to any destination in Side. If you want to fish, ride a catamaran or just have a change of scenery, you can go to Green Canyon Reserve, a half-hour drive from Side. On the shore of a large reservoir organized picnic areas, some even swim in the cool water. Another popular holiday spot is the Manavgat waterfall. Here, too, there are picnic areas, the cafe serves delicious fried trout.
When to go
Tourists with children prefer to rest in Side (and in general in Turkey) in June or September, when the average air temperature during the day +28 ° C, and the water in the sea +25 ° C. In July and August it's stuffy, the air is hot +34 ° C. +38 ° C, the sea water +29 ° C, and hotels are full of tourists.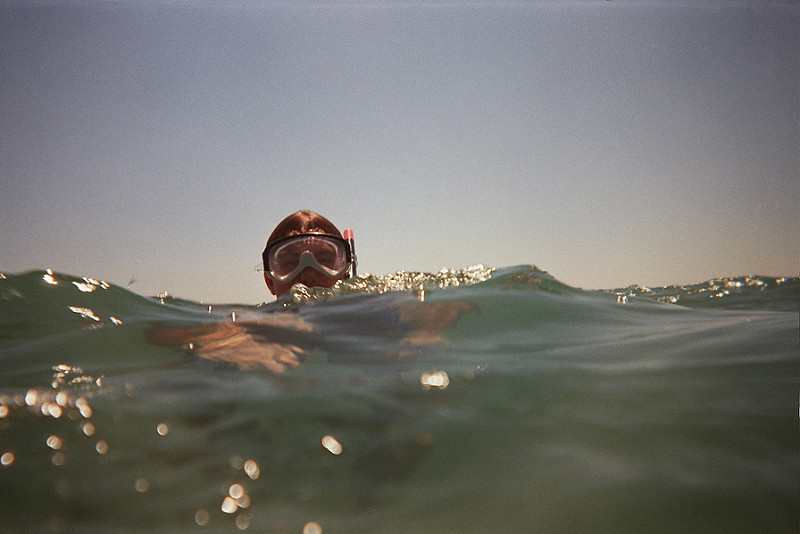 (Photo: Walt Jabsco / flickr.com / License CC BY-NC-ND 2.0)
Best resorts and beaches in Side for children
The resort area of Side includes several regions, the most visited being Chalokli, Kumkei, Sorgun, Titreengel, Kizilgach and Manavgat.
Beaches Side sandy, which for the category of holidaymakers with children is often a determining factor. All beaches are equipped, many marked by the Blue Flag. Entrance to the sea is sand or pebble.
Not far from the city is the village Kumkoy (Sand Village). The local beach with a flat sandy bottom is nestled in a bay. A 10 minute drive from Side is the village of Sorgun, surrounded by palm trees and conifers. All beaches are sandy, at the entrance to the sea – pebble with sand. There are biking tracks for the lovers of outdoor activities.
Titreengel Resort is situated 7 km from Side. The jewels of the resort are the forests and the well-kept beaches. Only 5* hotels are located on the first line, the rest are a short distance from the shore, there is a free shuttle service. The young resort of Cholakli is less green than its neighbors, but this drawback is compensated by good beaches and modern hotel complexes.
Kızılgach is the most remote resort of Side, it takes at least 2 hours to get from the airport. But the nature here is stunning: sand and pebble coast, orange trees and southern pine trees. Tourists are advised to go on holiday with children in this resort Side: the village has a lot of club-type hotels with landscaped area, slides and children's animation. Discover the best excursions from Side.
Related articles:
(Photo: Boulund / flickr.com / CC BY-NC 2.0 license)
Best hotels in Side for holidays with kids in 2022
All hotels in Side are recently built, 4-5* establishments practice an all-inclusive system with obligatory animation. Good family hotels are in Side and nearby resort villages. But the hotel must be chosen carefully, because in some places at the entrance to the sea there are stones.
Prices for holidays in Side 4 and 5 * in 2022 are lower than, for example, in Belek or Kemer: tours "all inclusive" and "ultra all inclusive" for two adults with a child for a week from Moscow cost from 70 thousand rubles. More budget hotels are usually located farther from the beach. If you are easy on the rise and you do not care about the high rating of the hotel and proximity to the beach, you can catch a hot tour "all inclusive" for only 20-40 thousand rubles for a family of three!
If you want to rest in a hotel with new sun beds, furniture and appliances in the room, it is better to look for tours in new hotels in Turkey.
We have chosen some of the best inexpensive 4 and 5 star hotels in Side for holidays with children, based on tourist reviews and hotel ratings. They are all-inclusive, located on 1 or 2 lines and have a variety of activities for children:
Club Calimera Serra Palace 5* с аквапарком. Искать тур >>
Otium Hotel Seven Seas 5* с горками. Искать тур >>
Alva Donna Beach Resort Comfort 5* с горками. Искать тур >>
Magic Life Jacaranda Side Hotel 5* . Искать тур >>
If you are going on a trip on your own, we advise you to look for hotels on the service Ostrovok.ru – it will help you find the lowest price. Don't know how to use it? Read the article on how to book a hotel in Turkey by yourself.
If you prefer to vacation by reservation, we recommend you to look for last minute offers at Travelata and Level.Travel services – they compare 120 tour operators' offers, and thus are able to find the perfect tour. It is possible to buy a trip online, which is very convenient. Want to save your money? Check out our 7 rules for buying tours online.
Tourist reviews of holidays with children in Side
As noted by tourists, a family vacation in Side has its advantages. The resort is compact – all the sights are easy to see on their own. For children, poorly tolerating long journeys, the plus is its close location to the airport – for an hour or an hour and a half you can already get to the hotel. Prices for recreation are not high. According to feedback from holidaymakers, compared with similar options in Kemer, the difference in cost was 20%.
Of course, young people and people who prefer an active lifestyle, here, most likely, will seem boring. But for children a real paradise – a sandy beach, shallow warm sea, lots of greenery and fruits.
Hotels in Side for recreation with children.
Side is an ancient town in the southwestern part of Antalya province. It attracts a rich history and authenticity, the opportunity to see the ruins of Perge and the ancient temple of Apollo. Nearby are amazing natural wonders – the waterfalls of Kursunlu, Düden and Keprülü Canyon. And this is just a small part of what is really worth seeing. We have selected for you the best hotels in Side for holidays with children, taking into account the real reviews of people and the reputation of the owners. The perfect vacation starts with the right accommodation.
Seven Seas Hotel Blue 5*.
A modern resort for families near the picturesque Lake Titreengel. The staff speaks Turkish, English, Russian and German. The sandy and pebble beach is five minutes' walk away. Sun loungers, umbrellas and gazebo are available for guests.
Free ice-cream stations are open in summer. There is also a diving center, where you can sign up for a scuba diving course and rent the necessary equipment. Breakfasts, lunches and dinners are buffet style. Sandwiches, snacks and refreshments are served on the terrace. Deniz Yıldızı snack bar is a good place to taste Turkish dishes. There is a children's menu.
For guests who prefer not to miss a workout, there is a 24-hour fitness center. Everyone can sign up for the gym or yoga, zumba and aerobics classes. As additional options of sports pastime are large and table tennis, soccer, volleyball and mini golf.
After the productive workout it is worth to visit SPA-center for the session of massage, face and body skin care, relaxation and aromatherapy. The list of services of local beauty salon includes exfoliation, manicure, pedicure, haircuts, and styling. Kid's World Children's Center is always happy to welcome new little guests. Teachers organize educational games, quests and activities.
Crystal Sunset Luxury Resort & Spa 5*
A luxurious option for the lovers of grand architecture. The first floor is available for author tours to nearby cities and car or bicycle rentals. The main restaurant, Sunset, serves buffets five times a day. There are options for those with special diets and children.
Harbor Town serves American and European cuisine, and Night Owl Bistro is worth a Turkish snack. Every day there is a new entertainment schedule. Animators organize live concerts, dance shows, theatrical performances and discos.
Children are not neglected either. Teachers conduct activities in the play park, children's pool and in the playground. You can also use the services of professional nannies. The best recreation is active. There is a gym, a group fitness class, tennis courts, basketball and volleyball courts, and a water sports center.
Finish the active day in the SPA. The menu includes Thai, Indian and Ottoman massages, hot stone therapy, exfoliation, anti-cellulite algae treatment and aromatherapy. Fun for the whole family is the King Cobra Kingdom water park. There are nine big slides for adults and three for children.
Barut Hemera 5*.
A comfortable option for those who want to live near the city in a quiet and peaceful area. You can rent a car at the reception to go to Side or Manavgat. Five meals a day at the Hemera Café is included in the price. An alternative to buffets are restaurants "Sandal" (fresh seafood), "Akdeniz" (Mediterranean cuisine), "Sofra" (Turkish cuisine), "Olive" (Italian cuisine).
There are four bars – Side, Meltem, Aquarium, and Kumsal. Be sure to stop by "Hanimeli" pastry shop for traditional Turkish desserts and a cup of coffee. The nearest beach is Kumkoy. The private area is fenced in and accessible to guests only. There are also three outdoor pools and one indoor heated pool. Each of them has safe areas for children.
The SPA-salon has hammam, sauna, steam room, massage and cosmetology rooms. Specialists offer relaxing and health-improving procedures for face and body. For the fans of the health lifestyle there is a modern gym, classes of yoga, pilates and gymnastics, water sports center, tennis and table tennis, beach volleyball and mini golf.
Children and teenage clubs are waiting for our young guests. Children under supervision of tutors gain new knowledge, try interactive games and have a rest according to the schedule. Teenagers have quests, watch movies in the cinema and have fun at live concerts.