Olkhon Island: vacation tips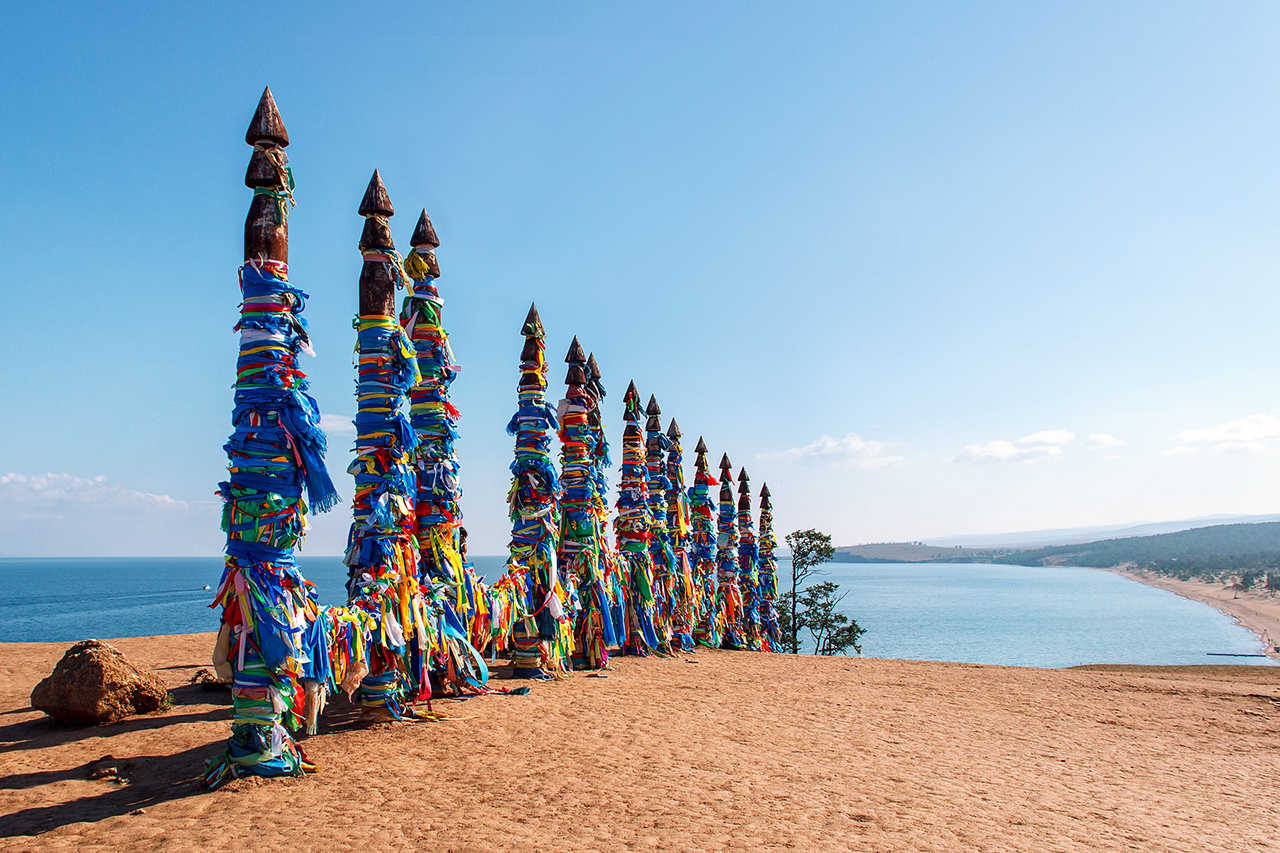 Olkhon – the most beautiful place of Baikal, according to the reviews of many tourists. Is it worth going here for a vacation in the summer of 2022? Let's find out! We will tell you about the prices on the island, the best rest bases, excursions and ways to get there.
Content:
What is Olkhon?
The huge island stretches between the Small Sea and the main water area of Baikal for 73.4 km. It is 15 kilometers wide and separated from the mainland by the Olkhonskiye Vorota Strait.
Olkhon is the largest and the only inhabited island among the 26 islands of Baikal. It is part of the protected zone of the Pribaikalsky National Park. There are 9 settlements on Olkhon, where about 1700 people live, and 1350 of them are from Khuzhir. Once upon a time the Malomorskiy fish factory worked in this settlement. Today the main infrastructure for tourists is located here.
The climate on Olkhon is continental. Winter is long and relatively warm, and summer is short. Sandy beaches are only on the western coast. From mid-July to mid-August, the lake temperature reaches +18 … +20°С. In shallow waters the water temperature reaches +23 ° C.
Cape Burkhan (Shamanka cliff). Photo: Ekaterina Sazonova / unsplash.com.
How to get to Olkhon
By bus or by car. From Irkutsk to Olkhon there is a 289 km overland route. In summer there are buses to the island, and in the off-season – only shuttle maxi. Bus No. 507 leaves at 8:00 from the bus station at 14 Oktyabrskaya Revolution St. Tourists take the asphalt road to the free ferry crossing in the village of Sakhyurt. Vehicles and passengers are transported across the Strait from May to October from 7:00 a.m. to 10:00 p.m. Three ferries run at half-hour intervals. Cabs and buses are served out of turn. When one vessel breaks down, the crossing is delayed for an hour. From the strait to the village of Khuzhir there is a gravel road – 45 km. The return bus departs at 8:45. The road between Irkutsk and Khuzhir takes 5-6 hours. The bus ticket costs 450 rubles. You must pay for your luggage separately. A one-way shuttle bus fare is 800-1000 rubles, and a cab fare is 6,000 rubles.
Some tourists go to Olkhon by boat. It sails from Irkutsk twice a week between June and September. The boat leaves from the pier "Raketa" in the district "Solnechny" at 8:30. The trip to the island takes 6 hours. The trip costs 3500 rubles. The boat makes two stops on Olkhon – in Khuzhir and Zagli bay.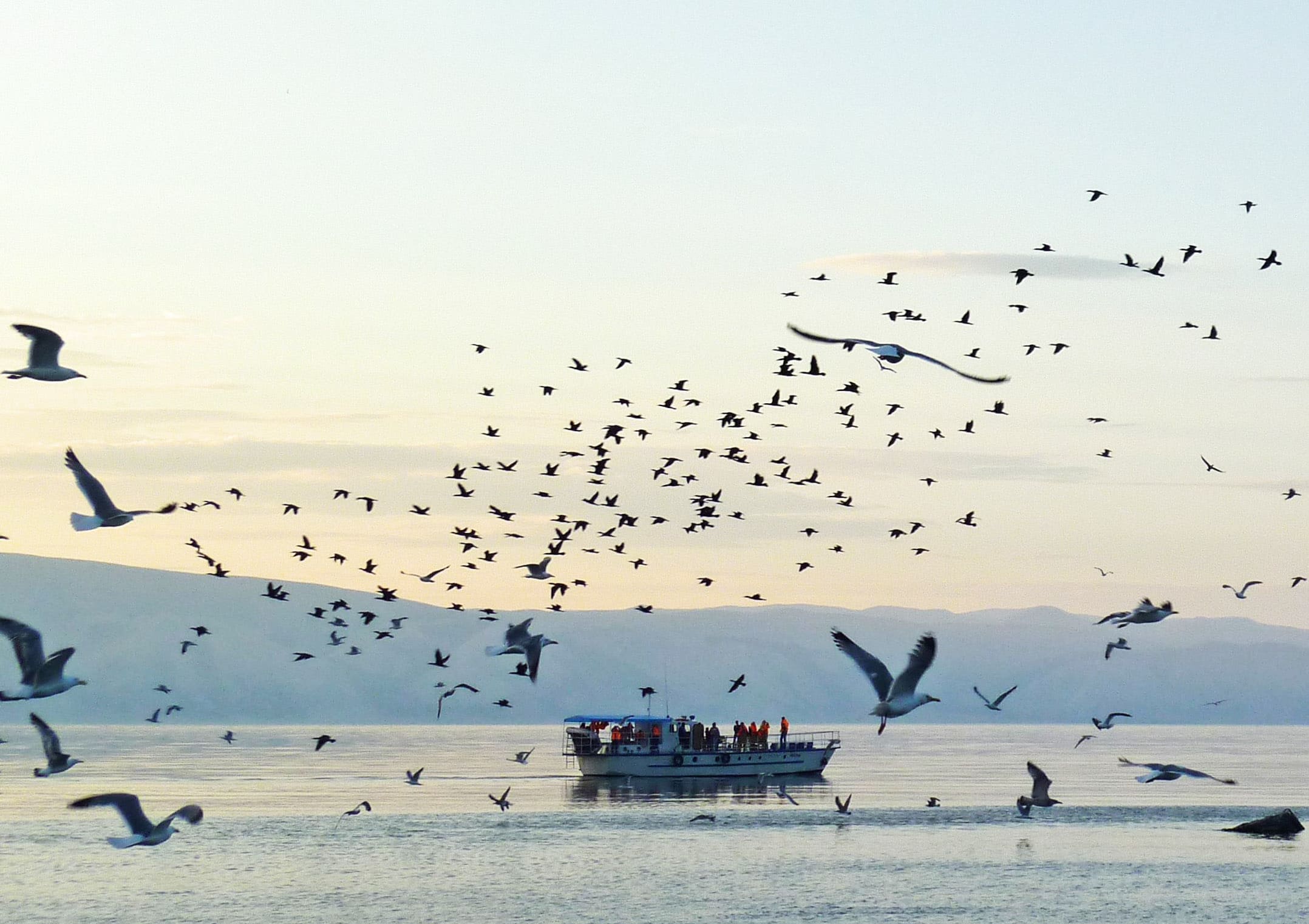 On the way to Olkhon island. Photo: Shargin (Tworogov A.E.) / wikimedia.org / CC BY-SA 4.0.
Accommodation prices
For a holiday on Olkhon, most tourists stay in Khuzhir. The village offers overnight accommodations at campgrounds, hotels, yurts and guest houses. Many tourists camp on the coast. Budgetary camping sites are especially popular on the island. Tourist bases, which organize interesting excursions, leave a good impression.
We advise to search and book holiday camps, hotels and other accommodation on the reliable service Hotelluk. There you can read real reviews of tourists and learn the pros and cons of each option.
What are the prices of holiday camps on Olkhon in summer 2022? A double room costs from 1300 rubles per night. In this case the facilities will be in the yard. If a room with a separate bathroom, it costs from 2500 rubles, and if you want to buy an elite apartment, it starts from 5000 rubles. If the room costs from 3500 rubles, the price usually includes breakfast.
Find out how much it costs to go to Baikal – we've compared the cost of an economical and beautiful vacation.
The Best Recreation Bases and Hotels
Pearl of Olkhon . Recreation base on Olkhon is located near the shore of Lake Baikal. Tourists are accommodated in wooden houses, which stand on a beautiful green area. The recreation center offers tours around the island and offers bicycles for rent. Guests enjoy delicious homemade breakfasts and friendly staff. Price – from 2000 rubles for a double room.
Baikal View Hotel . An excellent three-star hotel on Olkhon, in the village of Khuzhir. There is a spa, bar, restaurant, laundry. Guests like the friendly staff and the view of the lake from each room. It takes 5 minutes to walk to the shore of Lake Baikal. And the cuisine in the hotel restaurant is considered by guests to be the best on the whole Olkhon island. Double room costs from 9000 rubles per night.
Paradise Island . The new hotel in Khuzhir has several types of rooms: budget ones with a common bathroom are 2500 rubles, family rooms with a view of the lake are 3500 rubles, a whole house is 5000 rubles and a suite is 7500 rubles.
Nagaymar homestead . Popular recreation base is located 700 meters from the beach, close to stores and cafes, with a beautiful view of Cape Burhan. Tourists are accommodated in good-quality wooden houses. There is a possibility of living in dormitories for 5 people and private rooms. There is a dining room, Turkish bath, children's playground, fireplace, barbecue and parking.
Camping house Baikal-Babr . This is one of the best camping sites on Lake Baikal, according to tourist reviews! Rating: 9.8 out of 10 – very few hotels and camping sites can boast of that. It is located on the Olkhon Island. It offers comfortable and cozy yurts. The base is very neat, well-thought-out and homely. Our guests liked the hospitable hosts. It's a wonderful, secluded place for full relaxation and wonderful rest! Family room with a view of the lake costs from 4500 rubles.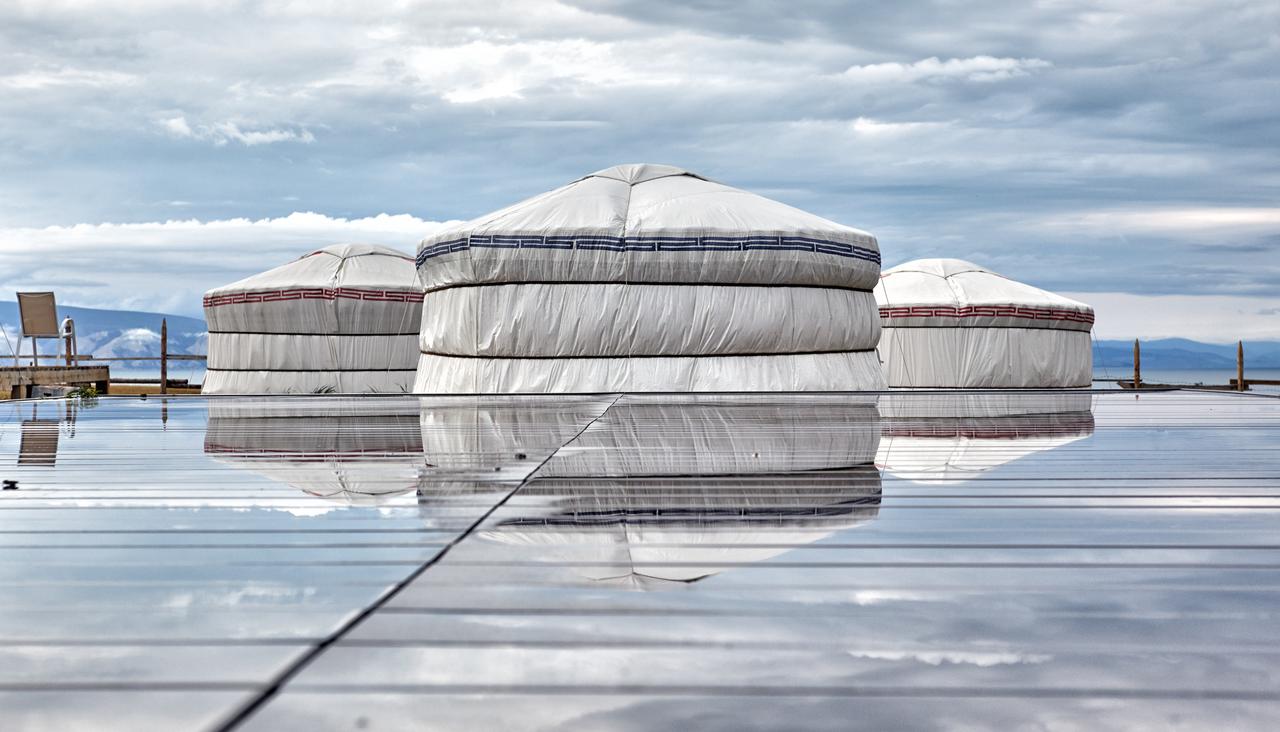 Yurts at Baikal-Babr. Photo: hotellook.com.
Prices for food on Olkhon
There are no supermarkets on the island, only small grocery stores. Groceries on Olkhon are 1.5-2 times more expensive than in Irkutsk. Many people eat at camping sites or in cafes, some people cook by themselves. Local public canteen looks without any special frills, but the food there is delicious. Guests are offered dishes of Russian, Siberian and Buryat cuisine. The average bill for lunch is 300-400 rubles.
Here are the prices for the food in the cafe on Olkhon (in Khuzhir):
borscht – 140 rubles;
bhuler – 180 rubles;
sagudai, 100 g – 190 rubles;
mashed potatoes – 90 rubles;
cutlet – 50 rubles;
meat patties – 45 rubles;
tea – 25 rubles;
morsel – 45 rubles.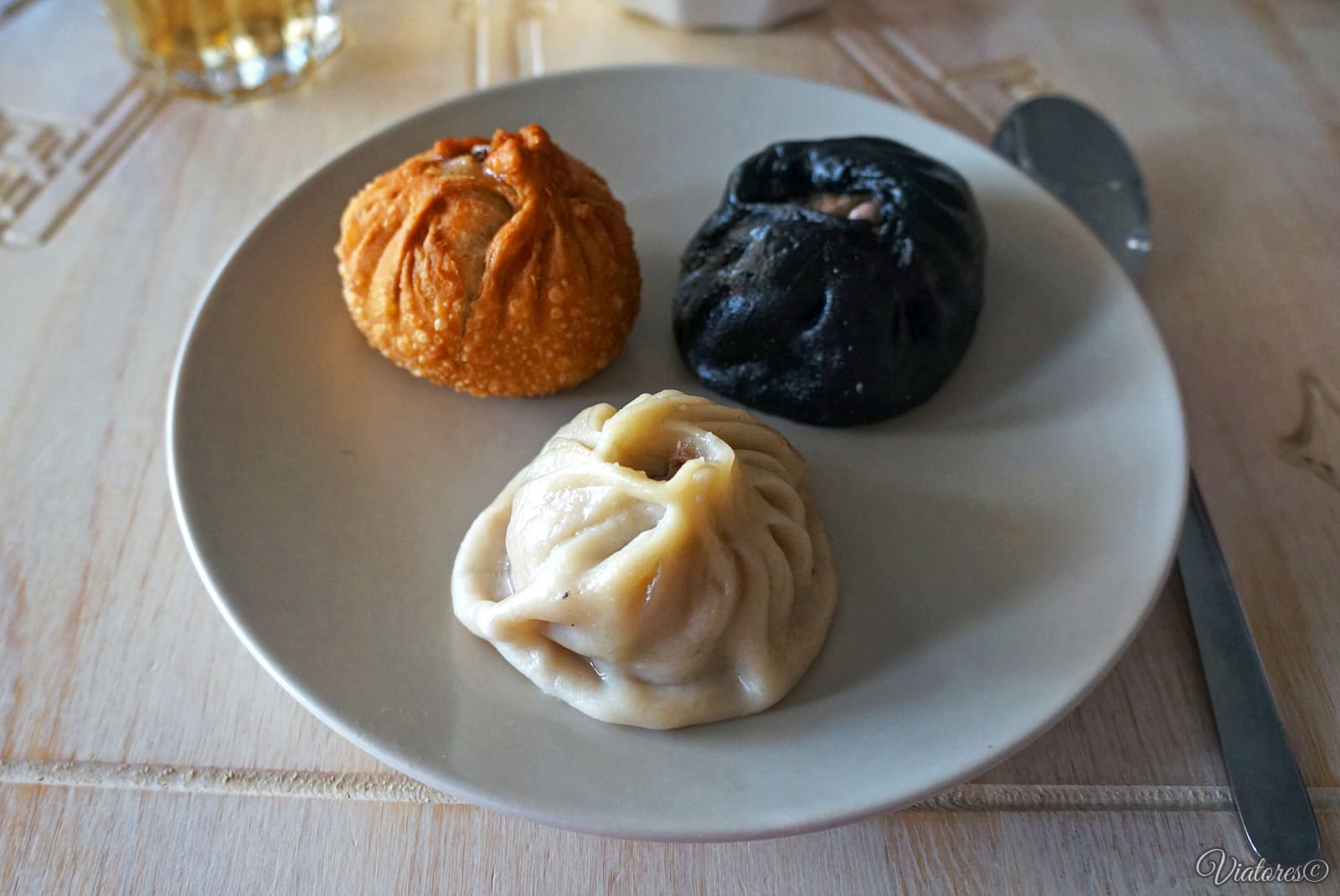 Buryat poses (buuzy). Photo: Nos Viatores / flickr.com / CC BY-NC-SA 2.0
Prices for excursions and entertainment
All excursions on the island are led by guides. If the program is for more than half a day, lunch is included in the price. While vacationing on Olkhon in 2022, popular excursions are:
sightseeing tour of the island – 500-600 rubles;
water excursion to Khoboy cape – 1600 rubles;
walking tour from Khoboy cape to Uzury pady – 1100 rubles;
trip to the Shara-Nur Lake – 1100 rubles;
sunset boat trip – 900 rubles;
trip to the Hatha valley – 850 rubles;
Horse tour along the shores of Lake Baikal – 1,800-4,400 rubles;
Evening walk on the islands of the Small Sea – 1000 rubles;
a rookery of seals – 2450 rubles;
boat trip to the island of Ogoy and springs – 1800 rubles.
Fans of fishing are taken on a fishing trip for 2400-2500 rubles. ATV rent costs 500 rubles per hour.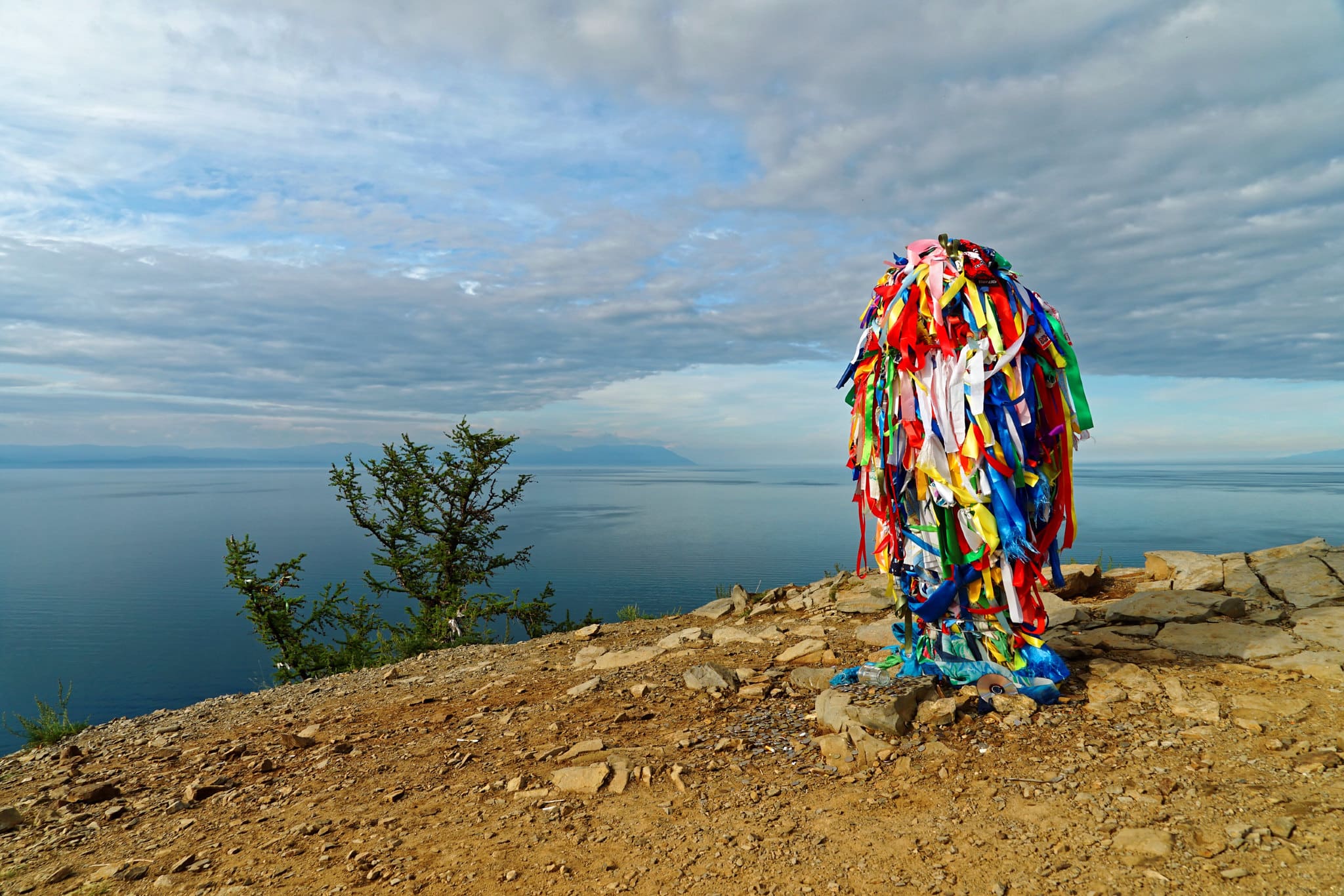 Cape Khoboy. Photo: Sergio Tittarini / flickr.com / CC BY 2.0.
What to see on Olkhon
Olkhon has clean air, silence and varied landscapes. Pine forests alternate with patches of steppe, and steep cliffs with dunes and sandy beaches. On their own and during excursions are advised to see:
Zagli Bay, the sunniest place in the Irkutsk region.
Kobylya Golova Peninsula – picturesque rock of Khorin-Irgiy cape separated from the main massif by the steep cleft 4 m wide.
Cape Khorgoy with the ancient Kurykin wall. The water gets warmer and shallow on the southern part of Olkhon, that's why tourists love to swim here. Kurykans, ancestors of Buryats and Yakuts, who lived on the island in VI-XI centuries, built a protective wall of 185 meters in length and 2 meters in height.
Cape Burkhan with the rock Shamanka – one of the sacred objects of Asia.
Sandy beach of Saraisky bay.
The Sand tract is a picturesque dunes 20 kilometers from the village of Khuzhir.
Cape Sagan-Khushun is a rocky ledge, built of white marble.
Lake Khankhoi is a fresh water reservoir which is inhabited by big fish such as trout, perch and pike.
Lake Shara Nur is a water body with salty mineral water of yellow color. You can take a therapeutic bath in the lake.
Cape Khoboy is the northernmost cape of Olkhon.
Gora Zhima, according to Buryat legends, is an ancient dwelling place of spirits and deities.
There is a museum of local lore in Khuzhir with finds from ancient sites, and also a collection of minerals, subjects of a religious cult and materials about flora and fauna of Olkhon. The ticket costs 100 rubles.
The ethnographic complex "Buryat village" works in Maliy Khuzhir. The trip from Khuzhir to it costs 1200 rubles. Get acquainted with folk crafts and lifestyle of the Buryats. Watch a concert program, wrestling performances and taste delicious national cuisine.
Cape Sagan-Khushun. Photo: Sergio Tittarini / flickr.com / CC BY 2.0.
Tips for tourists
Book rooms at tourist hostels as early as possible, better 2-3 months in advance. In summer they are in high demand.
The highest prices for accommodation are in July and August. In the off-season to live cheaper.
The biggest number of tourists is from May to mid-August. The queue for the ferry must be taken in the morning, then by evening you will be on or off the island.
If you like traveling by bicycle, take them with you. The rent of two-wheelers at Baikal is not cheap: 100 rubles per hour and 500 rubles per day.
There are no ATMs on the island, so you should reserve cash in advance.
The quality of Internet is not high.
There are no gas stations on Olkhon. You are to bring fuel reserve in jerry cans.
The weather in Baikal is changeable. Even for summer holidays on Olkhon you are to take warm clothes, raincoats and water-proof footwear.
The Olkhon Island in March. Photo: Aydar Daminov / wikimedia.org / CC BY-SA 4.0.
Tourist reviews about their holidays on Olkhon
Tourists' impressions of Olkhon are mostly good. If you don't count on a high level of comfort, you can spend three or four days or even an entire vacation here nicely.
Rest bases on Olkhon
The Olkhon Island is the largest on Lake Baikal – it is a real pearl of the Irkutsk region. The island is famous for its ecologically clean and diverse nature, fresh air and uncreative sights, which many tourists and travelers from around the world come to visit every year. There is no tourist season as such, because Olkhon is equally beautiful both in winter and summer.
About rest on the island
© Victoria Abrosimova / flickr.com / CC BY 2.0
Less than two thousand people permanently live on the island, but the number of tourists is growing year by year. In 2017, more than one and a half million Russian and foreign travelers visited here.
Homes of the local population are located on the northern part of the island in the village of Khuzhir and at Cape Kharantsy. Almost all the residents of Olkhon rent accommodation at attractive prices. You can come to an agreement by choosing a house in the private sector.
If you are not risky and like to plan everything beforehand, you are better to book everything at sites like "BOOKINGCOM". Here you can find inexpensive options: private guest houses, recreation centers with comfortable cottages, the best mini-hotels.
It is possible to travel across Russia with cashback, having paid a trip by card "Mir". All details are specified on a site "Rosturizm". Such a vacation will cost you quite inexpensive, because the state will return 20% of the cost of rent and flight.
Before you rent an accommodation, we advise you to carefully study the map of the island with streets and houses to understand which place to choose. Below you will find the most popular accommodation options.
Look for good hotels on Hotellook – the site compares prices from a variety of booking systems (Booking too) and finds the best one. Read our guide on how to find a good and inexpensive hotel on your own.
Contemporary Baikal View Hotel
"Baikal View" is one of the best private hotels in the village of Khuzhir, as evidenced by the high ratings and photos of rooms on tourist sites. Located seven hundred meters from the shore, the hotel offers a wide range of services to its guests.
It is useful for travelers in Russia to know:
official website: https://baikalview.com;
Address: Khuzhir village, Russian street, 17;
there are double rooms with one and two beds, as well as a suite category;
There is a free pool and open terrace, you can rent a sauna or rent a bicycle;
free Internet access is available;
a panoramic restaurant with a view of Baikal serves local cuisine and a breakfast buffet;
pets are welcome, and a shuttle service can be arranged from the nearest airport.
Camping-hotel "Olkhon" for lovers of outdoor activities
A modern Scandinavian-style hotel is 1.5 kilometers from the shore of Lake Baikal in the center of Khuzhir. It consists of several two-storey wooden houses with all the conveniences inside and a nice area for barbecue in the open air.
For those who are planning a trip to Olkhon:
official website: https://camping-olkhon-khuzhir.nochi.com/;
address: 64/1 Baikalskaya st;
room stock: 28 rooms with a bath, shower, heating, balcony on the second floor with a view of the lake;
close to local cafes and stores;
here you can book excursions with a personal guide, fishing and horseback riding.
Solnechnaya recreation base in the center of the village
If you are a fan of Russian old times and you want to live in an authentic wooden house with hand-carved window trimmers and get away from the usual stone blocks of flats, "Solnechnaya" recreation center opens its doors for you. It is only 7 hundred meters from the lake, and to the Shamanka cliff and thirteen poles sarget slightly less than 1 km.
Tourist to note:
The address is Sunny Street, 14, there is no official website;
for visitors there is a sauna, children's outdoor playground, equipped barbecue area;
you can play table tennis or go fishing;
Showers and bathrooms are located on the floor and are available for several rooms;
you can pay for accommodation and food in the local store with a bank card.
Hotel Villa Malina near the beach
The two-story eco-hotel Villa Malina has been certified by an international commission and has been recognized as a luxury hotel. Stylish rooms and well-equipped common areas are very much appreciated by modern travelers, and the proximity to the coastal area is a definite advantage among other vacation bases.
What else you need to know about this place:
official website: https://hotelvillamalina.ru/;
address: Khuzhir village, Voroshilov street, 33;
English-speaking staff;
heated pool with a shallow area for children;
sauna complex with professional bathhouse attendants;
mini soccer, playground, tiny zoo with two tame raccoons.
Stylish Flagman Hotel
Very modern and stylish hotel "Flagman" on the outskirts of Khuzhir offers premium accommodation. Noise-proof walls, panoramic glazing, water-heated floors and plasma TVs in the rooms make a big difference.
For vacationers' information:
official website: https://flagman-olkhon.ru/;
address: ul. Molodezhnaya, 1;
excursion service;
breakfasts in the rooms;
free parking, WI-FI;
proximity to a large supermarket;
Transfer to and from the airport by appointment.
Guest House Inspiration
This hotel in Khuzhir is very popular with couples, as well as parents with children. There are 6 comfortable buildings and several cozy log cabins on the territory. At the moment, only summer accommodation is possible.
Information for tourists:
Address: Khuzhir village, Voroshilov street, 11, the hotel has no official website;
There is free parking and a large area for outdoor games;
there is a dining room from which you can order delivery of food to the room;
excursions around the island by car and on Lake Baikal by boat;
it is possible to rent a quad-bike or ride a horse.
Cozy recreation center Lada
The Lada Hotel is a mile and a half from the shoreline, but you can see Lake Baikal from the second floor.
For more information:
official website: https://nalade.ru/;
address: Khuzhir village, 30 Taezhnaya street;
There is a bike rental, playground for children's games;
Open-air tables for guests;
canteen in the hall with a fireplace;
By agreement, the staff can pick you up at the airport and take you back.
Baikal Eco Wood Nature Hotel
Located in close proximity to a primeval forest, the hotel invites tourists to enjoy an unforgettable vacation on the shores of ancient Lake Baikal. You can stay in one of the two wooden buildings with modernly decorated interiors.
What travelers need to know:
official website: https://www.baikalwoodhotel.ru/;
address: 5 Svetlaya St., Khuzhir village;
Check-in is possible in "standard", "improved", "deluxe", panoramic and double "suite" types of rooms;
excursion bureau with its own professional guides;
SPA and bathing complex of high level;
restaurant with local cuisine and pizzeria on the territory of the hotel.
Baikal Mini-Hotel
Mini Hotel Baikal is located on the shore of Lake Baikal. It is one large three-story wooden building, surrounded by several individual summer houses. Right from the windows there is a magnificent view of the water surface and the majestic rocky shore – this is what the hotel guests most often mention in their reviews.
Information for tourists:
address: Russia, Irkutsk region, Olkhon Island, Khuzhir, Voroshilov street, 36, no official website;
You can book a room by phone, listed on the websites of tour operators;
there is a cafe-dining room on the territory, where they cook Russian and Buryat dishes;
there is an equipped place for children to play outdoors, souvenir shops and a food stall;
a sauna complex and a tour desk offer their services;
it is possible to play billiards, bowling and to have a rest in a karaoke bar.
Recreation base Olkhon
Tourist complex Olkhon offers rooms at affordable prices. In winter you can stay in the main building, and in summer tourists are waiting for small cottages.
To help travelers:
Address: Baikalskaya str., 64A, Khuzhir village;
there are rooms with showers, resting places and a TV;
playground and area for active games;
entertainment: darts, ping-pong;
at the information desk, you can book a walking tour of the island and arrange a shuttle to the airport.
SaRaysky hotel and tourist complex
SaRaysky hotel is located on the shore of the bay of the same name. The view terrace overlooks Lake Baikal, and walks through the relict forest will help strengthen your health and fill your body with energy.
For more information:
official website: http://sarayskiy.ru/;
Address: 5 Saraiskaya Street, Khuzhir;
an extensive wooded area;
24-hour cafe, a sauna in one of the wooden buildings, excursions with a personal guide;
sun beds at each cottage;
clean beach and grounds for active sports.
Get rid of the fatigue of the city bustle and polluted air, immerse yourself in the atmosphere of wildlife and rugged beauty. Visit these places and enjoy your rest in equipped hotels, ready to offer a variety of services to their guests.