Holidays in Chamyuva, Turkey – 2022: tourist reviews
Looking for a quiet sunny haven for a quiet break from the urban hum? Then the resort village in Turkey – Chamyuva will be a good option. For 5 years of living in the country, I managed to work in one of the local hotels, so I know what I'm talking about. But the article is not about me, get to the point:).
From the author. Most of the information for this article was collected thanks to Alina, a longtime resident in Turkey. I am writing on her behalf. But some of the material and some of the details I took from my experience of traveling in the country.
Useful: You can withdraw liras from ATM Ziraat with an MIR card. You can also change it in rubles, but the exchange rate is less favorable.
Where is Chamyuva?
Chamyuva means "pine nest" in Turkish Çam yuva. And it belongs to the resort region of Kemer. The distance between the village and the center 8 km.
Briefly reviews of Çamyuva – why do tourists choose it?
It is quiet and calm
pine forests and the Taurus Mountains
clear Mediterranean Sea
gentle entrance to the water
proximity to the airport (50 km)
Relatively inexpensive vacation
On the streets of Chamyuva: mountains, vegetation, conifers.
Of the typical vacationers: families with children and older couples. Also like the village and the Germans (some hotels are even designed only for the German public, such as 5 * Robinson Club).
But it is unlikely that the resort Chamyuva will appeal to young people, hungry to party and shopping. For the sake of variety and a dynamic atmosphere you can go to Kemer, where every night gundezha and fun at the clubs. Or get to the shopping malls of Antalya.
| | |
| --- | --- |
| | If you are not happy with the group transfer by bus from the airport to the hotel, you can always call a car with a driver on services such as kiwitaxi. |
Prices for tours to Chamyuva
A look at the local hotels
I travel by tour most of the time – convenient, although I have nothing against independent travel. I look for tours online at special aggregators like these:
*especially the first two.
For clarity and figures "from" on tours in Chamyuva on all inclusive for two people I will take from them. So, what is Turkey preparing for us in 2022?
7 days
10 days
14 days
any hotel
55 000 rubles
75 000 rubles
91 000 rubles
4 stars
59 000 rubles
80 000 rubles
91 000 rubles
5 stars
91 000 rubles
119 000 rubles
150 000 rubles
Family vacation for a week in the village Chamyuva for 2 parents and child will cost from 75 000 rubles.
As for Kemer. This is quite a large region and in addition to Chamyuva for the rest you can look out for other locations:
Weather in Chamyuva (Kemer)
At the entrance to Chamyuva.
The Mediterranean season begins in mid-April. Most hotels in the village open by this time and are open until the end of October.
In April and May, it's still cool and not everyone gets in the water, bracing. But after the holidays the temperature picks up. The air warms up to +25 ° C … +28 ° C, the water crosses the mark of +24 ° C. Tourists prepare sunscreen and run to the beach.
Weather and climate in Chamyuva = Kemerovo subtropics and high humidity. It is quite hot and humid in summer (sometimes all +40 ° C … +50 ° C), but plus a well-warmed sea of +26 ° C … +29 ° C. It is more or less comfortable in June.
If hard to bear the heat, I advise to go in the fall in the Velvet season, in September or October. At this time the sea is still nice, not so humid and less holidaymakers. In winter it's also relatively warm (+12°C), but it rains a lot.
| | | |
| --- | --- | --- |
| Month | Air temperature (°C) | Water temperature (°C) |
| April | 19,5 | 18,2 |
| May | 23,8 | 21,4 |
| June | 28,3 | 24,9 |
| July | 32,2 | 28 |
| August | 32,6 | 29,3 |
| September | 28,7 | 28,2 |
| October | 23,4 | 25,5 |
Read more about the season in Turkey on the example of the Mediterranean coast here.
Sightseeing in Camyuva
Where can you go without palm trees in Chamyuva:)
As I said (or not?) It is a small village. Therefore there are not too many interesting places on its territory. Nevertheless, what to see in Chamyuva and where to go on your own?
✓ Abandoned hotel Naturland
The latter offers walks and horseback riding. The latter for a fee, the hotel offers horse rides through the woods, the beach, the arena for a different number of hours. Available to guests as well as tourists from other hotels.
That's where the attractions in Chamewa end. But not so far away:
noisy Kemer in the evenings
Antalya, the center of tourism – shopping, museums
Tahtali mountain with a ropeway (organized from $50)
Fazelis, where you can walk near ancient ruins (entrance to the territory of 55 liras)
From gastronomic. I advise you to visit the following cafes and restaurants:
Aspava Kebapcisi
Steak House For You
Blue Angel Restaurant & Cafe.
For small purchases and souvenirs drop by the market on Wednesdays (12, 3 street) and the small street stores on the central street Turizm Blv. Here shoes, bags, clothes, gold, textiles. For food and other sweets go to chain stores: Migros, Şok and BİM.
| | |
| --- | --- |
| | In answer to the question about what to do with children, I'll put it this way. On the border with Kirishi, there is Dolu Su Park water park. There are 32 water attractions, for both adults and little kids. Working time: 10:00-17:00 Cost: $30. |
Excursions
The first photo is a trip to Mt. Chimera excursion / On the other two Demre-Mira-Kekova
For a holiday in Turkey, I would pick exactly the villages of Kemer, because of the number of excursions that you can take here. Especially if this is your first trip abroad.
Prices for excursions here are more than pleasant – from $25-30. I myself have taken about 5 excursions from Kemer. Among them:
– About $40 – from $45.
Tahtaly – $50 – from $35 – from $50-55
My impressions of each place I described in the article about Tekirova. But most of these excursions are also available in Chamyuva, if anything. I was especially impressed by the turquoise of Salda and the romantic evening Chimera.
P.S. I look for excursions on the online services Tripster and Sputnik8, they are in Russian. If you're not bad at English, you can look at Getyourguide.
Where to go from Chamyuva?
Drove by myself to Fazelis / One of the twin mountains, if I'm not mistaken.
Since the attractions in Chamyuva are more than modest, you can roll yourself to the areas nearby. No one forbids:) There are all sorts of transport for that. Of the most obvious options:
✓ bus – to keep you company with locals rushing to and from work;
✓ cab – convenient, fast and profitable for companies;
✓ car rental (on Rentalcars, for example) – not a bad option for very independent tourists who want to go around all the nearest and not so much the neighborhood.
If I were in Turkey for the first time, from Chamyuva I would go to Kemer. Especially since it is not far, 15 minutes by bus, including stops. The fare is only 6 liras, a cab will get you there for $10-$15.
You can also go to the nearest villages: Beldibi, Tekirova, Kirish and Cirali. And Analia for shopping, local flavor, sights and museums.
Good Hotels
Chamyuva hotels are targeted at Russian families with and without children. In Kemer, in general, our people are not lost:) The native speech at every step, including the staff. It is not the Aegean coast, where you need a knowledge of English, German or Turkish.
Of good hotels – not Rixos, but resorts with high service and animation – I would consider for a stop the following. The cost specified for a one week vacation for two on an all inclusive basis:
✓ 4* Sinatra – from 80,000 rubles
✓ 4* Club Akman Beach – from 98 000 rubles
✓ 4* Pasha's Princess – from 100 000 rubles
✓ 5* Zena Resort – from 105 000 rubles
For vacation with a child I suggest 5* Kilikia Resort (1st line). True, the price tag for a family of three will be a lot of money – from 140,000 rubles. Of the options simpler (does not equal worse):
Beach in Chamyuva.
Beach in Chamyuva / And the beach in Fazelis (advised!)
Chamyuva Beach is 2.5 km long. Sections of the beach belong to the hotels. Sun beds and awnings are free for guests.
The beach is pebbly, sometimes with sand (for example the beach of the 5* Simena Sun club hotel). The sea entrance is gradual for the first three meters, and then begins depth. The water is clear, you can see the bottom, even at a considerable distance from the shore.
On the beach, almost every hotel has an office Aqua Sport. Here you can take part in various activities:
diving
paragliding
banana boat riding ($10)
Jet ski ($50).
In general, the beach holiday in the village at the level. And given that the surface here consists of small pebbles – koralki don't have to be worn. Although lovers of sandy shore is better to go to Kemer (beach Moonlight), Fazelis or initially choose Side.
Reviews and tips about the resort
In nearby Kemer.
Reviews about Chamyuva are mostly positive. Especially among tourists who knew they were going to a peaceful Turkish corner. Although there are those who did not match expectations (parties, discos, traffic) ≠ reality (nature and tranquility).
"Personally, I like this modest and quiet village. Chamyuva, like the whole Kemer is a beautiful green location with the noise of the sea, mountains and pine scent. If I were a tourist, I would come here for a break from the Russian lingering winter and the bustle of the big city. In general, it is quiet, there are no loud nightclubs and noisy young people. But you can find stores, bazaar, post office, restaurants and cafes. Suitable for tired of a year of parents:)".
Tip. You can exchange dollars/euros for liras at the post office PTT (at the entrance), or in chain stores like Migros (make a purchase, give dollars and get change in liras). Currency, travel budget, etc. – in detail in another article.
Chamyuva: Tips for vacations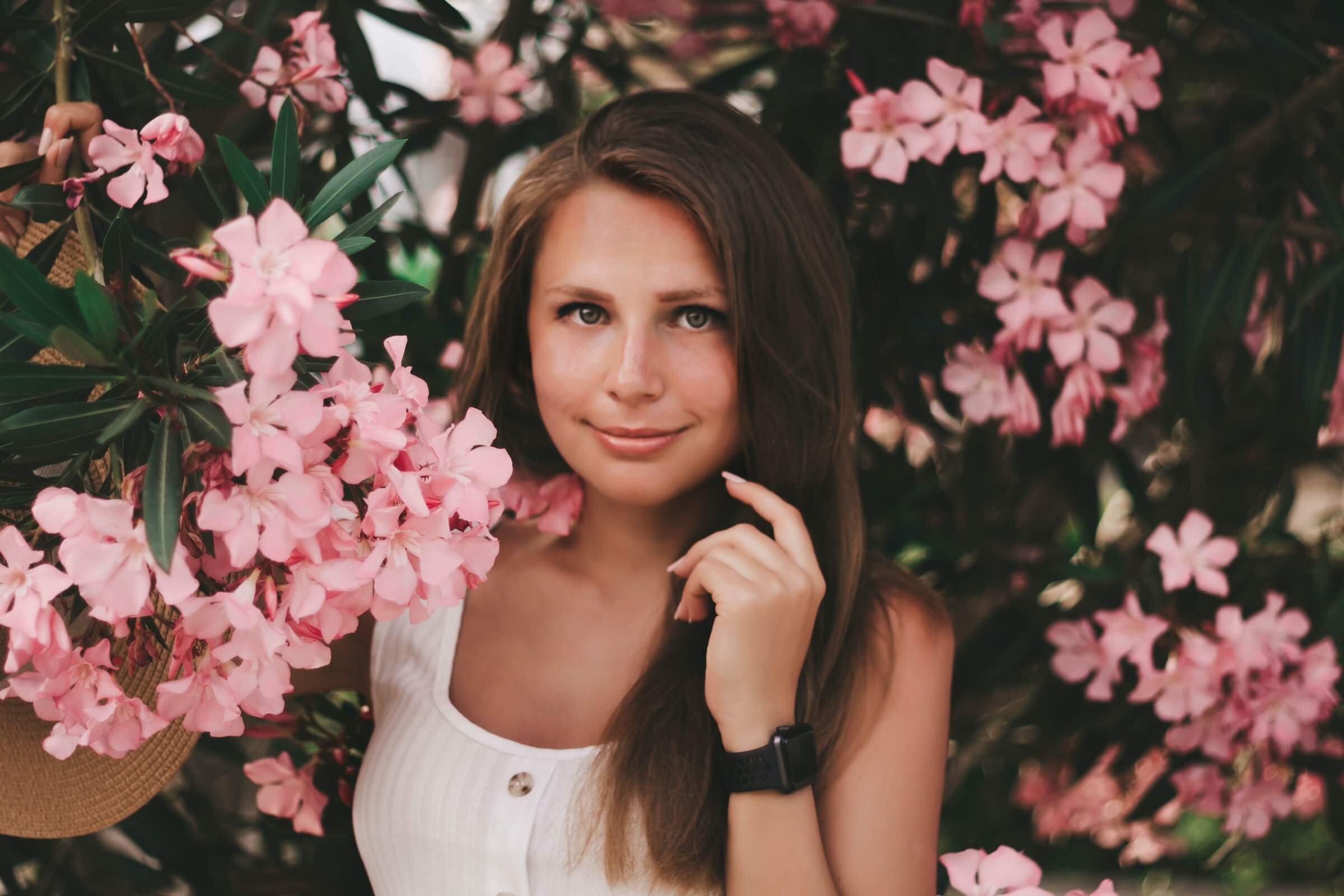 During some fifteen years, not a remarkable village near Kemer has grown into a luxury Mediterranean resort! Learn from the reviews of tourists about Chamyuva, what the prices, beaches, hotels at the resort and whether to rest there in 2022.
Content:
Impression of the resort
In Turkish, the name Chamyuva means "pine nest." It is an elite part of the resort area of Kemer. A small river Agva separates the village from the neighboring resort – Kirish.
In the 1990s, there were inconspicuous farmhouses on the coast, and the locals were fishing and growing oranges, mandarins and lemons. Now tourists are welcomed by several 4-5* hotels, simple hotels, apartments and comfortable villas.
According to reviews for 2021, Chamyuva is good for a family vacation without the hustle and bustle. Tourists like the clean sea, quiet atmosphere, palm trees, oleanders, orange trees, picturesque Taurus Mountains and good pebble beaches. Interesting places of the resort is easy to walk around and around on a rented bicycle or an electric car. Along the main street Turizm Blv run municipal buses.
Romanova Albina: "I chose Chamyuva because of the beauty of local nature. Mountains, palm trees, emerald water and pebbles (I don't like sand). The sea is amazingly-magical, warm. You can sometimes see a few small fish at the entrance.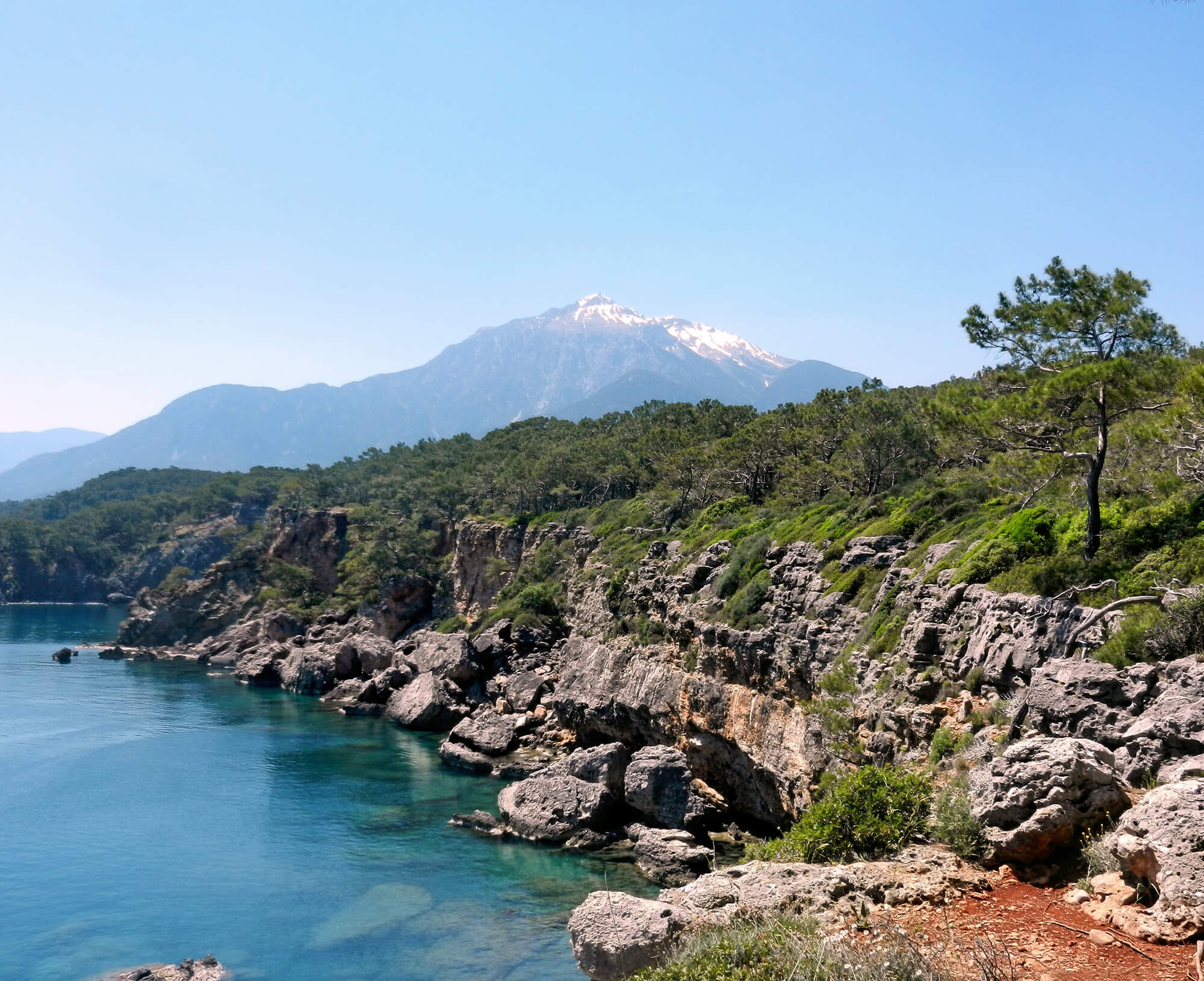 Nature in Chamyuva. Photo: Tanya Dedyukhina / wikimedia.org / CC BY 3.0.
Best hotels in Chamyuva
A big plus of vacationing in Chamyuva is the modern hotel base. There are no old hotels at the resort. In the summer of 2022, prices for a double room with breakfast at 3* hotels and apartments with pools are kept between $25 and $55.
The best hotels in Chamviewa offer tourists all-inclusive meals, smart infrastructure, well-kept grounds, green gardens, private beach, spa, hammam, bars with discos, animation and entertainment for children. During the high season, a double room in a 4-5* hotel costs $120-170. A three-bedroom villa that can accommodate 7-9 guests can be rented for $1,200 per night. Look for tours to Chamyuva on Online Tours or book your own hotel on Hotelluk.
We've selected the best all-inclusive hotels in Chamyuva:
– A popular hotel with a large area and active animation. – A family hotel with good restaurants and a great beach. – A good "four" with a pool, 200m from the beach, 16+ concept. – A very quiet hotel only 300m from the beach.
Panoramic view of the Simena Sun Club beach
Beaches of Chamyuva
The beach area in Chamyuva stretches for 2.5 km. You can sunbathe and swim everywhere. The long beach is divided between the hotels. The guests use the sun beds and umbrellas from the sun for free, and the rest – for a fee. Water entertainments like scooters, "bananas" and catamarans are enough.
The shore is covered with large and small pebbles, in some places there are even large stones. For convenience, the water is paved with wooden decking. The sea in Chamyuva is clean and clear, and the entry is smooth.
Kirill: "The beach is not sandy, but fine pebbles. The bottom is also of pebbles, but larger, so the water in and out of the water is more convenient to move in coral slippers with a thick rubber sole. If those are not available, before going to the beach is better to buy them in a supermarket – the price ranges from $7 to $15.
Beach panorama in Chamyuva
Food prices
In terms of prices, Kemer resorts do not differ too much. In restaurants for tourists grilled fish costs $6, kebabs – $2-3, shrimp dishes – from $7, fried calamari – $3, lamb cutlet – $5, beer – $3-5, alcoholic cocktails – $6-8, and ice cream – $0.3-0.5. You can eat much cheaper at cafes for locals. The average check for lunch for two without alcohol is $8-$10.
Groceries are handy at Migros supermarket and the mall on Huzur Cd. On Wednesdays, there is a market selling fresh fruits, vegetables, fish and seafood.
Torlopyga: "The main tourist street is 600 meters of all kinds of stores, hotels, pharmacies, ATMs, rentals, etc. The market occupies a large area, you can enter it from different sides. When you see a lot of cars and tents, you go there. We bought strawberries and cherries.
Kirill: "Lunch for three without alcohol cost 100 Turkish liras with a tip. At the same time they gave a free bottle of drinking water for each of us. The lunch consisted of three kebabs, two portions of soup and one portion of fried shrimp.
Turkish breakfast for $3 (20 ₺) in nearby Kemer: flatbread, tahin, vegetables, olives, homemade butter, several kinds of jams and cheeses.
Excursions
The resort has no nightlife and special entertainment, so tourists are happy to go on excursions. According to reviews, popular in Chamyuva are boat trips – $15, rafting – $15, diving – $20, jeep safaris – $18, horseback riding – $35, sea fishing – $50, a tour of Demre-Mira-Kekova – $25, trips to Pamukkale – $35 and Cappadocia – $90.
Marina: "If you want to go on an excursion, go! We really liked it! 1500 rubles per person from 9 to 7 pm, meals included. Trip to Antalya with a guide on a comfortable bus. Rope + waterfall + Old City.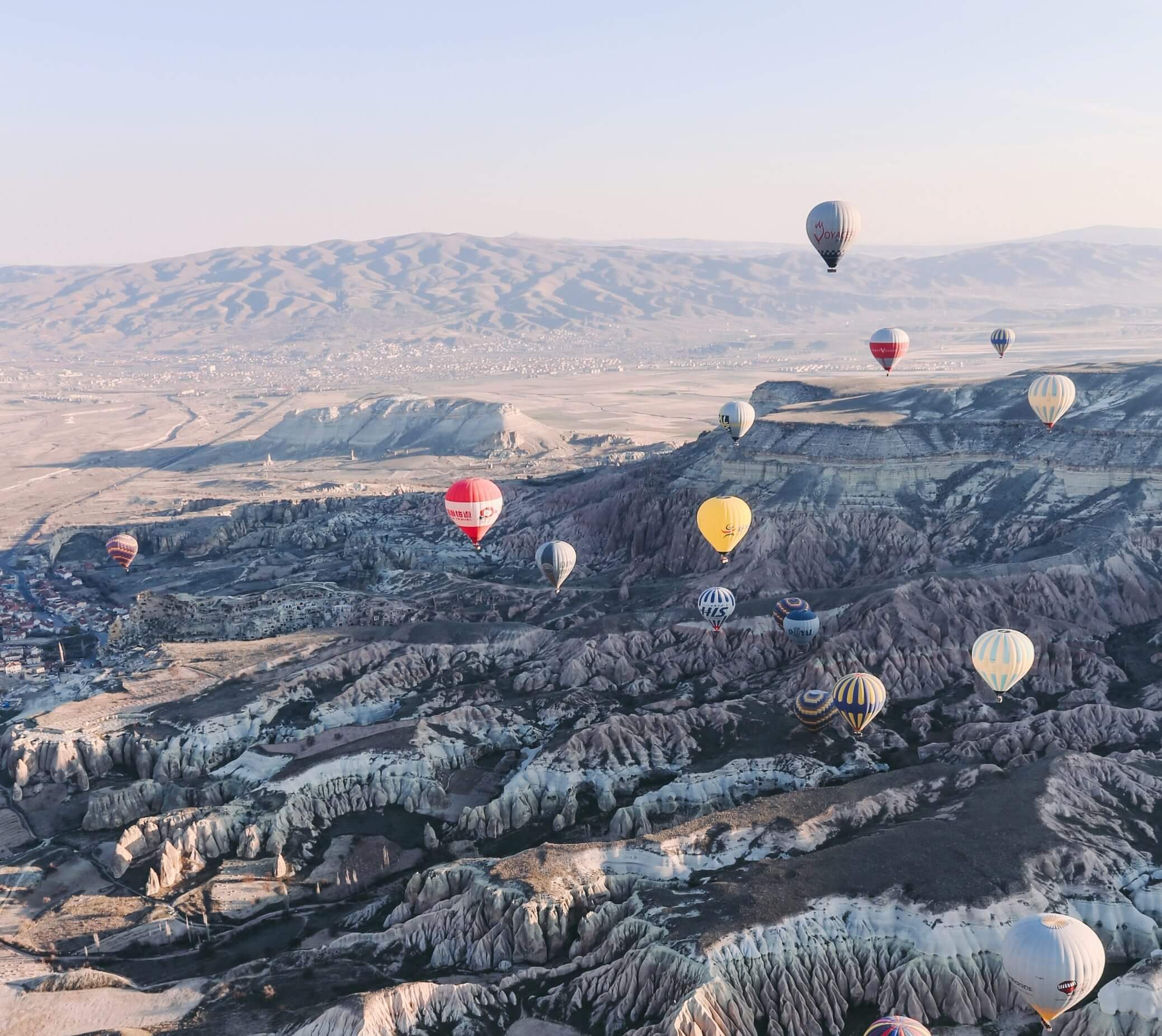 Cappadocia. Photo: unsplash.com / @masinutoscana.
Holidays with children
Pebble beaches are not as good for holidays with children as sandy beaches, but in reviews parents praise Chamyuva for the clean sea and large areas of shallow water. To make a child feel more comfortable on the beach of pebbles, buy him aqua-shoes!
For the kids in Chamyuva is a green park with playgrounds, and in neighboring Kemer – dolphinarium, oceanarium and Dinopark. Get a lot of positive emotions in the most extreme water park in Turkey – DolusuPark, see the ruins of the ancient city of Fazelis, and take a walk with your child through the picturesque surroundings to Paradise Bay.
kapka: "Chamyuva was chosen intentionally, as for a seal holiday with children, this village seemed ideal. The depth is growing fast enough, but there are a couple of meters to splash the kids in the shallow water. I like that playgrounds are practically on the beach, so it is not hot on them.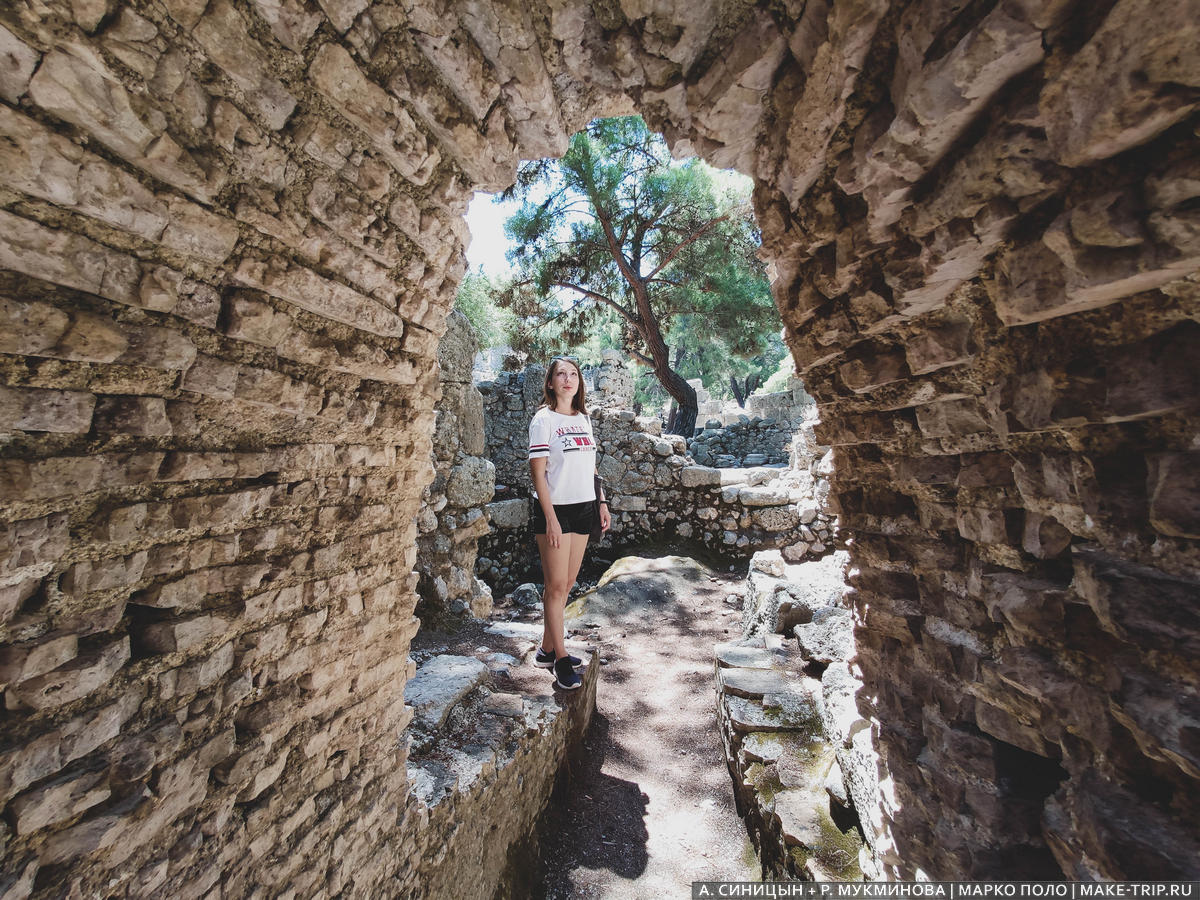 Roman baths of Fazelis. It is safe to walk around the ruins.
When is the best time to go
The tourist season in Chamyuva lasts from late April to early November. The rest of the time the village is almost empty. It's comfortable to swim in the sea from early June, when the water gets as warm as +22° C.
As on the whole Mediterranean coast of Turkey, July and August in Chamyuva are hot. The humidity in the air is high – 60-65%, so the summer heat is hard to bear. The best time for a holiday with young children and older tourists is the beginning of summer and the first half of autumn.
Marina: "The middle of July in Chamyuva is the real peak of the season, with hot days and warm evenings. During the day the thermometer column in the sun exceeds +40 ° C. At night it's a beautiful +25 … +27 ° C. There is almost no rain and strong winds, the water in the sea is warm +25 ° C.".
Conclusions: Is it worth to go
Turkish resort Chamyuva is loved for its clean pebble beaches, modern infrastructure and proximity to entertainment Kemer. In 2022, rest in luxury hotels of Chamyuva is cheaper than in other resorts of Turkey.
The main drawback is that the resort is located 70 km from the international airport. Direct public transportation to Chamyuva does not run. If you go on your own, you will have to get to the hotel by cab or book a transfer. The trip from Antalya Airport takes an hour and a half.