Recreation in Kemer.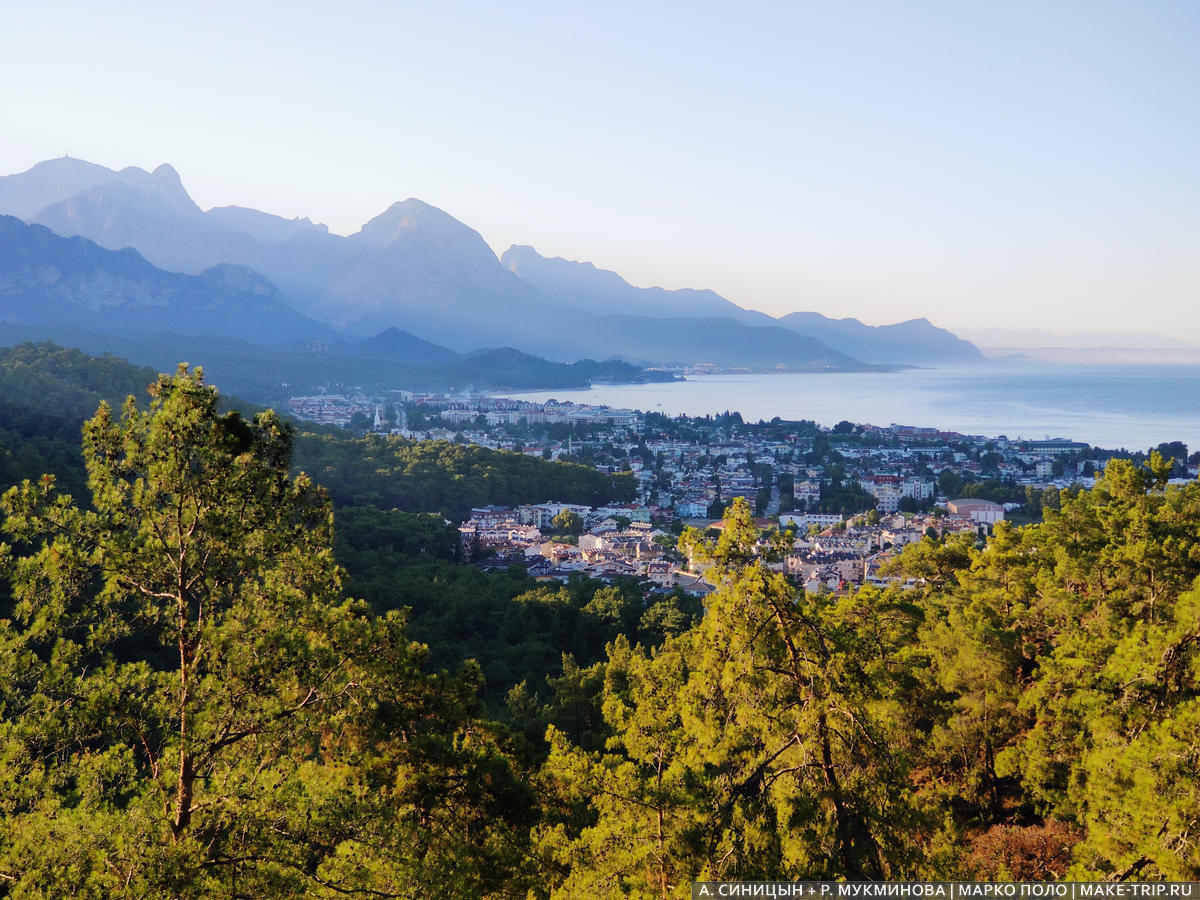 Review of our holiday in Kemer. Prices for food, tours, excursions in 2022. The best hotels, according to tourist reviews. Useful tips for your holidays in Kemer.
Content:
Kemer: expectations and reality
Kemer – our first resort Turkey, before that we were three times in Istanbul. We went here the classic way – by hot tour. My imagination drew surrealistic pictures Gelendzhik-style horrific vacation: walking topless in the streets of the city of sunburned compatriots, quarrelsome women's swearing at their children and husbands, pushy Turks in the stores, screaming Russian pop song from every bar and hotel – in general, we were morally ready to be in hell.
Reality surprised, and this time pleasantly! There is no trash here, or he miraculously did not seem to our eyes. Of course, because of the specifics of Russian vacation we did not feel abroad, but in general, all decent. At least in such a small resort like Kemer.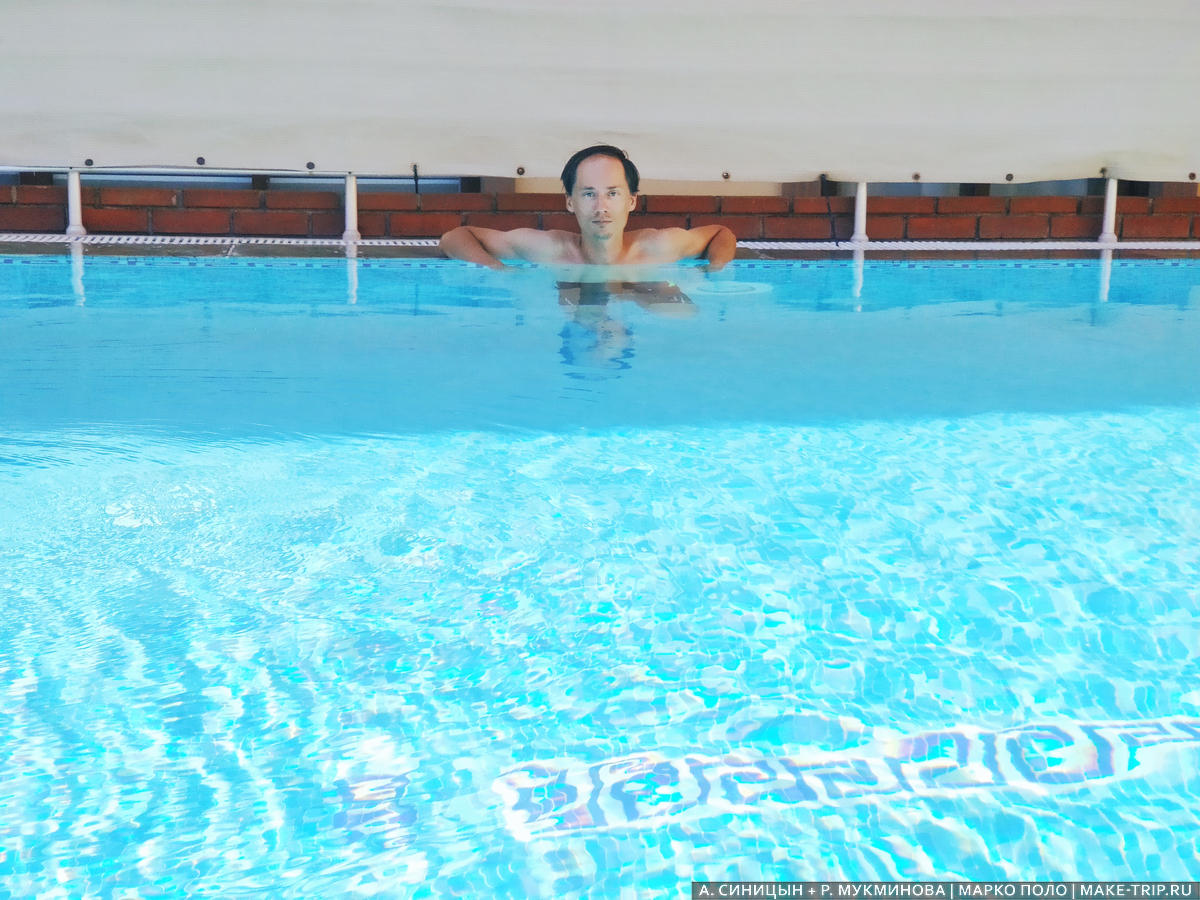 At the pool of our hotel Orange Garden.
What a vacation in Kemer looks like:
Russian tourists are in the majority, but about the same number of vacationing Turks, there are also Europeans.
Every second Turk at the resort speaks good Russian.
Excursions, food and clothing are offered, but not as assertively as in Egypt – do not grab by the hand, do not try to sell anything by force.
There are a lot of bus routes between cities, beaches and places of interest.
It seems that almost no Russian tourist knows a word of English. Okay pensioners, but young people? It is very surprising.
Almost all holidaymakers hang out on beaches all day – it is packed to capacity.
We are glad to note that we never saw a drunken, inadequate and inconsiderate compatriot. Or we were so lucky, or people learn to behave on rest culturally.
The sun burns beastly, to walk in the daytime is practically impossible. Still it is necessary to come in a velvet season!
In general our review about rest in Kemer is positive – we advise to visit at least once! Partly this pleasant picture is explained by the fact that we are cheaters. We chose a quiet and small resort, settled in a home apart-hotel, refused the "all inclusive". Otherwise, there probably would have been more passion
View of Kemer from Chalish Mountain. On the way to the top there are many steep lookouts on both sides.
Kemer tour review and prices in 2022
We bought a trip to Kemer from Moscow for 7 nights for 33600 rubles for two on Travelate. It's cheap, but it can be even cheaper: for example for 21000 with food. Except that we did not want to stay in a hotel-anthills, where we woke up in the pool with animators, and in the evenings there was music. We chose a quiet hotel Orange Garden, where there are mostly Turks.
The tour operator was "BiblioGlobus". It turned out that there were several hosts, and we had to walk around looking for our stand. Then we had to wait a long time for the lost tourists, as a result we arrived at the hotel only at night. In the rest everything as usual: comfortable transfer and Russian-speaking guides, who will show and tell us everything.
In general, the summer and autumn 2022 the cheapest hot tours "all inclusive" in hotels 3-4 * are from 43000 rubles for two people for 7-8 nights. In hotels 4-5* – from 57000 rubles for 11 nights.
Look for last minute tours on Level.Travel and Travelate – they will find the best deals among different tour operators. Do you want to save money? Study our 7 rules for buying tours online.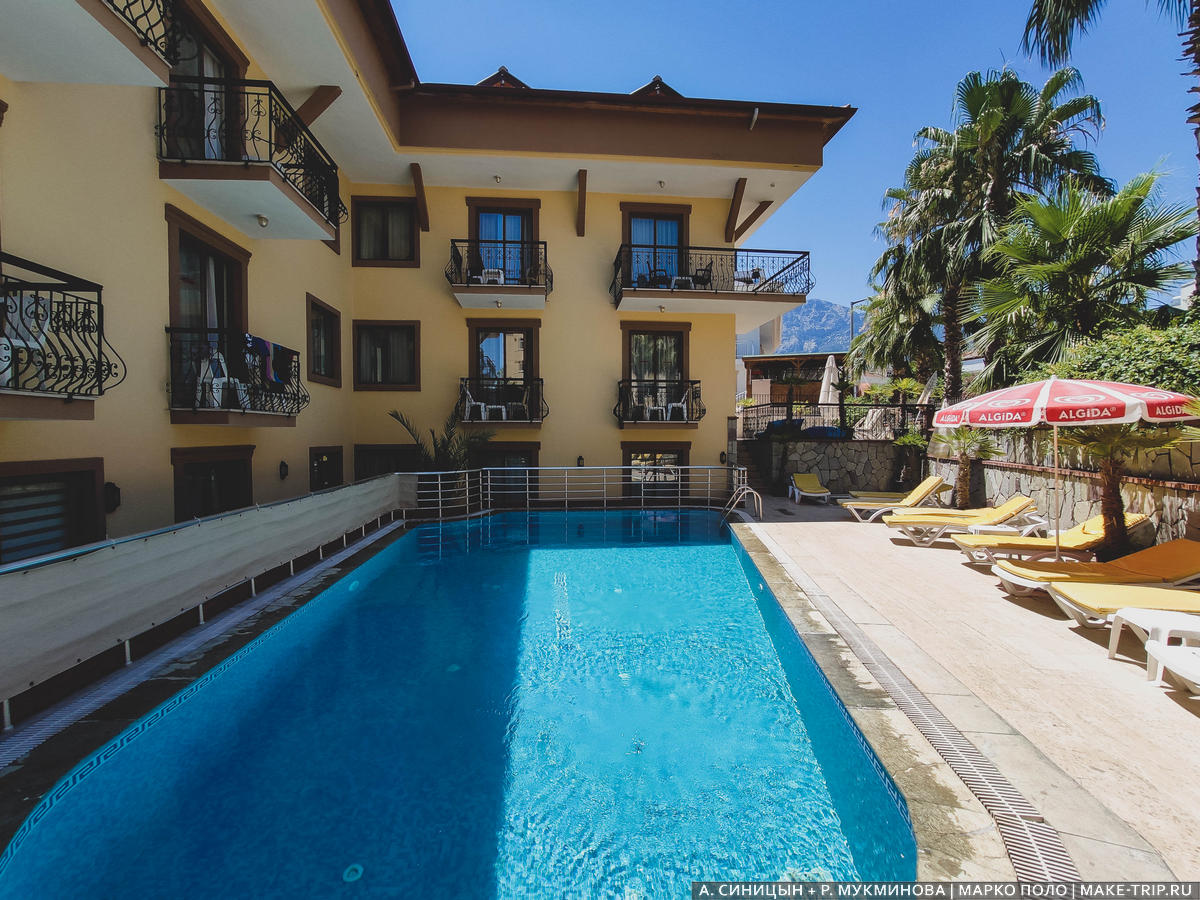 Our hotel Orange Garden is modest but quiet.
Our hotel review in Kemer.
We chose the Orange Garden aparthotel without board. It is quiet and peaceful, away from the noisy streets. We had a spacious room with a balcony and kitchenette. There is a pool in the courtyard. The hotel is without stars, old and tired furniture, with joints in the bathroom. But that's okay, we don't spend much time in the room anyway.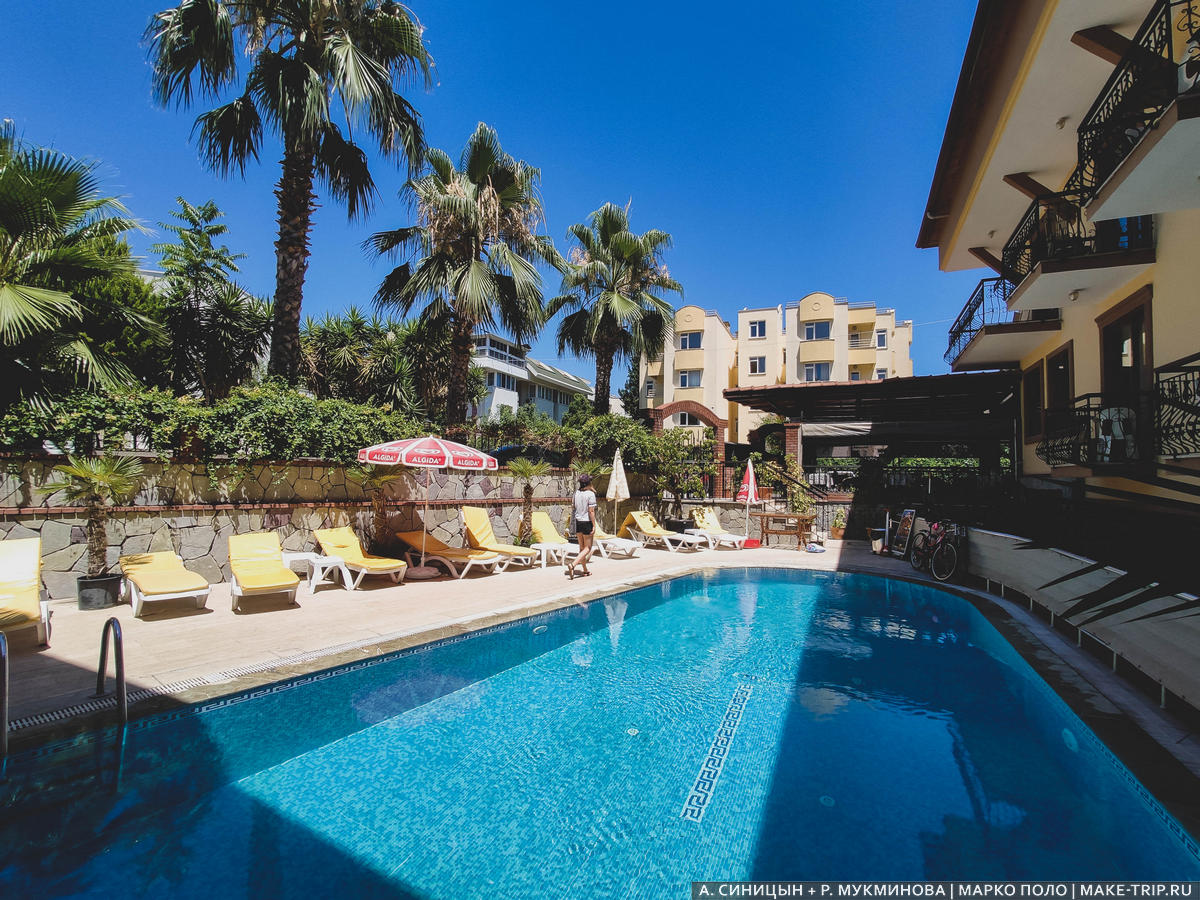 A quiet apart-hotel Orange Garden in Kemer. Sit here mostly Turks.
The best hotels in Kemer
Where it is quiet. If you want maximum tranquility, look for small domestic hotels or villas. They are usually located in an area near the forest and mountains in the south of the resort. It takes about 15 minutes to walk to the beach from there. We lived in just such an area – a kind of suburbia.
Where it's fun. If you want to spend a vacation cheerfully, cheerfully and do not think about anything – choose large hotels closer to the beach with food "all inclusive". But in the evenings there is prohibitively loud – you can not go to bed early. Our compatriots usually stay in such hotels: the table is packed with food, there is a large swimming pool, children are busy with animators, and to the beach is two steps away.
Hotels 3* and 5* "ultra all inclusive" in Kemer with the best reviews of tourists:
(50 m to the sea); (100 m to the sea); (100 m to the sea); (150 m to the sea); (450 m to the sea)
3* and 5* all-inclusive hotels in Kemer with the best tourist reviews:
(220 m to the sea); (50 m to the sea); (50 m to the sea); (50 m to the sea); (450 m to the sea); (350 m to the sea).
Map of hotels in Kemer:
A review of the prices in Kemer.
Food: We did not expect that the prices of food in Kemer are almost twice as high as in Istanbul or Antalya. If we had known we would have taken a hotel with meals. We had to look for cafes with adequate prices.
The most expensive are the cafes, kebab houses and restaurants on Ataturk Boulevard and the promenade. We, used to the low prices in Istanbul, had our eyes on our heads: 4 prawns for 55 ₺, kebabs from 40-50 ₺, soups for 20-34 ₺, and grilled octopus as much as 108 ₺! Look at how much a meal in Turkey should cost.
We ended up finding establishments for locals. Prices there are low, our average check was 55-65 ₺ for two (600-700 rubles). Read what are the prices in Kemer for food and where to eat inexpensively.
We bought groceries, fruits and berries in the supermarkets Migros and Carrefour – the prices are quite low. According to tourist reviews, everything in Kemer is cheaper at the market, but it is open only on Mondays or Tuesdays.
Our lunch at the cafe is ₺60 for two. They bring a free plate of salad, tortillas and two bottles of water to the main course.
Rent and transport. In Kemer, prices for renting transportation are high: car – from $35 per day, bike – from $20. Most take electric scooters. There are a lot of rental places.
Bus service is very well developed, and the fares are inexpensive. The ticket price depends on the distance: to Antalya – 9 ₺, to Fazelis – 4,5 ₺. You have to get on at the white clock tower in the city center.
We sailed from Antalya to Kemer by boat – it's a cool opportunity to combine a mundane ride with a boat ride and see the coast from the sea! The ticket costs 15 ₺ per person one way. The boat leaves from Kemer at 10:30 and 17:30, and from Antalya at 9:00 and 17:00. Buy your tickets in advance and take your passport or hotel voucher.
Экскурсии. Предлагать экскурсии будут на каждом шагу. Мы не покупаем экскурсии, потому что смотрим достопримечательности самостоятельно. По отзывам, прогулка на яхте — 110 ₺, аквапарк — 220 ₺, экскурсия по окрестностям Кемера — от 30$, в Памуккале — от 40$. Отдых с детьми >>
Our expenses on vacation in Kemer for a week for two:
| | |
| --- | --- |
| Cafe | 88 $ |
| Fruit and groceries | 60 $ |
| Sightseeing | 26 $ |
| Buses and ferries | 15 $ |
| Rent a bike for a day | 20 $ |
| Gasoline | 4 $ |
| Household purchases | 16 $ |
| Total for two | 229 $ |
"Pirate" excursion ship.
Review of the beaches in Kemer.
In Kemer, thanks to the pebbles, the water is incredibly clear and clean, we did not even expect. The beach in Kemer has a small cobblestone beach, which attracts a lot of enthusiasts.
There are two beaches in Kemer:
City beach. It is pebble. Entrance is free. There is all infrastructure: umbrellas, chaise lounges, changing rooms, toilets, showers, entertainments. From 8 am there already a full house, come earlier. Music plays loudly in the evening.
"Moonlight". It is a sandy beach. It is located in a shady park Moonlight Park, where there is a dolphinarium, playgrounds, water slides, bars, cafes and a club. The water is clean, the entrance to the sea is shallow. In high season, the beach is packed. The park begins near the port, in the southern part of the resort.
Prices in Kemer to rent beach accessories:
Sun lounger with umbrella – 10-15 ₺.
Towel – 5 ₺.
Moonlight Park Sandy Beach. There are a lot of people already from the morning. City pebble beach in Kemer.
Review of the beaches around Kemer
The beaches of other resort villages officially belong to Kemer, but they are far away: Olimpos, Beldibi, Tekirova, Fazelis, Chamyuva, Geynyuk, Cirali. The largest pebbles are in Beldibi and on the city beach of Kemer.
Our reviews of the beaches around Kemer:
Cirali. A long pebble beach flowing into Olympos. Beautiful and wide. You can lie on a deck chair, and you can lie on a towel. The Caretta Caretta turtles lay their eggs here. The depths start right away.
Olympos. A small beach next to the ruins of the ancient city of Olympos. It's great to cool off there after running around the ruins, imagining yourself as Lara Croft! There is no infrastructure. During the day there is shade from the mountain. Tourists who live in modern Olympos, walk to the beach every day through the ruins of the ancient city. You can also get to the beach through Cirali.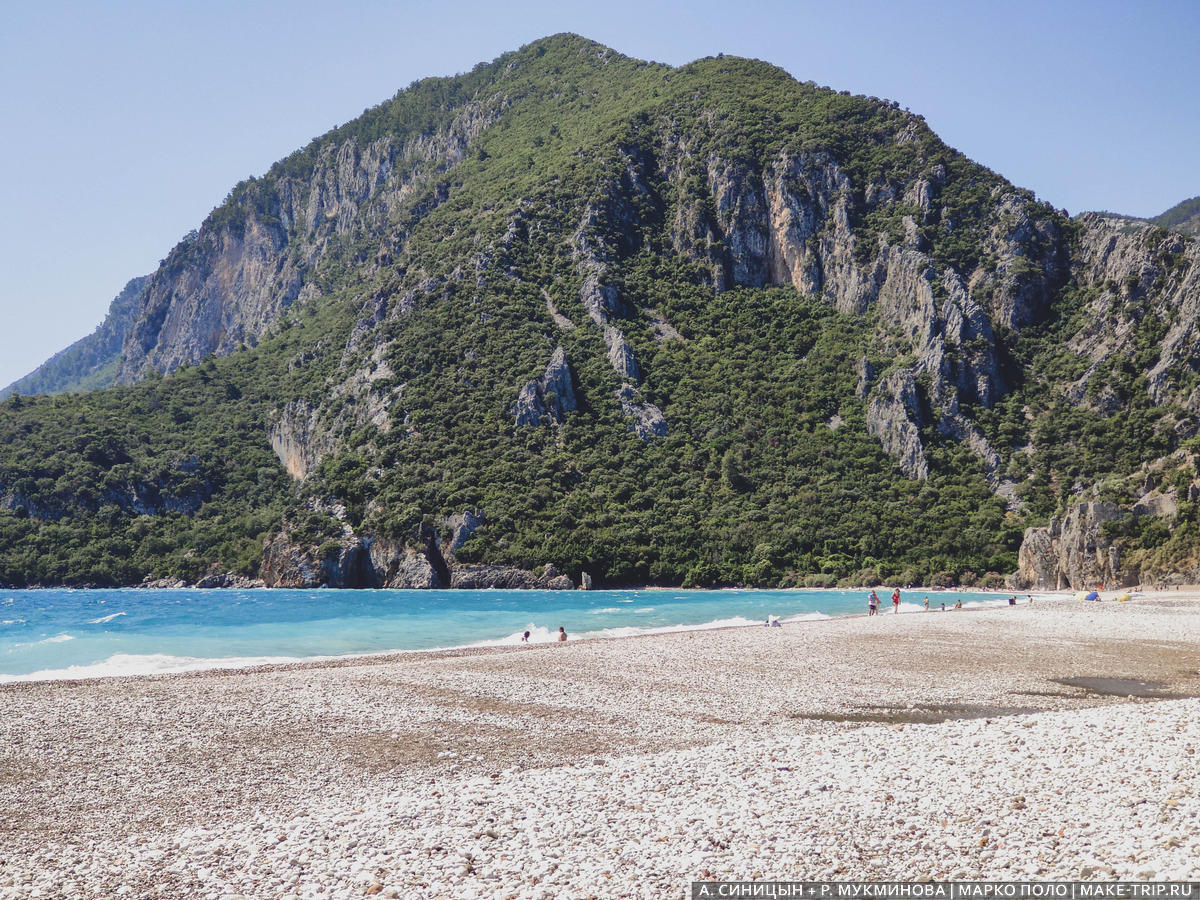 This is the beauty of Cirali and Olympos beaches. In fact, it is one long pebbly and sandy beach.
Phaselis. At the ancient town there are two beautiful bays with beautiful views. One is quiet and peaceful because no ships go there (it is called Phaselis Kuzey Limanı). You can dive and see the ruins under the water! The beach is pebbly, with no sun loungers or umbrellas. There are no waves and it is rather shallow. The infrastructure is a bar, a toilet and a shower far from the beach. The second bay is called Phaselis Güney Limanı, and it is a tourist hell – big ships with crowds come there. You know, not much fun. But the view of Mount Tahtali is beautiful!
Chamyuva. A long pebble beach with infrastructure. Nothing special.
Tip. If it hurts you to walk on the pebbles, buy coral slippers. By the way, during the day the pebbles are very hot!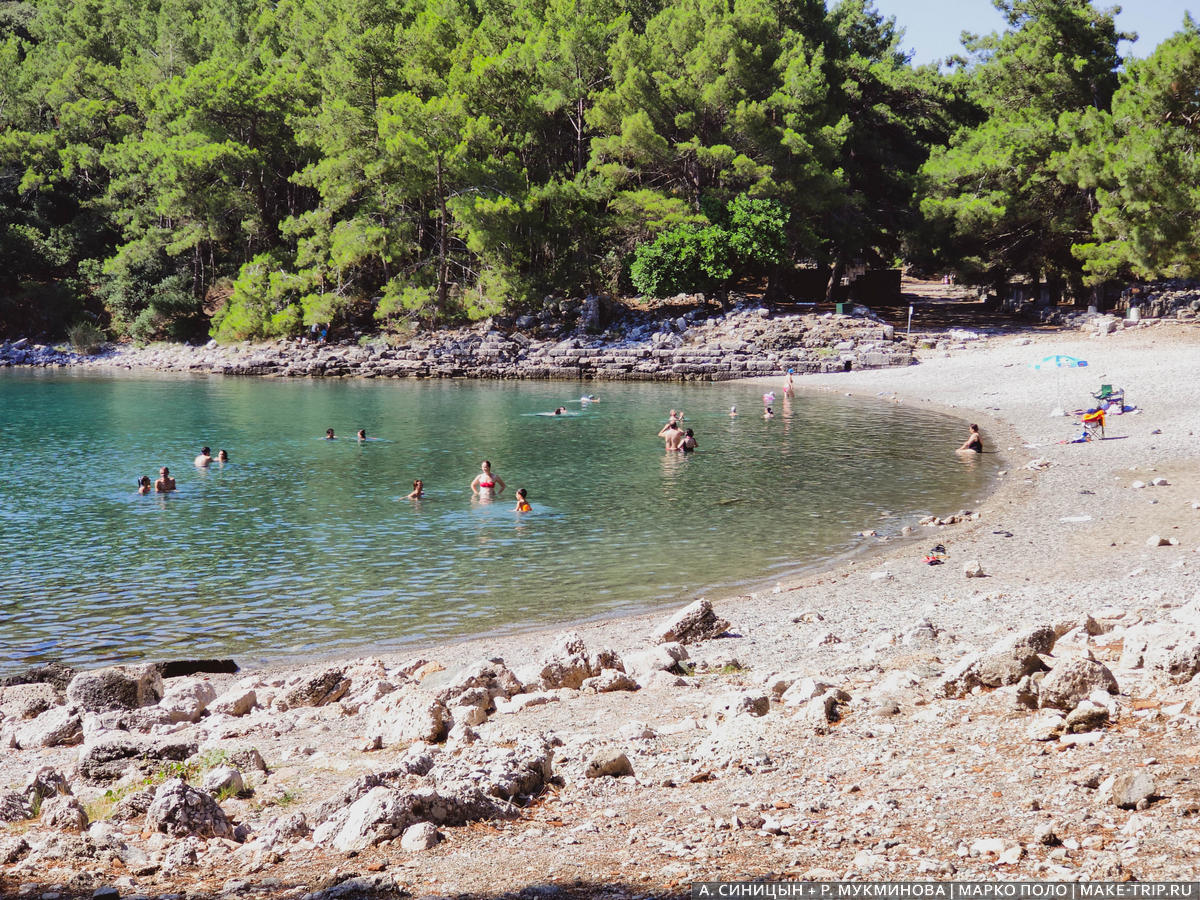 A calm bay in Phaselis is Phaselis Kuzey Limanı. Under the water there are the ruins of the marina.
Review of Kemer sights.
We had a lot of sights in a short visit. There are a lot of sights, here is what we visited:
Fazelis. There are picturesque ruins and no less picturesque views. Calm bays, clean water.
Olympos and Cirali beach. Again picturesque ruins, beautiful beach, and a part of the Lycian trail.
Mount Chimaera (Yanartas), where the gas is burning. According to reviews, it is better after sunset. We were before sunset – the fire is still burning brightly!
Chalish Mountain. Easy and pleasant trekking, on the way observation points on different coasts. There we met a turtle
Antalya. The old town Kaleici, the port, Duden waterfall.
Read a detailed article on what to see in Kemer – there are ticket prices, ways to get there, descriptions, tips, tourist reviews and lots of photos!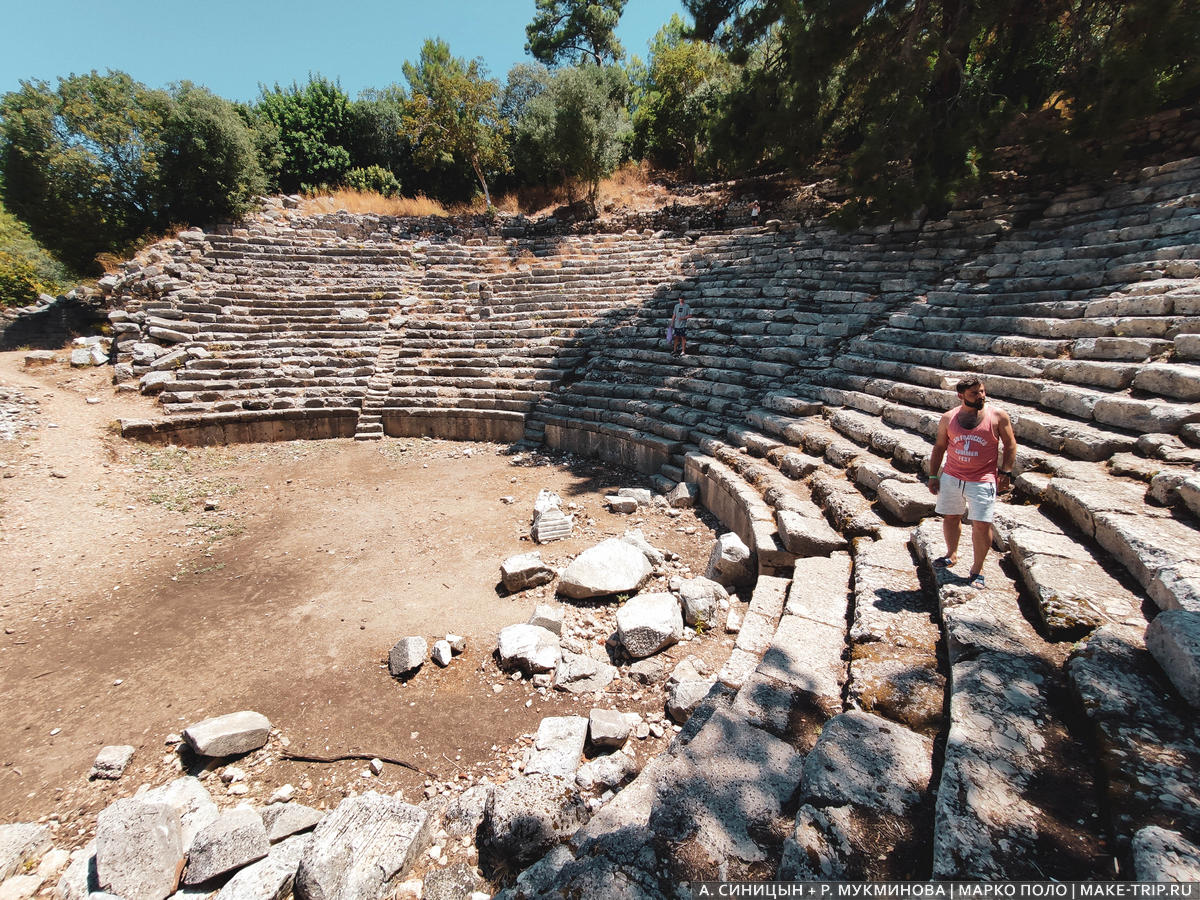 The amphitheater and the aqueduct impress the most in Fazelis.
Our subscribers have left very warm reviews about holidays in Kemer in our group VKontakte. They also advise to see:
Geynyuk Canyon.
Köprülü Canyon in Manavgat – cool rafting.
Moonlight Park – get away from the heat and lie on a sandy beach.
Folklorik Yoruk Park – to enlighten yourself and take beautiful pictures.
The ruins of the ancient city of Perge.
Tahtali Mountain (Olympos). There and back by cable car – 210,64 ₺.
Patara, Kaputas, Kas, Kalkan.
Related Articles :
Olympos is shady and secluded – you can spend many pleasant hours.
Honestly about Kemer! Tourist reviews, tips for your holidays in 2022!
Kimeros park is a paradise for alcoholics Disappointment from Turkey 2022. We took part in a stay at Kimeros park holiday and village 5*. We chose the hotel carefully, read reviews and watched the reviews. We stayed at the hotel and it was a first time for us. After check in another 10 minutes waiting for someone to lead us to our room. Well we decided not to pay attention to it, because we came to have a rest! The first impression of the hotel area – Wow, actually on the territory of the hotel have no criticism. It was beautiful, clean, surrounded by mountains and trees.
Never again in Beldibi! I did not want to go back to Turkey too, wild prices, zero service! I booked a tour to Turkey back in May, prices were lower but I cannot call it a budget tour either. I booked a tour for 7 nights to the hotel Catamaran Resort 5 *, 134 000 rubles for two people, from July 30 to August 6.
Beldibi is not a small resort town or even a village, but a dump. Boring, dirty (dirt, dust and garbage), to go out nowhere. Around the village wasteland, abandonment and ruins. If to go to this settlement, only if you have all entertainments at hotel and behind a perimeter don't go. If you brought in Beldibi on a budget trip,
I agree with appseeNata. Beldibi is something else. I've never seen such a dump of a resort in Turkey. In June I was at the hotel just to the right on the opposite side of Magic San 4. It was really crappy. It's a nightmare. It's not even a 3, it's a 2. The catamaran was also a bit of a mess. I'm not going to that area again.
As a guest of close friends. Cheap but nice hotel PGS Kiris Resort 5 *, Kemer This hotel was found on the Internet reviews, looking for budget options, but with good reviews. For 7 days for two, the price was 137 200 rubles. Included everything, food, transfer, flight. Cash we did not take, only the card. Knowing myself, as much with myself, so much to spend. Therefore, it is more convenient to go with a card, in Kemer almost everywhere you can pay by card "MIR" or withdraw money from ATMs. The hotel also accepts cashless payments with our card: at the reception, in the store and sightseeing
Kemer Dream Hotel 4*. We chose the hotel without looking. I chose the hotel without looking, trusting the agent. It is clear that it was not Alva Donna Exclusive, but we did not see anything awful and shocking. A solid four, a classic Turkish-style holiday. My trip budget was 109 000 roubles, flight with Red Wings and Zhukovsky airport. I flew from the airport for the first time and I liked it very much: compact, fast and homelike.
Kemer Dream Hotel 4* was a great place to stay. Cleanliness, comfortable lobby area, large area for walking and swimming, 2 outdoor pools,
The hotel in the center of Kemer is even better than the first line! Our holiday in Viking Garden 4* in July 2022 We booked the tour just before departure, a week in advance. If we had thought about the train in advance, it would have been possible to go on a budget. We took into consideration only budget hotels, because we were not able to pay anything like 300,000 for the vacation. It was not going to Egypt, as it was too hot, we looked at Turkey, the Crimea and Krasnodarskiy Kray. We did not have railway tickets to the Crimea on the nearest dates, and we did not would like to go by bus. In the Krasnodar Territory all decent options are already sold out back in May, and what remained commensurate with the first payment on the mortgage.
Disgusting attitude of staff! Spoilt holiday! Goynuk Fame Residence Goynuk. My husband and I have been to Turkey for 100 times) Last few years we were travelling by car alone in different parts of the country and there was always a great attitude towards us. I chose a hotel for a long time, read reviews and studied photos. It was important that the area of Kemer, a good clean hotel, with good food and near the sea, as the purpose of the trip was to take my children, 1.5 years and 13 years old, and of course fit into the budget. In this hotel my family faced with just a boorish.
Rest in Kemer in June 2022. In Turkey, the rest is not expensive at all, if you take at least 2 weeks, the flight accounts for 70% of the cost of the tour. We bought the tour online travel agency. We have not once bought a tour by ourselves online, for us it is normal and profitable, the documents are sent after one day, it is clear what the price consists of the tour, the flight, hotel, it is clear at once at what tour operator you buy the tour. We lost the price on the tour operator's website, everything is honest and without fraud. We went to a hotel that we had already checked and checked. Since the site shows the cost of the flight and accommodation separately, I can say with almost 100% certainty that the flight,
Hello. Could you advise a travel agency, if you took excursions from local? I will go for the first time in September, everywhere reviews are mixed.
Budget to Turkey in April: a small and cozy hotel Last year we flew to Turkey in mid-April was warm, tasty and inexpensive. This year we also decided to fly on these dates, immediately mentally preparing ourselves for high prices for tours, but it turned out to be not so terrible. We took a tour to a hotel that we visited last year, so I can objectively compare the prices. The Seagull Hotel 4* in Beldibi last year cost 73,000 rubles for two people for a week, all inclusive meals, now we paid 85,000 rubles. Given the unstable exchange rate and problems with airfare