Lazarevskoe – younger brother of Sochi.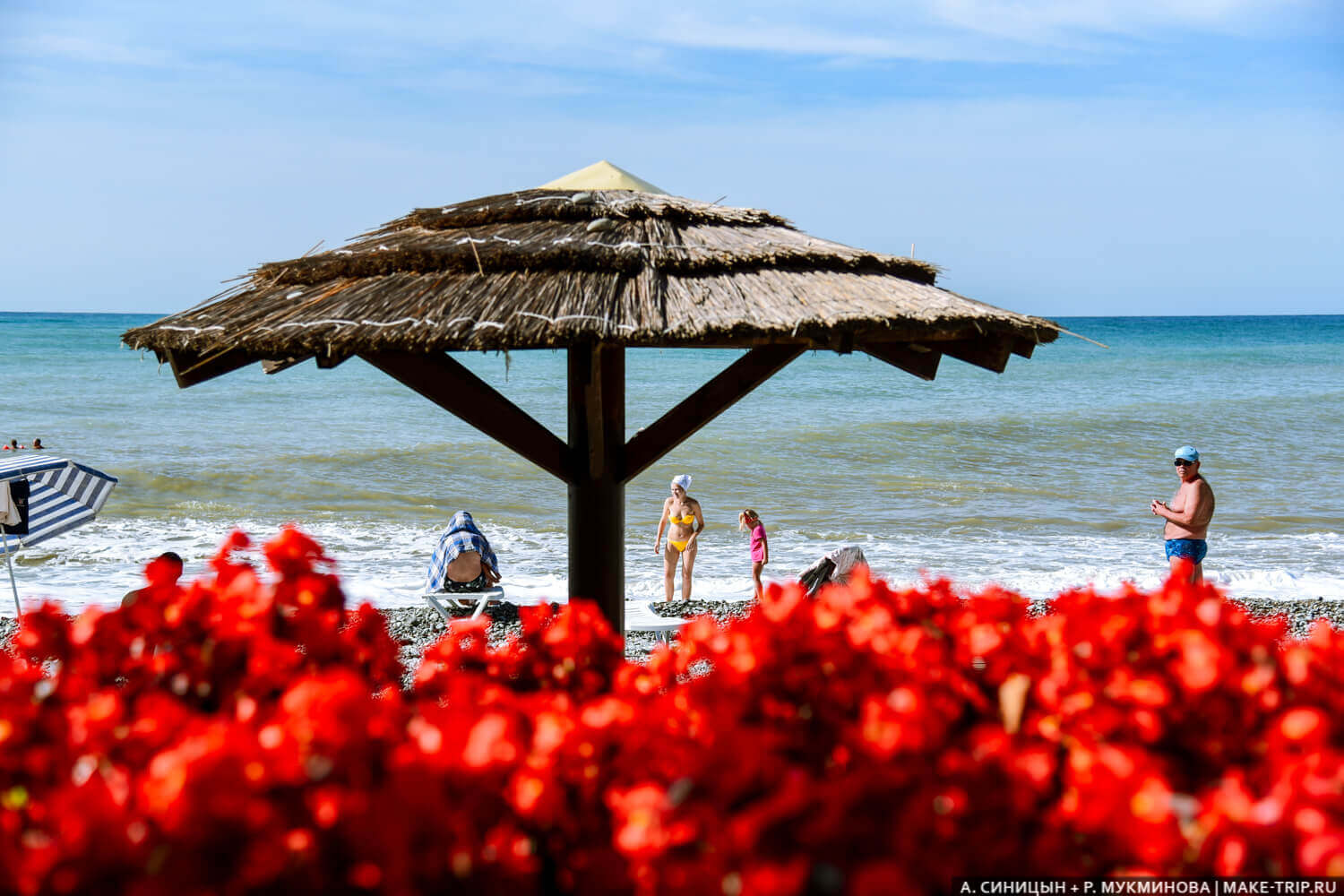 Lazarevskoye is a nice and inexpensive village with beautiful nature around, a sort of little Sochi. Learn whether to go on vacation in Lazarevskoye and what the prices in the resort in 2022.
– Private Sector in Lazarevsky. – Hotels in Lazarevskiy. – Tours in Lazarevskoe.
Contents:
How does the resort look like
Lazarevskoe is a neighborhood of Sochi. The resort is spacious, because most of it is on the plain, so there is no clutter of houses and tangle of narrow steep streets. In fact it all stretches along the two main streets, the railroad and the sea. Part of the resort is located on a hill, and there is a stunning view of the sea!
Lazarevskoye is a very green, clean and neat resort. You can see that the order is watched. Benches, umbrellas on the beaches are modern, and the promenade is well-groomed.
All resort life is concentrated near the sea. Infrastructure is like Sochi in miniature, but cheaper: cafes and restaurants to suit all tastes, entertainment, a recreation park, an abundance of hotels and guest houses.
In general, everything is good and the resort is pleasant, but it's a pity that there is no beautiful architecture at all. But the main plus of Lazarevskoye is the nature around. There are so many interesting sights nearby that you can spend 3-4 active days exploring the surroundings! Read about it below.
This is how the resort looks from above. As you can see, by the sea – solid private sector and five-story buildings. You can rent an inexpensive apartment or stay in a guest house, but there are also hotels. The coastal part of the resort. Close to the waterfront hotels and guest houses, cafes, restaurants and stores. The promenade is quite narrow, and in the summer crowds. But in the velvet season is quite free. The other part of the promenade is more pleasant, as it is in the shade of sprawling sycamore trees.
Prices for housing
To live in Lazarevskoye is cheaper than in Central Sochi. See how much the rooms for two in the summer of 2022 cost:
| | |
| --- | --- |
| Guest House 15 Minutes to the Sea | From 1,300 ₽ |
| Guest House by the Sea | from 2,600 ₽ |
| 3* Hotel by the Sea | from 4,000 ₽ |
| Prometey Club 4* all inclusive | from 15000 ₽ |
Housing in Lazarevsky can be divided into two groups – in front of the railroad and behind it. Hotels by the sea are advantageous due to the proximity to the seashore and absence of railway tracks, but noisy from cafes and trains. Hotels further away are quiet and peaceful, and often a great view, but the sea will have to walk or even drive.
We chose the aparthotel Bristol on the hill, and we did not regret it. It was probably the best hotel we stayed in in Russia! We were warmly welcomed, provided a huge and stylish apartment with a view of the sea and the city, presented with sparkling wine and a box of chocolates. What could be better after an active day than a glass of sparkling wine on the terrace overlooking the sunset? And the hotel also has a heated pool and sauna. So if you decide to have a rest in Lazarevskoe, then choose this hotel, because the key to a good vacation – excellent accommodation! Look for hotels on the service Hotelluk – so it will be more reliable and profitable, because it looks for discounts on different sites. Learn how to book a hotel cheaper.
If you are going to Lazarevskoye with a family or a group of friends, it is more convenient and cheaper to book an apartment or an apartment with a kitchen. Search for lodging in the private sector on Sudlo.ru – a convenient and reliable service with real photos and reviews of tourists. You can rent an apartment, a room, or a house directly from the owners. Do not think you can easily rent an accommodation when you arrive at the station, as they usually offer overpriced apartments in uncomfortable areas with minimum amenities. Book a place to stay 2-3 months before your trip.
Also you can buy a cheap trip to Lazarevskoe at Level.Travel and Travelate – these are reliable and convenient online stores, where we buy our own tours for our vacation. Learn how to buy tours cheaper.
Warning. During our large-scale audit of resorts in the south of Russia, we found that local hoteliers often cheat vacationers by buying positive reviews on travel sites, including Bucking. So read the reviews carefully before booking, especially the negative ones – they will tell you a lot of interesting things. Also see how their hosts respond to criticism: if they are rude, sarcastic, and hit on the tourist, then feel free to pass by. We always advise to book accommodation in advance, rather than look for it on the spot, otherwise you will get a mediocre option, and even overpay.
Our apartment in the Bristol apart-hotel. The terrace with a view, where we met sunsets and sunrises. We were convinced once again that good choice of accommodation is a guarantee of a pleasant stay! View from the hotel terrace.
Best Hotels Lazarevsky
Prices for food in 2022
We noticed that in Lazarevsky some unimaginable number of dining rooms! Holidaymakers in reviews especially note the dining room "Bristol" – some even consider it the best and most inexpensive. Also high rating have dining rooms "Salute", "Oreshnik", "Centralnaya". In them the average check is about 200-250 ₽ per person.
Of course, the resort has a large selection of cafes and restaurants, there are pizzerias and kebab houses. You can eat at a cafe for 400-600 ₽ per person, and at a restaurant for 500-800 ₽. The restaurants La Familiare, Studio 93, Entresol, Di Roma, and Arnamal have good reviews.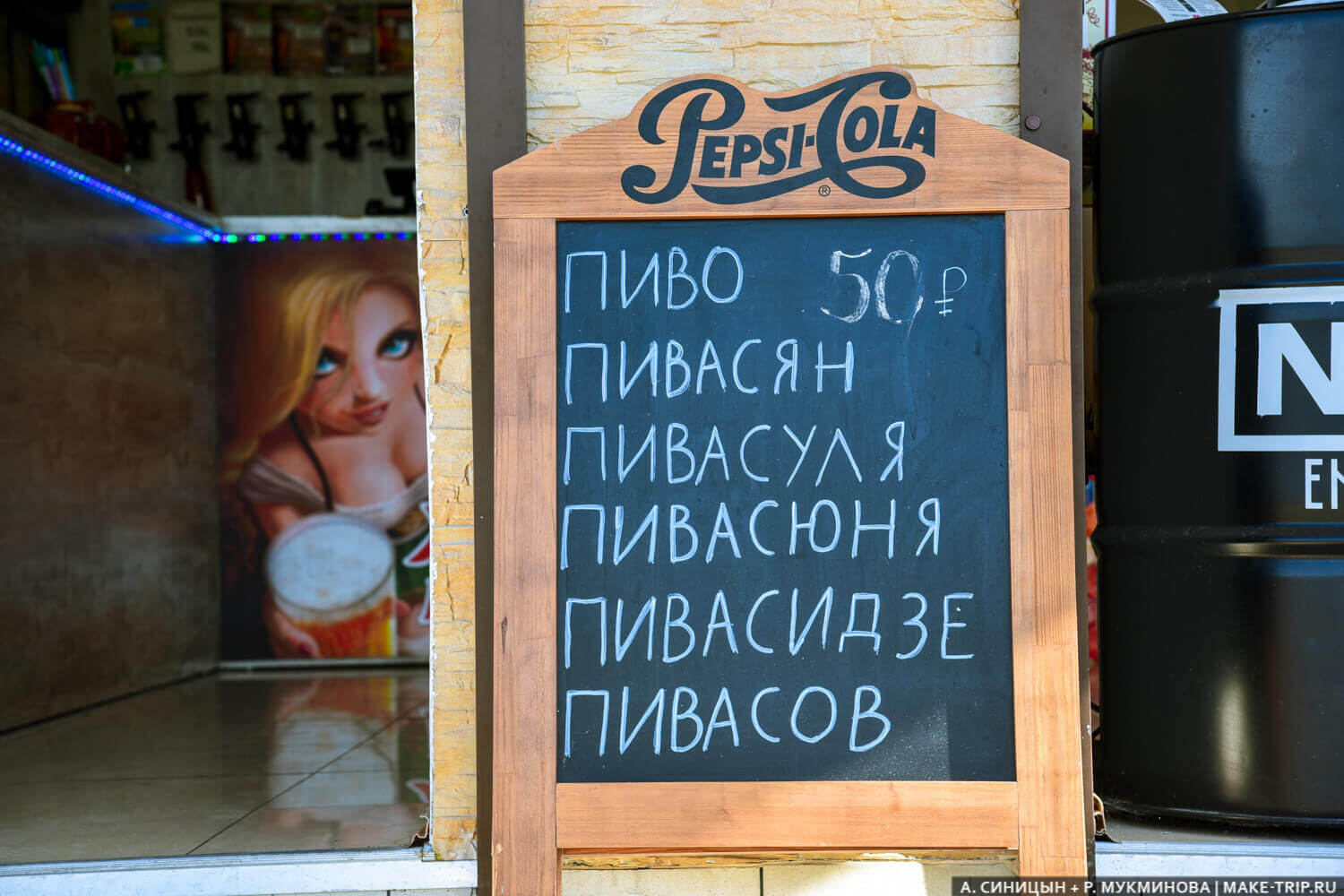 Ruthless Southern marketing.
Beaches and Sea in Lazarevskoe
The beaches at the resort are pebbly, like everywhere else in Sochi, so you can't do without aqua-shoes. Sometimes the stones hurt your feet!
It is quite safe to have a rest with children because the entrance to the sea is rather flat and along the coast there are breakwaters, so the big waves are rare. In addition, lifeguards are on duty. For a holiday with a child tourists advise to choose beaches in the central part of Lazarevsky, near the oceanarium and the water park. They have children's attractions and safe water slides.
The beaches have good infrastructure: there are toilets, showers, cabins for changing, wooden decking, entertainment. Renting a deck chair for a day costs 250-300 ₽, an umbrella and two sun loungers for 500 ₽ per day, and swings for 100 ₽ per hour.
In summer there are a lot of holidaymakers on the beach, so in the reviews tourists advise to occupy sunbeds early. Some complain that the beach is stuffed with paid sun loungers, and there is even nowhere to spread a towel. In this case it is better to walk away from the Central Beach.
The beach "Bagration" near the river Psezuapse is normal, but after the rains it's better not to swim there – a dirty stream of water flows from the mountains and carries it into the sea.
The beaches in Lazarevskoe are pebbly. For some people this is a plus, because the sea and beaches are cleaner, and there is no need to shovel sand from everywhere. On the other hand, feet hurt, and it is not comfortable to lie on a towel – you need to rent a deck chair. Beaches are well-appointed and neat. In summer the beaches at the resort are overcrowded. This photo we took in October, when the season ends, and still a lot of people on the beach.
Map of beaches
How not to catch an infection at sea
Intestinal infections are a really big problem at southern resorts. Rotavirus and norovirus are more often caught by children and are severely ill, but adults suffer from it as well. Be sure to pack a medical kit on vacation and do not forget the MHI policy. Young children should always be vaccinated against rotavirus.
In order not to catch an intestinal infection in the Black Sea (in fact at any sea, even abroad), you must follow the basic rules of hygiene:
Do not swallow seawater.
Thoroughly wash fruits, vegetables and hands before eating. Wash with running water or bottled water, not in the sea!
Drink bottled or boiled water.
Do not buy food from street vendors.
Do not take perishable goods to the beach.
If you cook yourself, watch for hygiene and well cook and fry products.
Make sure children do not put stones, sand, earth, and dirty hands in their mouths.
Excursions and Entertainment
Central Sochi is full of parks for walks, but in Lazarevskoe you can walk only along the embankment and in the Park of Culture and Recreation – not so much. The park will be interesting for children, because there are a lot of attractions. From the Ferris wheel – they write that it is the highest in Russia – a beautiful view opens.
On the beaches offer the standard entertainment: "banana" – 300 ₽, "bunny" – 400 ₽, "couch" – 400 ₽ (what funny names!). You can also rent a catamaran, go fishing in the sea, and do some diving – 2500-4000 ₽ for a dive.
We came to Lazarevskoye to see the most interesting thing – nature. There are so many beautiful sights around the resort! You can get to many of them by your car or bus. Go to Svirskoye Gorge, Mamedovo Gorge, "Berendeyevo Tsarstvo", Crab Gorge, look at Volkonsky Dolmen, waterfall "Miracle Beauty", waterfalls Najigo, Psydah and Shapsug, 33 waterfalls. Entrance to all natural places costs 200 ₽ per person.
And to get to other interesting places in Sochi is not difficult – just take a train! And if you don't want to deal with logistics, take an excursion. Look at Tripster for excursions from Lazarevskoe:
Stand with excursions. Happiness Falls in Mamedov Gorge. Massage on the beach.
Rest with children
Tourists consider Lazarevskoye a great resort for family holidays. There are a lot of entertainment, there are stores that sell food for children, baby care products and toys. The village lies on a flat plain, so the streets are easy to walk with a stroller.
Vacationers with children visit the water park "Nautilus" and "Sea Star". Also tourists are advised to go to the biggest in the south of Russia oceanarium-exotarium "Tropical Amazon" and the dolphinarium. Children like in the park of culture and leisure, because there are many free playgrounds and children's attractions. Read more about vacation with children in Lazarevskoe.
The Ferris wheel in Lazarevskoe. It is said to be the largest in Russia! It costs 400 ₽ per person. A brave boy confronts the waves. Park of Culture and Recreation, where you can take a walk.
When it is better to have a rest
The climate in Lazarevskoe is very similar to that of Sochi. The most comfortable months, according to reviews of vacationers – June, September and October, when there is no heat and high humidity. At this time is better to come with children, as well as the elderly.
If you do not need the sea, and you just want a break from the hustle and bustle and walk in nature, then come in May. There are few tourists, and the weather is excellent.
We were in Lazarevskoye in October, at the end of the season. The sea was rough, and almost no one bathed. But many were sunbathing on a deck chair and walking along the sea.
July and August are the peak season, and daytime temperatures often rise to +30 ° C and above. The water in the sea in summer is +24. +26 ° C, and in shallow waters can be even warmer.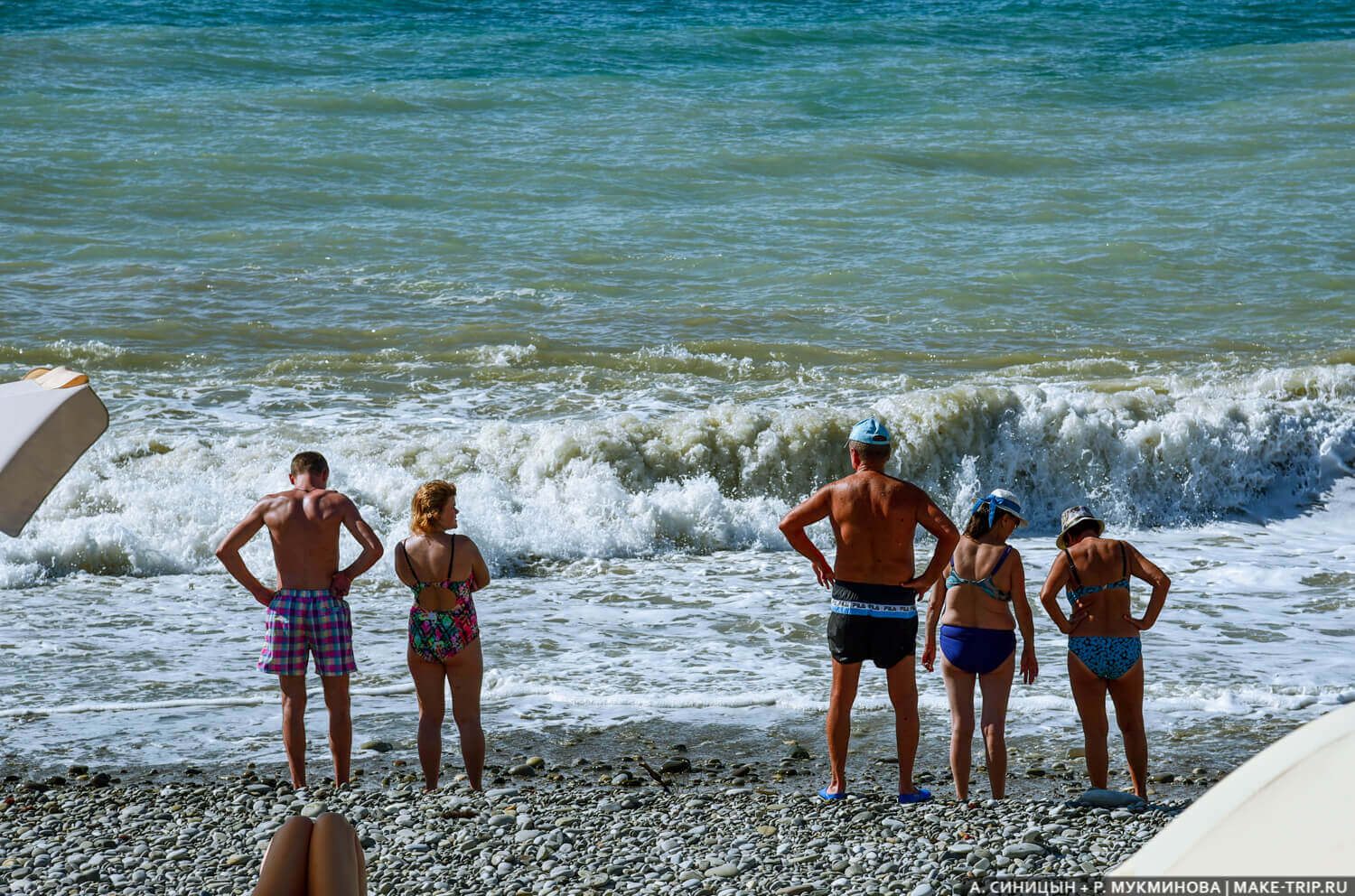 Tourists sunbathe.
7 reasons to relax in Lazarevskoe
Rest in Lazarevskoye is cheaper than in Central Sochi.
Lazarevskoe is a pleasant, neat, civilized resort. Not "sovok".
The resort has everything you need for a comfortable holiday, including with small children.
Beautiful nature around – you can spend a few days just exploring the surroundings.
The beaches are equipped, a decent embankment.
In reviews, tourists write that the water in Lazarevskoye is cleaner than in Central Sochi. And definitely cleaner than in Gelendzhik!
It is easy to get by train or by car. If you come to Adler, you can get by train.
5 reasons not to rest in Lazarevskoe
Pebble beaches are not to everyone's liking, so many people buy aqua-shoes. If you do not like pebbles, read where in the Krasnodar region there are sandy beaches.
In summer there are a lot of people, so you even have to take a deckchair in advance. In water parks queues are formed.
Tourists do not like intrusive service and beggars.
Few places to walk.
Right along the beach is a railroad.
Conclusions: whether to rest in Lazarevskoye
We have only pleasant impressions from Lazarevskoye, largely due to the excellent hotel with a beautiful view and a cozy environment. The village itself is civilized and neat, with a developed tourist infrastructure. Around the beautiful nature, and for us on vacation, this is the main thing. The sea and beaches are not worse than at any other resort in Greater Sochi. Would I go back to Lazarevskoye? I think so, yes.
If you have not decided whether to rest in Lazarevskoye, compare the village with other resorts in southern Russia:
View of Lazarevskoye.
Honestly about Lazarevskoe! Reviews Reviews Reviews rest + price 2022.
Did not like it did not like it. Tight, dirty, a lot of people. Prices are the same as in Adler. Entertainment is small. Walk here is not interesting. There is nothing to look at.
I went with my family on vacation to Lazarevskoe. A wonderful place for family vacations. We went on excursions with children, for hot summer days excursions simply salvation, on the sea long will not sit under the burning sun, and simply so to sit at home too it did not want, have taken some excursions, the seller good has got, advised where and as better with children and about all has told. The guy called Alexey, unfortunately, I do not remember the name of the company. We went to the Ashe River valley, to 33 waterfalls, to the red meadow and we liked absolutely everything. The excursion guides are excellent, the drivers are good too. Well about excursions it is impossible to write, these were our first excursions with children, but we still would go, not all had time to look certainly. Probably, next year we will return to settlement Lazarevsky. Really liked it. In general, I definitely advise the resort village. Beaches clean, entertainment is always there, as with children, and for active recreation, as well as older people can always find something that. Prices are quite acceptable. We will advise friends, that's for sure!
Go on excursions.
swim and sunbathe on the beach
vacation for children and youth
individual holiday
go on a bus tour
scuba dive
road trip
do active recreation
rest on lakes and rivers
seniors vacation
visit interesting events
take pictures of everything
Budget holiday for the discerning tourist were 3 days, July 2022, traveling by car, byeha coast, Imeretinka, Adler, Sochi, Lazarevskoye. obektivnoposelok improved amenities, some green infrastructure, the beach of course-road, rail, crowds, I would not rest here with children, to breathe on the beach stench from the train and the stench of the road? Sochi and the same Adler Imeretinki are full of good beaches with normal service and conveniences, clean towels, ironed sheets and people not a heel in the face) but the prices are much higher, so you need to choose the price and convenience.
On all coast it is epidemic rotovirus. Were here for the first time this year, earlier we had a rest always on the Azov sea. In general it is not bad, but in comparison with the Azov sea incredible overcrowding of people, and as consequence on all coast the rotovirus simply thrives in broad blossom. I understand that it is everywhere, and in the sea, and in the air, and in the walls of the rented housing. It is simply a real epidemic, people everywhere just on each other, and then all throw up and dribble, pardon the expression. 3 years we went to the Azov Sea, and never (!) This contagion did not suffer, here in a week 2 times managed to sit on potties and to cuddle with a toilet. I do not know, how to be with this problem, but, it is simply awful, and, I think, that on the Black Sea because of it we absolutely will not go more. And this problem is not only in Lazarevskoe, talked to people who had a rest in other places, in the Black Sea the situation is similar everywhere. Therefore, think 10 times before you go to the Black Sea coast.
Go on excursions.
swim and sunbathe on the beach
Did not like the Remarkable sanatorium, that's just on the beach full disgrace. a lot of strangers, crammed all coast. i see such a first time. pay such money and there is no beach for the sanatorium, and only sun beds. the question. "What do they need." if the sea is not passable.
Very much I love to relax in Lazarevskoye. Many here write negative things about this village, but I'm resting here since 2011 and have not found a minus. Compact green village, noisy and crowded in the season. For a good rest, I recommend that you take carefully to the choice of accommodation and a lot of problems that people describe in their reviews just fall away. If you choose housing super economy or economy far from the sea, do not wait for miracles. Walk in the heat you have to go far, most of the village is located on a slope and the back have to climb.
Go on excursions.
swim and sunbathe on the beach
individual holiday
take pictures of everything
Not comfortable, expensive, a lot of people. Hello dear readers.Want to share a review about rest in Lazarevsky.Otdyhaem with 23.06.22.Not yet gone, but I really want to go home. Went this time savage, not reserving lodging. decided that the proposals are always a lot, not ready to throw on the map money for reservations in advance. were in the south last time in 2018godu, on permits to a decent boarding house, and not in season, late October, and have forgotten that this summer at the coast.
If you have nowhere else to go, the ordinary Southern village. The beaches are disgusting. Narrow, overhead constantly ride trains. After Crimea at all does not cathode. Terrible dampness. The towel for 5 days has not dried up. I do not understand the positive reviews. Apparently they give them people who have not been anywhere else.
Best place for a holiday with children I Love Lazarevskoye, we have a rest here every year, it's a cozy beautiful town, you should just be able to choose a hotel. We have a decent hotel, clean, nice and close to the sea and the amusement park. And the food here is not bad. And we go to the sea in mid-June and the sea is always clean.
swim and sunbathe on the beach
Please tell me the name of your hotel.
What a great vacation! Were not once in Lazarevskoe, in different hotels. Everywhere liked it. The village clean, beautiful, two water parks, one of which with sea water. Dolphinarium, a pile of cafe, a park class, one Ferris wheel of what stands! Sea entertainments of any kind! Water is pure, a dirt never saw. About lodging: last time we stayed in mini-hotel River. Just a bomb! Clean, cozy, good food. There's a market nearby. Hosts are friendly. It is far from the sea, but near the mountain river Psezuapse, forest, beauty, but the owner has a daily shuttle to the sea several times a day. So, no problem! This year we will go again to Lazarevskoe and again in River!
Holidays in Lazarevskoe this year from 03.07 to 11.07.2022. All very much liked. We booked accommodation and tickets in 2 weeks. Lodging rented in the center of the village on Victory street. All within walking distance and to any taste and budget: from stores and pharmacies to restaurants. The quay, a heap of various beaches, entertainments etc.. Before that we rested at the Azov coast and the Caucasus seemed to us an expensive pleasure. But to surprise, the prices are the same, the difference in travel only. The village is very well maintained, all cleanliness and comfort. The beaches are equipped with everything you need. Lazarevskoe even a settlement can hardly be called! This is a great little town with well-developed infrastructure and a lot of attractions! During the week we visited the Crab Gorge and the Svirskoye Gorge. Impressions are unforgettable. Everything is available: you can reach everything by bus, or by cab, or on foot. Everything is very comfortable. We were lucky with the weather: the sea is clean and warm. People everywhere were nice and friendly. Next year we hope to return to Lazarevskoe again.