How much does it cost to go to South Korea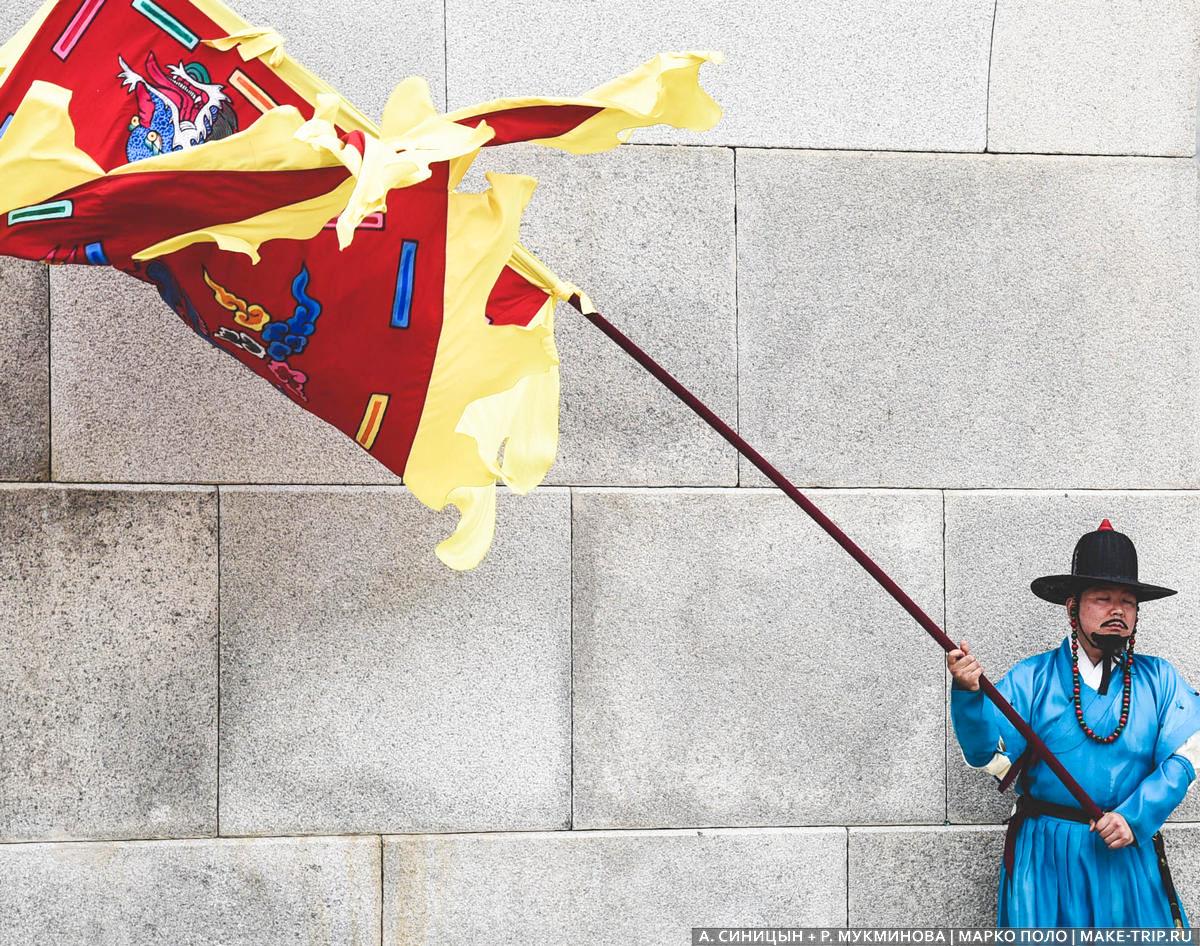 How much does it cost to vacation in South Korea? Sharing prices in Seoul in 2022 for everything: tickets, food and groceries, transportation, lodging and attractions. Advice on how to organize a trip to South Korea on your own and how to spend less.
South Korea welcomes tourists from Russia again, visa-free travel has been restored, but the conditions of entry are complicated. Take a look at the list of open countries. For convenience, we provide pre-dedicated flight prices. Information about visas and flights may not be up-to-date now, check with official resources.
We liked the authentic South Korea, but the only disappointment was the prices. They are measured in thousands in Korea, which after Bali and Vietnam is misleading. It seems that you pay 10 thousand Won for the meal, but it is almost 10 $! It is not possible to save much money on vacation, the country is similar to Hong Kong in this respect.
We went to the glorious Seoul and using the example of the capital we will tell you about the prices in South Korea in 2022 and how to save money.
Exchange rate: 1000 South Korean won (KRW) ≈ 62 RUB.
Content:
Namsangol Village (Namsangol) is an open-air museum. It's a nice place, entrance is free and you are welcome to visit.
South Korea Visa
You will not spend a penny on it – Russians can stay in the country for 2 months without a visa. Passport control is super fast. We were not asked any questions, they just took our fingerprints, took photos and gave us a piece of paper – you have to keep it. Stamp is not put in the passport.
Airline tickets
Where to look for cheap tickets? Use the Aviasails search engine – it compares prices of all airlines. Learn the secrets of finding cheap airline tickets.
Prices from Moscow and St. Petersburg in 2022:
to Seoul – with connections from 23000 rubles, direct from Aeroflot – from 37000.
To Jeju – from 33000.
to Busan – from 37000 rubles with connection (for example in Beijing).
The cheapest way to fly to South Korea is from the Far East:
from Vladivostok – from 11000.
From Novosibirsk and Krasnoyarsk – from 24000.
How to save money? Check the prices of tickets, find promotions and buy them in advance. It's cheap to fly to Korea if you're already on a trip: for example, tickets from Japan cost just 5,000 rubles! A little more expensive to fly from China and some SEA countries – the Philippines, Vietnam, Malaysia – about 10-12 thousand rubles.
Our experience. We flew from Bali with AirAsia and the tickets with luggage cost 14000 rubles per person. From Seoul we flew to Novosibirsk on S7 for 18000 rubles per person.
Current airfare to Korea
Koreans like to dress in old traditional clothes when visiting palaces and other attractions. Gyeongbokgung Palace in Seoul.
Food and grocery prices in South Korea – 2022
Korea is drowning in food! No other country in Southeast Asia has such a cult of food. In all this abundance, one thing is disconcerting – the prices. They are not Asian at all, and the appetite immediately disappears when you translate the prices into rubles or dollars. You know, psychologically difficult to give for a simple noodle soup $ 7, when the same soup in Vietnam for 1-2 dollars.
But the devil is not as bad as it looks! We were able to enjoy Korean food for very little: 164K ₩ ($140) for two for 5 days. In other words, only $14 ($900₽) per day per person – how much is that?
Read our in-depth food guide on how to eat deliciously and cheaply in Korea.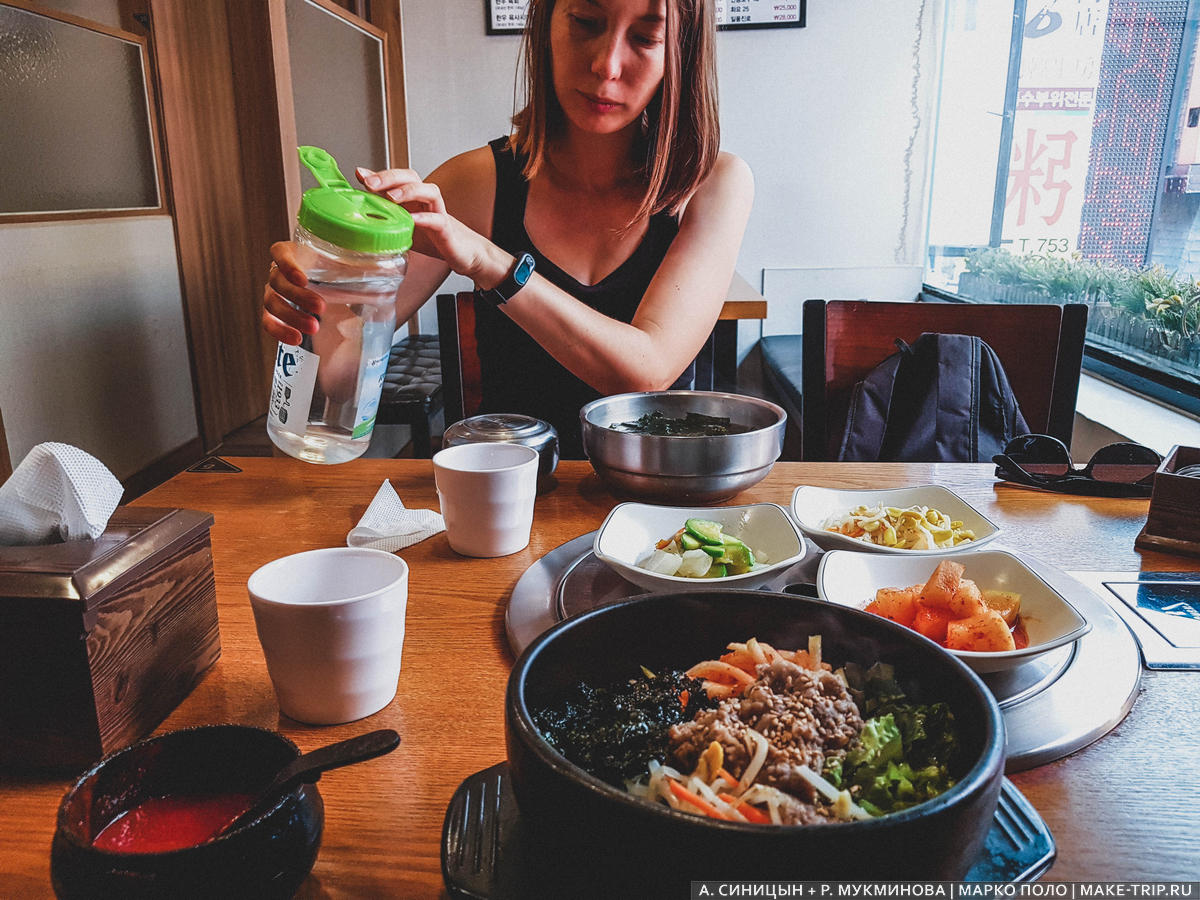 Two-course lunch + free snacks = 16,000 won (850 rubles). Water is always free.
Hotel prices in Seoul – 2022
When traveling to South Korea on your own, a lot of money will be spent on hotels or apartment rentals – be mentally prepared.
Stay close to the city center, not far from a subway station, to save on transportation. There's no sense in staying in the suburbs if you are only here for a few days – you'll spend more time and money on travel. We chose Anguc station because it was strategically located!
We stayed at the wonderful City Park Hotel for $36/night in the Chongnogu area by the Anguk subway station, between the two royal palaces – very conveniently located. There are lots of cafes in the alley. Book in advance – with a discount it costs $28 a night. The hotel is comfortable, there are various nice little things: bathrobes, hair dryer, toiletries, free noodles once a day and coffee.
The highest prices in South Korea for hotels in July and August and on New Year's Eve – good and inexpensive accommodation quickly sold out. Book in advance!
Where to book lodging
– compares hotel prices, looking for discounts. – the most popular hotel booking site in the world.
Here are prices for hotels and hostels in South Korea in 2022:
| | | |
| --- | --- | --- |
| Type of lodging | Price per double per night | Example |
| Hostel not in the center | From $8/person. | Birdsnest Hostel Hongdae |
| Hostel in the center | From $ 9 / person. | Kimchee Downtown Guesthouse |
| Budget hotel in the center (Chongnogu) | From $28 | City Park Hotel |
| 3* Hotel | from $35 | Myeongdong Merlin Hotel |
| 5* Hotel | from $115 | Novotel Ambassador Seoul Yongsan |
If you want to have a special experience on vacation in South Korea, choose a unique accommodation :
Traditional yogwan , where you have to sleep on the floor on a mat.
Hanok (hanok) – a traditional house. Cost from $170 to $300 per night. Located in the traditional village of Bukchon next to the royal palace.
Chimchilban – sauna. Admission for 12 hours: 15k ₩ at night, 12k ₩ during the day. There you can not only steam and bathe, but also sleep. There are mats instead of beds. There is a safe. The most popular sauna in the center is Dragon Hill Spa, but there are many others that are cheaper.
Transportation Prices in South Korea
The price of a public transport ticket in South Korea depends on the distance you need to travel and starts at 1250₩. You can buy a single ticket, but you can get off with it strictly at the station to which it is purchased. When you return the ticket to the machine, you will be given a deposit of 500₩.
If you plan to travel a lot, buy a T-Money card (cost ₩ 3k) – it works in the subway and buses. With it, every trip is 100₩ cheaper and transfers are free. You can even get off at any station, unlike with a single ticket. You can buy the card in convenience stores or terminals.
Useful links for the subway:
– build a route on the computer. – Subway route planner application (here for iOS). – how to buy a single ticket (in English, with pictures).
There are a lot of buses, you can also go to the suburbs of Seoul. There are detailed routes and schedules at the stops.
You can get a cab in South Korea for 2 km for about 1,600 ₩, and then for each km – 650 ₩. An hour of waiting time is about 13,5k ₩.
A liter of gasoline costs about 1,700₩.
You can get from the airport by train and bus (there are also night buses). We took the bus – 10k ₩ per person to Anguk station. We paid cash to the driver.
You can travel around the country by bus, train, and plane. There are low-cost carriers: Air Busan (from Busan), Jin Air (within South Korea and to neighboring countries) and T'way Airlines (within the country).
How to save money? Walk! We walked 15-20 km a day. The city is picturesque, interesting, and it's a sin to go down into the subway when there's so much beauty around. And in general, take T-money if you need to travel. In total we spent only 40k ₩ for two for transportation by bus from the airport and back.
Seoul is interesting to walk around during the day, . . and in the evening. Cheonggyecheon Park, a creek park on the site of a former highway in Seoul.
Sightseeing Prices
You can see almost everything in Seoul for free or inexpensively. Many museums in South Korea are free or involve a purely symbolic entrance fee. For example, a ticket to the Royal Palace costs only 3k ₩. But the prices for admission to amusement parks and viewpoints are exorbitant, see below for yourself.
What to see in Seoul for free:
Dongdaemun Design Plaza – Zaha Hadid Building
Bukchon Hanok Village with traditional houses
Changing the guard at Gyeongbokgung Royal Palace at 10 a.m. and 2 p.m.
N-Seoul TV Tower Outdoor Terrace and Park
Namsangol Village, an open-air museum
Cheonggyecheon Park, a brook park built on the site of a former highway.
Rainbow Bridge
The beautiful plant hall at Seoul City Hall.
Jeongdong Lookout on the 13th floor of the Seosomun Building.
Seoullo 7017, a park on the former elevated road above Seoul Station. The views are spectacular!
Prices for attractions and entertainment in Seoul:
Exhibitions at Dongdaemun Design Plaza – about 10k ₩.
Admission to the royal palaces is 3k ₩ each (museums within the palace are included). You can buy a combo ticket for 10k ₩.
N-Seoul TV Tower Lookout – 10k ₩.
Everland Amusement Park – 87k ₩ for 2 days, for 1 day (day) – 56k ₩.
Lotte World Amusement Park – 54k-57k ₩. If you take the Magic Pass for 100k won, you won't have to wait in lines.
Seoul Sky Lookout at Lotte World – 25.5k-35k ₩.
Aquarium at Lotte World – 16.5k ₩.
We spent only 16k ₩ for two on sightseeing – we went to Gyeongbokgung and the exhibition of Korean painters. Next, we focused on the free attractions. There was free admission to the Museum of Modern Art – lucky.
Gyeongbokgung Royal Palace in Seoul. The guard of Gyeongbokgung Palace in Seoul. The changing of the guard is free to watch at 10:00 and 2:00 pm.
Money
Tourists on the forums have written that all ATMs in South Korea take a fee of about $3 per transaction. And only Citibank ATMs allow you to withdraw money without a fee. We found only one – near City Hall, in the center.
The ATM will offer different options when giving out cash. Important: don't choose Check – these are traveler's checks, you'll have to exchange them at the bank branch for cash. The first time we did it wrong: we thought that check is a receipt.
We did not change a lot at the airport, just for a bus ticket. The exchange rate is bad, but bearable for a small exchange.
The ATM gave us a 100K check like this, so we had to exchange it for cash at the branch.
Shopping in South Korea
The sea of nice clothes in casual style, the famous Korean cosmetics, beautiful souvenirs – a paradise for a shopaholic. You can easily swoop on the markets here; they occupy the whole blocks. And there's a mall in almost every underpass.
We advise Myeongdong – there are decent stores, not flea markets with ugly cheap clothes. A lot of stores with cosmetics.
There are many shopping malls in Tandemun. Some are only open at night! The most decent daytime mall is Doota Mall, where things hang nicely on hangers. Some malls look like a big indoor market (like Migliore).
I did not like Insadon – very touristy, mostly monotonous souvenirs. Gwangjang is unkempt – mostly flea market, traditional clothes and food. But there are vintage stores, look for them on the official website of the market.
Our experience. We don't like to store. But South Korea has such a powerful consumer society and so many markets and stores that even we succumbed! We spent a serious amount of $280 on shopping and souvenirs (we don't usually spend anything). We bought some clothes, souvenirs, a book and vinyl records that we couldn't find in Europe.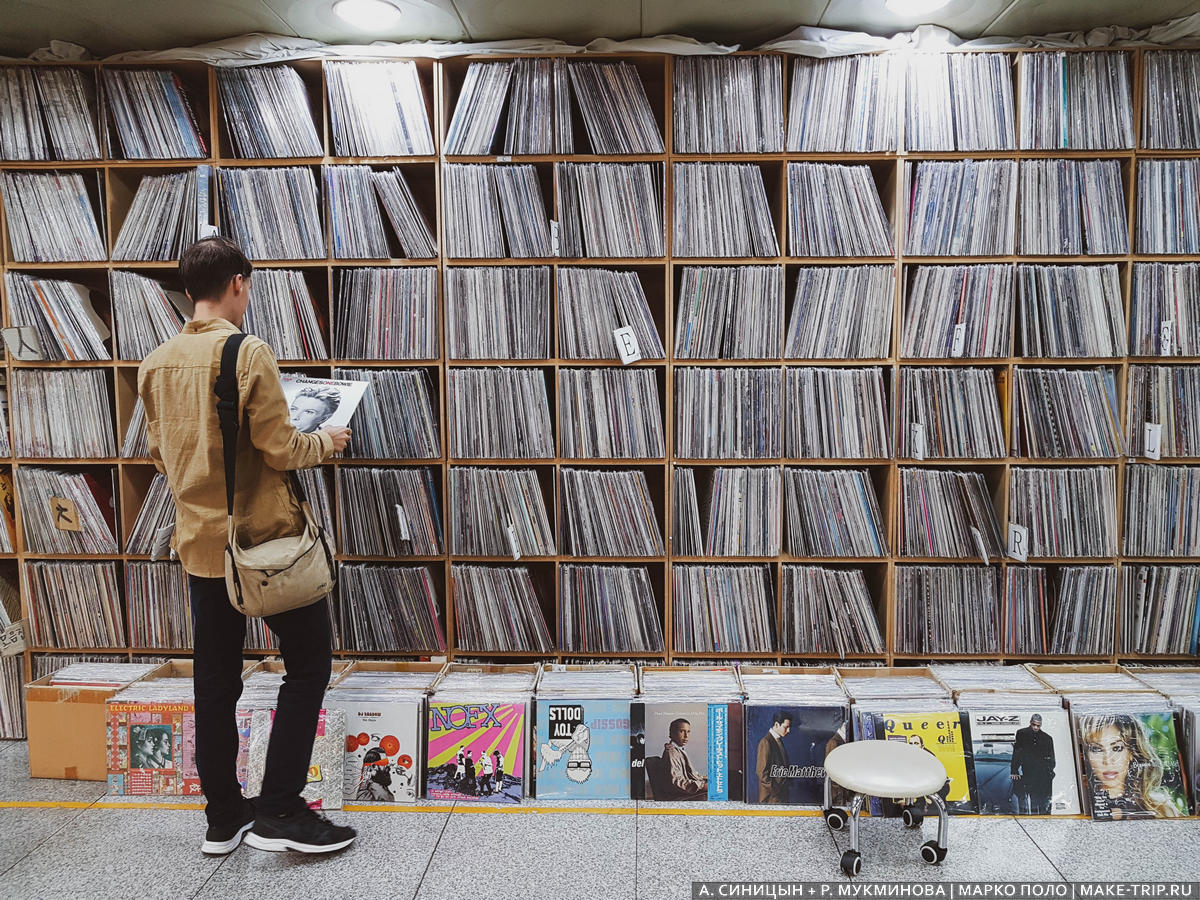 We buy vinyl records in Seoul – the selection is huge!
How much does it cost to travel to South Korea in 2022
We calculated the budget for our independent trip to South Korea for 5 days for two. See how much money we spent:
| | |
| --- | --- |
| Hotel | 12 000 |
| Insurance | 550 |
| Food | 7 200 |
| Groceries | 1 700 |
| Transportation | 2 200 |
| Sightseeing | 850 |
| Shopping, Souvenirs | 18 200 |
| We spent a total of | 42 700 ₽ |
We didn't count the tickets because we were flying from Bali (28,000 for two). If you subtract shopping, it would be only 24500 rubles! Calculated for one day – about 5000 rubles for two people.
Refer to this table to get an idea of how much your vacation in South Korea will cost. Add your tickets to this sum and save a little extra for shopping if you like shopping.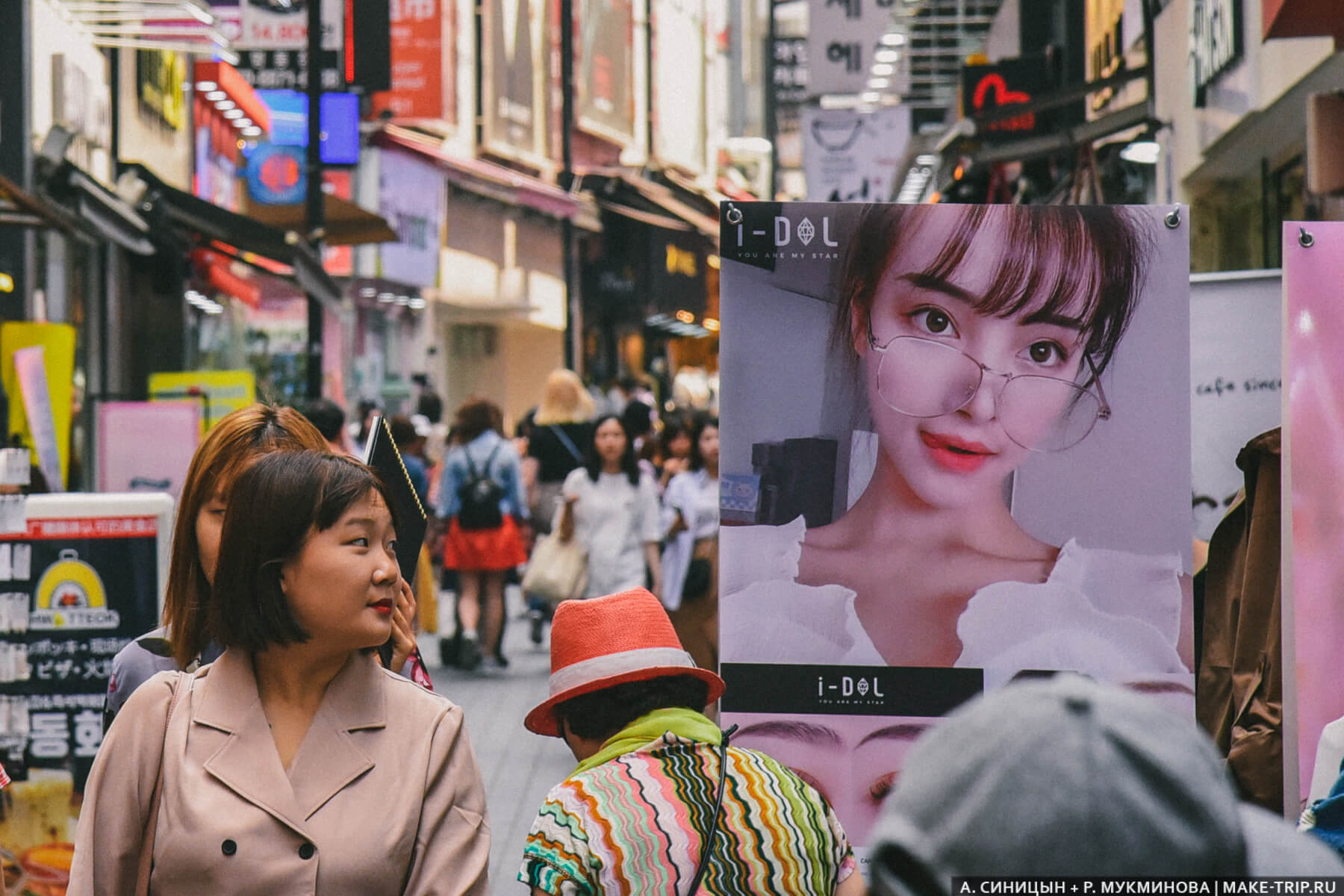 Beauty in the Korean way.
Tours to South Korea are already on sale by tour operators
China Travel, the company's website receives about a thousand inquiries a day about trips to this country. Russians are actively interested in the possibilities of air travel, visa conditions, ground services and ready-made tours.
A surge of interest in travel to South Korea is fixed in the tour operator company "VEDI GROUP". According to experts of VEDI GROUP, tourists and travel agents are actively interested in tours in this direction – they ask for logistics, routes, accommodation options and programs of tourists. Mostly we are talking about requests for trips in the fall.
Russians are also interested in medical travel to South Korea. In this country is very developed health care and aesthetic medicine at attractive prices, which are much lower – for example, by 20-60% than in Europe and the United States.
"South Korea is one of the most popular destinations for medical examinations and checkups. High-quality and fast results will be available within days," VEDI GROUP said. In addition to medical examinations, in South Korea you can buy quality cosmetics at very affordable prices.
WHAT TOURS IN SOUTH KOREA THERE ARE AND HOW MUCH THEY COST
According to tour operators, now there are several basic tours to South Korea available for booking, and their range will expand as we approach the fall season.
So, there are three tours on sale "VEDI GROUP": "Hello, Seoul!" recommended for the first acquaintance with the capital of South Korea (6 nights, from $ 1162 per person in double occupancy, flight extra); a combined tour "Two Capitals: Seoul + Busan (6 nights, from $1,729 per person) and the Seoul sightseeing tour with medical checkup (6 nights, from $1,765, + airfare).
VEDI GROUP added that tours to South Korea for one of the most romantic periods, the red maple season, will be published soon.
China Travel also has budget travel options to Seoul (6 nights, from $1,104 per person for double occupancy + airfare) and Seoul – Busan combinations (6 nights, from $1,680 per person + airfare).
For those who want to combine sightseeing and beach vacations the tour operator recommends Seoul + Jeju Island (6 nights, from $ 2448 per person + airfare).
In addition, ChinaTravel has opened sales for guaranteed group visits (August 21 and 22) for an exciting 10-day Grand Tour (Seoul – Sokcho – Soraksan National Park – Andong – Gyeongju – Busan – Suncheon – Gwangju – Tamyang – Seoul). The cost of the excursion program with 3* hotel accommodation is from 2030 dollars per person. The flight will be charged additionally.
There is an option with flight and half board included in the price. This is the tour "From North to South" (Seoul – Sokcho – Soraksan National Park – Andong – Gyeongju – Busan – Suncheon – Gwangju – Tamgyang – Seoul) with departure on August 21. The cost of the program for 9 nights is from $3,751 for double occupancy.
HOW MUCH AIR TICKETS TO SOUTH KOREA COST
According to tour operators, on average, a flight to South Korea will cost from 80 to 100 thousand rubles. If you buy tickets well in advance, 2-3 months before departure, a ticket with a convenient connection will cost 70-80 thousand rubles round trip for one person.
There are at least five options for flights to South Korea from Moscow with one connection. So you can fly from Moscow to Seoul on Uzbekistan Airways flights through Tashkent. Convenient connections to Abu Dhabi are offered by Etihad Airways. Comfortable flight options are also available on Qatar Airways, Emirates, and Turkish Airlines.
VEDI GROUP" adds that a flight with two connections, for example in Tashkent and Almaty, would be cheaper (from 73,000 rubles in August).
According to China Travel experts, on average, package tours to Korea cost 180-200 thousand rubles. Compared to the pre-pandemic period, their cost, taking into account the decline in exchange rates, has not changed. In contrast, the logistics of air travel has become more expensive and complicated: if before the spring of 2020 there were direct flights to Seoul from Moscow and the Far East, now tourists have to fly to Seoul only through third countries and pay 30-50% more than two years ago.
WHAT YOU NEED TO ENTER SOUTH KOREA
On April 1 Korea resumed visa-free travel with Russia. To travel for tourism purposes, one must apply for an electronic permit (K-ETA). It must be done at least 72 hours before departure. The K-ETA is valid for 2 years from the date of receipt. The fee for this permit is now 10,000 Korean won and payment is only possible by card. Bank cards issued in other countries are suitable for this. There is another option: you can use the services of Korean travel agencies posted on the website of the Korean Embassy.
Since June 8, 2022 in South Korea are completely abolished all quarantine restrictions. Entry into the country is possible without quarantine for all tourists, regardless of the presence or absence of vaccination. Obtaining a QR code is no longer mandatory (but recommended.
Only a rapid antigen test obtained within 24 hours before departure for Korea, or a PCR test done no earlier than 48 hours before departure, is required for entry.
On arrival, tourists will have to take another test. Since July 15, you must wait for the test results either at the test center or at the address of possible (in the case of a positive test) self-isolation. The third test is now only advisory in nature (not mandatory).
IN A TRIP TO THE SOUTHERN MAP WILL HELP CARD "WORLD
According to the tour operators, the demand for tours to South Korea will gradually recover. Much will depend on the cost of airfare, as well as the comfort of stay in the country itself.
And here a great "help" is the "Mir" bank card, which since July 15 can be used to pay for purchases in South Korea in some places. For example, the "Mir" card is now available in a wide network of CU stores. But with the Mir card, there is no way to withdraw cash Korean won from ATMs yet.
SPECIAL PROJECT ATOR WILL TELL YOU ABOUT TRAVELLING TO SOUTH KOREA
Learn a lot of useful and practical information about travelling to South Korea with the help of the "WALKING TO KOREA" project. which started on ATOR portal. A special selection of tours to Korea from leading tour operators, photo and video materials.
According to the abstract of the project, South Korea – is the dream of every seeker of new and unexplored emotions, the goal of all gourmets, a mecca for shopaholics, nature lovers and beach lovers, a paradise for lovers of medieval and futuristic locations. Now this wonderful country is again available to Russian tourists.