How much does it cost to go to Baikal.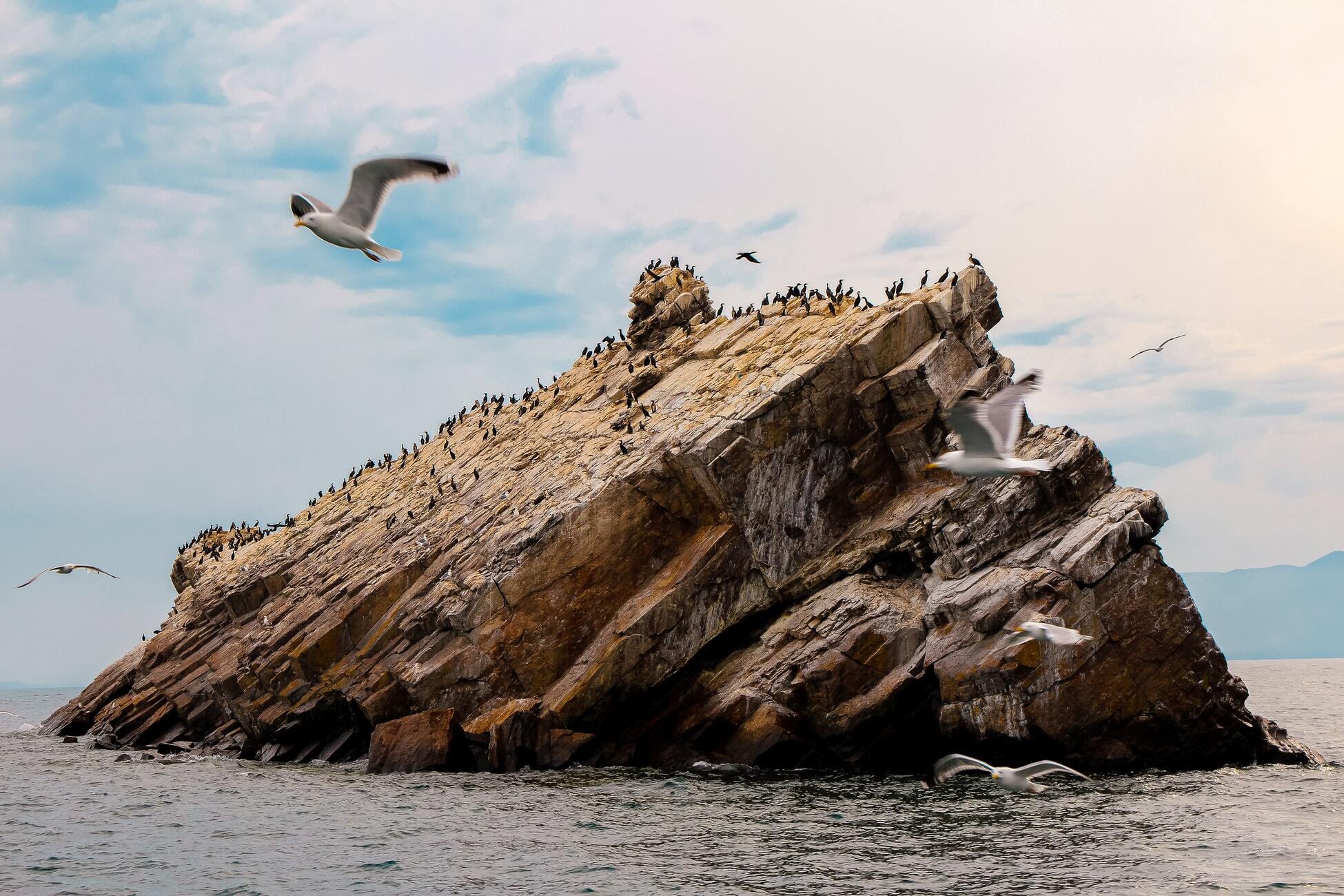 Rest on Baikal is an expensive pleasure. Sometimes it is cheaper to go abroad! We have calculated the cost of a trip to Baikal in 2022 for two styles of vacation: economy and beauty. Find out what the prices are for tickets, food, lodging and excursions, and how much money you'll have to spend on your vacation.
Content:
How much do tickets cost
In 2022, train tickets in the cheapest parlor car and airline tickets for a direct flight from Moscow to Irkutsk cost the same: about 11,000 rubles round-trip. So this year you should definitely choose the flight, because the train takes almost four days. Flights from Moscow to Ulan-Ude are even cheaper – from 9200 rubles. Flights to Irkutsk from St. Petersburg, Yekaterinburg and Novosibirsk cost between 13-15 thousand rubles.
Look for cheap airline tickets on the Aviasails service – it compares the prices of all airlines. See also the secrets of buying cheap airline tickets. And you can find and buy train tickets on Yandex.Travel and Tutu.ru.
A train passes on the shore of Lake Baikal. Photo: Aviateur / wikipedia.org / CC BY-SA 3.0.
How much do hotels and campgrounds cost
There is a variety of accommodation in Baikal: resorts, recreation centers, guest houses, hotels and private apartments. Many vacationers live in tents. In July and August there is a great demand for accommodation, so book your lodging as early as possible. Here are comfortable and reliable accommodation search services:
and Hotelluk – campgrounds, cottages and hotels with discounts and cashback – accommodation in the private sector
Economical vacation . Good and beautiful accommodation in Baikal is expensive, so many come to Baikal with tents. The tourists like to stay near the path, which leads from Listvyanka to Bolshie Kotov, near KBZhD, on the southern shore of the lake near "Red Sands" and on Olkhon Island. However, living in a tent is not suitable for everyone, so let's see how much it costs to stay in hotels and tourist centers at Baikal.
The cheapest accommodation in Baikal – rooms from private individuals, campgrounds and guest houses. You can rent one-room apartments for 1500-2000 rubles. Lodging in boarding houses, rest houses and hotels is more expensive. Lodging under 2000 rubles are usually small rooms with old furniture, with shared bathroom and toilet. If you are traveling with friends or family, it is more profitable to rent a cottage for 4500-6500 rubles per day.
Beautiful vacation . Cool comfortable hotels, recreation centers and cottages are located in Irkutsk, Listvyanka, Khuzhir and Bolshoi Goloustny. Your double room at a luxury camp or 5-star hotel starts at 4000 rubles. You will get an apartment with sufficient space, new furniture, TV, wi-fi, a kitchenette and your own bathroom. The price often includes breakfast. Campgrounds and hotels with a swimming pool are usually even more expensive.
There are places in Baikal, which cost unimaginable amounts of money. For example, at a five-star hotel "Baikalskaya Residence" in Severobaikalsk a double room costs 90,000 rubles, and a villa deluxe for 10 people costs 280,000 rubles per day! Look at the photos of the hotel at the link to see what a luxurious holiday at Baikal looks like.
Prices for accommodation in Lake Baikal in the summer of 2022:
| | | |
| --- | --- | --- |
| Type | Price (₽) | Example |
| Recreation center | 1600-3500 | Sunny base |
| Sanatorium | from 7000 | Sanatorium Elektra |
| Hotel 3* | from 3000 | White Sable |
| Hotel 5* | from 4000 | Hotel Beacon |
| Luxury hotel | 5000-20000 | Hotel Gold |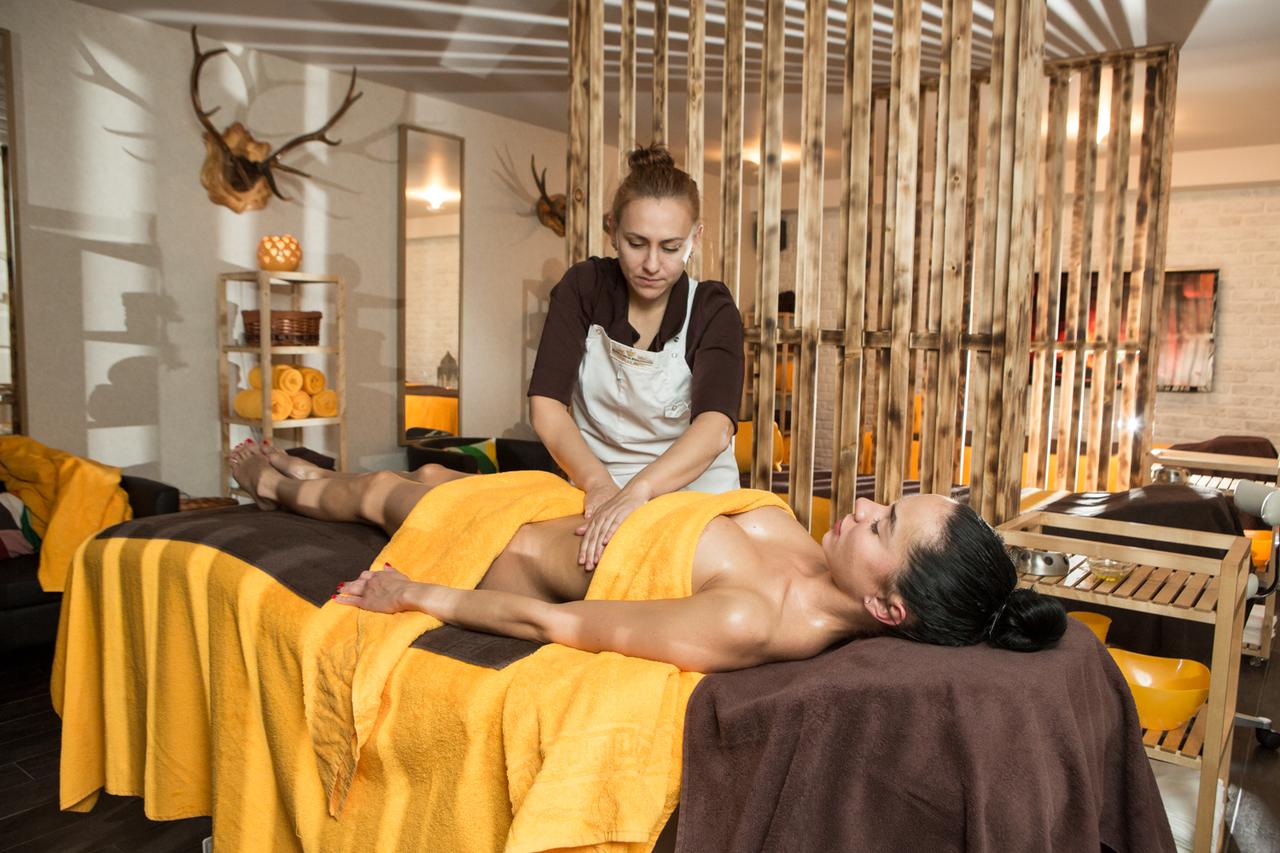 Massage in a five-star hotel "Baikal Residence". Photo: booking.com.
How much does it cost to eat at Baikal
Economical vacation . The cost of a trip to Baikal turns out to be high also because of the price of food. If there are budget cafes and restaurants in Irkutsk or Ulan-Ude, the food on the shores of Baikal is not cheap. In stores on Olkhon Island food is 20-25% more expensive than in coastal villages. The average bill at a budget cafe for two people on Baikal is 700-900 rubles. For this money you will be served a salad, a hot dish and tea. A lunch for two at a cheap restaurant will cost at least 2,000 rubles.
Beautiful vacation. If you like to combine strolling along the lake with gastronomic tourism, order cruises along Baikal with a picnic – they cost from 2000 to 3700 rubles per person. Try Baikal fish on a lattice, lightly salted and smoked fish, Baikal style ukha, lamb bouhler. There are also presentable restaurants with national cuisine in Ulan-Ude, Irkutsk and Listvyanka. There you can taste sagudai of fish, meat huushures, yachiy cheese and other local delicacies. For instance, yak tartar costs 1000 rubles and whitefish stroganina, 1500 rubles. The tasting sets cost from 1500 to 2100 rubles.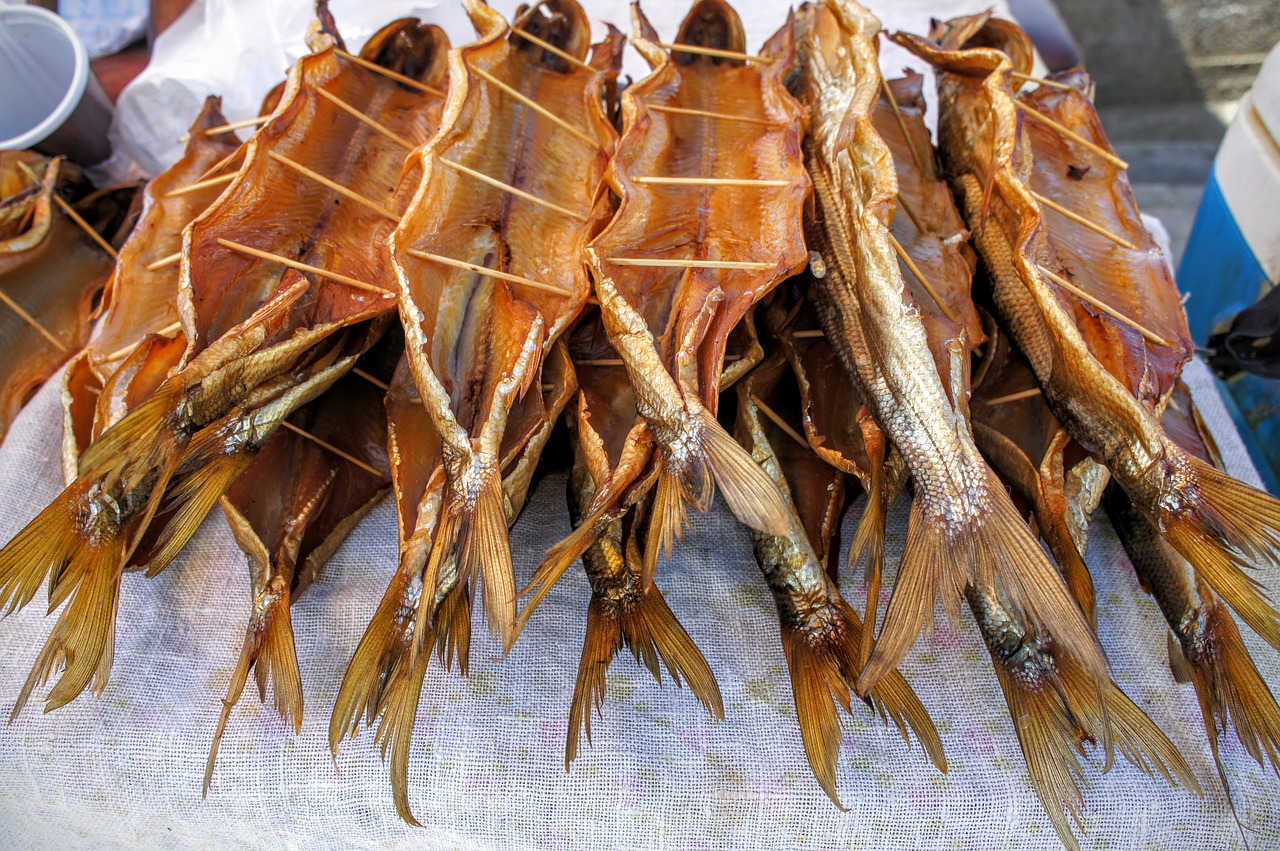 Baikal omul. Photo: 3dman_eu / wikimedia.ru.
How much does transportation cost in Baikal
Buses and shuttles . From Irkutsk to Baikal there are regular buses and marshrutkas. The trip to Listvyanka costs 133 rubles, to Sliudyanka – 200 rubles, to Baikalsk – 320 rubles, and to Olkhon – 800-1000 rubles. You may get to the lake from Ulan-Ude by trains, buses and fixed-route taxis. The ticket to Goryachinsk costs 438 rubles and to Arshan – 963 rubles.
Railroad . It is convenient to get to the southern coast of the island from Irkutsk by train. Ticket prices start at 120 rubles.
Water transport . If you like to travel by ship, take advantage of the routes served by the East Siberian River Shipping Company. A trip from Irkutsk via Listvyanka to Olkhon with return to Irkutsk costs 10200 rubles. A trip by ship from Irkutsk to Listvyanka costs 400 rubles, to the village Bolshiye Koty – 740 rubles, and to the Peschanaya Bay – 2600 rubles. The ferry from Listvyanka to Port Baikal costs 71 rubles, and the ferry of a car costs 390-790 rubles.
Cab . Transfer from Irkutsk to Listvyanka costs from 1200 rubles.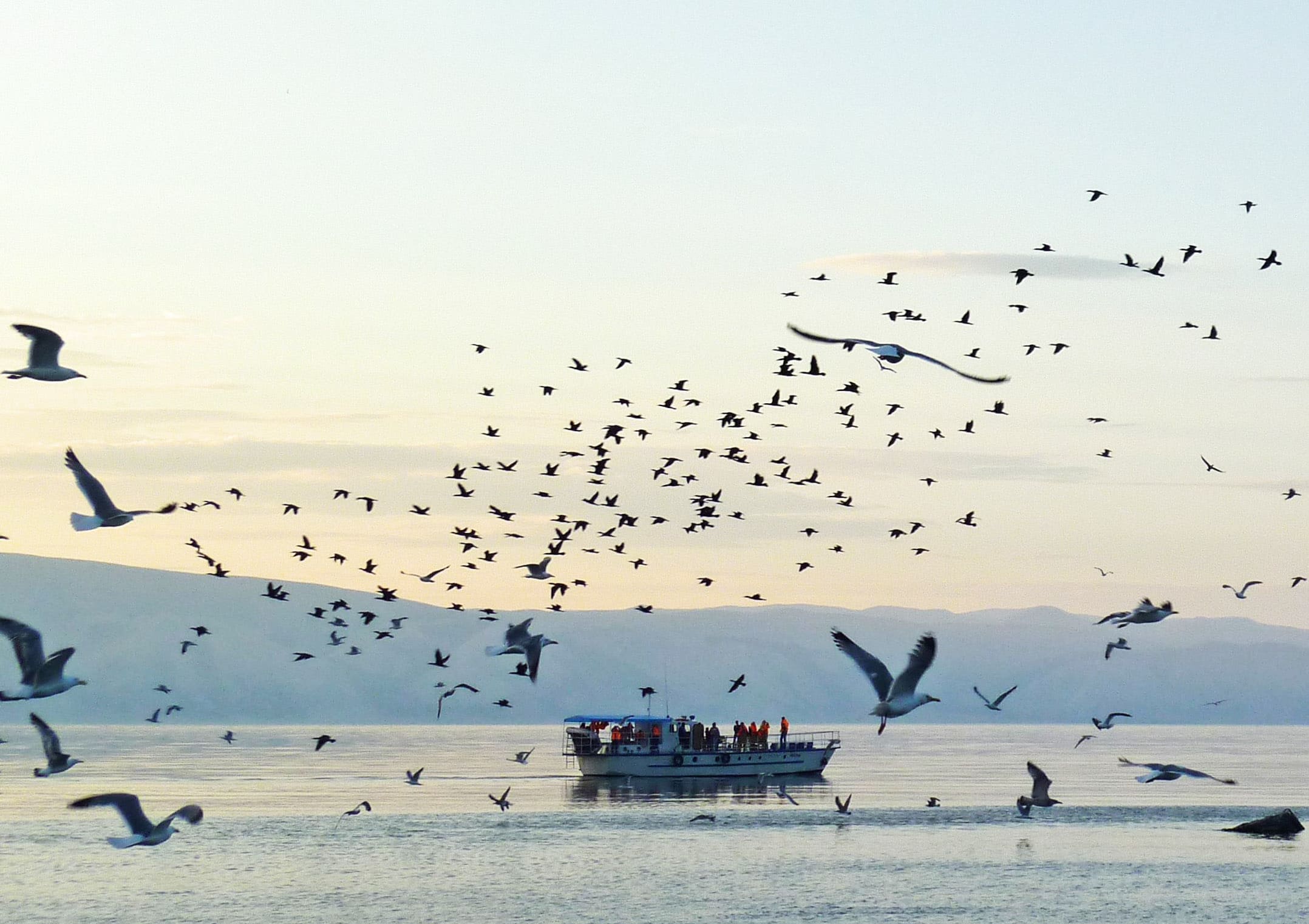 On the way to Olkhon island. Photo: Shargin (Tworogov A.E.) / wikimedia.org / CC BY-SA 4.0.
How much do excursions and entertainment cost
Economical vacation. To reduce the cost of a trip to Baikal, do not take excursions that you can do on your own. For example, you can go to the Taltsy ethnographic museum by yourself instead of paying 7000 rubles for the excursion. From Listvyanka take an inexpensive water trip to Baikal – 500 rubles. Water trips to Olkhon sights cost from 800 to 1800 rubles. Find out what is worth seeing at Baikal.
A beautiful rest. Book at your hotel or campground for individual boat rides on the lake, fishing or hunting. Go to the spa, massage or medical procedures. These and other services for a pleasant holiday offer many camping sites and hotels, prices vary everywhere.
If you come to Irkutsk for a short time and want to have time to see the most interesting places on the lake, then take a comprehensive one-day tour to Baikal. During the trip you will walk through the dendropark with rare plants, see the Baikal seal, the mystical Shaman-stone and enjoy the wonderful scenery on the shores of Lake Baikal. This is the most popular excursion to Baikal on Tripster. Cost: 5800 rubles for a group of no more than three people.
See also: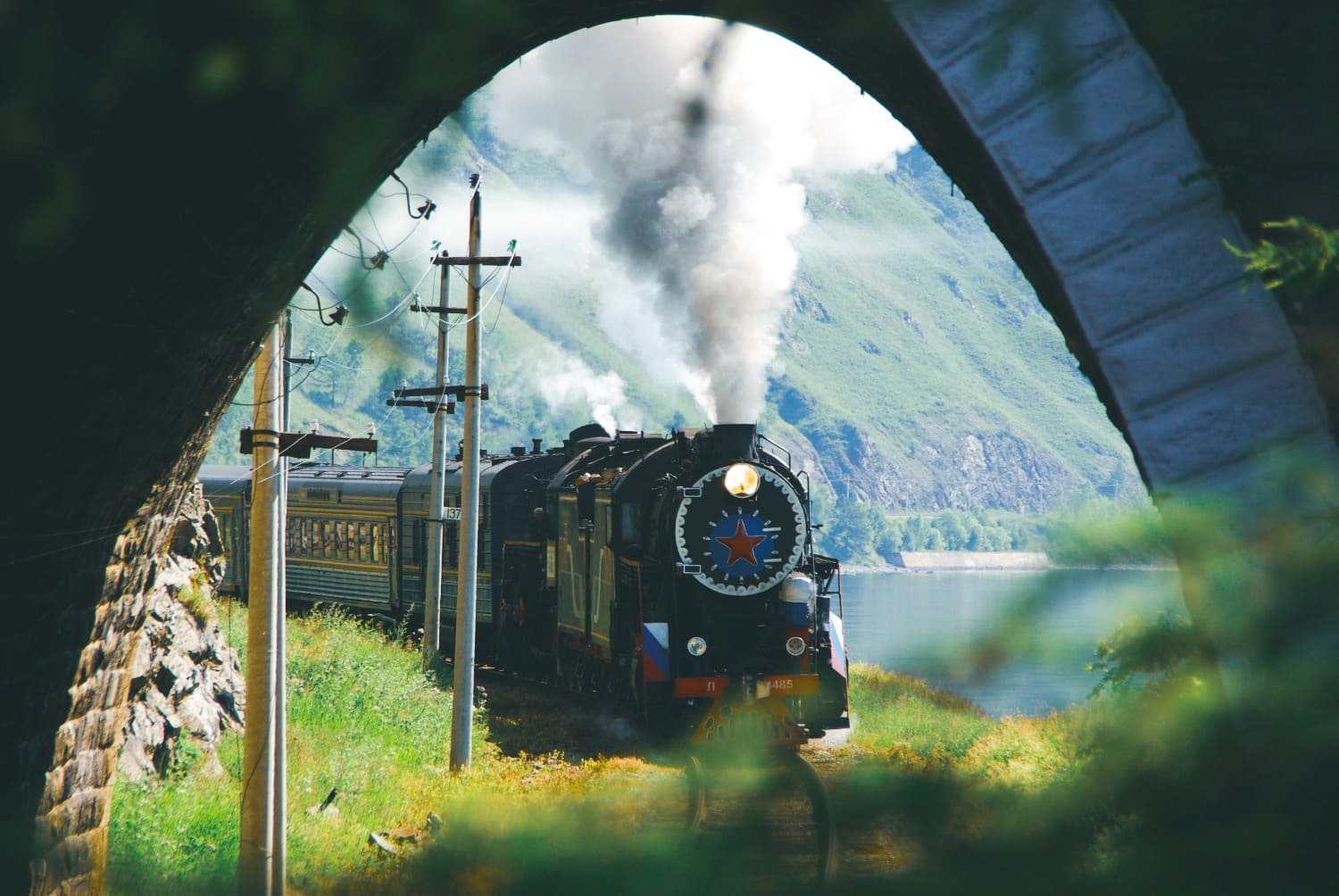 A sightseeing retro train on the Circum-Baikal Railway. Photo: Artem Svetlov / flickr.com / CC BY 2.0.
How much it costs to rest on Baikal in 2022.
Economical vacation. In order to realize a long-time dream – to swim in the sacred Lake Baikal, you will have to spend a lot of money. Let's count up how much is inexpensive rest for one person for 10 days on Baikal:
Train/flight from Moscow – 11,000 ₽.
Inexpensive camping or guest house – 10,000 ₽.
Inexpensive food – 15,000 ₽.
1-2 tours, transportation, souvenirs – 5,000 ₽.
Total: 41,000 ₽ per person. This is enough money to make an inexpensive trip to Baikal. You will enjoy the trip, but you won't be able to afford much, and the living conditions will be rather ascetic. As you can see, even an economical vacation in Baikal is too expensive. For this money it is easy to buy a tour to the warm sea abroad – in Turkey or Greece.
It's a nice vacation. The level of hotels, service and entertainment on Baikal is still far from the Turkish and Egyptian resorts, but there are expensive hotels and restaurants on the lake. Let's see how much 10 days of a beautiful vacation at Baikal in the summer of 2022 costs for one person:
Direct flight from Moscow – 11,000 ₽.
Room in a 4-5* hotel with breakfast – 50,000 ₽.
Restaurants and bars – 40,000 ₽.
Two or three excursions, souvenirs, transfers – 30,000 ₽.
Total: 131,000 ₽ per person. With this amount, you won't have to deny yourself anything, so your vacation will turn out to be comfortable and enjoyable.
See also: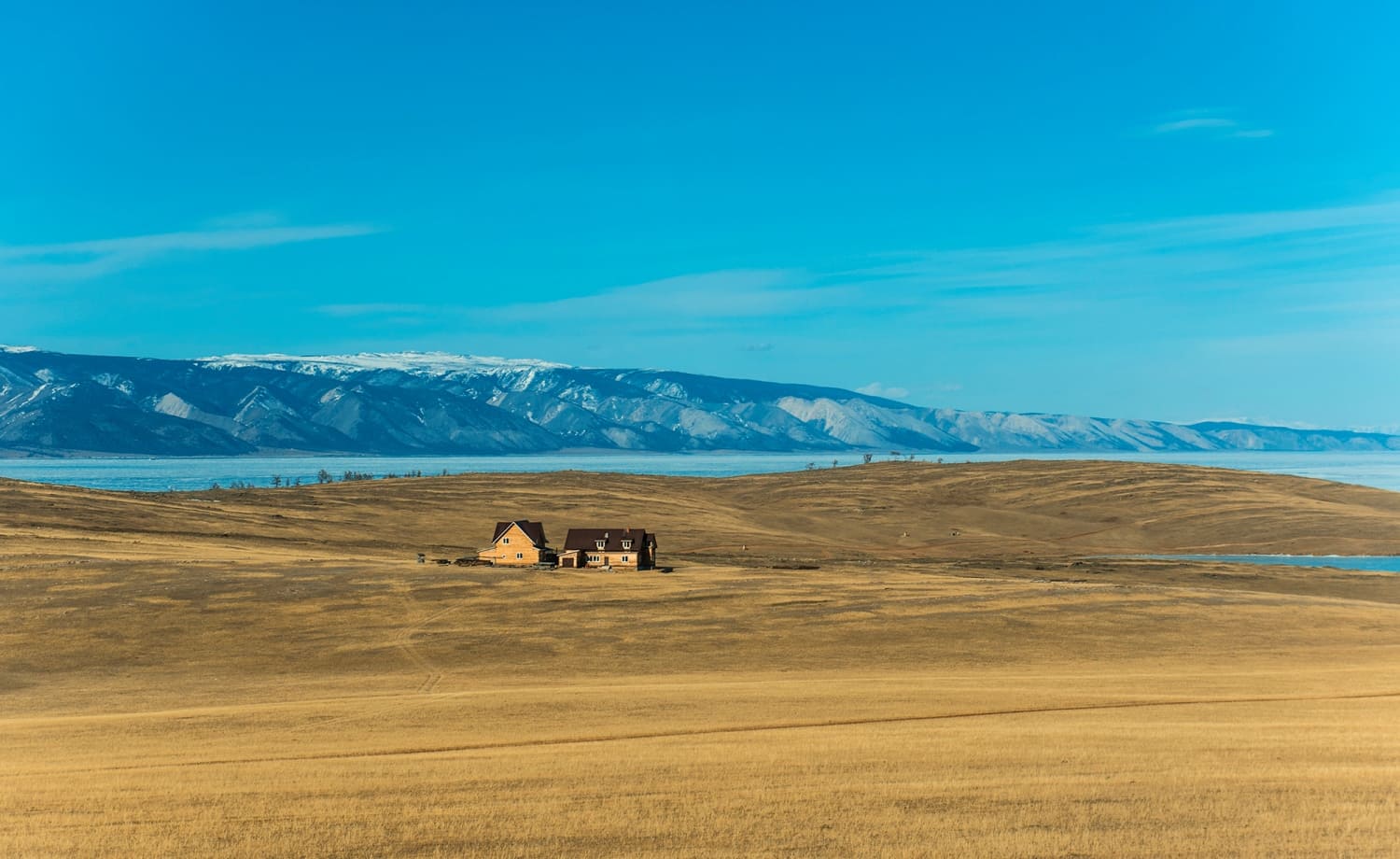 Houses on Olkhon Island. Photo: Aydar Daminov / wikimedia.org / CC BY-SA 4.0.
The best tours to Baikal in summer and autumn 2022 – prices and myths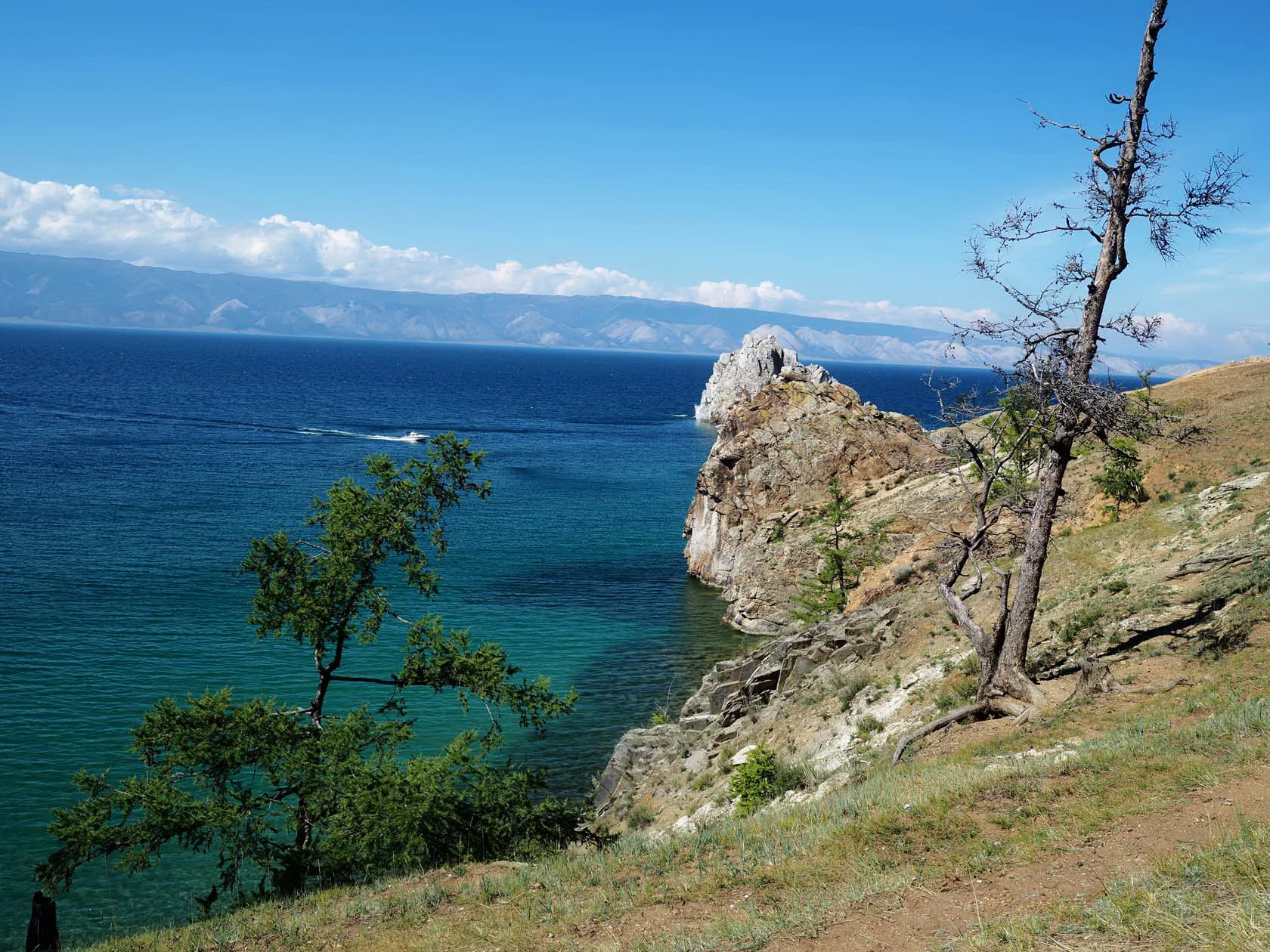 Summer tourist season on Baikal is about to begin, and therefore it is time to decide what will be your vacation on Baikal in 2022, to plan the route, choose dates of the trip, buy tickets, book the camp, or choose a ready-made tour to Baikal .
What do you need to know about tours to Lake Baikal?
There are a lot of tours for any taste and for any price – and from big known tour operators, and from small local companies, and even from bloggers who are ready "to sell to their audience" their society and their knowledge about Baikal. Just choose!
Here I made my own selection of ready-made tours from organizers with an INTERESTING program on Baikal from two popular aggregators – Big Country and YouTravelme for those who go to Baikal for the first time or just used to have a rest by travel. So, if I would choose it for myself.
By the way, this is probably the most frequent request I get in my social networks, whether I drive a tour group, but I'll tell you right away, I do not organize tours and do not plan to do so.
In this case I see my role a little wider – a lot of information about rest on Baikal I publish on my site in open access, and now I publish my own guidebook with updated information about Baikal, which has no analogues at the moment.
The guide has all the information you need, so that anyone, regardless of their travel experience, can organize their vacation. This means that I can help many more people to "see Baikal" than I could theoretically gather in my group blogging tours.
My summer-fall 2022 Baikal guidebook for self-preparing for a trip to Baikal with a ton of useful and relevant information (even the stuff not available here on the site) is on sale now!
Subscribe to my site's travel blog news and you'll get an email announcing the guidebook's release, as well as a promo code for a discount:
I also advise you to subscribe to my social networks, there I share information about Baikal and my life as well:

Telegram Vkontakte
And now here are a few features of the Baikal tours that are worth knowing before you buy them.
Tours to Baikal from Moscow and other cities with a flight
The main thing that is important to clarify for yourself is that most of the tours to Lake Baikal that you will find, do NOT include a flight .
So you can safely consider any options for tour packages, regardless of where you live – in Moscow, St. Petersburg or Vladivostok, because most of the tours to Baikal assume that you will get to Irkutsk or Ulan-Ude on your own.
There are two major airports near Lake Baikal – in Irkutsk and Ulan-Ude, you can find flight prices in the aviasales widget below, you can book your flight simply by clicking on the links in the form from Aviasales. One of the largest flight aggregators in Russia.
How much is a plane ticket to Baikal?
A flight to Baikal involves starting from three locations near Baikal – Irkutsk on the western side, Ulan-Ude on the eastern side, and Severobaikalsk on the north.
A large portion of the tours to Lake Baikal start from Irkutsk. On the western side are the most popular tourist locations – Listvyanka, Peschanaya Bay, Olkhon and the Small Sea, also from here it is easy to get to the southern attractions – Arshan, Warm Lakes.
The plane tickets from Moscow to Irkutsk cost from 7500 rubles one way, the flight takes about 5,5 hours.
You can choose your city and compare prices on different dates directly on my site:
plane to Ulan-Ude
On the Eastern side of Baikal there are luxurious sandy beaches and resorts with mineral and thermal springs, ancient Buryat shrines and untouched by civilization vast areas of wildlife.
Of course, you can also get here from Irkutsk, but it is much easier and faster to explore the eastern coast from Ulan-Ude. Ticket prices to Ulan-Ude are comparable with those to Irkutsk.
How much does a train ticket to Baikal cost?
You can also get to Irkutsk, Ulan-Ude or Severobaikalsk by train. But it is not very profitable according to the price – a coach costs almost 7 thousand and you have to spend almost four days on the way. But someone fundamentally prefers to travel by train, so I'll add a widget aggregator for trains so that you can immediately find a convenient way to travel.
All-Inclusive Tours in Baikal
Unfortunately, there are no hotels in Baikal (even very expensive ones), which are all-inclusive. At most you will have three meals a day, which is not bad.
If you like an "all-inclusive" vacation and your budget allows, I wholeheartedly recommend going to Baikal on a cruise – it's the same tour, but by water. So the long hours of travel between locations turn into a fascinating adventure.
Despite the fact that I've been to Baikal in different places myself, I had the pleasure of going on a cruise on Alexander the Great. In the near future I will release my post-photo-report about the trip. One of the pleasant discoveries on this trip was a surprisingly high level of service, including food. We have not eaten so good even in restaurants, as cooked on the ship. Well, our trip was accompanied not just by our guide, but by a professor of geography and a baikal expert. I hope their service hasn't deteriorated since my trip.
You can choose water tours on the website of "Cruise House".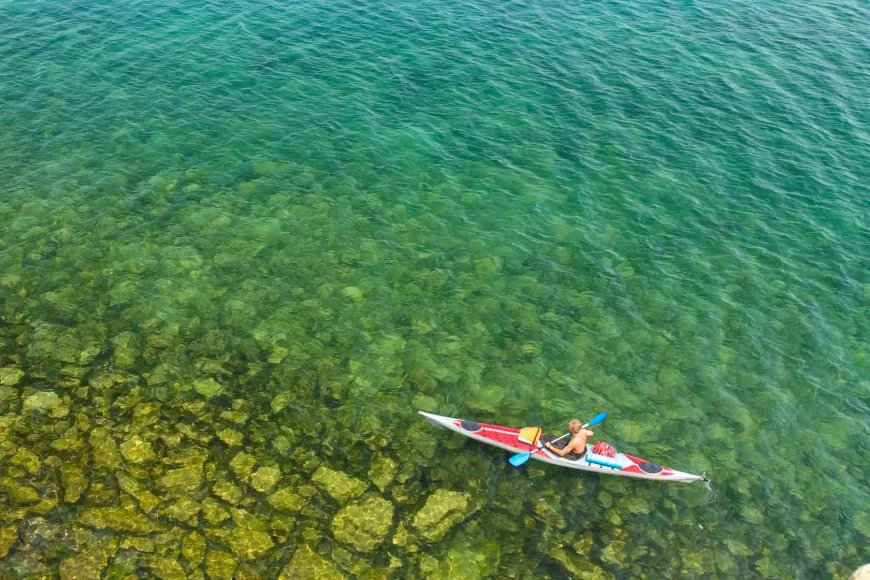 Summer tours to Baikal
Summer vacations at Baikal are a variety of tourist experiences and adventures. After all Baikal is not only and not so much a beach vacation. Yes, in summer there are a lot of warm bays and sandy beaches, but the swimming season is often very short, and the summer itself is unpredictable, so you can't rely only on the beach in your trip.
The length of the beach season depends more on the peculiarities of the summer of the year, it may be
There is a lot to see and to do on Baikal besides a "seal rest" on the beach.
When is the best time to go to Baikal in summer?
In June Baikal becomes free from ice. And if in the beginning of the month you can still see the last floating pieces of ice, by the middle of the month the water in the bays of the Small Sea will get warm enough for the beach season.
Duration – 4 days Route – Frolikha-Ayaia-Khakusy-Severobaikalsk Price – 36 000 roubles Journey through the untouched nature of the northern Baikal with a visit to the Frolikha wildlife preserve and an opportunity to see even bears and seals in the wild, bathing in the hot springs of Khakus. Learn more
What to do on Baikal in July? The same as at any other beach resort – swim, sunbathe, enjoy the plenty of sun and a still gentle Baikal wind.
Duration – 5 days Route – Listvyanka – Museum Taltsy – Peschanaya Bay – Mongolia (Lake Hubsugul) – Arshan Price – 52 000 rubles This auto tour is a great opportunity to see Baikal in a short time in one of its most beautiful places – Sand Bay and visit the neighboring Mongolia and see the "little brother" of Baikal – Lake Hubsugul. One needs only a foreign passport to visit this country, no visas for Russians are required for short-term trips. Learn details
August
In August, the summer on Baikal is already coming to an end, but it is still a very popular tourist season.
Hike to Shumak + Olkhon duration – 16 days Route – Nilovka – Shumak and Olkhon Island Price – 62 000 rubles conquering passes, explore the mysterious and incredibly beautiful places around the river Shumak – this tour is for experienced travelers, lovers of hiking and vivid impressions. Shumak called the valley of 100 springs come here for healing and solitude, because the place is truly wild and unspoiled. One can reach this place either by helicopter or on foot or by horseback. Learn more
September
The velvet season in Baikal is one of the most beautiful times of the year in Baikal. Again, given the specifics of the local weather with abrupt changes in the weather, these changes can be drastic in September.
Duration – 10 days cruise along Baikal Route – Peschanaya Bay – Small Sea – Olkhon-KBZhD – Chivyrkuisky Bay Price – 72 000 rubles The beauty of the two sides of Baikal in one trip by boat. This is one of the most exciting and interesting ways to see Baikal in all its variety of natural attractions. Learn more
Baikal tour prices and promo codes
These and other Baikal tours from organizers are convenient to buy online, where you can find dozens of Baikal vacation deals year-round.