How to book a hotel inexpensively: 10 saving rules that you can't forget about
Going on a business trip or vacation, tourists carefully allocate the budget. A significant part of expenses is associated with purchasing tickets and hotel accommodation. Travelers primarily pay attention to the cost of the room, not always looking at the location and reviews.
Such savings are detrimental to a comfortable holiday and creates an unpleasant experience of travel. There are many ways to help book a room at an affordable price in the best hotel in town. And which ones, we will tell you in this review.
Top 10 tricks to help you save money on a hotel
Book online
Some travelers think that looking for a hotel on the spot will turn out to be more profitable. But it's a common misconception – not only do you spend a lot of time and energy searching, but there is no guarantee that the room you find will be cheaper than the one listed on the reservation systems.
Compare options
Booking a room at the same hotel can be at different costs. This is due to the fact that in various booking systems, many hotels are presented on unequal terms (agency fees, discounts for regular guests).
To find the best bargain you can compare the prices for the hotel you like or use a service that performs this function automatically.
Choice of dates
The cost of rooms on holidays and weekends may increase several times. If possible, travel on weekdays and not during tourist season.
Choice of location
The price of the hotel directly depends on its location. Establishments located in the city center near the geographical and cultural attractions are much more expensive than hotels located in the bedroom communities and on the outskirts.
Choosing hotels located in quiet areas, you can not only save money, but also get a comfortable stay.
Explore the availability of additional services
Room rates often include additional services that are unnecessary for tourists. This can be breakfast, spa, coffee break, availability of additional snacks. Rooms that include only lodging are much cheaper.
Stardom
The more stars a hotel has, the higher its cost. Sometimes places to stay may look little different from each other, but have a dramatically different price for a room.
Hotels 4-5 stars include additional services, for which travelers have to overpay: 24-hour laundry, availability of expensive disposable items, staff speaking two or more languages.
Discounts and bargains
Even very expensive hotels offer good discounts during low-crowded periods. Just explore a few booking sites before your trip, and you're likely to find a bargain or two.
Go on vacation with relatives or friends
In that case, you can rent an apartment or a mansion, spending the same money as you would to pay for 2-3 rooms.
View from the room
There are times when the price of different rooms in the same guesthouse can vary greatly. For example, a room with a view of the sea or local attractions will be more expensive than a room with a view of a quiet neighborhood or an inconspicuous park.
Check reviews
Reviews on the Internet can often help provide an overall picture of the place you choose. Study them to understand what the hotel offers for your money, the convenience of its location and the quality of services provided. If there are many negative reviews, you may want to choose another hotel now instead of wasting time and money looking for one upon arrival.
Saving on booking is easy and affordable for every tourist, just follow these simple tips and any trip will turn into a pleasant and profitable vacation.
10 ways to book a hotel cheaper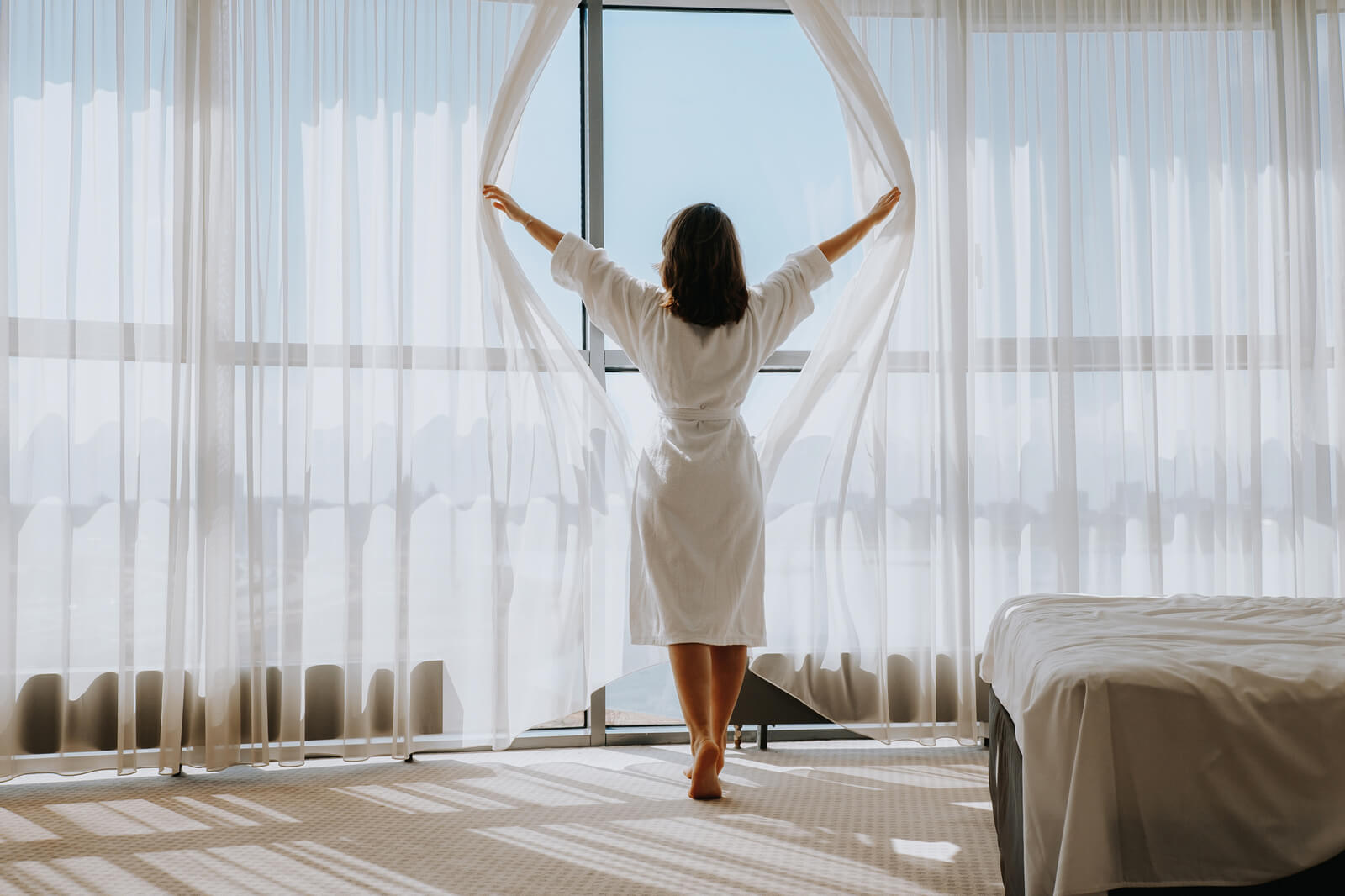 To stay in 50 different hotels in a year – for me the norm. Oh, and I would have a hard time without the skills of reasonable savings when booking lodging! Fortunately, I've learned them well over the years of travel, and in this review I'll share them with you.
After the March 2022 events, Russians and Belarusians have lost the ability to book accommodation on many of the usual Western websites. This is unfortunate, but not fatal, because we have our own services: for example, Ostrovok.ru. It is convenient, there is a huge database of hotels around the world, and it is possible to pay even for foreign hotel reservations by Russian card. Take note.
1. Compare prices
The most convenient and fastest way to choose and book a hotel is on the aggregator sites. These are booking systems, where thousands of hotels around the world are represented. There are many aggregators: for example, very popular Booking, Agoda, Ostrovok, Ozon. Each of them has its own pricing policy and agreements with hotels, so a room at the same hotel on each site may cost differently. And you can never guess where it will be cheaper!
Of course, we want to get the best deal. But the problem is that going to each site and comparing prices will be very long and tedious. To help us come to the aid of handy services by the name of "metasearch". These brave guys compare prices on all the popular aggregators in seconds and solemnly give us the best offer. Thanks to them for that! Over the years of travel, they have definitely saved me a lot of time and tens (if not hundreds) of thousands of rubles.
There are many metasearch engines for hotels. I use the one that is most convenient and familiar to me – Hotellook. Search and choose hotels on it is easy: it has useful filters, sorting, photos, descriptions, ratings and reviews. Hotellook also has a handy mobile app. Another similar service is Yandex.Travel.
Take a look at the picture below. Here we can see how the cost of the same type of room at the same hotel differs on different booking systems. The difference in price is almost 30%!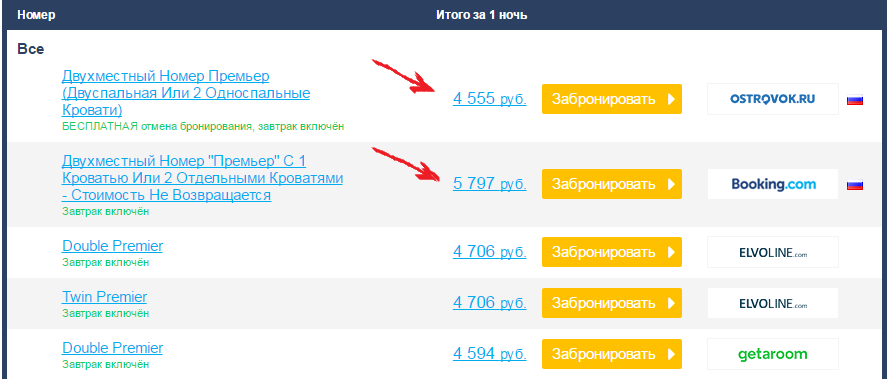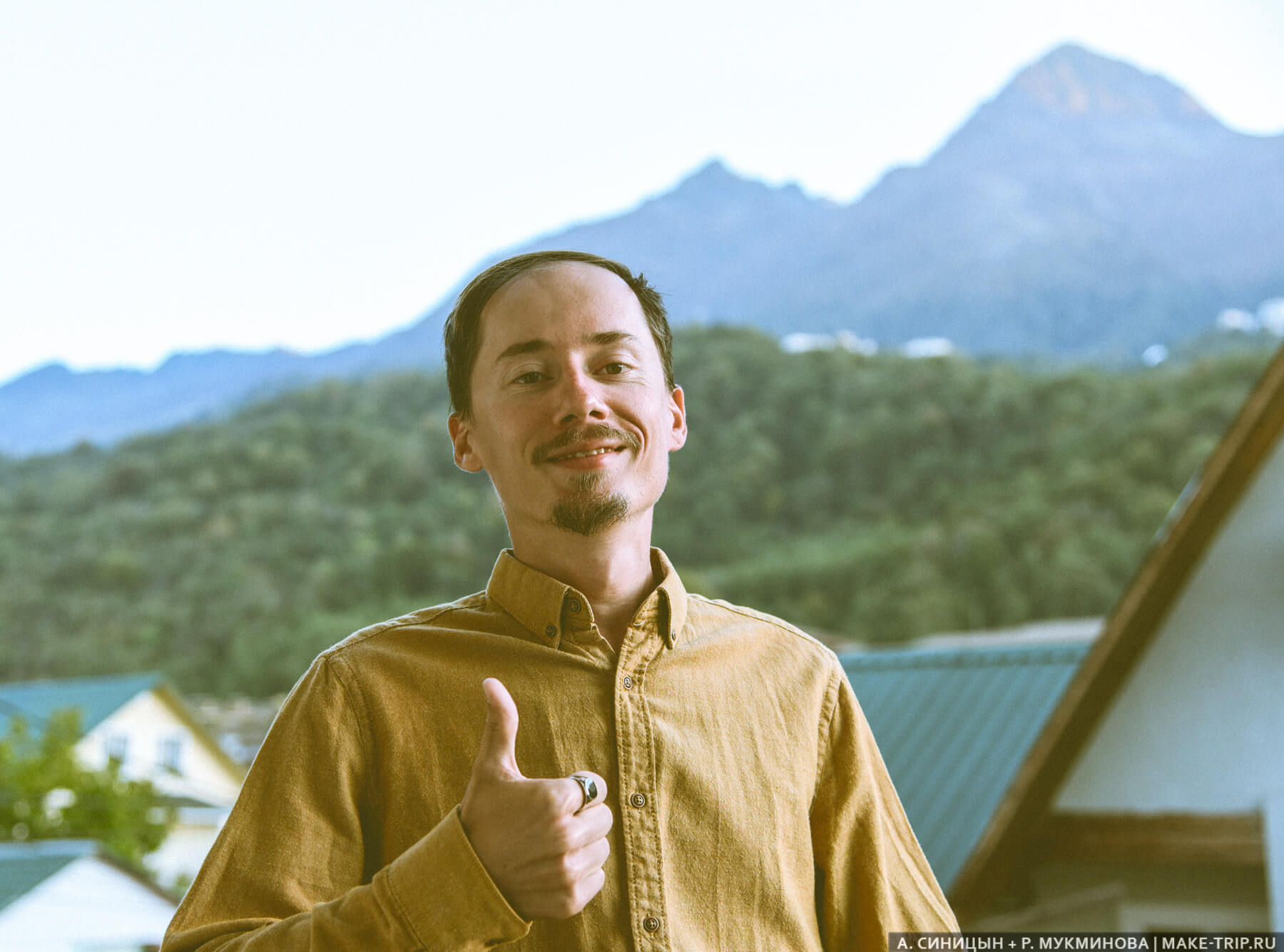 I recommend if possible to choose a hotel with a good view. For example, in Krasnaya Polyana, we specifically chose a guest house, from the balcony of which you can enjoy the view of the mountains.
2. Take advantage of discounts
On Yandex.Travel you can get cashback of up to 10% when booking some hotels (mostly in Russia and the near abroad). Money is returned in the form of points Plus, which can be spent in any other services ubiquitous Yandex: cab, food delivery, subscriptions, and so on. Also there, as well as on Ostrovka available booking of hotels in Russia on the campaign "World" and Rostourism with a cashback of 20% . In total, you can get back up to 30% of the money spent. Not a superfluous bonus in these times.
Although Booking.com is not very useful right now, I will leave a note about its bonuses. Bookings has a loyalty system called Genius. It has three levels, and you can get it after two bookings. This status will give you the opportunity to book a lot of hotels with a 10-20% discount and get other bonuses like free breakfasts and room upgrades. Unfortunately, there are only three loyalty levels, so with the number of hotels I have booked I would have been promoted to Genius level 80. But come on, that's good too. It's easy to find discounted hotels for Genius: Bookings does this in the search results and also has a matching filter button. Take advantage of these bonuses!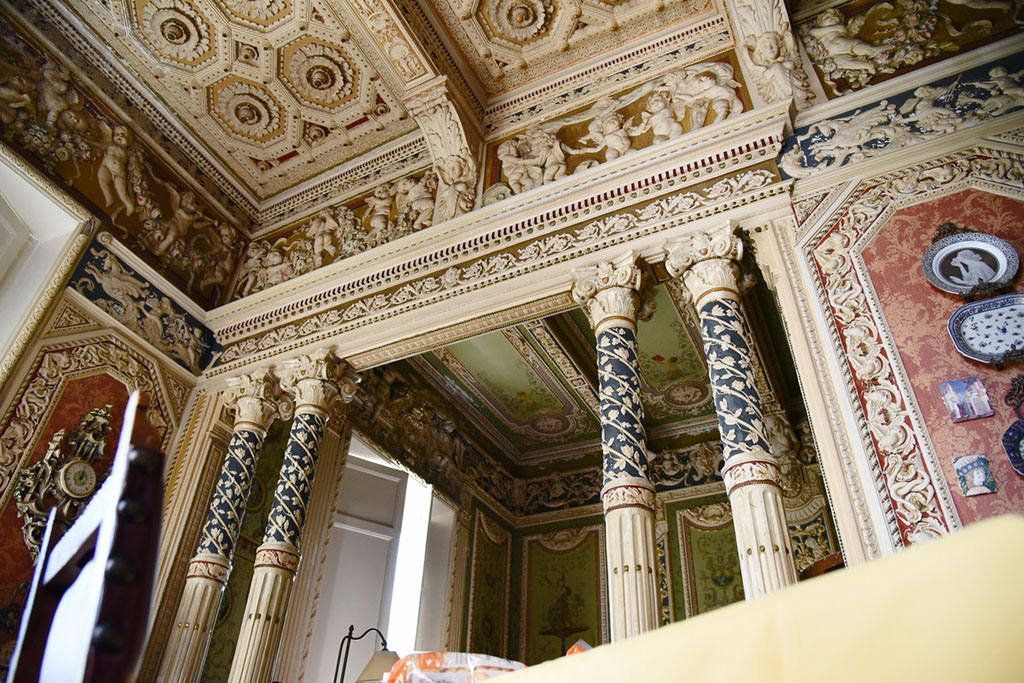 I stayed in this gorgeous hotel in Sicily and paid only 40€ for a room. The beauty is incredible!
3. Play with the dates.
Try to shift your hotel dates so that you can book a room as cheaply as possible. The highest prices are usually on weekends, holidays, during championships, Olympics, festivals, and during peak tourist season. On other days the accommodation can be two, three or even ten times cheaper. That last figure is no joke: many hotels in our south are guilty of such a greedy pricing policy.
In my travels, I always try to take this factor into account. For example, I recently went to Sochi. I see that, starting from some day, the price of the hotel I wanted fell sharply. Without thinking twice, I moved the dates of the trip a few days ahead, and the cost of our stay dropped from 19,000 ₽ to 10,000 ₽. In fact, I try to go to all countries not in high season: this way the prices are lower and there is less hype in the resorts. Good!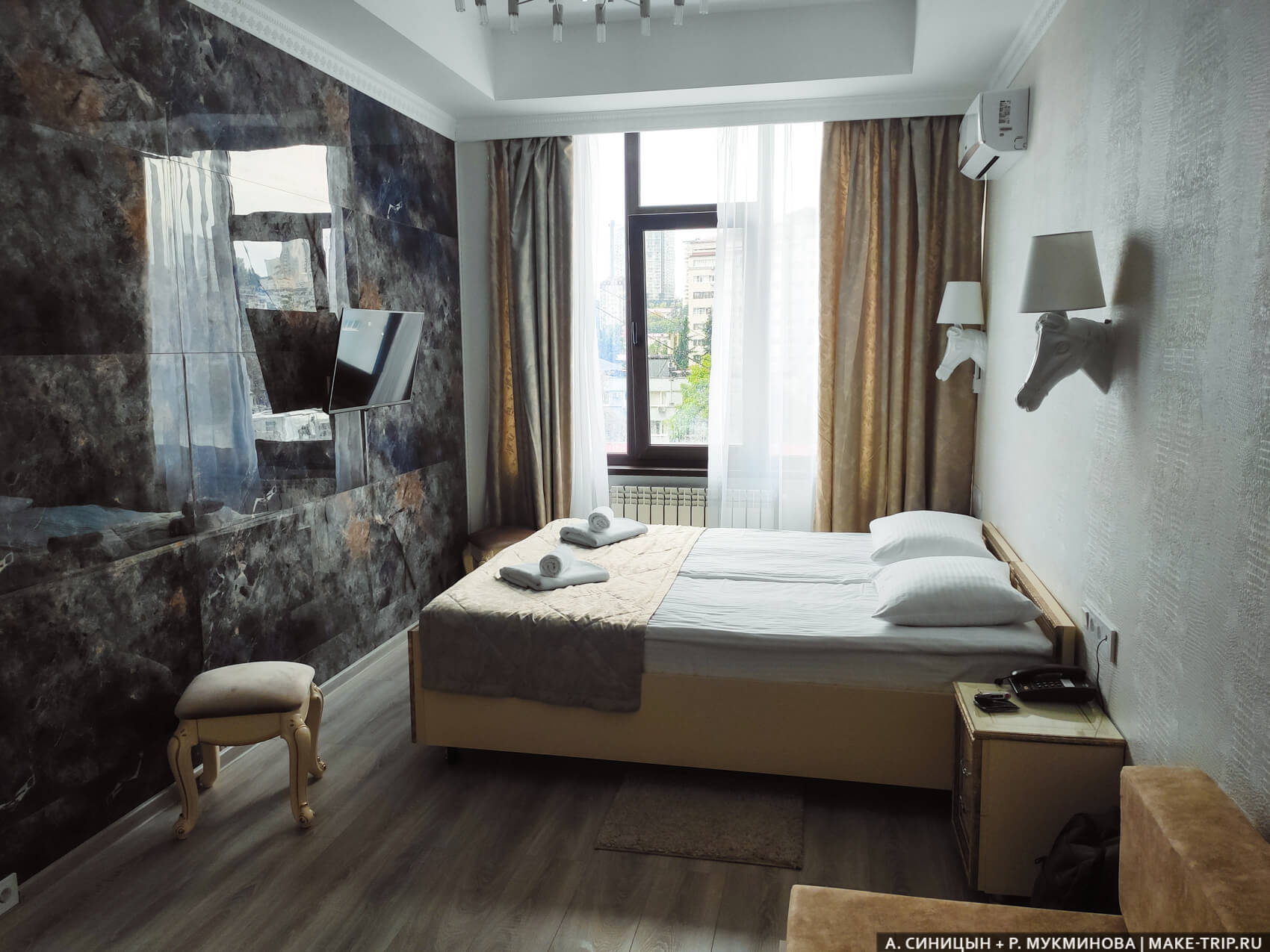 Our room at the Grace O'Dean Congress Hotel 3* in Sochi, which we managed to get almost twice cheaper.
4. Book your hotel in advance
The earlier you take the time to book a hotel, the better the chances of finding the best hotel, the best room and the best price. Do not neglect this rule, do not be lazy and do not procrastinate! This is especially true for popular destinations and peak dates. For example, in high season it is quite difficult to book a good hotel at an adequate price in Sochi, Crimea, Prague, Barcelona and so on. I myself have repeatedly stepped on this rake, procrastinating until the last minute to make reservations – I had to overpay and get into mediocre hotels.
Learn other useful skills:
5. Book hotels cheaper from tour operators
The previous rule has one exception – booking a burning hotel from the tour operator a few days before the holiday. This is a chance to get a room much cheaper than the aggregators and directly. Why does this happen? Tour operators buy a bunch of rooms in advance from hotels at a wholesale price for their tourists. Then they need to sell as many tours as possible to fill all the rooms and recoup the costs. However, they don't always manage to sell enough tours to get tourists into all the rooms. Therefore, in the last week of the tour operator may start to sell tours to undercrowded hotels at a discount – so there are burning tours. There are sites where you can not only buy a whole trip (with airfare, transfers, etc.), but also separately book a hotel from the reserve tour operator. In short, it is the same hot tour, only without the flight. I look for such hot hotels on the service Onlinetours, and since the beginning of 2022 a similar option appeared in my favorite online travel store – Travelata (but only for hotels in Russia).
This option works great for the most popular tourist destinations, and especially in the off-season when demand does not always match a tour operator's forecasts. We, for example, got a cheap room in "Sochi Park Hotel" this way – for only 1,300 ₽ per night. And some of my subscribers even managed to book a room there for only 100-200 ₽ per night – beautiful people.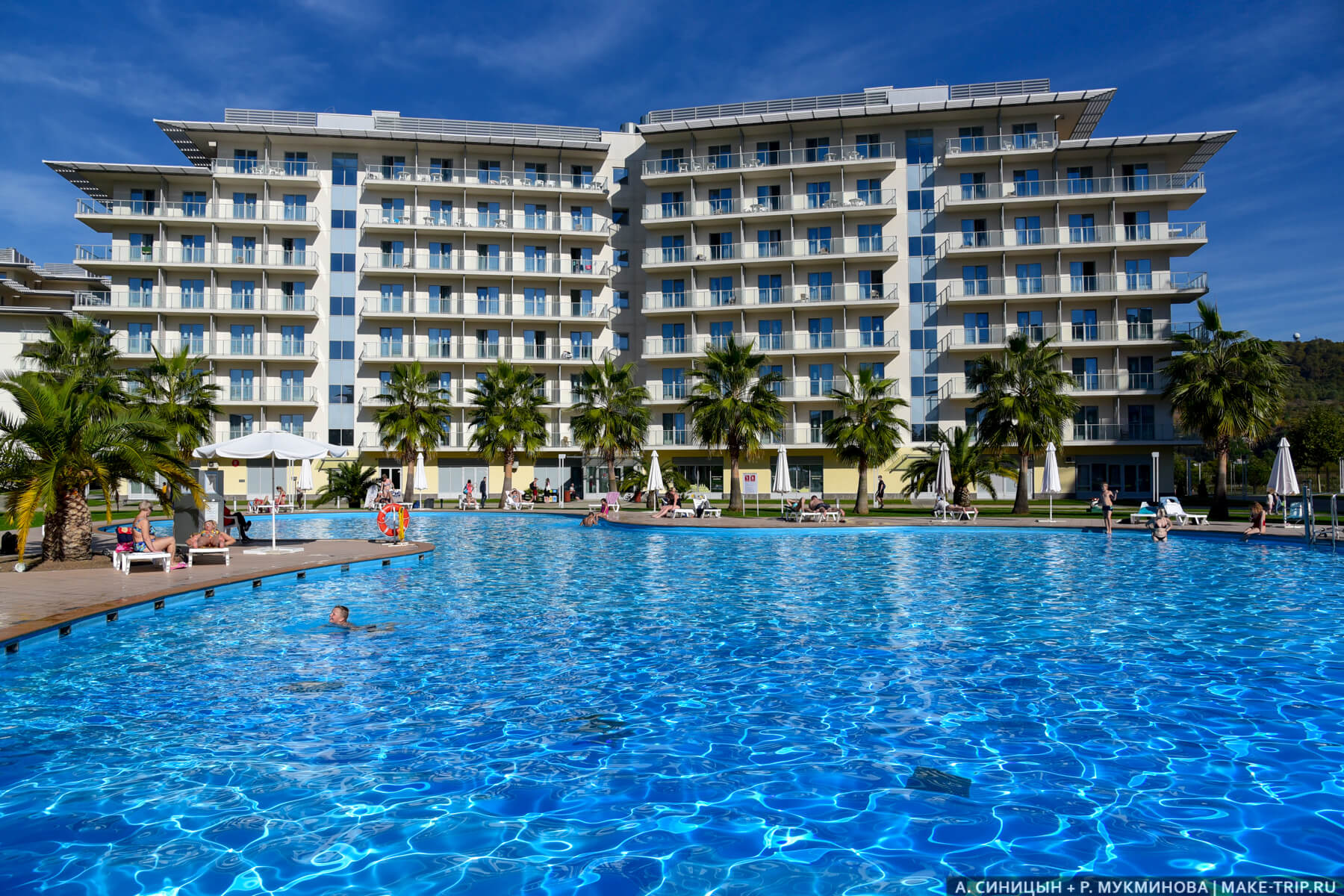 We paid 1,300 ₽ per night for a room at the Sochi Park Hotel in October, while the same room costs from 11500 ₽ in the summer.
6. Find a place where hotels are cheaper
The cost of hotel rooms is highly dependent on the location. Typically, hotels in the heart of the city are the most expensive. For the sake of economy you can check into a hotel away from the center, and then use the transport or walk on foot. For me, it is even more interesting, because you can see the residential areas of the city, not just the brushed and glossy center. Although I admit, sometimes living in the center, especially if it is historical, beautiful and atmospheric, is a great buzz, for which you can overpay. This is where it all has to be decided individually.
To save money you can book a hotel even (attention!) in another city. An example from my personal experience: On my first two trips to Amsterdam I booked a room at the Ibis Hotel in a suburb of Amsterdam called Zaandam. The room was half the price of the hotels in the city center. The hotel itself is modern, clean and comfortable. To get to the center of Amsterdam, we spent 20 minutes walking through the suburbs and another few minutes on the train. That way we got more comfort for less cost – beautiful!
In Paris, we lived in a nice two-room apartment on the outskirts of the city: we paid only 50 € per day, which is very cheap for the capital of France, and we quickly got to the center by subway. There are many such options, I even made a selection of cool and cheap apartments in Paris.
By shifting the location when choosing a hotel, you can get not only the savings, but also greater comfort. Agree, it is better to spend money to stay in a good hotel a few kilometers from the center than to check into a mediocre, cramped and noisy little hotel in the center of the city with an obviously inflated price.
Having a car helps to save money on accommodation, because hotels far from the center or the beach is no longer a problem. In addition, having a car can save on tours, transportation, and generally be as free as possible. Read my tips for safe and profitable car rental abroad.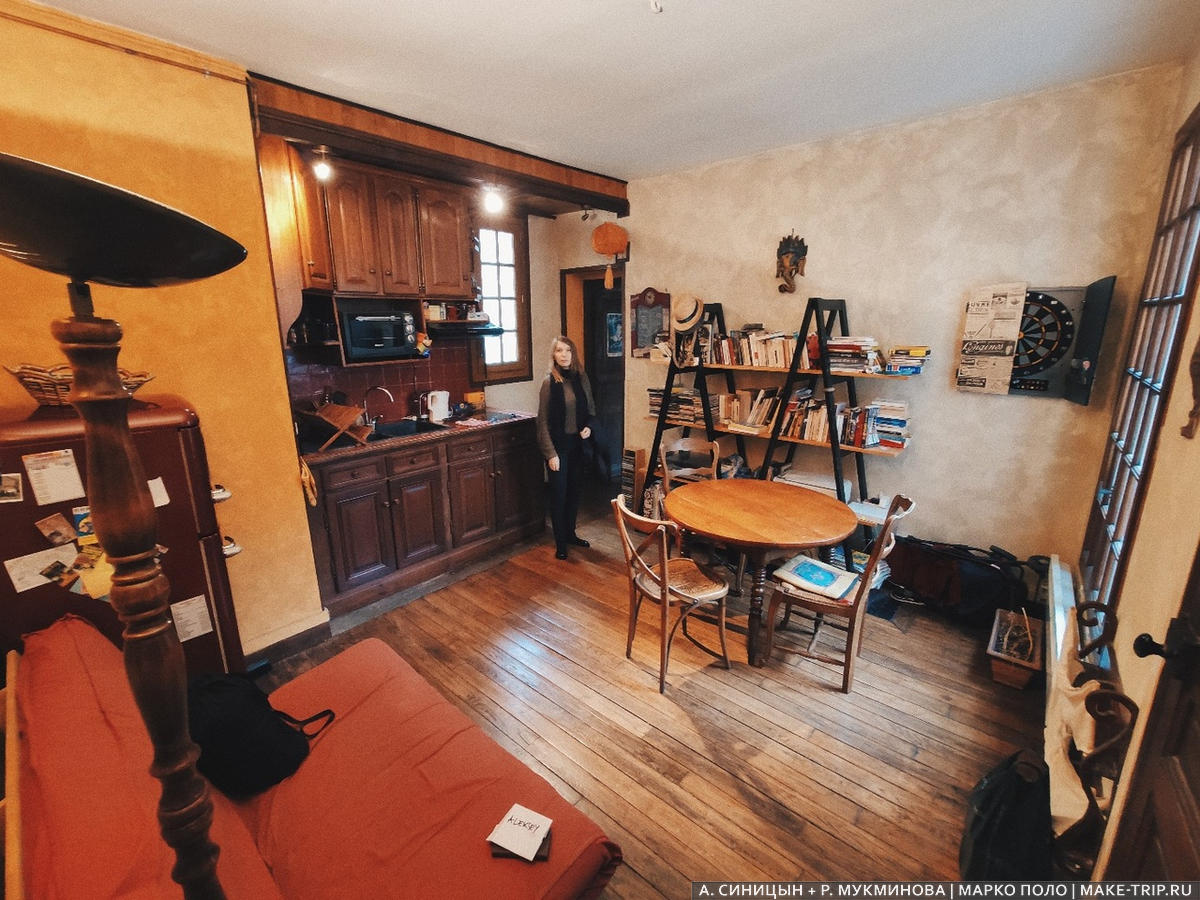 Our cozy apartment in Paris.
7. Do not limit yourself to hotels
On vacation you can live not only in hotels, hostels and guest houses, but also in private rented accommodation. It can be anything from a room to share with the host to a huge villa and luxury apartments. In about half of my travels I don't book hotels, but rent apartments or houses. It's not only more convenient and interesting, but often even cheaper.
I prefer to look for accommodation from owners on the popular Russian service Sudnoch.ru or on the world famous Airbnb. I have a special love for the latter, because there you can find not only standard apartments, but also unique, unusual housing. For example, in Rouen we lived in a lovely apartment in an old half-timbered house, and in Azores we rented a big house right on the ocean. Beyond that, there are even more non-trivial options: domed houses, tree houses, yachts to stay in, glamping tents, houses made of ice or even in caves, and more. Check out my Airbnb tips.
Warning. In April 2022 Airbnb screwed our compatriots and took away our ability to book a place on it. We lost a lot, but not everything. You can also rent an apartment on the same Ostrovka by checking "apartments" in the search filters. The choice of options there is less, but at least so.
And as a place to stay on vacation you can choose resorts, where you will not only relax, but also be treated. The fashion for this kind of rest is coming back! Buking and other aggregators of sanatoriums a little bit, but a lot of them in special services: Putyovka.com and Sanatory.ru.
Well, let's not forget about such a wonderful thing as campgrounds. To find a place to stay outdoors, I recommend the service "World of cabins.
House on the ocean – it's beautiful! My best accommodation, rented through Airbnb. Lived with friends and paid 1,700 ₽ per person. Florish Island, Azores, Portugal.
8. Choose the right lodging for your company
Traveling as a family, with friends, or as part of a troupe of traveling artists? Don't be too quick to take the obvious route and book everyone a private hotel room. Check out the alternatives: you'll probably be able to rent a whole house, a villa, or an apartment with several rooms for the same or even less money on Airbnb or Supra.ru.
In fact, a large lineup of travelers greatly expands the options. For example, that's how we rented an entire villa with a pool in Bali – it's inexpensive and much nicer than a banal hotel. We did the same thing in the Netherlands and the Azores (see photo above).
Our two-story villa with a pool in Ubud cost $60 a day.
9. Use the All Airlines card.
Humanity, as far as I know, has yet to come up with a cooler card for travelers than the All Airlines card from Tinkoff Bank. It comes in credit and debit. I have been using it for more than five years: it has already brought me more than a hundred thousand rubles in cashback, gives free insurance for travel abroad and other bonuses. I told you about all the advantages and disadvantages of the card in a separate review, and here I will only talk about hotel cashback.
The All Airlines card allows you to refund 10% of your hotel reservation on the Tinkoff Travel website. Generous! These 10% will come back to you in the form of bonus miles, which you can then spend on the purchase of any airline tickets. For example, book a 50,000 ₽ hotel – get 5,000 ₽ back. Considering how much I travel, the cashback on my card flows like a river and magically turns into free airline tickets. I used to make reservations through Booking.com, now I make them through Island.
I advise everyone to get this card – it's great for those who travel a lot. Especially now you can get it for free for a year.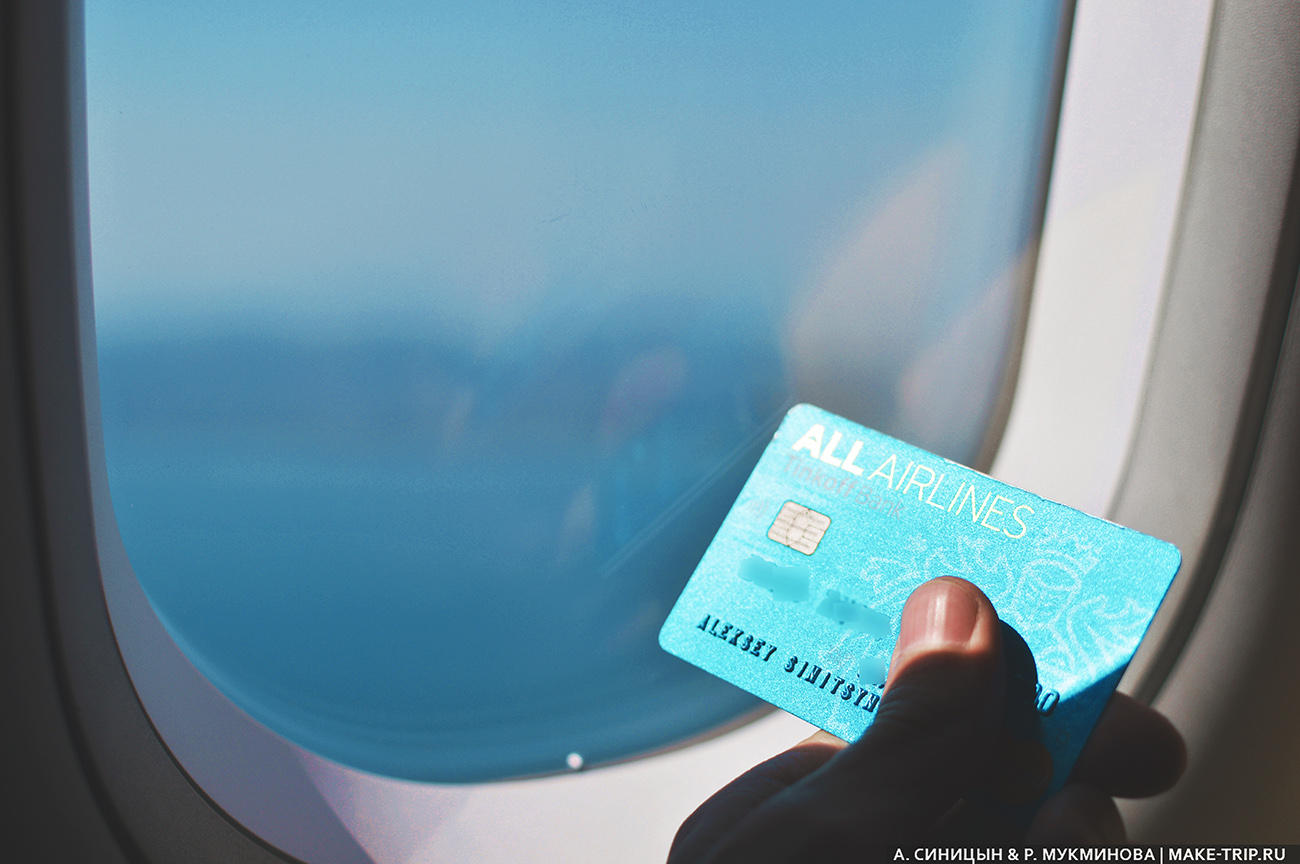 My All Airlines card
10. Choose new hotels.
Freshly opened hotels are always a winning option. Rooms are clean, neat, and comfortable – love it! Normal hotels usually give good discounts at first to attract more guests. They also try to be as welcoming as possible, because it is important for them to get as many good reviews as possible and earn a high rating in the aggregators. They do everything to please their guests: for example, they pamper them with compliments or upgrade their room category for free. In general, all the pluses.
I do not often get to a new hotel, but if possible, I try to choose one. For example, on Phu Quoc Island in Vietnam we stayed in a newly opened resort at a good discount. In Sochi we also chose a new hotel: the management cared so much about our reputation that they gave us a more expensive room only because they did not clean our room in time.
For popular resorts, we keep track of newer hotels: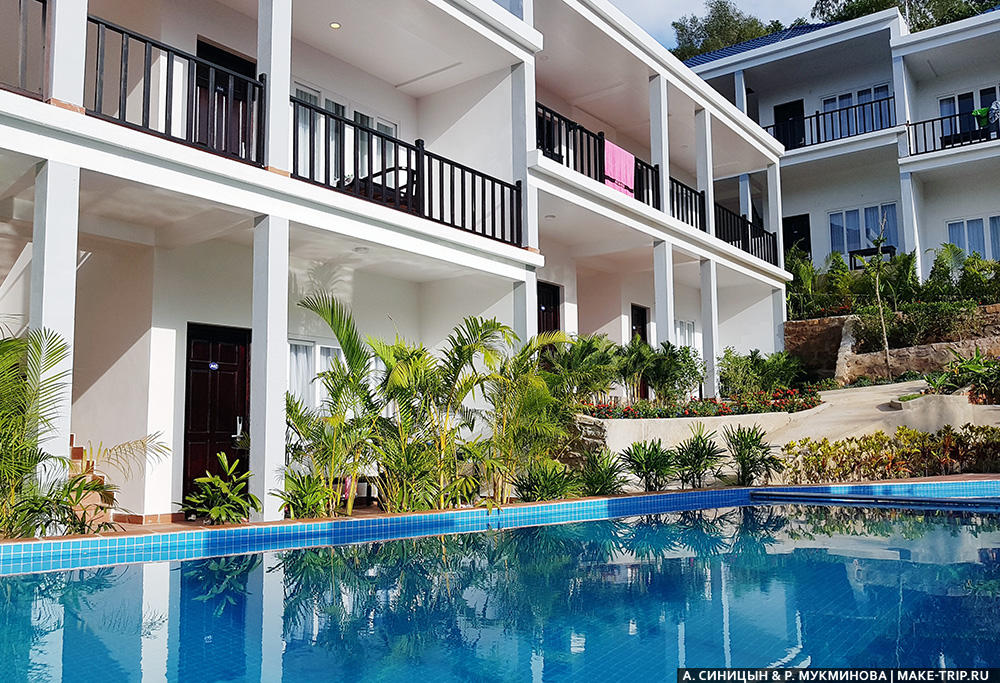 The Hill Resort is a good resort we stayed at in Fukuoka.
Is it cheaper to stay in a hostel
For a single tourist, a hostel is always cheaper than booking a whole room. However, if you are traveling as a couple, family, or with friends, staying in a hostel is rarely financially worthwhile. Often it doesn't cost more to book a single room than two beds in a hostel, and you get much more comfort. And in general, as an introvert, I do not like hostels, besides, my first experience of sleeping in a hostel was awful – there were completely inadequate neighbors. Since 2012 I have stayed in a hostel only once in Ingushetia for the simple reason that there was no other option.
Is it worth booking a hotel directly
Is it profitable to search and book lodging locally? Logic says that yes, because in this case the hotel does not pay the aggregators a commission, and therefore can offer you a lower price. Sounds logical, but in reality it is just the opposite!
You will be surprised (as I was surprised in my time), but in the vast majority of cases it will be cheaper to book a room at the same hotel on the aggregator, than at the reception. The difference is not too big, but still noticeable – usually 10-15%. It has been tested many times.
What is the secret? Well, you just come to the hotel hot and ready to take a room at any price, and on the aggregator site, where there are hundreds of other options, the hotel has to reduce the prices to the maximum in order not to let you go to the competitors. In addition, Bucking, being the most popular booking service in the world, does not give hotels the right to sell their rooms directly at lower prices than on the site of Bucking. Otherwise they face a ban, and it is almost a death sentence for the hotel. So prices on aggregators are almost always lower than when booking directly.
There are other disadvantages to finding accommodation on the spot. You have to spend time and effort: to drag with a suitcase in the heat or rain and look for a hotel or guest house – a dubious pleasure. There is also a risk of getting a pig in a poke: come and see, the room seems to fit, and then it turns out that in the evening there is a lot of noise or the Internet does not work. If you book a room in advance online, looking at reviews of other tourists, then these threats are minimized. I only look for hotels on the spot if I go to a real wilderness where there are simply no hotels on the internet. This is what I did when I traveled in Sumatra and Morocco. There was no other option.
I don't understand people who prefer to book hotels directly rather than through an aggregator. Most of them are found in our south, and, ironically, that is where you should by no means do this, because Kuban hoteliers often cheat tourists. Choosing a hotel on an aggregator, you will see negative reviews and immediately learn about the disadvantages of the hotel.
And when you book a hotel on Buking, Ostrovka, or other aggregators, you will get a defender of your interests in the face of the service. You will have a document, confirming your booking and all its terms, including the final amount. Sometimes the administration of some hotels may try to give you another, worse room. This is where our reservation comes in handy! It is even enough to threaten to call the service where you booked the accommodation, and you will get the concession, because the hotel is afraid to get banned from the aggregator.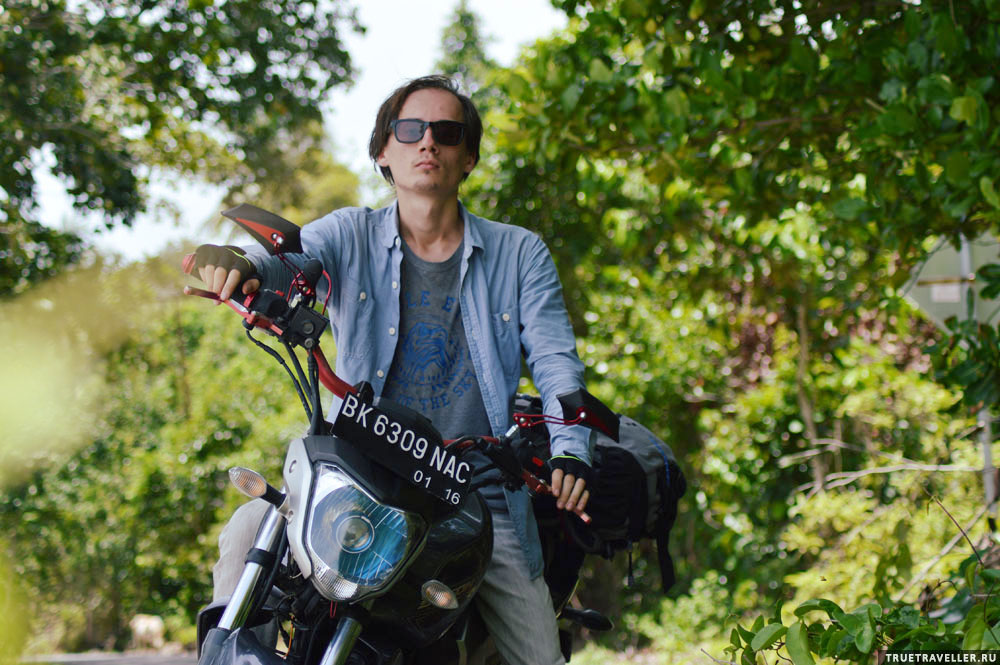 In Sumatra, I traveled on my motorcycle through some remote villages where they had never even heard of aggregators.