How to buy cheap airline tickets: 15 Jedi tips
15 valuable tips to help you find and buy airline tickets at the lowest price. Learn how to book airline tickets correctly and fly cheaply.
When is it cheaper to buy plane tickets: in advance or before you fly out?
So, how many months in advance should you start preparing for your trip? The most ideal is to start planning your trip about six to three months before your flight. For example, if you're going on vacation in the summer, it's better to book tickets as early as December.
And the thing is that airlines arrange sales in such a way as to load the flights for a few months in advance and to get as much profit as possible. What's great about an early flight booking is that many airlines offer discount or bonus programs. For example, some tickets can even cost half as much if you buy them six months in advance of your trip. Don't think that's impossible. The average discount for early purchase will not be less than 25%.
If you think it's cheaper to buy a ticket shortly before departure, you're wrong. Two weeks before your trip prices go up sharply and it's impossible to get discounts or promotions. A percentage of the ticket price looks something like this: 20% of passengers pay the least because they buy tickets in advance, most passengers – about 65% – buy for the average price, and 15% pay above the norm by buying tickets at the last minute. Try to be among that lucky 20%!
Some studies also show that good airfare is available up to 8 weeks before your flight. So even if you don't get to be the lucky ones to buy tickets for the lowest price possible, you can still get them for less than the average price.
And now let's see what tricks you can use to get the best deals!
Signing up for low prices
How do you sign up for low prices?
Monitor tickets after hours
You can also check ticket prices when the work day is over or has not yet begun: that is, in the early morning or late evening or even at night. It is believed that this is when the selection of tickets is much larger and better and the prices are lower.
4. Buy last minute tours for the sake of tickets.
You will save: ≈ 20-40%.
Travelling on your own is more interesting, but last minute tours promise us good savings. Often a trip to the most popular resorts (Sochi, Crimea, Turkey, Thailand, Greece, Dominican Republic, etc.) you can buy very cheaply – a full tour package, sometimes costs less than airfare. In this case the flight will always be direct, and the bonus is accommodation, transfers and insurance. It is worth to use it!
Feel free to buy the cheapest tour to the scummiest little hotel just to fly there and back. No one makes you stay in a rundown hotel – book it yourself what you like, and rest there.
Look for last minute tours for pennies on Travelate and Level.Travel – they compare the prices for tours among the most popular tour operators.
Remember! Check last minute tours for the resort you want. If a trip costs less than the tickets, buy it.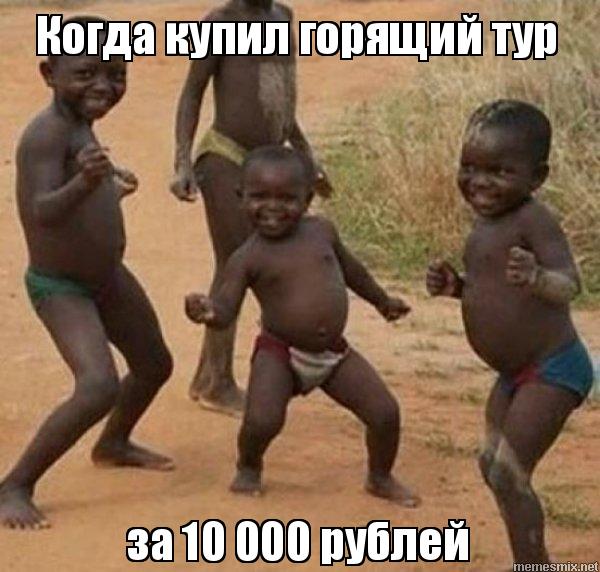 Такие цены не редкость, особенно в межсезонье. Смотрите сами >>
Use metasearch engines
There are sites that look for the most favorable for the buyer airline tickets by comparing the prices of different carriers. This is very convenient because you do not have to look for the cheapest airline. So, the most popular Russian metasearch engines are Aviasales , Skyscanner , Momodo.
They take data from more than seven hundred carriers, and they also have a low price calendar to help you choose the most suitable day to fly when the flight is more profitable. You can also consider an English-language similar site called Drungli. It is also very good because you can choose the cheapest tickets to any part of the world that exist. If you haven't chosen a destination yet, this resource can help you.
Important! Once you have found a suitable ticket in the metasearch engine, be sure to go to the airline website and check if it is not cheaper and if there are no more convenient flights.
Simple tips on how to buy cheap airline tickets
Always have your passport handy when looking for an airline ticket
First of all, you need to study the prices for the direction of interest, so as not to miss out on a really good offer. That's why you should always have your passport and card handy – good options disappear as quickly as they rarely appear.
Signing up for all the airlines' newsletters is not a good idea. You'll get a lot of emails, and information about really interesting promotions will just get lost in the stream of empty advertising promises.
Subscribe to the newsletters of airlines you use.
So you will be the first to know about interesting promotions! Airlines are always the first to notify those who are subscribed to them about discounts and sales. So do not ignore these letters, because, in contrast to the dispatches of various stores, airlines rarely send spam or letters with unnecessary information. What's more, subscribe to the carriers' social media accounts, on Facebook and Instagram, where companies can hold various contests and raffle off discounts, miles and even free flights.
The nicest discounts and promotions airlines hold between February and March, when many are already thinking about a summer vacation, and there are also good discounts from October to November for the pre-holiday months. In addition, major air carriers don't ignore international discount days. They also offer great deals on Black Friday and Cyber Monday.
But we should not delay! Bargain tickets like these get snapped up very quickly, and there are never many of them-usually no more than twenty are raffled off. But even in the heat of the moment you should not make a decision, as discount or promotional tickets cannot be returned or exchanged.
8. Incognito mode when purchasing airline tickets.
In this mode, the pages you have visited are not saved in your browsing history, and cookies are deleted when the session is over. How do I use incognito mode?
Google Chrome: Settings – new window in incognito mode or Ctrl+Shift+N.
Mozzila Firefox: tools – start private browsing.
Opera: tabs and windows – create a private window.
Internet explorer: service browsing – InPrivate or Ctrl+Shift+P.
Loyalty programs – for all
Even if you are not a frequent traveler and do not pay attention to the airline with which you fly, still fill out a loyalty program application. It's completely free, but this way for each flight you will receive bonus miles, and then you can choose a free flight, get a discount or exchange them for something else. Large airlines cooperate with other popular networks, so that you can use your miles not only for flights, but also to get a discount in a restaurant or store.
And the best part: as a member of the loyalty program you'll have access to a variety of interesting promotions and drawings!
Sign up for mailing list
Subscribe to Podpiskana.aviasales.ru newsletter. We will send you useful newsletters, ticket picks and contests.
Be flexible
If you haven't decided on a departure date yet, focus on ticket prices. Popular airfare resources have separate low-price calendars that will show you how much tickets cost on the upcoming dates from the day you choose.
Don't fly on the weekend
So, what's the best day to fly? Try to choose tickets so that flights fall in the middle of the week. The cheapest – on Tuesday, Wednesday and Thursday, and the most expensive – on Fridays, weekends and holidays. By the way, don't forget that the price of the ticket depends not only on whether there is a holiday in your country, but also whether there is a special date in the country where you are going.
And, of course, it's also important to remember that the cheapest tickets are sold during the low tourist season. So if you want to vacation at sea, it is better to choose not the summer months, and the end of spring or early fall. During this period, the weather in the Mediterranean is still warm, and the sea is warm enough for comfortable bathing.
8. Buy round-trip tickets
Buy tickets for both ways at once, don't put it off. Firstly, if you buy round-trip tickets you save about 20%. Secondly, remember: the closer the departure, the more expensive the ticket. For example, the tickets Moscow – Paris and back cost 14 000 rubles, and if you take them separately, you will have to pay more than 2 000 rubles.
How to buy cheap tickets: 11 Jedi tips
(photo © Moyan Brenn / flickr.com)
Choose your destination city, travel dates, number of passengers and click "Find Tickets".
Save up to 30% on buying airline tickets with no surcharges
How do I learn how to find and book the right tickets?
How to take full advantage of all the opportunities airlines and ticket finders give you?
How do you break the system and get airlines and agents to turn their tricks against themselves?
How do you deal the "Airline Empire" a crushing blow, learn the Force, and use it for the benefit of free travel?
Reading the articles and news site limandra.ru, you have repeatedly been able to note for yourself a number of ways to buy tickets at a minimum price, sometimes – for an obscenely low price! In this article I will systematize all the knowledge and skills to find and buy cheap airline tickets and briefly disclose them in 11 points. I love to travel, fly airplanes and always try to do it cheap or even free. I have accumulated enough knowledge and skills – now I share everything I know here.
How to find cheap airline tickets: The basics
Use all the features of search engines to the best of your ability.
Cheap airline ticket finders (aggregators) are the easiest and most reliable way to find tickets at the lowest price. The essence of their work is to compare ticket prices for the desired destination among hundreds of airlines and all major agencies and find the best deal.
If you're looking for tickets only on the airline sites, or, God forbid, by typing into the "Yandex" or Google query like "buy cheap airline tickets airflot" (I checked, very many do), or do not buy tickets online, and go to women's offices, then the cheapest airline tickets will always bypass you. With this approach, you simply have no chance of meeting them.
The best search engines I consider three services: limandra.ru, mujne.com. Their use when searching for cheap airline tickets is about 80-90% success. However, in order to get the best out of them you need to use them 100% – and not everyone does: even travelers who know them well do not know about a number of great features of these aggregators.
Tip: Before you buy airline tickets, check the price on all three search engines for more reliability – that way you increase your chances of finding the cheapest plane tickets. Sometimes the difference in price can be as much as 2-7% of the ticket price.
And now about the useful features of the search engines for cheap airline tickets, which you should know and apply in practice.
10. Watch for promotions on airline tickets.
The strong and unbearable desire to buy the cheapest airline tickets can lead to failure – in the heat of the moment sign up for mailing lists of all existing airlines and agencies. Do not do so – take pity on yourself and your mailbox, the wave of junk pseudo stocks just crush you and take away all desire to be interested in special offers in the future.
What airlines call "specials" and "interesting offers" are not always the case – most often it's just a marketing ploy to attract attention with appeals to buy tickets as soon as possible. Separating the wheat from the chaff in this area – not an easy task, requiring a clear understanding of what the price of tickets is normal and what the action.
That's what we do here – in our section on promotions and special offers only worthy of attention appears, and all the questionable and false information is eliminated. So stay tuned for our news! The easiest way to do it is to subscribe to our Facebook page – the latest news updates appear there instantly, and sometimes I publish some news about low-cost tickets there only.
9. Wait for the right moment
You can only buy the cheapest tickets at a certain time, all year long for weeks on end the minimum prices will never hold. So always stick to the rule – as soon as there is a chance to buy cheap tickets, you need to take it. As soon as you read the news about the sale, or you yourself found an attractive option on the search engines, do not hesitate – buy it.
You also need to know the periods when you can buy the cheapest airline tickets :
A year before your planned trip;
2 to 3 months before your flight;
A few days before departure.
Of course, the rule is not ironclad – it's more of a trend. Keep in mind that counting on the last option is always risky.
8. Buying a ticket with a flight from a nearby city
If you live in St. Petersburg – check the prices for flights from Moscow and Helsinki, if you live in Perm or Chelyabinsk – find out if it is possible to buy cheap tickets for a flight from Ekaterinburg, and so on. Sometimes this can save you as much as ten thousand rubles. For example, when you see news like "To Europe from Yekaterinburg from 6100 rubles", you shouldn't hope that a kind wizard will please the residents of Perm, Tyumen and the whole Ural region with similar prices, you just need to take and book such incredibly cheap tickets while you have a chance.
Residents of Moscow shouldn't yawn either. Yes, 80-90% of all the promotions and interesting airline offers are only valid for flights out of the capital, but that doesn't mean you should forget about the other 10%. It makes sense to check if there is anything good for flights out of Pulkovo.
7. Lowcosters
Read about what are the low-cost airlines in this article, and specifically about the low-cost carriers in Europe – in this article.
To make good use of the low-cost option means:
Fly from the nearest European cities: Vilnius, Kaunas, Riga, Tallinn, Helsinki, Lappeenranta, and Tampere. From airports of these cities you can for 10-30 euros fly to almost any point in Europe, and very cheap to Israel, Georgia, Morocco, the Canary Islands, and the Azores, and not only. Read more about that in the article about how to travel cheaply to Europe.
Don't forget about the fact that some of the discount airlines fly to Russia: for example, from Moscow you can get to Budapest on Wizz Air or fly to London on EasyJet. From both of these cities you can also fly cheaply anywhere in Europe.
Think of complex travel itineraries based on which destinations low-cost low-cost airlines are particularly happy about. Planning to go to Barcelona and suddenly you found out that from there you can fly to Malta for 28 euros (1880 rubles), and from there to Milan for 10 euros (650 rubles)? So why not put together an itinerary of such pieces of a rich and very budgetary trip (an example of such a trip). It's simple and fascinating!
Forget the luggage, because most low-cost airlines charge extra for their luggage. Sometimes you can buy very cheap tickets (for €10, for example) and pay three times more for luggage. Travel light, it's cheaper and easier.
6. 6. Fly with a group
Some airlines are willing to give passengers a discount if they fly in company and book tickets for several people at once.
For example, the low-cost airline EasyJet usually gives a discount when you book flights for two and three people: the discount may be as much as 7-10 euros for each ticket. Wizz Air has a loyalty program – Wizz Discount Club. If you buy a membership (€30 for two persons, €50 for up to 5 persons) you can buy any tickets for at least €10 cheaper during the year (i.e. membership pays for itself right away).
You can even fly with imaginary friends – they too can help you buy plane tickets at a good discount. About this below, in the section advanced skills to knock down the price of airline tickets. In fact, the fun is ahead!
5. Fictional Baby.
Interestingly, sometimes you can just make up a "friend" and get free discounts on your airline tickets. Our imaginary friend must be an infant (there is usually no charge for a ticket for children under 2 years old). When you search for airline tickets add an infant as a passenger, as your ticket applies a discount – sometimes quite tangible. This trick does not always work – it all depends on the agent selling the ticket, the airline and the searcher.
I have repeatedly written about the use of this clever way to buy tickets cheaper than the original price (the cost is specified for round-trip tickets):
Tickets from Moscow to St. Petersburg or vice versa for 1,408 rubles instead of 2,670.
To Georgia from Saint-Petersburg for 4904 rubles instead of 6200.
To Vilnius from Moscow for 3952 rubles instead of 4508.
Of course, no infants will fly with you – at registration for the flight just make up a good reason why the kid didn't fly (sick, stayed with someone from the family, etc.).
4. A clever zig-zag trick.
Airlines love to make money on direct flights, because many are willing to overpay (sometimes a lot) for the convenience, speed and lack of tedious connections. Well, let's think of workarounds and make airlines sell us the cheapest tickets.
All we have to do is pretend. Pretend we don't want to go where we really want to go. Going to Tallinn? Take your time looking for flights to that city, let's pretend we want to go to Oslo. See for yourself, the best deal on tickets to the Estonian capital is 5,430 rubles on a direct flight by Estonian Air.
But you remember that for the pleasure of flying direct, the passenger has to pay more, right? The solution to this problem is simple: knowing that Tallinn is the hub (base airport) of Estonian Air, and that tickets for its flights from Tallinn to Oslo are usually quite inexpensive, we just check the price of flights from Moscow to Oslo. Voila, they're only asking for 4,045 rubles! The flight is through the Tallinn we want – we fly there, get our luggage and forget about Oslo. Congratulations, we saved almost 30% of the cost of a direct flight to the city we wanted!
How do you find these cheaper alternatives? You have to be a little bit in the know to do that:
Know which airlines fly to the city you want;
whether their airport is a major airport for them;
which destinations these airlines fly from the city you want at the lowest fares (in order to correctly substitute the destination city in the ticket we will buy).
Knowing this and using logic, designing such detour flight routes is easy and fun! Even if you're not into it, armed with ticket search engines, Wikipedia, and Google, you'll easily get the hang of it and find a solution.
Warning:
Do not forget to check your luggage not to the final point, but to the intermediate one (you can think of any argument: you are carrying a gift that you want to pass on the way, in the bag you need thing, etc.).
If you want to skip a leg of the flight, remember that after that the ticket is canceled. So if you bought a roundtrip ticket and missed a segment on the flight there, you will not fly back with that ticket. For example if you have the ticket "Moscow – Tallinn – Oslo – Tallinn – Moscow": refusing to fly from Tallinn to Oslo you deprive yourself of possibility to fly from Tallinn to Moscow. That's why for such purposes you have to buy a separate ticket there and a separate ticket back.
3. False (multi-component) air travel
Sometimes you can buy significantly cheaper airline tickets if you build an extra segment into your flight itinerary (use it or not).
Case studies:
For example, Etihad has repeatedly had an interesting mishap with the pricing of tickets to Asia if you form a route as follows: "Moscow-Asia-Yekaterinburg. There was no need to go to Ekaterinburg on the way back – the flight would go via Moscow and you could get off there. The cost saving was about 3-5 thousand rubles.
Once I wrote about a great opportunity to fly for 29 thousand rubles to Dublin, Seychelles, Mauritius, and Paris for one trip. It's just a dream for insatiable travelers who can't get enough of one or even two countries for one trip!
Such mishaps happen on multi-compound itineraries on joint flights with several airlines, because the price calculation system is not perfect and fails in some atypical cases.
A bonus of this option: you can visit not one but two or three cities in one trip and still save money.
Alas, finding such loopholes and glitches is not easy. If such opportunities arise, I write a news story about them – watch out. But you can try your luck yourself – try to build a complicated route by including several flights to different cities into one form.
2. wrong fares
As we mentioned above any price calculation system is not perfect and sometimes it fails – it happens more often for complicated routes, but also with simple ones.
The rule is simple: if you find an incredibly cheap ticket (for example to South America for 25500 rubles) do not think for a second – take it. No need to call your brother / brother-in-law / wife / friend – if everything works out, they will approve the initiative. Do not (by no means) call the airline or agency asking why the price is so low. The erroneous fare and the fact that no one knows about it, and as soon as his existence will be noticed by sellers of airline tickets, shops will shut down immediately.
Yes, you must be prepared for the fact that the ticket mistakenly sold at an excessively low cost may be canceled by the airline. In that case you get your money back – every penny of it. So this is the worst-case scenario: You get what you want, but you don't get what you need. But another outcome is possible – the tickets will be confirmed, your trip will take place, and you will save a heck of a lot of money.
1. Vouchers and free airfare
Note: The Bravofriends program ended in October 2015, so way 11 is no longer relevant. By the way, Bravoavia was the sponsor of my fall 2015 Indonesian motoring trip.
I left this option for last, because it is not for the lazy. It's only suitable for those who are willing to try a little harder for the chance to get free tickets on budget airlines.
Introduction
The ticket booking service Bravoavia gives you a voucher for 20 euros discount. The procedure takes a minute – you just need to go to the website Bravofriends.ru and register via your e-mail.
Once you have done this you will receive a €20 off voucher which can be used as a discount coupon when you buy your flight tickets with the Bravoavia service.
You understand that no one will act at a loss, just handing out coupons for a discount. Our case is not an exception – there is no use of the voucher for 20 euros, as the service Bravoavia takes a commission for paying for tickets with any bank card, its size is just 20 euros. However, the vouchers are meaningful – you just need to use them correctly.
Correct use of vouchers
In order to use the voucher wisely and get tickets for free, we need to find those that cost less than 10 euros. Not often, but such are found (for an example of such, read the news about free flights in Malaysia on Malindo Air). Tickets for less than €10 can be found on low-cost flights in Europe and Asia. These are the types of tickets we can get for free.
Specifics of voucher operation:
The voucher can only be used for tickets for two people or for roundtrip tickets, which is why we need a single ticket costing €10 or less so that the total is no more than €20.
Card fees only apply if the customer has to pay something, i.e. if the voucher does not cover the entire cost of the ticket. Our goal is to avoid such a surplus and to find tickets whose value will be less than the voucher face value.
Getting expensive vouchers
Alas, finding airline tickets cheaper than €10 is not easy at all – the system Bravoavia tries to exclude the sale of tickets at such a low price. But tickets for 15-30 euros are not uncommon and you can get them for free, but in this case you have to spend more than one minute.
We need to save up on a voucher for a larger value (say, 35 or 50 euros) – with this voucher is much easier to cover the cost of the average cheap ticket for low-cost airlines. You should collect points for vouchers, inviting your friends to sign up for Bravofriends: 1 extra euro for 1 friend. That is to get a voucher face value of €35 (enough to cover the cost of two tickets for 17.5 euros), you need to invite 15 of your friends. If you're not too lazy, do it and you'll get a chance to fly for free together.
Choose your destination city, travel dates, number of passengers and click "Find Tickets".
Save up to 30% on buying airline tickets with no surcharges