How to get a flight discount (€20) in 2 minutes: the Bravoavia voucher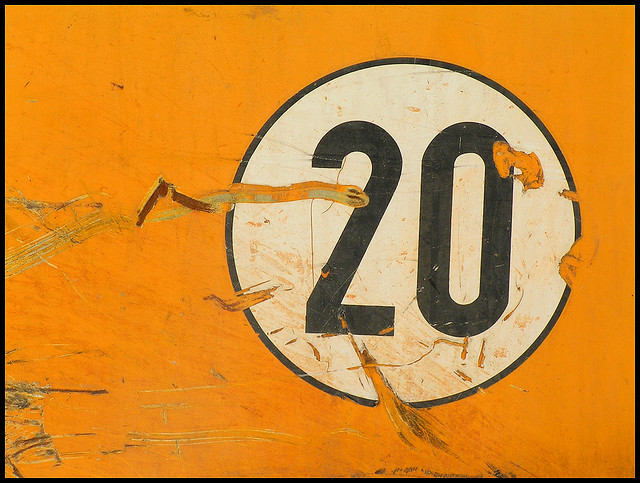 Here's an easy way to get a good airline ticket discount (almost 1,000 rubles) in just a couple of minutes using the Bravoavia voucher. And if a little effort, you can increase the discount up to the fact that the tickets will be free!
Attention! At the end of September 2015, the Bravofriends program ended, vouchers have not been issued since then. So the topic is no longer relevant.
Some time ago we already mentioned this great way to get a good discount on airline tickets in the article "How to fly cheap and travel a lot". Now we decided to write a separate article about this method with all the details. Although there's nothing much to think about – you don't have to do much to get this discount.
So there is a service for booking airline tickets – Bravoavia. Service is very good (Swiss by origin) – works with many airlines, offers tickets at very good prices, has a handy search engine, etc.
In order to expand the audience of its customers, this agency has come up with a special program bravofriends.ru, anyone who participates in which can get a voucher for a discount of 20 euros. The program runs for about a year, and many people have already taken advantage of this pleasant bonus, which allows you to save a little money on airline tickets.
The essence of the program is simple. Any registered member immediately receives a voucher for 20 euros, which can be used immediately to purchase airline tickets. The actual discount because of the availability of the service commission will be a little less – on average, the benefit is about 10 euros, but it's also a pretty good bonus for thrifty travelers.
But the Bravofriends program allows you to increase the value of your voucher (and hence the size of the discount) to 250 euros! That's almost 12000 rubles! Having such a discount on airline tickets, you can fly virtually for free. To increase the amount of vouchers from Bravoavia, you simply need to invite your friends in the program. Each new user registered in the system, who came by your link, brings you 1 additional euro. Then it's simple math – invite 30 friends and you will get a €50 discount voucher, 50 friends – a €70 discount voucher, and so on, until you get a €250 discount voucher.
Procedure for obtaining a discount on airline tickets with Bravoavia voucher
1) Follow the link – bravofriends.ru and register in the service;
2) After this confirmation will come to your e-mail – you will need to follow the sent link;
3) When you will re-enter the site of the service, you will see, that you have a voucher of 20 euros, click on "Request a voucher". A few clicks, and a personalized voucher code will be sent to your email immediately;
4) Now go to Bravoavia.ru at the link sent in the letter, choose the desired flight and when booking, enter your personal code for a discount, then the recalculation of the ticket price.
That's it – the discount is yours!
We recommend that you register in the system right now, in case the program will be closed sooner or later. Just do not ask for the voucher until you're ready to buy tickets – let it quietly wait for the right time in your account.
And of course, before buying tickets check the prices on the search engines Aviasales.ru and Buruki.ru – maybe for the dates you need they may offer a better price even with the voucher.
Additions
– It is important to keep in mind that the voucher is only valid for round-trip flights or when a ticket is purchased for two people at once.
– If you choose to invite friends and gradually increase the amount of the discount voucher, keep in mind that in this case, when you ask for the Bravoavia voucher, the service will take 1-3 days to process the request. The time they need in order to check whether the discount was obtained in an honest way, i.e. whether there was no cheating on your part. They have a good algorithm for detecting cheaters, so the dubious methods of rifling the discount will not work here – you need to invite the real people. But the voucher for 20 euros is sent instantly – there is no need to check, because everyone can get this discount on airline tickets without the need to invite anyone.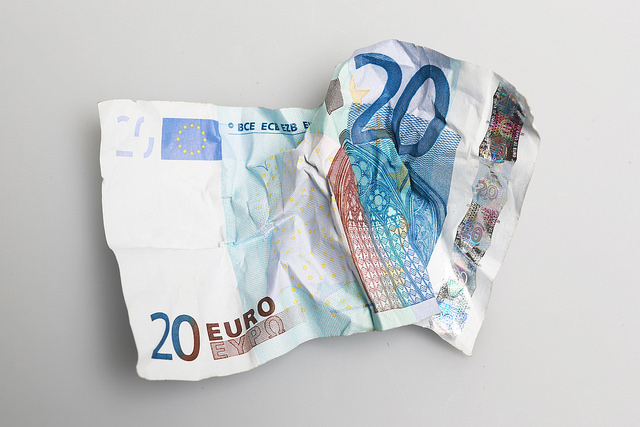 (Photo: FotoDB.de / flickr.com)
Here's such an easy way to get an airfare discount in just a couple of minutes and a few clicks of the mouse. Well, if you have a lot of friends interested in independent travel and cheap airfare, you can fly virtually for free with their help.
App Store Bravoavia Air Tickets. A brand new interface and discount on all airline tickets

Bookmark it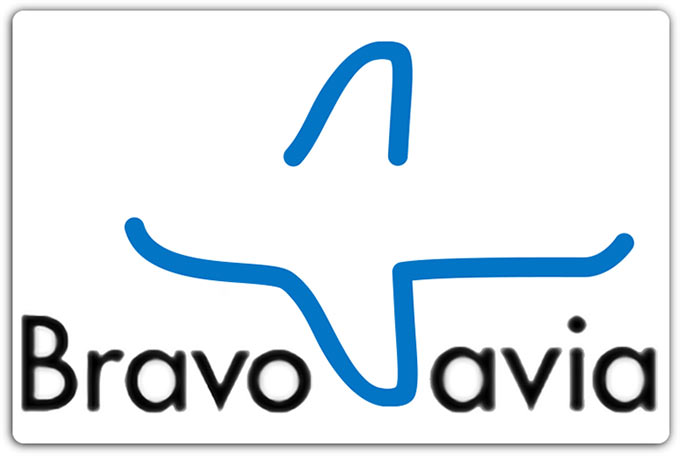 Software Type : Ticketing Developer/Publisher : Bravofly Version : 5.1.2 iPhone + iPad : Free [Download from App Store]
Summer, heat, time for vacations and vacations in the pampas and on the beach by the sea, the ocean, a turbulent mountain stream or anywhere else. For example, you can visit the famous cities of the Old World, in general, the mass of options, if only there were money and the opportunity to break away. By the way, if you are thinking about whether to update some gadget or go on an interesting trip – feel free to choose the second one. It's better to collect impressions than things. Gadgets, clothes, cars – all that becomes obsolete, turning into decay. But the vivid impressions and interesting events – they will stay with you for life. Naturally, when the earth is "burning under their feet" and the cherished amount of money literally "flutters" on the card, ready to break free and make the owner happy with a luxurious trip, we want to organize everything fast and without unnecessary complications. There is a solution and it's called "Bravoavia Airline Tickets".
You obviously know about this service and we told you about it last year, but since then the application for iOS has seriously matured and acquired new features. Let me remind you that "Bravoavia Air Tickets" is a mobile version of the web service of the same name and allows you to quickly find the best deals among 350 companies. A third of them – the low-cost, that is, offer tickets at very affordable prices.
The program has a completely new interface with a significantly redesigned design. It has become much easier and more convenient to use.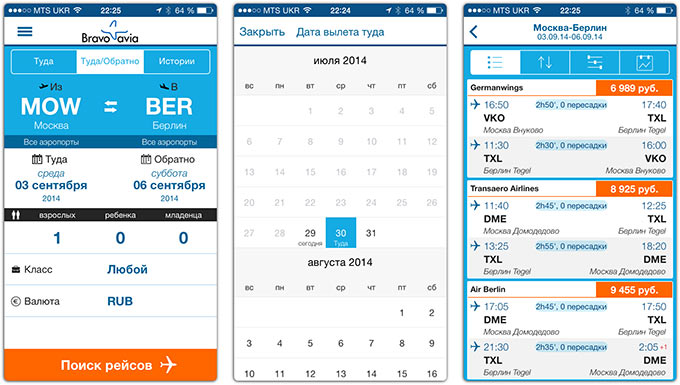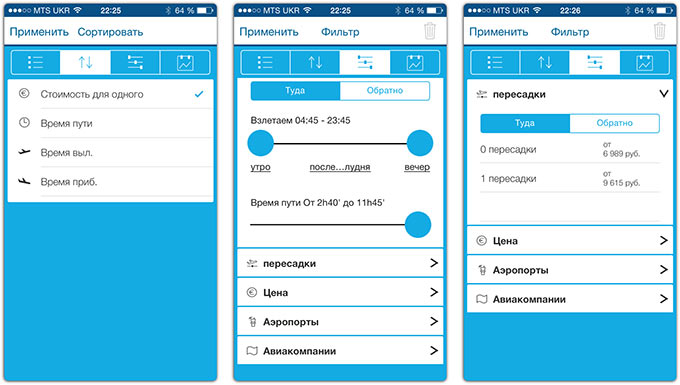 Moreover, now the application "Bravoavia Air Tickets" has a fully adapted interface for the iPad. Yes, the program was previously compatible with the tablet Apple, but it offered only a stretched version of the phone interface. And the new tablet appearance "Bravoavia Flights" was created taking into account the increased size of the screen and with a glance at the usability of both portrait and landscape orientation.
Although the operating principles remain the same. You do not have to wander through the maze of application menus wondering where to enter data and how to start searching. The start screen is configured by default to launch a quick search for the desired destinations and cheap tickets. You choose your destination, departure and return times, class of service, currency (Russian ruble by default), and click the big orange button: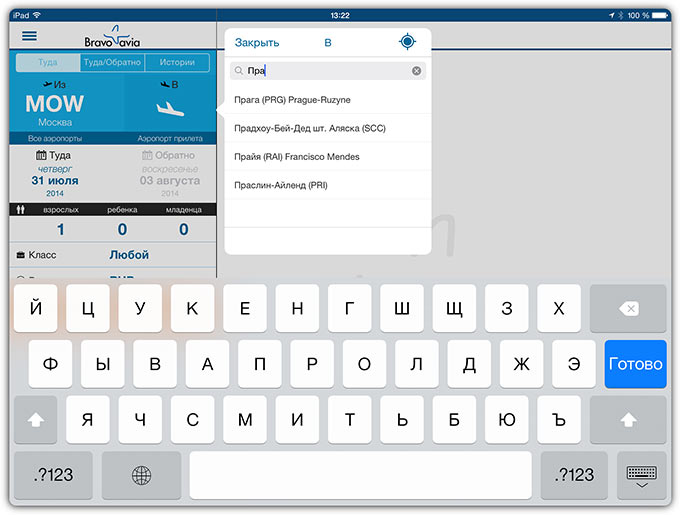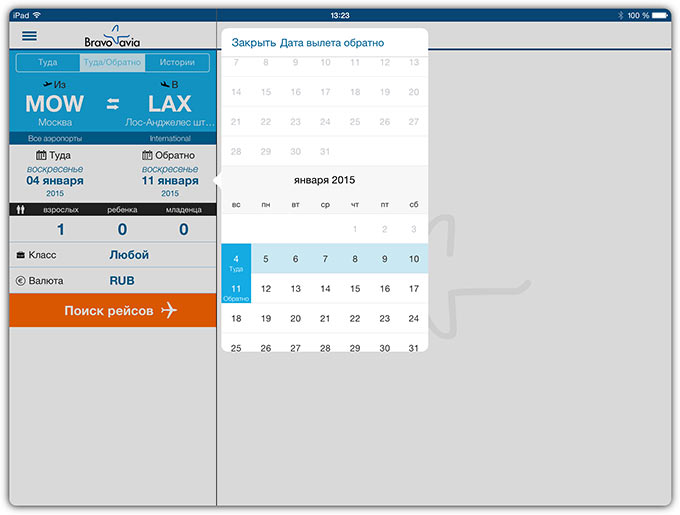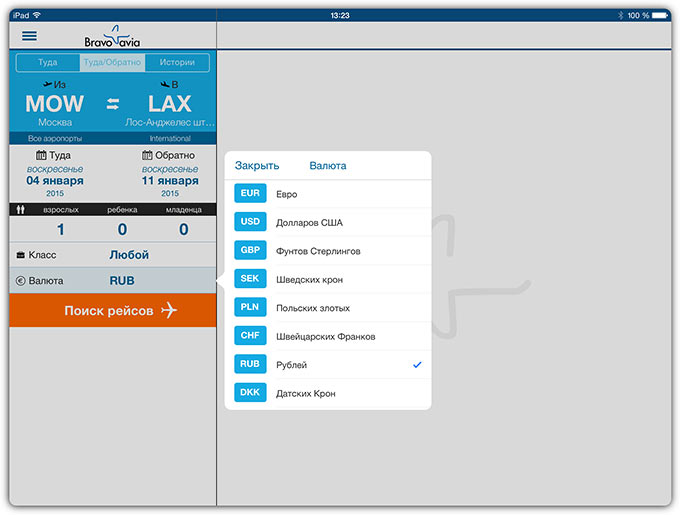 It is worth noting the speed of the search, which takes literally seconds, for which you should thank the improved database algorithms. Many competing solutions search for tickets several times longer.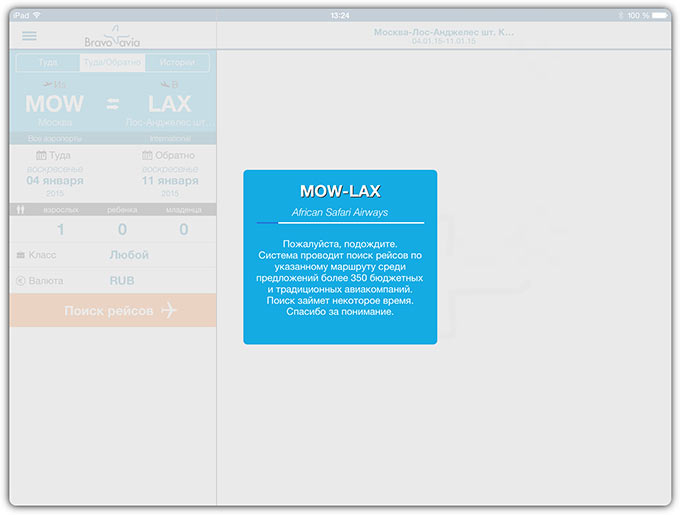 As soon as the results appear on the screen, you can literally filter the offers in one click, excluding flights with connections – a very useful point. And the filter is applied instantly: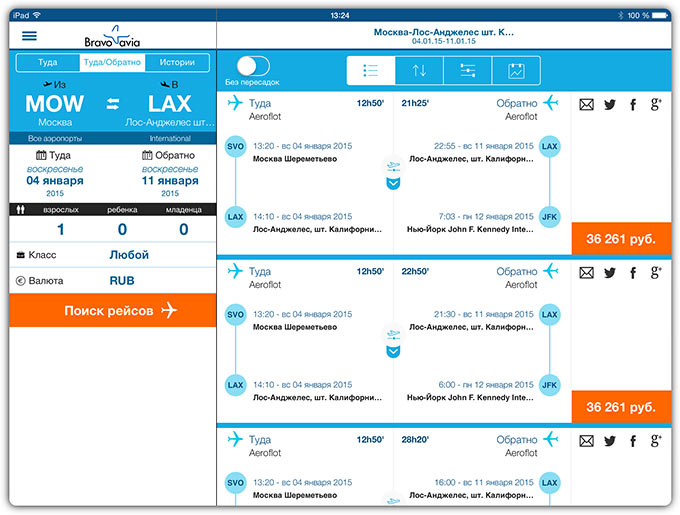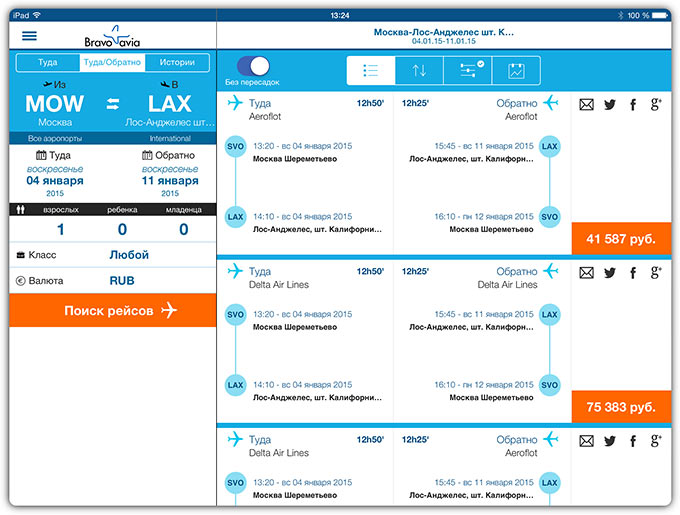 If you want to define your query more clearly, so you don't have to dig through hundreds of offers, then use the whole set of available filters, which are also navigated in one or two clicks: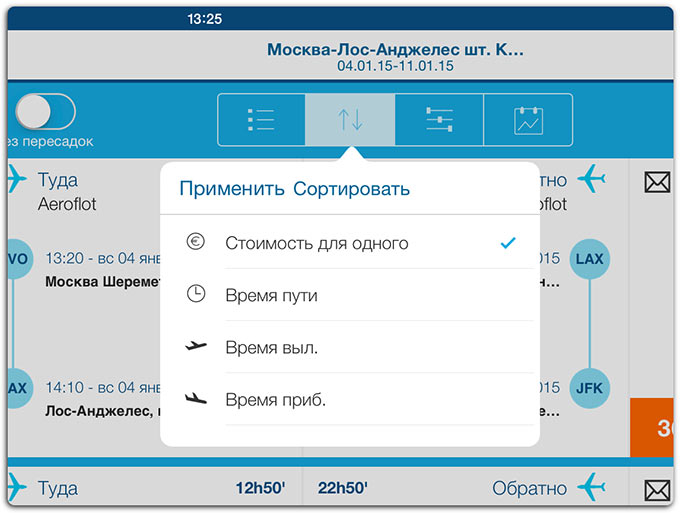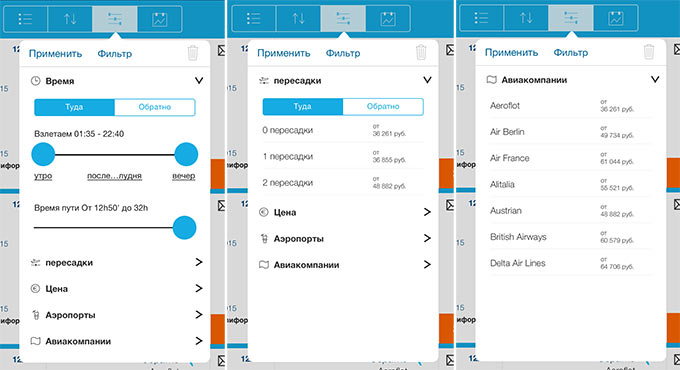 Experienced travelers know that you can often save money on tickets by changing your departure or return date by literally one day, and Bravoavia Flights allows you to track these changes in the "Price Calendar," which is also one-click access on the search results page. In my case there is an opportunity to save up to 8000 rubles: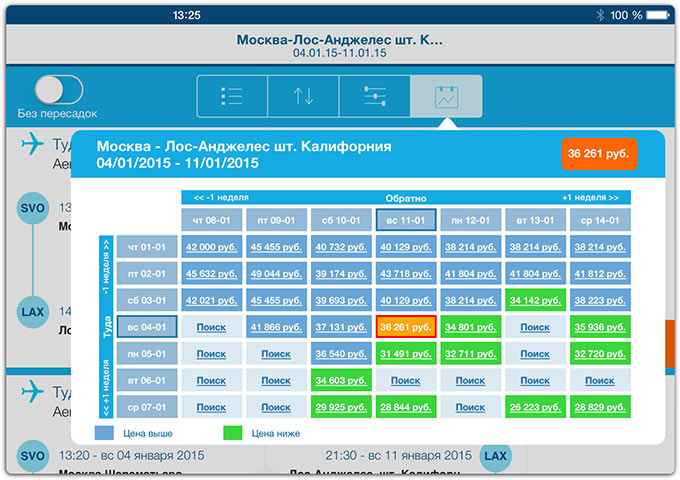 It's easy to share your favorite offer on social networks or via e-mail (plus SMS in the iPhone version) by clicking on the corresponding icon on the right: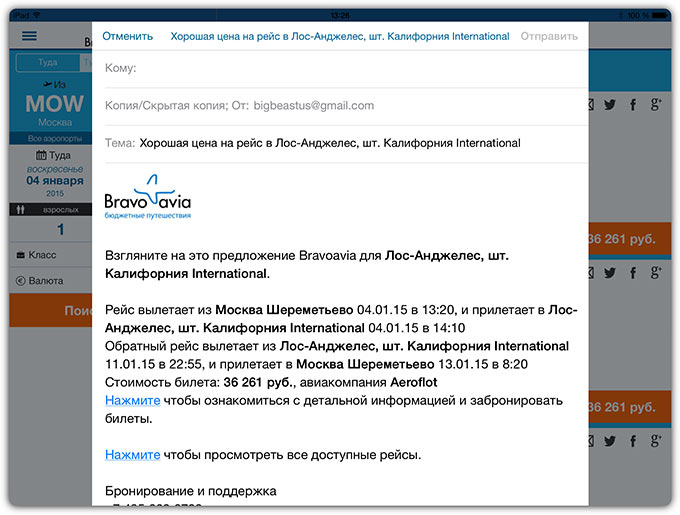 Then it's easy – you click on the orange price button…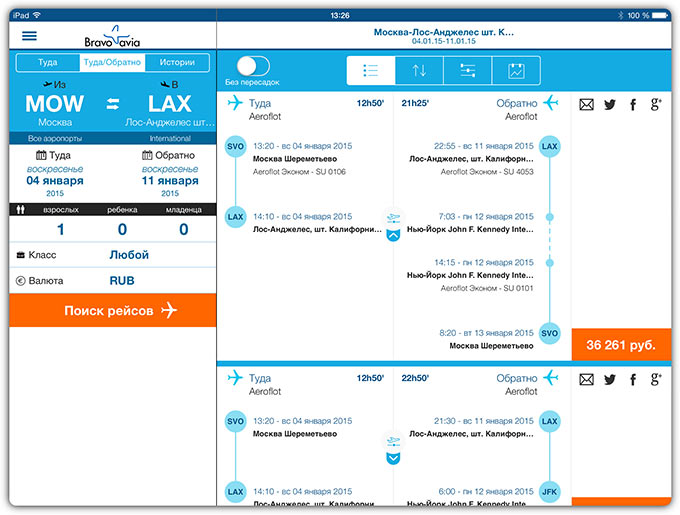 …You wait just 10-30 seconds while the system checks the availability of tickets at the moment…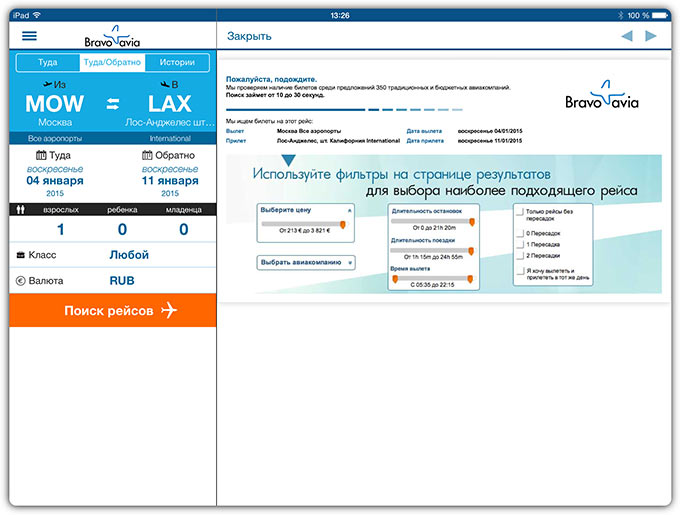 …And go straight to ordering: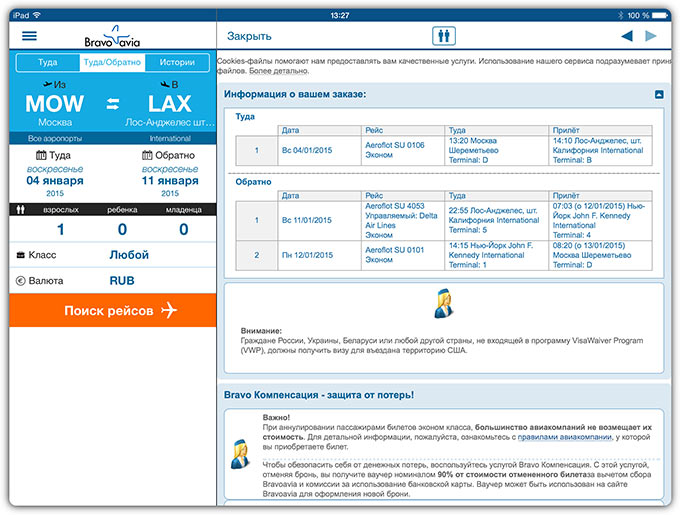 The process is standard and familiar to anyone who has ever ordered airline tickets through the Internet (name and surname as in the passport, the document number, etc.).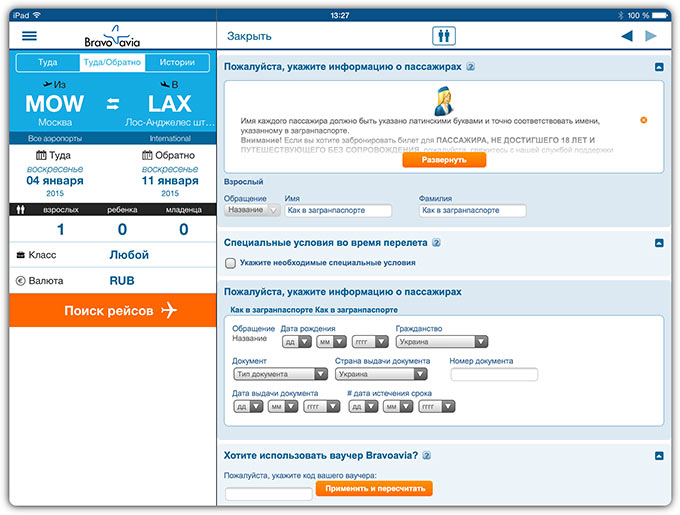 But there is one important feature, which is called Bravo-compensation. It costs extra money, although if you need to cancel your ticket, you will get a voucher Bravoavia for the amount equal to 90% of the value of your order without unnecessary delay. Then this voucher can be used to order another ticket. Of course, this is somewhat limiting, because you do not get the money back. Nevertheless, there are times when airlines do not provide a refund for a particular ticket at all. In this case, Bravo-compensation is a good help.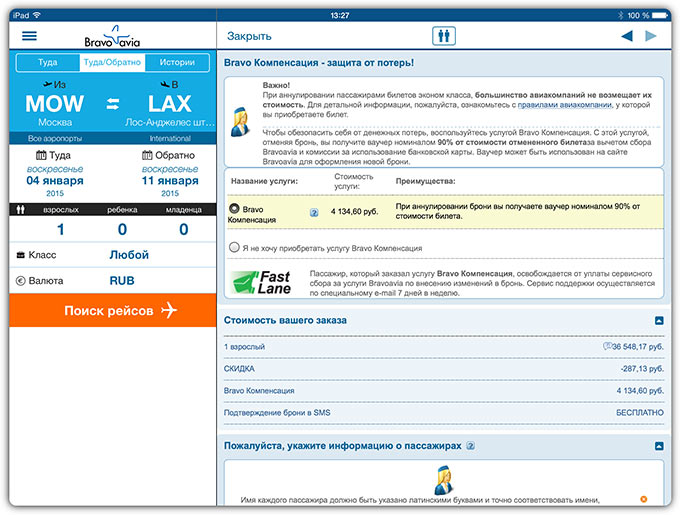 Payment can be made by bank card directly or using Paypal: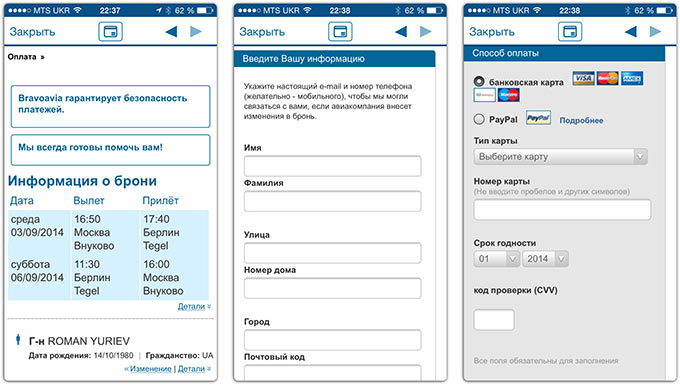 Note that registration with the service is not required, although I would recommend registering, as it provides a number of benefits. You will get access to a personal account, where you can save data for buying and paying for tickets and not have to enter them every time, which speeds up the process. It's also access to purchase history and a feature to track selected flights literally in real time.
Another important innovation in "Bravoavia Air Tickets" is the ability to book a hotel (using Booking.com) and car rental directly from the application.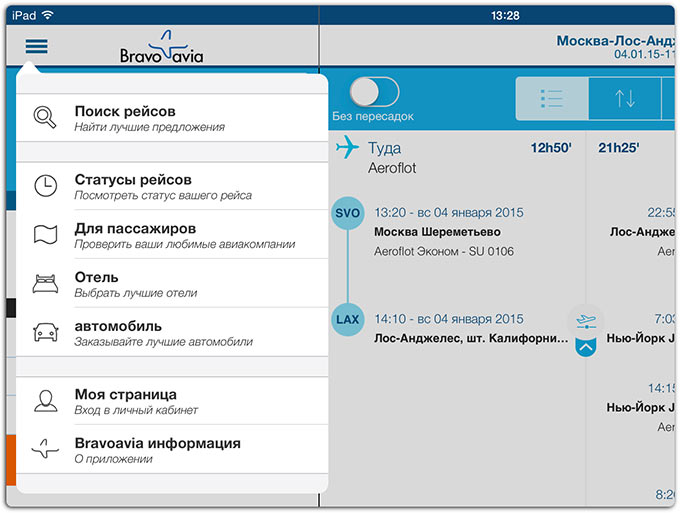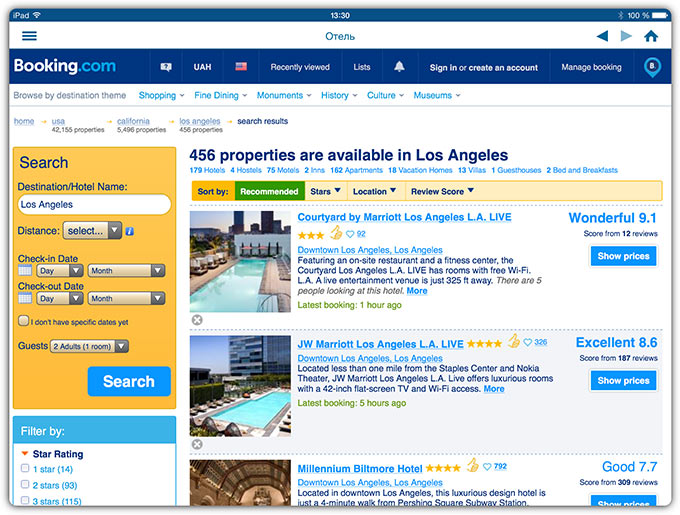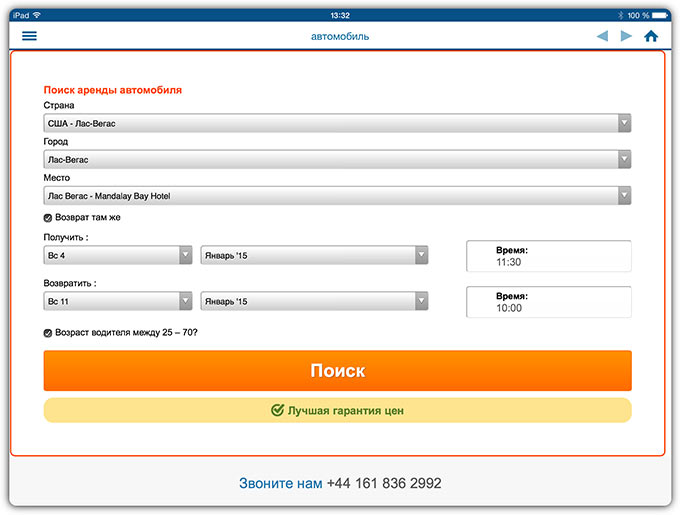 There is also a section for passengers, which contains all the useful information on airlines. This is also an important point, which saves nerves, time and money. I have already had the experience of having to check my luggage directly at the airport due to the lack of this information, which cost three times as much as pre-checking in online.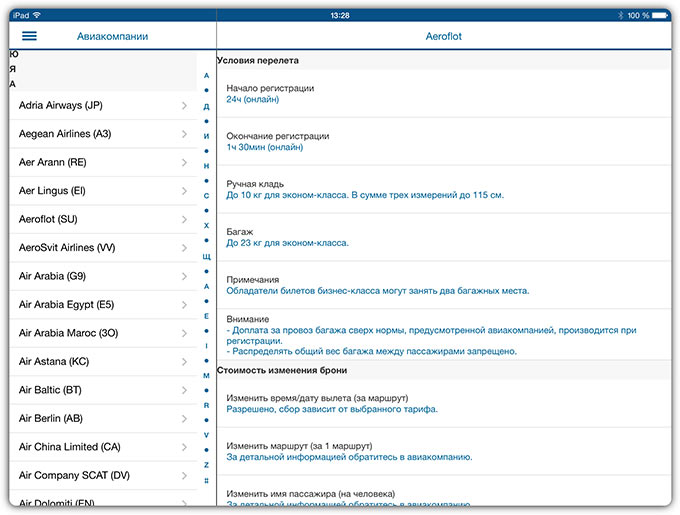 As a result of testing the iOS-application "Bravoavia Air Tickets" I want to note the quality and user-friendly interface and very fast search systems and filters. I also liked the ability to book a hotel and rent a car right from the program. I have no criticism about the service – everything is fast and clear. I was pleased to see the interface was adapted for the iPad, which was lacking in earlier versions of the application.
Finally I want to mention the action for iPhone and iPad users. The company Bravoavia offers a €20 discount on any ticket until the end of the summer. Check the official website for more details.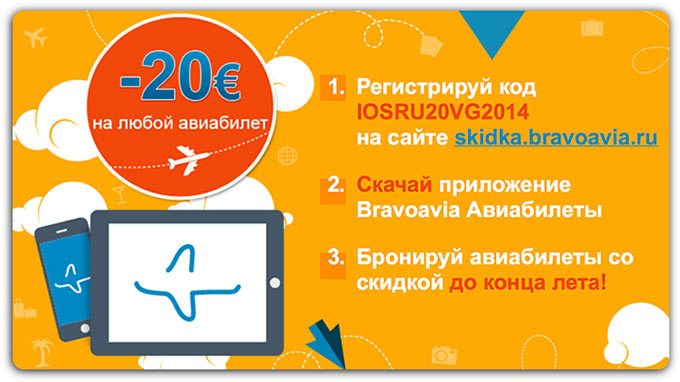 Bookmark it