How to reach Gelendzhik: all variants with prices in 2021
Gelendzhik is a resort city with a clean sea and mild climate. You can get to it not only by plane but also by train or sea cab. The main advantage of Gelendzhik in the established transport links. Because of this, it can visit it absolutely everyone.
In this article, we will consider where Gelendzhik is, how to get to it from different cities in Russia by bus, car, plane, train, sea cab, compare prices and possible routes.
Where is Gelendzhik and how to get there
Gelendzhik is located on the Black Sea coast, 37 kilometers from Novorossiysk. It is located in an area which is surrounded by ridges of the ridge Markhot and comes out to the Gelendzhik Bay. For tourists the resort is interesting with its picturesque nature, mineral springs and a variety of entertainment venues.
Choosing how to get to Gelendzhik, tourists are faced with a lot of options. The fact is that the resort has an excellent transport interchange. You can get to it by any means. The only disadvantage is the lack of a railroad. But it is available in Novorossiysk, which can be reached in 50 minutes. The airport is located 10 kilometers from the central part of the resort. There are several shuttles to it.
From Moscow
The distance between Moscow and Gelendzhik is 1517 km. It is convenient to travel by plane and by car. Planes, following this route, land in the area of Tonky Cape. From there, the tourist can get to the center of the resort by shuttle bus. Transport runs every 15 minutes, from 6 to 23 hours.
By car the distance of 1517 km from Moscow to Gelendzhik can be overcome for 16 hours 21 minutes. In terms of money it is cheaper than traveling by plane or cab. For gasoline have to spend about 6,000 rubles in one direction. This is especially true for those who go to rest in a large company.
The train from Moscow to Gelendzhik can go through Novorossiysk or Anapa. From there it will be more convenient to get by bus or cab. Trains from Moscow run daily and depart from the Kazansky railway station. The trip by train takes no more than a day.
A bus trip will take more than a day. The bus departs from Moscow from "Salarevo" or "Novoyasenevskaya" bus stations. The cost of tickets starts at 3000 rubles.
From Krasnodar region
The distance between Krasnodar and Gelendzhik is 186 kilometers. It can be overcome in 2 hours. This is why it is inexpedient to fly from Krasnodar to Gelendzhik. Tourists move between these cities by ground transport.
In most cases vacationers go by bus, the route of which passes through Novorossiysk. On average, the trip takes about 4 hours. The cost of the ticket does not exceed 600 rubles.
As an alternative, you can consider a sea cab. The ticket price starts at 1000 rubles. It directly depends on the point from which the trip begins. Sea cab was launched by the shipping company "Vodokhod Express. Now the voyages are served by the catamaran "Gryphon" and the motor ship "Comet".
You can take a train from Krasnodar and nearby towns to Novorossiysk. The trip takes about 3 hours. From there you have to go to Gelendzhik by bus or cab.
From other Russian cities
Figuring out how to get to Gelendzhik easier, you need to consider all possible options. If we are talking about distant cities, you can fly by plane with a change in Moscow or Krasnodar. Direct flights are from cities such as St. Petersburg, Ufa, Kazan, Cherepovets, Chelyabinsk, etc.
How best to get to Gelendzhik by train depends on the distance. The best option is to buy a ticket to Novorossiysk, and from there go by bus. By train you can get to Novorossiysk from almost any corner of the country.
The trip by car is relevant for residents of nearby regions. In other cases it will be too long and exhausting.
How to get to Gelendzhik by plane
Gelendzhik airport is located within the city, near the Tonky Cape. Formerly it had the status of an air harbor of regional importance. In 2004, the reconstruction of the airport began. During this period, a runway and a terminal were built. Today the air hub of the resort receives all kinds of passenger planes.
Flights between Gelendzhik and other major cities are performed by well-known carriers – Yamal, Aeroflot, Pobeda and Ural Airlines. During the holiday season charter flights are operated. You can buy tickets separately or as part of a package tour.
You can get to the center of Gelendzhik from the airport in 20-30 minutes. To do this you must take a minibus number 16 or bus number 5. Transport from the airport to the city runs at an interval of 20 minutes.
The cost of tickets depends on the season and distance:
from Moscow to Gelendzhik – from 2000 rubles;
From St. Petersburg – from 3500 rubles;
From Kazan – from 5100 rubles;
From Chelyabinsk – from 8100 rubles;
from Ekaterinburg – from 5,600 roubles.
How to get to Gelendzhik by bus
Bus transport in Gelendzhik is in high demand. The resort has an old and new bus station. The new one is designed for international and intercity communication. It receives flights from some cities in Ukraine and Russia – Sevastopol, Ivanovo, Krasnodar, Rostov-on-Don, etc. At the old station come buses from Praskoveevka, Kabardinka, Divnomorskogo and other suburban settlements. From the bus station you can get to any place of the resort by usual public transport – bus or cab.
The average cost of travel by bus:
From Krasnodar – from 400 rubles;
From Novorossiysk – from 120 rubles;
From Sochi – from 250 rubles;
From Moscow – from 2900 rubles.
How to get to the city of Gelendzhik by car or cab
Knowing where the resort of Gelendzhik, you can get to it by cab or your own vehicle. For example, from Krasnodar you can leave by two routes – through Dzhubga or Novorossiysk. In the second case, the way will lie along the new flat highway. Through Dzhubga you will have to take the old road, which is sometimes serpentine.
Travelling by car is good that you can stop at the observation points and admire the surrounding scenery. Immediately in Gelendzhik, you can leave the car at a paid parking lot at the shopping center "Estakada". It will cost 600 rubles per day or 50 rubles per hour.
To calculate how much the road to Gelendzhik will cost by car, you need to know the total distance between the cities. For example, to overcome the distance of 186 km between Gelendzhik and Krasnodar will need to pay 630 rubles.
The distance between Gelendzhik and other major cities:
Rostov-on-Don – 446 km;
Volgograd – 913 km;
Yekaterinburg – 2701 km;
Saratov – 1283 km;
Astrakhan – 998 km;
Kazan – 1948 km.
How to get to Gelendzhik by train or by train
To date, there is no railway station in Gelendzhik. Everyone who decides to come by train, go to Novorossiysk, Krasnodar or Adler. Given the distance, it is most convenient to go through Novorossiysk.
At the exit of the station tourists are attacked by local cab drivers. Use their services is not always advisable.
From the railway station to the bus station in Novorossiysk runs trolleybus number 6. The fare does not exceed 25 rubles. From the bus station to Gelendzhik you can take a direct bus. It runs every day and arrives at your destination in an hour.
The main costs are incurred for the route to Novorossiysk. The price of the ticket may vary depending on season, type of carriage and point of departure.
You can buy train tickets at these prices:
from Moscow to Novorossiysk – from 2,300 rubles;
From Kazan to Krasnodar – from 2600 rubles;
From Tyumen to Krasnodar – from 4300 rubles;
from Volgograd to Novorossiysk – from 1400 roubles;
from Lipetsk to Novorossiysk – from 1900 roubles.
Is it possible to get to Gelendzhik by sea cab
Not so long ago a sea cab appeared in Gelendzhik. It allows you to get to the right place with maximum comfort. During the trip you can enjoy the picturesque scenery. Maritime vessels run according to the schedule. From Novorossiysk to Gelendzhik sea cab departs at 7 am.
The cost of the ticket depends on the route and fare. For a choice of seats are available in comfort and business class. The latter are considered more expensive. Ticket prices start at 500 rubles per person.
You can get to Gelendzhik by land, by air or by sea. In drawing up the route one should consider not only the prices, but also the degree of comfort of the trip. If the departure is planned from a remote region, it is better to use the train or plane. From nearby towns you can get by car or shuttle bus.
How to get to Gelendzhik
Gelendzhik is not Kamchatka! You can easily get to the resort in a variety of ways: by plane, train, bus or your own car. We have already tested all modes of transport. Let's learn about each way and choose the best. Let's go!
Content:
By voucher
It is possible to have a rest by the permit in Gelendzhik inexpensively. Even in the high season, in July 2022, you can buy a tour from Moscow for only 27,000 ₽ for two. The price includes the flight, transfers, and accommodation. You can find and buy such bargain tours on the popular online stores Travelata and Level.Travel – they compare offers from 120 tour operators, so they are able to find the best option. We buy tours only there, because it's more convenient and profitable than in travel agencies. Learn more about 7 ways to buy tours cheaper.
By plane to Gelendzhik
Gelendzhik has its own airport, which is located directly in the city. It is convenient: you can get to the hotel in 20-30 minutes by cab, bus or shuttle bus. The only bad thing is that Gelendzhik airport does not take many flights. Getting to the resort by plane will be convenient and fast only from Moscow, St. Petersburg and several other major Russian cities. Check what flights are available from your city to Gelendzhik and how much the tickets cost, on the well-known search engine Aviaseils. Be sure to check out our tips on how to buy cheaper airfare.
Here are round-trip flight prices for summer 2022:
From Moscow – 7,500 ₽.
From St. Petersburg – 15,000 ₽.
From Yekaterinburg – 12,000 ₽
From Novosibirsk – 21,000 ₽.
Tickets are cheaper in the off-season, but there are fewer flights.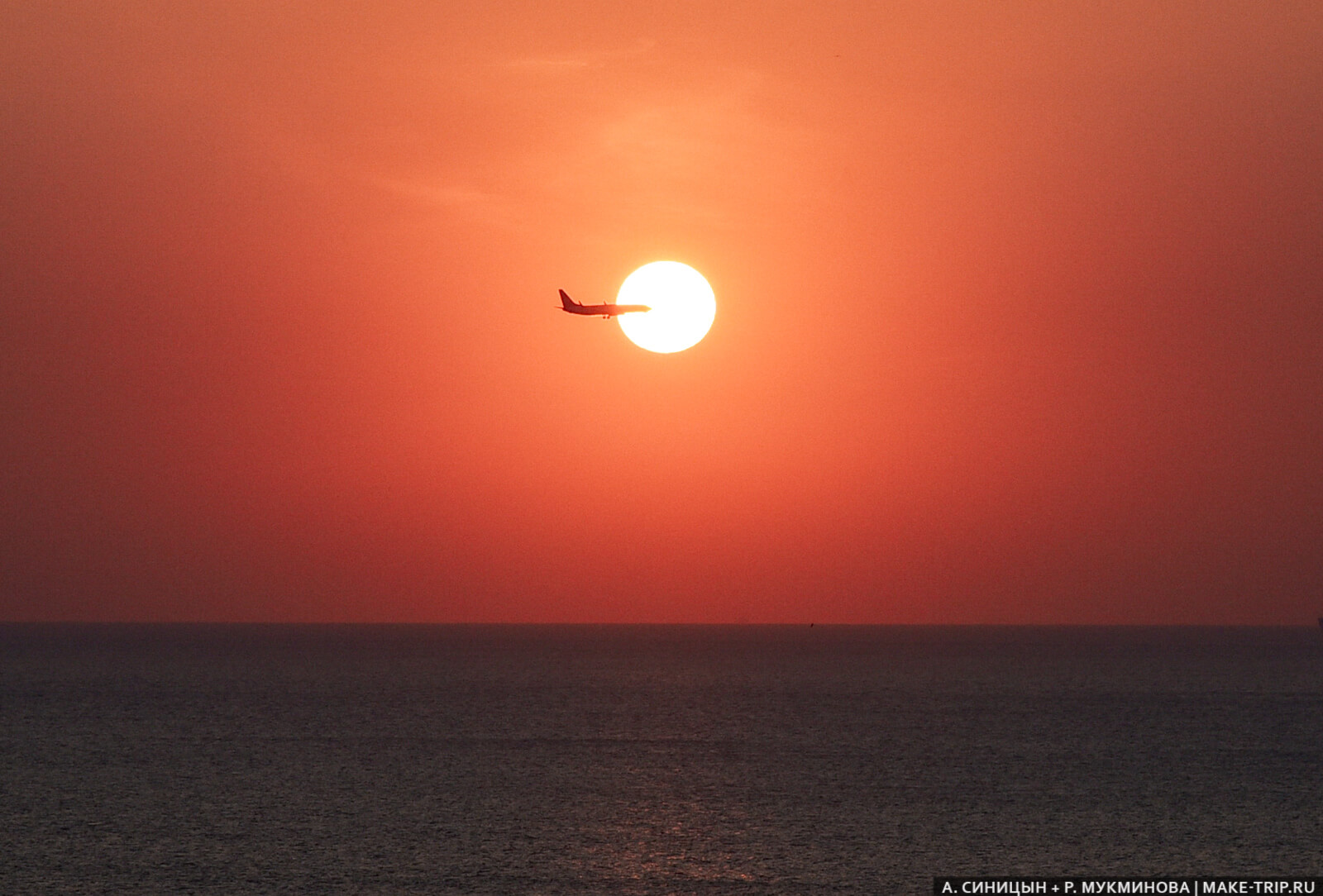 The plane goes to land at Gelendzhik airport at sunset. I guess the views from the height are great!
By plane to Anapa or Krasnodar
Airports of neighboring cities take a lot more flights from all corners of Russia than Gelendzhik. In addition, airfare there is cheaper, so it is worth considering these options as well. To get to Gelendzhik from Anapa and Krasnodar can be by bus – read about prices and schedules below. But the airport of Adler is already too far away, it makes no sense to fly there.
Airfare prices in both directions in the summer of 2022:
From Moscow to Anapa – from 7,400 ₽.
From Moscow to Krasnodar – from 4,800 ₽.
From St. Petersburg to Anapa – from 12,000 ₽.
From St. Petersburg to Krasnodar – from 8,000 ₽.
As you can see, you can fly to these cities cheaper than to Gelendzhik. And in the off-season tickets are even cheaper.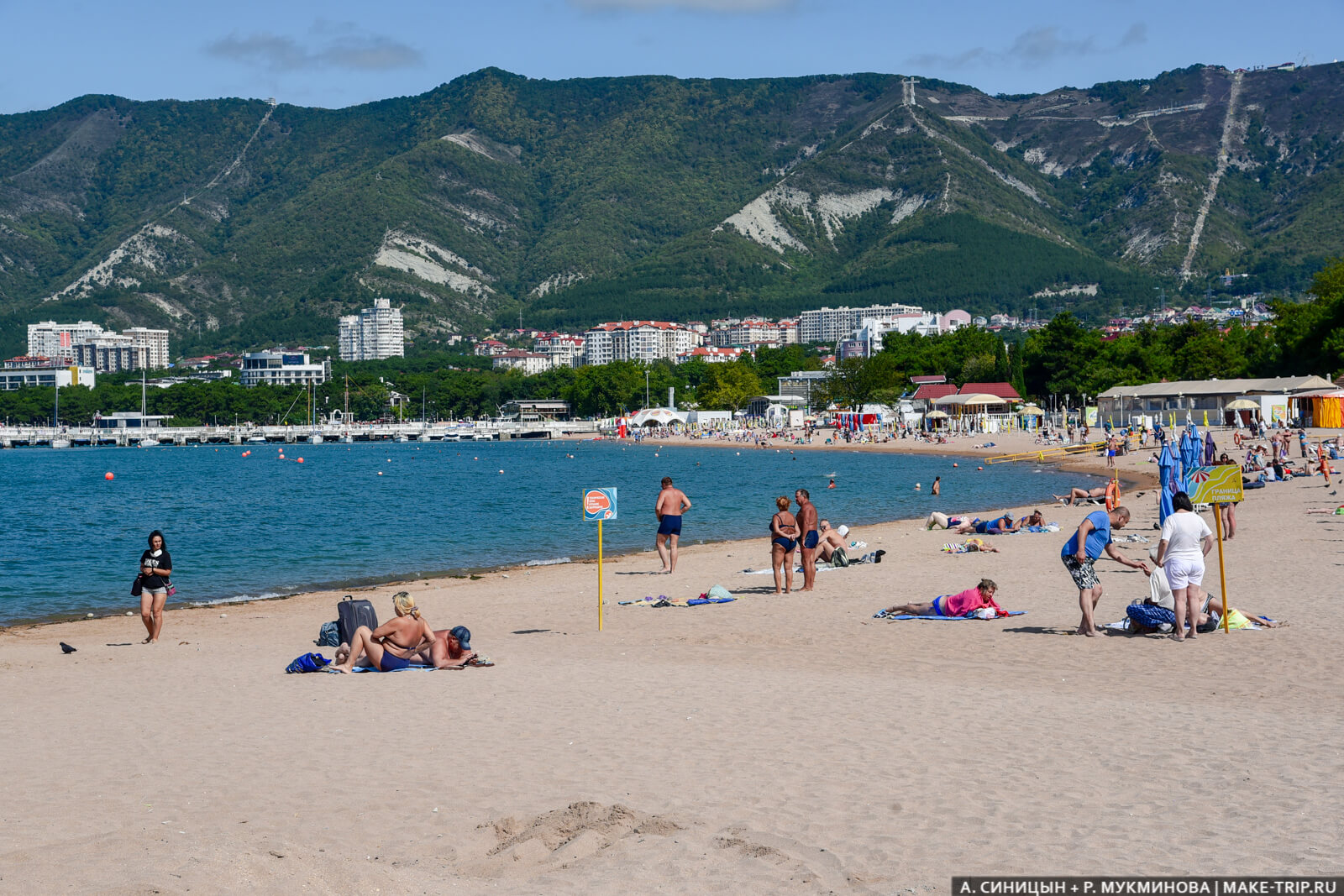 The beach in Gelendzhik.
By train
Ticket prices are one way per person.
Directly get to Gelendzhik by train is impossible, because there is no train station in the city. You can only go to the nearest towns: Novorossiysk, Anapa or Krasnodar. And then you will need to change to a bus or find a cab. Look for train tickets on Yandex.Travel and Tutu.ru services or on the Russian Railways website.
Personal experience . At one time I had the opportunity to travel in the summer from Perm to the south by train. Quite a treat, I'll tell you! It was in 2014, and since then we go to the Black Sea only by car or by plane. Note that in the old cars in the summer it is unbearably stuffy and very crowded because of the influx of tourists. So I advise to choose a company train or get to Gelendzhik any other way.
Most convenient to go by train to Novorossiysk, because it is closest to Gelendzhik, so get to the resort will be easier. From Moscow the trains go every day, the ticket costs from 2800 ₽ in the parlor, in the coupe – from 4300 ₽. The usual train travels 30 hours, and the firm train № 030S "Premium" reaches 6 hours faster, though the tickets for it are one and a half times more expensive. From St. Petersburg to Novorossiysk direct trains go only in summer, at other time you must get to Moscow with an interchange.
Approximately the same prices for train tickets to Anapa. From St. Petersburg direct trains also go only in summer.
But in Krasnodar from Moscow, St. Petersburg and other cities in Russia goes much more trains, so it is easier to find a ticket at a convenient time. Tickets from Moscow cost from 2500 ₽, from St. Petersburg – from 4000 ₽. On the branded train "Double Decker" from Moscow can be reached in just 18 hours, on a regular train – a day. The Northern Palmira branded train from St. Petersburg takes 30 hours to reach Krasnodar, while other trains take 10 hours longer.
How to book lodging:
– private sector – private sector and hotels – hotels and hotels
I often ride trains in Russia. If you choose the right carriage, the trip will go smoothly and even pleasantly.
Buses to Gelendzhik
Here are bus ticket prices and travel time to Gelendzhik from nearby cities with an airport or train station:
From Novorossiysk – 100 ₽ / 1 hour.
From Anapa – 250 ₽ / 2 hours.
From Krasnodar – 500 ₽ / 4 hours.
Staying without tickets for the desired flight is very easy, so we recommend buying them in advance, especially in the height of the summer season. See the bus schedule on the website of bus stations or Yandex Timetables.
To get to Gelendzhik by bus from Moscow is also possible, but it is not very convenient and the trip takes about a day. It seems to me that it is better to choose other transport, because trains and planes are not much more expensive.
Popular resorts near Gelendzhik:
By car
To get to Gelendzhik by car is not difficult at all, much easier than to Sochi, because the most difficult part of the way with serpentines and terrible traffic jams will remain on. I drive my car almost every year to the south of Russia from Perm. It is certainly tiring and expensive to drive for three days each way (I have a high-consumption SUV), but in the south it is convenient to have your own car and go wherever you want, without thinking about buses or excursions. With your car in the south, you will have access to all the attractions and wild beaches. Travel by car with family or a group of friends is almost always cheaper than by plane or train.
Almost all the way from Moscow is along the excellent M4 "Don" – it is a pleasure to drive on it. Saddening only the lack of decent cafes, they are almost all awful and make a living by buying reviews on "Yandex", so choose a decent place is very difficult. If you try very hard, you can even get to Gelendzhik in one day, if you have a fast and comfortable car and two drivers. Distance from Moscow – about 1600 km, from St. Petersburg – about 2300 km.
From Krasnodar to Gelendzhik can get two roads: through Dzhubga (road more picturesque, but begins to serpentine mountain) or Abinsk and Novorossiysk. There are big traffic jams there and there, look at "Yandex.Navigator", where you get faster with the current traffic situation. I have to warn you that Novorossisk has no detour road, so it's not very convenient to drive there, and there are a lot of repairs on the road between there and Gelendzhik.
The route by car to Gelendzhik, Anapa and Sochi from Russian cities: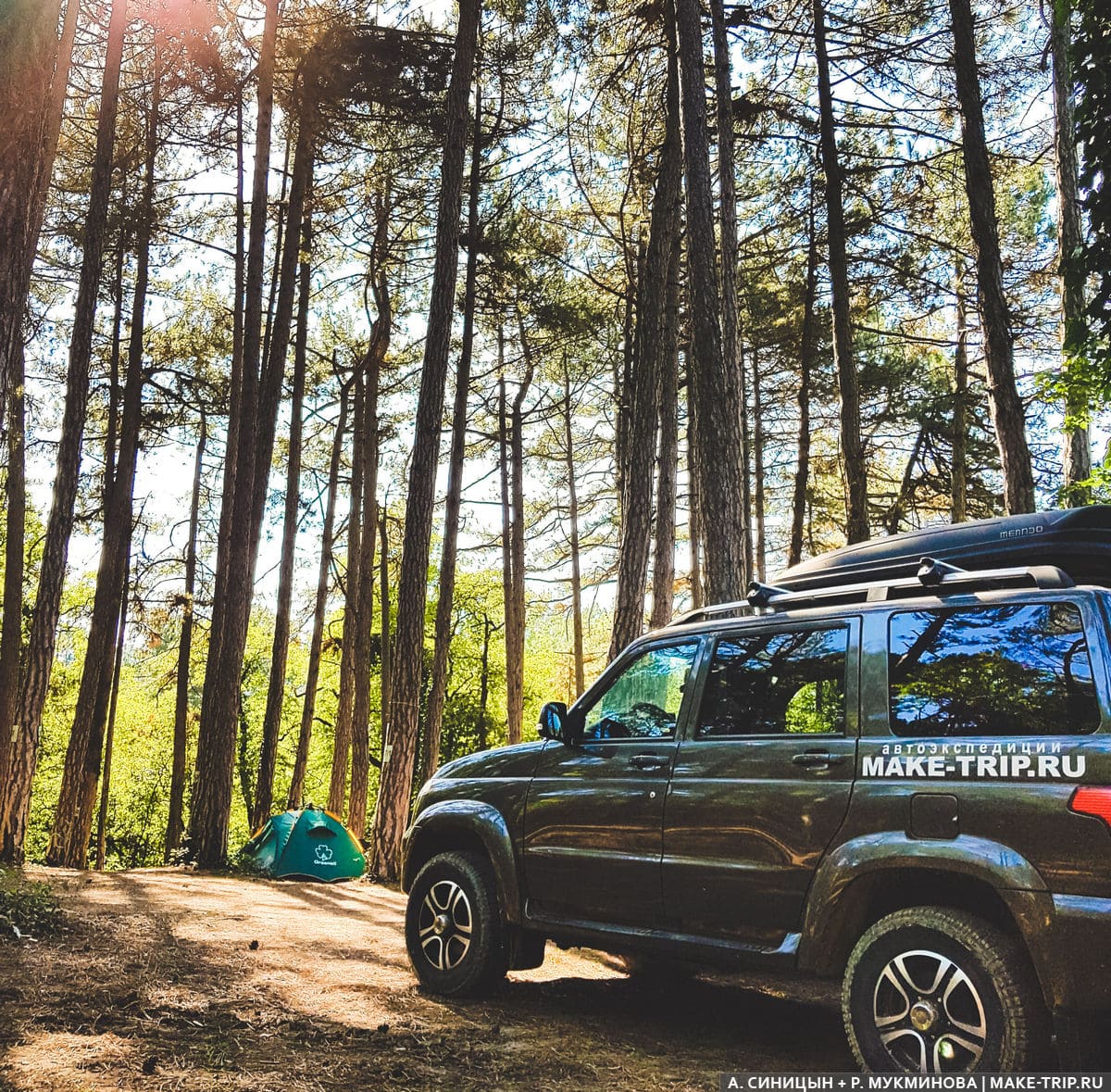 Our camp on the Black Sea near Arkhipo-Osipovka (not far from Gelendzhik).
Conclusions: what is the best way to go
What is the best way to get to Gelendzhik? The choice depends on many factors: where the way comes from, in what season the trip is made, how many people go with you on vacation.
Airplane is the fastest and not particularly expensive way. If there are no air tickets to Gelendzhik from your city or they are expensive, check flights to Krasnodar and Anapa, and from there get by bus.
The train should be chosen only if you can't get anything at all with airline tickets. Do not forget that, in addition to tickets, you'll have to spend money for food on the road. Also you lose vacation time, because you have to travel for a long time. Do not forget that in the summer in the old cars is very stuffy, noisy, plus the aroma of socks and bibs. Choose branded trains, so you don't have to suffer much.
The bus is suitable only for those who are not coming from far away, but from neighboring cities or regions.
Go by car is reasonable in the following cases:
Your city is located near the south of Russia;
A family or a large group is going by car;
There are no cheap airline tickets;
You plan to actively travel to the sights of the coast.
In other cases, personal transportation will create more inconvenience than help.