How to get to Warsaw on the cheap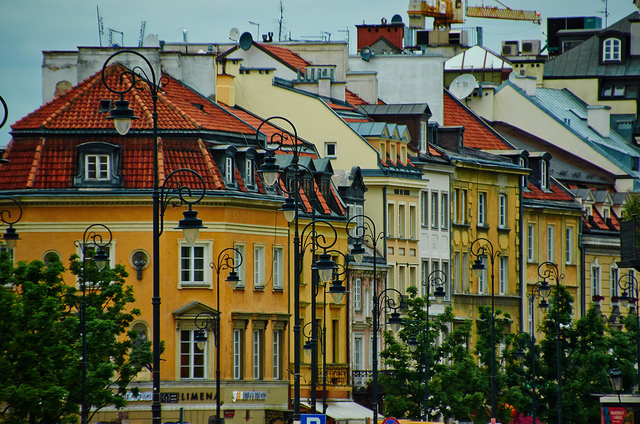 Tips on how to get to Warsaw cheapest. Consider different options: by plane, train and bus from different cities.
Poland does not yet accept tourists from Russia, but some successfully make their way through other European countries. Take a look at the list of open countries. For convenience, we give pre-dedicated prices for flights. Information about visas and flights can be out of date, so check with the official resources.
Moscow – Warsaw: How to get there
The cheapest way to Warsaw from Moscow is with the low-cost airline Wizz Air (it's good that it flies to Moscow!): they have the most favorable tickets – it's not difficult to find options for round-trip flight with connection in Budapest for 5-8 thousand (you can make it short or, conversely, to stay in the Hungarian capital a couple of days).
In general it's better to look for lowcost airlines tickets at the official website, but it makes sense to check the price for the same dates at the Aviasails metasearch engine – sometimes even a lower price can be found there.
More expensive – from 9,000 – are round-trip tickets for Lufthansa, Austrian, and Swiss. Finnair and AirBaltic offer tickets for 10,000 and up. The tickets of AirBerlin, "Aeroflot", AirFrance, easyJet, UIA and Tyrolean Airways (with connection in Vienna) start at 11,000.
Direct flights without connection are performed by Aeroflot (from 11 thousand rubles) and LOT (from 12 thousand). The flight time is only 2 hours one way.
Look for interesting excursions on Tripster. Individual and group, without crowds of tourists and in Russian.
How to reach Warsaw from Saint-Petersburg at low cost
The most budget way to get to Warsaw offers the airline Swiss with a change in Zurich – the cost of tickets starts at 9 thousand rubles.

Similar prices have airlines Lufthansa and Austrian. To get to Warsaw you can also use AirBaltic, UIA, Finnair – the round-trip ticket price starts from 10 thousand rubles.
In addition to these airlines, from St. Petersburg you can fly to Warsaw "Aeroflot", Belavia and Flybe – the ticket costs from 11 thousand rubles. Fly with AirBerlin and AirFrance will cost 12 thousand rubles and higher.
Look for cheap tickets for classic airlines on Aviasales, where you can find great deals of airlines.
How to get to Warsaw cheaper from other regions
The cheapest tickets from Ekaterinburg to Warsaw (round trip) – from Czech Airlines: prices start from 13 thousand rubles. The cheapest tickets for a flight with Turkish Airlines and AirBerlin can be had at prices starting at 14,000 and over. "Aeroflot" and Finnair offer tickets from 15 thousand rubles.
The cheapest way to get from Novosibirsk is to fly with Turkish Airlines, with connections in Istanbul – tickets start at 18 thousand rubles.

Aeroflot tickets start at 19 thousand, and other airlines offer tickets for 28 thousand and up.
Low-cost airlines to Warsaw
From Lithuania
From Vilnius and Kaunas to Warsaw with connections in Oslo and Brussels flies low-cost airline Ryanair – the cost of all tickets starts at 68 euros. A combined ticket with AirBaltic and Wizz Air is available for €100 and up.
From Estonia
Flights Tallinn – Warsaw – Tallinn via Oslo by Ryanair (from 68 euros for all flights) and AirBaltic (from 154 euros with a connection in Riga).
From Latvia
From Riga to Warsaw you can fly even cheaper – Ryanair offers round-trip tickets with a connection in Oslo for 64 euros or more. For the same amount of money you can find tickets for Wizz Air. Without a change, which is extremely convenient, you can get from Riga to Warsaw in about an hour and a half with AirBaltic (from 96 euros).
From Finland
It is possible to fly to Warsaw from Finland, but it will be more expensive: a flight from Helsinki to Warsaw and back will cost from 140 euros (a combination of Norwegian + Wizz Air). A flight by AirBaltic with a connection in Riga would cost €160 and more. Flying from Lappeenranta is much cheaper: the minimum price is 78 euros (Ryanair + Wizz Air with a connection in Milan). A great option for St. Petersburgers.
By the way, both low-cost carriers and traditional airlines often have attractive discounts and offers – look here so you won't miss the cheapest ticket!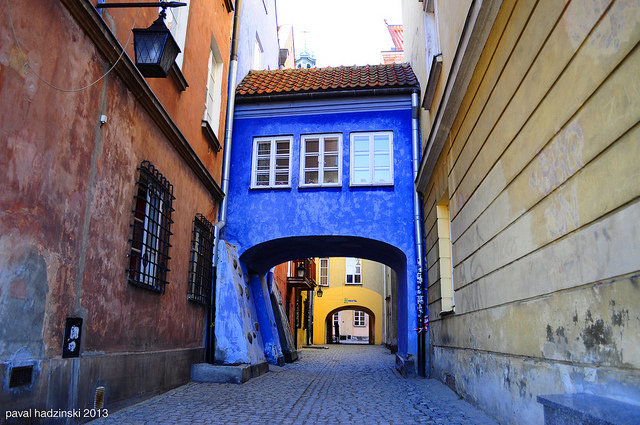 (photo © paval hadzinski / flickr.com)
Train to Warsaw from Moscow
Second class tickets on trains #9/10 Polones from Moscow to Warsaw cost 229.4€ (round trip). On trains number 23 / 24 Moscow – Paris – 308,8 euro. Travel time is up to 19 hours. Pretty long and expensive if you consider that you can fly from Moscow for about the same amount of money.
Bus to Warsaw
To the question of how cheaper to get to Warsaw the answer is obvious: by bus! The ticket price from Moscow to Warsaw to Moscow is only 5,400 rubles! The same ticket from St. Petersburg to Warsaw and back. Buses run every day.
From St. Petersburg is better to get to the capital of Poland carrier Lux Express flights: 2,343 rubles for a ticket – the minimum one-way price. Accordingly, the return ticket will cost 4,686 rubles. But the ticket from Moscow is more expensive: 3 828 rubles one way and 7 656 rubles round trip.
Tickets to Warsaw, following from Vilnius, Kaunas, Riga and other Baltic cities, you can get quite cheap: EUR 10-15 in one direction, and if you're lucky with the action, even cheaper. This is cheaper than flying low-cost, and not too long (for example, the way to Warsaw from Kaunas takes about 5 hours).
So, the cheapest way to get to Warsaw is by bus, besides they are comfortable and equipped with everything you need, even Wi-Fi. The only disadvantage of this method is a very long trip. But on the way you can visit Riga or Vilnius.
The fastest and most comfortable option – is, of course, the plane. It may still be budget if you live in St. Petersburg or close to the European border – you can get to the necessary city by bus, and then fly to Warsaw by low-cost. Muscovites are also not bad – pretty easy to find cheap tickets for Wizz Air flights to Budapest, and from there – to Warsaw. That way you can see two cities at once!
Read also about a trip to Poland (information for travelers: visa, how to get there, what to see, what to try, travel by car, necessary documents, etc.).
How to get to Warsaw cheaply?
Europe
When planning a vacation in Poland's capital, the first question that arises is how to get to Warsaw cheaply. Perhaps the first answer is by flight. If you have chosen this way of transit it is important to know that there are two options for the class of service: economy and "first". Of course, the economy option is more budget-friendly.
Currently, the flight services from Moscow to Warsaw are provided by such companies as Aeroflot Russian Airlines, Air Berlin, Alitalia Linee Aeree Italiane, CSA Czech Airlines, Ellinair, Fly One, KLM, Pobeda, S7 Airlines, Turkish Airlines, UTair and many others.
Planes take off from Domodedovo, Vnukovo, Sheremetyevo and Zhukov.
The plane may land at one of the two airports of the Polish capital:
"WMI" (Modlin),
"WAW" (Frederic Chopin Airport).
The main airport in Warsaw is the second (known as Chopin Airport). Modlin airport "receives" planes only from some airlines, in particular "Ranair".
Find cheap airline tickets with the help of Aviasales, it even searches among the low-cost airlines and finds really good flight options not only by price, but also by the time between connections.
Airfare to Warsaw (direct flights)
You can book a direct flight to Warsaw from Moscow online or buy a plane ticket at the ticket office. It is worth noting that today airfare to Warsaw is cheap and fast. Its price ranges from 12750 to 17500 rubles one way, assuming economy class flight.
The average duration of a flight from the Russian capital to the Polish capital is about 2.05-2.25 minutes. The most popular departure times for summer and fall flights are morning flights (7:45 and 10:50), lunch flights (14:40 and 16:20) and evening flights (20:35). If you want to travel first class, the ticket price starts from 24370 rubles.
Direct flights to Warsaw from Moscow
Flight prices to Warsaw with changes
A direct flight of three hours is not the only way to get to the Polish capital. An alternative way to get to Warsaw from Moscow is to take a connecting flight. Transit flights mean changing planes in cities such as Munich or Riga. The duration of such flights ranges from 4.5 hours to 23 hours. The minimum price for a connecting flight is 5005 rubles.
How to get to Warsaw by train?
To get to Warsaw cheaply – not only by plane, but also by train. The train "009Sh" from Moscow departs daily with a direct flight from the Belorussky railway station at 14:18. Arrival at the station "Warsaw Zahodnia" – at 07:42. The duration of this trip is about 18 hours and 25 minutes. The cost per person in the compartment – 7156 rubles, in the SV-10 070 rubles.
The second option for a train trip to the Polish capital is a direct train number 017B on the Moscow-Nice route. Departure time – 18:15; arrival time – 03:50, i.e. total travel time is about 18 hours. The cost of the train in compartment is 9300 rubles.
In addition, you can get to Warsaw by train and with transfers. For example, with the change of the train in the city of Grondo. Duration of this trip will be 30 hours. Another option for transit is a train on the route which involves change in Kiev (the capital of Ukraine). The train goes by the route "Moscow (Kiev railway station) – Kiev Pass – Warsaw Zahodnia. (through Odessa with the change of the train in Kiev). The total duration of the trip will be about 36 hours.
If we talk about how to transit to Warsaw from cities in other countries the most popular options among tourists are: the train from Kiev – the most affordable and popular train number "067K". Total travel time is 15 hours and 45 minutes. Departure from the main station of the Ukrainian capital at 16:40; arrival at the Polish station at 08:30.
You can also get to Warsaw from Prague (capital of the Czech Republic). There are three direct flights from the city: at 6 am, 2:22 pm and 10 pm. It is worth noting that the most popular is the train number "022A" following the route "Prague-Moscow". Travel time from Prague to Warsaw is 8 hours 55 minutes. The cost of the ticket (one person in the compartment) is from 6100 rubles.
From all existing relevant information we can conclude that such a question as how to get to Warsaw by train has a huge number of answers, differing between each other time, duration, budget, etc.
How to get from the airport to the center?
If you have decided that airfare to Warsaw from Moscow is cheap and suits you, then the second question arises, how to get to the center of the Polish capital. So, the main airport in Warsaw (Chopin Airport) has only 1 terminal, which greatly simplifies the time of finding transportation.
As in other developed cities in Europe, from the airport to the center you can get one of 4 ways: by bus, cab, train (train) or by renting a car. Consider each of them in detail.
Go by bus
Public transport is the most budget option for any tourist. Nowadays buses in Warsaw run daily from the main airport during the day and at night. You can buy tickets for the bus from the driver or at the information desk at the airport terminal, in special ticket machines.
In general, the bus transfer to the center of Warsaw from Chopin Airport takes about 30 minutes. For all guests of the capital will be pleasant news that the station (bus stop) is opposite to the exit from the terminal. In addition, will please the budget cost of the ticket – 4.5 zlotys (about 70 rubles).
In the direction airport – city center serve buses 175, 188, 148, № 331 (additional flight during peak hours and on weekdays only) and № 32 (from 24:00 – night flight).
You can get to Warsaw by bus from Brest and other cities in Europe with the help of Busfor.ru. The service allows you to buy a ticket online for the right dates without queuing and planning your vacation in a hurry.
Getting to the center of Warsaw by train
For 5 years you can get to the center of Warsaw from the airport by train – from the station Warszawa Lotnisko Chopina, located near the terminal. Trains go in 3 directions:
Route S2. Leaves every half hour from 6 am to 11:00 pm.
The S3 route with the terminus at Warsaw Central Station.
Line RL is an electric train linking Chopin Airport with Modlin Airport.
Ordering a cab
When choosing a cab, it is worth bearing in mind that drivers accept only currency: dollar or Polish zloty. Cabs at the airport can be found at the exit of the terminal building, but you will need to pay twice as much.
A more economical option is to pre-order a cab online, this way will save time and is ideal for tourists with children tired after a long flight.
Today the most popular cab companies that provide transit from Chopin airport are "Ele taxi", "Super taxi", "Sawa taxi". You can book a car at the official portals of cab services, or by phone.
Rent a car
At Warsaw airport there are central offices of several car rental services, respectively – you can rent a car immediately upon arrival. On average, the cost of renting a medium-class family car is from 2,500 rubles per day. The price of the car rental varies depending on the car class and the lease term.
The best companies providing car rental services in Warsaw:
Alarmo;
Budget;
Car Net;
Europcar;
Enterprise;
Global Rent a Car;
Hertz.
To book a car in Europe we recommend using Economybokings, it searches among all rental companies and gives cheap options online.
To summarize, we can say that such a question as how to get from the airport of Warsaw to the city center is not a problem today. In this case, the choice of option is left to the tourist.
Where to get a cheap accommodation in Warsaw?
If you have decided how to get from the airport, the next question arises, and where to stay in Warsaw inexpensively. Here the choice of the tourist is influenced by financial abilities. As in other cities, Warsaw "offers" accommodation for guests in:
Hostel;
Apartments;
Hotels of any category.
Where to look for good options for accommodation? To search for a hotel in the city we recommend you use RoomGuru, the service searches among all the hotel bases of the Internet and help book a room at the cheapest price. For renting an apartment for a long period is better to resort to the database from Booking.com, here you can find accommodation directly from the owners in any area of the city.
BizApartments – Modern" apartment.
The room is a two-room apartment of 32 square meters, located 4.4 km from the National Stadium of the Polish capital. It offers a free wi-fi zone. The minimum price for renting the apartment for 6 nights is 20,000 rubles (at a discount when booking online). The administration offers for a fee to book a shuttle to / from the airport, as well as car rental services, bicycles.
"Apartment Cohen
Private apartments with an average area of 36 square meters, located in a modern multi-storey building, in an upscale area of the city. Just 600 meters away is the Nozhikov synagogue. Some of the apartments not only have a comfortable living room and kitchen, but a dining area as well. The cost of living in these apartments ranges from 18 to 30 thousand rubles for 6 nights.
El Hostel" hostel
The hostel provides accommodation for a person in a shared eight-bed room for women and men. The cost of living for 6 nights is only 4800 rubles. It is worth noting that the rental price includes breakfast.
The hostel is located in the center of Warsaw, 2 km from Krakowskie Przedmieście Street. All rooms have wooden floors, wi-fi zone, closets, bed linen. The hostel offers: a shared kitchen, a machine with free hot and cold drinks. You can also use a storage room and a lounge area with a DVD player, computers, and a TV.
Start Hotel Atos 3*
The Start Hotel Atos is located in the central district of Warsaw, so there are plenty of supermarkets, restaurants and stores near it. Staying in a single room of "comfort" category starts from 170000 rubles (when ordering a room with breakfast included the price goes up to 21 500 rubles). The hotel has a restaurant "Hotelowa" with dishes of European and Polish national cuisine. Here you can order set lunches, dinners, and afternoon snacks.
We recommend reading a selection of the best options for accommodation near the center, all offers from hosts have excellent reviews of tourists, positive ratings.
You may also find it useful to look at the selection of accommodation in Krakow, from cheap hotels in the city center to the excellent conditions in the apartments and parking.
How to save money on your trip? Working tiphacks!
We recommend searching for the best hotel prices on ROOMGURU . The search engine searches among all the hotel databases on the internet, even from giants like Booking, and compares prices. If you like to use your smartphone, the Lodging Search app is a must. It's very convenient to open your options upon arrival and book immediately.
Advantageous to insure your health and life while traveling will help service TRIPINSURANCE, the search engine shows the results of all major insurance companies. You need to choose only the most favourable option, but we advise you not to save on your health!
Airfare? We advise you to use AVIASALES, it is still the no.1 search engine among independent travelers.
My name is Sergei, and I work as a guide in various cities in Europe, Asia, eastern Russia, also work as a manager in a large travel agency. During my travels I experienced a lot of emotions, learned useful information about rest and prices, saw unique places which I hurry to share on the pages of my blog about tourism.