Your journey to Bulgaria alone
Useful information about travelling to Bulgaria on your own: where to go, whether you need a visa or not, how to get to Bulgaria and what the main expenses are.
Travelling to another country is always fascinating and educational, so most tourists prefer to take organized tours. But it is no less interesting to go on a voyage "on your own", personally dealing with all the organizational moments.
Where to go in Bulgaria
First of all, you should decide on the purpose of visiting this magnificent country – it fully depends on the choice of location where you can go.
Excursion tour . If you want to get acquainted with the historical past of the country and to see its main attractions, then you need to visit Sofia, the Valley of Roses, Plovdiv or Veliko Tarnovo.
Rest on the Beaches . Beach lovers often choose Sunny Beach, St. Vlas, Golden Sands, Achela, Obzor and other seaside resorts.
Family vacations . For a mud cure, as well as a quiet cozy family vacation, it is better to go to Pomorie.
Active rest. You can combine sea relaxation, entertainment and informative excursions in Nesebar, Varna, Sozopol or Bourgas.
Ukrainians with biometric passports don't need a visa to Bulgaria. Ukrainian tourists can stay in Bulgaria without visa for 90 days in a half a year.
Russian citizens don't need a visa for Bulgaria, you can apply for it at the Bulgarian visa center or at the visa sections of the Embassy in Moscow, apply for a visa in Bulgaria, collect a number of documents and submit an application. Consular fee for applying is 35 EUR (EUR) and the service charge is 14 EUR (EUR).
Insurance .
According to the requirements in Bulgaria, foreigners entering the country must be insured. Therefore, a health insurance policy is required in this case.
This type of documents may differ greatly in terms of total cost and the list of services included. And that means that this question should be approached responsibly in order to choose the insurance that best suits the specific trip.
In addition to medical insurance, the policy may provide coverage for theft of luggage, lost documents, and more.
Accommodation
This is one of the key moments of travel arrangements. You can book an apartment, a room, or a villa in advance on special resources. You have to pay for the apartment as a whole, regardless of the number of guests, from 20-30 to 40-100 EUR (Euro) per day. In addition to accommodation, guests can use the amenities provided by the hosts, including dishes, washing machine, internet and TV.
Catering costs
Bulgaria offers a choice of restaurant meals, fast food and self-cooked meals.
A three-course lunch for two can cost from 30 to 50 BGN (leva) at a restaurant, and breakfast at a casual cafe – from 2 to 5 BGN (leva).
Getting there
Take the bus
From Kiev
Go to Bulgaria is preferable from Kiev. Most often, tourists use the bus transportation on the route Kiev – Sozopol, time of taking about 24 hours.
The cost of travel is within 65-70 EUR (euro) in both directions and 40-50 EUR (euro) in one direction.
It is also possible to book a small bus of a private company for 7 passengers, and it goes from Kiev to Varna through Chernivtsi, with a travel time of 17 hours.
The fare is 45 EUR (euros) one way.
From Moscow
The easiest way to get from Moscow to Bulgaria is by bus to Sofia bus station. The distance from Moscow to Sofia on the road 2360 km.
The route Moscow-Sofia runs at least once a day. In high season buses in this direction go up to four times a day. The trip will take about forty hours.
The cost of travel is from 100 to 120 EUR in two directions and about 55 EUR in one direction.
By plane
From Kiev
From Kiev you can fly to the biggest Bulgarian airports – Sofia and Plovdiv as well as to seaside resorts of Varna and Burgas.
The cheapest way is to fly to Sofia, and then take a transfer to the desired city. The flight will take about 2 – 2,5 hours. From May to September most airlines offer additional charter flights. It is best to book tickets in advance.
Prices for travel by plane on the route Kyiv – Sofia will cost at least 320 – 340 EUR for a round trip ticket for an adult. In the season the price can be 15 – 20% more expensive.
From Moscow
Only two most popular airlines working with Moscow – Sofia ("Aeroflot" and "Bulgaria Air") have up to 10 flights a week, even out of season.
From St. Petersburg at least once a week to Sofia takes a plane belonging to the airline "Russia". The flight will take from 2.5 to 4 hours, depending on the flight. If you buy both return and return tickets at once, you can save up to 30% of the total cost.
A number of companies offer charter flights to Sofia and Plovdiv – the two largest airports in Bulgaria.
The cost of flights Moscow – Sofia and return Sofia – Moscow is about 280 – 300 EUR. A one way ticket will cost 170 – 190 EUR.
By train
From Kiev
You can travel by train from the capital of Ukraine to Bulgaria with a connection in Budapest or Belgrade. Such trips to Budapest take place every day.
From Belgrade: twice a day, the cost is 35 EUR (€).
From Budapest: every day, the cost is 65 EUR (€).
In addition, from May to September there is a direct train Kiev – Sofia. It departs from Kiev Central Railway Station every day. The trip takes about 18 hours. The cost of tickets for it is 55 EUR.
From Moscow
Direct train from Moscow to Bulgaria after 2015 was canceled. Now the possible options are connecting trains in Belgrade, Prague or Budapest. Departures take place every day.
Belgrade-Sofia tickets cost 30 EUR (10 hours of travel), Budapest-Sofia 60 EUR (20 hours of travel), Prague-Sofia 120 EUR (27 hours of travel).
These are the main points to consider when planning an independent trip. If desired, inquisitive travelers will always find the necessary information directly at a particular resort.
How to plan a vacation in Bulgaria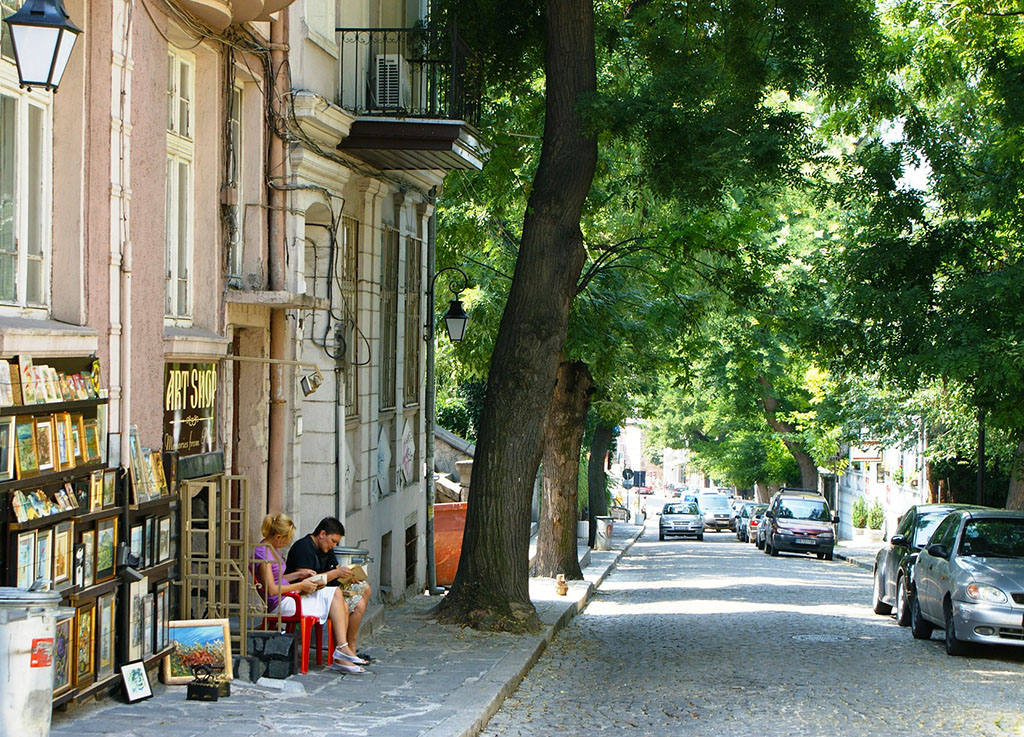 How to have a rest by yourself in Bulgaria? We tell you about getting a visa, the cost of tickets and accommodation. What resorts to spend time at? What to see on your own and with excursion? Tips for tourists and traveler's reviews.
Travels that we fully organize ourselves leave strong impressions and change our lives. One of the popular destinations for independent travelers was and still is Bulgaria. Today we will talk about how to pack independently on vacation in Bulgaria and do not forget anything, what to see and when it is better to go.
You can also go to Bulgaria on a trip – often a vacation on a tour is cheaper than an independent trip. Check the prices and decide what's more convenient for you. Search for last minute trips at Level.Travel and Travelate – they will find the best deals among different tour operators. Want to save your money? Explore our 7 rules for buying tours online.
Contents:
Visa to Bulgaria by yourself
Contrary to popular belief, Bulgaria is not a visa-free country for Russians. You can enter the territory in several ways.
On the territory of Bulgaria since 2007 the Schengen Agreement is partially in force. It means that you may enter the country with multiple Schengen visa (also called multischengen visa) for up to 90 days within half a year.
You can enter Bulgaria with a visa to Cyprus, Croatia and Romania.
The third option is a national visa.
Documents for Schengen or national visa for Bulgaria:
Passport, valid for at least 3 months after the end of the trip.
A copy of the first page of your passport (the page with your personal data).
One 3.5 x 4.5 cm color photo, there are certain requirements for the size of your face and the background.
Questionnaire filled out by you personally. It is issued at the consulate or visa center. Also you can download application form for Bulgarian visa by yourself, fill it in and print it on a sheet of A4 size.
Certificate of employment on the letterhead of the company, indicating the position, length of service and your salary – it is stamped and signed by the head.
Insurance. Travel insurance →
(Photo: vic_burton / flickr.com / CC BY-SA 2.0 license)
When to go?
The bathing season in Bulgaria is from May to September, but both May and September are no longer too hot. Our independent trip to Bulgaria fell at the end of August, we visited several cities – caught the rain, wind and cool nights. From December to March is the ski season.
Airfare
Where to find cheap tickets? Use the search engines Aviasales and Skyscanner – they compare prices of all airlines. Learn the secrets of finding cheap airline tickets.
You can fly to Bulgarian resorts from Moscow, St. Petersburg, Samara, Kazan, Yekaterinburg and several other major cities.
The average price for round-trip airfare in summer starts at 7000 rubles. But this expense item can be quite small. The prices of one-way tickets from Moscow start at 1500 rubles. And sometimes you can buy one way tickets to resorts in Bulgaria – attention – cheaper than 2000 rubles! These are usually charter flights, often from Moscow and St. Petersburg, to which even in high season you can catch a ticket. Pobeda, the Rossiya airline and some others also have such prices.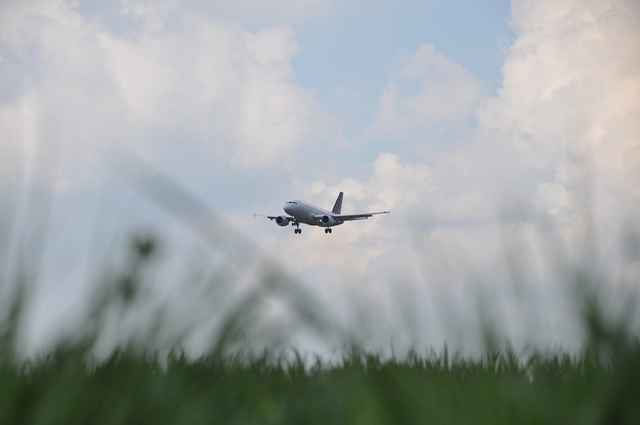 (photo © passer8 / flickr.com)
Where to book a hotel in Bulgaria on your own
Look for hotels with discounts on Skyscanner Hotels. Here are the main rules of hotel search.
Prices for accommodation in Bulgaria will pleasantly surprise you. In the major popular resorts (Sunny Beach and Golden Sands) the price for apartments and small hotels starts from 13 euros per night for a room. In other cities (Varna, Burgas, Sofia) can find housing for even 10 euros per night, especially if you settle further from the sea. As a rule, these are hostels, apartments or mini-hotels. Hotels on the first line even here offer rooms from 20 euros per night.
A lot of interesting options for housing is also on the site Airbnb. In addition to standard apartments, rooms and hotels, you will find buried in the green private villas, authentic accommodation and modern equipped campsites. Prices start from 10 euros per night. Of course, tourists visiting Bulgaria on their own will like it better.
During our travels in Bulgaria, we booked a studio apartment in an unremarkable apartment building, a tent on a wild beach, a room in a small hostel, and a room in a small hotel in a mountain village on our own.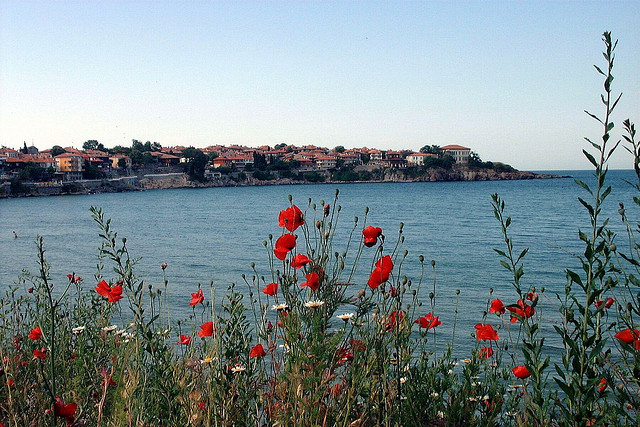 (Photo: Travelling Pooh / flickr.com / License CC BY-NC-ND 2.0)
Where to vacation on your own in Bulgaria
The most important thing in Bulgaria is the sea and the golden sand, stretching for many kilometers. There are a lot of resort towns, port cities, popular and secluded beaches along the Black Sea. People come here to get healthy: there are plenty of sanatoriums, mud cure centers and resorts.
The most famous resorts in Bulgaria:
In addition, there are big cities, such as Varna and Burgas. Here you can rest and swim (and save on housing).
Rent on the beach:
sunbed – 6-8 leva;
An umbrella – 6-8 lev;
A blanket – 3 leva.
Each resort is a place with a diverse infrastructure and plenty of entertainment for holidaymakers of all ages. Depending on the location of the beach you can find a suitable type of recreation: surfing on beaches "Golden Fish" and "Dunes", fishing and sailing on the beaches of Primorsko resort, paragliding on the beach in Albena.
You can just sunbathe on the sand – Golden Sands and Sunny Beach are perfect for that. And if bored, outside the beach area there are amusement parks, stores, cathedrals and museums. In the evening you can go to a club or restaurant – each resort has a huge number of them.
A useful selection :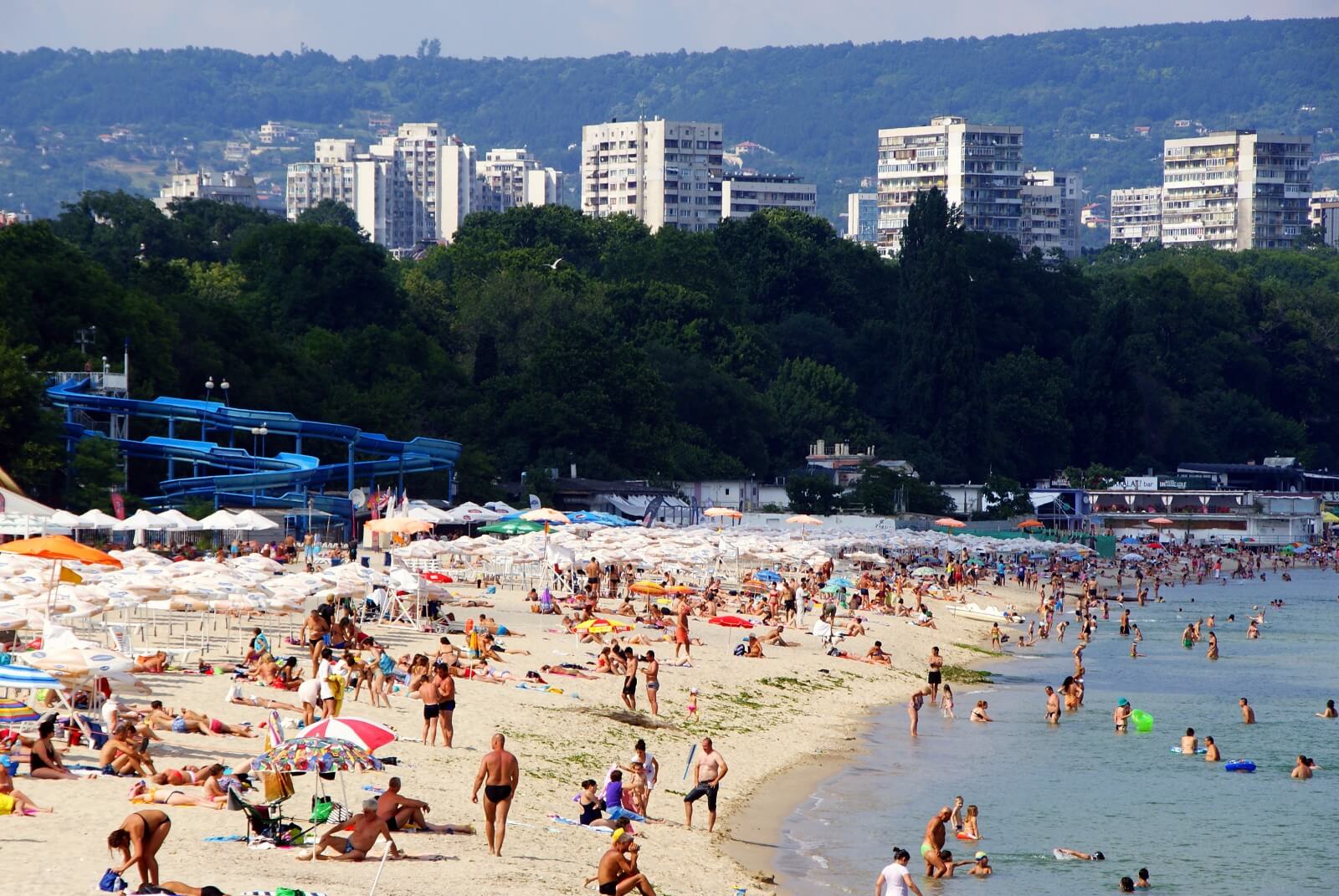 (Photo: Złota Bułgaria / flickr.com / License CC BY-NC-ND 2.0)
Prices for food in Bulgaria
Compared with other resort countries, eating in Bulgaria can be quite budget-friendly.
Approximate prices in leva:
a simple budget breakfast in a cafe – 6 leva;
lunch – 10 leva;
Lunch at a cheap cafe – 15 leva;
Lunch at a good restaurant – 40 leva;
Lunch at McDonalds – 8 leva;
0,5 liter of home-brewed beer – 2 leva;
a cup of regular size cappuccino – 2-2,5 leva;
A 0.33 liter bottle of water – 1 leva.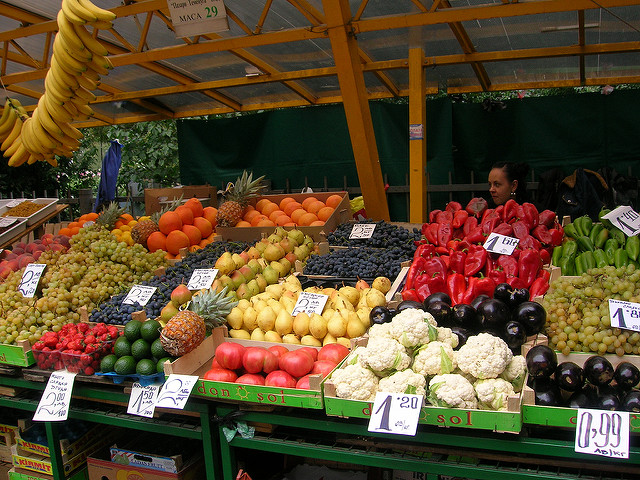 (Photo: Damien Smith / flickr.com / CC BY-SA 2.0 license)
Transportation and Car Rental
In the cities and towns of Bulgaria you can use buses. They are quite inexpensive – about 1.5 lev. The advantage of local buses is that almost all of them have free Wi-Fi.
Another good option is to rent a car if you do not want to spend your whole vacation in one place. We rented a car in Varna for two days. We looked for a company through the internet, and the best price was 26 euros per day. Usually cars cost 40 euros a day or more.
Our review and tips for car rentals:
the usual right-hand traffic;
very good roads;
Strict speed limits: on the highway – up to 60 km / h, very rarely – up to 90;
there are enough cameras on the roads;
have never seen policemen;
to rent a car it is enough to have a Russian license.
Rent a car – it is the best way to travel! Localrent.com is reliable and convenient car rental service in Bulgaria. Choose a car for your taste and budget – the choice is wide. The cost of renting a car from 8 euros a day. Do you have any questions? Russian-speaking customer service will help you in everything.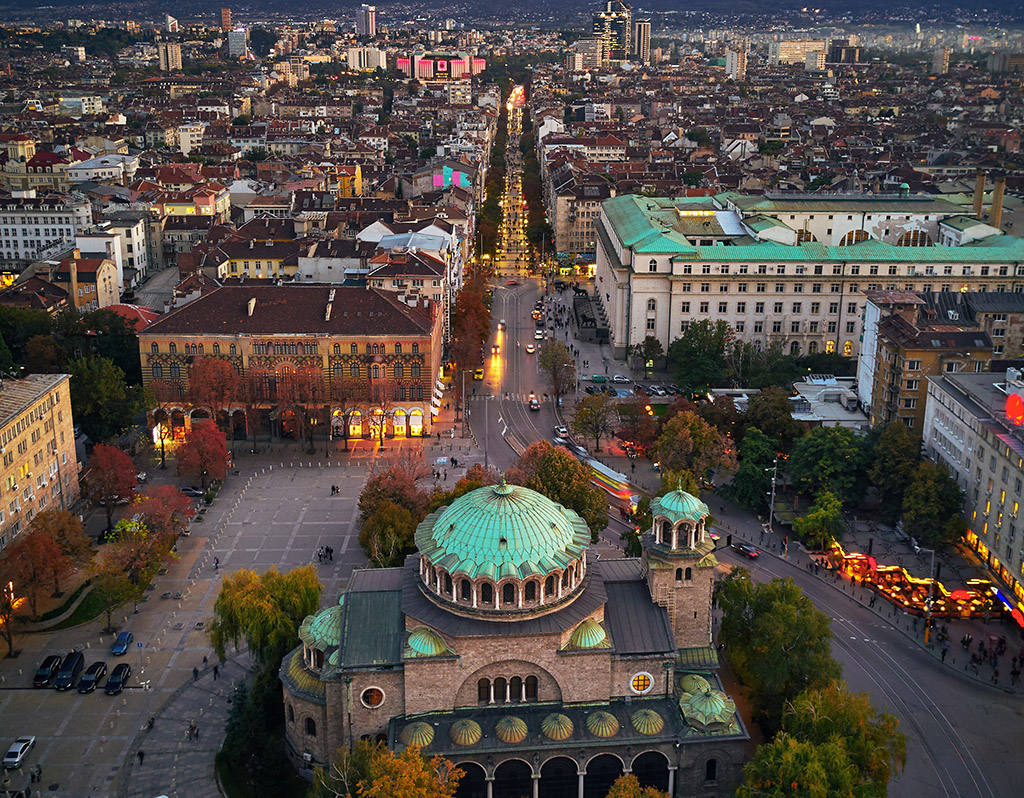 (Photo: deense / flickr.com / License CC BY 2.0)
Excursions in Bulgaria
Look for excursions on Sputnik and Tripster sites. Individual and group, without crowds of tourists and in Russian.
Since Bulgaria is a country with a rich culture and history, popular excursions here are walks through ancient neighborhoods, visits to museums and orthodox shrines. Such excursions are available in Varna, Nesebar, Sofia and other cities. But it is almost 400 km away from the sea to Sofia, so tourists often don't have time to be there.
There is a wide choice of sea excursions and cruises – for one evening or several days. For those who like an unusual program there is jeeping, safari park, diving and visiting Bulgarian villages and villages with national music and dinners.
The Balkan National Park in Bulgaria is attractive in summer. If you want to see Bulgaria from different sides on your own, be sure to visit the ecological trails, walk in the mountains. Live in small cozy villages, try the authentic national food, hear almost no Russian speech – we rested just like that and were delighted!
(Photo: Luca Mauri / flickr.com / CC BY-NC-ND 2.0 license)
Tips for your own holiday in Bulgaria
The Bulgarian language is not as simple as it seems. Although they use the Cyrillic alphabet, but many words are incomprehensible by spelling and even more so by ear.
Here they practically don't drink tea and coffee. Bulgarians only drink espresso (you can come across cappuccino too, but much rarer; forget about mocha and glace). Tea is drunk only in winter, and teapots are rare in houses and hotels.
Do not be surprised if you see nudists on the beach. This is a common phenomenon in Bulgaria, and there are plenty of nudist beaches!
Bulgaria is not difficult and friendly country. Holidays in Bulgaria, organized on their own or packed travel agency, be sure to remember the warmth, simplicity and affordable prices. Have a nice trip!