A lively and interesting tour of Antalya Old Town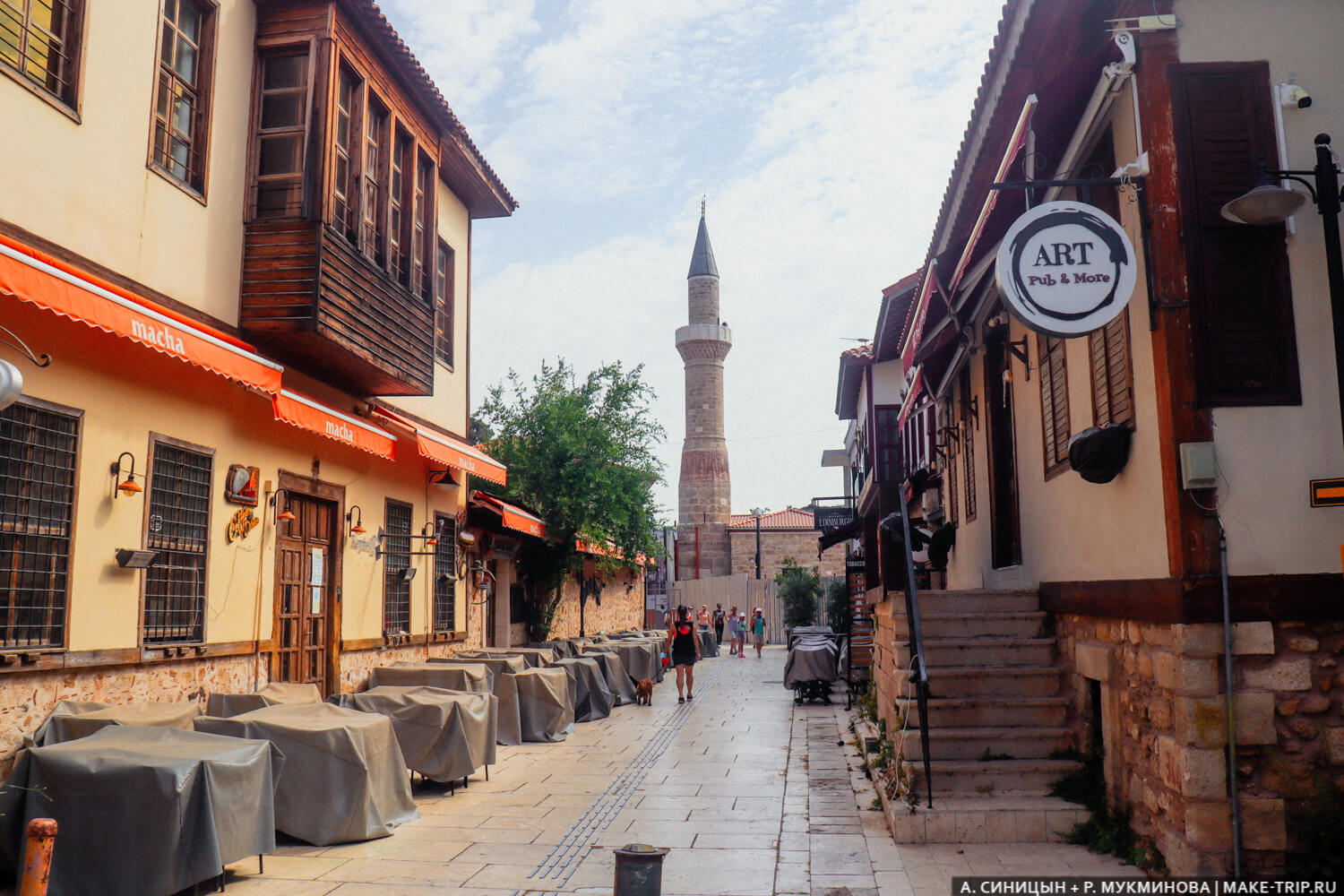 An excursion that I boldly recommend to anyone who wants to learn more about Antalya, the Turks and Turkey.
Excursions can be right and wrong.
It would seem that something could be more strange than the decision to go on a sightseeing tour, when the fifth time you came to Turkey, spent a total of three months here and drove half the country on your own by car. Yes, at first it may seem very strange and ridiculous. However, in fact the opposite is true: in fact, this idea is correct and reasonable. Yes, yes, do not be surprised! Such a tour will help you put in order all the accumulated experience, all the seen, all the understood and misunderstood, will give answers to long cherished questions and allow you to understand the country much better. But for everything to turn out so beautifully, you need to choose the right tour and guide.
Remember, as in Winnie the Pooh: "Those are some wrong bees"? I feel like saying the same thing about the vast majority of Turkish guides: "These are the wrong guides, the wrong tours. From such guys who heard half of the historical facts over the grapevine in their social circle, and made up the other half as they go, I prefer to steer clear, which I suggest you do. However, no matter how much I warned, the bulk of the tourists would take a low-quality guided tour chippings from the tour operator or hawkers on the beach – such is the tradition, and one stroke it will not eradicate. But if my review is useful to at least a few seriously minded travelers who prefer the "right honey" unskillful counterfeit, then I will be satisfied.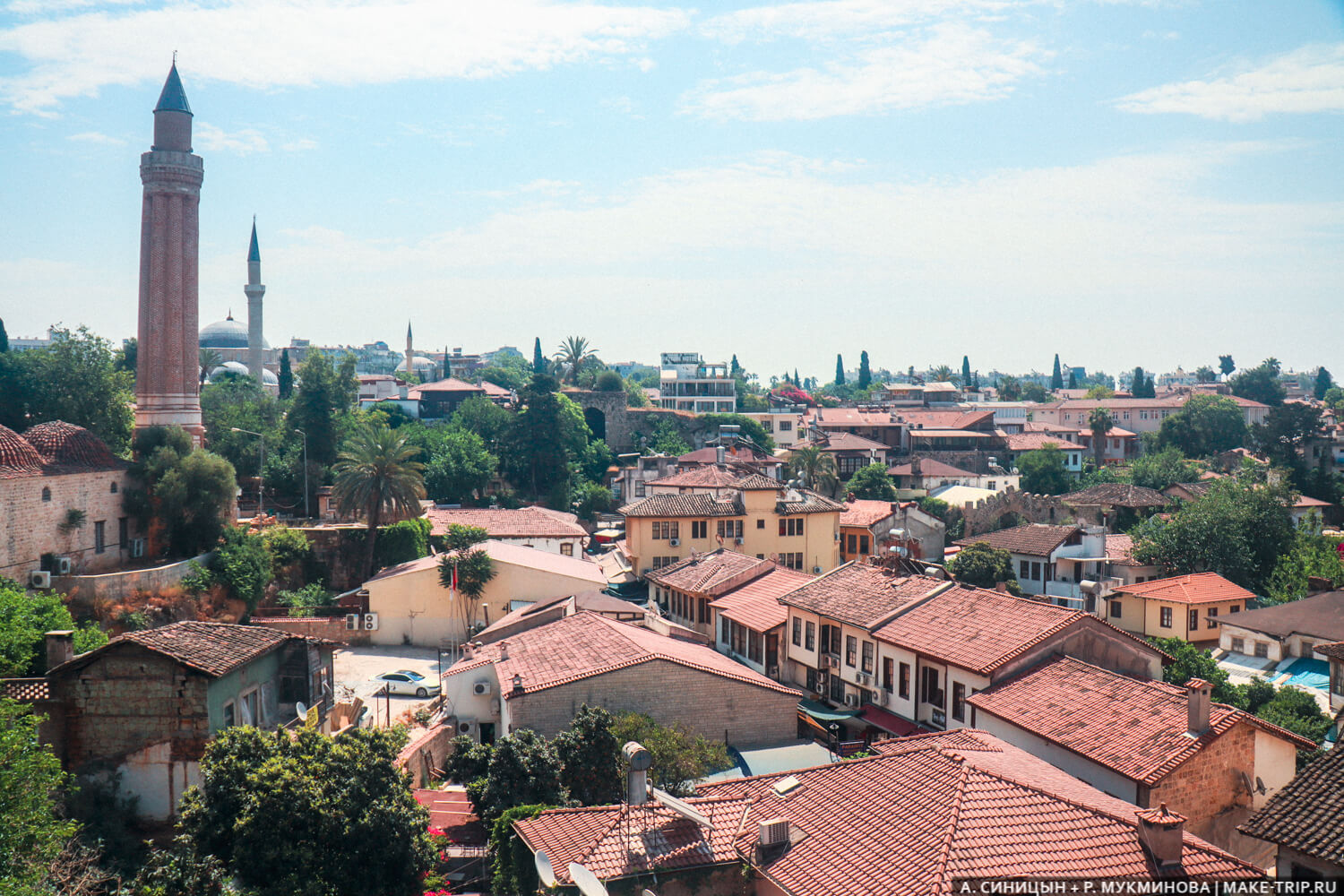 A view of Antalya Old Town.
How we chose the tour
So, Renata and I decided after a month and a half trip to Turkey to go on a pleasant individual tour of Antalya, to get better acquainted with the city and learn more about Turkey and the people living in it.
We were not interested in information from Wikipedia (we can read it ourselves), we wanted to hear from a knowledgeable person about the real life of this country. With this in mind we visited our favorite travel service Tripster and began to explore the options.
There was plenty to choose from – there are several such excursions and walks in Antalya, and many of them have a lot of great ratings and reviews. We chose Nikita's tour – after reading the reviews and the description, I immediately realized that this is the right person, with whom we will find a common language. And so it turned out.
How did the tour go?
Nikita took us to the most interesting places in Antalya's Old Town, showed us the best viewing points, told us about life in Antalya, its past and present. It was not a dry history lesson, but a fascinating story about the life and development of the city with illustrative examples.
We learned how in a few decades Antalya turned from a village into a huge city and how magically the families of orange growers on no-man's land turned into dollar millionaires and coastal property owners.
We learned how to distinguish the newfangled monuments, looked into mosques, and heard interesting stories about the tenants of old houses in the historic center.
Two and a half hours lasted our walk (flew by in a blink of an eye), and then Nikita and I spent another hour standing and chatting leisurely about life and travel in Turkey, politics, mentality, oddities and peculiarities, interesting places to visit next time – in general, we shared our experience, knowledge and opinions. It was a very pleasant conversation and an interesting walk. Nikita is an excellent guide, a good conversationalist and what was especially pleasant for me, he is a thinking and critical person.
When there were orange orchards on these rocks, and now there is incredibly expensive real estate. The old port of Antalya. Antalya's most open-air beach, Mermerli. The cozy streets of Kaleici. What are these interesting decorations on the ends of houses in the Old City, you will find out on the tour. One of the rare examples of an old house in Kaleici, which has not yet been restored and turned into a hotel or restaurant. Until recently, an old grandmother lived in it, but has now moved in with her son in more comfortable housing.
Conclusions
Want to know more about Antalya, Turkey and the Turks, but you can't be driven by a stick to bus tours from tour operators? Then we're coming to you! Or rather, not so: then you go on a tour to Nikita, or any other similar on Tripster. There are five of them, so you can easily find the most interesting program that suits you. Such excursions may seem trivial and unnecessary (I repent, I myself used to think so), but it is wrong. On the contrary, such walks, conversations with a good storyteller will give you a lot – an understanding of culture, life and history of the country and its people. It's a valuable and enjoyable experience to bring back from a trip. Try it.
Kaleici, Antalya, Turkey – review
Kaleici – all the attractions of the old city of Antalya on your own – how to get there and what to see
Kaleici or in Turkish Kaleiçi is the old city of Antalya, which is located in the heart of this wonderful city. Every tourist should visit it. We went there twice when we stayed in the hotels in the Lara district. I told you about the cool five-star Sherwood Hotel, as well as the huge Titanic Beach Hotel Lara in this review. But you can get to the old city from any area of Antalya, just from Lara or Konyalta will be the closest. From Belek, Kemer and Side it is a longer drive.
Let me tell you right away – it's better not to take a tour, and go sightseeing on your own. So you will not be in a hurry with the guide and will be able to see everything in detail, seeing much more. How to do this I will now tell you.
How to get to the old city of Antalya Kaleici on your own
If you are driving from the Lara area – it's as simple as possible. Take the L07 bus and get off at the 10142 stop, Arık Cd. It will take you about 50 minutes to an hour. Then you go towards the sea.
From Belek is longer, easier by cab. If you want to take a bus, take bus BA22 to stop 10526 – Perge Blv-1, then change to UC11 to stop on 10142 – Arık Cd. Take an hour and a half.
From Kemer it is better to go to the Republic Square. The bus KA07 or TA08 takes an hour and a half, changing to KC06.
Antalya Old City Sights
What to see in the old city? You will see:
Ataturku Museum.
Karaalioglu park.
Hıdırlık tower
Minarek Kesik
Observation Point
Chaikophone
Elevator to the mountain
Republic Park
Minarets
Hadrian's gate.
So, I will describe our route through the main attractions from the side of Lara and Belek. From the bus stop we walk towards the sea, and the first thing we see is the Ataturk Museum House.
This is the first president of Turkey. Entrance is free, the museum is small.
Further towards the sea is Karaalioglu Park. It's a nice shady place, there's a hand sculpture at the entrance. There are mini amusement rides and hand sculpture on the promenade. And most importantly – stunning views and panoramas.
After admiring the panorama of the sea, we walk along the coast and come out to Hıdırlık tower. It is a Roman construction from the 2nd century AD that served as a lighthouse.
Then we walk through the beautiful narrow streets of the old city, which are buried in flowers. The atmosphere of this place is great, calm and cozy. Coming out to the old Kesik Minaret.
The most beautiful thing is the observation deck on the edge of the bay. Go through the Ethnographic Museum towards the sea, there are cafes, down on the rocks Mermerli beach .
Kaleici Viewpoint in Antalya
Coming out to the glass observation deck . The cove is beautiful from all sides, so we go down to the yachts, it is just as beautiful there. Here you are attacked by sea excursions) Down there is a small mosque and also the original seagull phone, such are often found in Turkey.
Down here are the Toy Museum and the Antalya Marine Biological Museum . Behind the Toy Museum is the Kaleici panoramic elevator, which takes you up to another observation deck. We waited a long time for the elevator, but it takes longer to get around the stairs. The elevator is transparent. At the top there is another observation deck with binoculars, which offers a great panoramic view of Antalya. You can see all the roofs of the old city.
Then we go to the Republic Square. There are sculptures, fountain, retro streetcar, on which we also rode. This streetcar goes through the old part of Antalya on the street of wedding dresses. There is another viewing platform on the square.
Further towards the center there is another old tower and the Yivli Minaret in the Yivliminare Mosque. Walk along the streetcar tracks – we come out to the famous umbrella street of Antalya. And right next to the Hadrian's Gate. This is a very beautiful building, a triumphal arch in honor of the Roman emperor who visited Antalya.
So we walked around the old city Kaleici in Antalya. It's a very beautiful place where you want to come back again.
And also there are a lot of cat houses in Antalya.
I also advise to visit Aksu Dolphinarium. Not many people know about it, but it is better than the central aquarium.