Istanbul's 8 Best Restaurants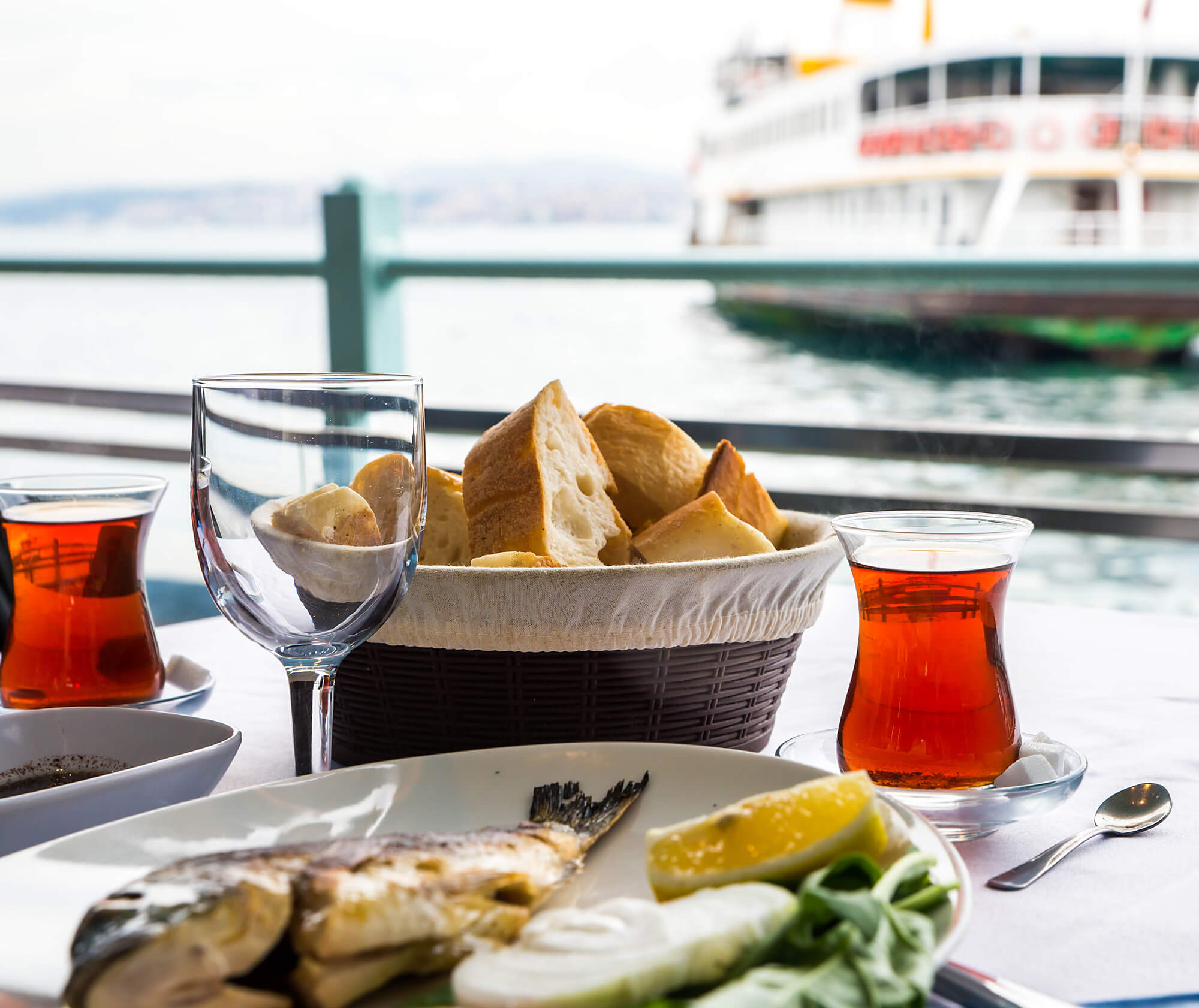 The cuisine of the ancient city is as beautiful as its ancient palaces and temples. Check out our top 8 restaurants in Istanbul to find out where to eat with great chefs and the best views of the Bosphorus.
360 Istanbul East
If you want to spend an evening in an Istanbul restaurant with a panoramic view, come to a high-end establishment in a 19th-century apartment building. The penthouse offers magnificent views of the city. Guests are offered a modern meze with signature international dishes and a large selection of wines.
Average bill . Dinner for two will start at $60.
Address : İstiklal Caddesi, Mısır Apartmanı No:163 Kat:8.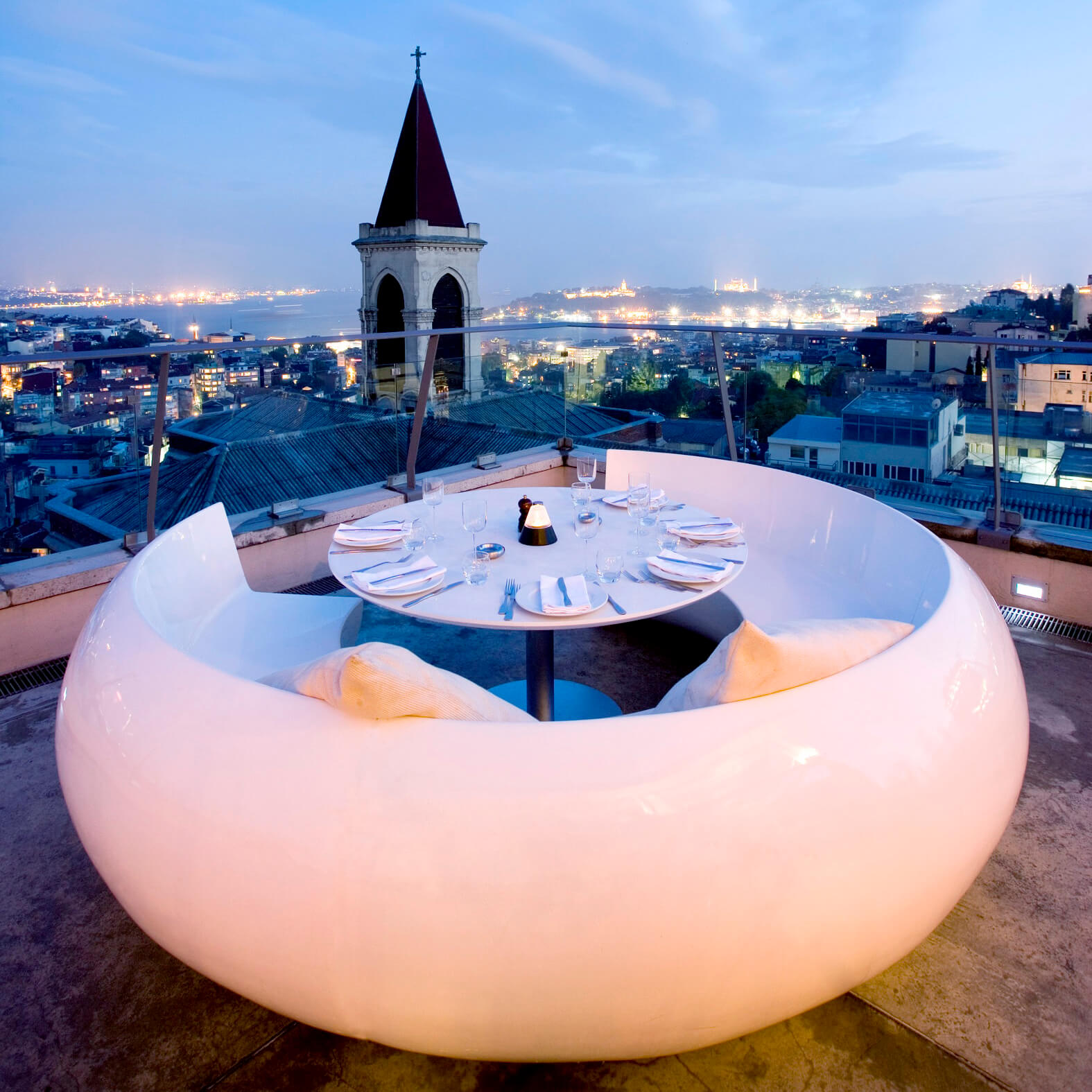 This penthouse has a great view over the city. Photo: 360 Istanbul East.
Restaurant at Midtown Hotel
Istanbul's pride and joy is its Michelin-starred restaurant. Master chef Giuseppe Mancino prepares exquisite delicacies for diners: chickpeas in white sauce with shrimp, sea bass and artichoke soup and caramel cream with mango-mint mousse.
Average check . Dinner for two starts at $120.
Address : Taksim, Beyoglu, Lamartin Cad, No 13.
Burak Steak House
This is the meat lover's favorite restaurant in Istanbul! Located in the European district of Beyoglu. The popular steak house with powerful buffalo figures at the entrance is famous for great kebabs, dolma, kebabs, stuffed chicken and turkey dishes.
Average Check . Prices are higher than average in Istanbul. Lunch for two starts at $30.
Address : Katip Mustafa Celebi Mahallesi, Tel Sk. No: 6 Beyoglu.
Serving meat in a restaurant. Photo: Burak Steak House. Serving meat for a big company. Photo: Burak Steak House.
Nusr-Et
Real foodies are familiar with the chain of steak houses in Istanbul, which is owned by talented chef Nusret Gokcı. On the Internet, he is known under the pseudonym Salt Bae. The restaurants serve halal meat, salads and hot fast food. Guests can choose any degree of grilling and watch the cooking, which is like a real show. The place is packed by evening, so make your reservations early!
Average check . Carpaccio is $15 and steaks start at $35. Dinner for two will cost $70-$100.
Address : Nispetiye Caddesi No: 87 Etiler, Besiktas.
Website : Nusr-Et
Serving meat in a restaurant. Photo: Nusr-Et. Turkish sweets in a restaurant. Photo: Nusr-Et.
Kız Kulesi
The restaurant in the Maiden Tower of Istanbul is chosen by those who want a delicious meal with a view of the Bosphorus. Enjoy traditional Turkish cuisine and the delightful historic atmosphere of the ancient building. The restaurant serves breakfast from 9:00, lunch from 13:00 and dinner from 20:15. Be sure to book your table online!
Average Check . Guests are offered two fixed menu options for 225 and 275 liras – this is the price per person.
Address : Salacak, Salacak Mevki, 34668 Üsküdar.
Photo: Kız Kulesi. Photo: Kız Kulesi.
Meos Balık
According to tourist reviews, the top fish eatery in Istanbul is a restaurant on the city's Floria promenade. Try the fish meze, fried mullet, homemade wine, and enjoy a wonderful view of the sea!
Average Check . Prices are above average. Lunch for two will cost $37-$45.
Address : Aqua Florya – Şenlikköy Mahallesi, Yeşilköy Halkalı Cad. No:93 Florya.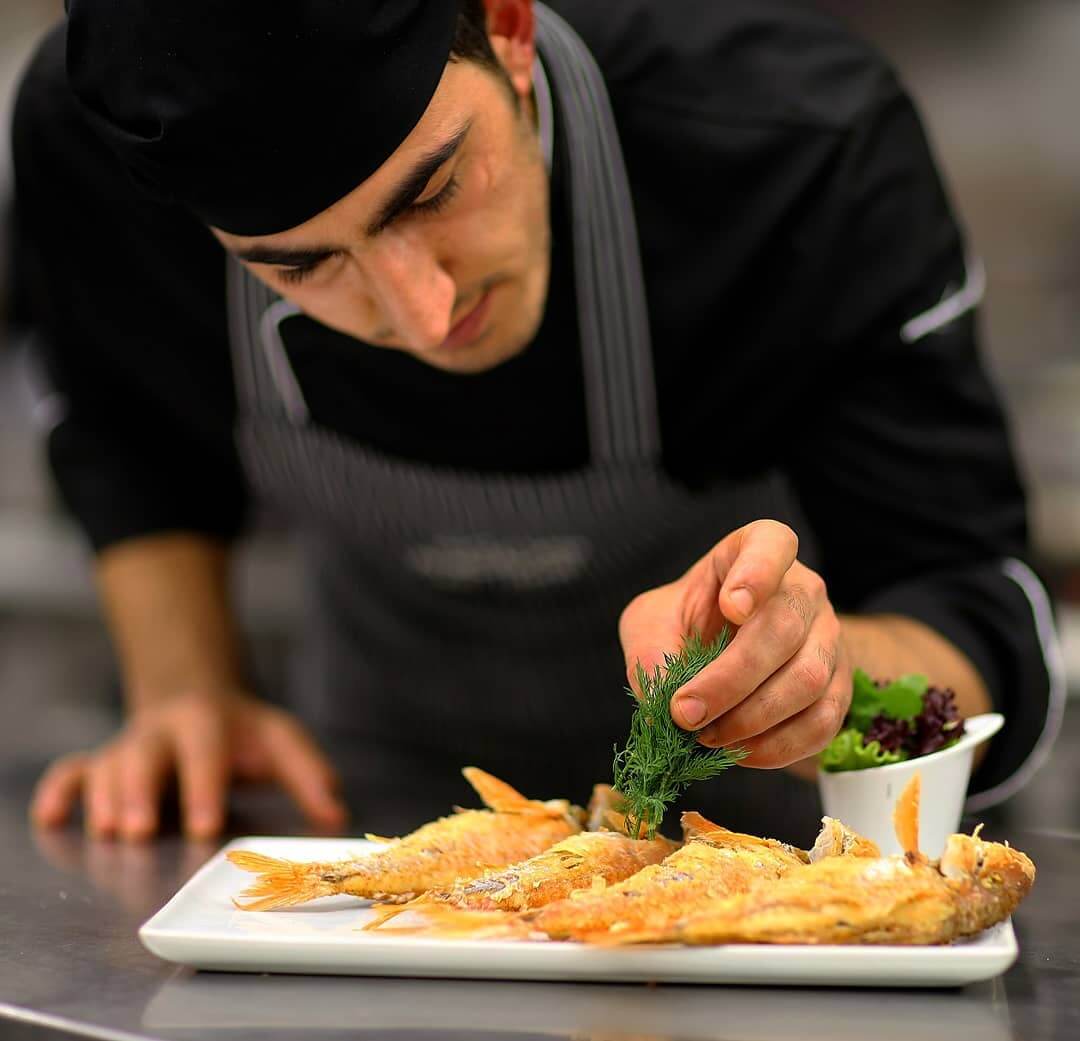 Serving in a restaurant. Photo: Meos Balık.
Neolokal Beyoğlu
A restaurant with an original food presentation welcomes guests to the Museum of Modern Art in Istanbul. The food on the plate looks like an exquisite painting. In addition to aesthetic and gastronomic pleasure, a beautiful view of the Süleymaniye Mosque awaits you.
Average check . Prices are high. Dinner for two costs from $75.
Address : Salt Galata Bankalar Caddesi No 11 Karakoy 34420, inside the Salt Galata building.
Served in a restaurant. Photo: Neolokal Beyoğlu. View of Suleymaniye mosque. Photo: Neolokal Beyoğlu.
Murver Restaurant
Murver is one of the best restaurants in Istanbul's Karaköy district. It is a pleasant place for lovers of seafood and Mediterranean cuisine. A specialty of the institution is a large oven in the center of the hall, so guests can watch the food being cooked. Behind the windows you can see the historical part of Sultanahmet.
Average bill . Dinner for two with wine costs from $60.
Address : Kemankes Caddesi No: 57-59 Karakoy, Beyoglu
Room. Photo: Murver Restaurant. The hidden gimmick of the restaurant is the large oven in the center of the room. Photo: Murver Restaurant. Summer terrace. Photo: Murver Restaurant.
The best restaurants in Istanbul: Top 10 restaurants to visit
Istanbul is not only fragrant kebabs, hot roasted chestnuts and tart pomegranate juice. In the city, where Europe and Asia meet, you can taste dishes from many cuisines around the world. The view of the Bosphorus is the calling card of restaurants in Istanbul. Spectacular panorama while enjoying a delicious dinner in a cozy atmosphere in the city with centuries-old history is a real pleasure.
In our list of Top 10 Restaurants in Istanbul we have collected a variety of establishments: with a view of the Bosphorus and without, with European and Turkish cuisine, on the Asian and European side of the city, where you will meet tourists and those only locals know about.
What to keep in mind when choosing a restaurant in Istanbul
Keep in mind that restaurants with a view of the Bosphorus or located near the sea will always be more expensive than those without such a panorama. That doesn't mean a good restaurant in the city is any less expensive, but you'll always pay a bit more for the added bonus of a view of the Bosphorus.
Always ask for a menu (in some restaurants of traditional cuisine may not bring a menu until you ask), read the prices, so that there are no surprises when you pay the bill. Do not hesitate to ask for the price of a dish if you do not know its size and whether it has a side dish.
In most restaurants, tea and coffee are free (indicated on the bill as ikram). Occasionally, you may be offered a dessert of some kind (sweets or fruit), indicating that it is a compliment from the restaurant.
Smoking is prohibited indoors in Istanbul. The exception is the partially enclosed terraces (in winter they may look like a glazed room with infrared heaters). If you smoke where it is forbidden, you may be fined (the fine is 109 liras).
In seafood restaurants where you choose your seafood, pay attention to the weight and price of what you choose – it must be weighed in front of you
Most of the time, the tips in Turkish restaurants are not included in the bill, otherwise it will be marked in the check as servis hizmeti
In order to go back to the hotel you can ask the manager or the head waiter to call you a cab (the cost will be the same as if you caught a cab on the street, ie at the meter + the cost of boarding)
If you have an important event planned, it is better to book a table in advance. This can be done on the websites of most establishments. Ironically, even on weekdays, cafes and restaurants in Istanbul may have a sufficient number of visitors.
To book a table, use all available means – if you can't book directly by phone, fill out an online booking form on the restaurant's website or write on the Instagram direct page.
If you've already tried a particular Turkish dish while vacationing at the resort, you may be in for a surprise when ordering a similar meal in Istanbul. This is because many of the dishes tasted in the buffet concept are adapted for tourists from different countries. In Istanbul, the same dish may differ in ingredients and taste (often for the better)
Features of Turkish restaurants
Turkish sweets – an integral part of cuisine, almost every restaurant in Istanbul
Istanbul has a wide variety of establishments for all tastes and budgets – from street eateries to luxury restaurants. Even the classic fish restaurants, of which there are many, can vary in the way they prepare seafood, appetizers, serving, and price.
Today Istanbul is a huge modern megalopolis combining Oriental flavor with European trends. This is reflected in the variety of restaurants in the city; nowadays one can taste Turkish, Italian, Lebanese, European, Japanese, Chinese, Mediterranean, Ottoman and many others.
Of course, it is worth to try dishes of Turkish cuisine, as well as at least one or two dishes that survived since Ottoman times. Similar menus, with Ottoman dishes, can be found in restaurants: Deraliye (a little further from the Sultanahmet stop), Matbah Restaurant (near the Hagia Sophia Cathedral), Hacı Abdullah Lokantası (Beyoglu, Istiklal), Kanaat Lokantası (Uskudar, Asian part) Pandeli (in the Egyptian Bazaar building).
One of the richest in choice of cafes and restaurants is Istiklal Street. What can you try without going far from the avenue?
For example, Lebanese cuisine at Café Falafel Tyros and, before you reach Galatasaray Lyceum, Japanese and Chinese cuisine at Çin Büfe.
For Italian cuisine and juicy pizza with crispy crust you should go to Pizzeria Pera, located in the alley next to Istiklal and take a look at Santa Maria Draperis Kilisesi.
One shouldn't forget about Turkish sweets – across from Madame Tussauds is Hafız mustafa, one of Turkey's oldest wax museums. You will find baklava with pistachios and walnuts, bül bül yüvası, cadaif, kühnefe, shekerpare and kabak tatlısı. You can find out what all this is when you stop by one of Hafiz Mustafa's pastry shops.
Greek-inspired dishes and seafood flavored with great views can be tasted at Eleos Restaurant. To find the restaurant, walk along Istiklal towards Maria Draperis Church (before reaching the Şişhane metro station).
Top 10 restaurants in Istanbul according to MoyStambul.ru
It is worth noting that everyone's preferences are different and it is impossible to create a rating that everyone will agree with. We have tried to collect in our list the most famous establishments with good service and interesting food.
Günaydın
Opened as a butcher shop in 1965, today this restaurant chain consists of 37 establishments, including its own logistics network that delivers only selected products to the chain.
The founder of Nusr-Et started his career as an employee of one of the restaurants in this chain.
It is a well-known chain of steakhouses and kebab restaurants all over Turkey, which has stood the test of time. On the European side of Istanbul, you can find Günaydin Steakhouses in Istinje Park Shopping Center and Zorlu Shopping Center, in Florya (you can take the Marmaray metro line to Florya Akvaryum Station) and in Etiler Quarter.
The average bill costs from 350 to 500 liras per person.
Open daily from 12:00 to 22:00
Web site: http://www.gunaydinet.com/
*I will make a quick comment here in case you have to choose between Gunaydın and Nusr-et. Gunaydın has been around for many years and attracts guests with its delicious steaks and quality. If you want to try tender kuzu tandir (lamb cooked in a tandoor) or juicy steak, with pleasant appetizers and in a comfortable interior, you are welcome to go to Gunaydın. But if you just want to see what is the famous Nusr-et – out of curiosity, or for a photo in the social networks, then keep in mind that in terms of price and quality you can be disappointed.
Nusr-et Steakhouse
Many people have heard of this restaurant chain, which was originally opened in Istanbul in 2010 by Turkish chef Nusret Gökçe. He has been nicknamed "Salt Bae" for the recognizable gesture he makes when he salts steaks. By the way, he began his career in the restaurant Gunaydın, which I will talk about below.
Today the whole world knows him, and he has restaurants not only all over Turkey but also in Dubai, Abu Dhabi, Doha, Miami, New York and Mykonos.
Different kinds of meat here are prepared according to the author's recipes, with elements of the show. Here you can often meet both local celebrities and guests of the city. The average bill starts at 800 lira for one person.
Open daily from 12:00 to 00:00.
Visit https://www.nusr-et.com.tr/en/home.aspx
Mürver Restaurant Karaköy
Karaköy is known for its graffiti alleys, modern hotels and restaurants. Here, beside the popular Kemankeş Cd. street, the seventh floor of the Novotel Hotel is home to the Mürver Restaurant.
The restaurant's specialty is a huge oven in the center of the hall, and the visitor can see part of the kitchen and how the food is prepared.
In addition to the delicious food, there is a view of Sultanahmet and the sea, so it is better to book a table in advance and enjoy your dinner, watching the lights of the city.
It is worth noting that the prices in this institution are not low. The average bill for a hot meal and a glass of wine for two people is 800 lira.
The restaurant is open from 12:00 to 15:00 and from 18:30 to 00:00.
Website http://www.murverrestaurant.com/
Snog Roof Bar
Snogroofbar, photo @snogroofbar
This place is not a restaurant, it is a bar with a good selection of alcoholic drinks and cocktails. Why did I include it in the list of places to visit? The bar is situated on the terrace of a house next to the Galata Tower.
The bar will be a pleasant culmination of a stroll along Istiklal and will be especially appealing to those who don't have time to climb the Galata Tower or don't want to wait in line to see it.
Opening hours: 14:00-02:00
Website snogroofbar.com
Zuma İstinye
Japanese restaurant Zuma is located in the famous square of Istinie Park shopping center, between Michael Kors and Moncler stores.
Guests are offered a meat and vegetarian menu, delicate seafood and rolls, and the design of dishes will appeal to aesthetes.
This tranquil place, with a nice view from the window, will be a perfect ending to shopping in Istinia Park.
Restaurant opening hours: 12:00 to 02:30
Website: https://zumarestaurant.com/locations/istanbul/
Average bill: 700 lira per person.
Beyti Florya
Beyti Florya Restaurant
Beyti, which opened in 1945, can seat about 450 guests today. Among its patrons are politicians, celebrities of stage and film, and other well-known figures.
The restaurant is a three-storey building with a total area of 3000 square meters with 10 separate rooms, 3 terraces and 5 kitchens. The décor and decoration of the institution is in Ottoman and Turkish style, different rooms remind the setting of a madrassa, mosque or palace.
Open every day except Mondays from 11:30 to 23:00
The approximate bill for a single person is 400-500 lire.
Official website http://www.beyti.com/en/
Neolokal Beyoğlu
Neolokal Beyoğlu is a Turkish restaurant with an interesting twist on classic Turkish food. Located in SALT Galata, near Galata Tower and Istiklal Street.
Neolocal Restaurant in Beyoglu has an unusual presentation of traditional Turkish cuisine, a pleasant ambience and an excellent view of Süeymaniye Mosque and Eminenyu.
Restaurant opening hours are Tuesday-Saturday, kitchen from 19:00 to 00:00, bar from 18:30 to 02:00. It is closed on Sunday and Monday.
The average bill per person is 400-500 liras.
Website http://www.neolokal.com/
Read also The New Year in Istanbul 2021 and January holidays with a curfew: Don't panic and plan your itinerary
MEOS Balık
Meos Balık Restaurant
Meos Balık is a seafood restaurant on the seafront of Florya in Istanbul. Walking along this promenade you could see the planes landing at Ataturk airport. Therefore, earlier it was noisy because of the hum of aircraft engines.
Today the atmosphere of the restaurant disposes to an unhurried dinner with a beautiful view of the sea. After which you can take a walk along the promenade.
You can take the Marmaray metro line to Florya Akvaryum station and Meos restaurant.
The average bill is from 350-500 liras per person.
Opening hours: from 10:00 to 02:00
Website: http://meosbalik.com/
Kız Kulesi Restoran (Maiden Tower Restaurant) – closed for renovation
Kız Kulesi Tower Restaurant
The Maiden Tower, located right in the middle of the Bosphorus on a natural island is a unique historical place with a special atmosphere. Visiting Kız Kulesi you will touch the history, enjoy the view from the island and take a small boat ride from the Salacak Marina and back. In this case, the restaurant is interesting precisely in terms of its unique location, its history and atmosphere, but don't expect anything out of the ordinary from its cuisine – everything tastes just like in a classic Turkish restaurant.
Opening hours: museum from 09:00 to 19:00, restaurant from 20:15 to 00:30
Website: http://www.kizkulesi.com.tr/Home
Before visiting the Maiden Tower Restaurant please make a reservation (on the website under Online reservation tab) and consult the boat schedules from the Saladcak Pier to the Tower (on the website under Evening – Dinner menu).
Villa Bosphorus
Villa Bosphorus Restaurant
The small Beilerbey neighborhood on the Asian side of Istanbul is characterized by the view of the Bosphorus Bridge and the Strait itself from almost all of its establishments. Here is also the Beilerbey Palace, which you can tour before visiting the place.
Villa Bosforus is a fish restaurant with a good selection of seafood, decent service and a beautiful view of the bridge over the Bosphorus, which is illuminated with colored lights at night.
Open daily from 10:00 to 01:00.
The average bill is 800-1000 liras for two without alcoholic beverages.
Website: https://villabosphorus.com.tr/
ELEOS Restaurant
Just off Istiklal Street, in an inconspicuous building on the third floor. From here you can observe the beautiful view of the Bosphorus and the sights of the city.
The average bill is at least 800 lira for two people.
Website http://www.eleosrestaurant.com/beyoglu/
360 Istanbul
It is simply impossible to bypass this restaurant, although many have already heard of it. All one needs to know about the place is the stunning 360 degree view of magnificent Istanbul!
Website http://www.360istanbul.com/tr/index.html
Note that this is a touristy place, so you need to be careful with the bill, control what you order. Maybe you should come here for a couple of cocktails and enjoy the view, and have a nice dinner somewhere else. It will save you from unpleasant surprises.
Vogue Restaurant
Not far from the Besiktas Marina and Ataturk Museum, on the 13th floor of the BJK Plaza building is Vogue Restaurant. Like many of the places in our selection, it offers not only delicious food but also a great view of the Bosphorus Strait and the Bosphorus Bridge. Why wasn't it included in our top 10 list? After all, its advantage is more the view and location than the uniqueness of the dishes. Perhaps a better option would be to have a couple of cocktails and admire the view here rather than having dinner.
Safran Restaurant
Not far from Taksim Square behind the famous Gezi Park. It offers Turkish and Ottoman cuisine and a wonderful view of the city to complete your evening. If you are staying in Beyoglu, Istiklal Street, you can walk to the restaurant.
The average bill is at least 350-400 liras per person.
Visit http://safranrestaurantist.com/
65 comments
Hello Catherine, Good day! Could you please tell me which bus to take from the airport to Sultanahmed, the hotel is near the streetcar stop. How do I get to the airport? We will be in Istanbul at the end of the month.
Hello, From which airport – New Airport or Sabiha Gökçen?