Jimbaran – Quiet resort with the best sunsets in Bali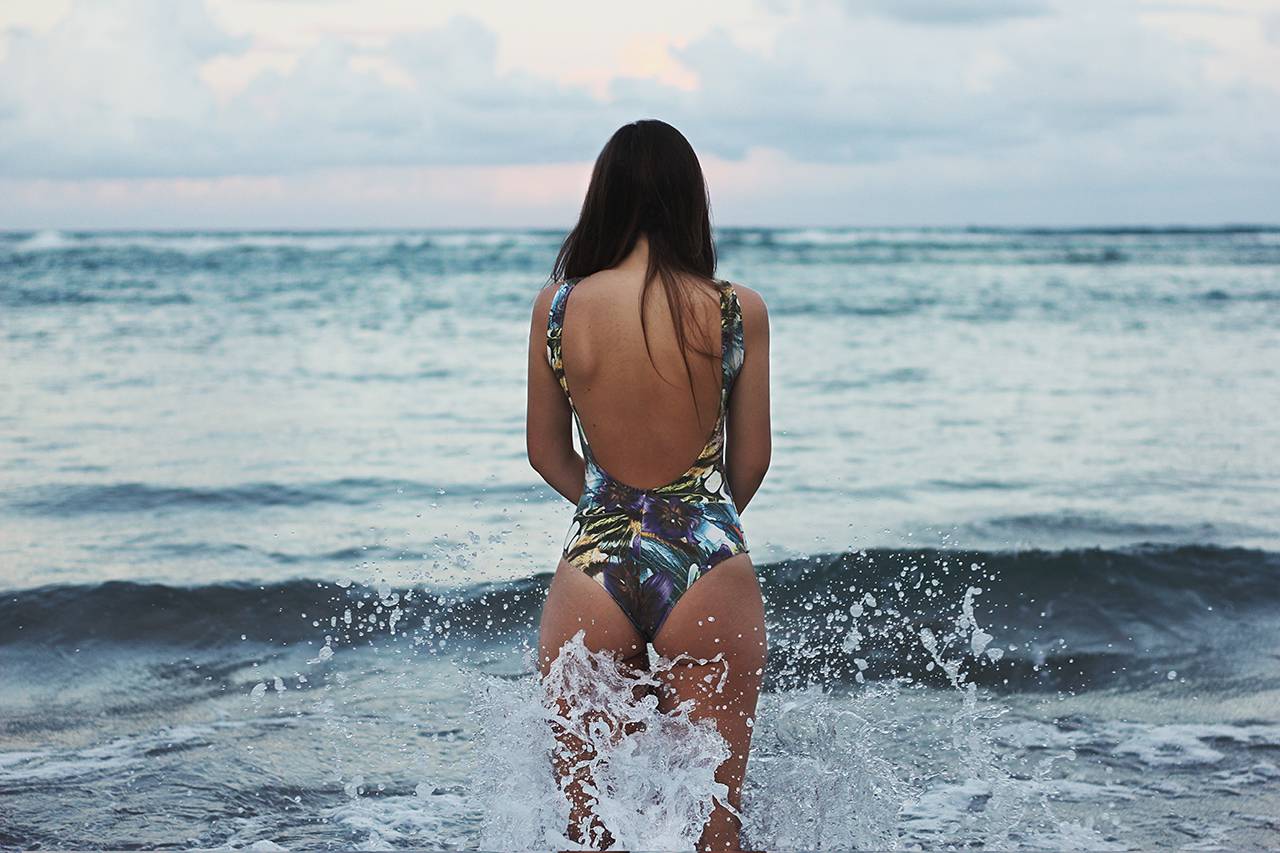 Read reviews of Jimbaran Beach, one of the best vacation spots in Bali. What do they write about the weather, sea, hotels, cafes, excursions? Pros and cons of vacationing in Jimbaran Beach in 2022. Tips of tourists.
Content:
Pros and cons of vacationing in Jimbaran
Jimbaran is one of the quietest resorts in Bali. It is located 12 south of the city of Denpasar. If you like beach activities and surfing, you should definitely go to Jimbaran!
Pros of vacationing in Jimbaran in 2022, according to tourist reviews:
Short commute from the airport.
Nice sandy beach.
You can see all the beaches of Bukit.
Great vacation with kids.
Clean sea.
Impressive views of the cliffs.
Stunning sunsets.
Accommodation for all budgets.
Good conditions for novice surfers.
Yoga schools and spas.
The freshest seafood and fish.
Interesting excursions.
Ability to learn an unusual culture of the Balinese people.
Julianicolaeva: "A huge number of cafes for every taste. There are musicians walking between the tables, singing songs in all languages and even in Russian.
Minuses :
High humidity year-round.
In the rainy season, the sea is dirty.
There is trash on the streets.
Nightlife is not as developed as in Kuta.
Traffic, but it's everywhere in Bali.
Lavandocka: "The roads here are winding and the traffic is quite hectic, the main street is very busy and not much suitable for walking.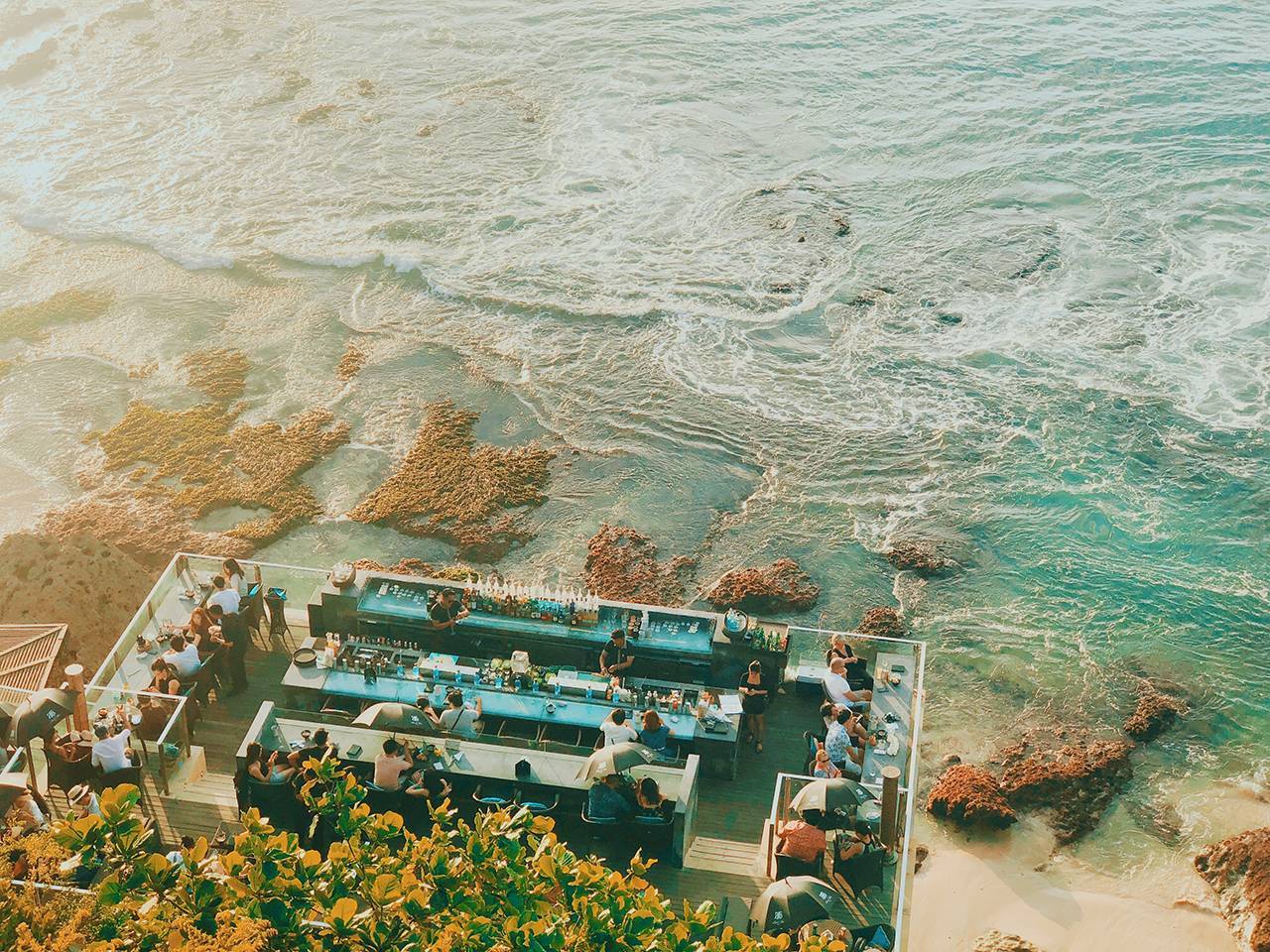 Cafe overlooking the strait (Photo: unsplash.com / @mayurpixamind)
Jimbaran Resort on a map of Bali
Jimbaran beach and sea reviews
Jimbaran beach in Bali is covered with fine, light-colored sand. It stretches for 4 kilometers. There is enough space for everyone, so there is no crowding and bustle. The infrastructure is quite developed. On the beach clubs have showers and toilets, you can rent deck chairs and umbrellas from the sun. In some places, the entrance fee is paid, but in others just order a drink at the bar and all the benefits of beach service will be available.
According to feedback from tourists, the best time to Jimbaran is from May to October, when the beach is not a big wave. In addition, in the high season the waves do not bring debris to the shore.
Jimbaran is in a bay, so the water is quite calm. The descent into the sea everywhere is gentle, and the seabed is flat, so the beaches of Jimbaran are suitable for holidays with children. The southern end is the quietest.
Irina S: "You can sit here beautifully in the evening, have dinner, watch a beautiful sunset and watch the planes.
Jimbaran Beach
Hotel reviews for Jimbaran
Search for last minute tours on Level.Travel and Travelata services – they will find the best deals among different tour operators. Want to save money? Check out our 7 rules for buying tours online.
The first line to the sea is occupied by luxurious hotels and luxury villas. Slightly farther is the budget accommodation. Good reviews of tourists received hotels in Jimbaran:
The resort is focused on an elite vacation, so there is not as much inexpensive accommodation as in Kuta, but there is enough. Book in advance to grab the best options! A double room in a 3* hotel costs from $17-20, in a gesthouse from $12. A 1-bedroom villa starts at $33. A bed in a shared room at a hostel costs from $6 per person.
Look for discounted hotels on Rumguru. Here are the top rules for finding hotels.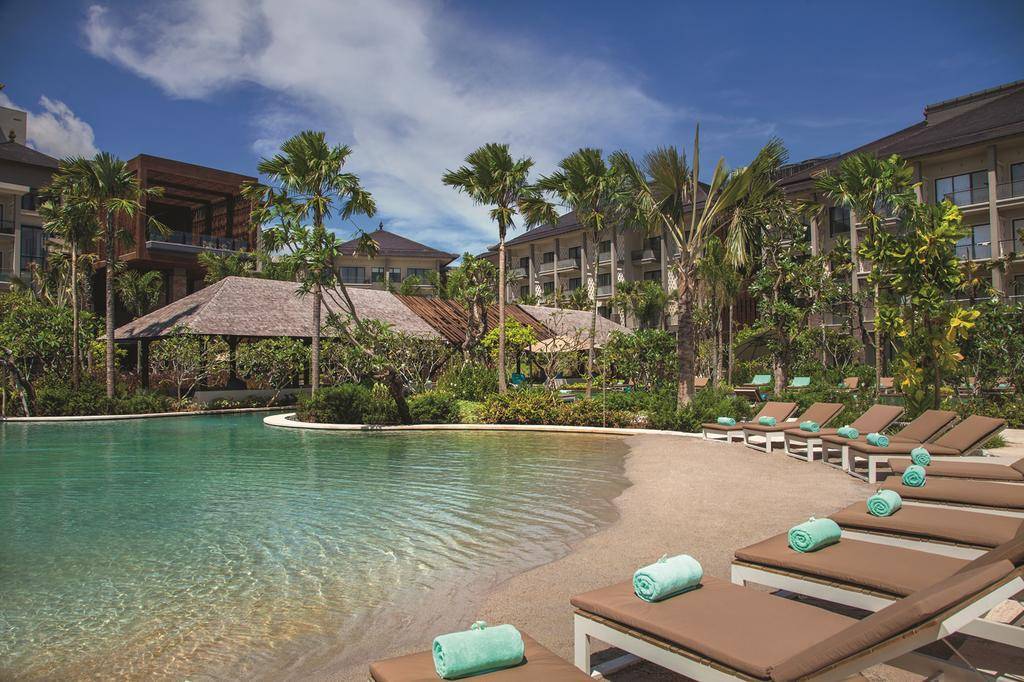 Mövenpick Resort & Spa Jimbaran Bali (Photo: booking.com / Mövenpick Resort & Spa Jimbaran Bali)
Jimbaran Weather Reviews
Jimbaran pleases tourists with hot sun and warmth – just like any other resort in Bali. The year-round temperature does not drop below +27 ° C. The sea water is comfortable for swimming +25 … +28 ° C. The dry season lasts from May to October, and the wet season from November to April. During the monsoons, the sea is often stormy. It is not very convenient for swimming, but good for surfing.
Sasha Zvereva: "In January every evening there was a storm outside the window: rain poured, wind whistled. By morning the sky had cleared, it was sunny all day, but in the evening it happened again.
Peter: "We vacationed in the second half of June. It was not as hot as in Kuta, because the heat of the tropical sun extinguished a pleasant refreshing breeze.
Reviews about the excursions in Jimbaran.
Vacationers enjoy excursions from Jimbaran:
A trip to the capital city of Bali, Denpasar;
Holi Water hot spring;
Bus trip to Ubud;
entertainment center Jimbaran Hills Activity Valley.
Tourists are advised to visit the Balinese temple Uluwatu. One of the island's main spiritual centers stands atop a rocky cliff, 70 meters above the sea. Kechak, a traditional Balinese dance, is performed daily at the temple, usually in the evening from 6 to 7 am.
Kathy: "Uluwatu temple was beautiful. We watched the kechak dance. It was very hot in the stands, but our guide brought an umbrella and cold water while we waited."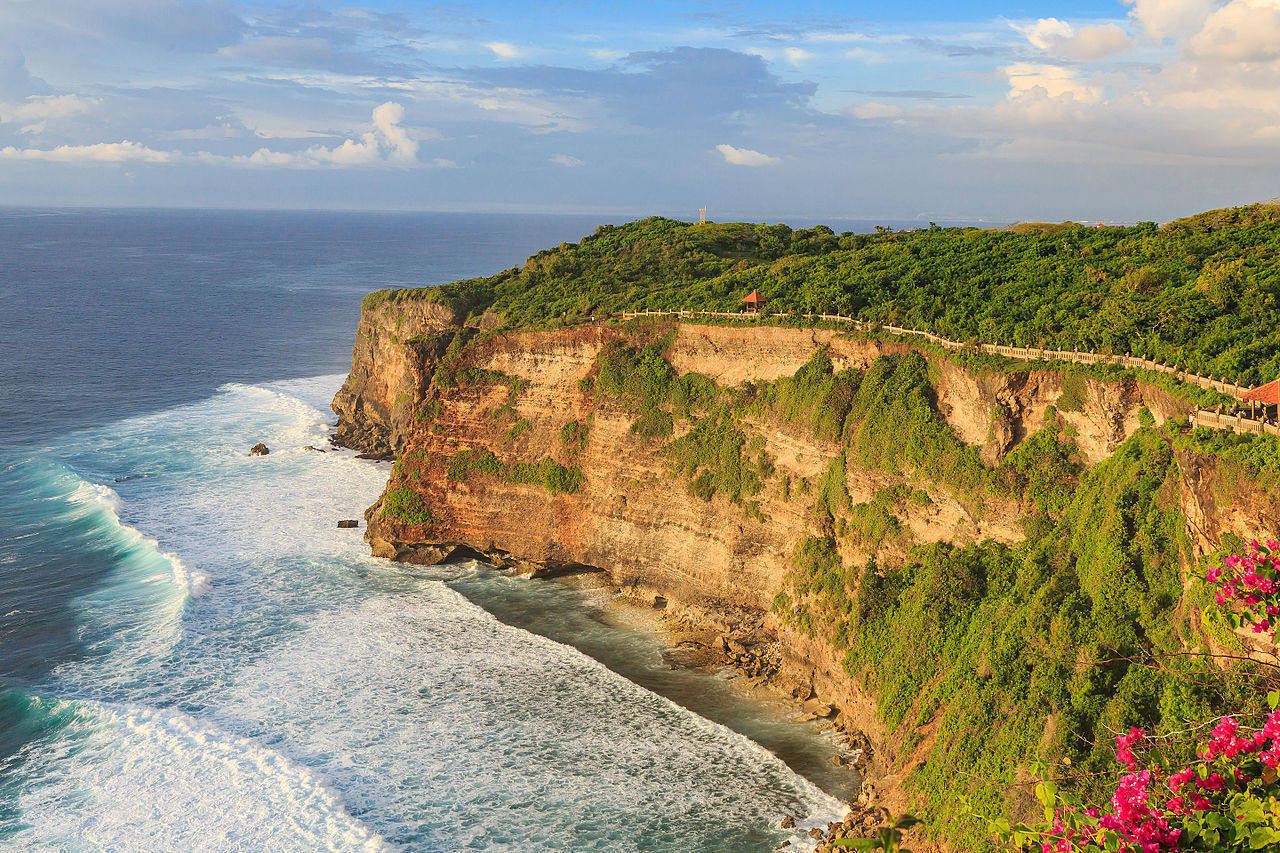 The rock where Uluwatu temple is located (Photo: wikimedia.ru / CEphoto, Uwe Aranas)
What to see in and around Jimbaran
Besides the wonderful beach, there are no sights in Jimbaran itself. Everything is in the neighborhood. Nearby is a private park Garuda Wisnu Kencana, where you can see the giant statues of Vishnu and Garuda. Go to the fish market, go to the Uluwatu temple and watch the Kechak dance. It's worth going to Kuta with children and spend a pleasant time at the Waterbom Bali water park.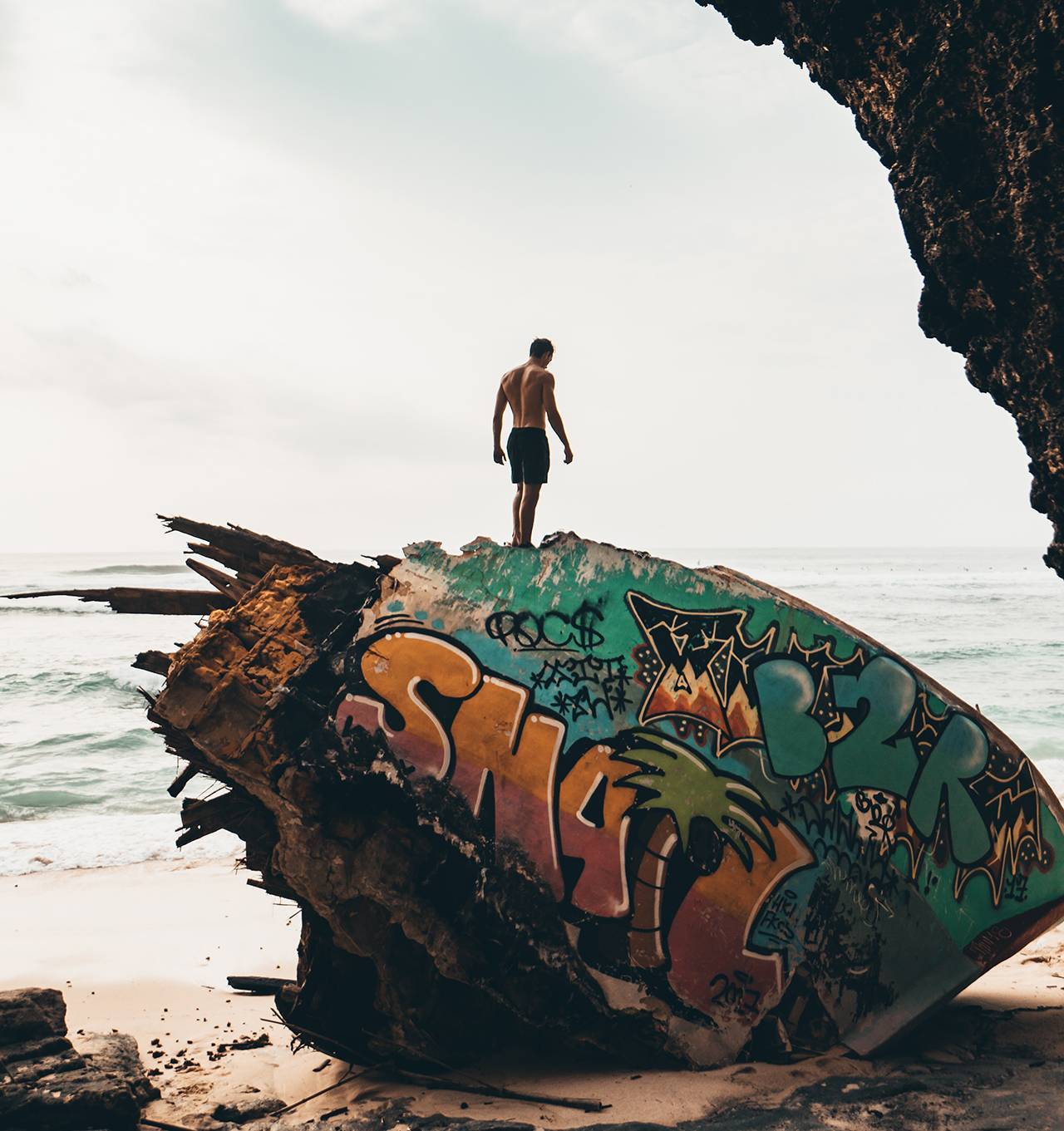 Jimbaran (Photo: unsplash.com / @ollivves)
Reviews of cafes in Jimbaran
There are dozens of cafes and restaurants along the waterfront. They make wonderful seafood dishes, fried noodles and rice with chicken, coffee and fruit shakes. Delicious and inexpensive food is offered in varungas, cafes. They are available for locals and foreigners. In varungahs for tourists is a little more expensive, but the interior is nicer and the dishes are more interesting.
Lunch at a budget cafe for two costs $3-$10. The bill usually includes tax and service charges ranging from 11 to 21%. Tourists recommend Menega, Lia Cafe, and Hawaii Cafe.
R9747RT_: "Kayumanis Resto Jimbaran is a great place. Beautiful and thoughtful interior, reasonable prices and great desserts."
Jimbaran Fish Market
Jimbaran is a seafood lover's paradise. For a fresh catch, make your way to the cheap and bustling bazaar, which is considered the best fish market in Bali. Here local fishermen sell freshly caught fish like tuna, white and red perch, mahi-mahi, squid, crab, shrimp, and other gifts of the sea. Be sure to haggle! Tourists with non-tanned skin are told the prices are 2-3 times higher than usual.
Fish market in Jimbaran is open any day from 5:00 to 20:00. The freshest goods are in the morning. At 18:00-18:30 most vendors have finished their work. Prices per 1 kg: shrimp 70-250K, octopus 40-60K, lobsters 250-350K, squid 35-60K.
Maroona: "Fish and seafood are always fresh, if you want they will clean and fry them right away.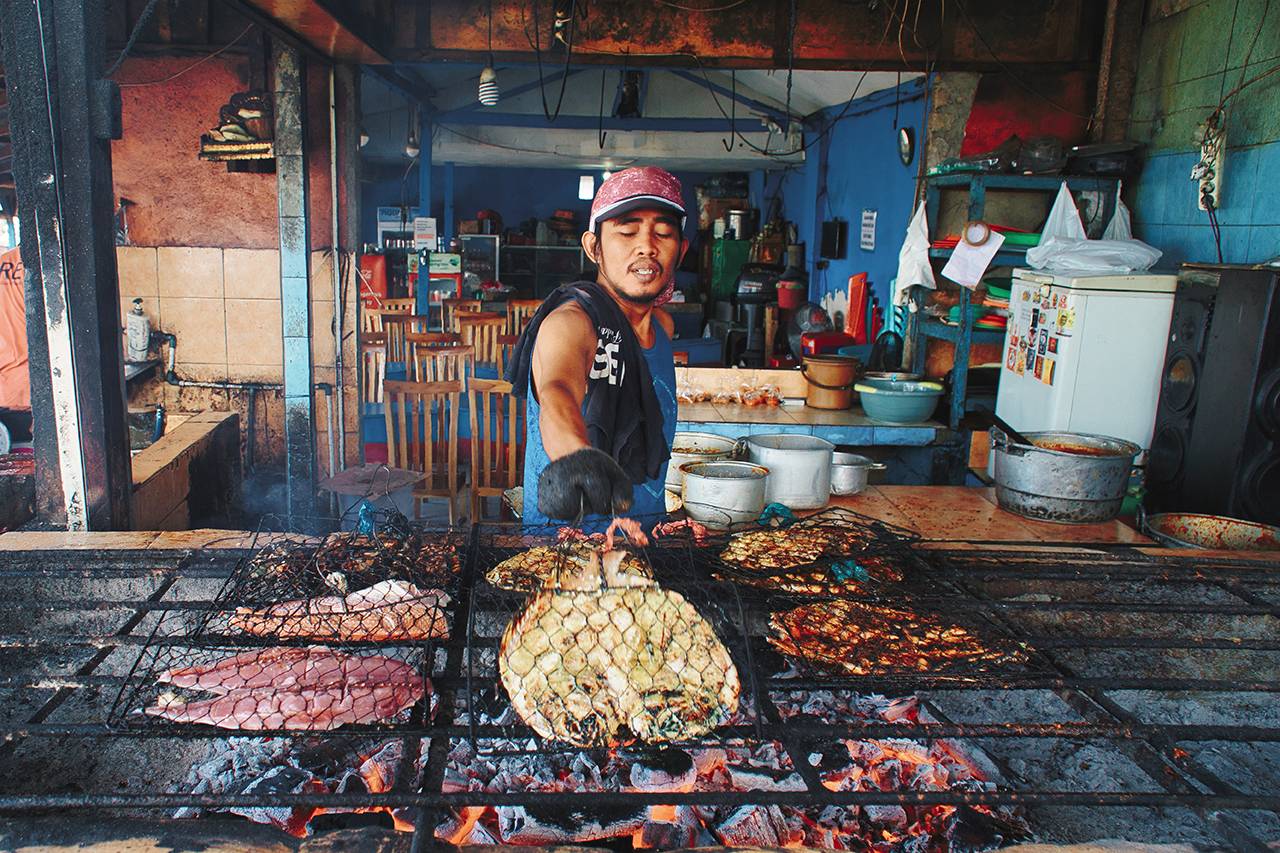 Behind the fish cooking (Photo: unsplash.com / @fominpictures)
Jimbaran vacation tips
Jimbaran is a quiet vacation spot, but be vigilant. In reviews, tourists are advised not to carry large sums of money and not to leave things unattended on the beach.
In the rainy season on the coast there are a lot of mosquitoes. Use repellents, fumigators and choose lodging with mosquito nets on the windows.
Tropical fruits are good at the fruit and vegetable bazaar, which is located next to the fish market.
Balinese chefs charge 20K rupees a kilo for cooking fish and seafood. Give a fresh product in any varung near the fish market in Jimbaran or in the cafe on the waterfront, and you will be made a great dish for a picnic on the beach.
Egor Voynov: "For this money the fish will be cleaned, cooked with sauce and given another bag of sauce. Rice and stewed vegetables for the side dish must be bought separately.
Jimbaran Beach
Jimbaran Beach is a sandy beach that is located in the southern part of the island of Bali, near Denpasar airport.
The light sand and calm waters of the bay in which the beach is located make it a great place for recreation and swimming, not only for adults but also for children. The beach is perfect for those who like a comfortable and relaxed pastime.
Reviews of Jimbaran beach
Holidaymakers at Jimbaran Beach tourists note the abundance of restaurants specializing in fish and seafood, which will appeal to fish gourmets, the possibility of watching the planes from the beach and transport accessibility of the area. In addition, the beach is famous for its picturesque sunset scenery, so in high season it often gets quite crowded after 5 pm.
Before you travel, we recommend checking out current 2022 Jimbaran reviews and in-depth travel reports from previous years.
Features
The sandy shore of Jimbaran begins almost immediately behind the airport (south of it), with a good view of airplanes taking off and landing. To the south the beach ends at the Four Seasons Resort Hotel, where the famous fish restaurants are located.
The shoreline of Jimbaran beach is roughly divided into three parts:
Pantai Kelan (Pantai Kelan) in the north,
Kedonganan Beach in the center,
Pantai Muaya in the south.
There is no clear boundary between these parts, they flow into each other. The northern part is closest to the airport, it is more rocky than the other two, there are not many tourists, but a fairly large number of fishermen and fishing boats. On the central beach, located near the fish market, there are several seafood restaurants and hotels. The southern beach is the most popular among tourists, as this is where most of the expensive hotels are located, which most closely monitor the cleanliness of its territory.
Waves off the coast on the beach Jimbaran – a rarity, and the entrance to the water is gentle, so the place is well suited for recreation with children, including the smallest. It is also worth noting that the tides are noticeable. In the afternoon a large part of the beach is bare, which many vacationers like to use for walks.
Jimbaran Beach
The beach and resort infrastructure of Jimbaran is quite well developed. On some parts of Jimbaran there are sunbeds and umbrellas, which can be rented for the standard price of 50000-70000 IDR for Bali.
With accommodation on the beach Jimbaran not a problem, many resort hotels are excellent for accommodation. In addition, nearby rent rooms in gesthouses (budget accommodation option) and individual villas of different sizes, most of them – with a pool.
On the beach there is a large number of catering establishments, many of which in the evening bring their tables right on the sand, allowing visitors to enjoy the sunset while eating.
There are several Nirmala and Pepito supermarkets within walking distance of the beach, plenty of small markets selling fruit and vegetables and the famous fish market (Pasar Ikan Kedonganan) where you can buy all manner of fresh seafood.
As for entertainment options, on the beach Jimbaran there are several rentals for snorkeling and diving equipment, as well as surfboards (but the sea here is quite calm, so the coast is probably suitable only for beginners). Also on the beach are always boats and boats, which can be rented for boat trips or fishing. Spa lovers can visit one of the specialized centers, offering Balinese and Javanese massage, therapy with hot stones and herbs and other services.
Hotels and Tours
Below we present a list of hotels near the beach. You can make a hotel reservation on ostrovok.ru, or use the hotel tour search.
Belmond Jimbaran Puri 5 * (tours on level.travel, Travelata)
InterContinental Bali Resort 5 * (tours on level.travel, Travelata)
Mövenpick Resort & Spa Jimbaran Bali * (tours on the level.travel, Travelata)
Le Meridien Bali Jimbaran 5 * (tours on the level.travel, Travelata)
Anja Jimbaran 4 * (tours on Travelata)
Balquisse Heritage Hotel 4 * (tours on level.travel, Travelata)
The Open House Jimbaran Bali 4 * (tours on the level.travel, Travelata)
Jimbaran Bay Beach Resort and Spa by Prabhu 4 * (tours on level.travel, Travelata)
FOX Hotel Jimbaran Beach 4 * (tours on level.travel, Travelata)
Keraton Jimbaran Resort 4 * (tours on level.travel, Travelata)
Hotel Puri Bambu 3 * (tours on level.travel, Travelata)
Bali Breezz Hotel 3 * (tours on level.travel, Travelata)
Level.Travel and Travelata are online services for searching tours to all the tour operators and can completely replace the usual travel agency. Book tours without intermediaries.
Seasonality of vacations
Holiday season on the beach in Jimbaran lasts all year. However, rest in the months from October to March, when the tropical rainy season is in full swing, on this coast will not be very comfortable. Litter is brought ashore, and although hotel and hotel staffs keep their areas clean and clean their beaches regularly, the situation on the public beach areas can be frustrating.
The best time to visit Jimbaran beach is from May to August. The average annual temperature of the water on the beach is +28 °C, and the air temperature during the day is +27 … +28 °C.
Jimbaran Beach in Bali on Google Maps
How to get to Jimbaran Beach on Bali
From public transportation you can get to Jimbaran Beach by bus. The most reliable carriers here are Trans Sarbagita and Kura Kura Bus. The first company, whose buses are distinguished by their blue color, has 2 routes passing through Jimbaran:
The first goes from Ngurah Rai Stadium in Denpasar to Garuda Vishnu Kenchan Park and back. There are 24 stops on the route, including Kelan, Kedonganan and Jimbaran, all located at Jl. By Pass Ngurah Rai in Jimbaran.
The second runs from Batubulan Village to Nusa Dua and has 4 stops in Jimbaran – Kelan, Kedonganan, Jimbaran 1 and Jimbaran 2.
Trans Sarbagita buses run from 05:30 to 21:00 daily with an interval of 20 minutes.
A second company, the Kura Kura Bus, a bright green bus with a turtle logo, runs from Kuta (stop near Simpang Siur Junction) and passes all major hotels (Ayana Resort & Spa, Rimba and Le Meridien). From the stops you can walk to the beach restaurants in a few minutes. Bus times: daily from 08:00 to 21:40; intervals: every 2 hours.
Jimbaran is no more than a 15 minute drive from Denpasar Airport or Kuta, and a 20 minute drive from Seminyak. Car and motorcycle rentals are available at almost every place on the island, so renting a car is considered one of the most convenient ways to get around.
If you want to reach Jimbaran beach as quickly and comfortably as possible, you can use local cab services.
From the airport and from other places on the island of Bali to Jimbaran there is an online booking of transfers:
Video of Jimbaran Beach in Bali (Indonesia)