Kendwa – a popular resort in Zanzibar
In tourist circles, Zanzibar is a new destination that has already managed to win the hearts of travelers with its "Maldivian" water, bounty-style beaches, amazing local culture and democratic prices. On this island, everyone will find entertainment to his liking – you can spend your days in a lounge chair, diving and snorkeling, catching waves, having fun at beach parties and tasting African food. All this and more is available to tourists who choose the resort of Kendwa (Zanzibar).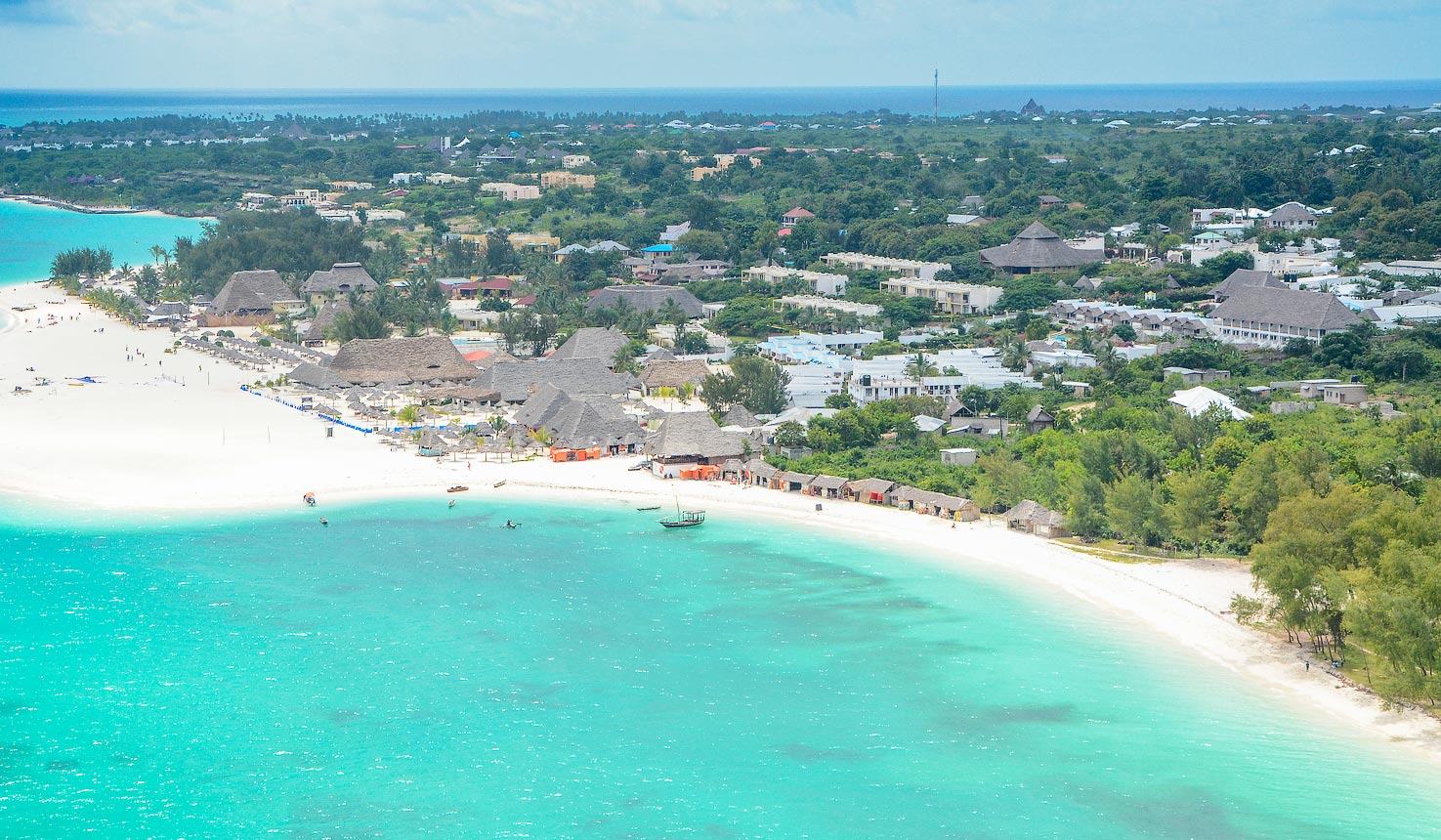 The village of Kendwa with the beach of the same name is located in northwest Zanzibar – within walking distance (a couple of kilometers on foot at low tide) from the famous Nungwi Beach. And while the latter could be called quite noisy, Kendwa is a relatively quiet resort area, although there are many large hotels and guest houses, catering and leisure activities.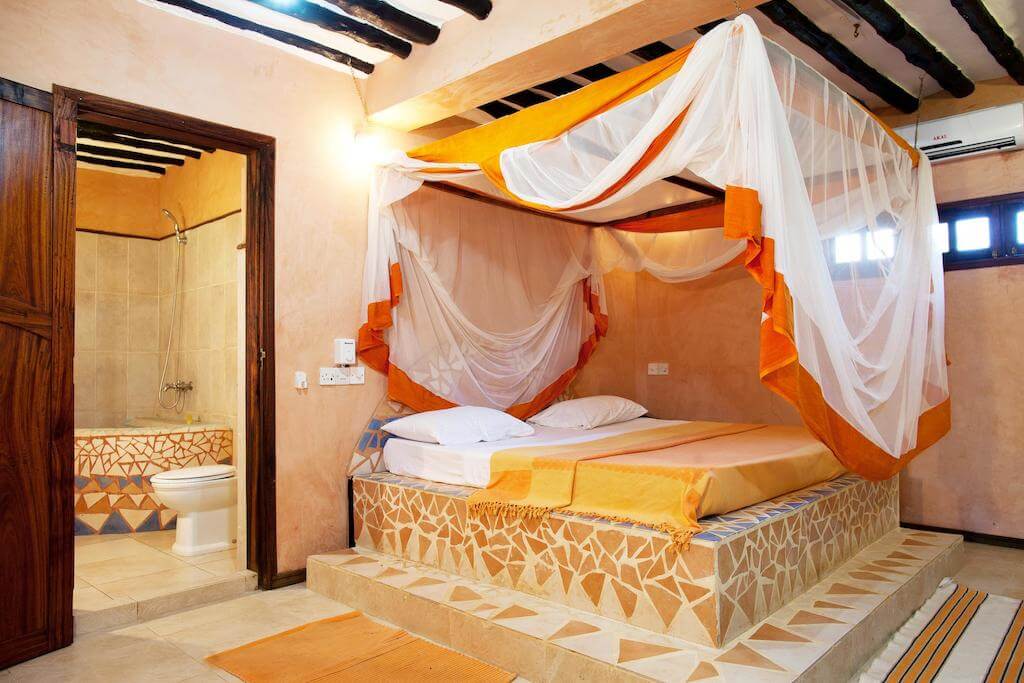 Kendwa Rocks Hotel
Incidentally, there was only one guest house here in 1995, but over time the luxurious Kendwa Rocks Hotel appeared, followed in 2006 by the giant Gemma dell Est, and with them restaurants, bars, stores and souvenir shops. Today Kendwa Beach is one of the most progressive beaches in Zanzibar. It is even called the "beach of millionaires," because those who need it, can rent five-star accommodation for $ 300-500 dollars a day, play golf on a perfect course and get lobsters for lunch and dinner. Not for nothing Kendwa is increasingly attracting the attention of international stars, politicians and successful businessmen.
Rest in Kendwa
Zanzibar's tourism infrastructure is developing by leaps and bounds, as the island's popularity among tourists grows. This is especially true of Kendwa Beach, which already has a lot to offer for the comfort and satisfaction of the tourist. It is not only about the tropical palm trees framing the coast, or the sand resembling powdered sugar, but also about the increasing choice of hotels, bungalows, delicious food at affordable prices, as well as the ease of movement around the resort and the entire island. On Zanzibar and Kendwa enough regular and water cabs, between the villages run public buses and Dala-Dala (trucks with a tent and benches), ferries to the Tanzanian mainland. If you want you can rent a car or a bicycle, as well as use domestic flights – a kind of "flying shuttle buses. It should be understood that the service and amenities do not compare with European, the resort is advanced by African standards.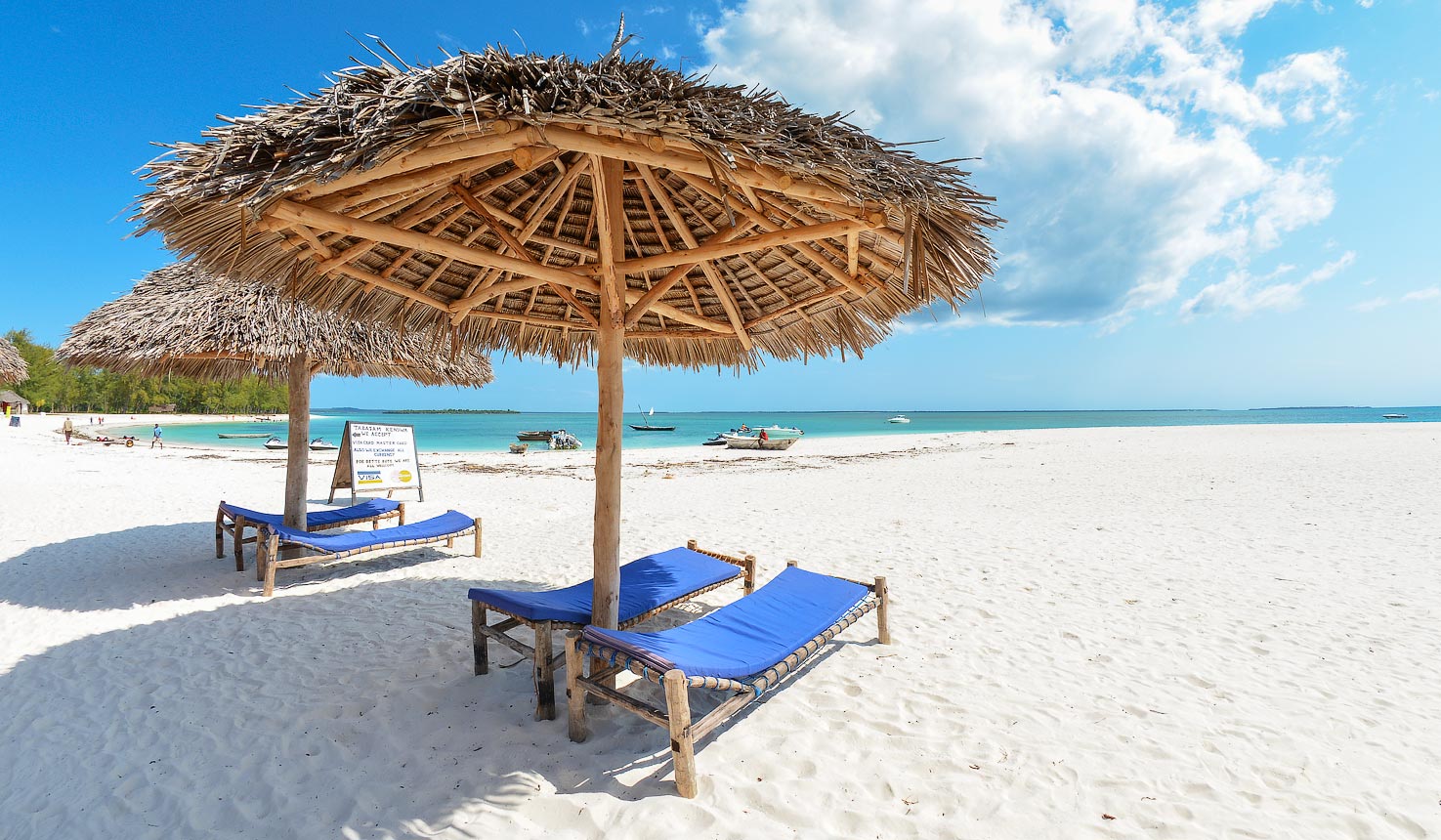 Kendwa is one of the most expensive resorts on the island, so there are even stores specializing in the sale of alcohol, which will cost a penny, which is justified for a Muslim country. In recent years, Zanzibar began to transform from a favorite place for "wild" recreation in the elite island, able to compete with Barbados, Maldives and Seychelles, but it does not prevent enjoy the pristine nature of this corner of the world.
Accommodation
Kendwa Beach has several large hotels (e.g. Hideaway of Nungwi Resort & Spa and Gold Zanzibar Beach House & Spa), well known in Zanzibar, as well as mini resorts and guest houses. Almost all of the hotels on the island adhere to the B&B (Bed and Breakfast) system, but there are plenty of All Inclusive offerings at this resort. The choice of options is not as varied as in neighboring Nungwi, but that's why Kendwa Resort is great for seclusion and relaxation.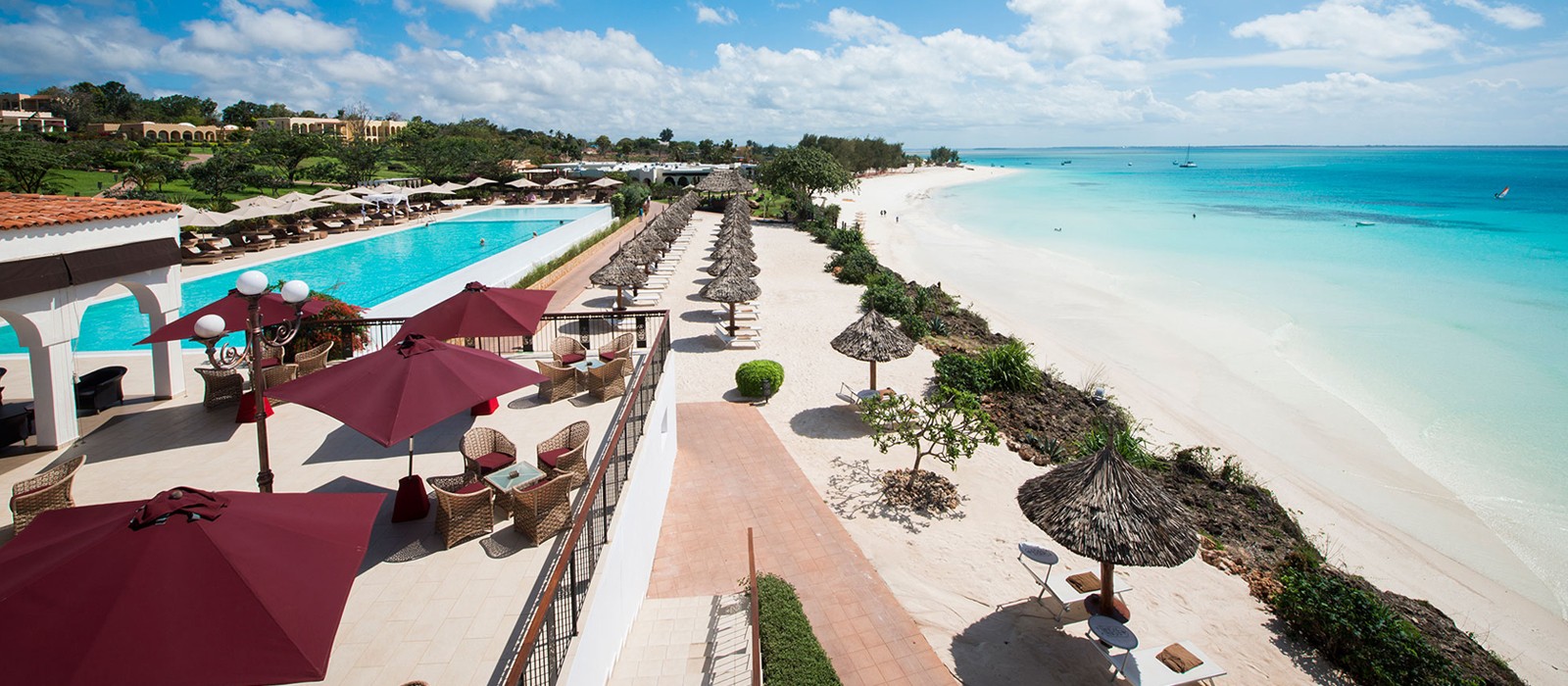 Hideaway of Nungwi Resort & Spa
If your goal is a room for two at a well-rated three- to four-star hotel, the minimum cost during high season is:
At Natural Kendwa Villa, $225-250 per night. The hotel, 300 meters from the beach, has an outdoor pool, spa, restaurant, private parking and free Wi-Fi.
The Kendwa Rocks Hotel is $125 to $150 a night. Drowned in fragrant gardens, the hotel overlooks the Indian Ocean. Swahili cuisine is available at the local restaurant and exotic cocktails at the bar. In the evening, guests can enjoy an evening show.
At Mocco Beach Villa, rates start at $120 per night. This hotel is just a minute's walk from the beach. Guests can look forward to a restaurant serving traditional Tanzanian dishes made from fresh seafood, as well as the option to rent water sports equipment.
If you're traveling on your own, check out the Palumbo Kendwa, Zanzibar's best-selling hotel. It has been welcoming guests since 2015 and has an outdoor pool, restaurant, bar, and other recreational options.
Meals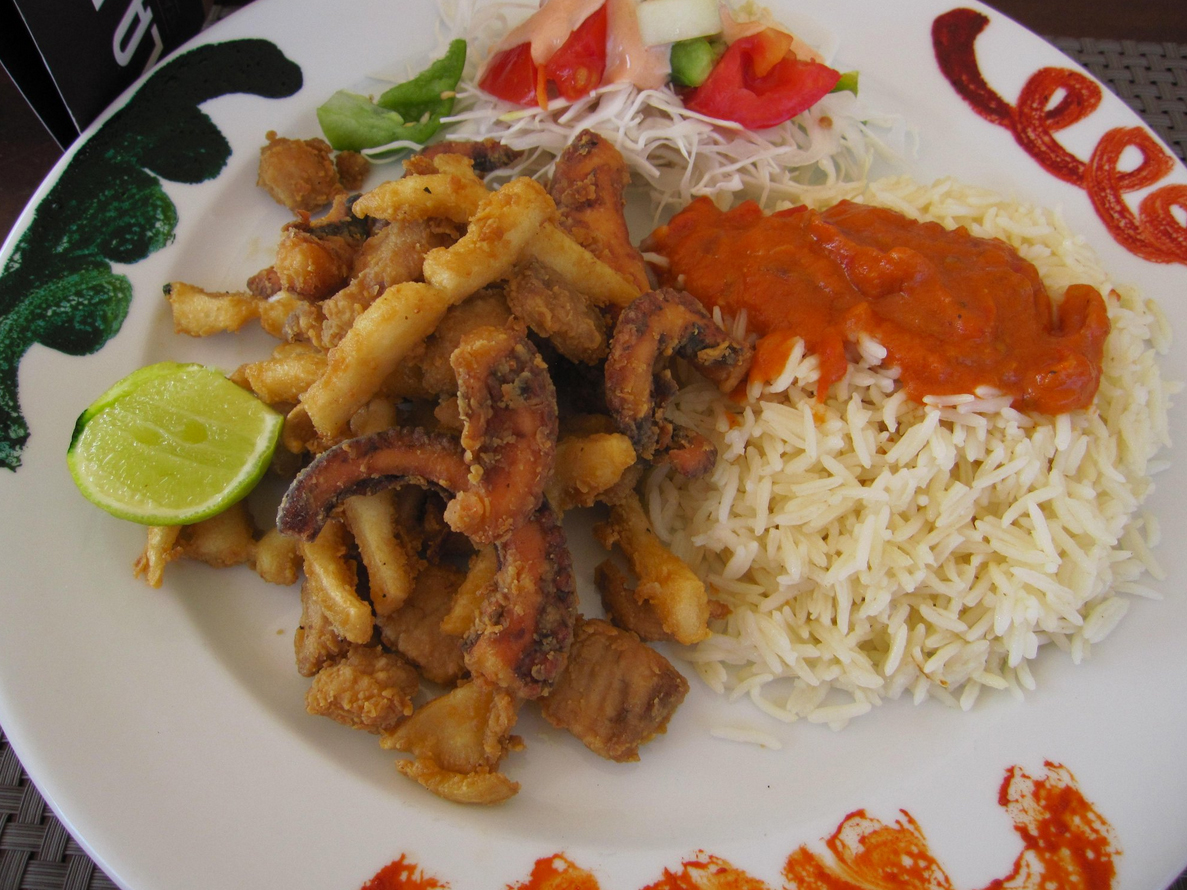 La Fontana Zanzibar.
There aren't as many restaurants and cafes in Kendwa Resort as in Nungwi, but you won't go hungry. Experienced travelers recommend that if you're here for a day of exploring, lounging on the beach, or enjoying water sports, you should bring food with you. Others should explore the restaurants in the hotels and check out La Fontana Zanzibar and Fisherman lokal restaurant.
The first will meet guests with a beautiful and cozy interior, fast and polite service and a very diverse Italian menu. The menu includes fresh fish, pizza (main dish costs $8-10 per person) and all kinds of fresh fruit ($4-6).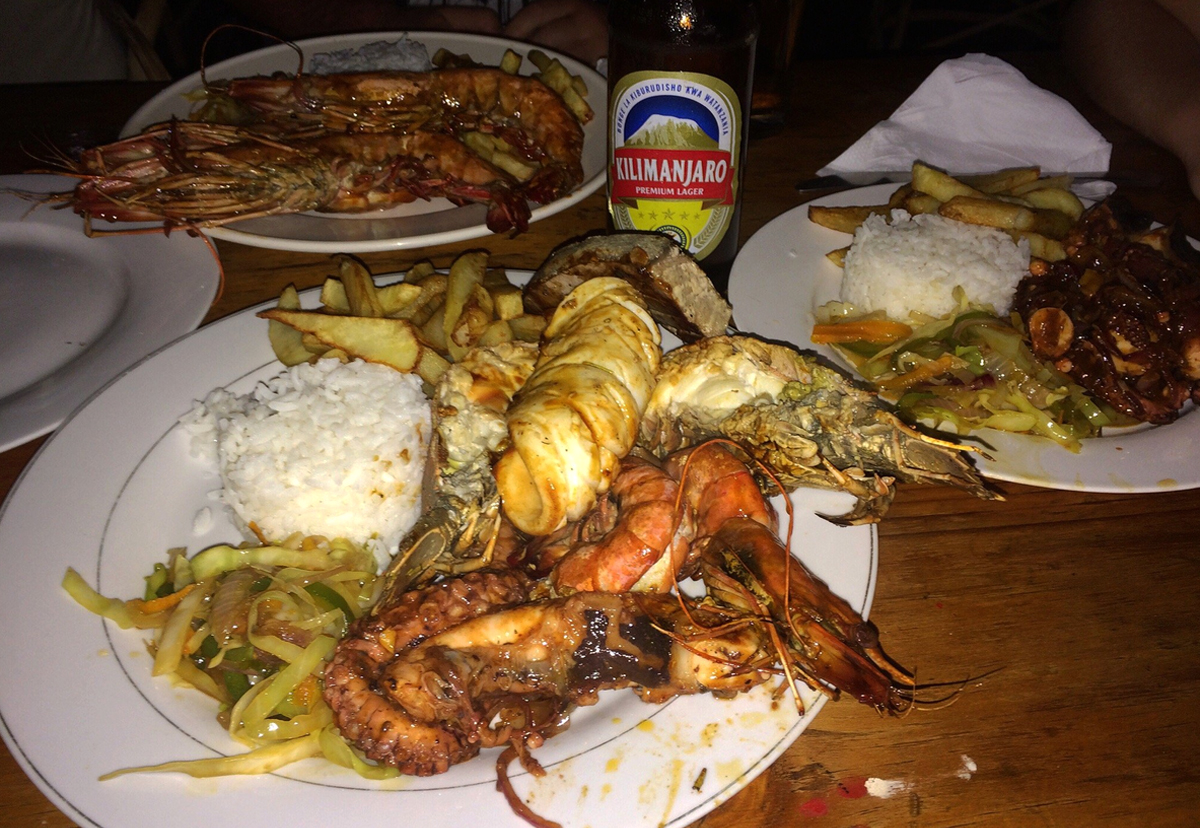 Fisherman lokal restaurant
Fisherman lokal restaurant is the epitome of Africa. On the one hand, there are tasty dishes of baby octopus and squid, tuna and shrimp caught in the ocean accompanied by rice, French fries and vegetable salad, cold juices, fizzy drinks and beer, on the other hand, there is an authentic interior with slightly dirty tables. But the portions are huge and the prices are pleasant – for two people you can have a hearty lunch or dinner for $40-50.
As a side note! Every day fishing boats are docked at the beach with their catches. Having bought fish or seafood from fishermen, you can ask the chef I know from the restaurant to prepare a special dinner just for you.
Entertainment
Zanzibar is a dream come true for diving and snorkeling enthusiasts. Thousands of people come here to dive in the crystal clear tropical waters and admire the underwater inhabitants. And one of the best places for diving is the reef near Kendwa Beach. This is home to sea urchins, turtles and stars, crabs and squid, butterfly fish and rays. The luckiest can encounter whale sharks, common and humpback dolphins, which migrate past the island twice a year.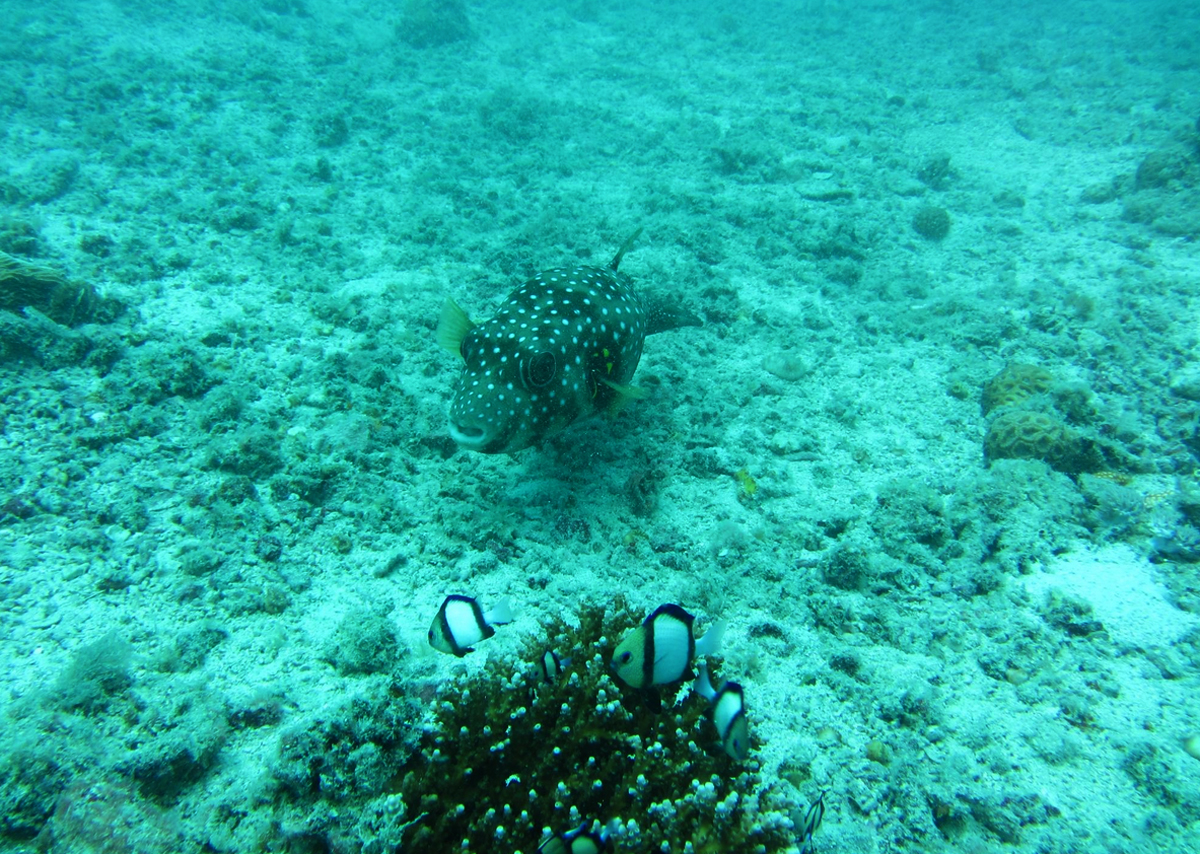 Contact a specialized dive center to enlist the help of experienced instructors who know the perfect dive and snorkeling sites, get the necessary equipment and ensure your own safety. Approximate prices for two dives are $100 to $150.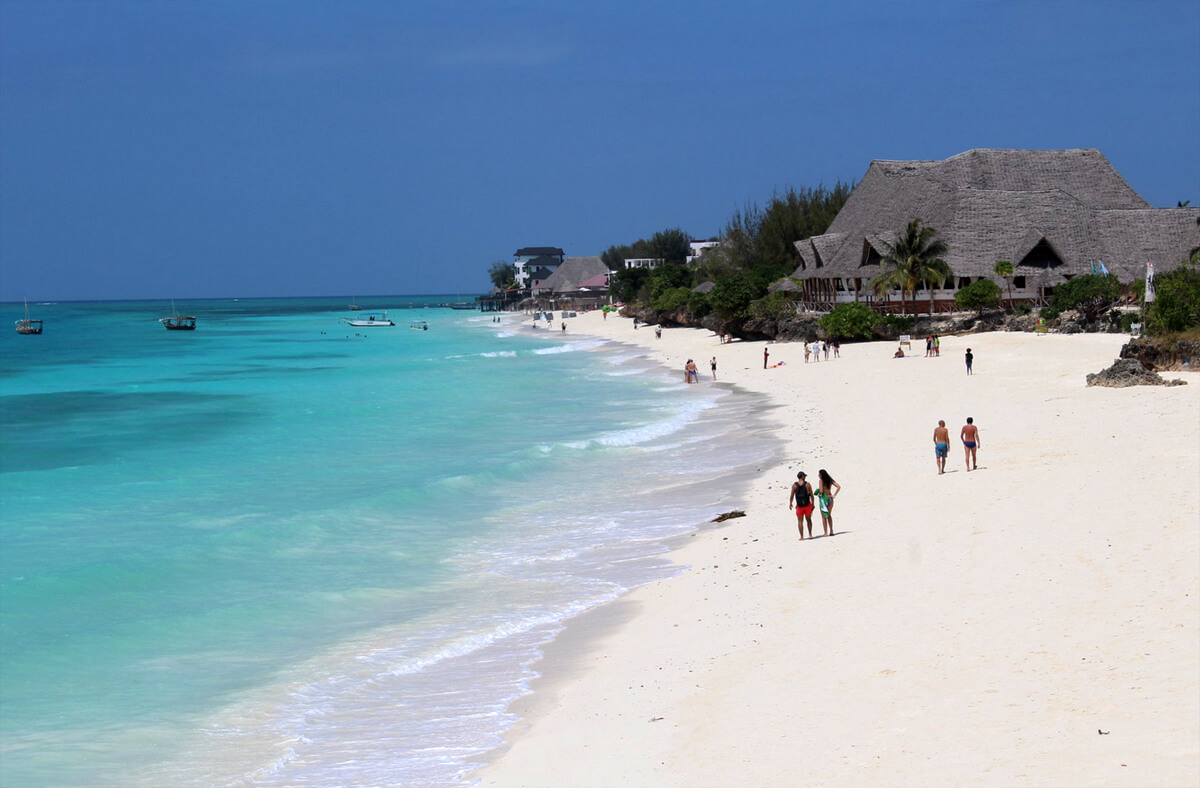 Tired of diving, at low tide you can take a walk to the nearby Nungwi Beach. It used to be an ordinary fishing village, but today the dilapidated houses have been replaced by hotels and guest houses, restaurants and bars, stores and souvenir shops. As the sun disappears into the ocean, the beach's peaceful atmosphere is infused with a party spirit, which is why tireless youths flock here. Proving which is better – Kendwa or Nungwi, many tourists quarrelled. Fortunately, the distance between the resorts of Zimbabwe is insignificant, so you can find your own answer to this question. For objectivity, we recommend a visit to the sea turtle aquarium and a dip into the club life of Nungwi.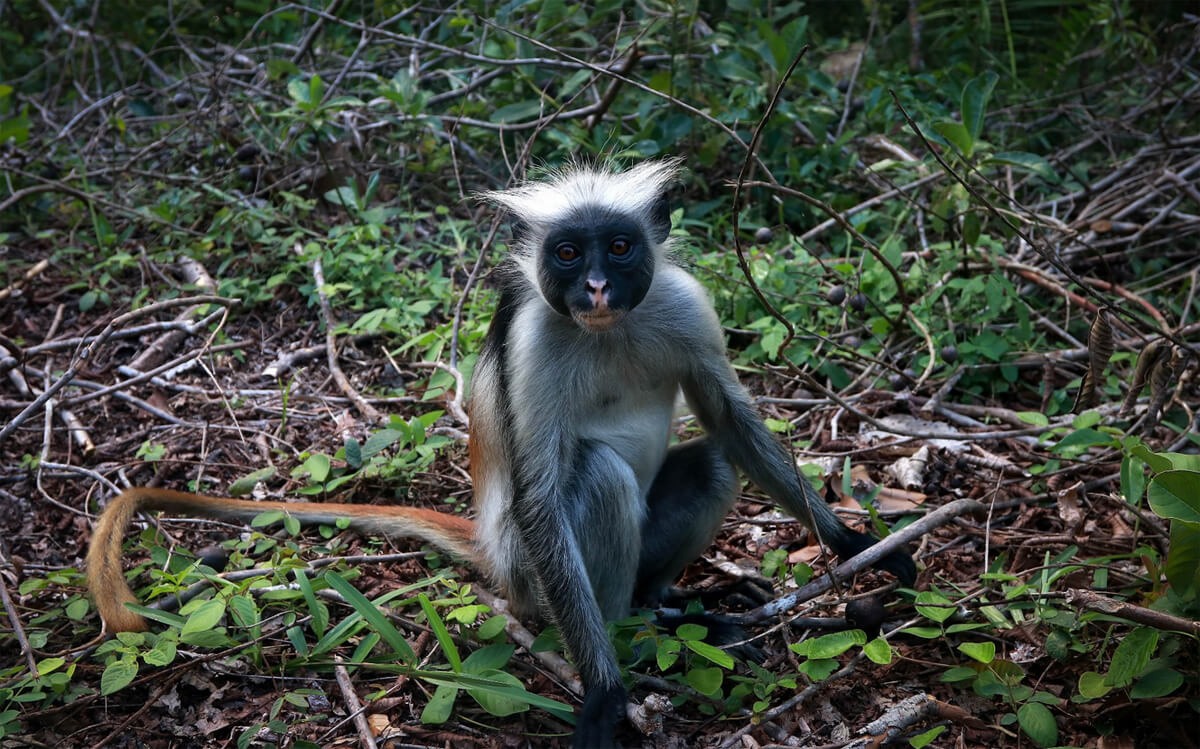 Jozani Chwaka National Park
Kendwa's excursion program is not too intense for the sophisticated tourist – you can take a drive around the island, get to the sights of Stone Town and Jozani Chwaka National Park, take a boat trip or go shopping, and go fishing. Given that local fishermen fish with nets, don't count on a big catch, but an interesting pastime is guaranteed.
Kendwa Beach
Kendwa is the most comfortable place for a beach holiday in Zanzibar. Piercing blue-green water, a wide band of white coral sand, palm trees in the sky, picturesque views, but most importantly – here the constant tides do not affect the desire to swim. Water does not go to many hundreds of meters, leaving behind a lot of algae and forcing to go to the pool.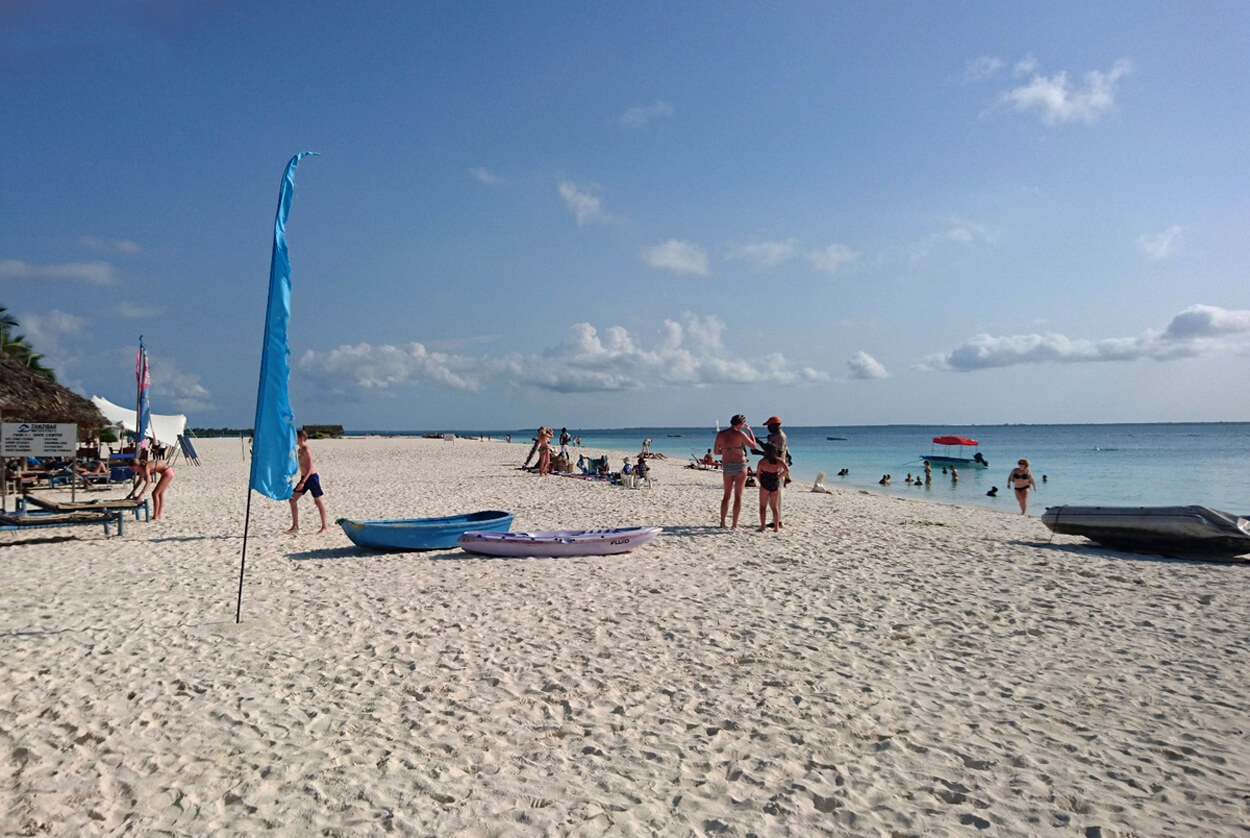 Note: The exact time of the tide is not known even by the people of Zanzibar. In the morning, the water can reach the hotels located on the beaches, and at lunchtime to expose the African sun a few kilometers of absolutely dry bottom. Kendwa beach is unique in this respect – here the tides are practically not felt.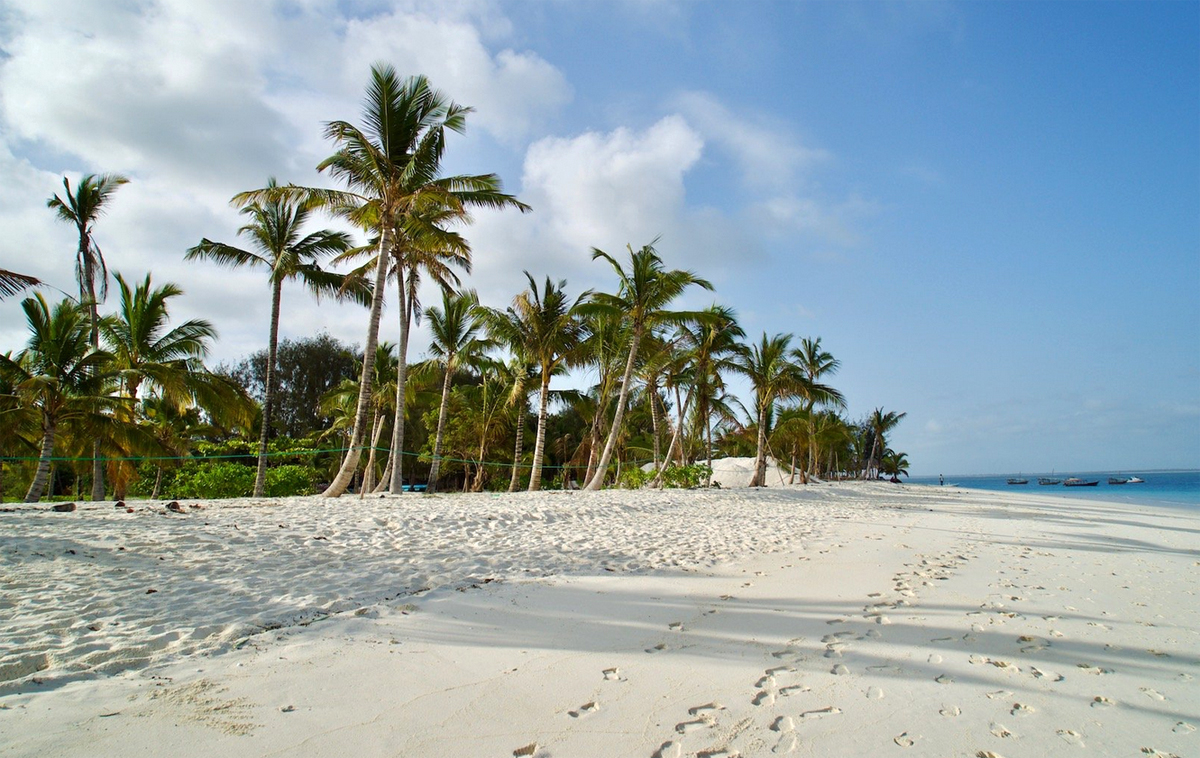 Another plus point is that Kendwa beach is a lot less crowded than Nungwi, although this beach can be considered the monopoly for water activities on the island of Zanzibar. Last but not least, the sand is always clean, there are plenty of sun loungers and umbrellas, and there are showers with fresh water.
Weather and Climate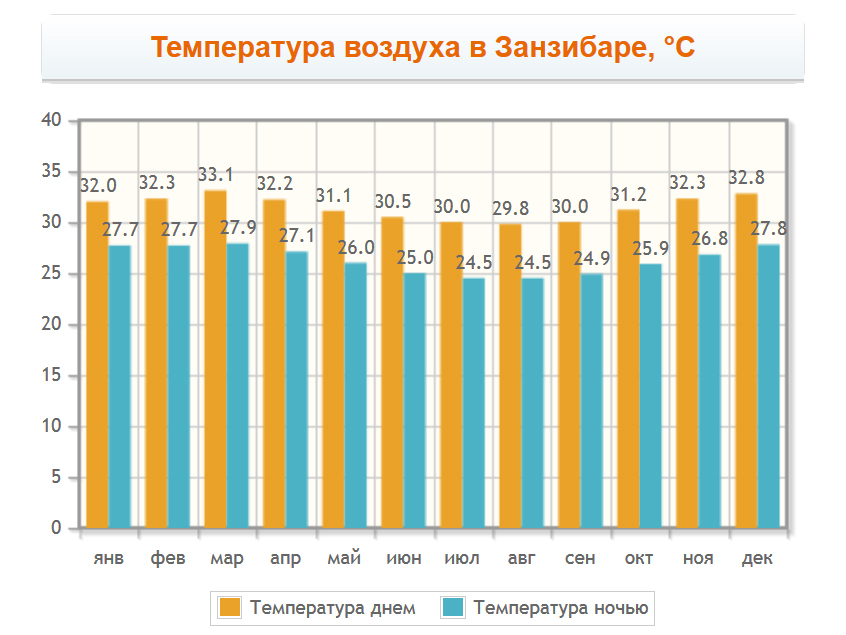 The climate of Zanzibar can boast of stability, so it is enough to know the months recommended to visit this island. Keep in mind that Zanzibar belongs to the Southern Hemisphere, meaning that the winter months there are hotter and drier than the summer months. From December to February the daytime temperature ranges from +28 to +37 ° C, from June to October – about +26 ° C.
During April, May and November days and nights there is rain. They can be so light or so heavy that hotels and entire islands are closed. Visiting Zanzibar at this time can become dangerous because of the activity of malarial mosquitoes. It is better to come here in September and October, during the winter months, the first half of March or summer.
How to get to Kendwa Beach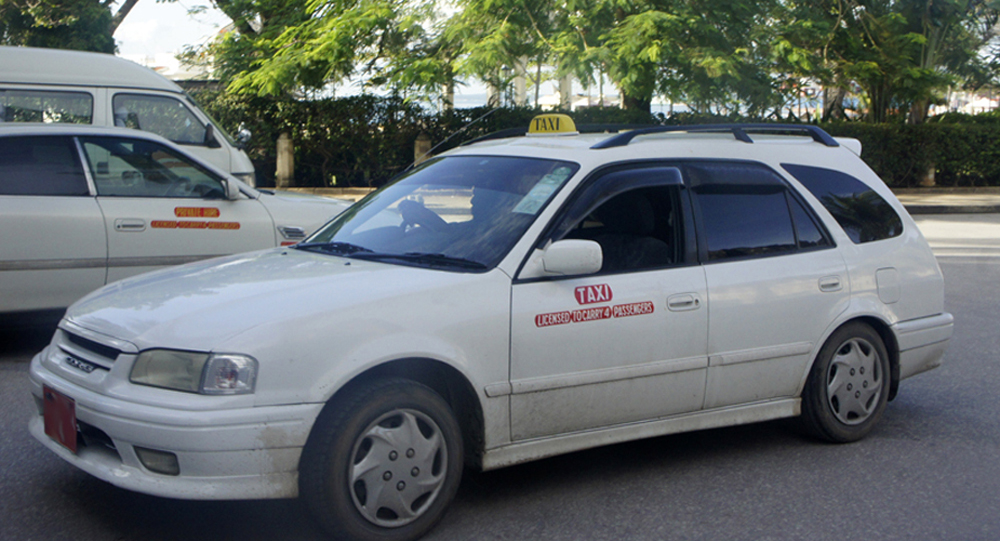 The fact that Kendwa is in close proximity to Nungwi has already been mentioned. Between these resorts there is a pier La Gemma Dell`Est, designed just to move from one beach to the other. In addition, from anywhere in Zanzibar you can get to Kendwa Beach by cab, catching it on the road or arranging with the drivers, who usually wait for customers in the central parts of the settlements. Keep in mind that cabs are not equipped with meters, so you need to negotiate the price in advance – it can range from $2 (if the distance is short) to $50.
Good to know! There are also official cabs with English-speaking drivers, air conditioners, tires and "Private hire" signs. For example the fare from Stone Town to Kendwa (about 60 kilometers) costs at least $70.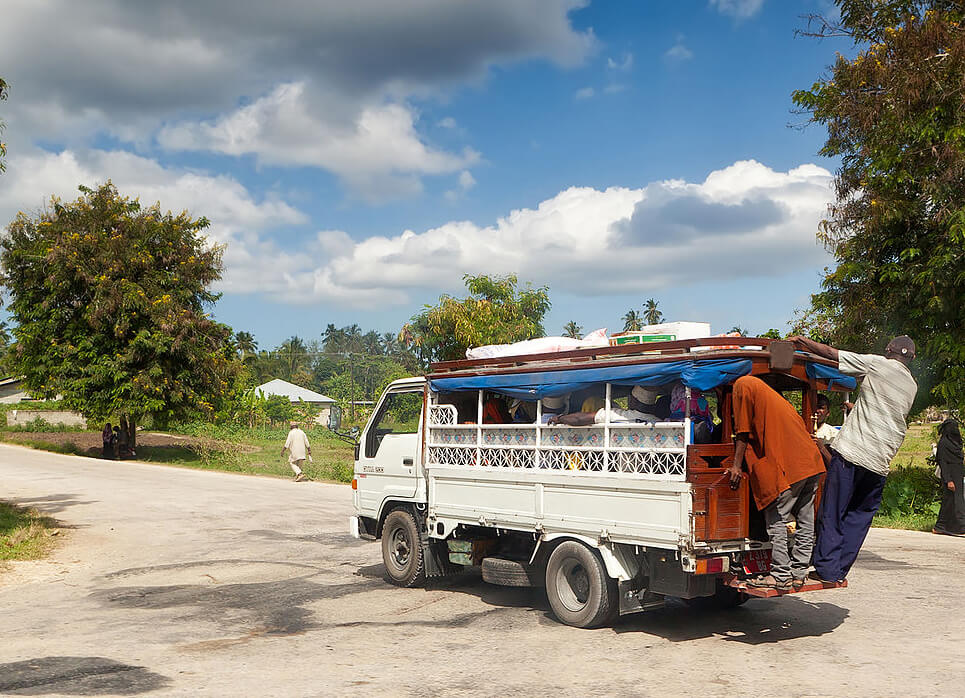 As for public transport, such concepts as "smooth roads," "regular routes" and "bus stops" on Zanzibar is practically absent. There are sites in the center of towns and villages where buses and Dala-Dala wait for passengers. Departures are as they fill up, stops are on demand, payment is to the drivers.
If you are in Stone Town, the capital of Zanzibar, you can reach Kendwa by cross-country car. Five kilometers from Nungwi you will see the main landmark – the first turn that will take you to the right point. If you travel independently in a rental car on this road you need to be very careful and cautious.
The prices on the page are for September 2018.
Author: Antonina Ivanko
Updated: 7 October, 2018 The main island of the Zanzibar archipelago is a traditionally attractive place…
Updated: 30 Jan, 2019 Zanzibar is an island in the Indian Ocean that is…
Updated: 5 Jan, 2020 The city of Bar (Montenegro) is a port city with comfortable…
In the Southern Hemisphere, washed by the waters of the Indian Ocean, the island of Zanzibar, the main…
Kendwa – Zanzibar's premier luxury resort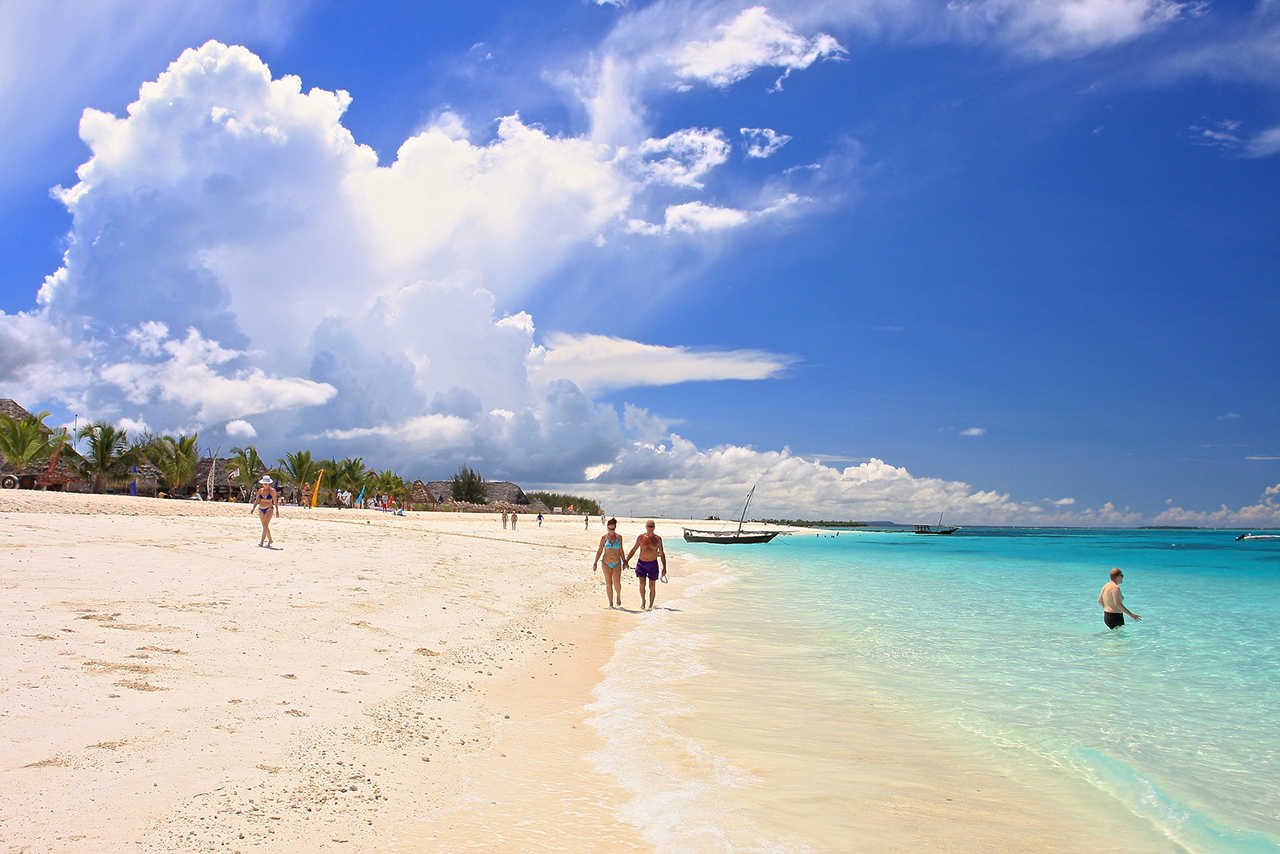 Why is Kendwa Beach the best resort in Zanzibar? We tell you about popular hotels, cafes, restaurants, entertainment, beach infrastructure and vacation prices in 2022. Tourist reviews for 2021.
Exchange rate: 1000 Tanzanian Shillings (TZS) ≈ 31 RUB.
Content:
Kendwa beach reviews in Zanzibar
Look for last minute tours on Level.Travel and Travelata services – they will find the best deals among different tour operators. Want to save money? Check out our 7 rules for buying tours online.
The famous "millionaires' resort" is located in the northwest of the island. According to 2021 tourist reviews, Kendwa Beach in Zanzibar is loved by fans of quiet, relaxing holidays and comfortable accommodations.
Pros of Kendwa Beach:
The tides are not pronounced (unlike many other beaches in Zanzibar!).
Sandy bottom and gentle entry into the water.
Wide strip of white sand.
There are 5* hotels and budget gesthouses.
Good cafes, restaurants and bars.
Beautiful and picturesque palm trees.
No algae, rocks, barnacles and sea urchins.
Excellent conditions for water sports.
Every evening you can admire the amazing sunset.
ALEXEY O: "Great clean beach with sand like flour, white and clean. The water is cleanest, the tides are small."
The minuses are few:
Due to the large number of boats, boats and jet skis, the water can be muddy.
Irritating vendors.
In the evening on the beach is empty.
oksanka.oksana: "There are catastrophically not enough deckchairs, so people take seats from 6 am.
Beachfront (Photo: TravelingOtter / flickr.com)
Hotels on Kendwa Beach
Kendwa Beach in Zanzibar is a high-end vacation destination. This resort will suit anyone who wants a perfect beach, golf courses, and lobsters for dinner. Kendwa has the most expensive hotels on the island, with accommodations ranging from $300 to $500 a night. The 5* all inclusive hotels are very popular with vacationers: Gold Zanzibar Beach House & Spa and Riu Palace Zanzibar. All attractions of the resort are within the hotels.
Hotels 3-4* and inexpensive resorts operate on a B&B system. There are outdoor pools, restaurants and bars.
The best budget hotels Kendwa in Zanzibar in 2022, according to tourist reviews:
Julia : "Loved the Sunset Kendwa Beach Hotel! The beach is the best around. The water on Sunset is amazing and the tides are almost invisible."
Bungalows at Kendwa Rocks Beach (Photo: booking.com / Kendwa Rocks Hotel)
Kendwa Rocks Beach Infrastructure
All beaches in Zanzibar are free – anyone can walk along the shore and swim wherever they want. Tourists prefer to relax in the hotel grounds, where there are sun loungers, sun umbrellas and showers with fresh water. Many sunbathe directly on the sand or on their own mats and towels. Learn about holidays with children in Zanzibar.
Cafes and restaurants are few and almost all are hotel-owned. Vacationers like the cuisine and service in the restaurants:
Kendwa Rocks Restaurant.
Fisherman lokal restaurant
La Fontana Zanzibar
Essence
Mocco Beach Villa & Restaurant
La Grande Luna Restaurant
Gold Restaurant.
The beach infrastructure on the island is underdeveloped, but Kendwa is an exception, so it can safely be called the most advanced African resort. On this beach you can do parasailing, snorkeling, rent a jet ski, ride "bananas", "tubers" and water skis. Tourists enjoy slipping through the waves on boards and canoes and surfing the ocean on sailboats and boats.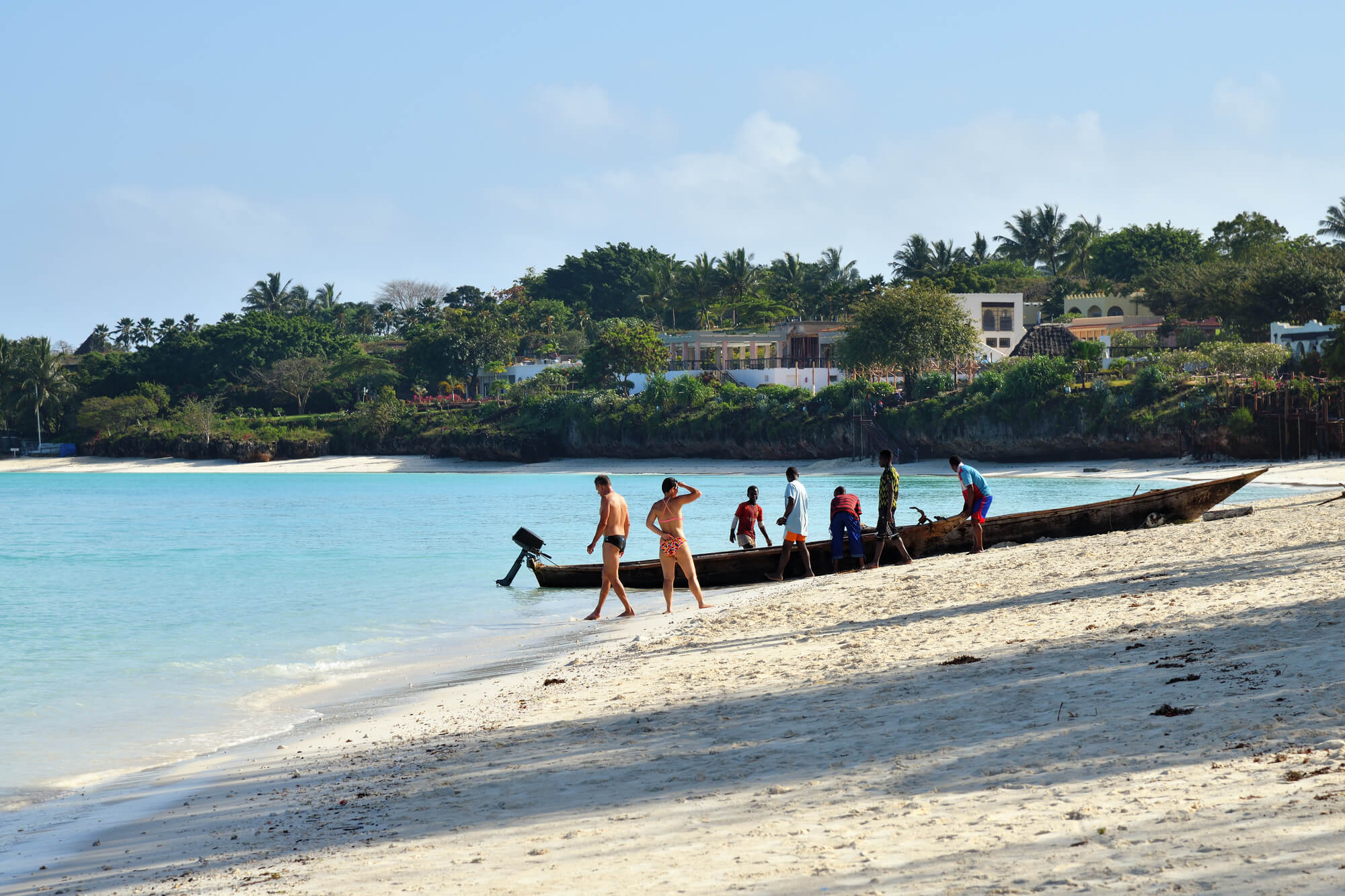 All beaches in Zanzibar are free – anyone can walk along the beach and swim wherever they want. Photo: znm666 / Depositphotos.com.
Diving enthusiasts enjoy the services of Team Aqua Zanzibar . The dive club has professional instructors and you can rent all the equipment you need. Two dives cost from 230-445k TZS.
The best place to dive is the coral reef, which is located near Kendwa beach. The clear water gives a great view of colorful plants, crabs, squid, butterfly fish, stingrays, starfish, turtles and sea urchins. Twice a year, whale sharks, common and humpback dolphins migrate past the island.
Prices for entertainment on the beach:
Flyboarding – 230k TZS for 20 minutes
Jet skiing – TZS 92k for 10 mins
jet ski hire – 115k TZS for 15 minutes
Banana boat rides – 34.5k TZS for 10-12 minutes
"flying boat – 230k TZS for 15 minutes
boat trip – 575k TZS for 70-95 minutes
beach volleyball – free of charge.
Unlike other beaches in Zanzibar, Kendwa has several stores that sell alcohol. Tanzania is a Muslim country, so liquor prices are high. Souvenirs are also overpriced. There are vendors walking along the beach offering sunglasses, pareos and pineapples.
There is a water cab service on Kendwa Beach. Other villages on Zanzibar can also be reached by land – by public buses and small trucks with a tent and benches, which are called dala-dala on the island.
Trade on Kendwa Beach. Photo: znm666 / Depositphotos.com. Women fishing at low tide. Photo: znm666 / Depositphotos.com.