Kenya National Parks and Safari Tours in Africa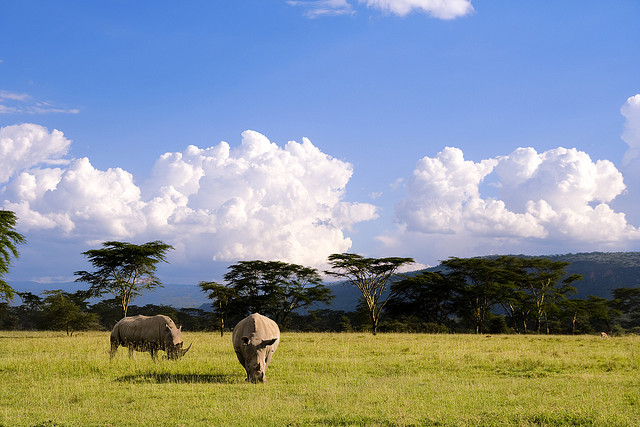 We describe the main national parks of Kenya and tell you about safari tours: what to take with you and how to behave on safari in Africa.
If you plan to include not only safari in your trip to Kenya, you may want to read our article about the best resorts in Kenya.
Kenya's National Parks
It seems that all of Kenya consists of national parks and reserves – no less than 60 of them! Of course, we will not enumerate all of them and describe the peculiarities of national parks in Kenya.
Nairobi National Park
One of the main national parks in Kenya (and the first – opened in 1946). It is noteworthy because it starts 7 km from the center of the Kenyan capital – you can see wild animals walking in the background of the stone jungle. In Nairobi Park tourists observe the migration of gnu and zebra antelope in July and August.
Tsavo National Park
East Tsavo, together with West Tsavo, is the largest national park not only in Africa but in the world – it covers 4% of Kenya's land area! The landscape of East Tsavo is interesting because of the Yatta Plateau, which was formed from solidified lava. Also notable is the Mudanda cliff. Western Tsavo is not like Eastern Tsavo – the landscape of the reserve is more hilly and rocky, there are more plants. The park is notable for the red color of the land and the so-called red elephants – animals lying in the red dust.
Who can be seen in this national park in Kenya on African safari tours? Elephants and Maasai giraffes, black rhinos, antelopes, monkeys and a variety of predators. The park is home to more than 500 species of birds.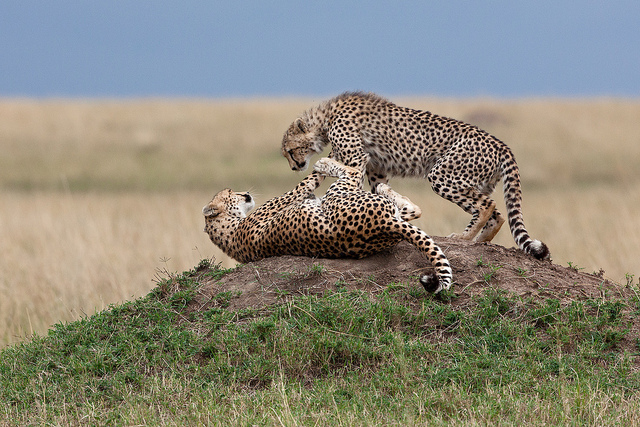 (Photo: Martha de Jong-Lantink / flickr.com / License CC BY-NC-ND 2.0)
Maasai Mara National Reserve
This African reserve is home to the Maasai tribe. It is one of the most famous national parks and is noted for observing the migration of wildebeest on safari in September and October. There are many lions, leopards and cheetahs in the Masai Mara.
Lake Nakuru National Park
People go to Lake Nakuru for a safari tour to see flocks of pink flamingos and pelicans. During peak season, about 1.5 million flamingos flock to the lake! The park is also home to rare white and black rhinos, Ugandan giraffes and a variety of feathered animals.
Amboseli National Park
The Amboseli National Park attracts tourists mainly because it offers a beautiful backdrop for wildlife viewing and photographing of Mount Kilimanjaro. In addition, you can get up close to herds of elephants grazing in the park.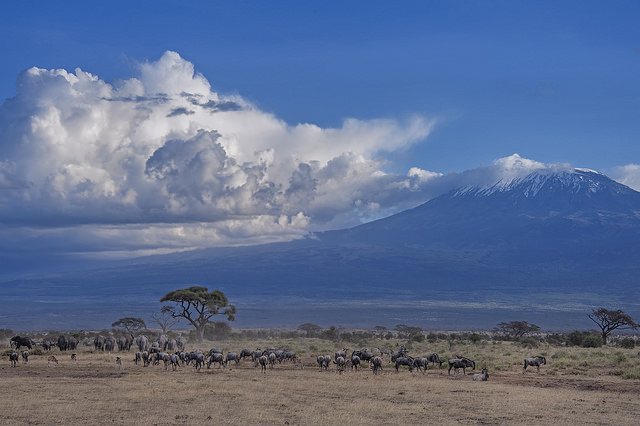 (Photo: diana_robinson / flickr.com / CC BY-ND 2.0 license)
Safari tours in Kenya: tips
What to take on safari in Africa
Food and water;
Personal belongings and hygiene products;
clothing according to the weather and season (it can be very cold at night), headgear and sunglasses;
camera with good zoom (300 mm lens is recommended);
binoculars.
On a safari tour in Kenya, take the minimum of items: there is not much room for suitcases in the car. It's best if your personal belongings fit into a sizeless gym bag or backpack no larger than 65 x 46 cm (weight – no more than 12 kg). You should also have a sleeping bag and pad, a backpack or purse for documents, money, notepad and pen, first aid kit, camera, etc. – what you will take with you into the passenger compartment of the car.
If you have poor eyesight, it is best to forgo lenses and wear regular glasses, as it can be dusty.
Clothing for African safari tours should be light dim colors (olive, gray, sandy), except for white – it can cause irritation to animals. It is desirable to leave as few exposed areas of the body as possible. Give preference to high light shoes, in which you can tuck your pants.
How to behave on safari in Africa
Leave your vehicle only in designated areas. You must not drive off certain routes.
Do not make any sudden movements and stick out your hands while watching the animals.
Do not feed animals or birds.
Do not shout or talk loudly so as not to frighten the animals.
If you spend the night in the tent, close it.
Do not leave windows open without nets.
Don't store food in your tent, and on a picnic, it's better to take your food in the car – remember that wild animals may come to smell it.
Try to get back to the campsite before dark.
You can read about the cost of safaris in Africa, using Kenya as an example, in this article. Read also about attractions in Kenya and Nairobi.
Kenya national parks safaris and beach vacations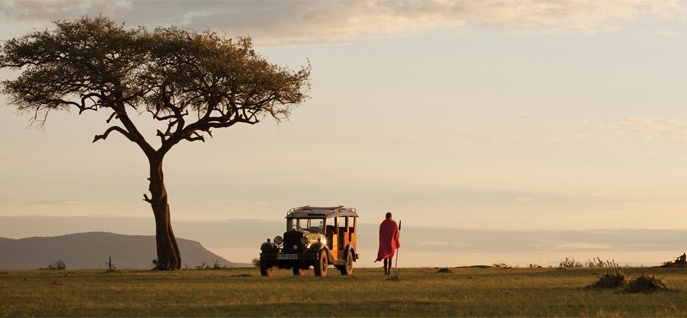 book
This is an individual trip, the date of which you choose yourself. If you wish, we can change any parameters of the program, adapt it specifically for you in terms of duration and cost.
Kenya's most scenic national parks safari and beach vacation on the shores of the warm Indian Ocean is a great option for an unforgettable vacation! We invite you on a fascinating journey through Kenya. During the safari you will see representatives of the "Big Five" of the African bush and explore the pristine nature of African national parks. The second part of the trip will be spent relaxing on the white sand beaches. You will stay at The Sands at Nomad 5*, one of the best hotels in the resort of Mombasa.
Combined tour to Kenya: safari and rest on the beach
Tour itinerary: Nairobi – Nakuru National Park – Masai Mara National Park – Nairobi – Mombasa.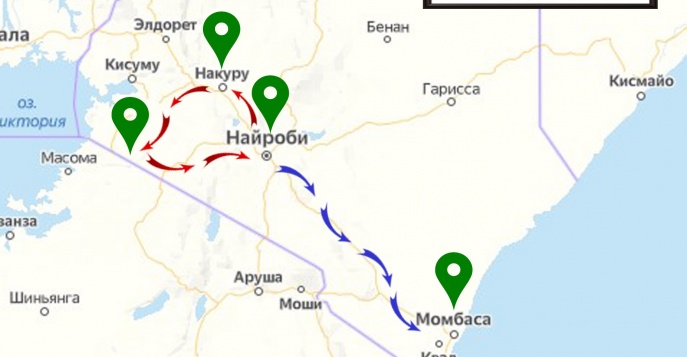 Type of tour: Individual or mini-group.
Tour dates in 2022-2023: daily (arrival possible at New Year and May holidays!).
Tour duration: 8 days / 7 nights.
Cost of the tour per person based on double occupancy:
Lake Nakuru Lodge (1 night).
Keekorok Lodge (2 nights)
Lake Nakuru The Cliff Lodge (1 night)
Kichwa Tembo Camping (2 nights)
Price includes:
Double lodging at the lodges during the safari (4 days/3 nights);
Accommodation in Mombasa in a 5* hotel (5 days/4 nights);
FB food (three meals a day) during the safari in the lodges;
EB (breakfast and dinner) in Mombasa beach hotel;
Transportation on the program during the safari in a special jeep for safari Toyota Land Cruiser;
sightseeing service on the program by an English-speaking guide-driver during the safari;
Transfer in Mombasa airport-hotel-airport;
taxes and fees.
Extras:
international airfare Moscow-Nairobi; Mombasa-Moscow (from 53000 rubles, Turkish Airlines);
domestic flight from Nairobi to the beach resort (from 3700 rubles);
alcoholic beverages (some lodges include, to be specified when booking);
services of Russian-speaking escort during safari at will (from 115 $ per day);
Visa registration ($50 for each person, will be done at the airport after arrival);
Other personal expenses;
medical insurance.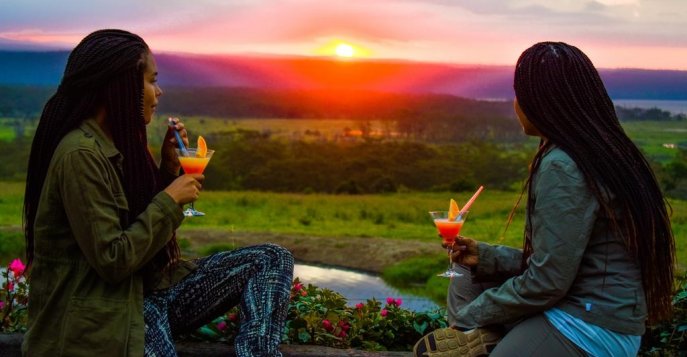 Program of the tour
Day 1
Arrival in Nairobi, our representative will meet you at the airport.
Transfer to Nakuru National Park (180 km, 3 hours).
Nakuru is situated on the African Rift on the shore of lake Nakuru which is the main attraction. Alkaline Lake Nakuru is part of the eight-lake system of the Great Rift Valley and is known for a huge variety of birds. Especially notable among them are pink flamingos, pelicans and cormorants. In good weather, more than a million pink flamingos can flock to the lake.
Primarily a bird sanctuary, Nakuru is also home to black rhino and boasts the largest population of leopards in Kenya. Other sightings include warthog, hippopotamus, lion, tompson gazelle, water goat, buffalo and giraffe.
Evening safari. Dinner.
Accommodation at Lake Nakuru Lodge/Lake Nakuru The Cliff Lodge on a full board basis.
Day 2
Breakfast. Transfer to the world famous Masai Mara reserve (260 km – 4,5 hours) located in the northern Serengeti Valley.
The park boasts the largest population of lions in the world.
The Masai Mara National Park with an area of 1,510 sq. km is located at an altitude of 1,650 m above sea level. Two rivers, the Mara and the Talek, flow through the territory of the park and are lined with acacia forests. The climate here is mild and warm and the Maasai Mara can be conditionally divided into three climatic zones: savannah, bush and river beds. About 80 species of mammals and 450 species of birds live in the reserve.
Here you can meet lions, leopards, buffalo, rhinos, elephants, antelopes, cheetahs, hyenas, jackals, giraffes, gazelles, hippos, crocodiles, impala and many other rarer animals.
Accommodation in a lodge. Lunch. Safari in the Mara Valley or down the Mara River.
Accommodation at Keekorok / Kichwa Tembo lodge/camping on full board basis.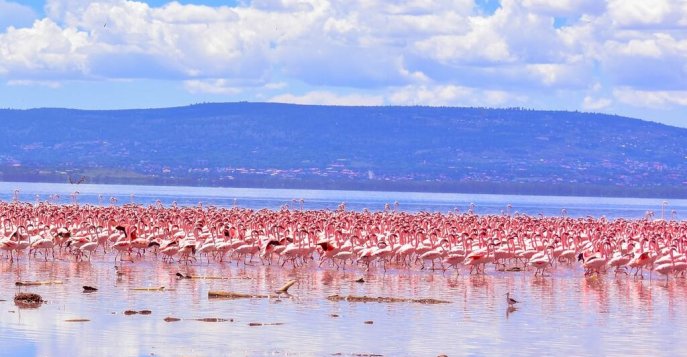 Day 3.
Full day safari in Masai Mara National Park.
Early rise. Snacks and tea/coffee in the lodge lobby.
Morning safari.
Breakfast at the lodge. Free time for rest. Lunch.
Evening safari.
Accommodation at Keekorok / Kichwa Tembo lodge/camping on full board basis.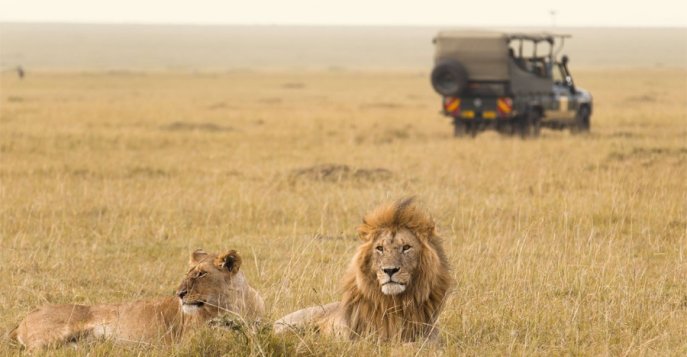 Day 4
Breakfast. Transfer to Nairobi (280 km – 4.5 hours).
Flight to beach resort (1 hour).
Arrival, meet at the airport by driver, transfer to The Sands at Nomad 5* hotel.
The Sands at Nomad is a comfortable hotel located in the heart of Kenya's pristine forests, on the coast of the warm Indian Ocean. "Akuna matata!" – this phrase from the popular cartoon translates from Swahili as "No worries!", and it has become a real motto of the hotel complex.
Rooms and bungalows are spacious and individually decorated. They feature mahogany furniture blended with Swahili design. Amenities include a minibar and air conditioning. The private bathroom with shower is complete with hairdryer and towels. A tropical breakfast is served in the main restaurant, which is also open for lunch and dinner. There is a sushi bar and a pizzeria on site. The pool bar offers cocktails, refreshments and snacks.
The hotel complex offers a range of sports and water activities on the warm Indian Ocean. For divers there is its own boat park and the world famous PADI and SSI center. Windsurfers and kite surfers will enjoy the on-site H²O Extreme base.