Recreation on Koh Samui and reviews of tourists.
Samui – an island in the Gulf of Thailand, which is part of the province Surat Thani, adjacent to the islands of Phangan, Tao and a scattering of islets in the National Marine Park Angtong. The main value of Samui is considered a great variety of beaches and well-developed tourist infrastructure.
The central part of the island are the hills, up to 600 meters high, and the space around the mountains is suitable for development. The island is becoming more expensive every year, confidently holds the title of boutique island, but at the same time can not beat the problem of waste management.
Preparing for your trip
Description of the resort and why go to Koh Samui
Samui and Phangan are the only major islands in the southern Gulf of Thailand. All the others are far to the north and are drastically different both in climate and the composition of tourists who come for vacation (Ko Chang, Ko Kud). Or are located on the opposite side of the mainland, and also differ in climate and geographical features (Ko Lanta, Phi Phi, Phuket).
With transport, on Koh Samui you can always find a swim beach, even at low tide, and the choice of beaches will satisfy the savages, and fans of swimming, and moms with babies.
On Koh Samui about forty beaches. The deepest are in the north (Menam, Bo Phut) and the east (Chaweng, Lamai), and shallower, but more beautiful – in the south (Bang Khao) and west (Taling Ngam, Lipa Noi). The southern part of Koh Samui is dominated by flat terrain with occasional hilltops, while the northern and central parts of the island are hilly with flat areas along the beaches.
The infrastructure of Samui is concentrated in the northeast and east, while the southwest is still considered a stronghold of introverts and delights with huge stretches of palm groves, in which houses are sometimes found.
The beaches on Samui are developed, with beach equipment rentals and water attractions, bars, discos and stores. There are quiet, family-friendly, with plenty of shade and a moderate infrastructure. And there are quite wild, deserted and incredibly beautiful.
Samui is good because with all the variety of preferences, each tourist finds the "that" place that he will return again and again. Samui – a very different island.
Koh Samui is great for vacation. If it gets bored, from any pier in the north you can run to Pangangan – a wilder version of Samui. Or go snorkeling on Ko Tao, a wilder version of Pangan. Or take a trip to the islands of Angtong Park, a wilder version of Ko Tao.
That is, the appeal of this resort is that you can always up or down the degree of comfort. From cheap bungalows in west Pangan to luxury hotels in northwest Samui. From paved highways to rugged potholes, from a reggae bar in the cliffs to a posh restaurant on a rooftop, you'll find it all.
Which beach to choose
Choosing which beach on Koh Samui is a simple decision, but it requires a few things to be clear: are you going to rent a car, is civilization important and the last is how important bathing ability of the sea is. All questions are relevant only for vacationers, because for the winter is a different approach, with an emphasis on longstay and practicality.
I say right away – if you plan to rent a scooter or car, you are open to all the beaches of the island, which is a huge plus, because the beaches of Samui can behave differently at the same time of day.
If you plan to walk, you care about infrastructure and daily swimability of the beaches, then you should first concern yourself with choosing the right month for the trip (see the section on the climate), and only then choose from five of the most popular beaches of Samui. Those where 90% of tourists go: Manam, Bo Phut, Chong Mon, Chaweng and Lamai – all beaches I have described in detail in separate articles.
In short, Manam is: deep sea, shady shore and average infrastructure; considered a family beach. Bo Phut is the same as Manam, but with a more developed infrastructure and is considered a hotel beach. Chong Mon is located on the outskirts, there is a lot of shade, it is shallow and therefore considered a children's beach.
Chaweng – the party, youth, very beautiful beach in the east, and Lamai – a smaller version of Chaweng with a deeper sea. On all five beaches you can live for two weeks without renting a car, without lack of services. They are closest to Samui Airport and shopping malls. All the beaches are deep, except the shallow Chong Mon, which is noticeably prone to the tide.
If you do not care about infrastructure, and you went to Koh Samui for solitude and beach holidays, the bathing beaches are in the wilder parts of the island. I should point out right away that all the beaches that are not in the top five above are not as deep and tide-prone. In the west of Samui – Tong Yang and Lipa Noi, not crowded beaches with a clean bottom, no rocks, with sunsets and rare villas on the shore.
To the north are the beaches of Bang Po and Ban Tai. Bang Po is an introvert's paradise with lots of restaurants on the beach, and Ban Tai is a children's paradise and a beautiful sea with white coral sand on the beach. In the south – Bang Khao, however, for swimming is not suitable for the entire length, but where the bottom is more or less cleared of rocks. It is a charmingly deserted area with sparse development and large patches of jungle.
How to choose a hotel or house
The neighborhoods around Chaweng and Lamai beaches offer a wide variety of hotels at every level, as well as some of the island's best tourist amenities. Besides the infrastructure, Chaweng and Lamai are the most sought after areas on the island.
They are followed by the touristy Chaweng Noi and Lam Nan on the edges of Chaweng. Also popular are Bang Rak and Bo Phut – dense development, lots of entertainment and close to hypermarkets.
With condos on Koh Samui is not yet very dense and the basic offers are waiting for you on Manam, Play Lam and Chaweng. Large villas are not common on the coast. Townhouses are found only in large communities, while resorts and houses are the most common type of accommodation on Koh Samui.
For family winterers (arrival time of 1 month or more), I would recommend Menam, Bo Phut or Lamai. These beaches have great infrastructure, a large flat area with a huge selection of accommodations, and these beaches are among the top five beaches on Samui. Chaweng I do not recommend because of its uncomfortable and restless. A lot of noise, dust, dense urban development.
For winterers without children, the outskirts of Chaweng, Lamai, Manam and Chong Mon – if it's important infrastructure and the beach. The villages of Bang Khao, Tong Yang, Bang Po, Ban Tai – poor infrastructure, but beautiful beaches. Detailed breakdown of renting a house on Koh Samui I have in my article Features of renting a house on Koh Samui, and a selection of houses for renting on their own – in the Directory of houses on Koh Samui.
There are several types of accommodation available to you on Koh Samui, each with its own advantages and disadvantages: hotel, resort, apartment, private house, townhouse or villa. If you go to Koh Samui not longer than two weeks, the easiest way to book a hotel (with houses more complicated), it remains only to understand – on what beach. But when the term of 30 days or more it makes sense to think and re-select options.
You have only 2 options how to rent a house / apartment in Thailand: through a realtor in advance or on your own on the spot. In the case of the realtor housing will be waiting for you on arrival, no hassle on vacation. But remember, there are a lot of cheaters now, so transfer money only to trusted realtors.

If you decide to look for yourself, then be prepared to comb the area 2-5 days in a row in the 30-degree heat. And that everything is occupied.
How to get to Koh Samui
Samui is about 700 km from Bangkok and 350 km from Phuket. And Bangkok and Phuket are the only two places in Thailand where direct flights from Russia fly.
Samui also has an airport, but it is owned by Bangkok Airways, which are essentially a monopoly and few people are allowed there. Therefore, a flight to Koh Samui will always have a connection and will always be more expensive than flights to Bangkok or Phuket. Look for such flights on Aviasales. Look for flights to Koh Samui with a single ticket.
There are other more complicated ways to get to Koh Samui. For example, you can fly to Thailand with one ticket (to Phuket or Bangkok), and then by land (bus/train + ferry) or by air again (direct or connecting flights).
From Bangkok on land travel will be about 1000 baht, by plane with a change of 1,500 baht, and a direct flight to Koh Samui at 3500 baht. Here I have a detailed post on how to get from Bangkok to Samui and from Phuket to Samui.
Speaking of comfortable ways, especially when traveling with children, I recommend buying a ticket from Russia straight to Samui, or taking a ticket to Bangkok or Phuket, and then another ticket from Bangkok Airways, which will take you straight to Samui airport. All other ways are a pain.
Climate and weather in Koh Samui
Ignorant people think that because of the small size of the kingdom of Thailand there is no special need to study the weather characteristics of each resort separately – and in vain.
Koh Samui's weather differs from the general weather reports, so many tourists are surprised by the excessive rain in November and December, when many come here to wait out the winter or spend the New Year holidays at the sea.
For 10 years I spent 16 hours a day making travel guides. 1.5 years ago I was almost killed by a stroke. I survived, but am struggling with paralysis.
If my blog helped you, I would appreciate a donation. You can pay with a card of 100 rubles, 500 rubles or 1000 rubles.
In the cold months the temperature drops to 23-26 degrees, and in the hot months it reaches 30-32 degrees. Such changes bring a smile on the faces of people who just came from -20 with knee-deep snowdrifts, but the island's longtime residents suffer from the cold.
If you arrive for the winter in September – October, you have time to more or less acclimatize and experience the horror of Thai winter, when the house is cold to walk on tiles, you have to wear socks and sleep under a blanket.
The hottest months on Koh Samui are from late February to April. The rainiest – from November to mid-January. Summer is considered a period of monsoon rains in Thailand, but on Koh Samui this translates into clear cloudless days and brief daily rains in the evening or during the day.
More clouds and rain begins in late September, October is not very happy with good weather, November – peak rainfall, December – the amount of precipitation begins to diminish.
In the winter months, almost all the beaches of the island "enjoy" a high wave, and do not listen to local realtors, who write about the November showers "it rains a little more often than usual" and "nice to jump on the waves" – no, it is not nice. Dirty, churning sea with foam and some junk that washed off the island with the recent rain – it's unpleasant.
Of course, there is always the chance of a change in the weather, which is happening more and more because of global warming. November can be almost dry and March can be upsetting with cloudy weather, but from past observations I would advise to focus on the climate I described above.
A little tip from me: look out for Koh Samui during the summer months. This period is not very fond of our travel agents, who need to urgently vparlyayut Turkey and other seasonal resorts, which in summer are flying like hotcakes.
But Samui in the summer months is one of the most beautiful places in Thailand: a lot of sunny days, rare rains, amazing colors of nature, the seasonal decline of tourists and, consequently, lower prices for everything.
On arrival at the resort
How to get to your hotel
Samui Airport is located in the northeastern part of the island. And although it seems that Chaweng, Lamai and Bo Phut are right next to it, but you will either have to take a taxi/transfer or cram into a minibus, which is usually adjusted for flights. And if you want to get from the pier (when you're on the ferry), the distance is pretty decent and it takes a whole hour to get to Chaweng.
So, to get to the hotel on the island there are several ways. The cheapest is the mini-bus at the airport, will cost 150-200 baht per person. Cab at the airport will cost from 500 to 1200 baht, depending on the mileage. The transfer from the hotel, which is booked at the time of booking the hotel, the most expensive way, closer to 1500 baht, and it does not depend on the distance. All options are described in detail in the post how to get from the airport to the hotel.
There is another option, a transfer from the well known transfer service Kiwitaxi. You will be met with a sign with your name on it, take your luggage to the car and bring it to the hotel. You don't even need to know English, the driver knows your way around. I have used them more than once, here is my review.
What to see from the sights
If you're an unsophisticated person, the sights on Koh Samui will be enough for the whole vacation and even for the winter. But if you've been to the north of Thailand, or have had time to travel around the world and see large-scale attractions, you will need to get used to the fact that the island in reduced size.
Waterfalls, lakes, caves, temples, mountains – it's all local, seasonal and unimpressive. Probably half of the attractions on Samui are man-made objects, and they are not always in an interesting design.
The best places in Samui are included in the sightseeing tours of any travel agency, which are not very expensive. If you are new to the island, it is better to take a tour once and see everything at once. It includes a transfer and you do not have to bother with moving, because with public transport all is bad.
If you're good with google maps and a navigator, you will have something to do on the island.
When bored with Samui itself, you have its beautiful brother Phangan, which is not so aggressively built up with houses and bars. Pangan is about 30 beaches and nearly two-thirds of the island is covered with jungle; a wild place, you will love it.
And besides Pangan there is more distant from Samui island of Tao, the mecca of the local divers and snorkelers. And if you want a "rip the head" and the complete lack of inhabitation, around Koh Samui are a few small satellite islands and the National Marine Park Angtong – there in the wilderness and the beauty of pristine.
Where to eat, what cafes
Recommending cafes and restaurants is a thankless and risky business. Today I like their cooking and friendly service, and tomorrow the same staff will be in a different mood, or there is no one to look after them from the bosses, or even change the owner – and here begins disagreeing with my recommendations.
So, keep in mind the fact that the listed establishments were working and were perfect at the time of your visit, and if you're unlucky with them – that's the will of Buddha.
There's not much point in listing all the decent restaurants and places on the page, so pick the closest one on my map and go inspect. On Samui you can surprisingly pay a lot of money for tom yum in half a pineapple, sitting at the table of one of the top rated restaurants, and not get any pleasure.
But in an inconspicuous cafe on the side of the road, without advertising and the name on the front, you can find a crowd of Thais, who are eating at the cheeks of some Thai grandmother's cooking.
If you're a fan of chain fast food, then on Koh Samui there are McDonald's (Chaweng and Lamai), Burger King (Chaweng) and a Starbucks coffee shop near Big C. But I'll put my five satangs in at once: the coffee in Starbucks is disgusting, and the food in McDak is very strange and absolutely different from usual for me Moscow McDak. The food is more or less tasty in Burger King, where I did not notice any difference with the snacks I am accustomed to in Russia.
On-site transportation
Of course, as elsewhere, the most popular transportation is a rented bike. With motorcycles is always easier than with the same cars: no large deposits, low prices for rent and repairs.
In principle, on Koh Samui there are no problems with divorce, so scooters can be rented almost everywhere, for example, at the reception of the hotel where you stayed, or through the owner of the resort / house / villa. The main thing – avoid rentals, where you have a passport for collateral. The price of about 200-300 baht / day.
Rent a car is more expensive, but comfort is quite different – air conditioning, trunk, a lot of space, etc. Especially handy if you have a child, or you go to a long distance (on the mainland). To be honest, a lot of people go with a child and a bike on Samui, but I would not take any chances, but you see for yourself.
The best way to rent a car is to rent a car from an international company with a worldwide reputation, so you won't have any problems with contracts, insurance, etc. They are located at the airport. In addition, you do not have to search for anything and read the reviews. The cost of about 800-1200 baht / day, the more days, the cheaper. The same price for a private car, but the risk is higher.
Rent for a long period of 1-2 months or more is already more interesting (that is cheaper) in small local companies or private individuals, but candidates among them is very desirable to choose by review. There are rentals that rent their own cars, and there are those who work for a percentage of rent, and when a client simply contact those rentals who have something suitable.
It also happens that the car is sublet, but you can not do so. How it is then resolved in case of problems, no idea.
Public transportation on Samui is absent as a class. More or less in that area work songteo (pickup buses), but they do not go around the entire island. The routes are divided into two main sections: Natong – Chaweng and Chaweng – Lamai, they pass through the northern part of the ring road.
There are no tuk-tuks (three-wheeled scooters) on the island. There are motorbike-taxis and minibus shuttles, but otherwise, people move in their own or rented vehicles. That is why I am always surprised if a person intends to look at the surrounding area, but does not want to rent vehicles.
Map of Samui
P.S. Ask questions, I will add if anything is missing. And leave your feedback on your vacation to Koh Samui, how you like it or not
Choosing insurance is difficult, so to help you – my top insurance in Asia. I constantly read forums and use insurance myself. From experience, the best place to buy in Polis812. They accept Russian cards.
Large database of hotels are on Yandex.Travel. Keshbek 10-30% points Yandex. Also need to check prices on the Russian copy of booking Ostrovka. All accept Russian cards.
Tips for vacations on Koh Samui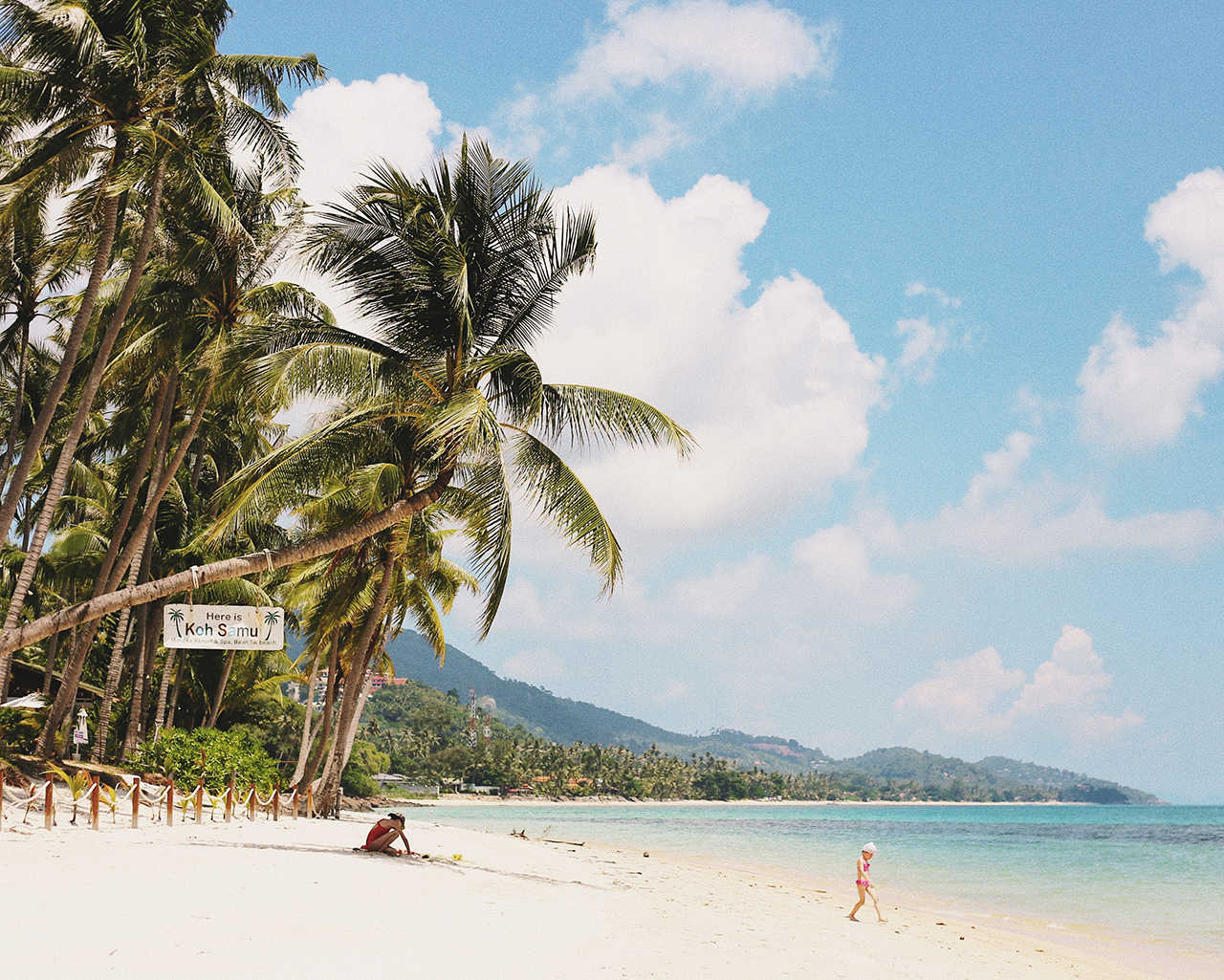 Read tourists' reviews of Koh Samui. What they write about the weather, hotels, beach, sea, excursions and activities on one of the most popular resorts in Thailand. Pros and cons of vacationing in Samui in 2022.
Content:
Samui weather reviews
Thailand is located in the zone of subequatorial climate, so the summer here all year round. The air temperature on Samui is kept around +30 ° C, and the sea water is always warm +26. +30°С. The weather on the island is determined by tropical monsoons.
From mid-November to March, it is the Thai winter, when the air temperature is the lowest. In February and March, there is almost no rain, and the temperature is +24. +30 ° C – this is the high season on Koh Samui, when a lot of tourists come.
Natalia: "March on the island of coconuts pleased with sunny weather and excellent sea in the area of Chaweng Beach. For thirty days, not a single rain. Swimming was just a royal pleasure."
Samui (Photo: unsplash.com / @jetsetcreate)
In April and May it gets very hot +32. +34°С. Humidity increases, but the real rains are still far away.
According to tourist reviews, holidays on Koh Samui in June, July and August are as good as in winter. In summer, the heavy tropical downpours are short, in the evening or at night. In an hour or two the roads and vegetation become dry.
Irina Zimina: "The horrors associated with the rainy season are clearly exaggerated. The heat is quite bearable. It did not rain a lot. It rained for a couple of hours".
The main monsoons are in the fall. During the rainy season, from October to January, the humidity increases to 80-90%. However, season upon season, the weather is capricious: sometimes the rainy season is supposed to start and there is no rain, and vice versa. Remember that during the rainy season there can be floods, so choose accommodation on a hill or on stilts.
Long-tail boats on Samui (Photo: unsplash.com / @anthonydelanoix)
Traveler reviews of hotels on Koh Samui
Look for last minute tours on Level.Travel and Travelate – they will find the best deals among different tour operators. Do you want to save money? Study our 7 rules for buying tours online.
Any traveler will find an overnight stay on the island according to their needs – from budget gesthouses to luxurious 4-5* hotels. "All inclusive" in Samui hotels is a rarity. Tourists are usually offered breakfast, less often – half board.
To make your vacation on Koh Samui in 2022 a success, study tourists' reviews of hotels and make your choice.
Lena_kyla N : "The territory Sheraton Samui Resort 5 * is beautiful, well-groomed. The road from the upper building to the sea took 10 minutes. Cozy green path with a cascade of waterfalls.
Tatyana540 : "In the hotel Buri Rasa Village 4 * lived in a room with a pool, but to be honest, he never used. Sin to lie in the pool, when next to a wonderful beach with warm water and white sand.
Janaa : "Stayed very happy at First Residence. Ideal for 3*.
Sheraton Samui Resort (Photo: booking.com / Sheraton Samui Resort)
Tourist reviews of Samui beaches and the sea
The best beaches are on the east coast. The most famous of them – Chaweng – stretches for 6 km. Day here to swim, sunbathe, ride aquabikes and windsurfing. In the evenings on Chaweng open discos and bars.
According to tourists' reviews, popular beaches for holidays with children on Koh Samui are Lamaye, Menaem, Lipa Noi, Bang Po, Bang Thai, Taling Ngam, Chong Mon and Laem Nang.
nikokay-a: "Coral Cove beach is clean. The bottom is quite coarse sand and the water is clear. There is a place for kids to hang out.
P8560NO_: "Malibu beach is not crowded and very beautiful. Ideal for photo shoots, as the Bounty is at every turn."
Ban Thai Beach (Photo: unsplash.com / @taylorgsimpson)
Tourist reviews of Koh Samui excursions
Look for author interesting excursions on Tripster. Individual and group, no crowds and in Russian. Find out about the best excursions in Samui.
Tours of the island and boat trips are offered in all travel agencies. According to reviews of tourists on Koh Samui popular trips to the Big Buddha, Laem Sor Temple and Ang Tong National Park. Many people like to travel to the islands of Koh Tao and Nang Yuan.
To plan your Koh Samui vacation in 2022, check out our Koh Samui sightseeing reviews.
Igor : "The Samui First Acquaintance excursion is wonderful, with a great program. Special thanks to the guide. Very energetic and knowledgeable about his job." Read more about the tour →
Romar : "Ang Tong National Park – overall it was good. I would recommend to others." Read more about the tour →
Daria : "Jeep safari is a meaningful tour. Be sure to take a ride on the roof of the jeep. It is an unforgettable experience. Read more about the tour →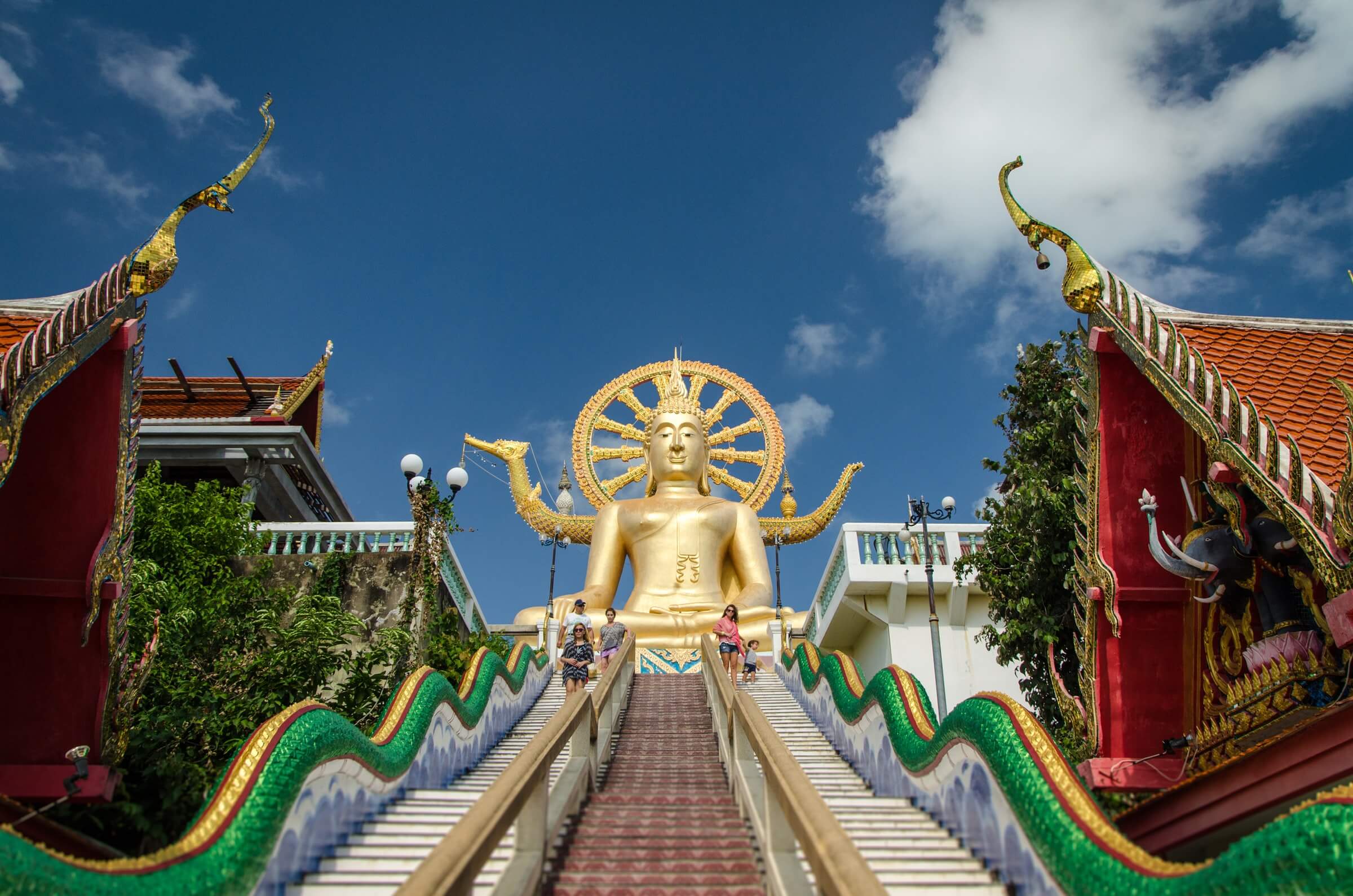 Stairs to Big Buddha (Photo: unsplash.com / @cobblepot)
Tourist reviews of activities
You can't get bored on Koh Samui! You can visit Buddhist temples, ride elephants, see drag queens, a snake farm, and a butterfly park. See a collection of tropical fish at the Oceanarium, crocodile farm, and tiger zoo with your child. If you like active holidays, go snorkeling on coral islands or windsurfing.
Vladimir2509: "Wat Plai Laem is probably the most beautiful temple complex on Samui. Interesting to feed the fish, a plate of food is 10 THB, the kids love it."
Elena230894: "If you like to fly like a bird through the jungle, I recommend Skyhawk Adventure ropeway.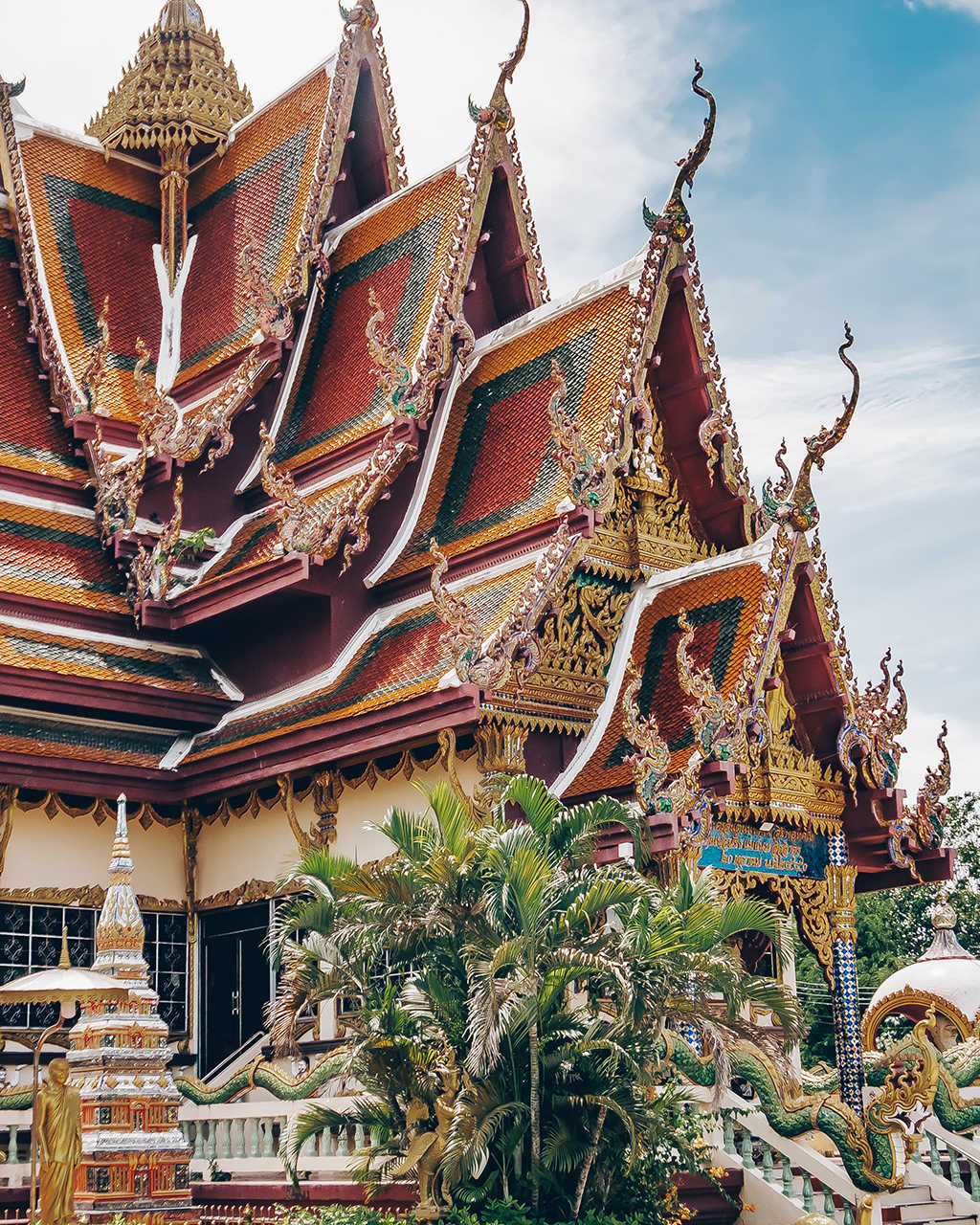 Wat Plai Laem on Samui (Photo: unsplash.com / @tufo)
Pros and cons of vacationing on Koh Samui
Most tourists who have been to the island, left positive reviews of Samui. Thai resort likes families with children, active travelers and beach lovers.
The pros of vacationing on Koh Samui in 2022, according to the reviews of tourists:
The opportunity to vacation all year round.
Beautiful nature.
Clean and warm sea.
Lots of sunshine.
Nice sandy beaches.
Smiling and friendly locals.
The original culture.
Thai massage.
Interesting excursions.
Tasty cheap food.
Good hotel base.
NOE66: "We went through all the hotels and could not pick the best. All are just fantastically beautiful."
Minuses :
Long and expensive flight.
Prices are higher than on the mainland.
Hot and humid climate.
There is trash.
Not all beaches are suitable for swimming.
Tanya-Step: "The sea bottom is not good everywhere. In some places, when you swim, you feel something like coral underneath."
Useful selection: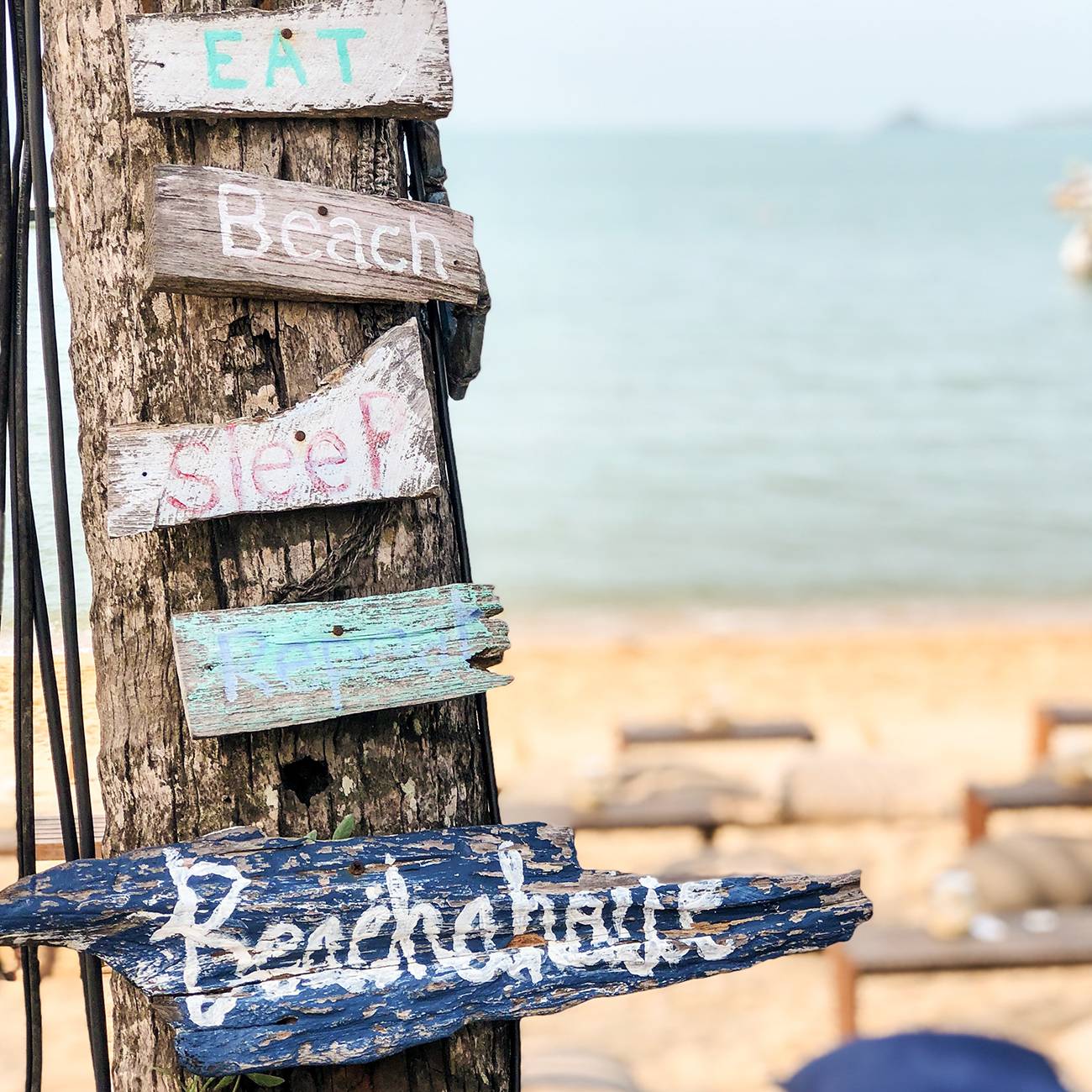 Bophut Beach (Photo: unsplash.com / @coleenr)
The nuances of vacationing in Koh Samui and travel tips
To stay in Thailand for up to 30 days is enough to stamp, which is put on arrival. If you want to rest longer, get a tourist visa.
Hospitals and doctors on Koh Samui are expensive. Prior to travel, get health insurance.
The tap water on the island is suitable for showering and washing. For drinking, buy bottled water.
During the wet season, mosquitoes appear on Koh Samui. Repellents can be brought with you or bought at the resort. Mosquito repellents are available at any 7-Eleven or FamilyMart.
The island is small and easy to explore on your own. If you drive well and are confident in your abilities, rent a bike. Fuel is not a problem on Koh Samui.
Yulechka87: "It's not hard to fill up your bike. Everywhere along the road sell bottles of liquid and labeled Gasolin. It's much better to fill up at organized gas stations. The price of gasoline is lower there.
Koh Nang Yuan in Koh Samui Province. (Photo: unsplash.com / @samule)