Ksamil – Albania's Maldives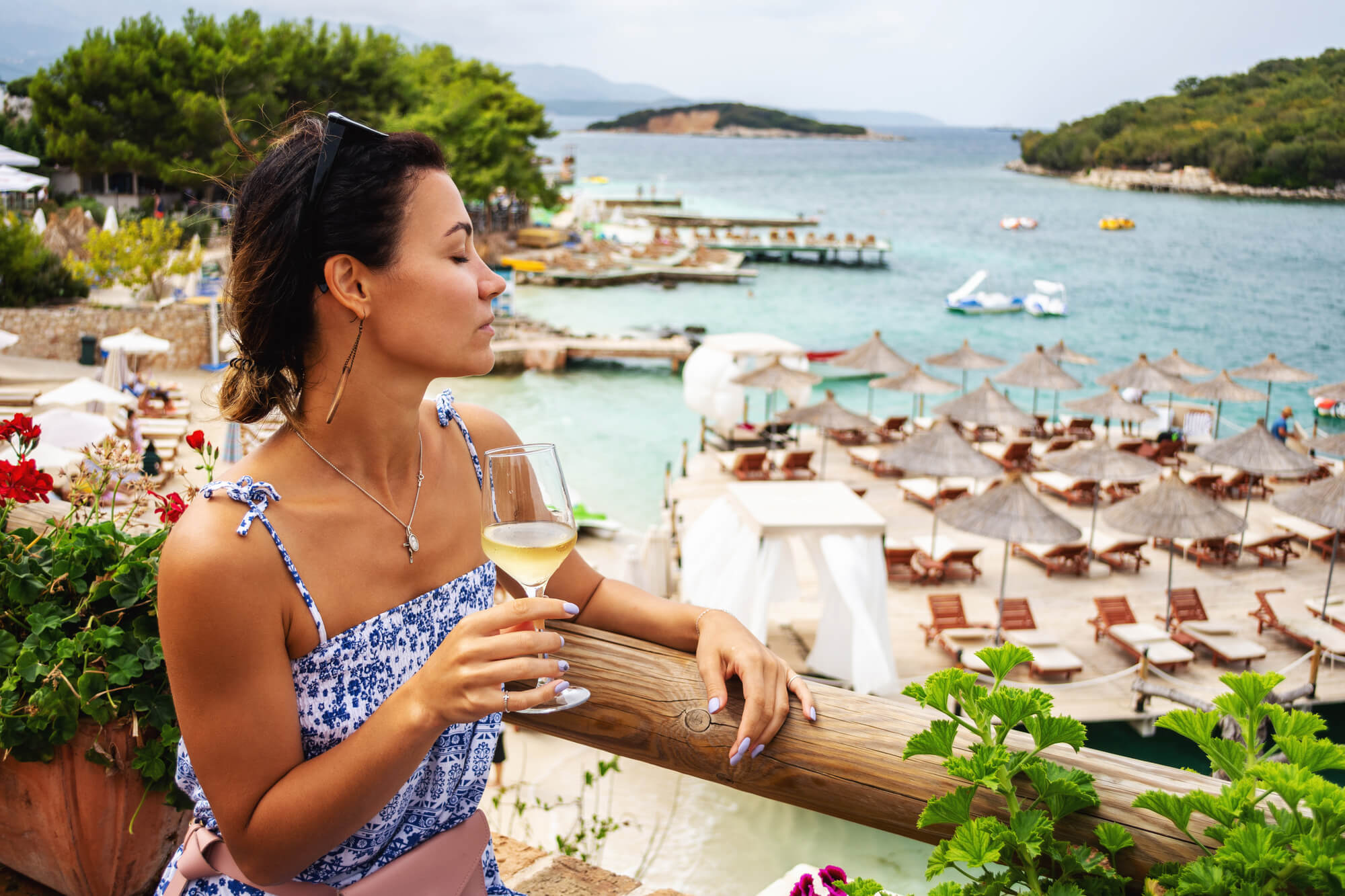 If you dream of beautiful beaches, but no money for the Maldives, go to Ksamil, in southern Albania! Learn about the prices in Ksamil for holidays in 2022, what reviews tourists leave about the resort and what hotels they recommend.
Content:
Impression of the resort.
A small resort town on the coast of the Ionian Sea is located near the border with Greece. Ksamil is known for its picturesque bays with white sand. Tourists from neighboring countries like to vacation here: Italy, Macedonia, Montenegro and Serbia. Russian tourists – a rarity.
In Ksamil there are hotels and popular campsites. Many cafes and restaurants on the coast have free parking. Tourists enjoy spending their vacation in a motorhome, swimming in the sea and eating in cafes.
Yulia: "Snow-white beaches, clear water, I haven't seen such beauty anywhere: neither Sochi, nor Anapa, nor Mallorca, nor Salou, nor Sicily. As for me, most people go there not for tanning and relaxing on the beach, but just for beautiful photos. The views are really worth it.
Ksamil is known for its picturesque bays with white sand. Tourists from neighboring countries love to vacation here, Russians are a rarity. Photo: Artur Malinowski / flickr.com / License CC BY 2.0.
Best hotels
In Ksamil you can stay in campsites, apartments, family mini-hotels and hotels 2-5*. The service is quite European, and the prices are half the price. Look for tours in Albania on Travelate.
The best hotels in Ksamil in 2022, according to tourist reviews:
Villa Diamond 3* – a great option for a budget holiday at the resort.
Driloni 3* – inexpensive hotel 5 minutes walk from the sandy beach.
Utopia 4 * – a stylish hotel with good breakfasts and a pool.
Citrus 4* – one of the most beautifully decorated hotels in Ksamil.
King Hotel Ksamil 4* – a comfortable hotel 150 m from the sandy beach.
Poseidon 5* – Fashionable vacation in rooms with patio and garden view.
Beaches of Ksamil
Because of the beautiful sandy beaches and clear sea, Xamil is called the Albanian Maldives. The sea water in this resort has a stunning blue color. The longest beach Sunset Beach stretches for 450 m, the rest are in small bays. The coast is closed by islands, so there are no big waves.
On equipped beaches and near the seafront is almost always crowded. On secluded beaches quieter and quieter, but there is no shady canopies and vegetation. For wild rest we advise to stretch a tent.
Olya Moskovina: "I liked the beaches very much. White sand, transparent blue water – a fairy tale. We were at the very end of the season, we had a few tourists. For two sun loungers we paid 5 euros. We took a boat, sailed to the neighbouring islands – 20 euros for four people. There mega cool! There are practically no people, water very warm. Only positive emotions.
Karusades: "Lori Beach was the nearest beach where we stayed. There are plenty of sun loungers and space. The sand is fine and clean, which makes the sea seem bright blue. The owner and his crew work late into the night to clean the sand. The beach bar and tavern are welcoming, with friendly staff."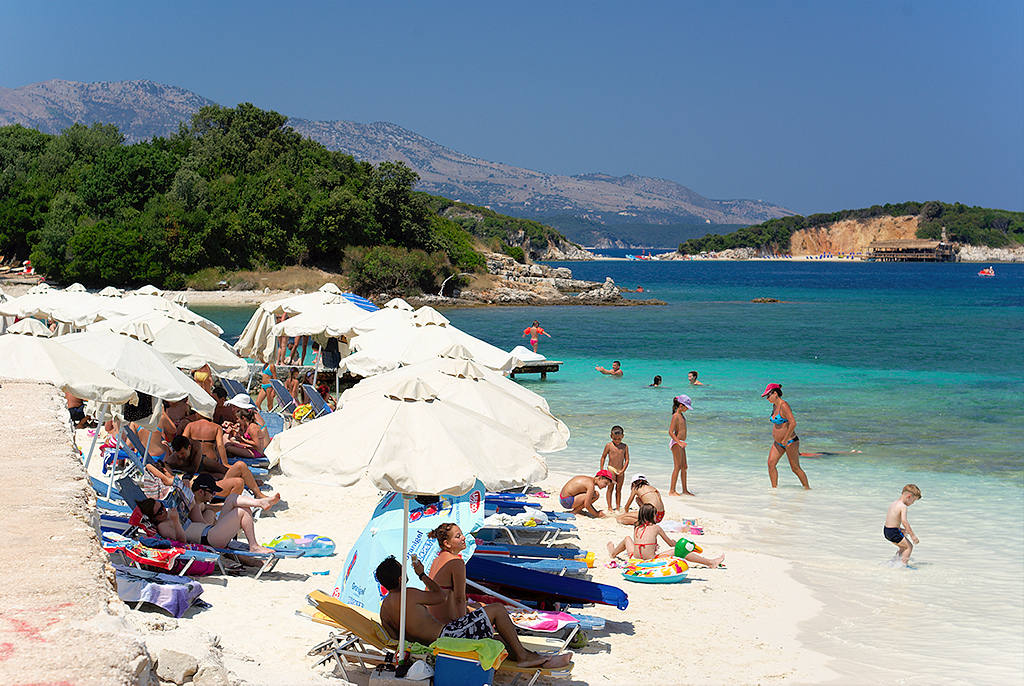 Ksamil is called the Albanian Maldives for its beautiful sandy beaches and clear sea. Photo: Artur Malinowski / flickr.com.
Food prices in 2022
Albania is an inexpensive country! The average bill for lunch for two people is $12-$15. For that, you'll get two servings of spaghetti with shrimp or salmon, pizza, fresh fruit, and ice cream. Dinner with wine will cost $20-$25. At a restaurant for tourists, an omelet or scrambled eggs are $2, a meat or fish dish is $5-$8, cheesecake is $2, and ice cream and cupcake is $2.
Mariam Tigieva: "The food is delicious, inexpensive, and fresh. We always had grilled fish and a Greek salad, of course the presentation was lame, but the taste made up for the aesthetic omission. All the cafes we ate at had stunning views of the sea.
Korali bar on the beach in Xamile. Photo: ihor_n / unsplash.com.
What to do
The beach holiday in Xamile should be varied by hiking along the coast, hiking in the mountains and excursions in Albania We advise you to take a bus to the archaeological museum-reserve Butrinti. According to reviews, from Ksamil popular excursions to the islands, the monastery of St. George, the city of Gjirokastra, Saranda resort and the capital – Tirana.
Elena: "We walked to the beach, which is on the border with Greece. It took us about 1.5 hours to get there, but what a view we had on the way! Grazing cows, stunning meadows, and in the distance – the blue sea. Just unexplored horizons.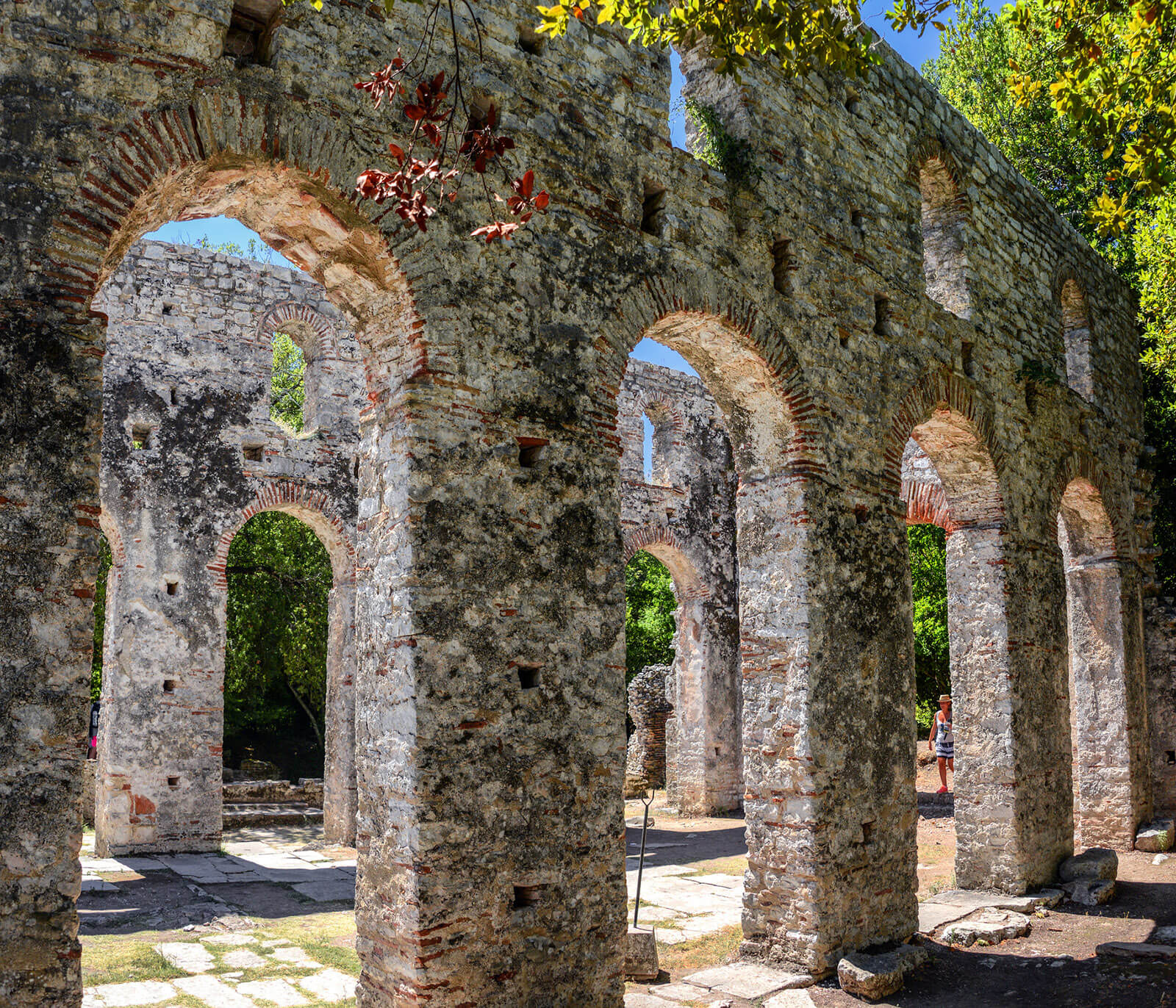 Archaeological museum-reserve Butrinti. Photo: Charly7777 / Depositphotos.com.
When it's best to go
Bathing in Xamile begins in May, but the water in the Ionian Sea is not as warm as in the Mediterranean. For holidays with children, it's best to come in June or early fall. July and August are the hottest months of the year. At the height of summer, the small beaches of Ksamil are jam-packed! Beach fun ends at the end of October, and then the resort is in a long off-season.
Tatiana: "September was unforgettable thanks to a vacation on the Ionian coast, in Ksamil. It is the most beautiful place in Albania. The climate is maritime, but in June and especially in July it is hot, even the sea is red-hot. The daytime temperature can go up to +45 ° C and above! It's better to rest in September and early October.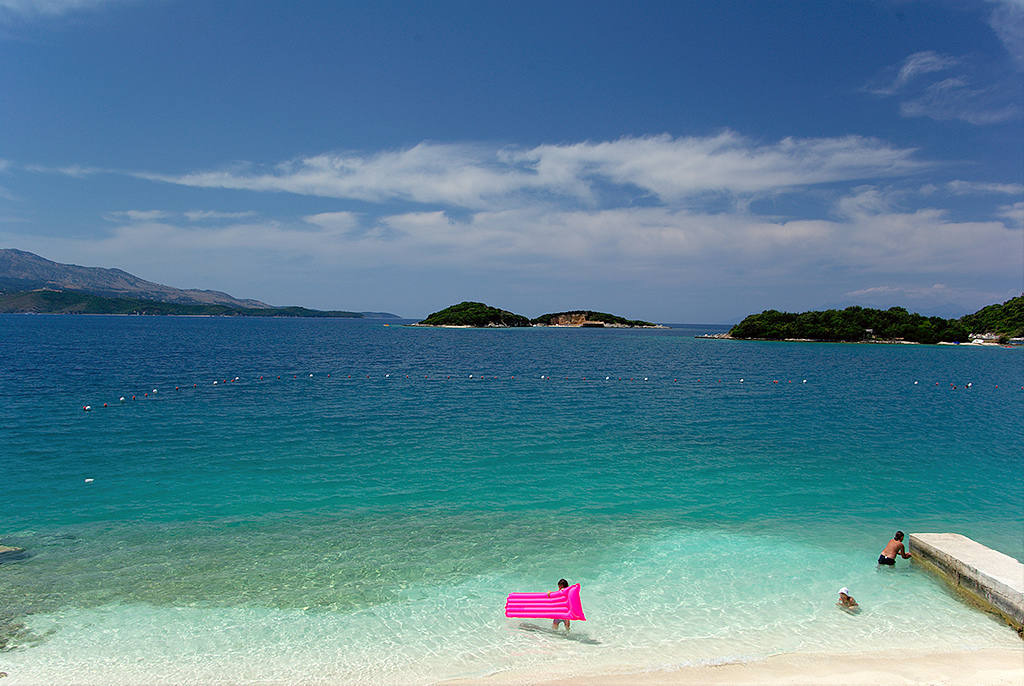 To vacation with children it's better to come in June or early fall. Photo: Artur Malinowski / flickr.com / CC BY 2.0 license.
Conclusions: is it worth the trip
Xamil is perfect for a beach vacation in Albania and relaxing in nature. If you like nightlife, entertainment and partying, it's better to choose a bigger resort, like Saranda.
There are enough hotels in Ksamila, and the prices for accommodation and food are lower than the average European.
The main drawback of the resort – in the peak season the sandy beaches are too crowded.
If you are going to rent a car, be careful! Albanian drivers are happy to overtake oncoming traffic.
KSAMIL: BEACHES, WHAT TO SEE
The village of Xamil in Albania, which is a real village, is located in the south of the country. It is one of the best places for a beach holiday, but first things first. I will tell you everything you need to know about Xamil. And you will decide for yourself whether you want to come here or to neighboring Saranda.
Table of contents:
Xamil: facts and general information
How to get there?
Where to stay in Ksamil?
Ksamil in Albania: attractions
Tips for tourists
A piece of Albanian Heaven on Earth
Xamil: facts and general information
First of all, it is the southernmost settlement on the Albanian coast. There is nothing further to the south. If you drive along the coast, 8km from Xamil, you will meet Greece and the border. Apart from Ksamil, there is a strait with the Greek island of Corfu – it's only 2km from here to Corfu. Read about it in the article about Saranda.
Today Ksamil, as much as its tourism has developed, is an Albanian village with several thousand people. In summer, during the high season, the town's population increases by 2-3 times. I will further call it a town :).
This town is popular with tourists who are looking for a beach holiday. Who wants all day to spend on the beach, making rare trips to sights. Read more about beach vacation trends in Albania in a separate article.
Ksamil has two general things to know:
There's little infrastructure. Except for the beach, there seems to be nowhere else to go. What to see in this town I will write more.

Hungry you will not stay hungry here, there are places to eat in sufficient quantity. But this is the only thing that is out of entertainment .

This is because here they sell package tours most of all.
And on the Adriatic Sea the most popular resort for package tourists is Durres and Golem.
At the link in detail how to buy a ready-made tour to Albania, how much it costs and a lot of useful information.

Useful to know:

As depressing as the beginning of the article was, the beaches of Xamil override all the minuses And make this place one of the best resorts in Albania.

That's what the bay, beaches and islands are all about.

How to get to Xamil from Tirana?

I will not tell you about the car here, it's easy to drive from Tirana.

A word of advice:

By car I suggest to drive through the coast, the road is much more beautiful than the one through Gjirokastra. It is SH8 road through Vleru, Logara pass, Himaru.

The bus ride through Albania is a C minus. There are not many routes and very few to some places. But if a car is not your option, there is only the bus.

There is no direct bus from Tirana to Ksamil, at least the shuttle bus. The easiest and fastest way to get here is via Tirana – Saranda – Xamil.

Tirana – Saranda:

There are 6 flights daily.
Travel time depending on the flight is 5-6 hours.
Ticket price: 12 euros
All about public transport in Albania, where to see updated timetable, how to buy ticket you can read in this article.

Saranda – Ksamil:

A city bus runs every hour between the cities.
Ticket price is 100 lek (~1$)
Travel time: 20 minutes
Or you can take a cab: The price will be 10-15 Euros

Useful to know:

The bus between Xamil and Saranda runs until 18 hours from September to May. And in summer during peak season it runs until 20 hours. Therefore, it is better to arrive in Saranda before 5 pm to have time to change.

Where to live in Ksamil?

Although the village of Xamil is not so big, but it is a rare case in Albania, when there are all kinds of houses for tourists. And apartments, and gesthouses and hotels from 2 to 5*.

By the way, all about the types of accommodation in Albania, what to expect and what are the peculiarities in this country, read the article: accommodation in Albania.

Below is a dynamic ranking of cool lodging options in Xamil. You can click on any hotel, see photos, read descriptions and reviews. And links to resources for all lodging options in general can be found at the end of the article.

Attractions or what to see in Ksamil?

The list of course is not huge, but nevertheless. Inside the village itself there are no attractions, well, except for the beaches. So then there are cool places, which are very close to Ksamil and if you want, you can even get there on foot.

If you have long legs, you will reach for sure. This is what I always tell my wife, and you know, it helps. Less whining and walking.

Beaches of Ksamil

The main attraction of the city. They are rightfully included in the list of the best beaches in the country. If you look at the map, you will see that Ksamil is located in a small bay. And here along the perimeter of this bay, right one to one, are two dozen beaches.

Features of the beaches of Ksamil:

As you know, this is the Ionian Sea.
Here, most of the beaches are pebbly, and the pebbles are very fine. Even closer to the sand.
There are a couple of beaches that are sandy: it's Bora Bora beach and beach #7 In fact, the distance between these beaches is about 100 meters. You can consider it as one whole.
All the beaches of Xamil are free, but during the season the sunbeds are paid.
The price for two sun loungers, a table, an umbrella for the whole day is 10-15 euros.
It is important to understand: that the beaches in Ksamil are very narrow and short. In the season, the best of them, so compel deck chairs tightly that on the sand just to lie down is almost not realistic.
The coordinates of the best beach: 39.772959, 19.996758.

Author Rating:

10 out of 10. The best place on the entire Ionian coast. Yes in season the beaches are crowded, especially Bora Bora. But there are many beaches here, walk around looking for your dream beach!

Xamilya Islands.

But the beaches I wrote about above are not the best in themselves. What makes them so is the Tetran Islands archipelago, or rather the insanely beautiful view from the Xamil beaches to these islands.

Archipelago Tetran Islands or also known as Ksamil Islands consists of 4 uninhabited islands. In order for you to understand the scale, here are a few facts:

The total area of all 4 islands: 0.071 square kilometers. This means that all 4 islands fit on a piece of land with dimensions of 700 by 100 meters.
And this archipelago is located 80 meters. from the beach of Bora Bora.
You can get here not only by catamaran or boat, but simply by swimming.
There are many conifers, there are paths for walking and several beaches. And in the summer they even open a restaurant.
Xamilya Islands are great fun for tourists who are tired of lying on the beach.
Access to the islands is free. It's free to swim across yourself, too.

Author Rating:

10 out of 10. To everyone who happened to be in this village, I recommend to swim here by all means. If you walk around the islands, it will take you 10-15 minutes to get around the biggest one.

Ali Pasha Fortress

The Ali Pasha fortress is located on the outskirts of Ksamil. I have written a lot about Ali Pasha in this guidebook, but in short I will tell you that in one sentence. Ali Pasha was the chief governor of all Albanian lands in the 18th century, when Albania was part of the Ottoman Empire. Ali Pasha built forts, bridges, and roads throughout the region. Not only was he a brutal ruler, but he also developed the infrastructure of the region.

The fortress of Ali Pasha is located on a small island:

Coordinates: 39.741836, 19.992476

Boat departure coordinates: 39.743843, 20.018561
The price for the boat is 20 euros, you can bargain up to 2000 lek ($20) per pair.
The whole route by boat back there and visiting the fortress will take 50 minutes.

The coordinates of the end of the hiking route, walk just along the road, then there will be a good trail: 39.744211, 19.994582
One way hiking route length from the center of Ksamil: 4.5 km or 1 hour

Author Rating:

5 out of 10. Although the fortress is well-preserved, although it is more than 200 years old, there is not much to do. It is very small, except for the walls there is nothing. The views from other fortresses in Albania are much steeper. It is up to you to take a boat here, but I would not go if there is nothing to do. It is better to walk the route on foot. Yes, the fortress will be far away, but believe me, you will not lose anything. And on the hiking route you will meet steep bunkers from Enver Hodge's time right on the beach. And the trail is beautiful. And it's all free.

Excavations of the ancient city of Butrint

There is a great review article about this place in this guidebook. An overview of the ancient city of Butrint. There you will find all the information you need, but briefly:

Butrint is an ancient city nearly 3,000 years old.
Entrance coordinates: 39.743855, 20.019140
Ticket price: 1000 lek ($10)
Time for sightseeing: 2 hours
From Xamil to Butrint: 7 km. There is a city bus by the way, the same one that goes to Saranda.

Author Rating:

7 out of 10 for those who don't like these sights. And 10 out of 10 for those who like it. My opinion: the place is cool. Yes, if you've been to Pompeii, the scale is bigger there. But Butrint is not just ruins, there is a whole city: walls, towers, amphitheater, temples, baths, forum and so on.

Xamylia Oyster Farm

It's actually a mussel farm, as it's called Mussle House. And it's not just one, but three whole farms. And all three are near each other on the outskirts of Xamil. On the downside, there are no tours for tourists and do not show how oysters and mussels are grown. But you can come to the shore and see the whole farm from the shore up close.

Best of all, one of the farms has a seafood restaurant. It's cool to come here during the day and in the evening for dinner.

From the center of Ksamil the distance to the farm with the restaurant: 2.5 km
Coordinates: 39.788926, 20.011374
The restaurant is closed in low season.
1 kg fresh oysters (8-9 pieces): 4,000 lek ($40).
A serving of mussels in sauce (20-25 pieces): 500-600 lek ($5-$6).
The menu includes fish and octopus and shrimp.
Tables are right on the shore of the bay overlooking the mussel plantations.

Author Rating:

9 out of 10. Would have given it a 10 if it was possible to see how the mussels and oysters are grown live. As it is, only a 9 for a great seafood restaurant.

Tips for tourists

The most difficult question for all travelers, which city to choose: Saranda or Ksamil. Between them there is only 7 km and you want not to miscalculate. Let's put it this way: if you prioritize #1 beach and you want and know how to lie on the beach all day, then Ksamil is better.

If you need infrastructure, apart from the beach you like to walk around the city, to make evening promenades on the promenade, the markets and large stores are necessary then Saranda.

Useful to know:

What most tourists do is live and vacation in Saranda, and once or twice may come to Xamil for the beaches. Usually people spend 5-7 days in Saranda. During this time, they visit the beach in Ksamil once or twice a day, and spend the rest of the time in Saranda and surroundings. In Saranda there is much more entertainment besides the beach than in Ksamil.

In conclusion: Ksamil is a great village or settlement with the best beaches in Albania. This place is a must visit. All the attractions of Xamil: Butrint, oyster farm, Ali Pasha fortress can be seen in half a day. From here there is only a beach holiday and the islands of Ksamil. The color of the water here is amazing, there is no wind, as the main beach closes the island, the water clarity of 10 meters.

Your vacation on Bora Bora beach in Xamile is sure to be awesome!

Cool resources for planning a dream trip in Albania.