Larnaca – tourist reviews
Reviews about Larnaca, based on personal experience. Pros and cons, personal impressions, what you liked and didn't like about the trip. Who should pay attention to this city, whether (Cyprus) is suitable as a place for family or youth vacation. The main attractions and entertainment, what the city of Larnaca is famous for. Tips and tips for those who plan to visit the city for the first time.
Larnaca promises a relaxing vacation at reasonable prices
My trip to Larnaca began spontaneously. A friend called and said that the trip was burning and it was urgent to take it. I did not hesitate and agreed and did not regret it. I told you why!
Larnaca – it's at home cozy, small, tourist town. This is not fancy, neat, colorful houses, like a toy, standing surrounded by potted flowers, boldly put on the street right by their owners in pots. These winding streets, this raging greenery, this polite and courteous locals, this chic architectural monuments, among which the Church of St. Lazarus attracted my special attention. According to legend, it was built over the tomb of St. Lazarus, who is prayed to heal the sick. Of course, I did not fail to go there and be amazed by the power of the architecture, enjoy that special smell peculiar to such holy places – incense, and of course, feel that unforgettable atmosphere of peaceful silence and peace.
For your information, the temple offers free guided tours in Russian on Tuesdays and Saturdays. The tour takes about an hour and a half. I recommend a visit to enrich with new knowledge and impressions.
While looking for the Blue Lagoon, which we found out later is in a completely different town, we stumbled upon a seaport called Marina. Lots of ships, boats, and oh wonder – the "blue lagoon" was right there. Of course, it was not the Blue Lagoon that they write about on the Internet, but the water in the port was unusually sky blue. And there were ships docked in this amazingly beautiful water, so, alas, you could not swim here. The strange thing was that all the beaches in Larnaca are dominated by gray sand and so the water in the sea is dark blue. Why in the seaport the water was turquoise and alluringly transparent, we never found out.
Of course, I couldn't help but visit "Lucky Star" – the largest amusement park in Cyprus. It is located on the outskirts of Larnaca. "Lucky Star" is crazy rides for equally crazy tourists who do not know what fear is. In addition, there are a lot of fun for children, so if you vacation with the whole family, everyone will find something to their liking.
The Larnaca Castle was not in my plans but after hearing about the fantastic views from the castle from passing tourists, I decided to check it out. The castle is located on the Finicudes promenade in the center of town. The amazing views that open up to the curious tourist exceeded all my expectations.
Pros of Larnaca:
– Larnaca is primarily a budget option for the thrifty tourist. Here you can find very cozy cafes with fragrant kebab for a completely democratic price – 200 rubles! Apart from meat, the tavern owners add a lot of vegetables which tinge the taste of shashlyk grilled on the grill with the freshness of aromatic cucumbers and tomatoes, and ketchup gives the dish a piquant spice. In no other city in Cyprus you will not find such a cheap and delicious kebab. But if you want more respectable restaurants, then go ahead – to the coast. Elegant waiters will serve you no less delicious dishes, but at a higher price. So in Larnaca everyone chooses what he likes and can afford.
– Half-empty beaches. You can freely find a place to lie down, enjoying obscenely large space and no one will bother you. Do you want to sunbathe on a deck chair? No problem! There's plenty of them, and a lot of them are just sitting around. But you'll have to pay 2.5 euros a day.
– Serenity, quietness and peace – that's what you need to go to Larnaca. If you like a noisy party, loud music, crowds of tourists, then you are in the wrong place.
– Larnaca is the heart of the island, so if you want to travel around the whole island, start there.
– Safety in the water. Tourists are monitored by lifeguards, who are ready at any second to rush into the water to drown. By the way, when my girlfriend and I decided to swim in a nearby bay, (in search of the ill-fated Blue Lagoon), one of the lifeguards insistently tried to bring us back, showing signs with his hands from the shore that there is dangerous to swim and went along the rocks until the last moment, until we turned back toward our beach. Already on the beach, he still fished us out among the throngs of tourists and warned of the dangers of such a swim.
Cons. They are not very many, but they are there.
– Not very attractive sea and beaches. Despite the fact that the beaches are regularly cleaned of debris, they can not be called a paradise. Gray sand and muddy water – not for fans of beach holidays. Agree, if that's what you're going for, you should choose a different resort.
– The obtrusive local men. Oh and they love the girls, especially the Russian. It is impossible to walk along the promenade quietly, that at least one local macho did not try to make an acquaintance. In the evening it is better not to leave the hotel, unless you have a goal to twist the resort romance in Larnaca.
– There aren't too many sights to see. And all of them can be bypassed for a couple of days stay in the city.
Holidays in Larnaca
Read tourist reviews about Larnaca for 2021: what do they write about the weather, hotels, sea, beaches and excursions in the popular resort of Cyprus? Pros and cons of holidays in Larnaca in 2022. Tips of tourists.
Content:
Reviews about the weather in Larnaca
Low season in Cyprus lasts from November to May, but that does not mean that Larnaca is empty. Mediterranean winters are mild and sunny, so fans of promenades, excursions and health tourism come to the island in winter and spring.
Victoria Grymova: "In January it's cold to swim, of course. The water temperature in the sea is not higher than +17 ° C. But it's a pleasure to walk along the coast. For a change you can go horseback riding a couple of times".
According to reports from tourists, the swimming season in Larnaca starts in early May. Most tourists come in summer – in August.
Violetta Pinkina: "In July at lunch time to be outside is unreal. It's very hot and stuffy. The sea is not cool – the temperature of the water is about +27 °С. Without a canopy there's nothing to do on the beach area".
Those who can not stand the summer heat, rest in the velvet season. It begins in the second half of September and lasts until late October.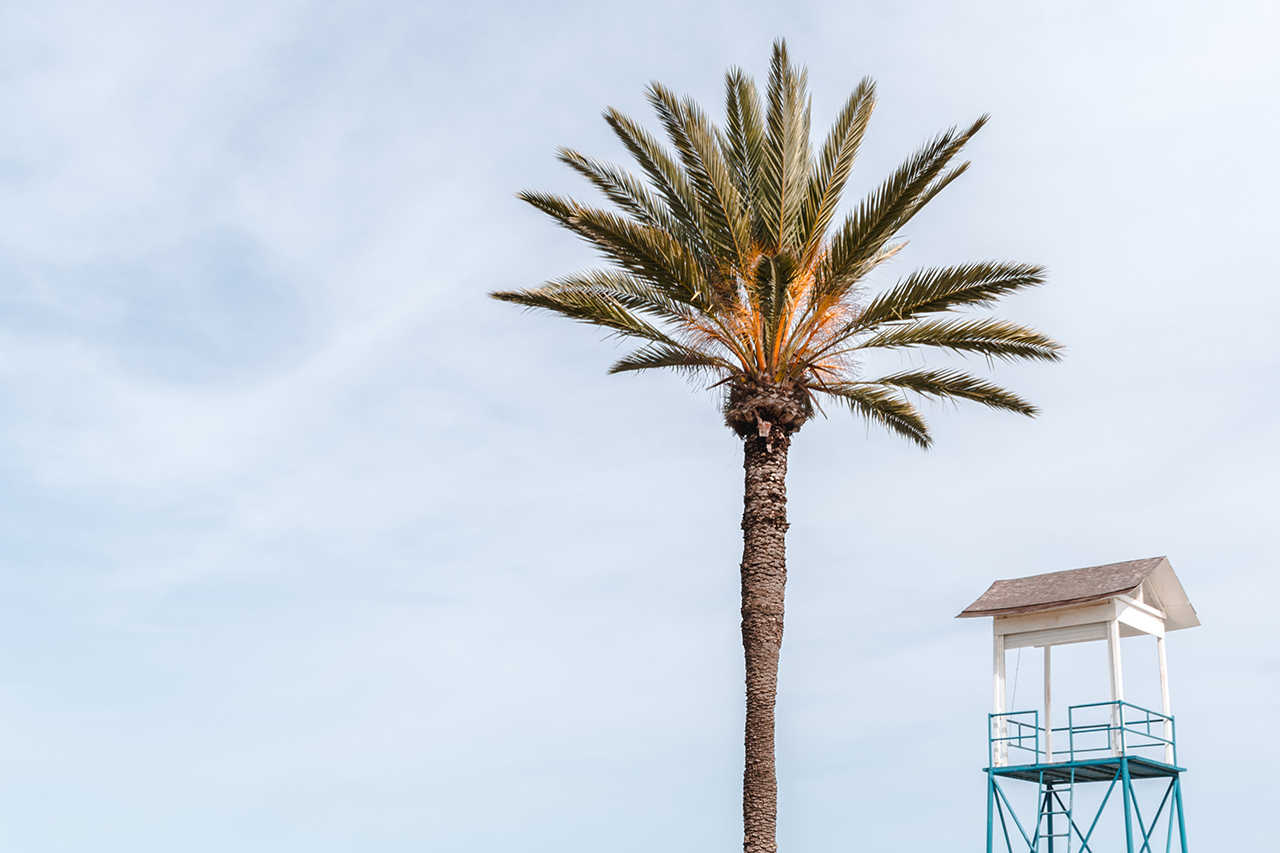 Larnaca. Photo: rimakruciene / unsplash.com.
Larnaca hotel reviews
OnlineTours and Travelata – find a tour to Larnaca.
The resort has luxury hotels 4-5*, but the bulk of accommodation for tourists are budget hotels and apartments. According to reviews, 3* hotels in Larnaca are very good.
Families with children prefer to rent apartments. In terms of area they are larger than conventional hotel rooms. In addition, apartments have kitchens and washing machines, and for a family vacation it is very convenient.
For a successful vacation in Larnaca in 2022, read tourists' reviews of hotels and make your choice:
Olga-0711 : "Almost all rooms in Flamingo Beach 3* have a balcony and side sea view, at least a piece of the sea, yes you can see, but I think the higher floors are more comfortable to live on. Rooms are ok for a 3".
Svetlana : "At the Cactus 2*, the closet, nightstands, drawers, everything was in order. Towels and linens are changed once every 3 days, cleaning is basic every day."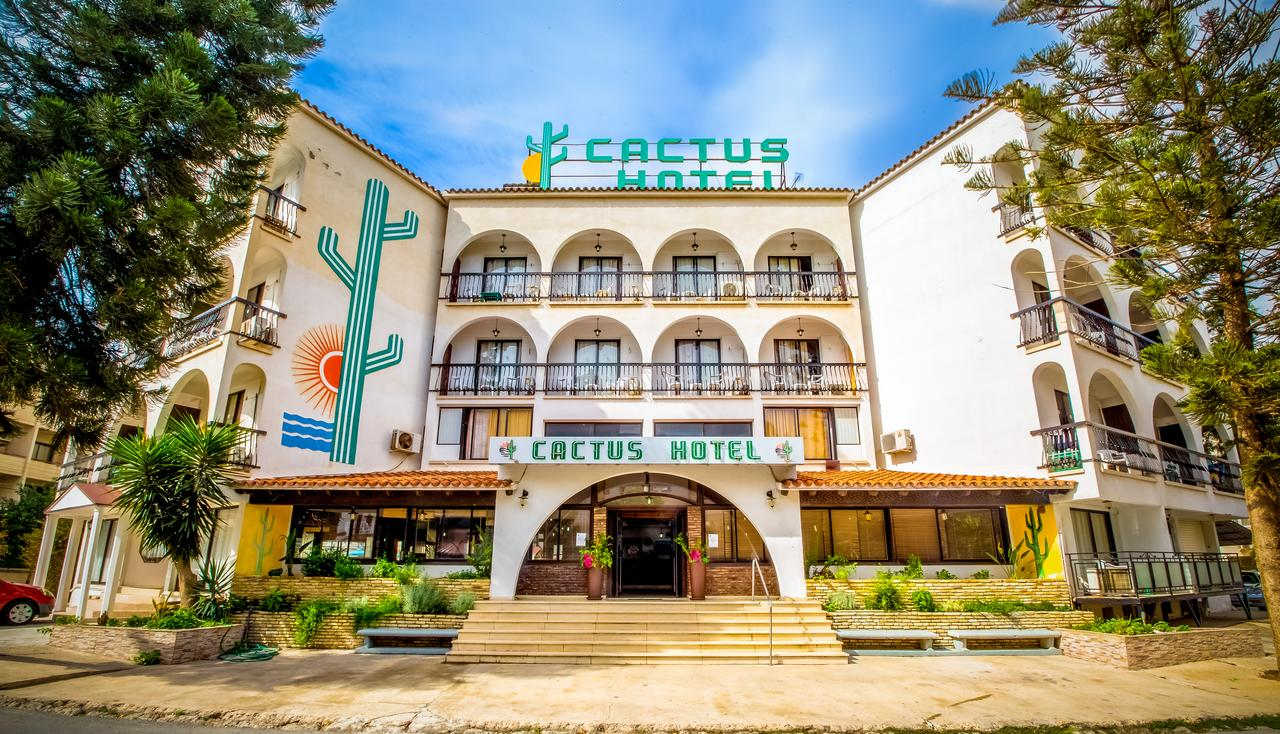 Hotel Cactus in Larnaca. Photo: Hotel Cactus.
Reviews about the beaches and the sea in Larnaca
All beach recreation areas in Larnaca are equipped with changing rooms, toilets, showers. On the coast are on duty lifeguards. Vacationers write about the clean sea, small waves and a comfortable entrance to the water. Ideal conditions for recreation with small children! The resort's four main beaches have been awarded the Blue Flag.
The best beaches in Larnaca, according to tourists' reviews:
Finikudes
Mackenzie
Faros
Castella
Yanates
Dekelia.
Svetlana4ka_101: "In the center of Larnaca there is Finikoudes beach, a wide sandy strip, a lot of sun loungers. Sun loungers and umbrellas are paid, but the beach is well monitored, there is no trash. The entrance is smooth sandy, the water is clear.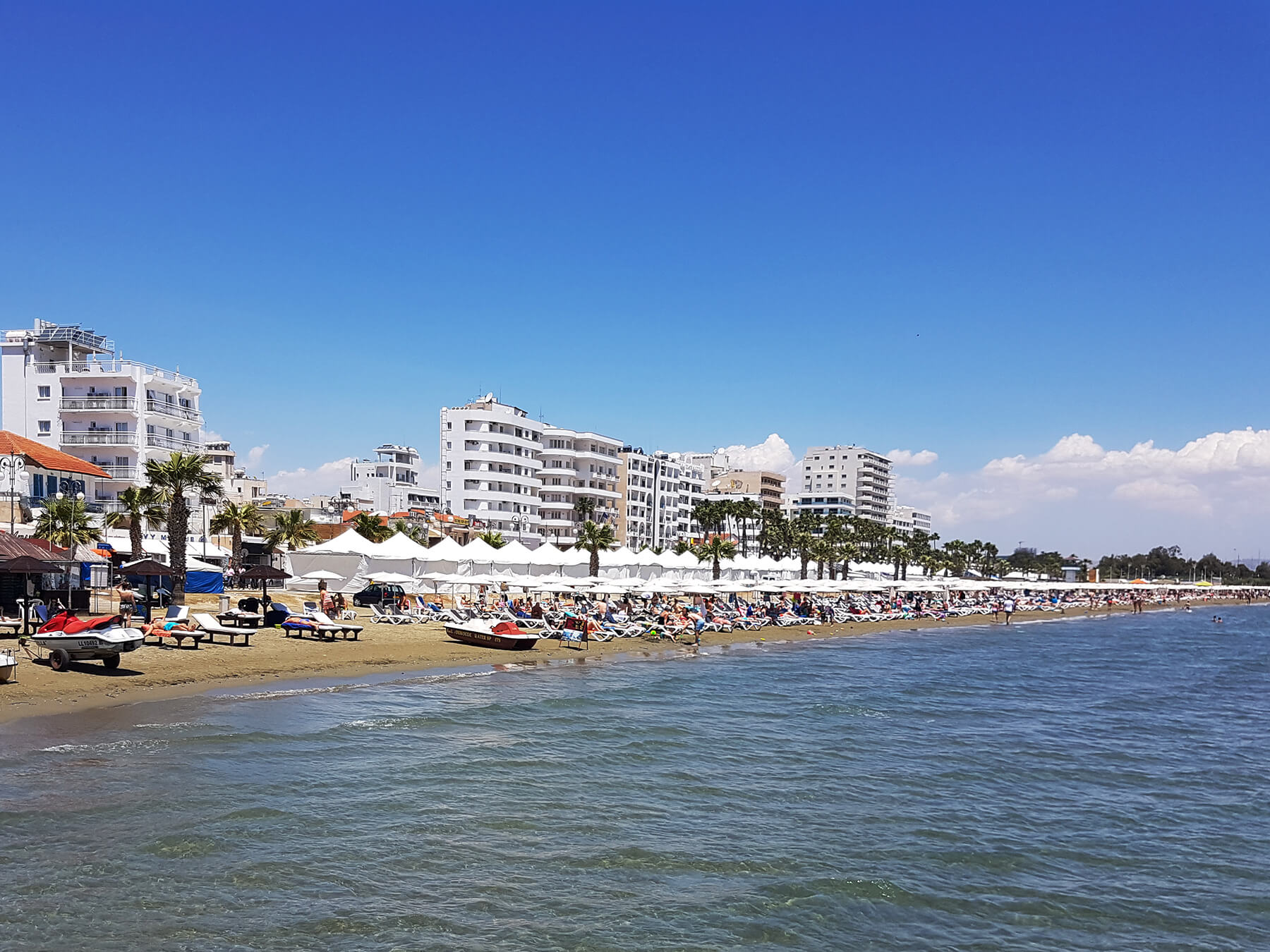 Finikudes beach in Larnaca. Photo: Chuso Pérez / flickr.com / CC BY 2.0.
Tourist reviews of excursions in Larnaca
Tripster – author tours in Larnaca.
While vacationing in Cyprus, tourists get acquainted with the cultures of Greeks and Turks. According to reviews, from Larnaca popular excursions to natural attractions, mountain villages and shrines of the island, as well as tours to the northern part of Cyprus. If you come with a child, go to the Hobos amusement park.
Read the reviews of tourists about the tours in Larnaca in 2021 and choose the attractions you like.
Dmitry : "On the tour "Golden Ring of Cyprus" guide is intelligent, punctual, knows the material very well, has high communication skills, feels safe behind the wheel on the difficult roads. She has a well-thought-out itinerary that does not make you tired.
Anna: "The excursion "Cyprus away from the beaten track" went without rush and fuss. We went to the souvenir stores only at our will.
Pluses and minuses of vacationing in Larnaca
Cyprus resort is a comfortable city for a relaxing vacation by the sea. In Larnaca like families with children, elderly tourists, lovers of diving and excursions.
Pluses vacation in Larnaca in 2022, according to reviews of tourists:
Affordable prices for tours.
No visa required.
There is an international airport.
Many large hotels, apartments and villas.
Great beaches.
Developed infrastructure for recreation.
Many restaurants, taverns, cafes, bars and nightclubs.
Remarkable conditions for diving, windsurfing and kitesurfing.
Tasty local cuisine.
It is convenient to go on excursions around the island.
akira_yamaoka: "To go into the sea – perfect, absolutely smooth and soft surface. And let the sand is not white, but gray, volcanic, to walk on it and lie down very pleasant.
Minuses :
Little entertainment for young people and children.
At the height of the beach season, the beach is crowded.
Too hot in the summer.
Shallow sea.
You can safely reach buoys, and water there will be on a neck. Swimming near the shore is impossible in principle – the water is ankle-deep even a few meters from the sand.
McKenzie beach in Larnaca. Photo: len_vladislav / unsplash.com.
Larnaca vacation tips
It is convenient to travel around the resort and to neighboring cities by bus. Stops are located near all major hotel complexes. On any route you can get to the center of Larnaca.
Use the local currency, Euros, for purchases. Dollars are accepted at an unfavorable rate.
On weekends, free concerts are held on the Palm Quay of the resort. The program is especially bright and interesting during the summer season.
Along Larnaca's central beach there are high-rise houses. In the afternoon shadows from them close the shore. According to tourists' feedback, at the end of the season, especially in October, it is not very pleasant, because it gets cold in the shade.
Lemon: "When you take a place on the beach, choose an area that will not be in the shade. There will be no problem with your own bedding, you want it, go over it."
Tourists in Larnaca can wear whatever they like, but beachwear may be not allowed in some fashionable restaurants. When visiting religious sites we advise to choose dim, closed outfits.
In winter the weather in Cyprus resorts is warm, but it often rains. Take an umbrella, waterproof jacket and shoes.
In 1.5-2 hours drive from Larnaca are picturesque slopes of the Troodos Mountains. From January to late March, Mount Olymbos (1952 m) is covered with snow and turns into a ski resort. Skis, boards and all necessary equipment can be rented. Go skiing from Mount Zeus, Aphrodite, Hermes and Hera!