How to prepare for a trip to the Maldives: step by step instructions
Traveling to tropical islands in the Indian Ocean is certainly not a weekend getaway in the next town. A vacation to the Maldives is planned in advance. And you'll need to start your preparations for a paradise vacation with something. Finding a suitable hotel, selecting the season, a list of must-haves in your luggage, flight and a host of other things to consider when going to the Maldives. Answers to all the questions you will have in preparation for your trip, you will find in this article.
Trip preparation plan to the Maldives :
Choosing a season in the Maldives.
Flight to Maldives. Research all possible flight options, airline deals and buy tickets.
Choose and book a hotel.
Transfer in Maldives.
Preparing documents.
Collect rational luggage.
What you can not take to the Maldives.
List of activities in the Maldives.
Further on everything in order.
Sun Siyam Olhuveli.
1. Choice of season in the Maldives
In the Maldives, the weather remains stable throughout the year. It is always warm here. Air and water temperatures can range from 25-30°C.
High season in the Maldives are considered the months of December , January , February , March and April . The rest of the time it often rains. This is due to the influence of the monsoon winds. This does not mean that your vacation in June or August, for example, will be permanently ruined by bad weather. But the probability of frequent and heavy rainfall in this period is very high. On average, there are about 12-14 rainy days per month in this period. Although, it is worth noting that the rains come mostly at night and they are usually short-lived. After them, the sun comes out quickly.
To help you decide which month is best for you, here's a closer look at the weather in the Maldives, broken down by month:
Asad Photo Maldives
2. Flight to Maldives
Air travel is almost the only way to get to the Maldives. By water it is possible only on a cruise liner and only from India, or on a private yacht. The trip will take no less than a week. Therefore, if you want to visit the Maldives, the plane will be the most optimal transport.
The Maldives has a major international airport, located near the capital Male', on Hulule Island. In high season, it accepts flights from more than 40 destinations.
In addition to regular flights are also carried out charter flights. Therefore, if there is no direct flight from your home country, you can think about combining options. An intermediate flight will allow at least time to visit another city in another country. Travelers who plan their own vacation in the Maldives, like to take advantage of such opportunities. The most popular in this case are flights from Sri Lanka to the Maldives .
What airlines fly to Maldives and other useful information on how to get to the islands see here .
In the article about flights to Maldives you'll find a list of all airlines that fly to Maldives, as well as a list of all airports on the islands.
Depositphotos
3. Choose and book a hotel in Maldives
How to choose a hotel in the Maldives? After all, there are a great many of them. About this we told in detail in the article at the link in the previous sentence. Conventionally, the vacation can be divided into two types:
Offer the most comfortable rest on an all-inclusive system and paradise concept of rest.
On the local islands, you can stay in guesthouses, which will be a more budget-friendly option .
Four Seasons Resort Maldives at Landaa Giraavaru
4 Transfers in Maldives
Buying a plane ticket to Male is half the battle. Now you need to get from the airport to your chosen island, because there are more than a thousand of them in the Maldives.
The distance from the capital and the airport affects the type of transfer to the hotel. In the Maldives, there are shuttles:
speedboats,
public ferries,
hydroplanes.
The last option is the most comfortable. To avoid a long or expensive trip to the hotel, consider great vacation options near Male .
On wiotto.com you will find a large selection of hotels, where the cost is already included in the transfer. All you have to do is find the best option for you and book your dates.
Kuredu Resort & Spa
5. Preparing documents for your vacation in the Maldives
This issue should be taken even more seriously than all the previous ones. To make sure everything runs smoothly, always make sure the requirements and necessary documents are up-to-date. The Maldives has a visa-free regime . That is, tourist visa is issued free of charge on arrival for up to 30 days. As for the other formalities, you must have with you:
A passport (valid for at least 6 months from the date of entry into the Maldives).
Confirmation of a return flight ticket booking.
Travel voucher (document confirming hotel reservation).
Negative PCR test for COVID-19.
Medical insurance policy and a filled declaration of health.
Cash at the rate of $50-$100 for one day of stay per person, bank card.
Depositphotos
6. Packing a suitcase
To travel to tropical latitudes, you need to take care to have the right things in your luggage. We suggest reviewing the list of what will definitely come in handy in the Maldives.
Clothing . Lightweight clothes made of natural fabrics will be more comfortable. Maldives is a Muslim state. So no matter where you will be spending most of your time, take with you a few closet items that cover your shoulders and knees. This applies mostly to women. Bikinis are only allowed in private resorts and designated beaches of local islands (so-called bikini beaches). Light pants, T-shirts or long-sleeved shirts offer better protection from the sun.
Shoes . Must be comfortable. On the islands, even for visiting restaurants, you will hardly need heels. Slippers and sandals on a solid sole will be just right. There are even No Shoes hotels in the Maldives. To avoid cuts on corals in the water, stock up on a special pair of shoes for swimming.
Hats and sunglasses . It's best to double up in case you lose them. But these two accessories on tropical islands you must have.
Means of protection . The sun in the Maldives, especially at noon, is active enough. You may not even have time to notice how the skin turns red. Therefore, be sure to put a suitcase sunscreen with a high degree of protection. Repellents also will not lie idle, because in the evening it is better to be protected from mosquito bites.
Technology and electronics . Anything can be taken on vacation without approval, except a drone. The hotel may have its own rules for the use of the quadcopter. They should definitely be clarified. If you have an underwater camera, in the Maldives it certainly comes in handy! Don't forget to bring an adapter for sockets, chargers and spare batteries if you need them.
Medical kit . In it, you can pack medications to help with poisoning, cuts, bruises, colds, and headaches. Be sure to pick up whatever you may need most. Don't forget an antihistamine in case you have an allergic reaction, and anti-seasickness medication. Each resort has a first-aid station and medical assistance is available. But to run to the pharmacy for something basic on the island-resort is not possible.
Toiletries . Most hotels provide guests with shampoos and other detergents. Manicure kit, tooth brushes and pastes, shaving kit and other personal care items are better to take with you.
For children . When you're planning a trip to the Maldives with children, we advise you to stock up on baby food for the whole period of rest. It is prohibitively expensive, and in stores may not be exactly what you need. The same applies to diapers.
Equipment for snorkeling . If you have your own mask and snorkel, be sure to pack it. Some hotels offer their guests a free rental of snorkeling equipment for the entire period of rest. If there is no such service, the mask and snorkel will cost about $ 15-30 for 1 day of rent. But snorkeling in the Maldives is worth it.
Depositphotos
7. What can not be taken in the Maldives
There is a list of things that the Maldivian law forbids to bring to the islands. The first item for good reason is alcohol. Some tourists desperately hope to get to the Maldives with their alcoholic beverages. For which, more often than not, are forced to pay a hefty fine. A complete list of prohibited items to bring to the Maldives can be read here.
8. List of activities in the Maldives
For 5-7 days of vacation you can do a lot. Especially in the Maldives, where there is always something to do. For example:
on special courses for beginners. or go on an outing. here in a wide range: yacht cruises, boat trips, diving in a submarine or sailing on a traditional dhoni, fishing, water sports in a huge variety.
If your island will be located near Male, we advise you to allocate a day for a walk in the capital.
All this, of course, requires additional costs. So it's best to plan and budget what you want to do. Check out the prices in the Maldives to make your list more accurate.
The main thing you should have with you on any holiday – a good book and a positive mood for a well-deserved vacation. You'll get there.
Hurawalhi Island Resort
Maldives: tips on how not to spoil your vacation
Some simple but useful tips for those who go to rest in the Maldives – not on the refined resorts, but on the local islands.
We went to the Maldives for 9 days and spent only $700 for two! To have a cheap vacation on these paradisiacal islands, you need to prepare well. I hope that our tips will help you organize an interesting and budget trip.
Money: what to bring, ATMs and currency exchange
American dollars are in circulation. American dollars are even more readily accepted than the local currency, the rufies. Do not bring old dollars (such tips are given by tourists).
There are ATMs at the airport, on Toddu and in the capital, Male. But on Toddu the bank schedule is very strange, and we never waited for it to open. So don't rely on ATMs – bring cash. You can only withdraw from an ATM in the Maldives in rufies, and the ATM takes a fee.
Exchange rate. Ask for the exchange rate in cafes and hotels. There may be more profitable than in the bank. However, there are exceptions, once in a store in Todd, we were told the rate even 1 to 12!
We had dollars, and we exchanged a part of them to rubles. We used local currency for small change, on ferries, in cafes and stores. We did not take cash from ATMs. Hotels and transfers were paid in dollars.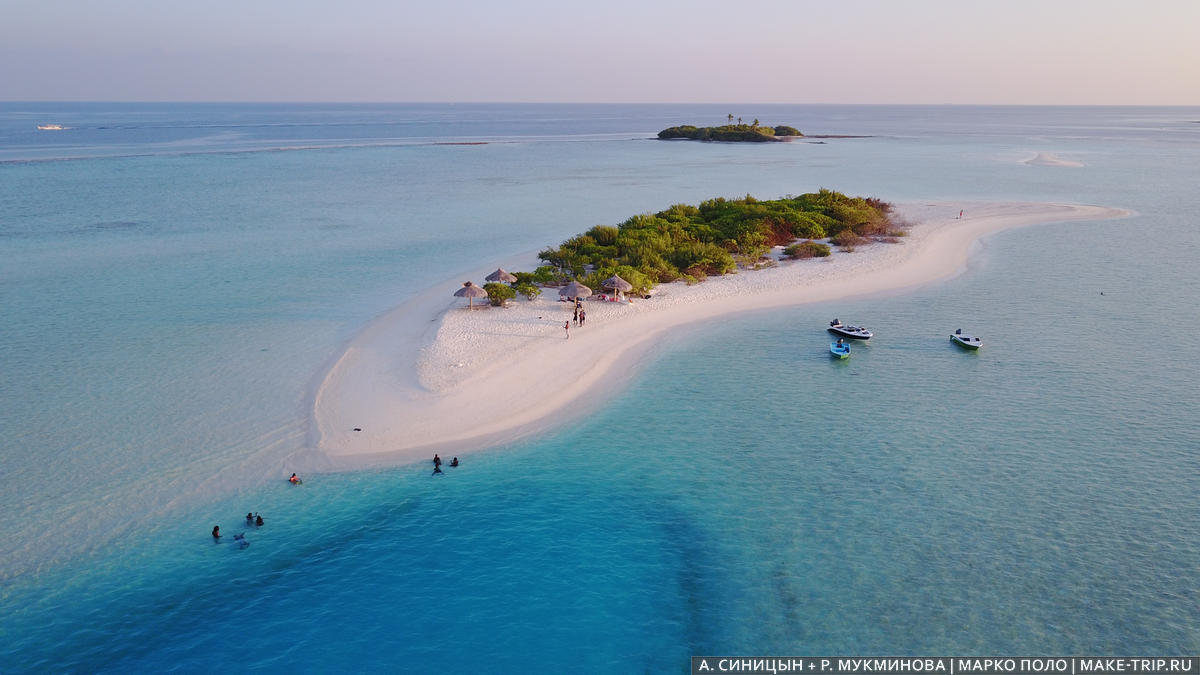 Uninhabited islands near Rasdu.
Transport: ferries and speedboats
The main thing to know is that ferries and speedboats don't work on Friday, so don't buy airline tickets for Friday.
Another important thing – ferry and speedboat schedules often change, e.g. due to weather. We advise you to write to the owner of your hotel and find out the current schedule. Also, transport runs very infrequently and not even every day. Because of this it is difficult to plan a trip to several local islands at once. There is no guarantee that the ferry will not be canceled, and that your schedule is correct.
That's how it worked out for us. We planned to visit three local islands – Toddu, Rasdu and Ukulas. We decided to travel by low-cost ferry. Checked the schedule on the Internet, thought about logistics. Once we were there it turned out that one of the ferries was moved to another day! We had to take an expensive speedboat to the airport ($80 for two people).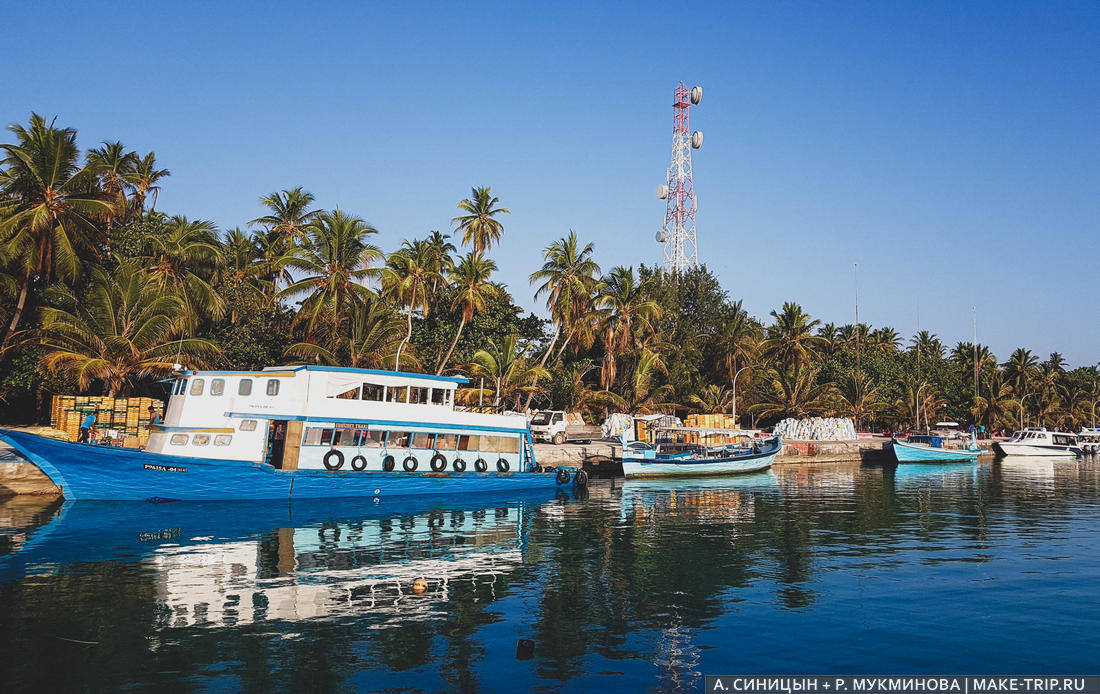 The fruit ferry (on the left in the photo) is moored at the Toddoo Island pier.
Food: How not to starve to death
On the local islands where we lived, the cafe food was disgusting and expensive. If your hotel cooks and guest reviews of the food are good and the price is adequate, feel free to eat there. Don't waste your time and money on the cafe.
At our hostel on Todd, lunch or dinner was $10 per person – for soup, grilled fish, rice, juice and salad. In comparison, at a not-so-expensive cafe, we got a main course and juice for the same money. We also bought snacks at the supermarket – nuts, yogurts, cookies, ice cream, fruit.
A few more helpful tips:
Ask if the seafood and fish in the restaurant is fresh. They can easily cook frozen.
The trouble with the freshes – mostly heavily diluted.
Ask how long it takes to cook. According to reviews, it sometimes takes 1 or 2 hours (although we never had more than 30 minutes).
The water that is brought with the food is not free – $0.5 for a small bottle.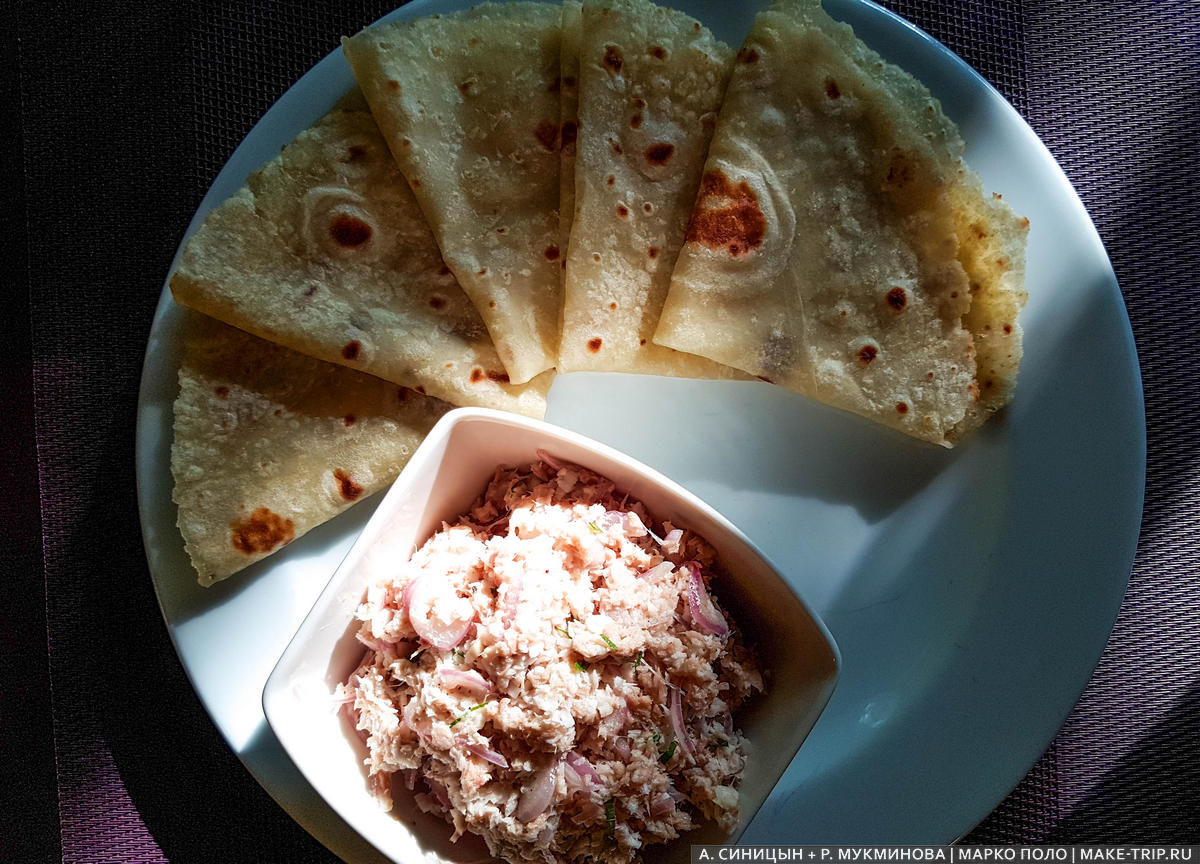 Traditional Maldivian breakfast, hearty and delicious!
Dress Code in the Maldives.
In the local islands, you can not appear in a swimsuit among the locals. It is desirable to have shoulders and knees covered, but few people follow this rule – we saw a lot of tourists in short shorts and open tops and blouses.
Swimming and sunbathing in a swimsuit is allowed only on the bikini beach, the guest beach. In other places, including the beaches for the locals – only in closed clothing.
We followed the rules – always went in a T-shirt and long light pants.
T-shirt, shorts / pants – this is how the male tourists go in the Maldives. Women: t-shirts + pants or a dress with shoulders and knees covered. Swimsuits are only allowed on the guest beach, the bikini beach.
Mosquitoes
In the Maldives, small and intrusive mosquitoes. Bite even during the day in the shade. Protect yourself with clothing and repellent. You can buy them in supermarkets on the islands.
Medications
Take your important medicines with you – in the islands range is very poor. We always carry a travel first aid kit with medicines. See how to assemble the right first aid kit.