Mallorca – traveler reviews
Reviews about Mallorca, based on personal experience. Which Mallorca cities are worth visiting and why, the general pros and cons. What to pay attention to those who are going to visit Mallorca for the first time. Which cities should be chosen for a family vacation and which ones for a youth vacation and why? What is the most interesting for tourists, recommendations from my travel experience.
There are direct flights from Riga to Mallorca (the eternal praise to lowcosters such as Ryanair – they are taking us there), and as the island is small, we do not need to travel a hundred kilometers to the desired city from the airport, located nowhere in hell. Once in early summer we went for a week to rest, or rather to breathe out after the project run.
Pros and cons of Mallorca I really liked Mallorca and everything was very good. And peaceful. Convenient location – close to everything, reasonable prices, free beaches, very, very many historical sites, something to see, clean and well maintained. I would go there again, but in the Velvet season, if possible, to walk a little bit more, to get a little bit sunburned. In June it was already very hot.
In general, a friend of mine, who has a friend on Mallorca, was flying there, and not in the season. And she also really liked it! More precisely, she was lucky with the weather and those 4 days that she was there. It did not rain and did not blow a strong wind (which happens in Mallorca in winter). So it went from our vile zero degrees to an honest +17. This is February. I want a February like that, too. But back to summer. Summer, of course, is the season on the island. That's why there are a lot of people, of course, even for this island. Near the sights crowd, ride on the roads, transport is jammed. But what to do, everyone wants to relax.
The strongest impression of Mallorca I have – probably a trip to the winding coastal cliffs and Cape Formentor – the cosmic beauty of high cliffs, the sunset and the wild goats, which run around at dusk. Words can't describe it all. We are on the island took the car from the company offered by the agency to bring and tow, clean and air conditioned. Everything turned out as ordered. For three days, in my opinion, 150 Eur car came out, new and beautiful. We drove it all we could. The Dragon Caves are another experience, it's very beautiful there, but there are a lot of people there at once, that a little bit lowers the mood.
In general, as you have understood, probably the biggest disadvantage of Mallorca I think the crowds in the season. From the cities I liked Alcudia best, though it's more industrial port town, but it doesn't have a frenzy of activity like in Palma. And the most picturesque views were in Valldemos. I liked the beaches very much. Sandy, warm sea and almost everywhere with a good entrance – what else do you need for a lazy tourist?
Practical issues
Everything on the island is close to everything; sometimes I felt like it was one big city sprawled out in the natural beauty. Public transportation is excellent; we used it a couple of times. There's even a train (we thought about taking it for a ride, but it didn't work out according to plans, it's more convenient to plan your time by car).
We lived all the time in the same hotel in Palmanova, but since everything is close, it was not a problem – on the contrary, a convenient base. The beach chairs (rent for money) were almost all occupied, but there is plenty of room on the beach for mats – buy and stack for free. Which we did with success. Our hotel was called Globales Mimosa, and it was honestly, well, so-so, I would have given it a 6 or 7 out of 10 for its 4 stars. Suitable for those who don't plan to spend a lot of time in the hotel. The rooms are very small, the ceilings are low, the style is thirty years old. The wifi is very expensive (only one hour a day for free), cheaper to use roaming, drinks (even cola) are almost all at extra charge if you took all inclusive, not ultra all inclusive. For people with mobility problems, the accessibility of the environment will be very relative.
Food is decent enough, but, to my taste, there are places where it is more delicious – for example, on Crete adored by me, and the continental coast of Spain somehow in the gastronomic plan was more impressed. Fruits were still sadly hard, meat, fish and other things – everywhere with gravy, delicious bacon. Traditional British food is available at every turn. It's expensive to eat in cafes, and they like the fat, i.e., vegetable oil. All unclusive may not actually include drinks, something to look out for, but there are plenty of stores around.
Conclusions Majorca is a very good place for a relaxing vacation, especially if you get a little ahead of the tourist crowd and arrive early in the season.
Yes, it is. It is a must-visit! One of the most beautiful places on Mallorca. Almost the most beautiful.
We went to Mallorca on August 19, 2018, we bought a trip to PEGAS for 9 nights, the cost for two 94000r. in the hotel BelleVue Vistanova 3*
View from the room
A little bit about the hotel.
The hotel is located at the intersection of two beaches: Magaluf and Palmanova, Magaluf is a noisy place where young people like to relax. Mostly British and Germans. At night, on the main street of Magaluf, a lot of clubs are opened, and the fun lasts until 7 am. Palmanova is a quieter district, with a beautiful promenade lined with cozy cafes. The Hotel BelleVue Vistanova is situated exactly at the junction of these streets, but at night we could still hear the noise from the clubs of Magaluf, so if you are going on holiday with children or just like silence, you should choose another area for rest, more quiet.
At the hotel we booked breakfast and dinner, breakfast was typical and monotonous, on day 4 it was already a little tired. Our breakfast and other meals were cooked in a large buffet. We enjoyed the fact that there was always fresh fruit on the table, and towards the end, when we got tired of all the food, we ate only fruit. But on the other hand, this hotel 3*, so more we did not expect.
Now moving on to the rest.
The first thing you need to do on Mallorca is to buy a local SIM card with the Internet (we bought it from our guide, 7 GB for 10 euros), because there everywhere the Internet is paid, at the hotel, for example, 5 euros a day.
On the first day we went to explore our area and the nearest beaches (they were 2), also on the first day there was little informative meeting with the guide, who tried to sell us excursions and said that we themselves will not see anything on Majorca. This is a complete lie! The same tours on the street sell 10-20 euros cheaper, and many places you can get by yourself by bus or rent a car.
Beach Magaluf
But still we had to buy one excursion from the guide: Safari Zoo (80 euros) and 2 excursions outside: boat trip (4 hours, 25 euros) and an excursion to the Cape Formentor (50 euros)
Regarding the car arena:
We did not take the car to rent (moved on local buses), as we had no European rights, but if you are going to take a car on the street it costs 50-60. Indeed, Mallorca is better to look independently, moving in a car, but there are also minuses: the narrow roads, expensive gasoline 1.3-1.4 euro / l, everywhere paid parking and it is difficult to find a free place.
And now more about the places and excursions.
On the second day we went to Palma de Mallorca. To get there from Magaluf is very easy: go to any bus stop and take any bus in the direction of Palma (locals call Palma de Mallorca just Palma), at all bus stops hangs a schedule of buses, as you can look it on Google maps. Palma is a large town, compared with other tourist towns, but there is nothing much to do there more than one day. In Palma a beautiful and long promenade, where you can rent bicycles, the Cathedral of La Seo, which impressed us with its size (admission costs 7 euros) and the Spanish Village-museum, where famous buildings, monuments, squares and streets of Spain recreated in different scales (admission 7 euros, students 4 euros, but you must show a student card). The sights also include the palace of Almudaina (entrance 7 euros). But we regretted to go there, it was boring and not interesting inside, there were not enough artifacts, only walls and tapestries. We walked around Palma, walked almost the entire city, and then went to the bay of Playa Hilletas, a charming place with a small beach and beautiful views.
Promenade of Palma
The next day we went by vintage train to the town called Soller (you get to Palma again, near the bus station there is a railway station, from which goes vintage train to Soller) one way price of 18 euros, there + back + ride on vintage streetcar – 35 euros. The trip takes 50-60 minutes and goes through the picturesque countryside. In the town of Soller, right on the train station is a free museum of Picasso, of which few people know, I highly suggest a visit. After a walk around the town and a visit to the church of St. Bartomio, we went to the port of Soller on an ancient streetcar, the ticket was bought on the streetcar itself (7 euros). From the port of Soller we wanted to go to the ancient town of Valldemossa, but we missed the bus and had to go back. The fee for a tour along this route is 60-70 euros, but we spent 35-40 euros, including fares.
Antique train to Soller Port Soller Antique streetcar
On the 4th day we took a boat trip to the uninhabited island of Dragonera, there were a lot of small lizards (they are not afraid of people and run up in flocks for a treat). The boat ride lasted 4.5 hours, when we arrived on the island we were given an hour to walk around and swim on the wild beach, time was short of course. If you love comfort, I advise to take excursion more expensive or to rent the private yacht, as on this excursion there were very many people, children ran and place to all did not suffice.
5 and 6 days we decided to have a rest and spent these days on a beach, weather at the end of August is comfortable, the sea warm, the sun not so scorching, from 10 am and till 15 day we spent on a beach (no, were not burnt) then went to have dinner and then again on a beach. In the evening went to clubs, there by the way to go no earlier than 11, and it is better to go closer to 12 o'clock at night, when the company will gather more.
On day 7, we went on an excursion to the Cape Formentor. Formentor-this is an unusually beautiful place, anyone who plans his vacation in Majorca, must visit it, words can not convey the emotions that there are experienced. But on the tour we were given only 30 minutes to visit the observation deck, it is very little! Then we went down to the beach Formentor – a narrow strip of beach with crystal clear water, if you walk a little further, you can find a place with almost no people. After swimming we were taken to a vineyard with a tasting (offered wine and olive oil), but it seemed to me that the prices were too high.
Formentor Lookout Formentor Lookout Formentor Beach Formentor Wild Beach Formentor Uninhabited Dragonera Island Boat Trip
On the last day we went to Safari Zoo, which is on the other side of the island and it is difficult to get there by public transport, so we bought a tour and did not regret it a bit. Safari Zoo is a zoo where you can move either by private transport, or by minibus, which provides a zoo (the price does not change-19 euros), some animals are behind a fence, and some walk freely in the territory, and if you are lucky you can touch them. We did manage to stroke the zebra, but there were a lot of people in the van and the animals did not particularly want to approach such a huge gromadina, so I advise you to go to the zoo by car. After the zoo we were taken to the famous Dragon caves, it was interesting to look at the crystal clear underground lakes, a lot of stalactites and stalagmites, and at the end of the largest lake of these caves we were taken on a boat ride. Then we were taken to the old manor, and we went back 200 years. With precision to the smallest detail the owner of the estate conveyed the life of that time.
At this point our trip came to an end. I want to say that Mallorca-is not a cheap resort, lunch in a not very expensive cafe would cost you 15-20 euros per person, tours are on average 50 euros, high fare. But Majorca is a place that once visited, you will never forget, you want to go back there again and again.
Holiday tips for Mallorca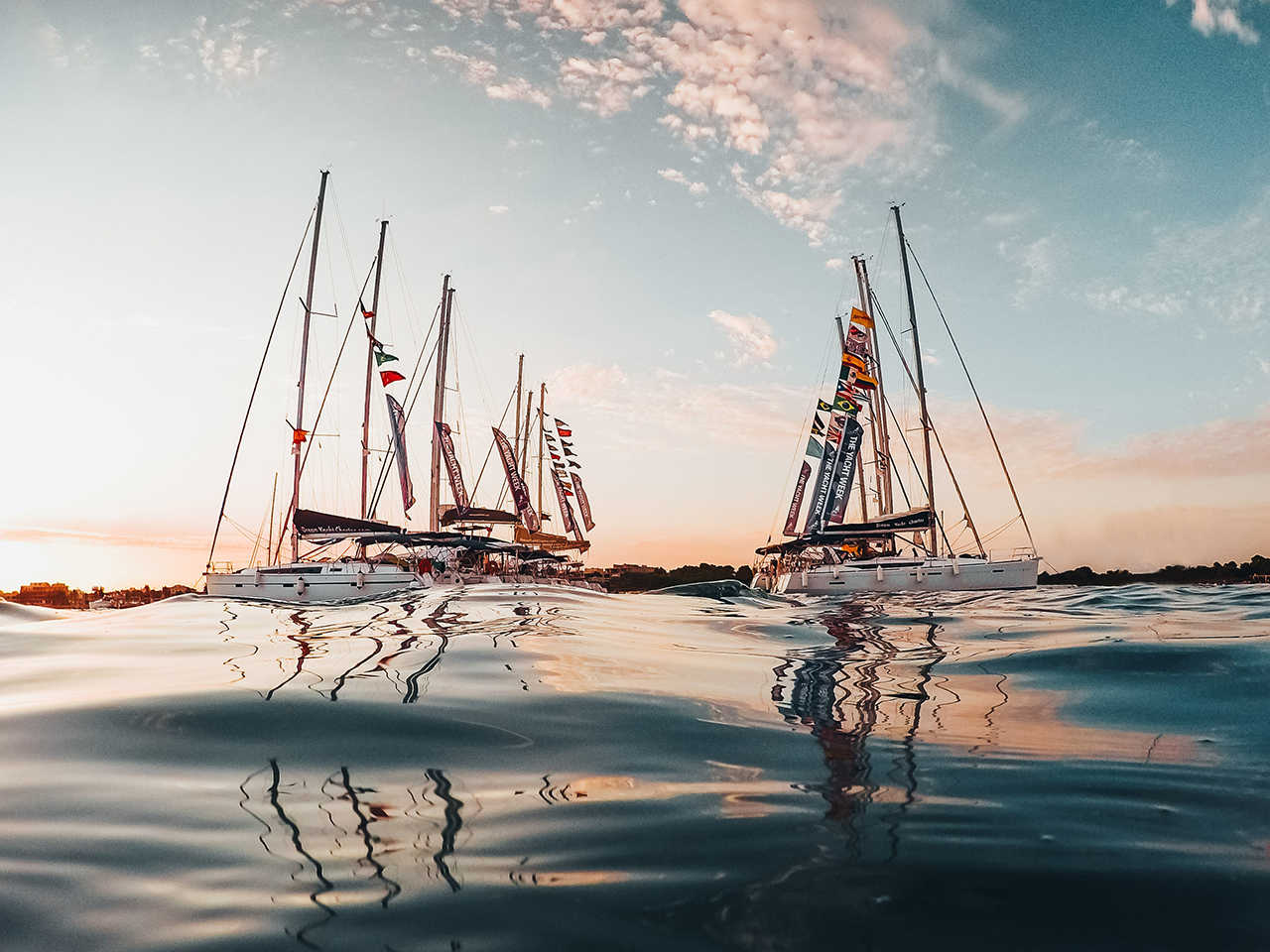 Read reviews about holidays in Mallorca – a picturesque Spanish island in the Mediterranean Sea. The pros and cons of vacationing in Mallorca in 2022. Learn firsthand about the weather, hotels, beaches, excursions and activities. Tourist tips.
Look for discounted hotels on Rumguru. Here are the top rules for finding hotels.
Content:
Reviews of the weather in Mallorca.
Thanks to the mild Mediterranean climate, resorts on the island rest all year round.
Veronica Alexandrova: "In recent years, I come in spring, in March and April. Despite moderate temperatures, the UV index was high, the sun scorched me noticeably.
For a holiday in Mallorca is good at the end of spring and early fall. According to tourists, at this time is warm weather. The air temperature is +21. +25 ° C, and water +19. +21°С. It rains a little, and they do not give any inconvenience.
The peak of the tourist season is in the summer months. In June, July and August, the island is hot weather of +28. +35°С. By the end of the summer the sea warms up to a comfortable +24. +26°С.
Svetlana Ozerova: "In June, summer rules the ball! Very comfortable temperature for long walks.
Mallorca is beautiful in September. According to feedback from tourists, the velvet season is not hot, and the sea is warm as summer +24 ° C. In the fall, there are fewer resorts, and the beaches are empty. Bathing until the last days of October.
Svetlana Monakova: "The first month of autumn was struck by comfortable temperatures. During the day it was +26. +29°С. I could wear all swimsuits and weightless summer sundresses".
Santa Ponsa, Mallorca (Photo: unsplash.com / @paulgilmore_)
Tourist reviews of Mallorca hotels
The island has hotels that accept tourists all year round, and those that are open only in high season – from May to October. Expensive accommodation is located near the beaches, and from the budget to walk to the sea 5-15 minutes. Demanded hotels 3-4 *, villas and Fincas – hotels, farms in small towns. For a vacation with his family will suit apartment hotels, which are located on the north and east coast of the island.
To make your vacation in Mallorca in 2022 a success, study the reviews of tourists about the hotels.
Bridget : "Hotel Protur Residencia Son Floriana 3* is really charming – a 200-year-old farmhouse in Mallorca. If you want a nice quiet place, this hotel is for you."
Michael : "I came to FincaHotel Can Coll 4* and was captivated. The hotel is charming, surrounded by trees and greenery."
Paul : "La Reserva Rotana 5* is in a beautiful place. You could not wish for anything better for a relaxing holiday."
In some reviews of Mallorca tourists noted shortcomings.
Marina : "The dinner at Blau Colonia Sant Jordi Resort & Spa 4* is not bad, the serving is good, but the food is not refined.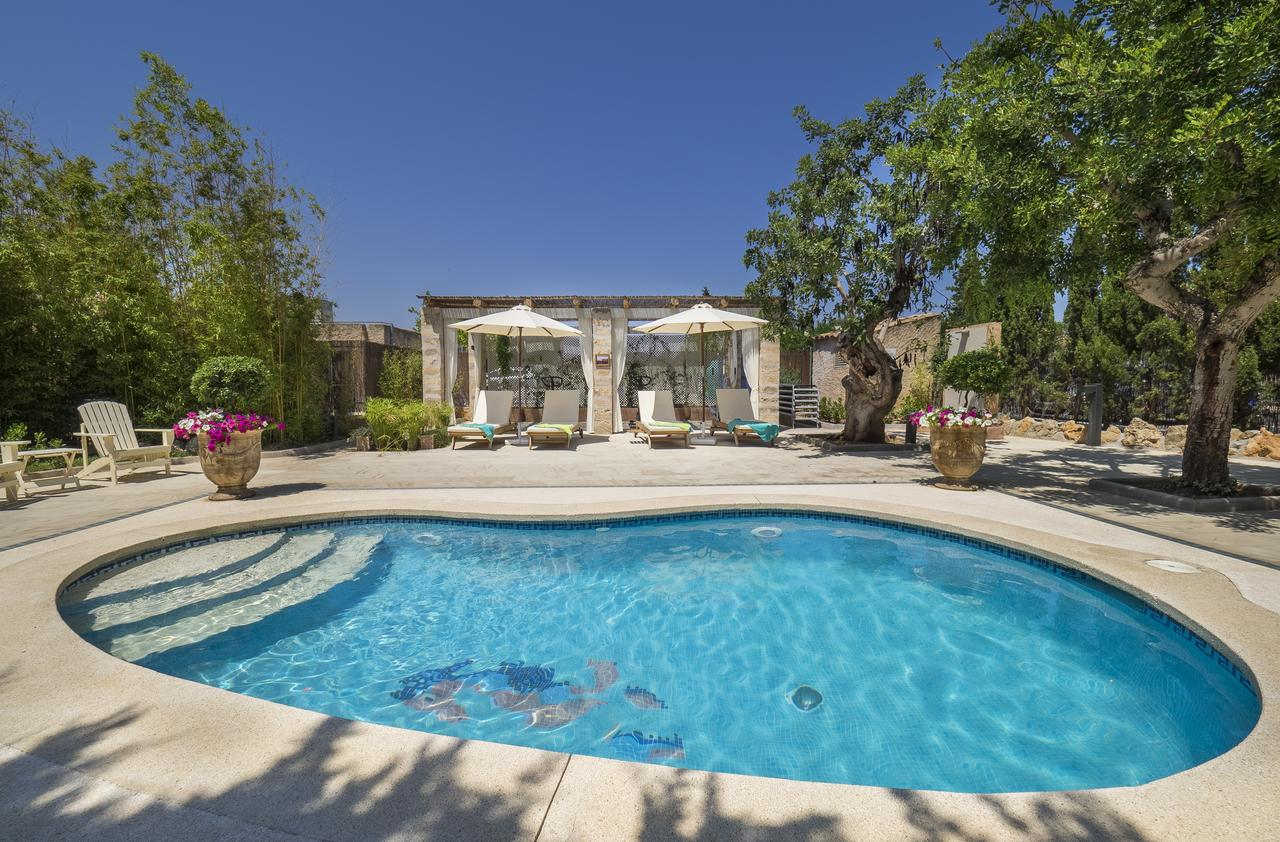 Pool at Protur Residencia Son Floriana (Photo: booking.com / Protur Residencia Son Floriana)
Reviews about the beaches and sea in Mallorca
All beaches in Spain are free. In Mallorca you can come to any place and relax with your own towel or mat by the sea. You only have to pay to use a sun lounger and a sun umbrella.
Choosing the best beach on Mallorca is not an easy task. Some like the big, well-equipped beaches at the popular resorts. Others love the tiny sandy coves surrounded by quirky cliffs. On any coast of the island is not difficult to find places with a gentle entrance to the water and clean white sand, where it is convenient to rest with children.
Natasha Kratova: "The beaches are full of interesting water activities – windsurfing, kitesurfing, diving. The well-off can escape from the heat by renting a comfortable yacht.
Ninellina: "Es Trenk – the best beach in Mallorca. The water is blue as in a pool, without any seaweed, it is shallow. The strip of beach is narrow, but long.
pr_kirill: "Playa de Muro Beach 10-15 meters wide, long, clean soft sand. The lack of cabins for changing, as well as on all the other beaches of Mallorca, where we were. Very uncomfortable.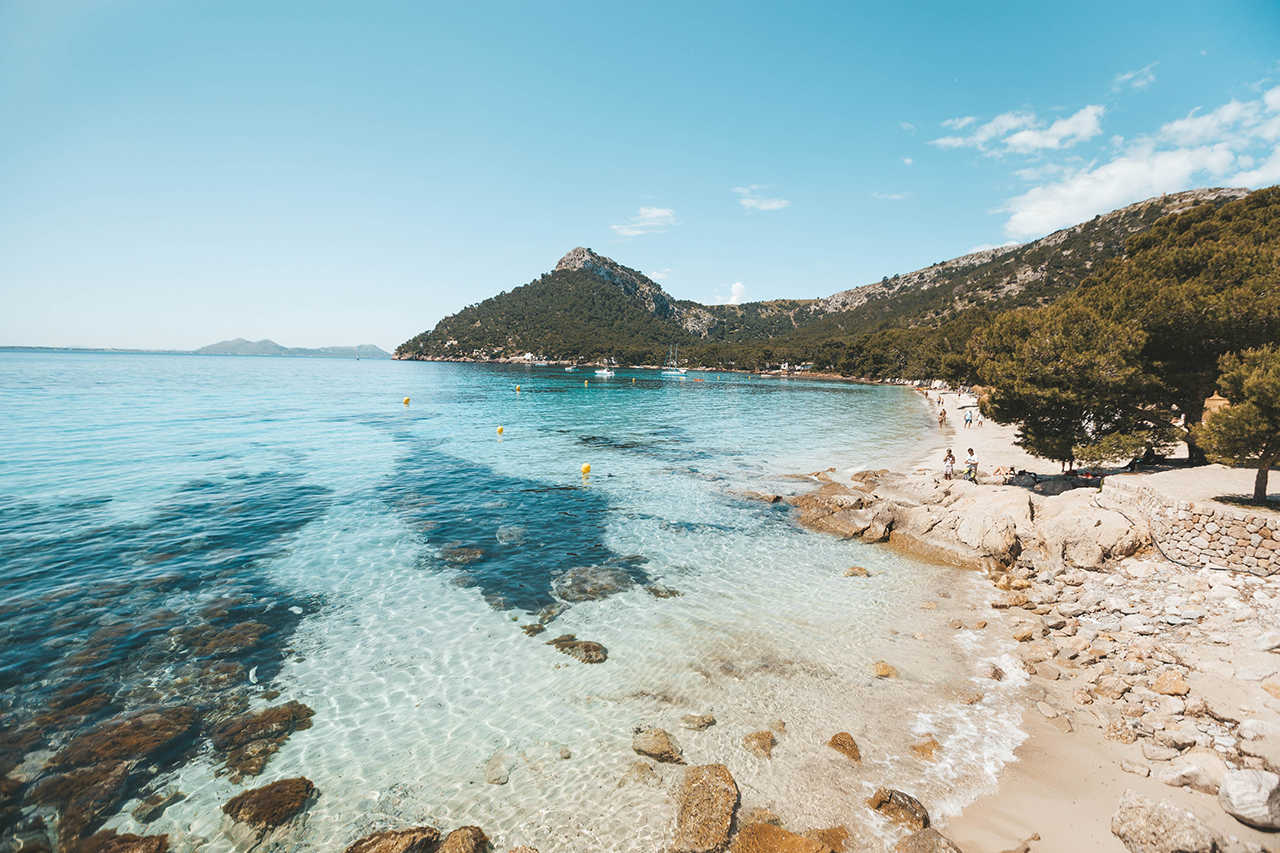 Beach in Mallorca (Photo: unsplash.com / @lindsaylona)
Tourist reviews of excursions in Mallorca
Look for author interesting excursions on Tripster. Individual and group, without crowds of tourists and in Russian.
Vacationers enjoy sightseeing tours around the island to explore the history, architecture, cultural traditions and beautiful nature of Mallorca. Boats take tourists along the coast and to the uninhabited Dragonera Island, home to unintimidating lizards. Resorts are popular bus tours with a Russian-speaking guide on the island's capital city of Palma de Mallorca. They cost 25€.
To rest on Mallorca in 2022 left a pleasant impression, read the reviews of tourists about the excursions and choose the appropriate.
Nina : "I liked it very much in Valldemossa. We recommend everyone to be there: the air, the sky, the mountains, the architecture, the flowers." Read more about the tour →
Natalia : "Alphabia Gardens is a great tour. Comfortable transfers, the ability to adjust the program according to my own preferences." Read more about the tour →
Alexandra : "We recommend to visit the estate of La Granja. It's a unique place where you can see with your own eyes what a natural economy was like hundreds of years ago. More about the tour →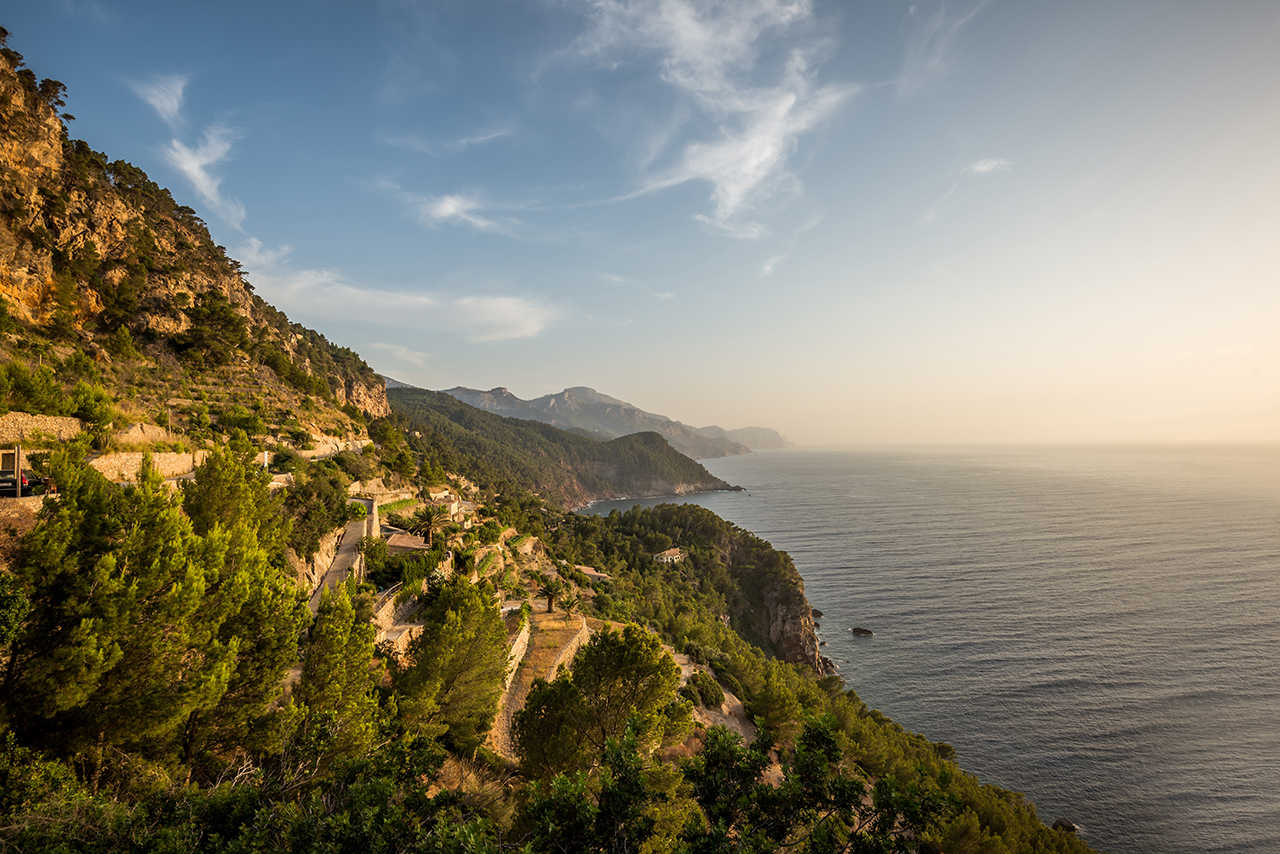 Lluby, Mallorca (Photo: unsplash.com / @born_on_may_20_th)
Mallorca sightseeing reviews
According to tourist reviews, Mallorca has attractions for all tastes. These are ancient castles, caves, monasteries and natural parks. Of great interest are the medieval fortress walls of Alcudia.
For a self-guided tour of Palma de Mallorca, the main city. Enjoy a stroll along the beautiful promenade, the cathedral, the picturesque Spanish Village – €7, and the Moorish Almudaina Palace – €7.
With children, visit the large Safari Zoo, the Aquarium and Dolphinarium in Palma de Mallorca, the Western Water Park theme park, the Pirates Adventures show and the Aqualand water park in the resort of El Arenal.
paramoshka96: "We moved around Palma on foot, walked around almost the entire city and then went to Playa Hilletas Bay, a charming place with a small beach and beautiful views.
Curious395049: "The cathedral is a sight not to be missed. Majestic on the outside, gorgeous on the inside. And what a view it has of the waterfront."
Tv_valery: "Kathmandu Park is only for small children. Pretty modest. Waterfalls, an upside down house and just a walk with a toddler. Kids over 7 years old are already a bit boring."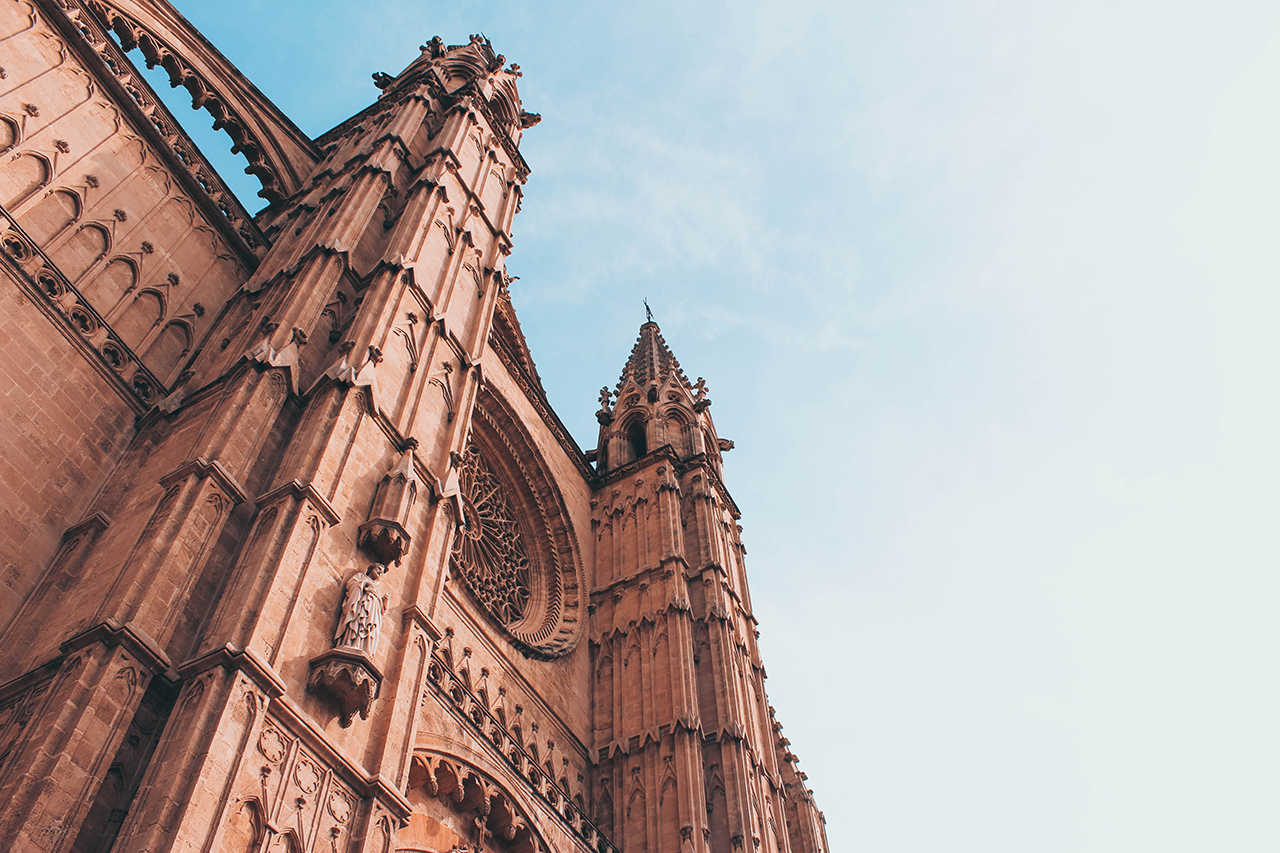 Palma Cathedral, Mallorca (Photo: unsplash.com / @mathildecr)
Pros and cons of vacationing in Mallorca
According to reviews, tourists liked the vacation in Mallorca. There are many more positive impressions than negative ones.
The pros of vacationing in Mallorca in 2022:
Direct flights to Spain and other European countries.
Gorgeous mild climate.
Excellent beaches.
Picturesque coastline.
Excellent service in any place – in a small village and the lively city.
Good shopping.
Good opportunities for outdoor activities.
Interesting sightseeing excursions.
Clarita: "I liked the island from the first steps – the atmosphere, a lot of tourists from all over. Bright sun, sea, palm trees, mountains and heat. But it is tolerated normally."
Cons :
Expensive hotels, food and car rentals.
Very hot in the summer.
In some places there is trash.
Few public toilets.
Marit Johansen: "Toilets in Mallorca are bad. I've only seen them at the station, in some popular places. You just can't find a place to go to the toilet on the street.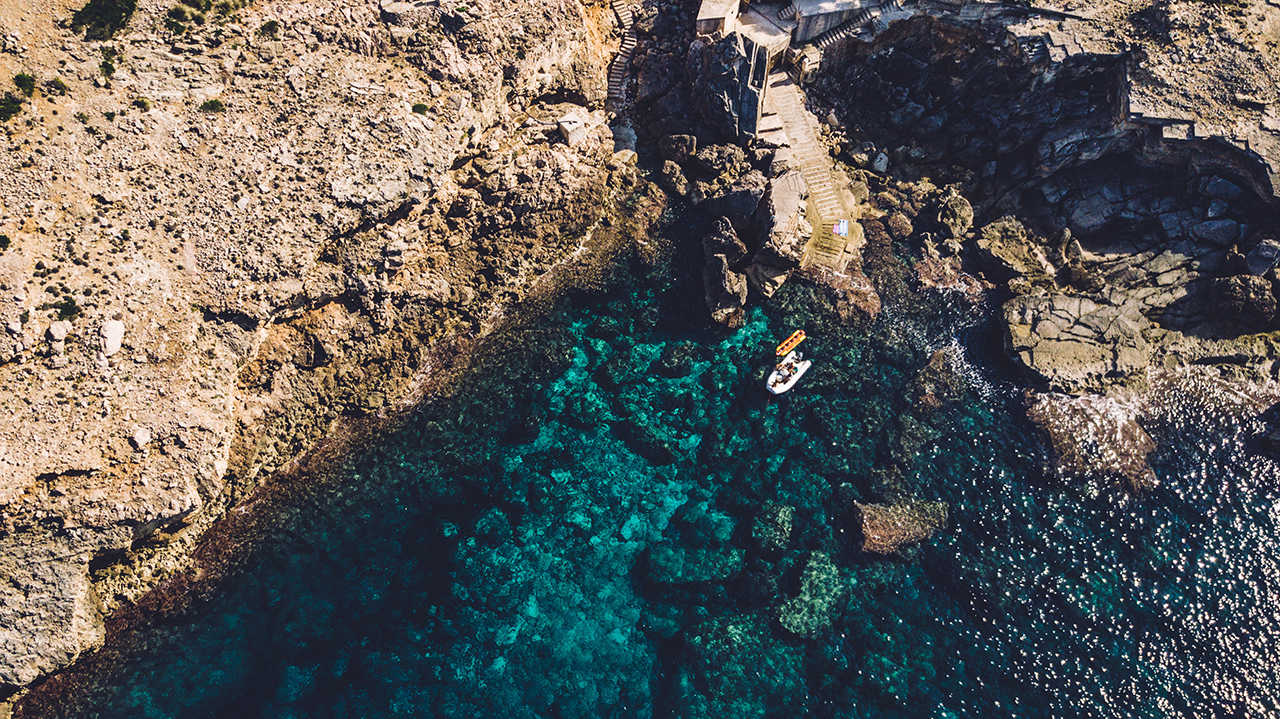 Cala San Vicente (Photo: unsplash.com / @unleashedagency)
The nuances of holidays in Mallorca and tourist tips
From late spring to mid-autumn hotels in Mallorca are in high demand. During the summer months, prices are the highest. If you want to save money, book accommodation in advance or come in the off-season.
Mallorca has a wide range of accommodation for families with children. For a trip with the kid, choose a hotel 4-5* with a children's pool, playroom and babysitting service. The vacation will be more comfortable!
Internet on the island is not free. In some hotels it costs 5 € per day. Buy a local SIM card with an internet package in order not to spend extra money. According to reviews of tourists, a good connection in Mallorca offers a Spanish operator Orange. A package of 30 days 3Gb is 7 €, 6Gb – 10 € and 9Gb – 15 €.
There is a cheap bus service between towns on the island. Explore Mallorca on your own!
Mr Darling: "The transport connections were good. Palma can be reached quickly and inexpensively. We drove almost daily."
If you cook on your own, buy your groceries in supermarkets. They are available in many places. In addition, the resorts have markets where local farmers sell fresh meats, cheeses, vegetables and fruits.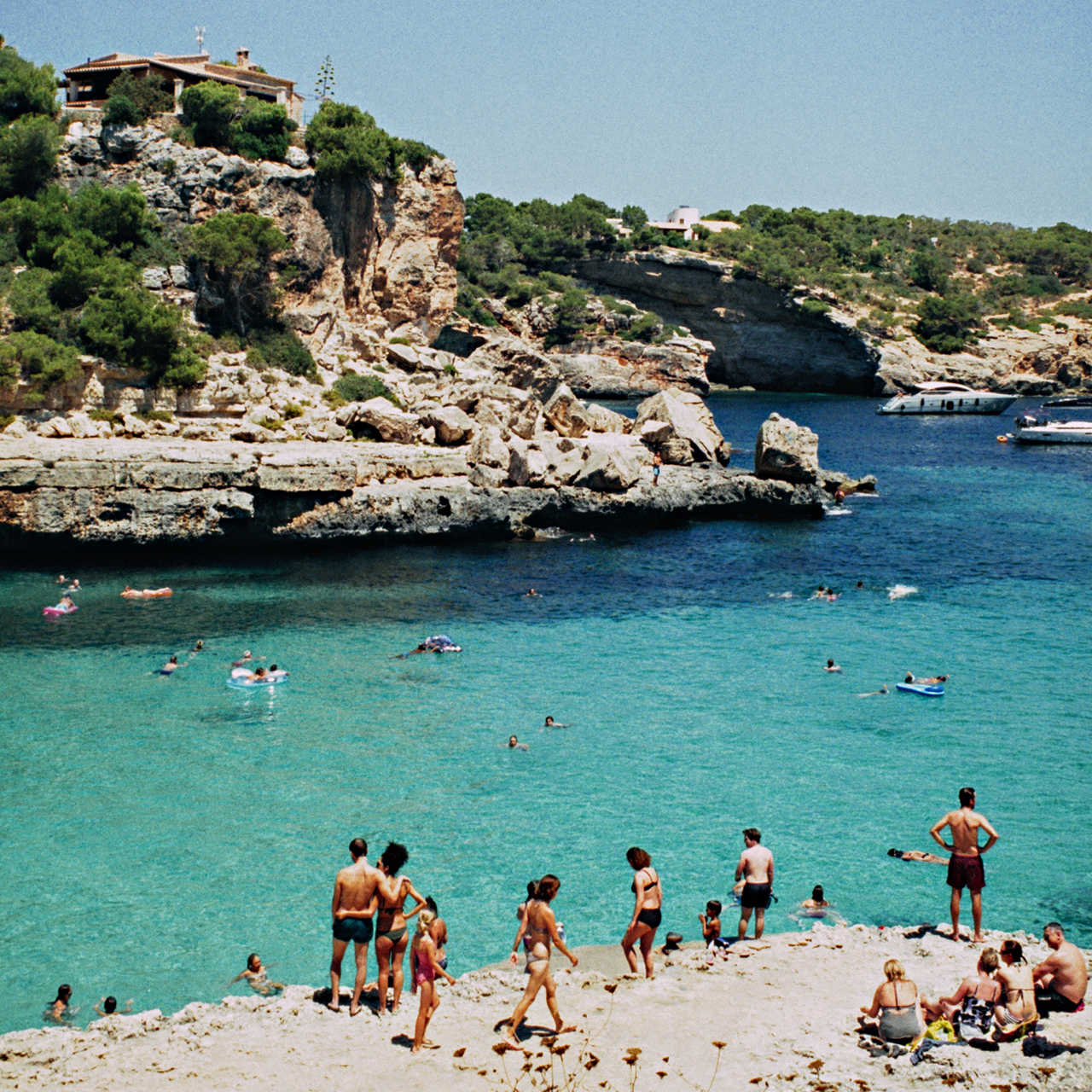 Beach in Mallorca (Photo: unsplash.com / @furbee)