Mongolia – Land of Blue Skies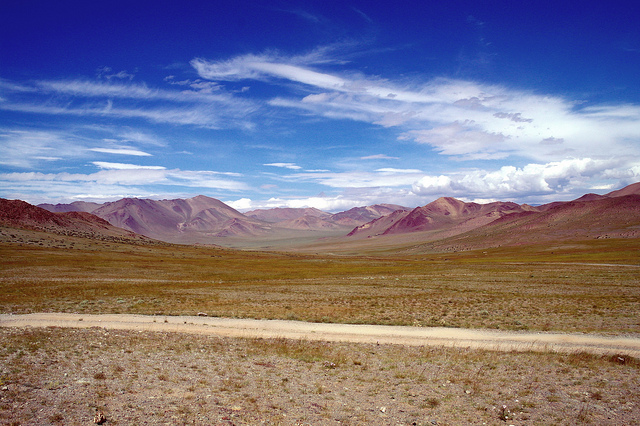 Welcome to Mongolia, a land of vast steppes, snow-capped mountains, and the rugged Gobi Desert. Landscapes, landscapes, and nature of Mongolia in an overview article with colorful photos.
Mongolia is a landlocked country in Central Asia, located between Russia and China.
The natural landscape of Mongolia is extremely diverse, with a wide variety of landscapes and natural areas. The country is mostly located on a plateau, which is 1000-1500 meters above sea level. The Mongolian Altai spreads out in the west, moving smoothly to the south to the lower ranges of the Goby Altai.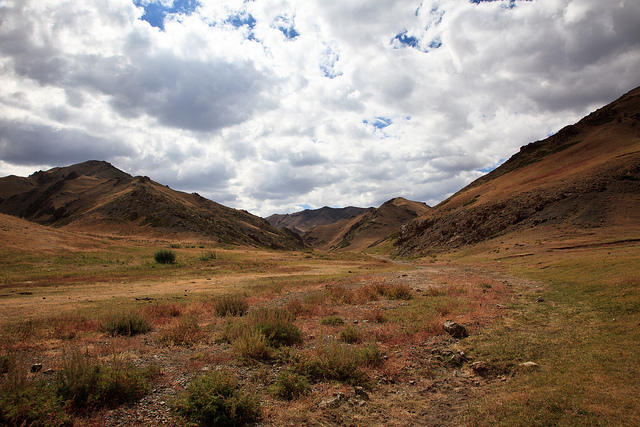 (Photo: civ33 / flickr.com)
Climate of Mongolia
Mongolia's climate is extremely harsh, even though the country is not in the northernmost latitudes. Winters are very cold, and summers are hot and dry. In January the thermometer column falls to – 30 ° C and below, and in July it may be hot for +30 ° C. By the way, Ulaanbaatar, the capital of Mongolia, is considered one of the coldest winter capitals of the world.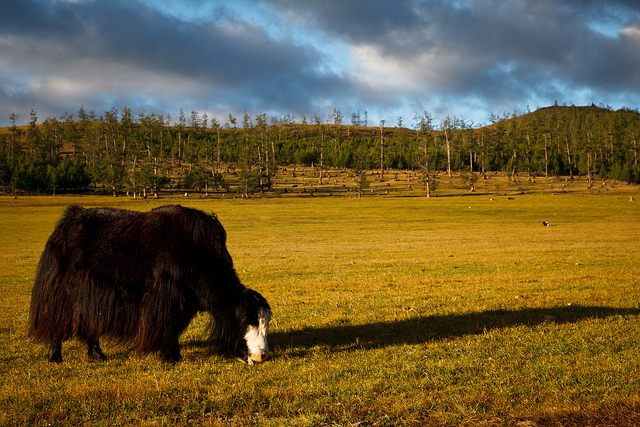 (Photo: civ33 / flickr.com)
The land of blue sky is often called this land because it has more than 260 sunny days a year.
Mongolia's climate is characterized by sudden changes in temperature during the day. In early spring or in the middle of autumn during one day you can experience almost all seasons at once: you have many times to change clothes for a T-shirt or a warm jacket.
The best time to visit the country – from April to October. The best time to arrange a trip to Gobi is early autumn, when the daytime is not so hot, and nights are not too cold.
(Going on your own, remember that you can find useful advices here, and information about current promotions and offers of airlines is always available here).
Mongolian Altai
Ranges stretching for a thousand kilometers in length. The main peak is Munkh-Hairhan-Ula (4,362 meters). The southwestern side of the ranges is covered with forests, as it is wetter here, while the northeastern side of the mountains is usually steppes and semi-deserts due to the excessively dry climate. There are glaciers on the tops of the mountains.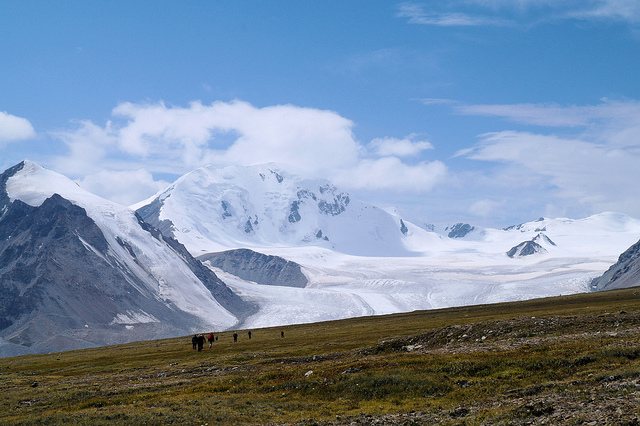 (Photo © martin_vmorris / flickr.com)
Gobi Desert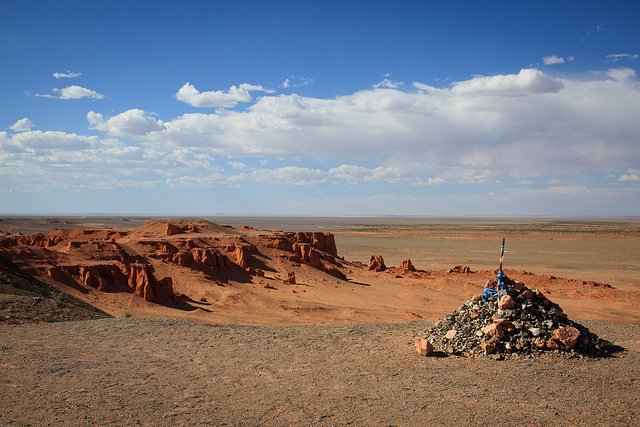 (Photo: civ33 / flickr.com)
In Mongolian, "gobi" means a desert place. And it really is – the desert covers an area of more than a million square kilometers and stretches 1,500 kilometers in length, making it the largest desert in Asia. Surviving here is incredibly difficult – if you are used to thinking of the desert as a very hot place, the situation with the Gobi is a bit more complicated. Yes, in summer it can be over +50 degrees Celsius, but in winter the temperature can drop to -60 degrees Celsius! The temperature range is striking – more than 110 degrees Celsius.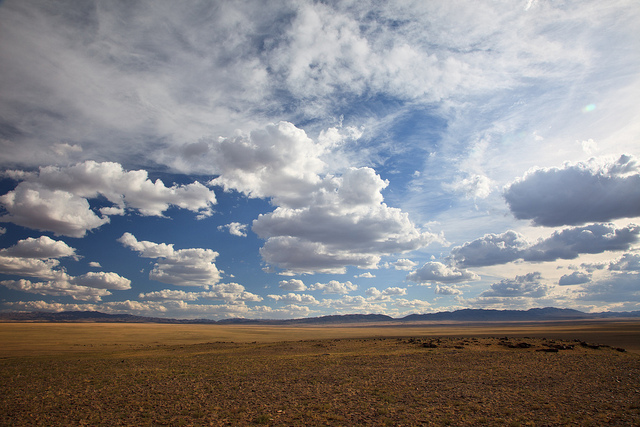 (Photo: civ33 / flickr.com)
In fact, Gobi is a number of different territories, each of them characterized by a different climate, a special type of terrain and landscapes. Locals themselves are said to distinguish over 30 unique terrains within this giant desert – the natural landscape of the Gobi Desert is indeed very diverse.
(Photo: lupus83 / flickr.com)
Lakes and rivers
Despite its rather arid climate, Mongolia has more than 1,000 permanent lakes and even more temporary ones that appear when it rains heavily and disappear when it dries. Once upon a time Mongolia was a sea, so today's lakes are what's left of that ancient body of water.
In Mongolia you can find "younger brother" of Russian Baikal – lake Khubsugul is considered as such: it is deep enough (more than 230 meters), and also has similar composition of water, flora and fauna.
In general, the largest lakes in Mongolia are Ubsu-nur, Hara-Us-nur and Hirgis-nur, although they are only a few meters deep.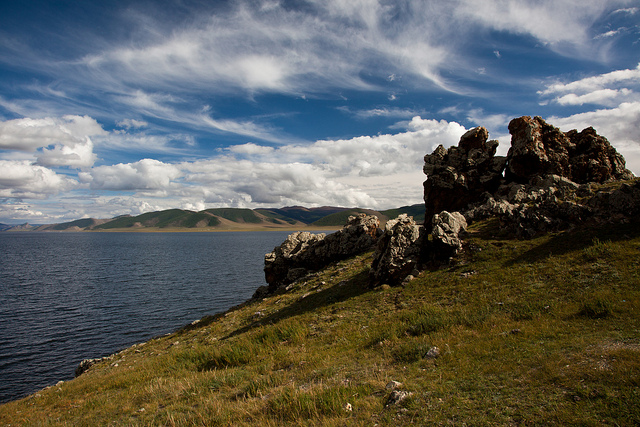 (Photo: civ33 / flickr.com)
The country's most full-flowing river is the Selenga, which also flows through Russian territory and eventually flows into Baikal. The waters of Selenga are always turbid and dark in color because of the clay and sand banks along which the river flows.
In general, many rivers originate in Mongolia, which are the headwaters of the great Siberian and Far Eastern rivers that eventually flow into the Arctic and Pacific Oceans.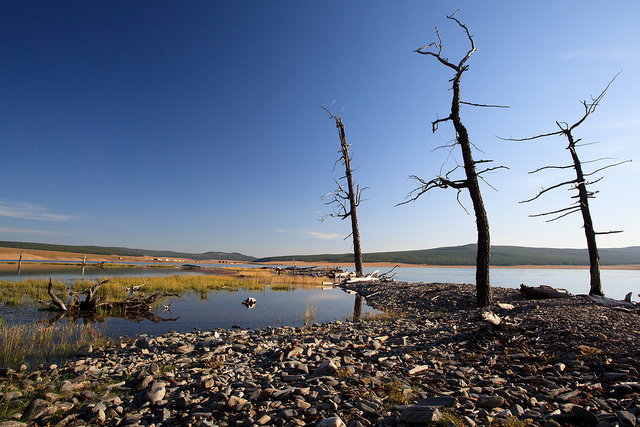 (Photo: civ33 / flickr.com)
You can read about other landscapes, scenery, and nature from around the world here.
Land of Blue Skies. Where to go in Mongolia
Mongolia is called the Land of Blue Sky, read – the country of vastness. And understandably: the population density is the lowest in the world: 2.08 people per square kilometer.
And there are no roads in Mongolia. To be more exact, there are roads everywhere: in the fields if you want, in the mountains if you want. Instead of asphalt, almost everywhere you find dirt roads, "trails" for motorcycles (one of the most popular means of transportation, besides horses and camels), or just steppes. Mongolia is wild and good-natured, unconventional and beautiful, poor and self-sufficient at the same time. We will tell you about the main attractions of Mongolia, as well as its features, which is useful to know the tourist.
Wild and good-natured (Source photo: Olga Fadeeva)
Ulaanbaatar
It's impossible without it, because Mongolia's only international airport is in its capital city. And the good half of the population lives here. Therefore, in Ulan Bator there are skyscrapers (probably the only in the whole of Mongolia), and ordinary five-storied buildings, similar to our "Khrushchev".
Monument to Genghis Khan (Photo source: barinovilya.blogspot.com)
What to see in Ulaanbaatar? Here is the largest equestrian statue in the world and the largest monument to Genghis Khan (in Mongolia, there is a real cult of the conqueror, who made this country a world empire). However, this is not exactly Ulaanbaatar, but its surroundings – the monument is located 54 km from the city center, in the district Tsonjin Boldog. But in the center of the Mongolian capital you can not miss the square of Genghis Khan next to the Government House (where the Statehood Museum is with unique exhibits, like the first cell phone of minister or president's computer).
There is a large statue of the Millennium Man himself (Genghis Khan), as well as an equestrian monument to another national hero – revolutionary Sukhbaatar. There is also a Peace Bell and a sculptural composition of the Top of the Sky. There are many Buddhist temples of all kinds in Ulaanbaatar. For example, Gandan Monastery or Choijin Lamyn Sum temple complex.
Yurts will be found everywhere (Photo source: Olga Fadeeva)
Karakoram
Mongolia is a country of the past, including very distant ones: there are many archaeological and paleontological monuments. One of the most famous is the Karakorum Archaeological Park, 350 km from Ulaanbaatar. Karakorum is the ruins of the city, which was the capital of Mongolia in the 13th century and which Genghis Khan himself began to build. The palace of Khan Ugedei, the remains of city walls, crafts quarter and different religious buildings have been preserved here.
Karakorum (Photo source: brodynt.com)
Gobi Desert
By the fact that it is the third hottest desert in the world, the Gobi already deserves you to visit it. And this place will also be of interest to animal lovers – both existing and long extinct. After all, the desert is a unique "sanctuary" of dinosaurs of world significance (among the findings, for example, "fighting dinosaurs", which died in a landslide). Here you can really see the fossilized eggs of ancient lizards or find their bones.
Gobi Desert in Mongolia (Photo source: pholder.com/u/Gooofy_Goober)
Traveling through the desert (it's better to book a sightseeing tour in Ulaanbaatar for this), you'll visit the red striped canyons, ride like a slide down the Great Mongolian Dunes (they are called Khongoryn Els and are considered to be almost the most impressive in the world). You will communicate with the locals (the desert is inhabited by nomadic tribes of Mongols and Oymaks), visit the Gurvansakhan National Park, where you can see amazing endemics of plants and animals which are found only here, such as the Goby mountain cat, the Mazalay bear or the Mongolian marmot.
Despite the heat, the desert should be visited in the off-season or summer. It has a sharply continental climate, so temperatures can drop to -55℃ in winter and rise to +58℃ in summer. The temperature range in Gobi is a record 113 degrees.
Khoton Nuur Lake
This place will appeal not only to lovers of beautiful nature, but also to fishermen. The water here is unbelievably clear, the pine forest is sprawling, there are marigolds and mountain peaks in the snow, swans fly and there are black squirrels, as well as one of the most valuable fish in the world – grayling. Not without reason, the mountain lake Khoton-Nuur is a popular place among Russian fishing enthusiasts. However, a few months ago it was forbidden to fish here. As it is considered that Khoton Nuur is home to the largest grayling in the world, which can be even eaten raw, at some point they started to take it out of here by barrels. The Mongolians themselves do not eat fish, so they came up with a radical solution: simply forbid fishing altogether.
Khoton Nuur (Photo source: Olga Fadeeva)
Khoton Nuur Lake is formed by a melting glacier and is located 2,083 meters above sea level in Altai-Tavan-Bong National Park. To drive here, you need to get a permit (about 1,000 rubles per car and about 700 rubles per person). Since almost no one in Mongolia knows Russian, and English is also difficult, permission must be ordered in advance from Russian travel agencies which take tourists here. They are located in Barnaul. The cost of a one-week tour to Khoton Nuur Lake (not including the flight to Barnaul) is about 60,000 rubles per person (this includes the transfer by car through Altai, fishing gear, tents, and food, except alcohol).
By the way, it is cheaper for residents of Novosibirsk, Barnaul and Altai Krai to drive to Khoton-Nuur Lake by their own car. Just remember that the car must be highly passable (the road to the lake is in poor condition, and it is crossed by countless deep fords). But the GPS-navigator in Mongolia works, and unlike the Russian territory considers even a barely visible path in the steppe as a road. So you will not get lost.
The car should be fairly impassable (Source of photo: Olga Fadeeva).
Keep in mind that the Mongolian-Russian border works from 9 am till 6 pm with break for lunch, and rests on Saturday and Sunday. The queues here are long, so it is better to arrive and take your place early in the morning. Get ready to pay a bribe: 50 rubles per car for disinfection of wheels and about 1300 for the car insurance which nobody needs.
In spite of the fact that the authorities prohibited fishing on Khoton Nuur, it doesn't mean that you can't fish there. To make it possible – firstly, forget about the nets, secondly, hide your fishing rods when you pass the border of the national park, and thirdly, prepare a hot beverage for the local inspectors, who will certainly come to you the next day after you set up camp (no hotels here – take tents and warm clothes: it's very cold at night). You need to have a drink with them. You can consider this to be a beautiful old custom.
Mongolian grayling (Source of photo: Olga Fadeeva)
Prepare and gifts for the locals – cookies, candy. Although this is a protected area, nomads live here in yurts. Mongols are very hospitable and friendly people, so they will definitely come to you with kumyss and kurt (national dish, something like dried, pressed and very salty curd). You can't offer them money, they will be offended.
Gorkhi-Terelge
If you don't have an opportunity to get far from Ulaanbaatar, go to the national park Gorkhi-Terelzh which is only 60 kilometers from the Mongolian capital. Mongolian nature in general is radically beautiful, and here it appears in its full splendor.
The park is world famous for its bizarre rocks resembling different animals. Every year there are folk competitions in a variety of traditional games – most involve racing horses. By the way, a horse can be "rented", and a camel too. There is a Buddhist temple and a park of dinosaurs (their stone spears). And you can also go up to the glacier (bringing climbing equipment).
Gorkhi-Terelzh (Photo source: onedio.ru/)
Unlike many other places in Mongolia, Gorkhi-Terelzh has developed tourism: the park has about 60 tourist bases (including yurt bases, but with equipped playgrounds, cafes and golf courses), five rest homes and even a SPA-center.
What you need to know when traveling in Mongolia
Standard of living
Mongolia is not very innovative: even at the border checkpoints they burn pressed dung to keep warm, and in the streets of the cities there are yurts next to apartment buildings. You will see them very often (despite the general backwardness, each one has a solar panel), and there are dung, bones, and unwanted cattle hides everywhere. Mongols are nomads. And even though sometimes it seems like there's no one here at all, every piece of land is inhabited.
When you come to Mongolia, you get to the past (Source of photo: Olga Fadeeva)
Housing and Transportation
Ulaanbaatar is the first and last bastion of Mongolian civilization. Of course, there are other cities, but almost all of them are tiny and more like villages, and they are far apart from each other. There are few shuttle buses, few civilian airports, and the flights are irregular.
The city of Ulgii (Source photo: Olga Fadeeva)
So the best way to travel in Mongolia is to rent an SUV and tents, and if you're lucky, camping. You can see more and get comfortable this way. Because the situation with hotels is not easy, if we are not talking about the capital. In small towns there are mostly only hostels or guest yurts. The notion of an individual room is treated here with skepticism. Mongolians are used to living together, besides, there are not so many tourists in the country, so it is cheaper to keep a hostel-type hotel.
Crossing (Source of photo: Olga Fadeeva)
Religion
The vast majority of Mongolians are Buddhists. Nevertheless, shamanism is still very developed in the country. While traveling in Mongolia, one can often see objects of the oba cult – stone mounds with sticks or horns stuck in them, which are hung with blue ribbons called hadaks. The hadak scarf is a Buddhist symbol, and in Mongolia and Tibet it is given as a sign of respect and good wishes. Crutches, coins, or empty bottles of vodka often lie next to such a mound. The crutches are left there to heal, money or bottles are left there to placate the spirits of the road.
The object of the cult of obo (Source photo: Olga Fadeeva)
Safety
Above we talked about marmots – on no account eat their meat! As well as other rodents or meat of animals that may have eaten them. Mongolian rodents are natural carriers of plague, with isolated cases of plague still being detected in this country. In order not to be afraid of getting sick, get appropriate vaccinations two weeks before the trip. It is possible to get it free in the settlement of Kosh-Agach in the Russian Altai, 50 km far from the Mongolian border.
Bring souvenirs for the locals (Source of photo: Olga Fadeeva)
Prices and souvenirs
The nice thing about Mongolia is that everything is very cheap. You can hardly spend more than 500 rubles for a three-course dinner (the portions are gigantic) at a restaurant in the center of a comparatively large city. There's no seafood on the menu, though, but there are plenty of national dishes.
And the souvenirs sold here are not Chinese but made in Mongolia. They are made of the world-famous wool and leather of Mongolian camels. As a rule, they are handmade. For example, large chess with a board, a cover of piled wool and ceramic figurines in the form of Genghis Khan and his entourage are only about 300 rubles.