Montenegro vacations with children – 2022: Best resorts and hotels
We tell about holidays in Montenegro with children in 2022: what resorts and hotels to choose for a trip, where to go and what to see with a child. We analyze reviews of tourists, give examples of prices for tours to Montenegro – 2022, give recommendations and tips on recreation with a child.
The article consists of several sections:
The best resorts for family vacations
Best hotels
Prices for tours with children
Tourist reviews
Tips and tricks
Are you going to Montenegro by yourself? Do not forget to take out insurance for yourself and your child – medicine in Europe is expensive.
Where to go to Montenegro with children
Where is the best place to go to Montenegro with a child in 2022? What resort to choose?
Many Montenegrin cities are suitable for a holiday with children, but each has its own characteristics – somewhere too noisy, somewhere there is no convenient entrance to the sea for kids, somewhere there is little entertainment and infrastructure is not developed.
We have selected 4 resorts in Montenegro, which get the best reviews from tourists with children, and gave them a brief description.
Budva
Budva is the most popular resort for holidays in Montenegro in 2022. The reason is simple: you can get from the airport of Tivat to Budva in 20 minutes, and in the city itself there is a developed infrastructure, entertainment for all tastes, picturesque beaches and a lot of sights to visit.
Difficulties with the language barrier is usually not, many residents speak Russian. However, Budva should be preferred for a holiday in Montenegro if you go to rest with older children – the resort is quite noisy and crowded.
What to see with children in Budva:
Petrovac
Not far from Budva (only 17 km) is a quiet and nice town of Petrovac. There are picturesque terrain, comfortable beaches, clean air with the scent of pine trees, olive groves.
Petrovac beaches are covered with fine pebbles and reddish sand. The entrance to the sea is ideal for children.
In Petrovac there are not so many entertainments as in Budva, but everyone is sure to find something for himself:
walks along the wide promenade with small attractions for children;
boat trips and safari;
water activities;
A visit to the ancient Venetian fortress of Castello.
St. Stephen's
Nowadays expensive luxury resort used to be a military fort. Nowadays, not cheap hotel complexes can please families with children with excellent service and clean beach with pinkish pebbles.
In St. Stefan a cozy atmosphere, quiet and calm, no crowds and noise. For entertainment you have to go to the nearby resorts.
What you can do in Saint Stefan with a child:
walk along the promenade;
Visit a couple of Milocer;
Have a rest on a small playground on the seafront.
On a side note: to learn more about the pros and cons of the main resorts of the country, read the article Where to go on vacation in Montenegro – 2022
Photo: Hotel in the resort Sveti Stefan © Michael Tyler / flickr.com
Becici
One of the best Montenegrin resorts for holidays with children in 2022: the proximity of the airport (13 km), solitude, silence.
Posh beaches with golden sand and fine pebbles are awarded with the Blue Flag (international award for environmentally friendly beaches). The place where you can swim safely, separated by buoys.
The shore is regularly cleaned. It is equipped with everything you need: toilets, showers, changing rooms, cafes, sports fields.
In Becici children will not get bored. What entertainments are available at this resort in Montenegro for a child:
water park;
children's attractions;
Excursion to Skadar Lake.
The best hotels in Montenegro for holidays with children
When choosing a hotel, we advise to pay attention to the reviews of tourists, the quality of the beach (sandy or pebbly), the availability of cafes, restaurants and entertainment nearby.
How to find inexpensive hotels in Montenegro? If you are going on a tour, use Travelata and Level.travel sites – they compare prices for tours in all tour operators.
If you're going on your own – try Booking to search hotels and Airbnb to find accommodation from owners (at the link – 2100 rubles discount for the first booking.
Iberostar Bellevue – 4 stars, Becici
Hotel with world fame. Located 50 meters from a good beach with crystal clear water. Has an impressive area in comparison with most hotels in Montenegro.
Excellent infrastructure for families with children: children's pool, playroom, playground, pool with balls. According to reviews, many tourists liked the quality children's animation.
The restaurant provides chairs for children. Hotel guests note a variety of food and such a service as preparation of dishes for the child by prior order the day before.
Video review of the Iberostar Bellevue Hotel 4*:
Aleksandar – 3 stars, Budva
Hotel Aleksandar in Budva has a great location: close to the main promenade and 800 meters from the Old Town. There is a Russian-speaking staff in the hotel. There are rooms of the apartment type with a kitchenette and a set of dishes.
The child will not be bored at the hotel. There is an equipped children's playground and animation. In the hotel complex Slovenska Plaza, of which the hotel is a part, from May to September there are cultural and entertainment events.
Tourists in their reviews about holidays in Budva with children note the green area, similar to the park. To the famous beach of the same name "Slovenska Plaza" is 100 meters. There you can rent sun umbrellas and sun loungers.
Rivijera – 4 stars, Petrovac
The hotel is located near the coastline. Removed from the noise of the streets. Two beaches 170 and 600 meters long are within walking distance. Very green area with lots of lime trees, pine trees and flowers. To the center of the city 150 meters.
Tourists note a good selection of dishes for baby food, daily fruit and ice cream, as well as the availability of high chairs.In addition, for small children there is a playground with slides and houses. Children have the opportunity to play soccer, drawing, modeling with clay.
There is a shady terrace for sunbathing, a children's pool and a mini market with basic necessities.
Photo: Hotel Rivijera © hotel-rivijera-montenegro.com
Romanov – 4 stars, Sveti Stefan
Family friendly mini-hotel 80 meters from several municipal beaches with clear sea. There is a good view of the island of Saint Stefan. There are duplex rooms with kitchenette.
For children there is a playroom with a TV, various toys and even a children's billiards.
The restaurant has a Russian cuisine and children's menu. There is an open terrace of the restaurant, next to which there is a playground with slides and swings. You can have dinner and children will play under your supervision.
Photo: Beach in the resort Sveti Stefan © onlinetours.ru
Prices for holidays in Montenegro with children – 2022
The cost of tours from Moscow for 7 days for a family of three (two adults + child) starts at 60,000 rubles. This is the price of an inexpensive hotel 1-2*. For example, a stay at the Villa Danica Hotel 2* (without meals, 600 meters to the beach) will cost you 62000 rubles.
Tours in hotels 4-5 stars are more comfortable and will cost more. For example, the price for a holiday with a child at the Romanov Hotel 4 * in St. Stefan (20 meters to the beach, breakfast and dinner) is 149000 rubles.
Holidays in Montenegro with a child 2022: prices for "all inclusive" package
Tours with an all-inclusive package in Montenegro are much more expensive. The prices for a package for 2 adults and a child in 2022 start from 104000 rubles. This, for example, the hotel Korali 2 * in 100 meters from the sea.
Rest "all inclusive" with children in hotels 4-5 stars will cost from 120,000-140000 rubles. For example, good reviews from families with a child gets a hotel Iberostar Bellevue 4 * in Becici (50 meters from the sea).
Reviews about rest with children
According to many tourists, in 2022, Montenegro is one of the best summer destinations, where you can go on vacation with children.
The country has everything you need for little travelers:
The cleanest air, which is attributed medicinal properties;
picturesque landscapes with lush vegetation;
warm and clear sea;
a lot of entertainment for children near the beaches;
almost no language barrier;
local cuisine well-suited for children's meals;
friendliness of the local population (especially children).
Judging by the reviews of holidaymakers, there are few disadvantages of holidaying in Montenegro with children. Among them are not very clean streets of the cities, high prices, very hot weather in the summer and a large number of tourists.
Photo: View of Kotor © Robert Cutts / flickr.com
Tips and tricks
To vacation with a child in Montenegro was successful and memorable for a long time, experienced tourists listen to the following tips:
Get a child special shoes for the beach, since most of them pebble;
To use bottled water to drink; on vacation – a great way to see the country. It is inexpensive, but it will allow you to move freely around the city, between attractions and resorts of the country;
choose to vacation with young children in September. At this time it is warm, but not hot; no crowds of tourists. You can also go to Montenegro in October, but the water at this time warms up only to 21-23C˚.
Are you already holidaying in the country? Share your feedback! What is the best resort in Montenegro for holidays with children in 2022? What hotel and things to do? Your information will be useful for tourists who are just planning a family vacation in this part of Europe.
Holidays in Montenegro with children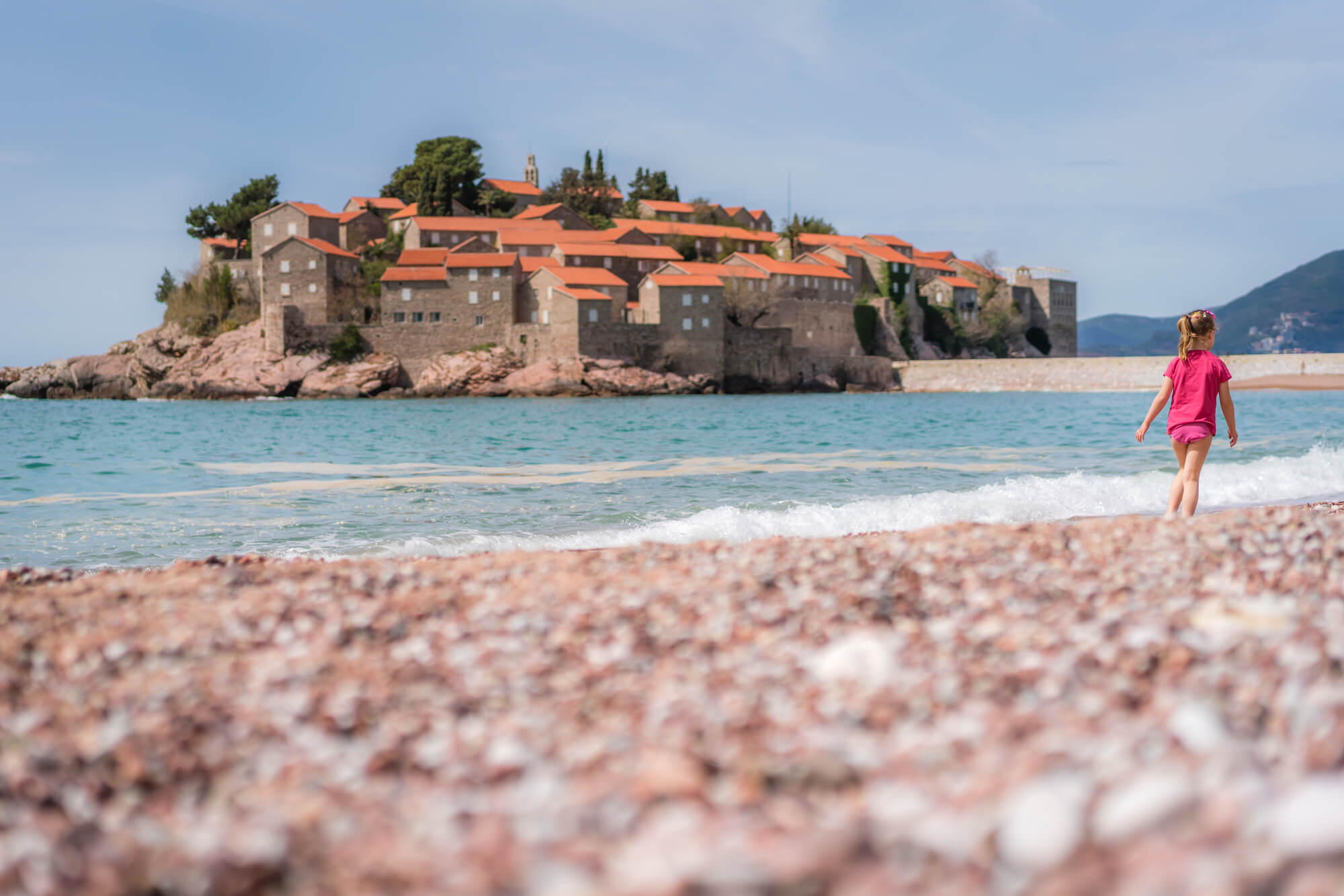 Are you going to go on holiday to Montenegro with your child? Read our tips and reviews of tourists. We tell you about the best resorts, beaches and all-inclusive hotels for kids in 2022.
The azure sea, good ecology and affordable prices have made Montenegro a popular European destination for holidays with children. There is no need to torture yourself with English lessons – the local language is quite understandable, and many locals know Russian.
Contents:
Features of holidays in Montenegro with children
Montenegro can hardly be called a beach country. Sandy beaches are very rare here, and all of them, with the exception of resorts on Ulcinj Riviera, of imported sand. Natural beaches are mostly rocky or pebbly with uneven seabed, and the water in the sea is clean but cool. Even on the hottest days the water temperature rarely rises above +25 ° C. The warmest water in the Gulf of Boko-Kotor is +27 ° C – advised to go there by tourists vacationing in Montenegro with children.
Despite the prevailing cult of the child in the country, the selection of baby food is not rich. Familiar to us broths and porridges in public catering are not common. However, fruit and pastries are always on sale, and pizza and spaghetti with seafood can be ordered in any cafe.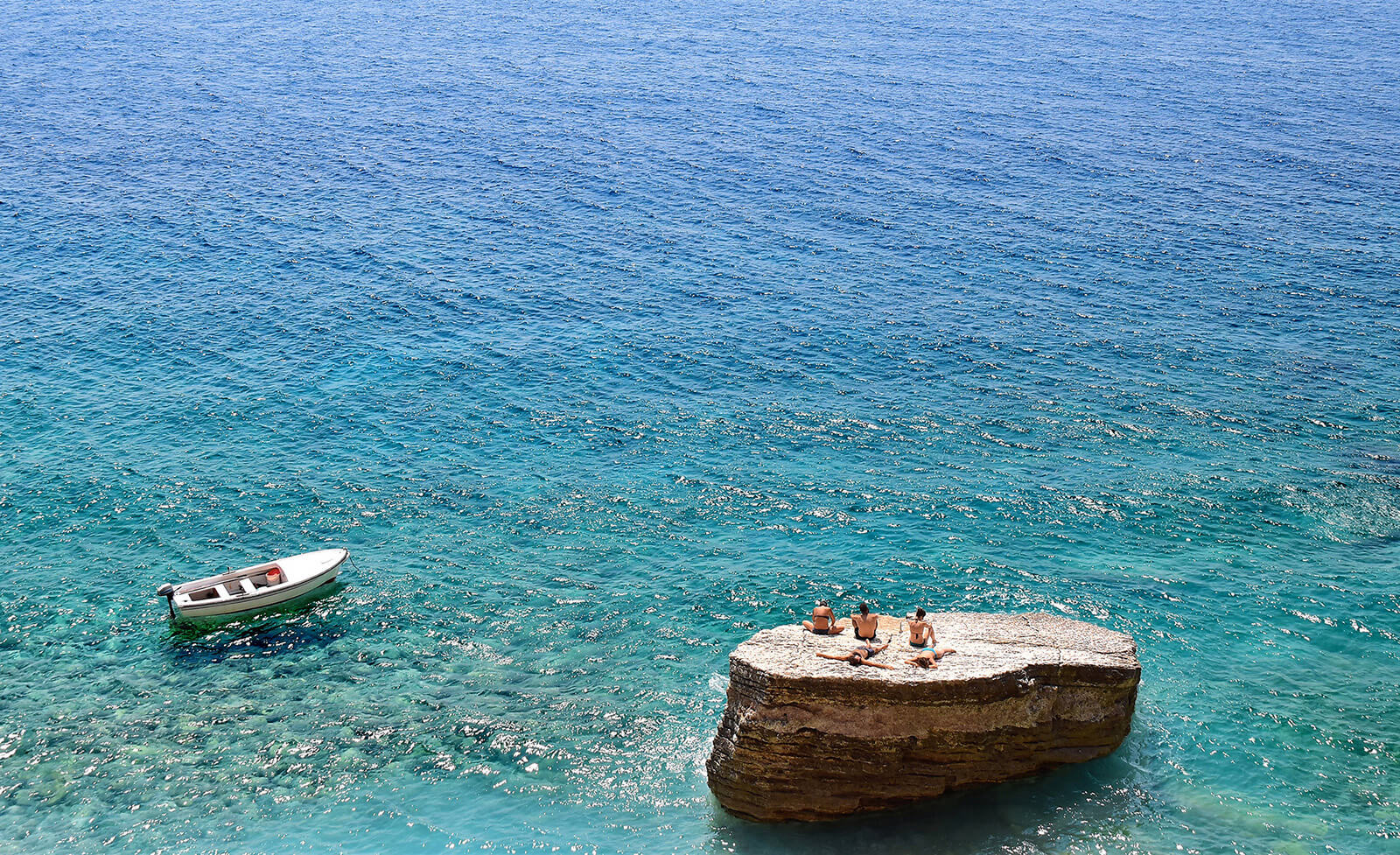 Natural beaches are mostly rocky or pebbly with uneven seabed, and the sea water is clean, but cool. Photo: Pritykin_Nikita / Depositphotos.com.
When to go
The second half of summer in Montenegro is indicative of high prices and crowded beaches, so this period is not recommended for a family vacation. It is better to go in September, when the sun is not so aggressive, the water in the sea is already thoroughly warm, and the market is full of ripe fruit.
Some people prefer to rest also in June, but despite the high air temperature of +28 ° C, the water in the Adriatic Sea warms up reluctantly, and its temperature in early summer is only +21. +23°С. Find out when it's best to vacation in Montenegro.
Rent a car – it's the best way to travel! Localrent.com is a reliable and convenient car rental service in Montenegro. Choose a car for your taste and budget – the choice is wide. The cost of renting a car from 10 euros per day. Do you have any questions? The Russian-speaking support service will help you in everything.
It is better to go in September, when the sun is not as aggressive, the water in the sea is already reasonably warm. Photo: Smallredgirl / Depositphotos.com.
The best resorts for a holiday with a child
Montenegro is a country with a mountainous landscape, most of the resorts are placed on the hills, so tedious descents and ascents are inevitable. For a holiday with small children suitable pebble-sand beaches Budva Riviera – close to the airport, there is all the entertainment and well-developed tourism infrastructure.
Budva has a beautiful historical center, but the lively urban atmosphere is more suitable for youth holidays. Vacationers with children prefer quiet and calm suburbs. For example, Becici, where there are also cafes, restaurants, children's attractions and water park, but the rest is quieter and more accessible.
Inexpensive apartments in Petrovac is often recommended for family holidays – there is a sandy beach with a good entrance to the sea, old buildings from the Middle Ages and the cleanest pine air. However, in the middle of summer the local beaches suspiciously remind our Black Sea – so many people that there is no place to sit.
Apartments of one of the most popular resorts of Montenegro – St. Stephen Island – are ideal for a holiday with children, but very expensive for the wallet. Luxurious beaches are located on both sides of the spit that connects the island with the land. One beach is public, the second can only be accessed by guests of the famous complex.
The resorts of the Bay of Kotor also have sandy and pebbly beaches suitable for family vacations. The sea here is calm, without waves and strong currents, and the warmest water in all Montenegro. In Tivat is a beautiful promenade and playground, the ancient town of Kotor is attractive from an excursion point of view. But Herceg Novi, with its endless staircases will be tedious for moms with strollers, in addition, the city has only concrete beaches.
Articles on the topic: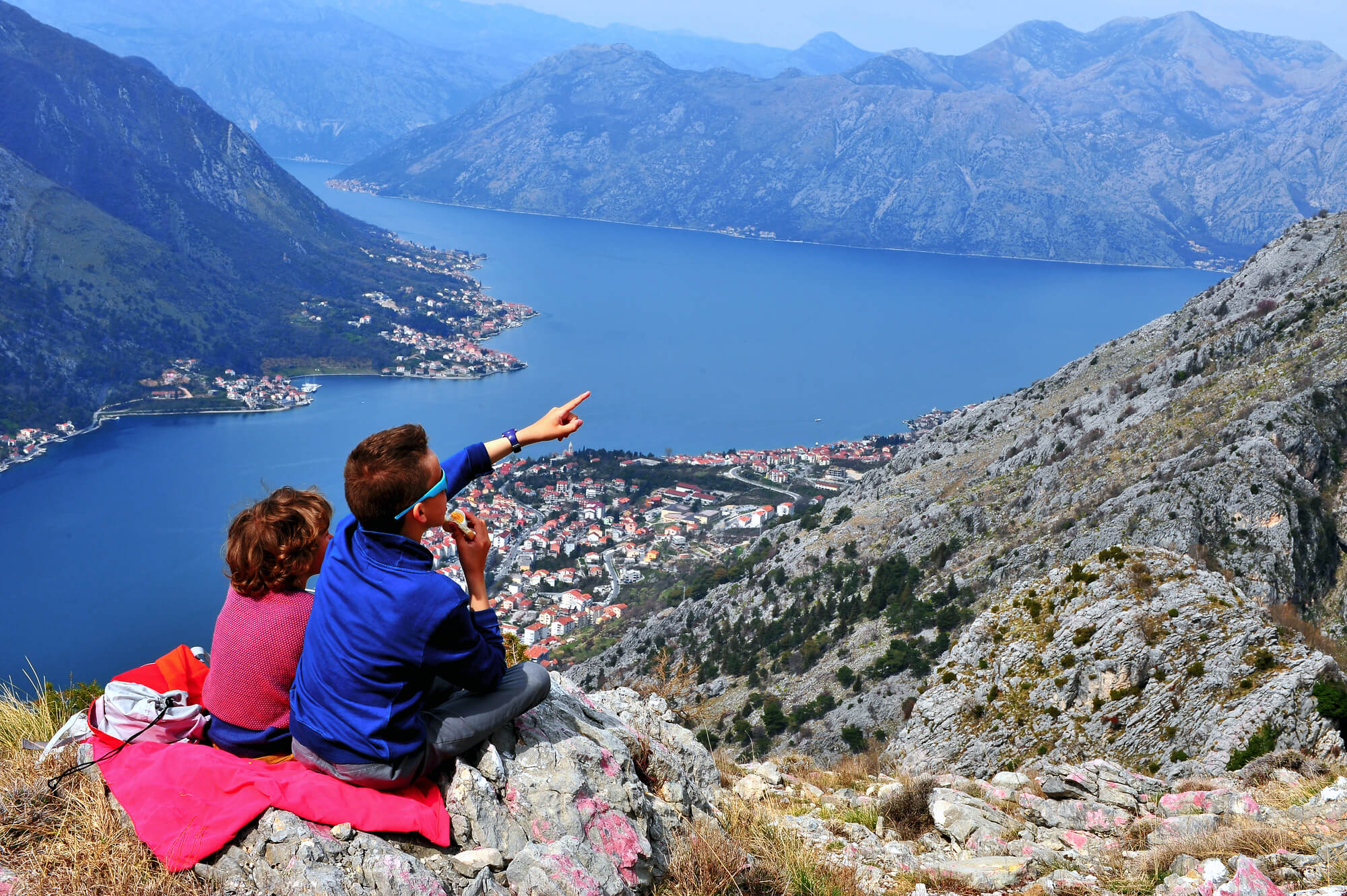 Bay of Kotor. Photo: Krasnevsky / Depositphotos.com.
Best Hotels in Montenegro for Recreation with Children – 2022
Modernization of the hotel base was started not so long ago, so the hotel service is still inferior to the Turkish "all inclusive". The best hotels are located on the island of St. Stefan and in Budva, but here are also the highest prices for recreation.
Most often tourists stay in hotels of 3* category or rent private villas and apartments. However, for independent tourists there is a problem with places on the beach – in the high season a large part of the coastal line are occupied by hotel beds, and free places for recreation are practically nonexistent.
We have selected hotels in Montenegro, suitable for holidays with children – with good reviews of tourists and high ratings. They work on all-inclusive or full board, are on 1 or 2 lines and have a variety of entertainment for children.
Look for the best deals on Onlinetours (gives 1-3% discount for our readers) and Level.Travel – they compare offers from 120 tour operators. Want to save money? Check out our 7 rules for buying tours online.
Look for hotels on Ostrovok.ru – it will help you find the lowest price. Check out our guide on how to book a hotel inexpensively.
Hotel Aleksandar 3*
According to tourist reviews, Aleksandar is a good and inexpensive hotel for families with children in Montenegro in 2022. He is part of the Slovenska Plaza complex, and vacationers can use all the infrastructure of the neighboring hotels. There is a swimming pool with sea water – convenient for kids. Children really like the animation, and adults are happy that they can not worry about them. The hotel is on the first line.
Iberostar Bellevue 4*.
One of the best hotels in Montenegro for holidays with children in 2022 is Iberostar Bellevue with food "all inclusive". The hotel is located in the resort Becici on the 1st line, the beach is pebbly and clean. Basically, couples stop here, as there are good conditions for children, including animation. Reviews are excellent.
Montenegro Beach Resort 4 *
In reviews about this hotel, tourists especially note the good cuisine, fun animation, an excellent spa area, a strong Wi-Fi signal. There is its own sandy beach, which is carefully cared for. For adults – hamam, saunas, jacuzzi, heated pool. Service is at a high level.
All 4-5* hotels in Becici are located on the first line to the sea, in the so-called Coastal area. Photo: olenka-2008 / Depositphotos.com.
Tips and reviews
Montenegro is a beautiful country, and it would be inexcusable not to see the ancient fortresses of Budva and Kotor, the panoramas of Lake Skadar and St. Stefan. Little tourists will be interested in visiting the adventure park on Mount Lovcen or water park in Becici. To travel, it is better to rent a car, as the bus service is underdeveloped, and the prices for cabs in the high season rise sharply.
Since most beaches in Montenegro are pebbly, it is worth taking care about special shoes for a child. You must also think about entertainment and toys, as in Montenegro there are not so many facilities for children, and water parks and playgrounds are not in every hotel.