How the most famous myths about Jim Morrison appeared
July 3 marks half a century since the death of Jim Morrison, the lead singer of the cult American band The Doors and the main role model for rock stars of all generations. His image combined every possible cliché, from "sex, drugs and rock 'n' roll" to "live fast and die young." But there was no one who despised that image more than Morrison himself. Those who imitate the leader of The Doors are actually inspired more by myths and legends than by the artist's true story. To get to know Morrison better, you have to break down the stereotypes associated with him.
On the road to Hollywood.
For a long time, the best-known literary portrait of Jim Morrison was the biography "None of Us Will Leave Here Alive," written by Jerry Hopkins and Danny Sugerman in 1980. Close acquaintances of the singer took a cool view of the book, believing that the authors misunderstood their hero. "Jim deserves better," stated Jeannie Ganal, who worked as a secretary in The Doors' office.
It got even worse with Oliver Stone's feature film The Doors (1991). Wanting to interest everyone indiscriminately, the director made a melodrama about a scandalous troublemaker that perplexed the musicians of The Doors and others involved. Morrison, they said, was not the psychopath Stone portrayed him to be. The director pulled an entertaining trick: in preparation for filming, he consulted with many eyewitnesses and participants of events, creating the impression that the picture will be the most adequate. And then did it all his own way.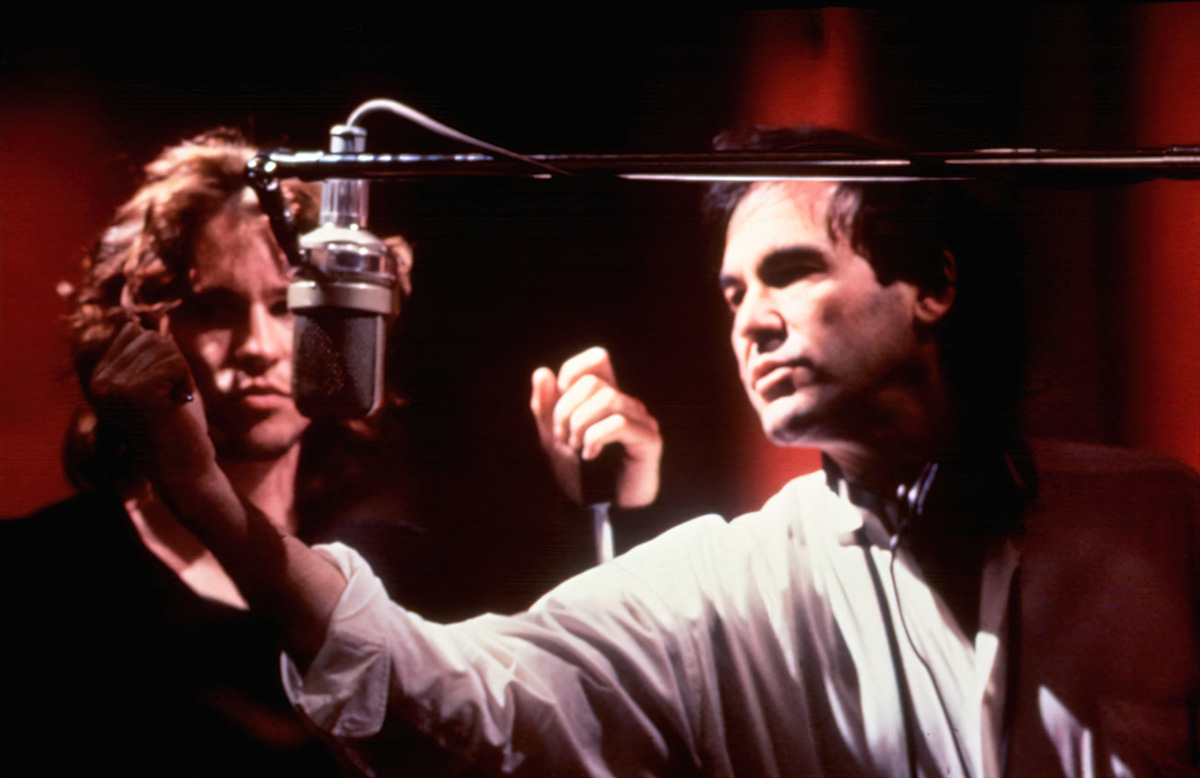 In Oliver Stone's The Doors (right) Morrison was played by Val Kilmer (left).
Moviestore Collection Ltd/Vostock Photo
But it's not just Stone. Often people, watching Morrison from afar or onstage, have formed a false impression of him. Jeannie Ganal confessed that before she met him in person, Jim seemed like a phony poser.
"No one in my memory was more misunderstood than Jim," his fellow musician Ron Alan said.
What was he really like? Reading the varied recollections of Morrison's friends, you realize it's easier to say what he wasn't. Because opinions differ: some knew him as a quiet intellectual who wouldn't hurt a fly, others as a drunken cheeky fellow capable of unpleasant escapades, and still others as an imperturbable Zen master. Morrison is often compared to a chameleon: he could manifest himself quite differently depending on who he was dealing with and what was on his mind.
The Pathos Hedonist.
"Now I can see why someone is unhappy with the Dorz movie. It's nice to listen to this witty and judicious Jim, not at all like he was in the movies," a YouTube user wrote in a comment on one of Morrison's interviews.
The audio recordings of Morrison's interviews in general are a special genre, which can be called an intellectual relaxation. The sound of his unhurried, steady, unflappable and friendly voice is soothing and almost incongruous with the image of the hedonistic bully.
"He was a little shy, reserved, almost introverted. Always polite, soft, slow speech, he spoke, choosing his words carefully," says Vince Treanor, a technician for The Doors with whom Morrison liked to have long, philosophical conversations. He wasn't the only one, though.
"Jim questioned everyone he met with interest, and he had the ability to bring out the best in people," Jeannie Ganal recounted.
"He was very smart, gentle, funny. I felt protected around him. I don't know what that means, that for some reason I felt protected," says Cherry Siddons, wife of band manager Bill Siddons.
Almost everyone, without exception, notes Morrison's excellent sense of humor and penchant for jokes. When asked to characterize Jim in one phrase, his schoolmate Fad Ford said: "He was the funniest guy I ever knew."
People are so used to seeing Morrison as a pathetic and even pompous man that they have a hard time imagining the humor and irony behind his actions and words. Every other article about Morrison refers to him as the Lizard King, in a phrase from the song Not To Touch The Earth. "Actually it was all said with irony. It's strange that no one picked up on that," Jim himself admitted in a 1971 interview.
"Almost Zen."
For the typical egocentric that almost all rock stars can be, he was too much interested in other people and too wide-eyed, impressing those he knew with accurate and wise judgments about everything in the world. "He never pulled a blanket on himself in conversation," Vince Treanor recalls, "he would strike up a conversation to get your opinion or to come up with something new together, but he never spoke out for the sake of showing off.
Indifferent to material possessions, Morrison lived in a cheap motel whose owner was unaware that his guest was an international celebrity. He seemed to be on a different wavelength than most people. "The subject of his interest was the things of another world, not the one I live in," Bill Siddons said.
"We all have days when something goes wrong and you get annoyed. You get cut off on the road, you get rude, and your mood jumps up and down. It's universal. But Jim didn't have that at all. Those things didn't bother him at all," Ron Alan recalls and adds: – It's almost zen. He saw the essence of things, how things worked, and he was calm. He just accepted things as they were."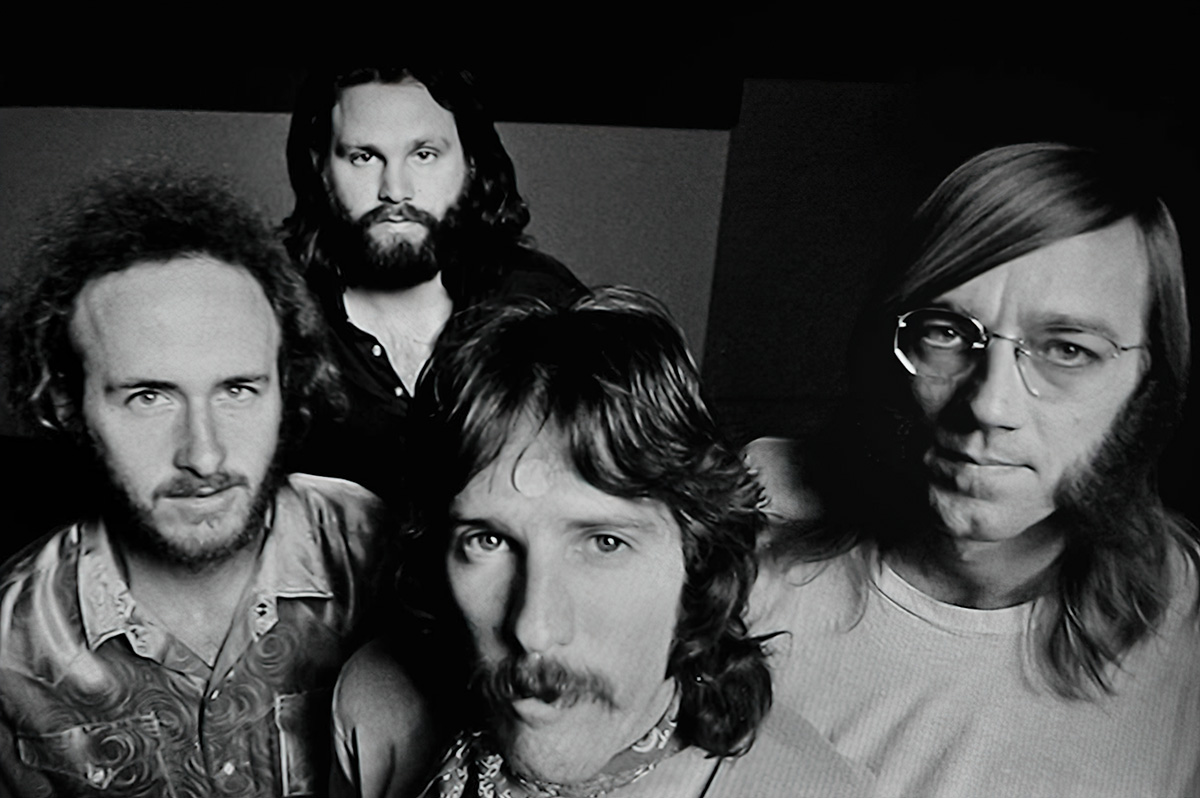 The Doors in 1970
Not the Three Musketeers.
Anyone who dreams of his band being as great as The Doors will also have to accept that there wasn't complete unity in that group, actually very important for creativity. "The three of us on one side and Jim on the other," guitarist Robbie Krieger described the relationship in the band. It's amazing how The Doors managed to record all their great albums, given that, except for the first two, they were given a lot of work, the main point of which was to tame, coax, structure Morrison and more or less successfully record his voice.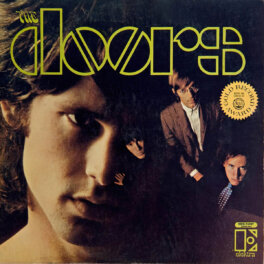 Cover of The Doors' debut album
RLFE Pix/Vostock Photo
The golden era ended about a year later, after the recognition came to The Doors. Morrison didn't share his colleagues' enthusiasm for big show business. Fame very quickly turned into a curse for him: he hated the role of sex symbol and rock star for being silly and one-dimensional. His response was rampant drunkenness.
The three of The Doors were determined to strike while the iron was hot. In 1967, they sold their first hit Light My Fire to a Buick commercial. The band did it without Morrison's knowledge: they couldn't find him in town for days. But when he found out about the deal, he went into a rare state of frenzy. "It was the end of the dream of band and friendship," Bill Siddons says.
Jim made a habit of appearing in the recording studio tipsy, often bringing a crowd of muddy personalities with him, in the manner of Parfen Rogozhin.
Babe Hill, Morrison's closest friend in recent years, softens the picture, saying that Jim treated his bandmates kindly and understood his obligations to them.
Nevertheless, L.A. Woman (1971) was to be Morrison and The Doors' last work – the contract was ending, and Jim was happy to "go free," contemplating new prospects. In the end, the album really became a farewell album – the singer died in Paris shortly after its release.
Unable to come to terms with Morrison's passing and wanting to show that the group was not held together by him alone, the three of The Doors released two more records after the death of the frontman: not bad, but not very successful. The idea to call Iggy Pop to replace Morrison was ruined by Pop himself: when they saw a freak dressed up in a woman's dress for an audition, the musicians realized at once that this artist would behave even more eccentric and inadequate than Jim.
Ruin
It is believed that because of his drinking, Morrison became severely weathered by the age of 27: he grew fat, overgrown with a slumbering beard, and reached impotence, both creatively and physiologically. But Morrison had phenomenal health. Alcohol undermined him, but not enough to incapacitate him.
Six months before his death, in February 1971, Jim and his friends played touch rugby. And they got together on Morrison's initiative. "We played for three hours without a break," recalls Frank Licciandro, cameraman, director, and co-director of two Morrison film projects, "and Jim played the whole time without a break, moving fast and hard, with evident pleasure. Terrific stamina." "Horse-like," adds poet Michael McLure. Not bad for a frumpy alcoholic.
Another of Morrison's comrades, promoter Rich Linnell, recalls, "He may not have been the best athlete on that team, but I was struck by the enthusiasm he brought to the game. Jim was relentlessly chasing after my brother, who's a tough guy actually. And he was clearly not the type to bail out of a game by saying: "something's boring."
When asked if he looked unwell, Rich replies: "Not at all. Yes, he had a paunch, but Jim was in very good spirits and with rare enthusiasm for someone who doesn't often play games like this."
It is no longer a secret that Morrison was killed by a dose of heroin, a drug he had always prudently avoided. He had, however, so often flirted with death, putting himself in risky situations, that he could have quit much earlier.
The Witch Wife
Morrison's mythology devotes considerable space to his relationship with journalist and writer Patricia Kennelly, who considers herself the musician's main wife and signs her name no other way than Kennelly-Morrison. In 1970 she, a great lover of witchcraft rituals, arranged for him and Jim to have a pagan marriage ceremony.
In the movie "Doors" Kennely even played a priestess, conducting the same ritual. Nevertheless, she was not pleased with Oliver Stone's work either.
In 1992, Patricia published her memoirs "Strange Days", according to which her role in Morrison's life was very and very significant. But she has plenty of opponents, from Morrison's friends, whose memories are included in Frank Lissiandro's book Friends Gathered Together, to her former friend Jennet Erwin, who wrote her own memoir, Your Ball Is Over, Baby.
Opponents describe her as an obsessive person, obsessed with the idea of marrying the singer and making up stories about how he loved her. Morrison was a man "open to any kind of experiment," and he saw his marriage to the witch as yet another amusing adventure. Soon he began to avoid his newfound spouse, and then outright avoid her.
Interestingly, back in 1985, in an interview for the book Wives of Rock, Kennelly did not make a big deal out of her affair with Morrison. However, later, as interest in The Doors grew, she began to insist that she was almost the main rival of Pamela Courson, the woman who had been with Morrison almost all of his conscious life.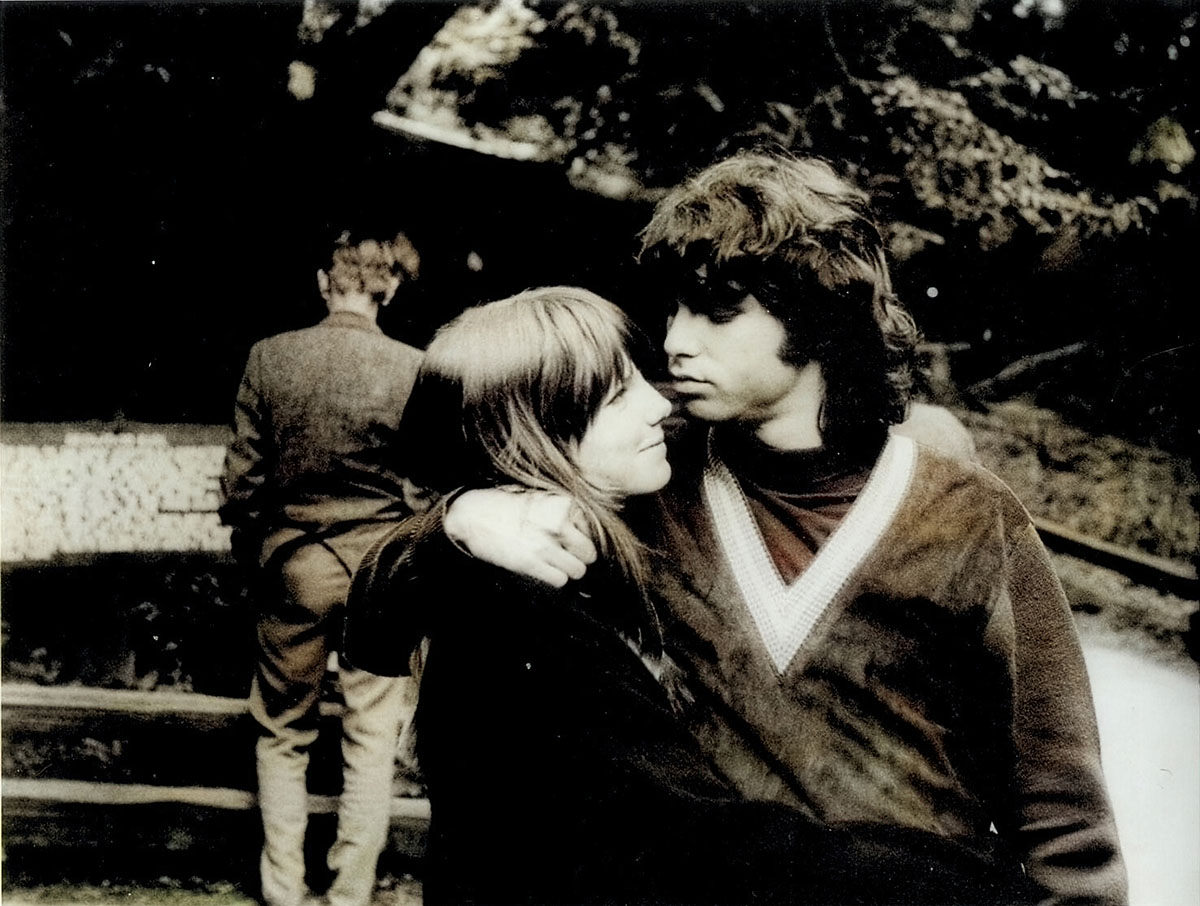 Jim Morrison with Pamela Courson
Two Sides.
The quiet man, the gentleman, the intellectual, the Zen man. Okay, but then who was rampaging on stage? Who was being screwed by the police during concerts in New Haven and Miami? Who was facing jail time for publicly displaying his reproductive organ?
The charming "Dr. Morrison" also had a dark side – Mr. Hyde, who came out when the artist was drunk, and not only then. Jim had been known since childhood for his mischief, sometimes quite cruel. He loved to embarrass people and watch their reactions. It was his way of dealing with untruths: the patterns of behavior and masks behind which people hid their true face and wanted to tear off. Not to say that such methods were admired or understood by those around him.
Once the Canadian border guards reminded him of watchdogs with their rude behavior, and to point this out to them, he got down on all fours and started barking. I don't think the customs personnel understood the point of this action, but The Doors' Canadian tour almost got canceled.
"Jim wasn't showing off, although sometimes it looked that way. He rather liked to shake people up, liked to play with your mind, disorient, take people out of their comfort zone," says Ron Alan.
He was a combination of two extremes: judicious and reckless. On the one hand, he could not hesitate to eat a handful of unknown pills offered at a party by a stranger, walk on the edge of the roof of a Los Angeles skyscraper, piss off police officers, but on the other, according to Rich Linnell, "he was a more judicious man than many, and I saw more than once that in difficult situations he could be good at calming others down."
"He wasn't a scandalist, he was a delicate man, a pacifist. But when he drank, his demons came out," Vince Treanor commented.
Far from violent.
"I was told before I met him that Morrison was a dangerous man, that being in the same room with him was like sitting in a cage with a lion. But I didn't see any of that," recalls Leon Barnard, press agent for The Doors.
"Jim could never in his life do the things shown in Stone's film, like that scene in which he sets fire to an apartment. He was far from violent," claims Babe Hill.
In extreme situations, he maintained an incomprehensible calm, as if observing the flow of the experiment he had set up. "When he was being shoved into a police car in New Haven, I yelled, and Jim looked at me and said: "Bill, it can't be helped, I'm going to jail. They have to do it." He knew he had crossed the line and was now in the hands of people who were doing what they were programmed to do."
"He wasn't someone who fought against something," Ron says, "he accepted things as they were. If something happened, he could say, 'okay,' and that was it."
It is said that only an incident of public nudity at a concert in Miami, for which Morrison was about to be sentenced to several years in prison, took the artist out of his equilibrium. Jim was a little nervous, but, if I may say so in his case, everything turned out all right.
A stranger among poets
In Russia, Morrison is considered to be almost the best Western rock poet. The Doors' lyrics had a huge influence on the logo-centric Russian rock. Meanwhile, in America, Morrison has a more modest reputation in this respect, not comparable to the status of Bob Dylan or Bruce Springsteen. Many are aware that the leader of The Doors had poetic ambitions, but for most he remains a canonical rock idol, a sex symbol–generally, the last person he wanted to see himself as.
"Whenever Jim came over, he would jump up on the bed and read his new poem," Marty Balin of Jefferson Airplane recalled.
The fame of the youth idol, the hero of the glossy covers closed for him the road to the world of serious literature, where he really wanted to belong.
In 1969, Morrison published two books at his own expense: "Gods" and "New Creatures", and the following year – "American Prayer". Simon & Schuster soon made a book, combining the first two volumes. However, the literary community looked at Morrison the poet like the theatergoers look at Olga Buzova on the stage of the Moscow Art Theatre today.
One might also think of Vysotsky, who, like Morrison, wanted to be an equal among "professional literati" and didn't get that recognition.
"Jim understood that if he was called to any poetry meetings, it was only because of his high-profile name in pop culture," Babe Hill said. And, he said, Morrison considered himself weaker than other contemporary poets: "In 1969 we went to a symposium in San Diego. Robert Creeley and Richard Brautigan and all those guys were there. Jim said to me, 'Can you imagine, nobody knows them. I'm more famous than they are, and they have more talent than I do."
Letters from the Seychelles
The world of popular music, in which Morrison was a recognized hero, had become boring to him, and the world of great literature was inaccessible to him. According to Hill, it was this that produced in him the "apathy toward life" that led to his early death. That's a pretty common version.
But worrying about non-recognition from a bunch of highbrow aesthetes? That doesn't sound like a Zen master. And who better than the most intelligent and well-read Morrison to know how many prominent poets have escaped such honors in their lifetime. And that there's a lot more to the world than poetry and rock 'n' roll.
The Doors' keyboardist Ray Manzarek published Poet's Escape in 2001, a novel about how a musician suddenly begins to receive letters from his seemingly long-dead friend in the Seychelles. Manzarek composed the novel after remembering that while recording L.A.Woman, he saw a tourist booklet in Morrison's hands about these islands east of Africa. "Oh, it's a great place to hide from everybody," Jim pronounced at the time.
Morrison was buried hastily and secretly in Paris. His body was seen by only a few people close to him. And is everyone really sure he got tired of life and died?
Morrison's Full Moon (about Père Lachaise Cemetery)
An essay by Perm journalist Vitaly Prizyuk about his visit to the famous Père-Lachaise cemetery in Paris.
Traveled: December 2013
Instead of a foreword
The Internet was slowing down a bit due to the abundance of open tabs. In a week I was flying to Paris, so I spent all my free evenings getting to know France through Internet guides. History, architecture, culture – in general terms, my school education had given me this. The political spectrum – higher education. Guidebooks formed a more complete picture – where and what to eat, how you should call the waiter, how many steps you would have to climb to Montmartre and all that sort of thing. Unfortunately, no guidebook was able to anticipate my primary surprise. Nowhere in particular was it written about the people who made the biggest impression on me. I looked with interest at the vagrants in the street, the lonely men and women in the cafes, the clerks in the subway. I was able to feel intimacy even with those Parisians who live in the most unexpected places for acquaintance. For example, in the cemetery at night. Père Lachaise, it is time to tell how it was.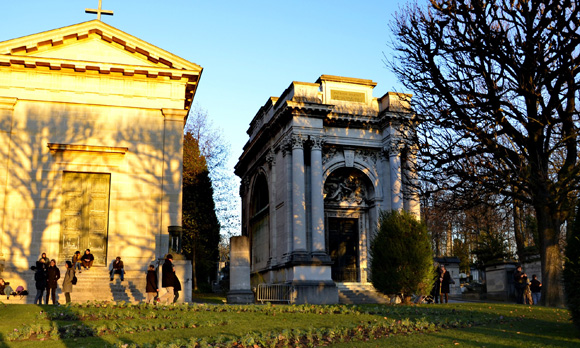 Author of photos: A.Stabrovsky
Tales from the crypt.
Père-Lachaise – one of the most famous places of human burial around the world, imbued with magical energy and a sacred aura. Once there was a bloody massacre of communards – more than a hundred were mercilessly executed on the spot where today a carefree tourist sets foot. It is now the final resting place of Honoré de Balzac, Frédéric Chopin, Jean-Baptiste Molière, Oscar Wilde, Edith Piaf, and many others. But we old hipsters were above all interested in the fabulous Yankee Jim Morrison.
Photographed a map of the cemetery, with a navigator and five communicative languages – three Perm journalists, a professor from Edinburgh and a student from Sorbonne, we went in search.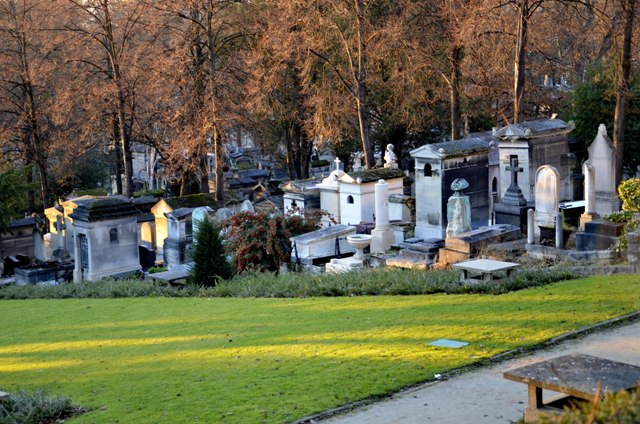 Author of photos: A.Stabrovsky
Père-Lachaise did not reveal itself to us in the sunlight. We wandered between the tombstones, reading the familiar names. We asked passersby where old Jim is buried. The attentive and kind-hearted Frenchmen would give us directions, pointing now to the left, now to the right. Needless to say, we never found any of those glorious names. It later turned out that we had simply walked into the wrong wing. At the time, it was pure capitalist provocation.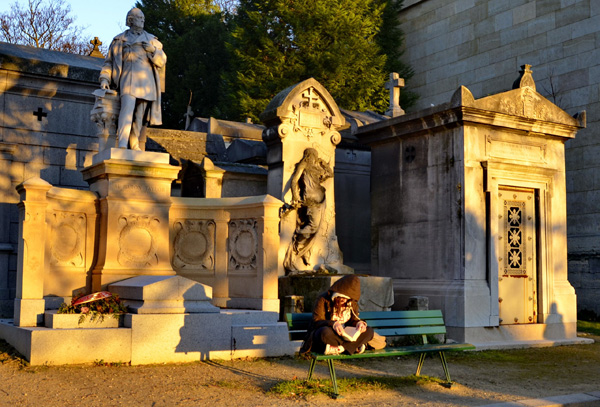 Author of photos: A.Stabrovsky
The long hours of wandering in the cemetery fairly bored us. We sat down on the grave of an unknown Jew, opened a bottle of red wine, and toasted to the health of the deceased. It was getting dark. An orderly car drove through the narrow streets of Père Lachaise, signaling that it was time for the tourists to leave. A second bottle of wine hinted to us that we could do so a little later.
The light of the full moon illuminated the graves of the old cemetery. There didn't seem to be a soul on the grounds. When we agreed that it was time to leave, we gathered up all the trash, put it in our backpacks, and headed for the exit.
Magic Snares
The huge, heavy doors of the cemetery were shut tight. Nearby was a guard's booth, though, with a "Close" sign. We walked along the fence, which was a three-meter brick wall. Several times we even managed to climb it and see the city at night, a couple of hands and feet away. Passing by, the French nobly wanted to help us and call the police. But after pondering the delights of dealing with the local gendarmerie, we frantically waved our hands "no-no-no," pretending that this was the way it was supposed to be. We're just keeping an eye on the cemetery at night.
A logical solution followed immediately. It was necessary to go around the perimeter of the night cemetery, trying to find some gap in the wall (is it possible?) or a ladder. As a last resort.
Author of photos: V. Prizyuk.
The magic of Père Lachaise accompanied us on our heels, replacing the joyous euphoria of adventure to the chilling chill of the cemetery. One lucky man in our company was going to have a jubilee in a few hours, and he clearly didn't want to spend the night among the dead. Even if very worthy.
We broke into groups – yes, yes, classic American cinema. The first group would scour the cemetery for the living, for food or drink. The second group had to wait at the exit and in case of emergency, to call for help.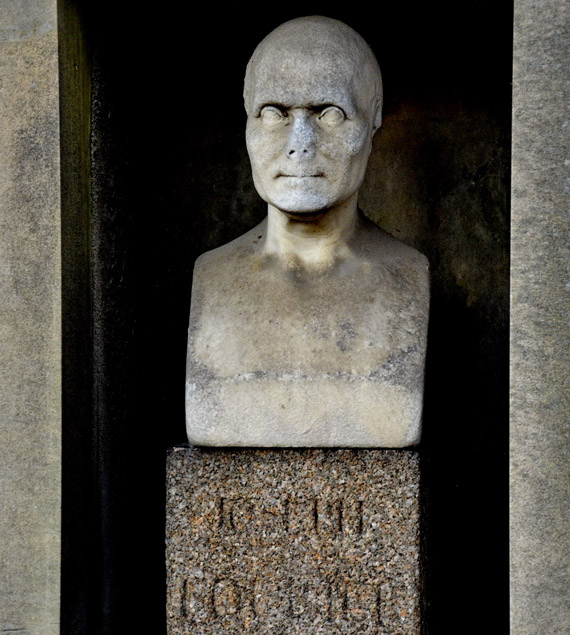 Author of photos: A.Stabrovsky
I was looking for the living. It was so dark that I had to close my eyes and feel around. There were no lights, illumination or illuminations. Just darkness and a road leading nowhere. At some point my eyes adjusted to the darkness, and I could see the outlines of grave stones and trees densely planted along the road. Their branches reached out and intertwined with one another to form an endless arch. One of the tombstones, built into the ground, formed a perfect composition: a memorial plaque, a forged railing, and a small bust with a broken nose. Ashes to ashes. All this created a certain atmosphere, but it was not the main link. An enchanting silence began to dominate the human gut. There seemed to be no sound coming from outside the city: no passing cars, no passers-by, no one. There were no birds or animals at Père-Lachaise. Everything froze, the hands of the clock seemed to have stopped, and only the crunch of dry twigs under our feet was a kind of beacon that we had not dissolved into this magical reality. We were still walking, breathing the cold air, steam coming off us-we were here, we existed.
A few minutes later, the climax awaited us.
The climax
Two white lights flashed in the pitch black. And then another and another. There was no turning back, no turning off the road — there was no danger of falling into the tomb. Suddenly a long, melodious French accent, cursing and supposedly obscene, was heard from between the two lights, which now resembled huge eye whites. The broad-shouldered, black as the night itself, the guard of Père-Lachaise walked resolutely to the door and yanked the bolt. Impressed inturists flew out of the cemetery, as a cork from the Veuve Clicquot.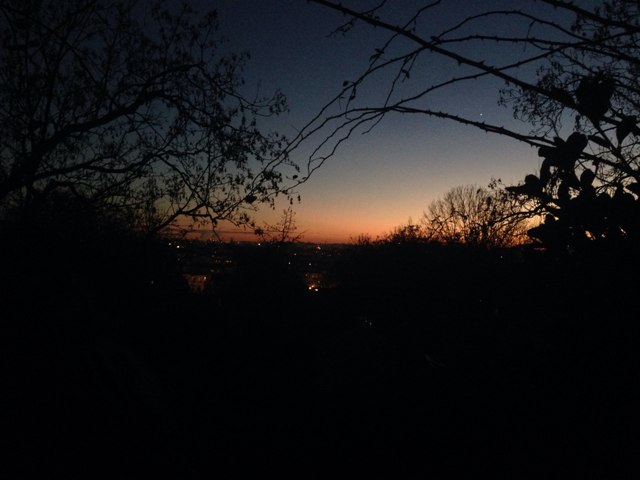 Author of photos: V. Prizyuk.
Romantic aftertaste.
The story has finished not less literary: sitting in the cafe with the insuperable wall of Pere Lachaise in front of us, "Moonlight Drive", impeccably performed by the lead singer of "The Doors", was coming through the speakers and on the table there was a full bottle of Calvados, praised by Remarque.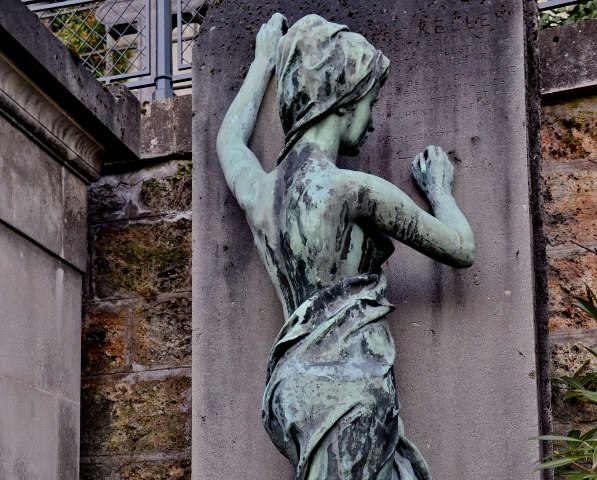 Author of photos: A.Stabrovsky
On our website you can read about how to visit five beautiful European capitals (including Paris) on your own and on a budget.