The best novelties of 2021: review of new hotels in Turkey
Once a week, we'll send you the best articles and tips for travel hunters!
The peripeteia of 2021 has not prevented the opening of a number of new or renovated hotels in Turkey. And among them there is something to choose: some are really impressive! Believe me, the service will be the best, because hotels need the best reviews.
To make the choice easy, we have checked the information and compiled the top 6 new Turkish hotels. By the way, in each of them the staff will speak Russian – no language barrier, only a relaxation. Let's go?
Kirman Calyptus Resort & Spa 5* (Kumkoy)
The five-star second-line Calyptus is the sixth hotel in the famed Kirman family. After opening in April 2021, it is actively gaining positive reviews and threatens to become a significant competitor for popular hotels in the area.
It occupies a small area, but it accommodates everything the family needs. The rooms (there are 400 of them) have an interesting design, which is most often defined by the word "futuristic". The evening illumination of the facades and the territory is just a cosmos.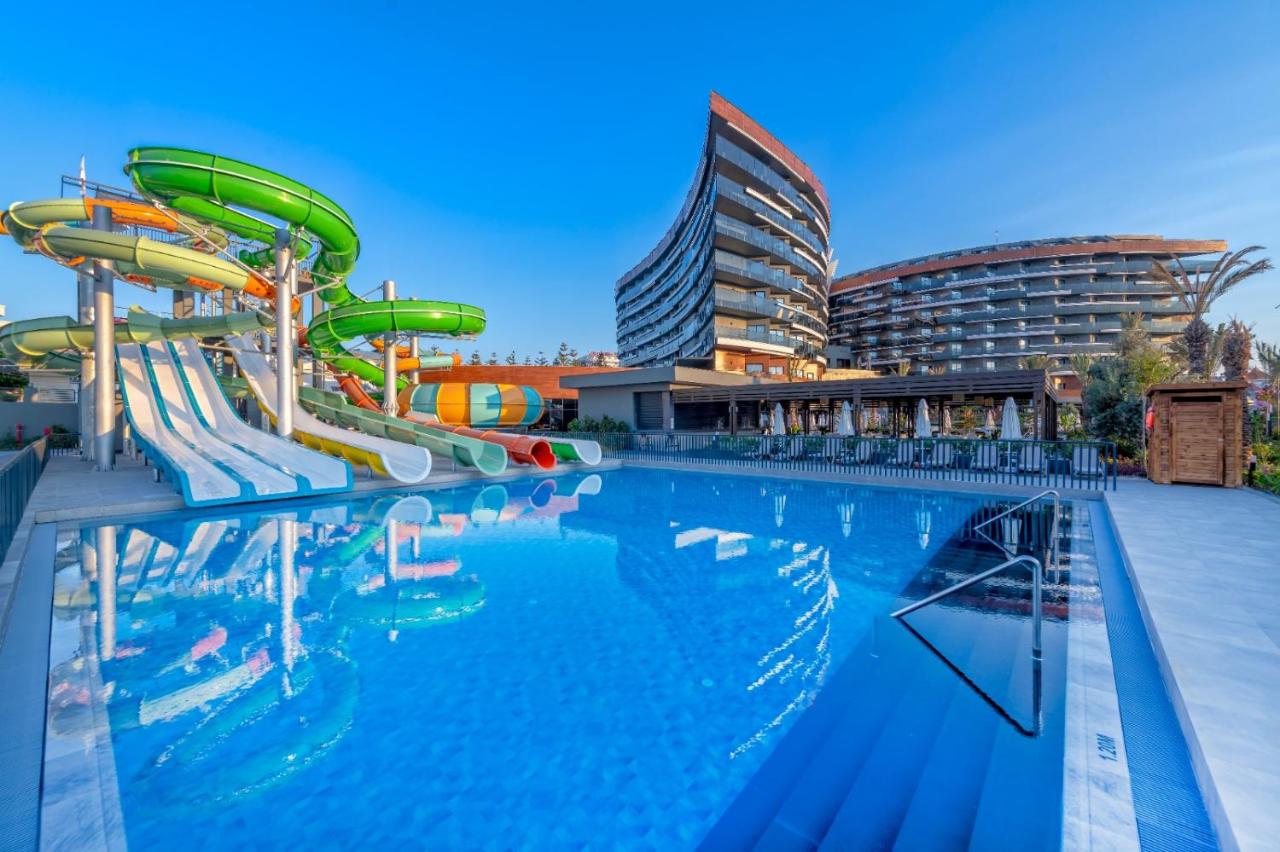 Private beach with a bar is located 450 meters from the hotel, get to it by shuttle through an underground tunnel. Those who want to walk to the beach, will have to cross the road. The beach is compact, but nobody complains about the shortage of sun beds. The coast is well-groomed, sandy, without stones. The entrance to the water is gentle (another plus for families with children).
In general much is made for small visitors here. There is an extremely shallow, and from that safe and warm pool. The playground is in sight of resting adults. Still a children's club, a nanny and even a chef, who cooks separate dishes for kids.
For adults – tennis court, three swimming pools (one with water slides), billiards, gym, colorful evening shows, lounge, garden – in a word, everything you expect from a new 5 star hotel.
Nirvana Cosmopolitan 5* (Lara)
Cosmopolitan is the former hotel Kervansaray Lara, which went through a complete image change and renovation. In 2021 it received a new name and joined the family of Nirvana Hotels.
Beach hotel in the Mediterranean style confidently occupies 110 thousand square meters on the first line, and in the city line. Vacation here is a great choice for those who want not only to rest comfortably by the water, but also are going to make trips into the city.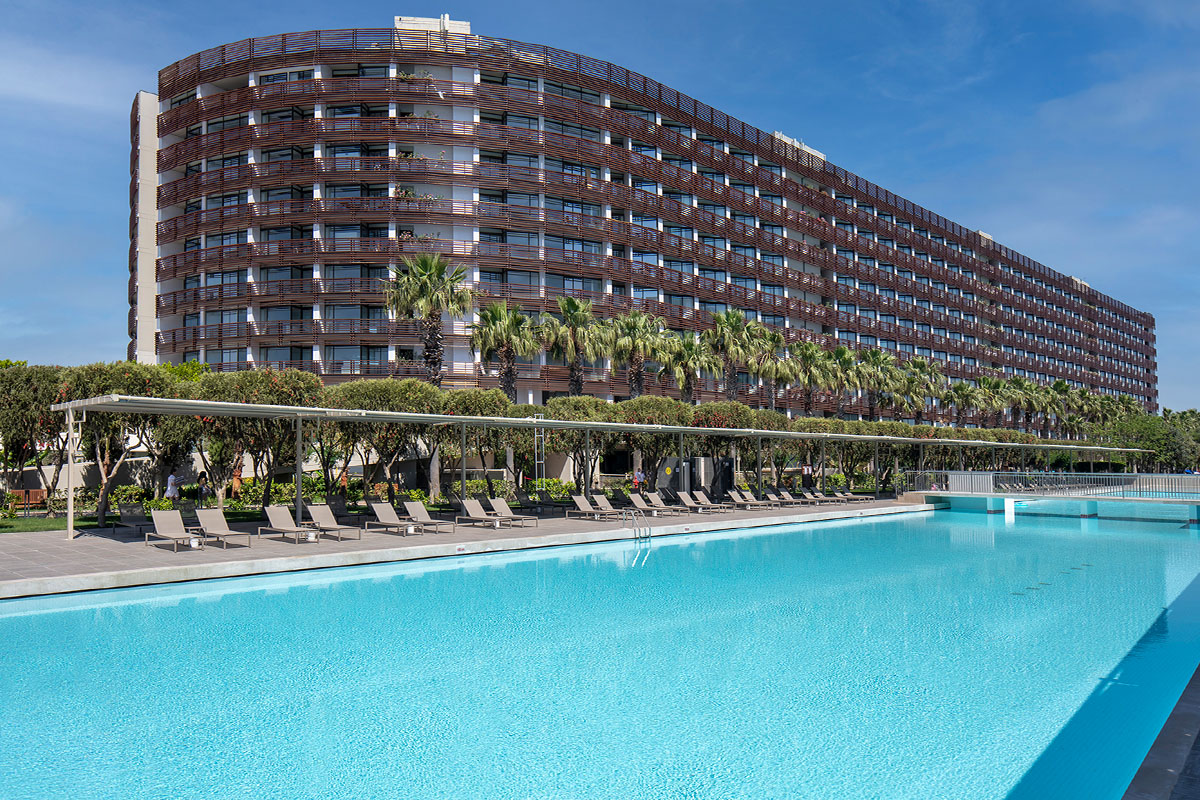 There is definitely something to do in the area. You may not even want to go out the gate, so well assembled here everything you may need for a tourist in Turkey. For instance, there are shopping malls on two floors and outlet stores. There is even a congress-center with halls for meetings (if you came to the coast to work) and the possibility of holding celebrations, including lush weddings.
Ultra All Inclusive meals. The Local Healthy Food concept will be appreciated by figure-conscious people, parents with children, and vegetarians alike. Local dishes are prepared here, giving guests the opportunity to expand their culinary geography, and premium drinks are served.
The beach is own (length – 175 meters, area – 1 thousand square meters), the shore with soft sand, gentle entrance to the water, the pier. From the scorching Turkish sun reliably protect tents. You can spend time by the sea in a separate gazebo, but it will have to pay extra. Guests praise the beach bar for the soft couches, pleasant shade and delicious drinks.
Rooms are spacious and minimalist. There is nothing superfluous, but there is a view of the sea, leather chairs, wooden furniture, very comfortable beds and a minibar, of course.
If you're a sporty person, you'll love the gym, tennis courts, volleyball room, soccer field in the open air. Even in archery you have a chance to practice. For kids, you can request a babysitter to take them to the playground or kids' club.
With the family, visit the play center, the water park (there are also great slides for adults), one of the pools (for example, the one with an artificial wave), go to the chocolate shop or Starbucks. After an active vacation, go to the spa for relaxation. There is literally everything you need to know.
Liu Resort 5* (Manavgat)
The main concept of this first line hotel is a call to enjoy the beautiful life in the moment, here and now. Design interiors lacking pomp and showiness but designed in soothing, natural colors contribute to the enjoyment of the hotel. The high level of service also contributes a lot.
There are suites, de-luxe and family suites. Everything is new and fresh, available to guests only in July 2021. Rooms with access to the pool make a special impression – a feeling of life in the villa. For the romantics, this is the place to be.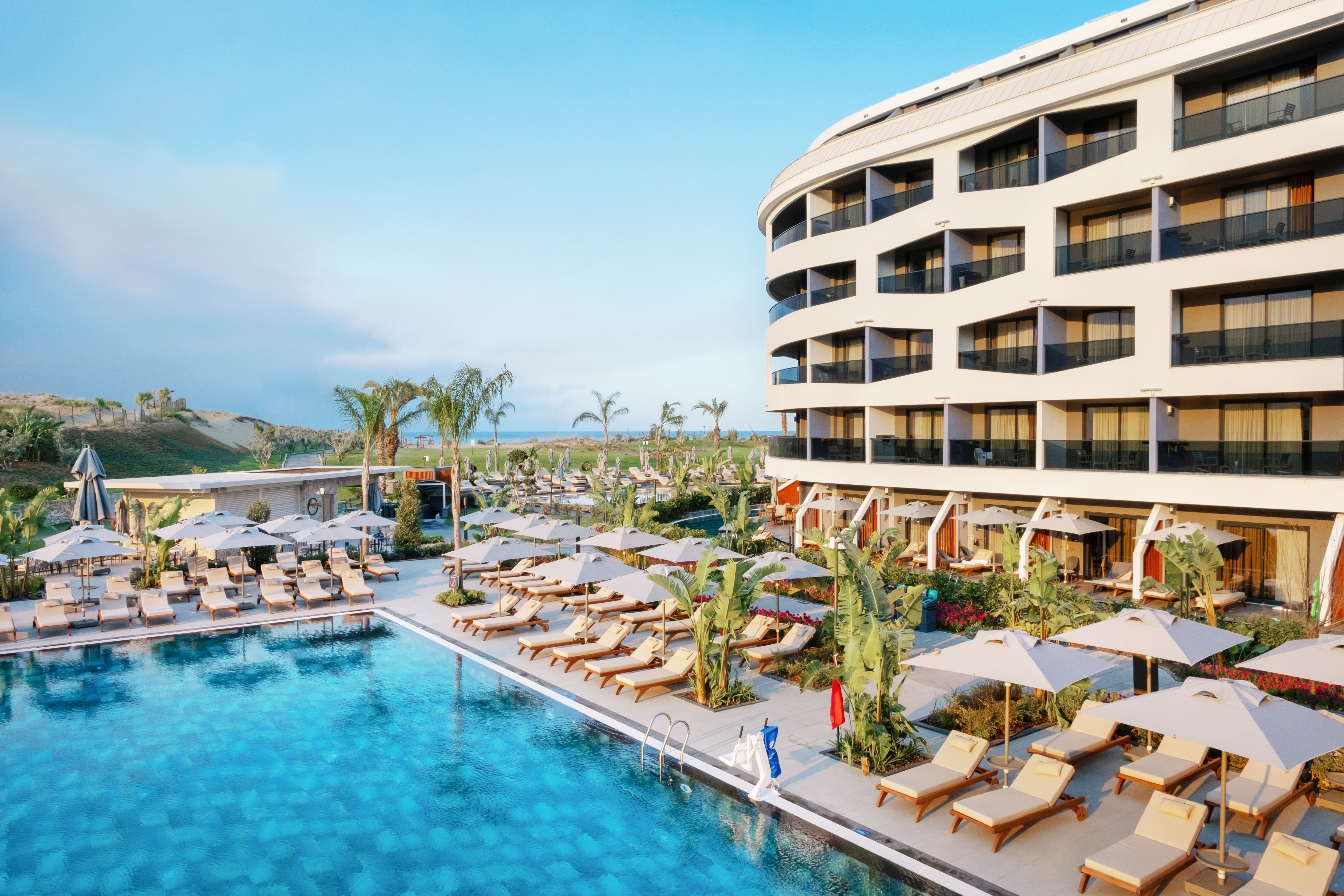 The pride of Liu Resort is its own beach with fine sand and a bar. On the wide beach will be enough room and relaxing on the sun beds, and fans of private beach pavilions. Coming in the water is smooth and you don't have to worry about your kids' comfort. There's a kids club for kids from 4 to 12 years old, as well as a playground and a separate pool with an optimum depth.
There are five open-air pools, one of which is located indoors. Everything you need for a rest by the water (towels, umbrellas, sun loungers), you pay even when buying a tour – no extra charge.
Quality meals on an all-inclusive basis is nothing new for Turkish hotels. But Liu Resort has two restaurants (one on the beach), where chefs aim to preserve national traditions. And this means that you will be served exclusively Mediterranean and Turkish cuisine: a lot of seafood, fruit and pastries. The guests compliment the hotel confectioner and barmen serving alcoholic and non-alcoholic cocktails.
Evening shows are held on the beach. It adds color to your vacation and allows those who came back to the room earlier to have a rest in silence. In the water park do not have to go anywhere – slides in sufficient quantity are on the territory (five for children and the same for adults).
If you like water sports, you will be offered a lot of options, plus equipment rental, training. On land, play squash, tennis, beach volleyball, darts. Tired of activity? Visit a spa (where a hammam is definitely worth a visit), take a walk in the garden, and spend time in the hotel's common lounge area.
NG Phaselis Bay 5* (Kemer)
In a nutshell: comfort and elegance. Built in 2021 amidst natural beauty: on a promontory by the sea, surrounded by pine trees. Removed from the "civilization" (stores, cafes) for 3 kilometers, but most likely, the guests do not need any of this.
It is hard not to pay attention to the original layout of the territory, the laconic design of the rooms with panoramic windows. Finishing in European style without pomp, and therefore it seems even more solid.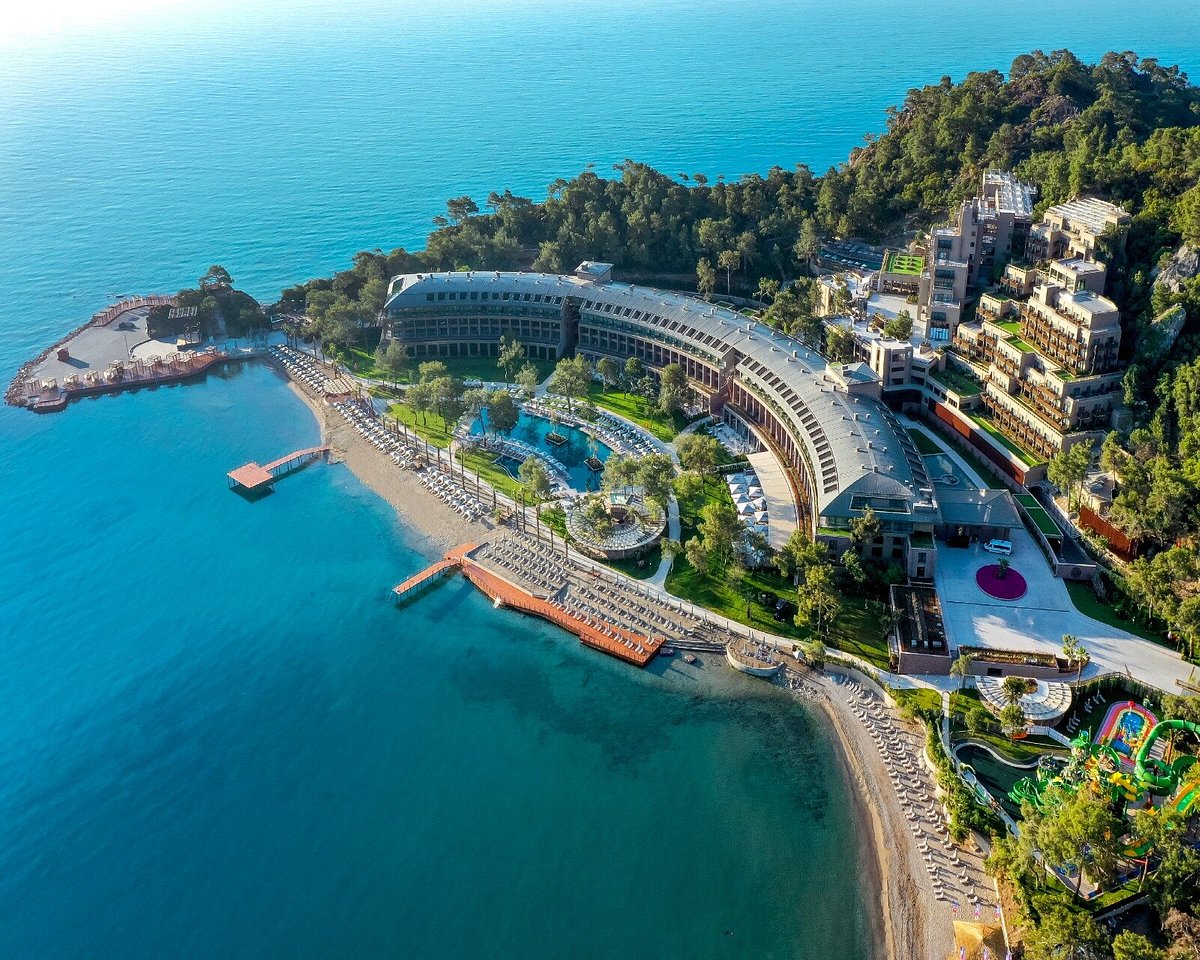 Ultra all inclusive, as well as six a la carte restaurants. Undoubtedly there is a spa, swimming pools and fitness halls. Water park with 11 slides will not let you sit on the beach.
Holidays can be combined with diving training: certification is provided and the terrain is suitable. On the beach – stony areas and piers, areas for swimming with children.
Children have their own pools and show programs. It is difficult to surprise guests of Turkish resorts with entertainment for kids. But the NG Phaselis Bay has thought about educational activities for teenagers, which distinguished themselves. If you are going with a child, you should definitely consider this hotel.
Lonicera Premium Hotel Adult Only 5* (Alanya)
Hotel Lonicera is often talked about, and we will say it too – an option many may find interesting. A beautiful six-story building, where all rooms are for adult guests only (18+).
Another bonus – you can use the infrastructure of sister hotels Lonicera Resort & SPA, as well as Lonicera World, located next door. For example, go to the water park or garden, bar or pool. This fact quite compensates for the small size of Lonicera Premium's own territory.
Ultra All Inclusive dining is available at the main restaurant. The two a la carte restaurants will also serve delicious food.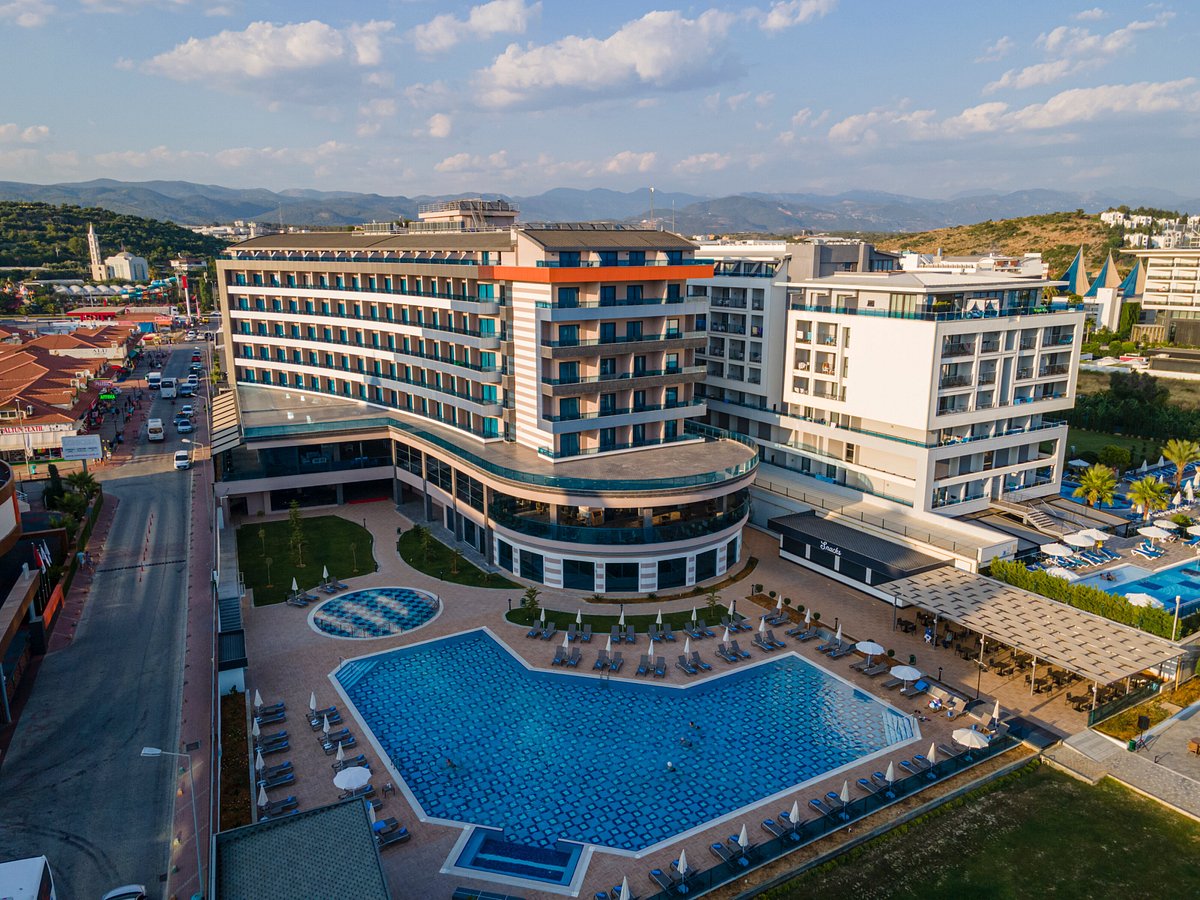 In the evening you will not get bored: animation, discos, parties, live music. During the day, of course, the center of attraction is the beach in a picturesque cove in a couple of minutes' walk. A covering here is sandy-pebbly, a pebble in water at coast. Sun beds, towels, mattresses on the beach, as well as by the pool, are free of charge.
Liberty Fabay 5* (Fethiye)
The new hotel, built from scratch, has been waiting for guests since May 2021. And guests go and then leave five-star reviews. So pay attention.
Located 7 kilometers from the center of Fethiye. Not lacking in territory (50 thousand square meters on the first line) and beautiful views. Standard and family rooms (there are more than 500) are located in the high building, there are 10 villas for respectable rest.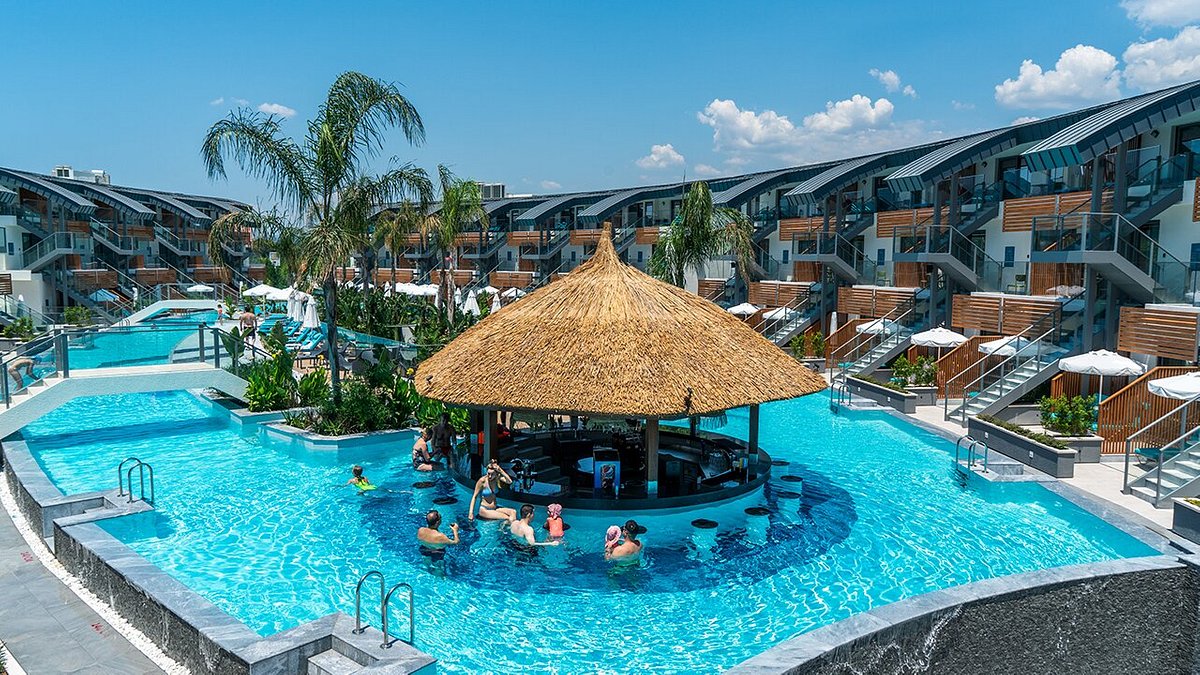 Another good news: Liberty Fabay has two beaches, and one of them is available only to adults (16+). For many people it is convenient. In general, the entire infrastructure is zoned so that it will suit families with children, and people who prefer a quiet secluded vacation – a compromise was found. For example, there is not only a beach, but also a pool and a restaurant exclusively for adult guests.
For children built two pools, organized clubs by age (from 1 to 5 years, from 6 to 12 years, the program for teenagers), thought over the special menu. Whatever you need, you can ask for (and pay extra): stroller, crib, babysitting services. Animators work for all, the playground area is also good.
Breakfast, lunch and dinner are buffet style. If hunger is not satisfied, snacks are ready at the snack bar. In the evening there are four restaurants (pay-as-you-go). But do not forget that the table must be booked in advance.
Active tourists will like the area: it is convenient for cycling. On returning from the arrival, you can play tennis, volleyball, basketball, billiards, darts or go to the gym. Instructors hold classes in yoga, aerobics and aqua aerobics. And three slides for adults will quite quench the thirst of visiting the water park.
There are several swimming pools, some of them are covered, designed for any time of the year. You can always warm up and relax in the hammam, but for the procedures in the spa have to pay extra at the price.
So, new hotels that have opened in Turkey in 2021 are in front of you. This is not all, but the best options, positive feedback on which have already left the first guests.
New hotels in Turkey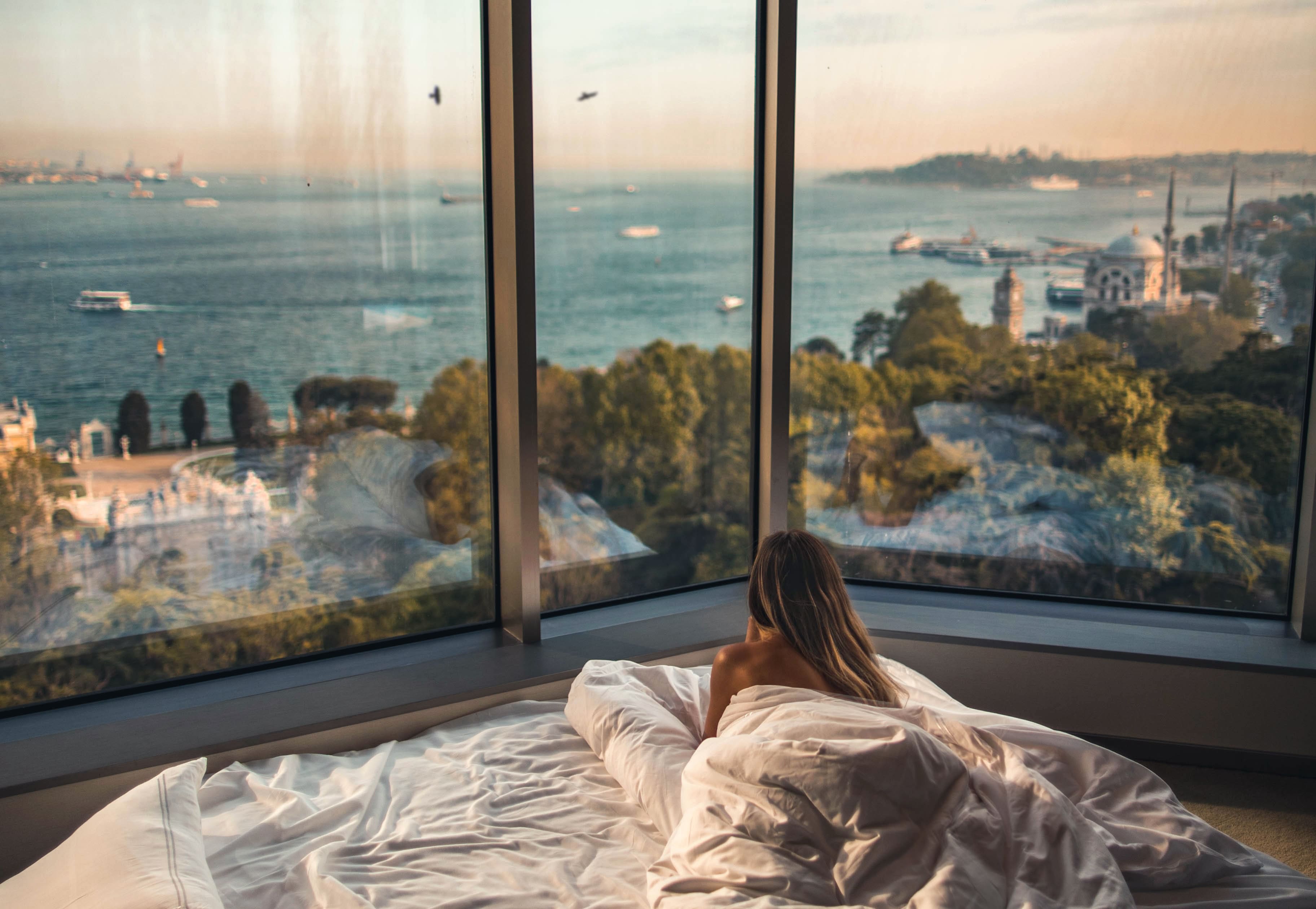 Learn about the beautiful new hotels that have opened in Turkey in 2021 and 2020. At the end, share a list of hotels that will open in 2022.
Turkey's new hotels opening in 2021
Sundia by Liberty Exclusive Fethiye 5*, Fethiye
A new Turkish hotel has opened in Fethiye, on the sandy and pebbly beach of Çalış. Cozy rooms, pleasant staff, good food on the concept of "ultra all inclusive". There is an unusual open three-story pool and its own territory. From here you can go to Oludeniz to swim in the Blue Lagoon.
Liberty Fabay 4*, Fethiye
Another brand new hotel opened in spring 2021 in Turkey – and a very cool one at that. It will meet all your expectations! Many pools, spa, its own beach, animation, excellent food, beautiful rooms, children's club. In general, everything you need on vacation.
NG Phaselis Bay 5*, Kemer
This is a renovation of the Club Phaselis hotel in the village of Geynuk. The hotel opened in spring 2021 and positions itself as a luxury hotel. It is surrounded by gorgeous mountains, coniferous air and clean sea. Reviews about the hotel are very good, especially tourists like the staff and food. There is a heated pool, water park, 6 a la carte restaurants, spa and its own sandy beach.
Side Amour 4*, Side
A new hotel in the center of Side, opening in the summer of 2021. It is a small and quiet hotel, without children's slides and noisy animation. Suitable for a quiet holiday, I would recommend going as a couple. Rooms are minimalist and small. The food is excellent, in the reviews tourists praised the cooks. The sea is clean and quiet, with a good sandy approach. The sea has a shuttle, but you can walk to the sea in 15-20 minutes.
Liu Resorts 5*, Side
A very beautiful hotel, whose rooms are made in pastel colors. There are even rooms with access to the pool! The hotel is positioning itself as a premium, but, according to the reviews of tourists, a little falls short. The hotel in general is very worthy: delicious and non-standard for Turkish hotels food with the original serving, excellent staff, there is a heated pool and children's water park, unlimited beach towels. The beach is sandy and can be reached by electric cart or walk for 15 minutes.
Alarcha Hotels & Resort 5*, Side
This affordable new hotel in Turkey opened in the summer of 2021. Around the clock meals "ultra all inclusive" like almost all tourists. Russian speaking staff, good animation. Cozy modern rooms. Of the minuses – if your room overlooks the road, there will be noise from the track. Another tourist do not like that the water in the sea is cold because of the inlet of the river.
Seaden Quality Resort & Spa 5*, Side
New front line hotels in Turkey are rarely built nowadays as they are sold out long time ago! Take a closer look at this resort, a stylish nine-storey building was built in 2020 just 20 meters from a private sandy beach. The hotel has a green area and picturesque beach with a gentle entrance to the water. There are all conditions for recreation with a child: indoor and outdoor pools, animators, children's buffet, playground and entertainment club.
Kirman Calyptus Resort & Spa 5*, Side
A new hotel opened in the summer of 2021 in the village of Kumkoy. It is nice, with laconic design. There is a water park and a variety of animation. The beach is very close. According to reviews, very tasty pastries – a paradise for sweet tooth. But the rest of the food is not up to par.
Lonicera Premium Hotel 4*, Alanya
The new 18+ hotel will please those who want to relax without children. It opened in the summer of 2021 and is located in Avsallar, 100 meters from the sandy beach. On a compact area is not particularly walkable – it fits only a beautiful six-storey building and a small pool. But on the first line of the sea! In addition hotel guests can use the territory and infrastructure of the neighboring hotels of the same network.
Blue Marlin Deluxe Spa & Resort 5*, Alanya
This new hotel in Turkey opened in spring 2021. It is located just 200 meters from the sandy-pebbly beach of Konakli. The entrance to the sea is smooth. The hotel has three pools, one of them with slides. In winter, two of the pools are heated. Tourists like the food, excellent rooms and pleasant staff, but the animation seemed monotonous. The hotel is suitable for holidays with children, as well as for a romantic trip.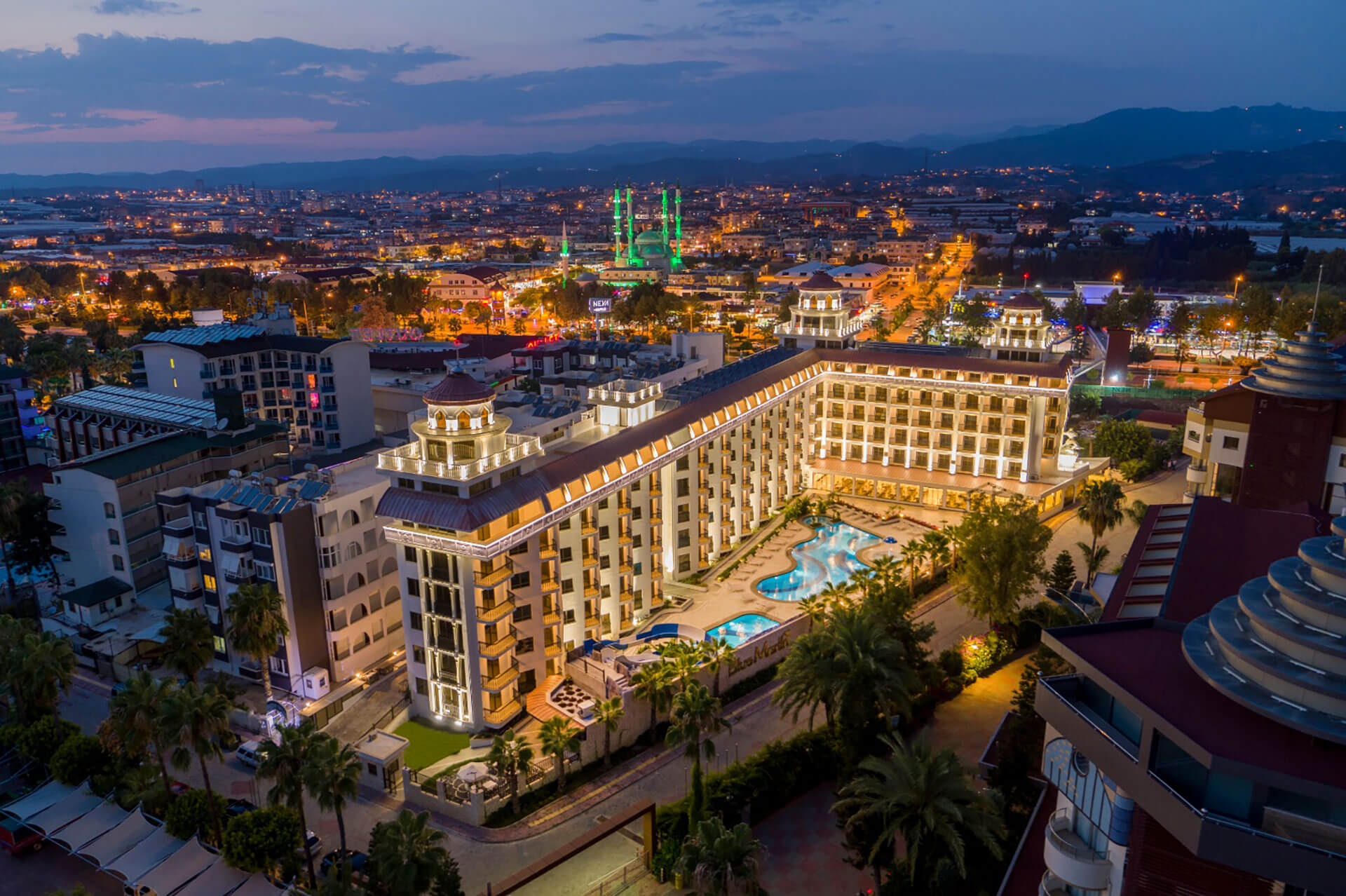 Photo: Blue Marlin Deluxe-Spa & Resort.
Grand Kolibri Prestige & Spa 5*, Alanya
A good hotel on 1 line in Konakli. Everything is standard for a Turkish hotel: food, animation, kids club, pools, spa, etc. According to reviews, the hotel is more pulling at 4*: there is a paid wi-fi and safe, and the water is better to go into the coral slippers or from the pier. The beach is 100 meters from the hotel through a tunnel.
New hotels in Turkey opened in 2020
Adalya Elite Lara 5*, Antalya
At the very beginning of 2020, a large hotel complex with 525 rooms began to operate. It is ideal for family holidays: it has a small water park with slides and attractions, a nice sandy beach and a modern pool with waves. Learn about holidays with children in Turkey.
Side Square Hotel 4*, Side
At the beginning of 2020, this small hotel opened in the heart of Side for a relaxing holiday. The hotel is a city hotel, so there is no territory and animation, there is only a pool. The design is laconic, the rooms are large, stylish and cozy. The center of the resort, stores, cafes, bars and attractions are all nearby! Walking distance to the sea 20-30 minutes or 2 minutes by shuttle.
Arnor De Luxe Hotel & Spa 5*, Side
Urban hotel with a small area, beautiful shaped pool and water park opened in 2020. The beach is more than 1 km away, so a free shuttle service is available for guests. The hotel has many free activities such as sauna, hammam, aqua aerobics, beach volleyball, massage, table tennis, bocce and live music. Enjoy!
Alexia Resort & Spa Hotel 5*, Side
It would seem that there is no place to build a hotel in Side itself, but in the spring of 2020 a new 5-star hotel opened in Turkey – just 600 meters from the center of the resort. The luxurious complex with a stylish design is located 150 meters from the beach. If the Mediterranean Sea is turbulent, guests can swim in the outdoor pools. Sweet lovers are sure to love the delicious desserts in the lobby pastry shop! Find out about holidays with children in Side.
Diamond De Luxe Hotel & Spa 5*, Side
The seaside village of Gündodu in the resort area of Side attracts quiet holidaymakers, families with children and elderly tourists. The five-storey buildings of the new hotel are lined up along the blue designer pool. The well-kept beach is covered with soft sand and has a gentle entrance to the sea. Check out the best sandy beaches in Side.
Victory Be Mine Hotel 5*, Side
In June 2020 a new hotel was opened in Turkey in the resort village of Cholakli. It belongs to the well-known hotel chain Victory. The exclusive hotel is equipped from A to Z and is ideal for a relaxing holiday on the shores of the Mediterranean Sea. To its own beach – about 1 km.
Sorgun Akadia Luxury 5*, Side
Hotel with spacious and stylish rooms, four pools and water slides. You can walk to the beach or take a bus. Tourists like the service, but many lack animation. The hotel positions itself as a premium, but tourists in the reviews note that to this status, it does not hold out. It is also stated 16+, with families with children among the guests.
Sailor's Beach Club 5*, Kemer
Favorite tourist Sailor's Beach Club 4* in the resort village Kirish was closed for the winter period and underwent a complete renovation. Renovated rooms and territory played with new colors and earned an extra star. Four-story buildings on the first line, shaped pools with water park, green promenade and tropical garden are decorated in a pleasant maritime style. Find out what to see in Kemer.
Baia Kemer Club 5*, Kemer
The good-quality hotel, 200m from its own sandy and pebbly beach, was built in 1989 and completely renovated in early 2020. Cozy two-storey cottages in minimalist style are located in a large area and surrounded by a beautiful pine forest.
Balmy Beach Resort Kemer 5*, Kemer
In June 2020 a luxury hotel 18 km from the center of Kemer began receiving tourists. This is not a new hotel in Turkey, and completely renovated "four" Sultan Beldibi 4 *, where Europeans love to relax. In 40 meters from the three-storey buildings – an excellent sandy and pebble beach. Umbrellas and sun loungers guests use for free. See where the best beaches in Kemer are.
The Marilis Hill Resort Hotel & Spa 5*, Alanya
A new hotel in Turkey received its first guests in March 2020. The cozy hotel was built on the outskirts of the resort Okurcalar, 500 meters from the clean sandy beach. Tourists can relax on the beach, near the pools and relax in the chic spa center.
Mylome Luxury Hotel Resort 5*, Alanya
This first-line luxury hotel complex was opened in the spring of 2020 in the village of Okurcalar. The rooms have a wonderful view of the blue Mediterranean Sea. There are outdoor and indoor pools, restaurants, spa, kids club and colorful water slides for the little ones. You won't want to leave! Find out about holidays with children in Alanya.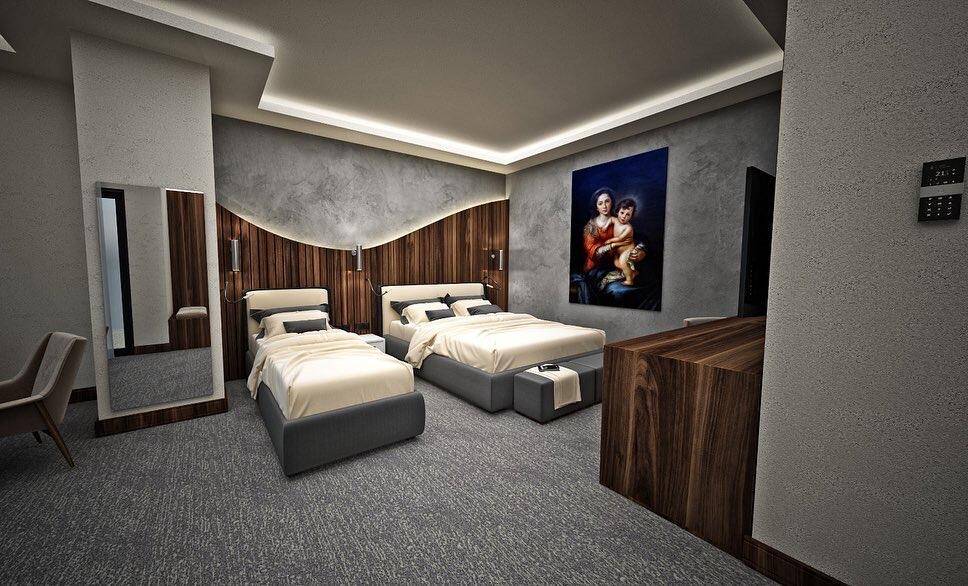 Orka World Hotel & Aqua Park 3*, Fethiye
Modern hotel welcomes tourists in Oludeniz, 4.5 km from the beach. Spacious family rooms, delicious buffet breakfasts and outdoor pools for adults and children await vacationers. A great option for a budget vacation with a child! Read reviews of holidays in Fethiye.
Sweet Maril Resort 5*, Didim
In the resort town of Didim in 2020 built a new hotel of two 12-storey buildings. Good "five" with a spa center, outdoor and indoor pools, sauna and hammam is created for comfortable recreation at the sea. To the municipal beach with clean sand is only 300 m!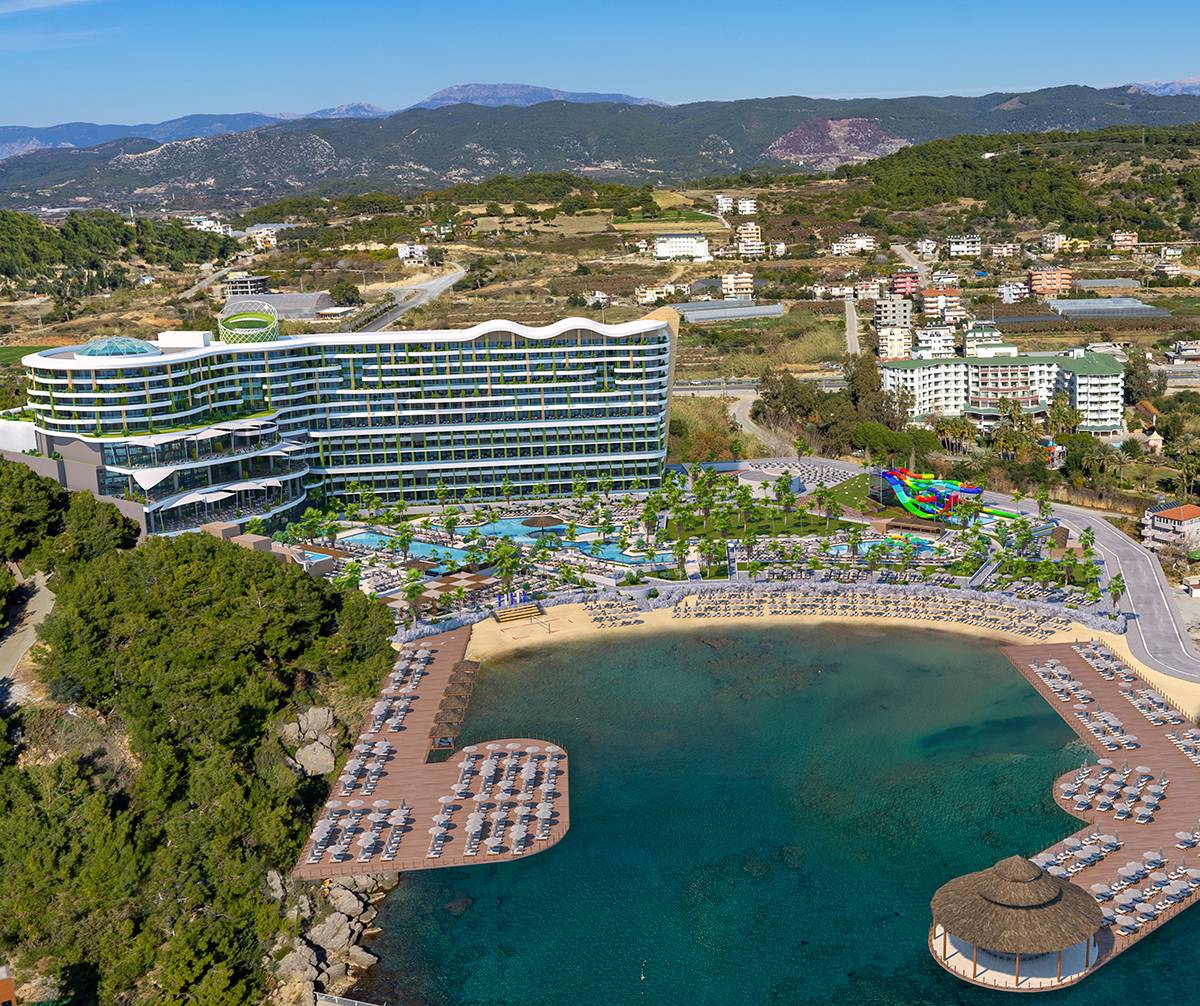 Maxeria Blue Didyma Hotel 5*, Didim
A new hotel in Turkey was opened in early 2020. Tourists are served by "ultra all inclusive" system. Hotel infrastructure is designed for families with children. The beach is located 50 m from the buildings, and to get to the sea, you just need to walk through an underground passage.
L Hotel Sarigerme Boutique, Dalaman
It's a small boutique hotel for introverts: there's almost nobody and nothing around, so it's unusually quiet and peaceful. There is an excellent restaurant on site. The hotel's specialty is that the ground-floor rooms overlook the pool. You can walk to the beach Sarigerme or take a free mini-bus.
Kaya Palazzo Resort & Residence 5*, Bodrum
The stylish cottages of this hotel have a staircase descending to the sea. This is a hotel for a quiet, relaxing and respectable holiday and not an anthill with an all inclusive. Great pool, excellent food, stylish design, crisp linen, bathroom accessories from Hermes, views from the rooms at the sea, electric cars in the area – you deserve it!
Photo: Kaya Palazzo Resort.
New hotels in Turkey – 2022
Here are a few new hotels in Turkey, which are scheduled to open in 2022:
Selectum Family Side 5*, Side
Dream Water World Hotel 5*, Side
Kings & Queens Palace 5*, Side
Ela Excellence 5*, Belek
Cullinan Golf & Resort 5*, Belek.
New hotels to open in 2019
, Side , Side , Belek , Belek , Fethiye , Alanya.
Travelata and Level.Travel – more hotels in Turkey.
First photo: rpnickson / unsplash.com. Pictured is the Swissotel The Bosphorus Istanbul hotel.