How to celebrate New Year in Cuba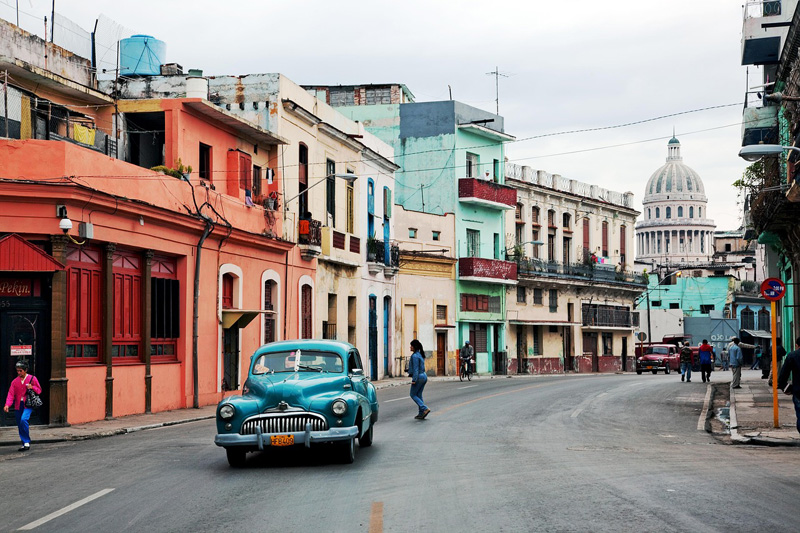 The world-famous retro cars, Cuba Libre, portraits of Che Guevara and Fidel Castro, rousing rhythms – a bright and eccentric Cuba does not leave anyone indifferent. Do you want to have fun in the new year 2022? Go to Cuba!
What could be more wonderful than lying on the beach and admiring the turquoise water while sipping a mojito? Especially if you consider that at this time the winter is raging in Russia, all the streets are covered with snow, or, worse yet, it's drizzling with a nasty cold rain. Cuba is a country of sun, hot dances, and cheerful drinks, and to spend New Year here is to have a real Caribbean adventure.
Moreover Russia recently opened flight connection with Cuba and now you have an opportunity to spend New Year in this exotic country. From a small list of countries available for Russians in winter Cuba is probably the most interesting destination for New Year celebrations.
Take a look at: How to go to Cuba now – there you will find fresh reviews of tourists, pandemic entry conditions, a list of available resorts and tour prices. See also the list of open countries. Below we talk about holidays in Cuba before the pandemic.
Content:
How they celebrate New Year's Eve in Cuba
New Year's Eve in the Island of Freedom is loved no less than in our country. True, in Cuba instead of a Christmas tree they dress up an ornamental araucaria tree, and instead of champagne they drink cocktails with rum or liquor, leaving the traditional New Year's drink to the tourists.
The holiday table for the average Cuban is roast pig, sweet potatoes, and fruit. Elite sea creatures like lobsters and lobsters can be afforded only by tourists. For them organize an interesting program in a hotel or restaurant.
Mass popular celebrations are held in large Cuban cities, and the new year 2022 will be no exception. Many tourists and street musicians gather in Havana's Cathedral Square, but the most lavish celebrations can be seen in the Plaza de la Revolución. On the first day of January, the Cubans also celebrate the Day of Liberation of the country after the expulsion of the dictator Batista, and the New Year attributes here are intricately combined with portraits of popular idols Che Guevara and Castro.
On the last day of the outgoing year tourists have a hard time. In hotels in Cuba the New Year is celebrated three times: according to Moscow time, together with European countries and local time. The celebrations are merry – with fiery cocktails, lively dances and energetic contests. You can celebrate with the locals in a cafe: it will be tasty, fun and inexpensive.
Cubans celebrate Christmas more modestly, because the holiday has long been taboo due to the communist course. Those who do celebrate usually limit themselves to church attendance and a modest family meal at home.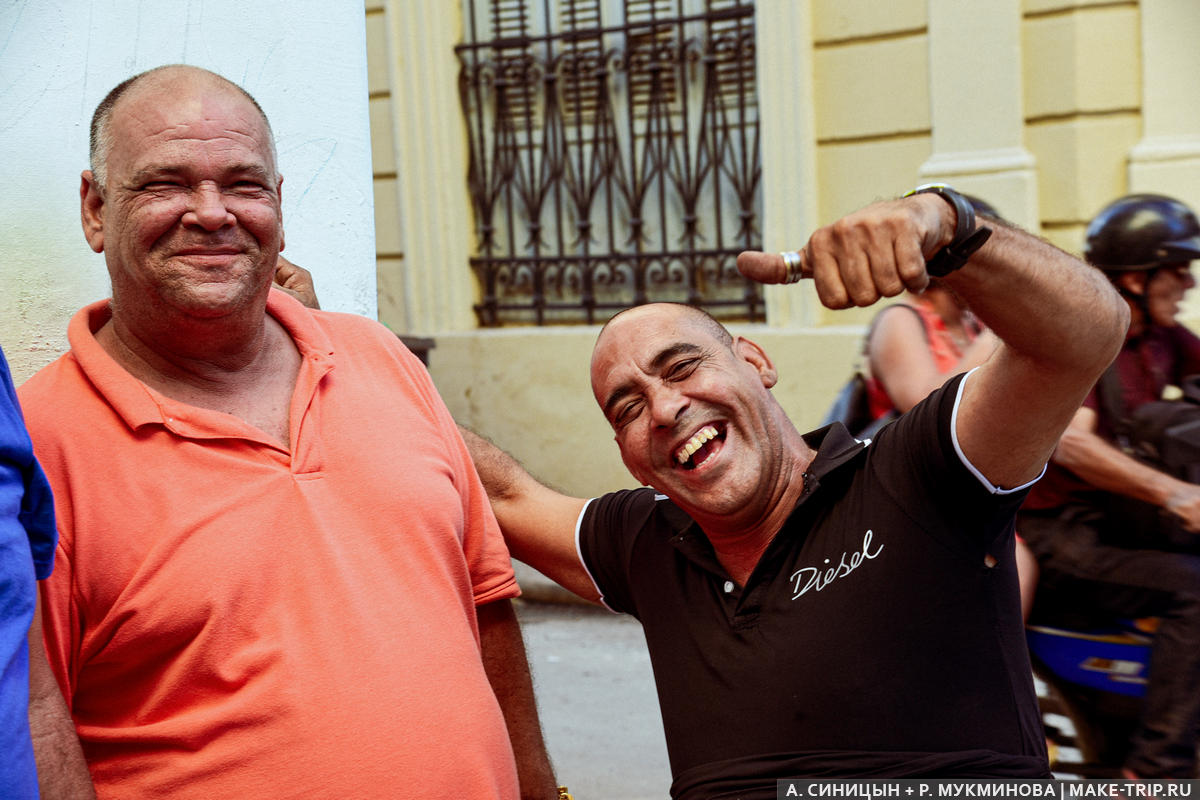 Cubans are open, sociable and cheerful people. Some tourists complain that the tourism industry is deceptive and deceptive, but the locals are not at all mercenary.
Winter Weather
Weather in Cuba for the New Year is usually good and nothing clouds the holiday of tourists: in January there are no high temperatures, in the northern part of the country is slightly colder, in the south – warmer. On average it's +26 ° C during the day and +17 ° C at night. The sea is +25°C, with the warmest water in Trinidad and Santiago de Cuba. The evenings may be a little cooler.
The official rainy season in Cuba is autumn, but winter can also be inclement with wind and rain, especially on the Atlantic coast.
The beach in Varadero is white sand and clear water. Photo taken in early January.
Prices of tours to Cuba in the New Year – 2022
The cost of tours to Cuba, and even for the new year 2022, let's face it, is high. On hot tours before the holidays is not worth much, so we advise to plan a holiday in advance. Now the cheapest tours from Moscow on New Year's Eve cost from 180 thousand rubles for two people for 7 nights. However such variants are not much, there are much more proposals from 220 thousand already. All in all this is a normal price for a holiday in Cuba on New Year's holidays, there is no price increase because of the pandemic. So it's safe to take such trips.
Tours are available at many popular resorts: Cayo Coco, Cayo Guillermo, Cayo Santa Maria, Varadero, Trinidad, and others.
If you want to save money, then fly to Cuba after the New Year, just to spend the vacations there. From January 5 tour prices drop a lot: you can buy a package of 10 days for two from 140 thousand rubles.
We advise to look for tours to Cuba on online services: Travelata, Onlinetours and Level.Travel. It's better to compare prices in all of them at once – so there's a better chance of finding the most profitable tour. If you don't know how to use them, read our article with useful tips on how to buy tours profitably.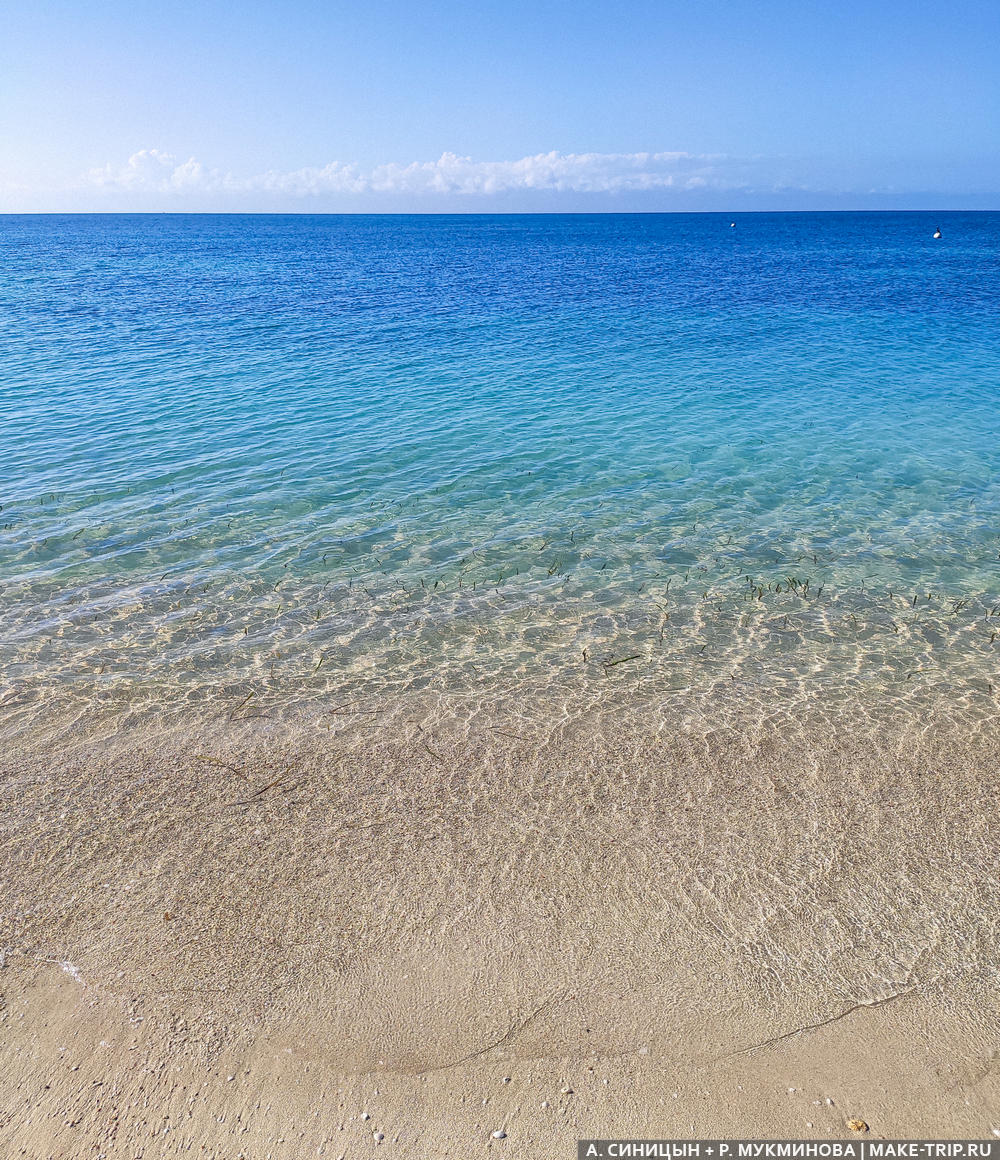 The beach in the Caribbean Sea near Trinidad. Photo taken in early January.
Booking of accommodations
With hotels in Cuba, everything is complicated. The problem is that because of U.S. sanctions international services like Bookings and Rumguru cannot work well there. The choice of accommodation on Bookings is very poor (10-15 hotels in Varadero and Havana) and there are no reviews, which makes it difficult to choose a good hotel. Fortunately, there is an alternative! Somehow, contrary to the blockade of states, Airbnb works in Cuba, and there you can rent casa particular – accommodation from locals: a room in a guest house, an apartment or even an entire house. There's a great selection of accommodations in Trinidad, Havana, Varadero, and many other cities. Take a look at our tips for booking accommodation on Airbnb.
Prices in Cuba
Food prices in tourist restaurants in Cuba are comparable to European prices. The average check for dinner in a cafe is $8-10, in a restaurant – $20-30, a holiday dinner at an elite establishment with a show program – $120-190.
Cuban excursions are very expensive: for example, a trip from Varadero to Havana for 1-4 people costs from $250. Renting a car with a driver-guide will cost about $100 a day. Tickets to the Cathedral, Havana Club Rum Museum, Orchid Garden, and caves cost about $3-$10 per person.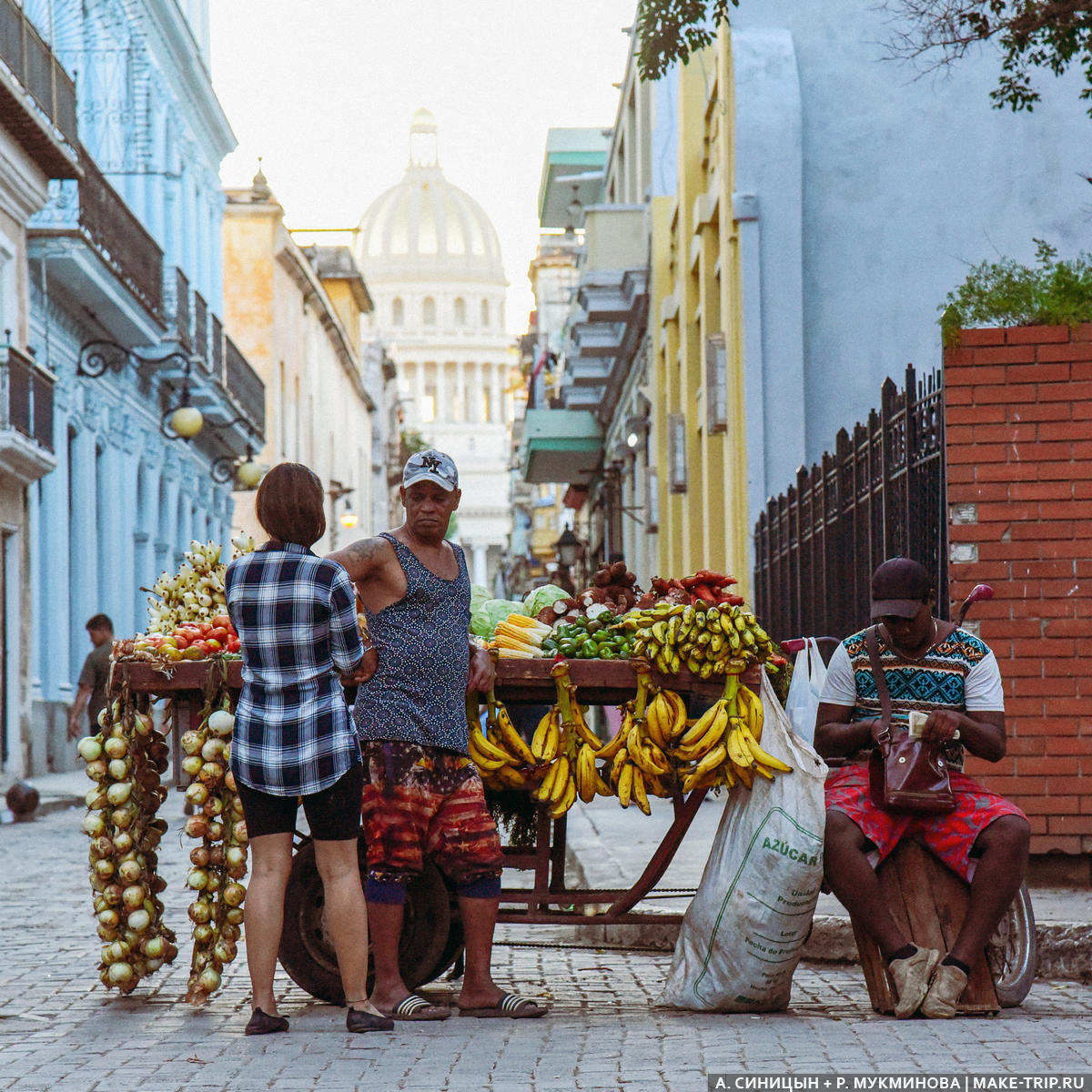 Street vendor of fruits and vegetables in Old Havana.
What to do on vacation
Cuba is warm in January, although the month is considered cool, so vacationers usually entertain themselves by the sea. They have a great opportunity to learn yachting, snorkeling or diving, go trekking or go fishing. Varadero and Havana have several large dive centers and golf courses. Sailing on a yacht or boat is available to both amateurs and professionals, the latter can take part in competitions that are regularly held in Cuba.
What else is there to do while on vacation in Cuba? After meeting the new year 2022 sightseers can see the 18-meter statue of Christ on a hill of La Cabaña, visit the Museum of Colonial Art and the Gallery of Art in Havana, to walk through the places of Hemingway and Al Pacino, watch the holiday show program in the capital's cabaret. Not far from Havana, in Remedios, there is a New Year's carnival.
From Varadero you can visit the Indian village of Guam with crocodiles, or you can go by plane to the island of Cayo Largo. The island is famous for its immaculate beaches and the fact that it is home to huge iguanas, which are allowed to feed. It takes 40 minutes to fly to the paradise place.
Must try the local cuisine, authentic Cuban rum and cocktails, including the world-famous daiquiri, mojito and Cuba libre. Cuisine in Cuba is simple and hearty: they eat pork, chicken, potatoes, rice and beans, like hot tomato sauces with onions, peppers and garlic. Shopping in Cuba is very conventional notion, but Cuban cigars, rum, leather goods are always in great demand among tourists.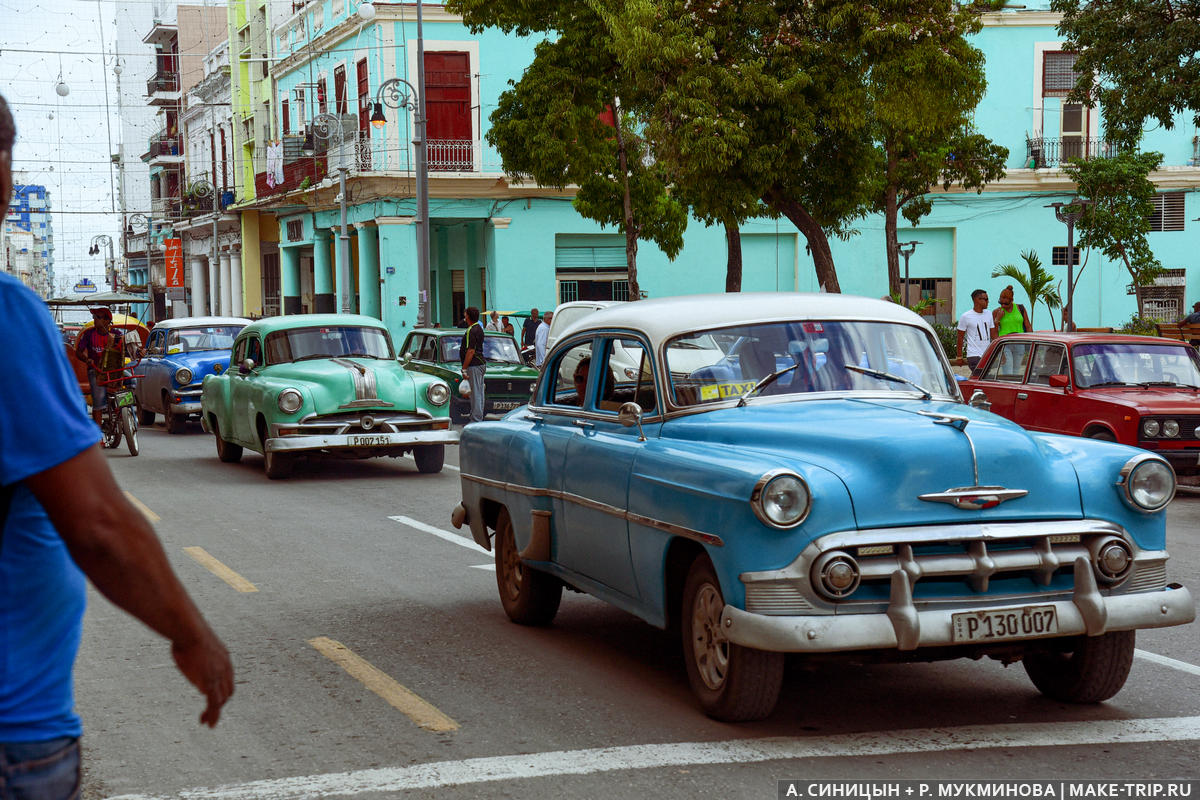 Half of the cars in Cuba are retro cars from the USA and the USSR.
Pluses and minuses of New Year holidays in Cuba
Are you intending to celebrate the New Year – 2022 in Cuba? It is worth listening to the reviews: judging by them, the Island of Freedom makes quite the opposite impression on tourists. Nostalgic of the Soviet Union it is interesting to feel the atmosphere of the 80s, and people, indifferent to this era, get horrified by half-empty shelves in stores and shabby mansions.
Some noted the shortcomings of hotel service: lack of towels in hotels, broken plumbing and other small things, but appreciated the friendliness of staff and willingness to serve. Both categories agreed that Cuba has wonderful nature and the most cheerful and friendly people in the world.
From the hotel room is difficult to learn anything about the country. You can take a tour, or better yet, rent a car with a chauffeur. Local residents are happy to take a part-time job, the population does not live rich, so everyone tries to earn as much as they can.
Careful during the holidays on New Year with alcohol: to drink in Cuba, you can, but carefully – no one is immune from pickpocketing. Valuables and large amounts of cash is better to leave in a safe.
And, of course, having a rest in Cuba, be sure to take a ride on the retro-car, at least once to dance salsa with the locals and do not forget to buy original souvenirs for all the family.
Cayo Largo. Photo: ansalmo_juvaga / pixabay.com.
New Year in Cuba
How much does it cost to celebrate the New Year in Cuba? Typical December and January weather on Freedom Island, water temperatures, chance of rainfall, tour prices 2021/2022. And also what you can do when you arrive in Cuba at the peak of the dry season – found out Eurotraveler.ru.
It is widely thought that the New Year is a family holiday. Which is better to celebrate at a large and abundantly set table, surrounded by relatives and best friends.
At this time, a snowstorm should sweep outside the window and the wind should howl (preferably in the chimney). The TV-set should be broadcasting a modern version of "The Blue Fire" with already 100 years old crooned crooners.
The apartment should be decorated with garlands, and the Christmas tree must not only be present but shine with lights. And outside we will go in any frost and even in nasty slush! To let everyone know, by means of firecrackers, that they are happy to welcome the New Year of 2022.
This pattern, however, has a significant disadvantage – it is boring. And so more and more people prefer to celebrate the main holiday of the year in a new or – better – in a completely unfamiliar environment. Preferably in a place where there are no Christmas trees, and the sea gently splashes with a warm wave right at the ankles.
You say: January in Egypt is cooler, but also not bad? And in Dubai on New Year's Eve you can plan such an entertaining program that will blow your mind?
Yes, that's true. But it's a little bit boring, that's why we call you to try something more exotic. And include in your "diet" the best of resorts in Cuba!
An amazing island where socialism is stuck in development, never turning into communism. But the population seems to be happy with this not quite defined status.
And there are huge beaches, paved with fine, as if specially ground sand. And the Caribbean Sea, the purity of which is amazing.
And even in winter the temperature is such that you have no choice but to swim and sunbathe! Not to mention the famous Caribbean hurricanes, whose season is just over…
Important!
Due to the coronavirus epidemic, Cuba closed off from the world in March 2020. But in August of that year it began to let tourists to the isolated islands.
On November 1 last year, the country resumed regular flights with Russia. It was supposed that for the beginning flights were operated from Moscow to the airports of Cayo Coco twice a week.
But in the second half of 2021 year for the tourists not only opened the island hotels – now they are allowed to stay in Varadero on the peninsula Ikakos.
To enter, however, is required to present a negative PCR test done no later than 72 hours before. Or a certificate of vaccination with any of the internationally recognized or Russian vaccines.
Children aged 0-11 may enter the country without these documents
Mandatory PCR testing on arrival was eliminated in Cuba in the fall of 2021. But random testing is possible. Also, travelers directly in hotels do express test for the antigen, the result of which is known literally immediately.
Weather in Cuba in December and January
The middle of winter is considered the coldest time of the year, although from the point of view of the Russian everything "couldn't be better.
The air temperature rarely reaches +30 degrees. But there is a lot of sunshine, and precipitation does not disturb more than 4-5 times a month. The evenings are cooler: up to +17-19, and therefore a warm jacket or pullover will not be an unnecessary item in the vacation closet.
Varadero and Havana on New Year holidays statistically look more attractive for the banal reason – it's a little drier here. Than, say, in the province of Holguín with the beaches of Pesquero and Guardalavaca. Or on the southern islands.
The duration of sunshine is almost the same everywhere on the island coast. And in winter it is 7-8 hours a day.
Water temperature
The sea is heated to +26 in December and +24-25 – in January. So there is no problem with swimming in the open water, not in the hotel pool.
The north coast of Cuba in January sometimes suffers from strong winds, blowing treacherously from the U.S. Bathing in the sea on such days becomes a chore rather than a pleasure, but hotel pools help.
On islands like Cayo Largo or Cayo Guillermo, such a plague is not suspected. Tourists continue to bask on white beaches, away from the water only for the time of the package tour eating at hotel restaurants. Or shopping…
Prices 2021/2022
A week's vacation for three (mom, dad, and child) on New Year's Eve 2022 costs from 195-200 thousand. This is the bare minimum – options for 230,000-250,000 more than enough – tripadvisor.ru/Cuba-Hotels.html.
The package includes a flight from Moscow, medical insurance, transfer, accommodation at a 4-5* hotel, all-inclusive meals.
A higher standard hotel, or accommodation in a separate bungalow, will automatically raise the bar to 300 hundred.
The prices are a bit high. Especially when you consider that you might not be able to rest – if you, even if you have had an illness or newly immunized, suddenly turns positive PCR-test. Made when you arrived on Liberty Island.
Let's notice – the cost of tours to Cuba at the end of January and February is going down by 20-25%. Meanwhile the weather is not much worse!
What to do
If we are talking about a tourist resort Varadero, then the same question tormented himself millions of travelers. In addition to the total exploitation of the sea and the sun, you can recommend doing something that moves the wind.
For example, try to stand on a board for windsurfing, and learn that to manage with a sail and simultaneously balancing on a wave – an activity that requires incredible stamina and dexterity.
It is quite likely not do without a tour of Havana – on vacation, somehow do not want to pinch and save money. Memorable rides on a double-decker bus in what was once the largest city of the New World. But more on a rarity American car – only it is much more expensive.
Many tourists in the Cuban capital on their own are ecstatic to find a bar that serves the country's best mojito cocktails. And then, tranquil, meet the sunset on the Malecon promenade.
The unusual landscape of the Viñales Valley in western Cuba has not been ignored by UNESCO, which has taken it under its protection. Here you can visit the caves in which fugitive slaves once hid. And in the town of the same name you can listen to a lecture on the principles of tobacco growing and the production of the famous Cuban cigars.
The town of Cienfuegos on the southern coast has a distinct French colonial flavor. The famous El Nicho waterfall is also nearby.
If you stay in Holguin, be sure to visit the deserted island of Caia Saetia. A true illustration of the world before Homo sapiens appeared in it, or at least the Spanish colonizers. Be sure to go scuba diving: the local sea is literally made for it.
When to go to Cuba
Usually the answer is unambiguous – in the "dry season". Which more or less fits into the November-April period and is considered the least wet and hot. Prices during this period actively creep upwards, reaching a maximum on New Year and Christmas.
Hotels with good reviews are usually at the top of the popularity ratings – tripadvisor.ru/Cuba-Hotels.html. But every new season there is a major change.
Moderate weather and a sea warm enough for swimming are the main, but not the only bonuses at this time. The possibility of tropical storms at this time is minimal – the hurricane season in Cuba finishes no later than mid-autumn. And, most likely, there will be nothing to stop you from lazily lying on the beach.
In May and June it gets a little hot on Freedom Island: up to +32-34. Although, judging by everything in Varadero, it may well be +30 – no higher.
But the rains do not allow you to take it philosophically: the increased humidity presses on the psyche. August and September are historically considered "storm months" in the Caribbean.
And in this region it's better not to joke with them. Otherwise it will drift away like Ellie, and you don't know if the landing will be soft…