New Year in Finland – 2022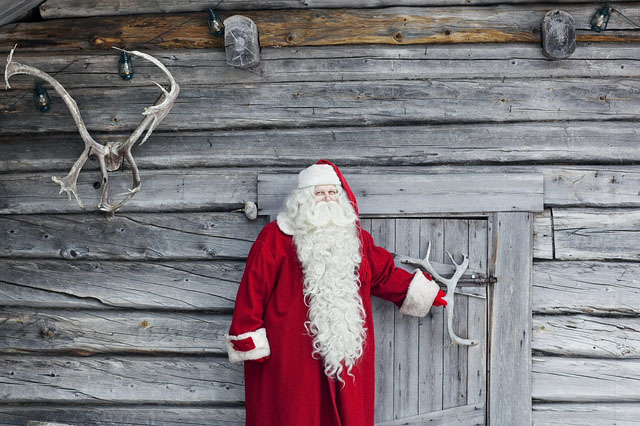 How and where to celebrate New Year's Eve, 2022 in Finland. Rent a cottage in Lapland and hotels in Helsinki, prices for food and entertainment, things to do and see, tourist reviews.
Finland is not yet receiving tourists from Russia. Take a look at the list of open countries. For convenience, we give pre-departure prices for travel and flights. Information about visas and flights may not be up to date, check with official resources.
Our neighbor to the north, Finland has recently become extremely popular for winter holidays. Some Russians for several years in a row go here for New Year vacations: here are all the attributes of a real New Year with snow, frost, a smelly Christmas tree, and Santa Claus lives nearby. Good ecology is beautifully combined with comfort, and wild animals, which, and then you meet, bring tourists indescribable delight. Travel by car to Finland →
The climate is similar to Russia, the average temperature in January is -5. In January the average air temperature is -5°C, sometimes it is colder, but the air is dry. In general, the weather is favorable for skiing and short hikes in the snow-covered forest. In Lapland the climate is harsh – after all, the residence of Santa Claus, but many people in Russia are accustomed to such weather.
Look for interesting excursions on Tripster. Individual and group, without crowds of tourists and in Russian.
Where to look for cheap tickets? Use the search engine Aviasales. To find the best price, check tickets for different dates. Read also the instruction on how to look for cheap airline tickets correctly.
Content:
Where to celebrate the New Year – 2022 in Finland
As in most European countries, in Finland New Year is a less popular holiday than Christmas, so we recommend to go to Suomi in December to see the Christmas markets, taste the glögi, a variety of sweets and to fully enjoy the spirit of Christmas.
You can celebrate New Year's Eve 2022 in Finland with fireworks, dancing and a laser show in the capital, Senate Square. The tradition of fireworks appeared not so long ago, here they can be seen only on New Year's Eve from 18:00 to 2:00, the rest of the time rockets are prohibited. Alcoholic beverages are not officially allowed, but many people get around this rule by hiding it in their pockets. In the city everywhere the festive illumination and fluffy Christmas trees in the lights. A table at a restaurant is better to book in advance – and keep in mind that the institutions operate until midnight.
Family people with children prefer to rent a house in the woods away from civilization. Active people can find a cottage village near SPA-resorts or ski resorts.
The most popular resorts are Saariselkä near Rovaniemi, the ancient and charming Porvoo and a relatively inexpensive resort of Levi in western Lapland. Here are the ski slopes, you can ride a snowmobile during the day, and in the evening a great time at the restaurant. The main reason why tourists go to Lapland: to admire a rare natural phenomenon – the northern lights – and to visit the residence of Finnish Santa Claus.
If you expect something different from the holiday, read our article "New Year in Europe".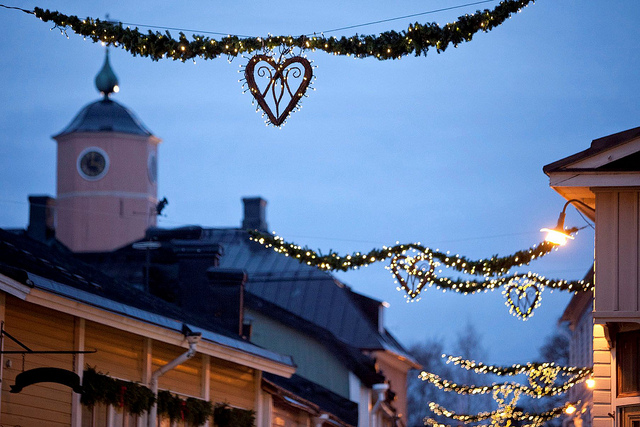 (Photo: VisitPorvoo / flickr.com / License CC BY-NC-ND 2.0)
Holidays in Finland on New Year: What to see?
New Year in Helsinki
On New Year in Helsinki, except the Senate Square and the Cathedral, it is worth to visit the temple Temppeliaukio, cut into a rock, the National Museum, Science Center "Eureka" and the free museums of the city. There is a huge ice rink.
Remember that on December 31 all stores and institutions are open until 18:00 and on the first day of the new year everything will be closed, but then you can take a shopping tour, because the winter sales start right after Christmas.
New Year in Lainio
Have an interesting time in the village of Lainio, known for its ice sculptures. Get to it from Levi or Yullas, there is a real snow hotel for 30 rooms, a gallery of sculptures, chapel, restaurant and disco. Adults are encouraged to walk through the snow maze, try a hot drink at the ice bar, after dinner dance at the disco. The village is open only in winter from 10 am to 10 pm, the entrance costs 10 euros.
(Photo: Visit Finland / flickr.com / CC BY-NC 2.0 license)
How to celebrate the New Year – 2022 in Lapland
Lapland is located near the Arctic Circle, here you can also rent a cottage in one of the popular areas: Rovaniemi, Pello, Ranua and Kuusamo. Pello is above the Arctic Circle, the local waters are home to excellent salmon and grayling, and winter fishing enthusiasts prefer to spend their holidays here.
New Year in Lapland is a real winter fairy tale. Almost everywhere tourists are offered snowmobile rides, skiing, reindeer and dog sledding as entertainment. Not far from Kuusamo is a popular ski resort Ruku and national park Oulanka. In the resort place Saariselke a huge choice of good ski slopes. In Rovaniemi it is interesting to visit the Arcticum museum, whose exposition is devoted to flora, fauna and natural phenomena of Lapland, the Ranua Zoo and the residence of Finnish Santa.
In this region they cook venison dishes and serve them in unexpected combinations – with cranberries and pickled cucumbers.
You can admire the northern lights in the comfort and warmth of the rooms of Hotel Kakslauttanen – glass igloos. The hotel is located in northern Lapland, next to Saariselkä hill (Inari municipality).
(Photo: Visit Finland / flickr.com / CC BY-NC 2.0 license)
New Year in Finland with children
If you're going to spend New Year's Eve 2022 in Finland with children, make sure to visit the village of Santa Claus (Joelupukki), the main attraction for children. Near the village is an amusement park with rides, souvenir shops and exhibitions. Children are entertained by sleigh rides pulled by reindeer or dogs, treats with cookies and make handicrafts together.
In the park you can ride the train and carousel and watch a Christmas fairy tale. At the post office, faithful helpers work to sort through the impressive bags of letters. From here you can send a greeting card with the personal stamp of Santa Claus. The second residence – a larger and richer – is located in the town of Kakslauttanen.
Cottage in Finland for the New Year: where to rent and how much it costs
Tourists prefer to celebrate the New Year in Finland, renting a cottage. In wintertime, the most in demand is Lapland, in particular, Rovaniemi and ski resorts. If the trip is not too long, it makes sense to settle near the border, you can rent a house in the Lake District. Recently, Russian tourists have become popular with the town of Vuokatti, which is located in the center of the country.
It is better to rent a cottage in advance, by the holidays it will be difficult to find a suitable accommodation. This year's rental for 1 week for 6 people on average will cost from 900 to 1500 euros. There are cheaper and more expensive options, the price depends on the location and comfort level of accommodation.
We recommend searching hotels and cottages on the service Roomguru – it will help you find the best price. For example, in Rovaniemi you can rent a room for two in a cozy cottage-hotel Santasport for 136 euros (free breakfast, Wi-Fi, sauna and Jacuzzi), and fans of the exotic offers to spend the New Year's Eve in a real igloo – Arctice Igloo Hotel, the cost for two people is about 255 euros. In Vuokatti you can rent a house from 400 euros.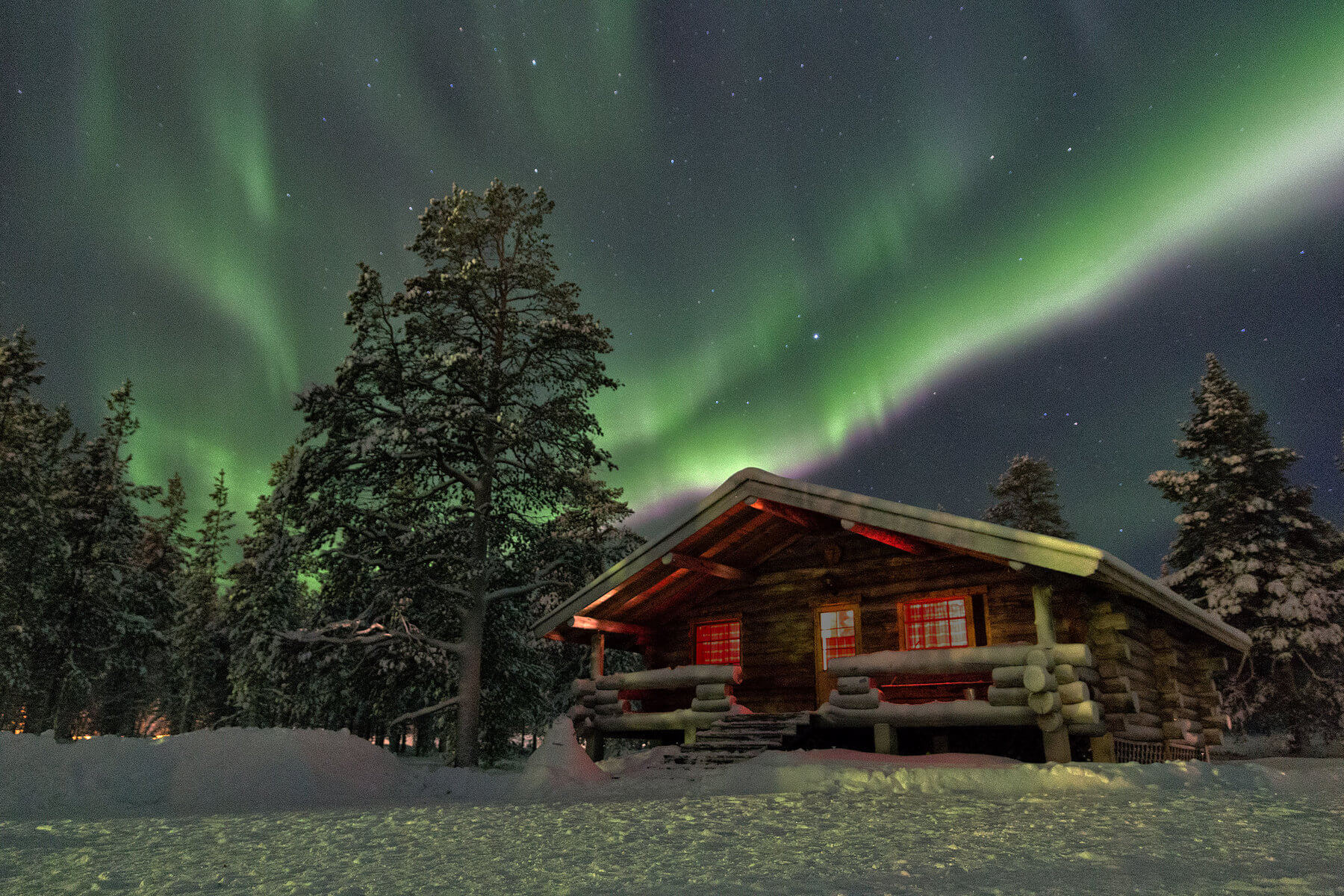 (Photo: berlinrider / flickr.com / CC BY 2.0 license)
Prices on New Year's Eve
On New Year's Eve the cost of accommodation in Helsinki is as follows: double room in a hotel or hostel 1 * and 2 * is from 40 euros per night for two people, three-star – from 60 euros, a hotel 4 * – from 70 euros, five-star – from 120 euros. Only book your rooms in advance, because closer to the holidays there may be no vacancies – better to do it in the autumn. Read more about prices in Helsinki.
Prices in restaurants in the capital of Finland for the New Year are only slightly higher than usual. The average bill for lunch in Helsinki restaurants – 30 euros, dinner – 45-50 euros per person. What is worth eating? Tender pork roast, rice pudding, glögi and Christmas beer, gingerbread and other goodies. You should also try the salmon, venison or partridge dishes and desserts with wild berries: cranberries, blueberries, lingonberries and cloudberries.
Eating out in Helsinki is inexpensive: a list of budget places in the city where you can eat good food.
The cost of entertainment at Santa's residence: the entrance ticket costs 33 euros (adults) and 27.50 euros (children), a ride in a reindeer carriage – 25 euros, the entrance ticket to the ice bar – 12 euros, a snowmobile ride to the farm reindeer and husky – 120 euros. Entrance ticket to the zoo "Ranua" for adults – 17.50 euros, for children – 15 euros.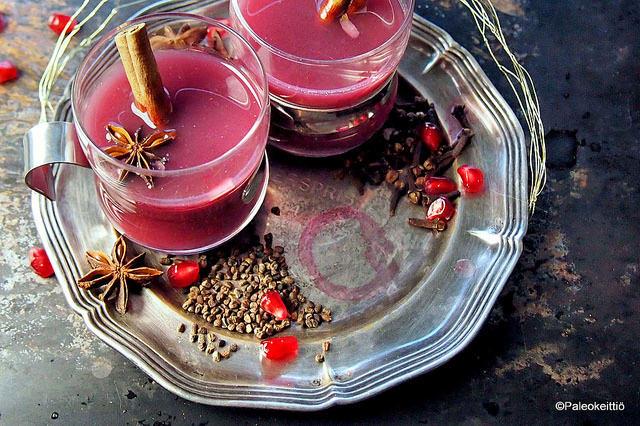 (Photo: Paleokeittiö / flickr.com / CC BY-ND 2.0 license)
New Year in Finland: Tourist reviews
Most tourists who decided to rent a house in Finland for the New Year were pleased with the excellent weather – a real snowy winter with all the entertainment: sledding, snowball games, winter fishing and other amusements.
Cottages in Suomi is well equipped, they have everything for a comfortable stay: a fireplace, a few bedrooms, all the appliances. They are built at some distance from each other, so the noise from neighbors will not interfere with your rest.
Now about the minuses: as it is a European country, to fish, as it is usual with us, will not work. It is necessary to buy a license, otherwise self-caught salmon or perch will cost several times more than bought in the supermarket. For free you can catch only with an ordinary fishing rod without a reel.
You should understand that a rest in the cottage is similar to a country rest, even if you live in a fully equipped cottage. People come here not for the banal urban entertainment, but for real solitude. You will have to entertain yourself.
No one exempt from the need to buy food and cook your own food, including New Year's dinner. By the way, most stores close at 18:00, it should be taken into account, so as not to stay without food and water. Cleaning will also have to pay extra – 70-120 euros. However, if you want to avoid such hassles, then it is easier to pick up a hotel complex, pay for New Year's Eve with the program and enjoy the rest.
Some people find the prices for holidays in Finland to be high, while others find them affordable. The main reason tourists come here is to create a real New Year's mood, and in a snowy hospitable country it will be very good.
Let's celebrate New Year's Eve 2022 in Finland
Finland is our neighbor to the north, the country, which in recent years has become for Russian citizens a very popular holiday destination in winter. Peak visits are at the period of New Year and Christmas holidays and winter school vacations. And it is not surprising! After all, to maintain an appropriate mood here is all available: the snow, hard frost, the smell of pine, and Santa Claus himself lives not far from these places! Well, and comfortable accommodation, excellent service and great cuisine to suit all tastes and still make a pleasant and memorable vacation. Well, as for the weather, the snow and frost residents of Russia is not very surprising. And the presence of cold is understandable, because Lapland is the residence of Santa Claus. Therefore, skiing, walking through the snowy winter forest will stay in the memory of tourists for a long time. And what pictures you can take from these places!
Where can I celebrate the New Year in Finland and what can I see?
In the countries of Western Europe, the New Year is less popular than Christmas celebrations. In this regard, to go to Finland should be in December 20s. At this time across the country is a lot of variety of fairs, where you can buy bright and colorful local souvenirs, try hot mulled wine, get lost and confused in a choice of sweets. All this and more will help guests to fully experience the spirit of Christmas. Holidays in Finland are sure to please everyone, because here everyone will find a nook and do something to his liking.
What can you do here during the holidays and what to see?
Senate Square in the capital
Here residents and visitors to the city can see:
dancing;
fireworks;
a laser show;
cozy rest in cafes and restaurants (it is better to book tables in advance);
cathedral;
Temple Temppeliauca (carved out and located in one of the rocks);
National Museum;
a number of free museums in the city;
a large ice rink.
All local establishments, despite the holiday, are open only until midnight. By the way, fireworks are only allowed on New Year's Eve from six p.m. to two a.m. Couples, especially those who come to Finland with children, often choose a cozy holiday in the woods, so to speak, away from the boons of civilization. Well, fans of active recreation can choose to stay in one of the cottage villages near the ski resorts, or spa resorts, which in Finland, quite a lot. The most popular local resorts:
Porvoo;
Saariselkä;
Levi. Recreation in Finland is very diverse (the choice depends on age and personal preferences). But there is something that unites absolutely everyone who comes to visit this beautiful country. And this, of course, the Northern Lights and the personal residence of the Finnish Santa Claus.
Visit Lainio
Lainio is a Finnish village, which is known throughout the world for its beautiful exhibition of ice sculptures. On the territory of this village there is a real hotel made of snow, an exhibition of sculptures, a small chapel, a restaurant with a disco. Tourists here have the opportunity to walk through the snow maze, have a hot drink at the bar, have dinner and dance. This village is open to visitors only in winter time from 10 am to 10 pm. The entrance fee to the village of Lainio is ten euros.
Lapland
Above we have already talked a little about Lapland. It is a wonderful and fabulous place. Here you can:
snowmobile rides;
skiing;
ride in a reindeer or dog sled;
visit the national park Oulanka;
Museum "Arcticum";
the Ranua Zoo;
see the Northern Lights.
And, of course, the residence of Finnish Santa Claus;
There are fun attractions for children;
From here the children can send a greeting card with the personal stamp of Ded Moroz himself.
The cost of a cottage for New Year holidays
Tourists who want to spend the holidays in Finland, should book a cottage in advance. It is not required, but desirable. Presumably, to rent a cottage for the holidays this year, for example, a period of one week for six people will cost from 800 to 1500 thousand euros. You can, of course, find a cheaper option. The price depends on the location, level of comfort and service you choose.
Prices in restaurants
The pricing policy in restaurants in Finland on holidays is not much different from normal weekdays. So, for lunch you can eat from 30 euros, and dinner at 45-50 euros. In local restaurants you can try very tasty and tender pork roast, rice pudding, glögi, a kind of Christmas beer, gingerbread, original dishes of salmon, venison, partridge and a huge variety of desserts. The cost of the main entertainment at the main residence of the local Santa Claus: the entrance fee is 33 euros (adults) and 27.50 euros (children), reindeer riding is 25 euros, entrance to the ice bar is 12 euros, snowmobile riding is 120 euros, entrance to the zoo "Ranua" is 17.50 euros (adults) and 15 euros (children). In conclusion, I would like to note that the trip to Finland for Christmas and New Year vacations is a very good choice. And if you prepare in advance for this trip, your vacation will be not only interesting but also relatively inexpensive. What do you mean "prepare in advance"? First of all will need to book tickets for the flight and solve the problem with housing, so when you arrive at the place, do not have to look for a place to stay overnight with suitcases. After all, you'll come to a foreign country on the eve of such a big holiday, and you can easily find yourself on the street. And, of course, it is desirable to think through and calculate your future itinerary, so that there is not a waste of time. How many interesting and exciting things await you on this trip! Another tip. Stores in Finland on the eve of the holidays are closed at 6 pm, so that not to get an unpleasant surprise, you will need to decide in advance about the holiday menu. Or you prepare everything yourself and then have to buy products in advance, or entrust the professionals (preparation and delivery of ready-made meals right at home), or dress up nicely and go to the nearest restaurant.