Nusa Penida
I want to share with you how to get from Bali to Nusa Penida on my own and my impressions of visiting the island.
I have been dreaming to get to this island for a long time. I even dreamt about it a couple of times, so it was definitely a sign.
The Internet is full of information. There is also information on how to get to Nusa Penida by ferry with your moped. But thanks to an acquaintance who talked me out of this idea:
First – these ferries don't adhere to a strict schedule, and may not arrive at all;
Second – there are terrible roads and it's better to take their dead moped on the spot than to spoil their own.
So the most convenient way to get to the island, especially if you stay, as we did, in Kuta – is to ride your moped to Sanur. There to park. At the ticket office buy tickets and go. We bought a return ticket right away.
Note: you have to leave early in the morning. The first ferry is at about 8:15 …times vary depending on the originating company.
Most operators have: 200,000 (960 rubles) one way
IDOLA, MOLA-MOLA EXPRESS: 150,000 (714 rubles) one way
Once you arrive at the departure point, don't rush to buy tickets at the first ticket office, or to start a dialogue with the locals and ask them anything. The port of call is where a lot of people try to get their own benefit from you.
So, we parked, told the local that we were looking for the ticket office MOLA-MOLA EXPRESS, the man showed us in which direction to go and followed us. We tried to send him away as the purpose of his walk next to us was clear. He would not leave. Naturally, when we went to the right ticket office the tickets were already more expensive for us. It's good that on the way I saw another operator I knew, IDOLA, which also has low prices. So we decided to go back. I stood in line at the ticket office and was about to get tickets as our friend approached the cashier and said something. As you probably guessed – places on the boat ran out. But our "new friend" knows where to buy.
It was wildly offensive. And unpleasant. In the end, we cheated. A friend went to get tickets instead of me. For him, of course, all sold. But, of course, we had a lot of trouble.
A few important points:
Upon arrival, rent a moped right away. Rental prices are much higher, be prepared. If the average rent in Bali from 65,000 to 80,000, here from 150,000 to 200,000. The cost of the rental per day depends on the length of your stay.
Don't come for one day. It's too short. As far as I'm concerned, a one-night stay is ideal. Including departure on the last ferry at 5:00 p.m.
Be sure to put a mark on the map at the point of arrival, because in Nusa Penida more than one port.Then you'll be like us, rushing back and forth, afraid to miss the boat.
Wear sneakers or similar comfortable shoes, as you have to climb up and down the maddening descents to the stunning beaches.
If you go in sneakers, pack them in a waterproof bag before putting them in the basket (before boarding the boat).
So of the large number of places we planned to visit fully, we looked at three.
I will start the story with getting on the boat at Sanur.
All the circles of hell are passed, the tickets are in hand. A color badge around my neck to make it easier to track down all the travelers. The boat is parked and boarding is done. You will have to take off your shoes, as you will not walk on the pier, but on the water. They will make you turn it in the box. The ride will take about 30-40 minutes. It is better to sit down, as the sun in the morning is already hot and there is a risk of burning before you get to the island.
Upon arrival, your shoes will be thrown on the pavement out of the box. They will be all wet with salt and sand. My suede sneakers are finished there.
Next, renting a moped.
It turned out to be easier than we thought. Immediately upon arrival, a local guy found us. A little bargaining, since we rented for 3 days. And off we went, on our adventures.
We stayed at the Manta Cottage Seaview Plus Hotel. A hotel with a great view and not far from the port. All hotels on the island salty water, but given the not long stay, you can tolerate.
1. We settled in and went to Kelingking beach.
The place, of course, stunning. Very beautiful view on the mountain. But.but a huge number of tourists and that would make a photo, which seems that you are alone with this powerful nature, have to stand a huge queue)).
But to the beach down to the unit.
The way to the beach is a nearly vertical descent, grabbing the handrail, feel like a climber conquering Everest. In the middle of the way you want to turn back, as you can imagine how painful the ascent will be and a lazy body is already signaling to the brain with the words that maybe I do not need all this in hell)))
But the beach.Oh what a beautiful beach.White sand and crystal water. Waves are also beautiful and terrible at the same time. For those who can not swim-it can be quite devastating. Because the water is merciless. And a mighty wave pulls you into its depths. For me, however, it did not prevent refreshment and aesthetic pleasure. Then the ascent. Like a cyborg monkey, climbed up, grabbing with my hands, clinging to the insane steps with my feet. But the joy…was wagonloads. The main thing is to have your headgear and water with you.
Conclusion: The descent and ascent is definitely worth the effort. A little test of your body as a bonus.
Then we wandered around a bit, charged coconut from the fridge, took more pictures and went in search of a cafe for dinner.
I've read a lot about the possible problems with food on the island, but I've noticed no such problems. So, stock up on supplies not necessarily).
2. The next day and the beach Atuh.
Atuh is on the other side of the island from our hotel and respectively from the pier. We followed the maps of the offline application maps.me.
Also on the island there are signs that will help you to get to the right road. And get to the cherished paradise beach. We go down the vertical steps. Yes yes, steps again. The beach is just as good. The only thing floating wooden things that hurt your feet, so be careful.
In general, as I thought, on Nusa Penida, well, very hot. I was just hard. And despite the fact that I like active rest, here it turned out to be quite lazy. Given that half of the time I was very afraid, because the roads here are really terrible. And, to get to every place, you have to go through a circle of fear).
3. On the way from the beach we decided to visit another place that was on our way – Tembeling Forest .
At the entrance, the locals will warn you that it is a terrible road and offer cab services. It is. The road is dangerous and we decided not to risk paying for a cab. The place itself is a forest, with natural ponds and access to the beach. Personally, I was not impressed at all.
On the way back to the hotel, we stopped at another beach Suwehan. Steep steps again. And at the end there is a rope and a ruined descent. It would be possible to do it, but it was very dangerous. So we did not try. In addition, my legs for these couple of days already screamed from such a crazy pumping. Then, already at home, I read that because of the earthquake the descent was destroyed. It has not been rebuilt yet. So do not waste your time.
There are no streetlights on Nusa Penida, so it is better to return to the hotel before dark. But what amazing stars are here. It's the most beautiful night sky I've seen in a long time. It's like it's just you and the universe. Very cool.
Night entertainment on the island was not found. But I'm not a fan, frankly. However, found a hookah in the style of Bob Marley with live music and colored zepletov)).
By the way, it's very important to be a good sunscreen, despite the fact that you probably already have a tan. It seemed to me that the sun there is no hiding from it, it looks under the trees and under the ground. And the evening there is quite cool, it seemed that the air is much fresher than in Bali.
In general, the experience is very pleasant. The crazy scenery struck the imagination. But the terrible roads did not allow us to see everything we wanted.
Nusa Penida – a beautiful island near Bali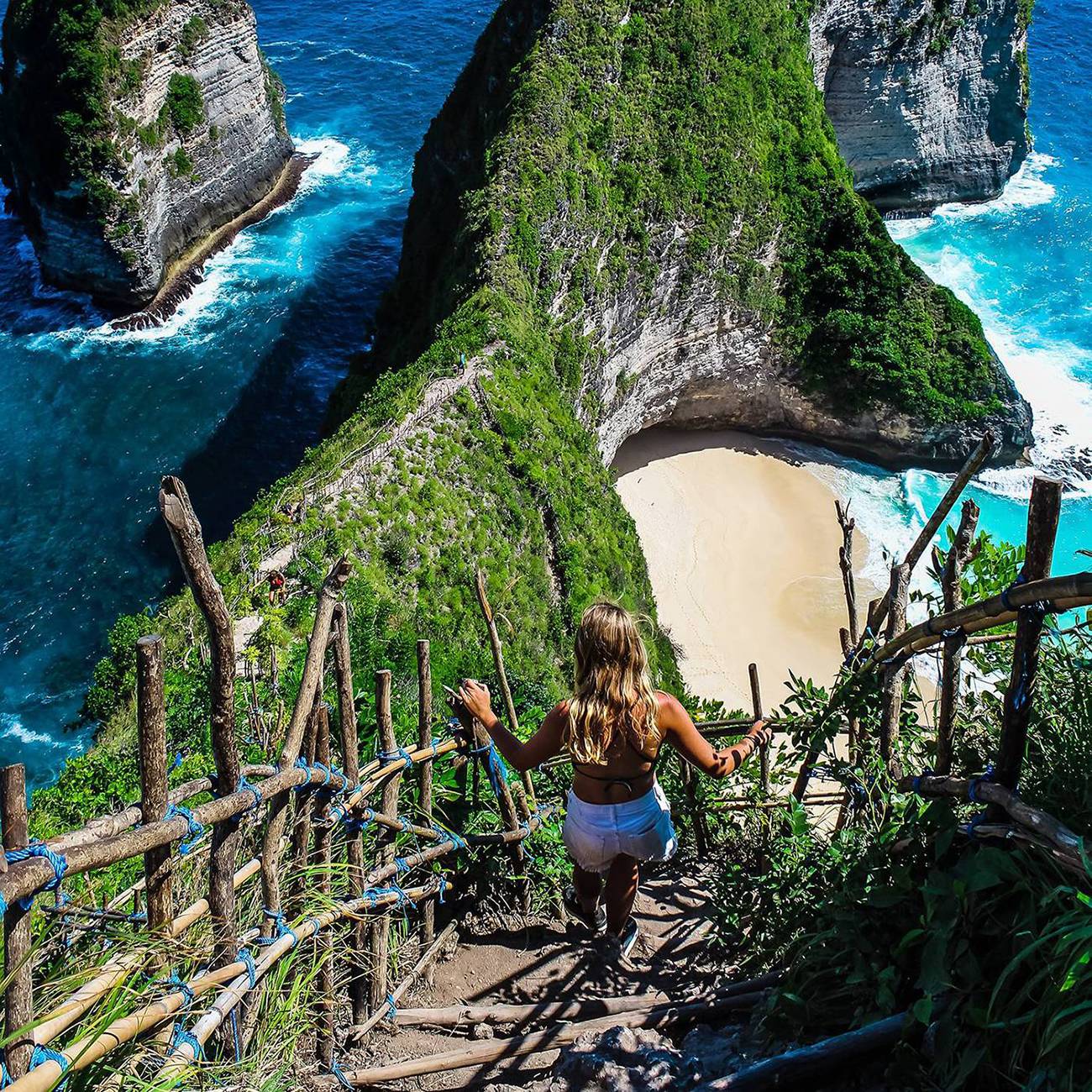 Collected reviews of the picturesque Nusa Penida Island in Bali. How to get to the island of dreams? What are the beaches, excursions and attractions there. Where can I see the mantas? Tourist tips.
Contents:
Pros and cons of vacationing in Nusa Penida
The picturesque island is a paradise for active travelers. Nusa Penida is liked by fans of unspoiled nature and breathtaking views.
The pros of vacationing in Nusa Penida in 2022, according to tourist reviews:
Luxurious nature.
Beautiful cliffs and coves
Clear ocean
Great opportunities for trekking, diving, and snorkeling
Swimming with manta rays
Vladislav Fedyanin: "The views, in my opinion, are more beautiful than in Bali itself – there is a lot to see. I especially liked Kelingking Beach."
Minuses :
The island is remote from Bali.
Hot climate
Poor quality roads
Communications and internet is not everywhere (but a plus for some).
Walking around Nusa Penida requires a good physical condition.
Alina07111: "You have to constantly climb up and down the mountains and jungle. The island is definitely not suitable for tourists who are used to all inclusive.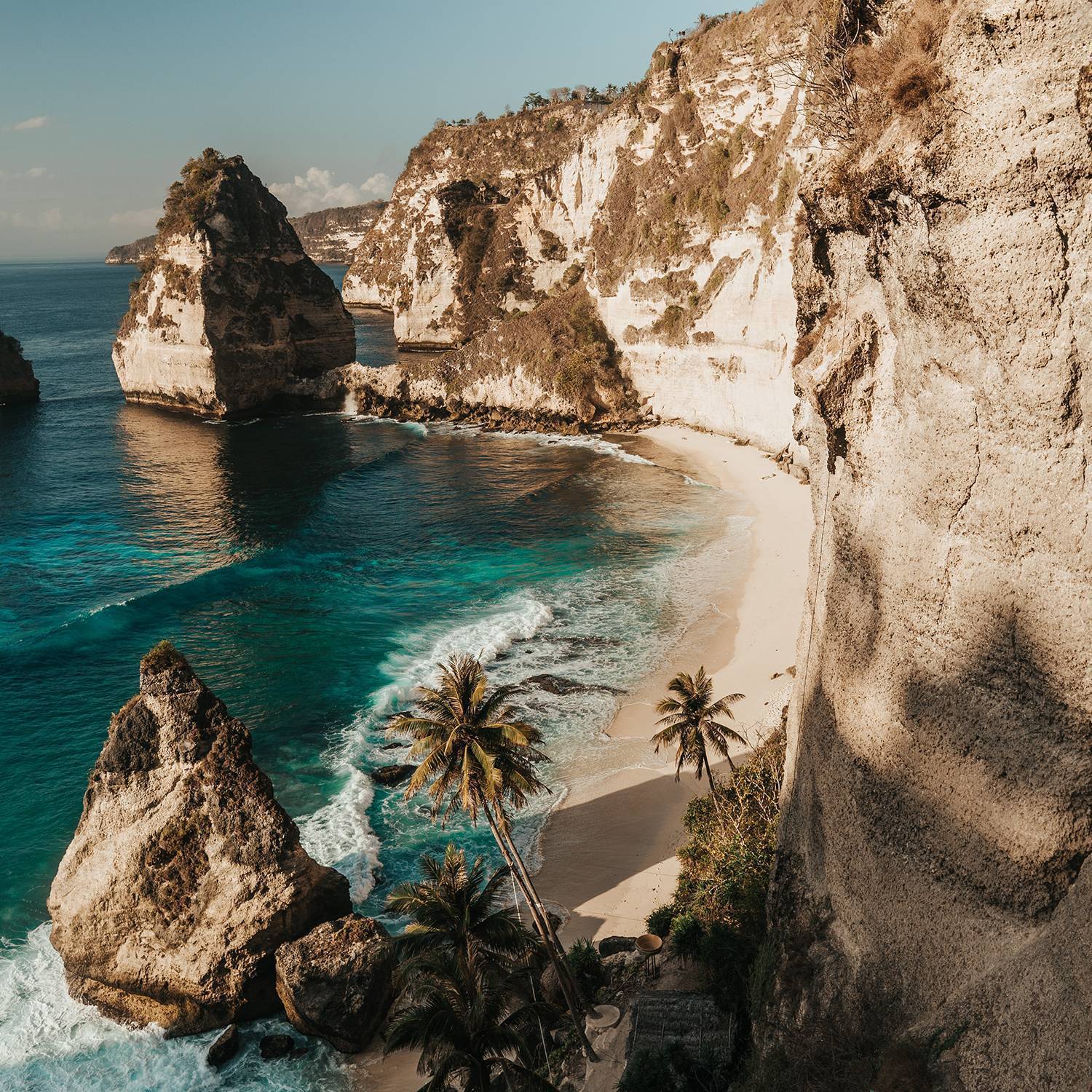 Diamond Beach (Photo: unsplash.com / @thesologirlstravelguide)
Nusa Penida on a map of Bali
Reviews of the beaches and sea on Nusa Penida
The island doesn't have the wide, gentle-entrance beaches that parents with kids love. The beaches on Nusa Penida are scattered in small bays. The approaches to the water can be quite steep. In some places, the shore is sandy, in others – stony. The ocean is very clear and the water has a bright turquoise color.
The most picturesque beaches of Nusa Penida, according to reviews of tourists:
Crystal Bay.
Atuh Beach
Kelingking Beach
Suwehan Beach
Linadianova: "Kelingking Beach has a great view of the sunset. It's much easier to go up. There is a village of monkeys above – take care of the water, food and glasses.
Kelingking Beach (Photo: unsplash.com / @kilarov345)
Nusa Penida hotel reviews.
Look for discounted hotels on Rumguru. Here are the top rules for finding hotels.
Most hotels and hostels are in the northwestern part of the island. Rooms are more expensive than in Bali. Accommodation is in demand, so book the options you like in advance. We advise to stay in hotels with breakfasts to waste time on finding food.
Tourists have left good reviews about hotels in Nusa Penida:
Nusa Penida Weather Reviews
In terms of climate conditions, Nusa Penida is not different from Bali. The dry high season lasts from November to April, and the monsoon season lasts from May to October. The temperature all year round is a comfortable +27 … +32 ° C, and the ocean water is heated to +25 … +28 ° C. According to tourists' reviews, in the evenings in Nusa Penida is fresher than in Bali.
6107579: "Were in October. Swimming is not possible because of the very large waves, but you can admire the power and beauty of nature to plenty.
How to get to Nusa Penida from Bali
Nusa Penida is located 12km southeast of the main island. Getting here is easy. There are regular speed-boats from Sanur. The schedule is available at the port, but it is not strictly adhered to. The first boat leaves at 7:00 am. There's plenty of transportation – you can buy tickets online at 12GoAsia. Tickets cost from 150K rupees ($10.50) one way in high season. The trip takes 30-40 minutes. Most tourists are brought to Toyapakeh and some to Sampalan.
You can also buy tickets online at My Bali Trips – it's more expensive, but includes a transfer from your hotel to the port. The round trip costs $36-$40 depending on the port of departure, one-way from $21.
If you want to get to the island with your own transportation, take the big ferry, which departs from Padang Bai at 11:00. Speedboats to Nusa Penida from 6:30 to 15:00-16:00 also run from Kusamba and Tribuana. The trip to the island takes 20-25 minutes.
Nusa Penida (Photo: unsplash.com / @menaceslinger)
Nusa Penida tour reviews
From Bali to Nusa Penida take excursions for 1-2 days. Diving and snorkeling, deep-sea fishing for mackerel, bluefin tuna and marlin are popular with vacationers. If you are lucky, you can swim with huge mantas.
Однодневный тур стоит 68-86$. Посмотреть >>
Туры с проживанием в отеле на 1-2 ночи и снорклингом стоят 115-230$. Посмотреть >>
You can rest assured, you will definitely leave with great pictures.
What to see in Nusa Penida
The tropical island has a lot of scenic spots. We advise you to plan 2-3 days for your own trip. The most popular attractions in Nusa Penida:
The green hills of Teletubbies Hill
The underground temple Goa Giri Putri.
Peguyangan Waterfall
Broken Bay and Angel's Billabong natural swimming pool
Sunset Point cliff face
Natural swimming hole, stone beach and beautiful Tembeling Forest.
Manta in Nusa Penida
One of Nusa Penida's top attractions is the opportunity to see moonfish and swim with large manta rays. Many diving trips start at Crystal Bay. A safari tour costs $85 and includes four sites with snorkeling and diving for 20 to 30 minutes each.
Некоторые 1-2 дневные туры включают в себя снорклинг с мантами. Посмотреть >>
150sandrineg: "We were thrilled! Saw manta rays and two turtles, not to mention fish and starfish."
Manta rays (Photo: unsplash.com / @sebaspenalambarri)
Tips for vacationing in Nusa Penida
There aren't many ATMs on the island. Before you leave, change money and stock up on cash.
Get a SIM card for the Internet in Bali. We recommend you buy it from SimPati.
You should not bring a lot of luggage to Nusa Penida. Leave excess luggage in the hotel lockers in Bali.
Valeria Lerochkina: "Go in sneakers or similar comfortable shoes, as you will have to climb up and down the maddening descents to the stunning beaches."
The port part of Nusa Penida is more developed than the rest of the island. There are cafes here, but the prices are high.
It is convenient to travel around the island by bicycle. Rent a vehicle on arrival, right at the port. Hire costs 60-85K rupees per day.
Traffic on Nusa Penida is almost no one observes the rules of the road, traffic is low, but the roads are narrow. Only the roads in the center of the island and near the port are paved with asphalt. In order not to get lost, use a navigator. There are no streetlights on the roads, so return to the place of overnight stay before dark.