How to go to the Dominican Republic on your own
The Dominican Republic is a popular destination for Russian tourists. In 2022, this country is firmly in the lead in the number of travelers arriving from Russia, along with Egypt, Turkey and Sri Lanka.
And if to go on holiday to the Dominican Republic on a tour – easy and simple, you just need to book a trip, then an independent trip seems difficult to organize. Today we will tell you whether to go to the Dominican Republic on their own, how much it costs and what is more profitable: a tour or a wilderness trip.
Why go to the Dominican Republic on your own
The Dominican Republic is a country for a relaxing beach vacation. Some even think that it is boring, and besides sunbathing by the sea there is nothing to do. This is partly true – for an active and rich journey is better to choose another destination, the same Sri Lanka.
That is why most tourists come to the Dominican Republic in a group from the tour operator. But if you go here by yourself, you can see a very nice atmosphere resorts that package tourists have not yet reached. Such a wilderness trip will allow you to visit the gorgeous wild beaches, experience the culture of the locals, and travel around the country without being tied to a group of tourists.
Dominican Republic (source unsplash.com)
So if you have long wanted to visit the Dominican Republic, and see it from different angles, it is better to choose an independent trip. To organize it, by the way, despite the long distances, it is not difficult at all.
How to get to the Dominican Republic by yourself
The easiest way is by plane. Usually tickets to Punta Cana are cheaper than to other airports in the country. Tickets from Moscow cost from 32 thousand rubles round trip. It is better to book them at U-Flights as early as possible, 2-4 weeks before departure tickets cost from 50 thousand rubles.
Look for plane tickets to the Dominican Republic here
Sometimes tickets for charter flights show up in the search, and particularly lucky travelers can snag them for a very good price. Once we even saw tickets from Moscow to Punta Cana for 2,700 rubles one way. But, just one way, that was the catch – return tickets this month cost more than 50,000 one way. Tickets for charter flights appear infrequently, and usually with a close departure date.
Another way to get to the Dominican Republic is to board a cruise ship in one of the European ports. But in the coronavirus pandemic, such trips have become rare, and it's likely that they won't return for a long time.
How to get around the Dominican Republic
The most comfortable way to get around the country is to rent a car. Do not rely on public transport – if between the major (by Dominican standards) still ply buses, get to the wild beaches and small resorts on them will not work.
In addition, excursions in the Dominican Republic are not cheap, and car rental will more than pay off – because you can get to all the interesting places. To rent a car in the Dominican Republic is possible at a price of 30 to 70 dollars, plus the cost of gasoline. The earlier you book a car – the lower price you will get.
Rent a car in the Dominican Republic (source nevesta.info)
If you do not know how to drive, or just afraid to sit behind the wheel in another country – you can use a cab. It is better to download Uber in advance – the prices in the app are much lower than the local drivers say. But the cab services are not cheap, and if you can still get to the wild beach, then to call a car to go back – is another adventure. Therefore, the available geography of travel by cab is much narrower than by renting a car.
You can rent a car for cheap with the Rentalcars.com service. Here are the most favorable prices for cars, 24-hour support and a wide range of models.
What resorts in the Dominican Republic to choose for a vacation
The most popular resorts of the Dominican Republic are Punta Cana and Cap Cana. These are quite large cities with developed infrastructure. It is here usually rest package tourists. Of course it is worth visiting for a couple of days, but independent travelers are more mobile, and therefore the choice of places for recreation they have much more.
❗ More articles about the Dominican Republic:
If you like snorkeling, diving, windsurfing and other seaside activities, go to Boca Chica and Cabareta, and if you want a classic Caribbean vacation, check out La Romana and Juan Dolio. Nightlife lovers will appreciate the discos in Sosua and Playa Dorada.
To see unspoiled nature, feel the tranquility and put time on pause – be sure to visit the Samaná Peninsula and Saona Island. Here you can not only admire the beautiful scenery, but also find beautiful, comfortable and not crowded beaches.
Paradise in the Dominican Republic (source unsplash.com)
The Dominican Republic is a small country, and by car it can be explored in a couple of weeks. Given that it's a long flight from Russia, it's rare for tourists to go to the Dominican Republic for less than 10 days.
Best time for an independent vacation in the Dominican Republic
The high season in the Dominican Republic is from November to April. Of course, prices at this time are higher, but to find a balance between affordable vacation cost and good weather – choose to go in December, March and April.
From May to August in the Dominican Republic rainy season – for a vacation at this time can not be called suitable. High humidity and temperatures, tropical showers – not very similar to the pictures from the ads coconut bar. In September and October there are often hurricanes, so this is also not the best time to go.
When is the season in the Dominican Republic?
Temperatures in the Dominican Republic:
January
27°C
February
27°C
March
27°C
| | |
| --- | --- |
| April | 28°C |
| May | 29°C |
| June | 30°C |
| | |
| --- | --- |
| July | 30°C |
| August | 30°C |
| September | 31°C |
| | |
| --- | --- |
| October | 30°C |
| November | 29°C |
| December | 28°C |
Where to live in the Dominican Republic
The most convenient service to search and book accommodation in the Dominican Republic – Bookings. Here you can find the best prices, reviews, and hotel location can be viewed on the map.
Find a hotel in the Dominican Republic here .
During the high season, hotels are expensive, for example, a room at a 4-star all-inclusive hotel in Punta Cana in January costs from $280 per night. But don't be immediately intimidated! Even in the high season you can find a good apartment or hotel room without meals for a reasonable price – from $ 40. And accommodation in a gesthouse is even cheaper.
The most expensive accommodation is in Punta Cana, Playa Dorada, Cap Cana. Hotel with good value for money can be found on the Samaná Peninsula and Bayahibe resort. Experienced travelers recommend making sure to look at the location of the hotel on the map before booking – many hotels are located far from the beach and infrastructure, so that without a car it will be difficult to live there.
How much does it cost to eat in the Dominican Republic?
The Caribbean is not Asia, so you won't find delicious and very cheap food here. It is often more profitable to get an all-inclusive hotel room than to pay for breakfasts, lunches, and dinners in cafes and restaurants.
Dominican vacation 2022 (source unsplash.com)
The official currency of the Dominican Republic is the peso, 1 peso is about 1.3 rubles. Here are approximate prices in an inexpensive, but not the cheapest cafe:
Rice and chicken – 160 pesos,
seafood soup – 200 pesos,
grilled fish – 300-550 pesos,
lobster 500-600 pesos,
pizza – 250 pesos.
Alcohol in the establishments is quite expensive. Local beer costs 100 pesos for 0,5 l., imported – the same, but for 0,33 l. A bottle of wine is not cheaper than 350 pesos for a bottle of 0.7.
It is possible to reduce the cost of food by staying in apartments, and cook your own meals, at least breakfasts. The cheapest lunches are in cafeterias, canteens for locals. The interior of these places is modest, but the quality of food is very good – with sanitation in the Dominican Republic is much better than in Asia. In cafeterias you can have a meal for 500 pesos for two.
Note that the tip is often 5 to 10%, and it is automatically included in the bill.
Is it safe to vacation on your own in the Dominican Republic?
Resorts in the Dominican Republic (source unsplash.com)
The Dominican Republic is not the safest country in the world. However, it is not as bad as in the countries of southern Africa. Standard caution is usually enough: do not carry valuables in a pocket or backpack with a free-opening zipper. Get a fanny pack, and carry it on your person. Try not to take expensive equipment for walks – laptops, cameras, etc. It is not recommended for tourists to walk outside the resort areas in large cities. In areas popular with tourists, there are a lot of police, so security there is at a good level.
What is cheaper: to buy a tour to the Dominican Republic or go on your own
Let's calculate how much it will cost for a 2-week independent vacation for two:
airfare – 70,000 rubles;
Making a tourist card at the airport – $ 10 per person, 1500 rubles for two people;
4-star all-inclusive hotel for 14 nights – from 100 000 rubles;
Car rental for 14 days – from 40 000 rubles.
Total – 211 500 rubles. But you need to keep in mind that you can save money on accommodation.
An "all inclusive" 14 night hotel tour from Moscow costs from 227,000 rubles, and that's for a three-star hotel. Four-star hotels are more expensive – from 230,000 rubles.
It turns out that in 2022, to go on their own in the Dominican Republic – even cheaper than to buy a tour. In addition, you can dedicate a week to travel around the island, and a week to rest at the same hotel – and the cost of renting a car will be halved.
Enjoy your vacation and discover new countries, and to arrange a trip will always help Y-flights!
How to go to the Dominican Republic by yourself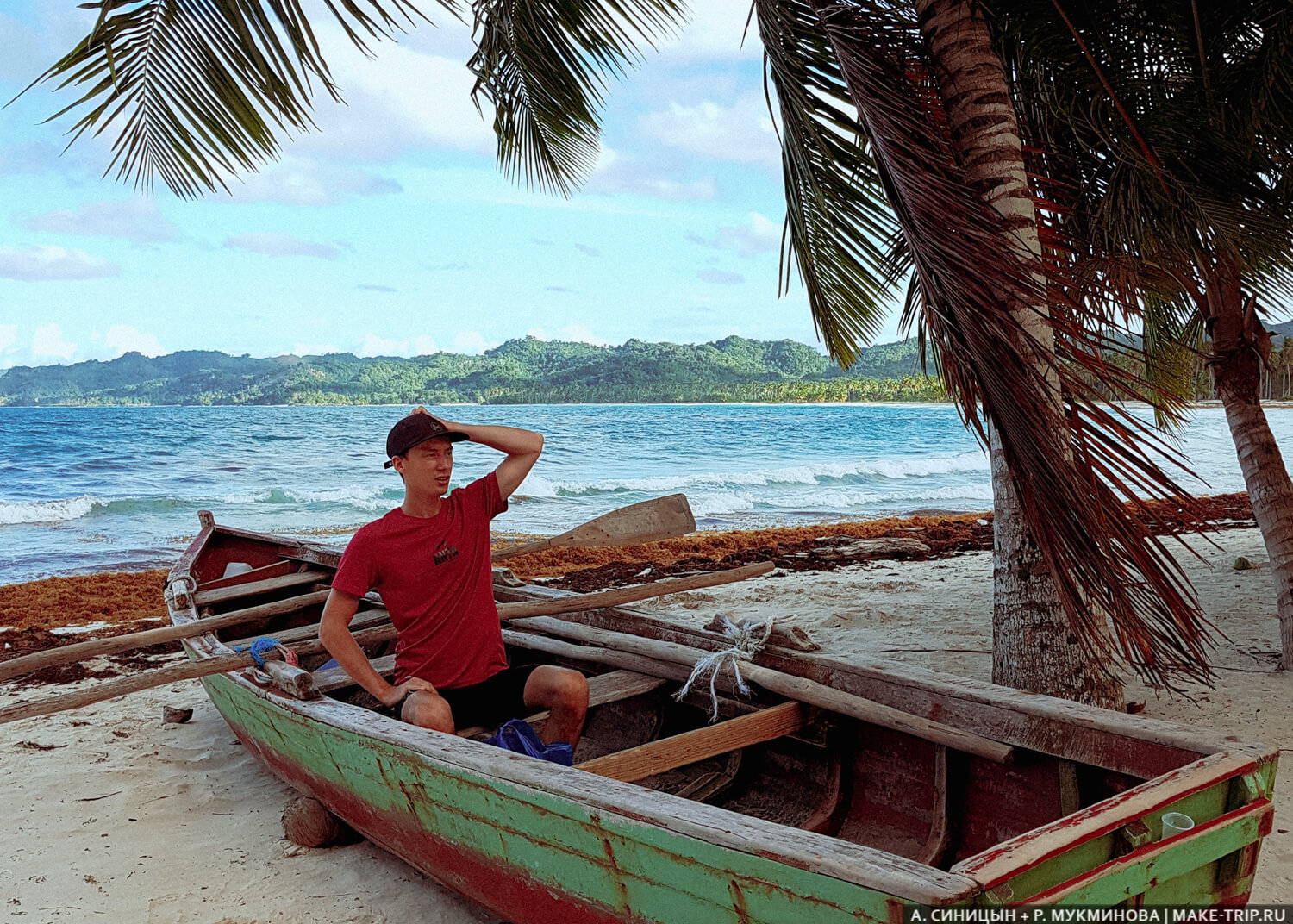 How to rest without a tour to get interesting and inexpensive. My experience and tips.
Contents:
Do I go alone?
I warn you right away: for a real, active, rich travel Dominican Republic is not suitable – it's pretty boring and impersonal country. There is no spectacular nature, no remarkable buildings, no unusual places or unique and vibrant culture. For this goodness I recommend to go to the unique Cuba or, better yet, to Mexico. Mother travelers are likely to be bored here. But you can safely go to the Dominican Republic for an excellent beach vacation and Caribbean flavor. We understood all that and took it into account, so overall we enjoyed the trip.
For a lazy all-inclusive vacation, it's more profitable and convenient to fly on a tour. Check out our comparison of independent and package holiday prices for this country. Look for the best tour prices on Travelate or Level.Travel.
And here's why it's worth going to the Dominican Republic on your own :
Relax at pleasant resorts with a true Caribbean feel instead of overcrowded compatriot resorts like Punta Cana.
Enjoy the most beautiful wild beaches inaccessible to package tourists.
Learn the culture and lifestyle of local people (not too interesting, but still informative).
To see the scenic spots and not to mess with the excursions.
Enjoy the freedom of autotravel.
To have the ability to change the vacation destination at will.
Save money on all-inclusive hotels (sometimes it is possible).
If any of these points are about you, then independent vacation in the Dominican Republic will be to your liking. The main thing to understand is that this country is primarily for recreation, not travel.
Compare countries: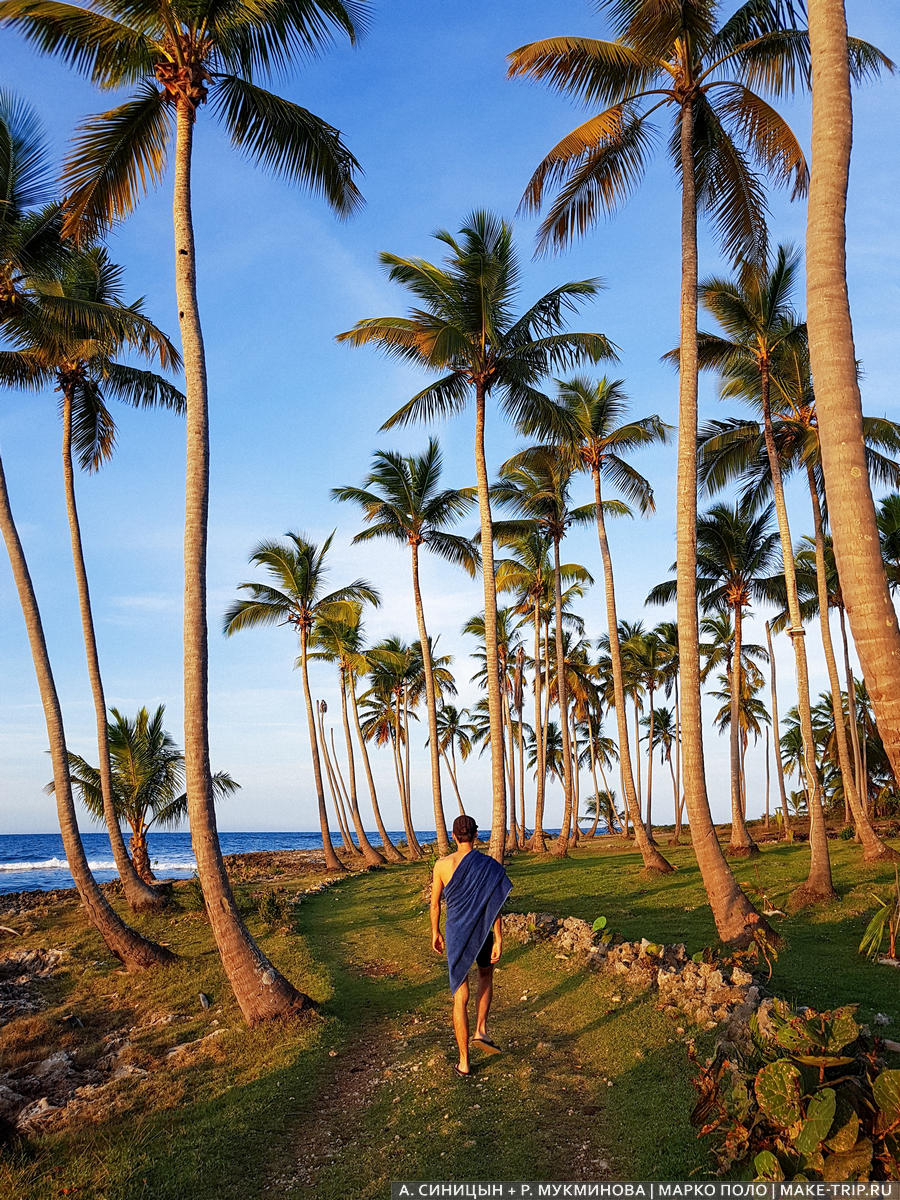 Meeting the sunset on Saman, walking through a charming palm grove.
Our trip.
It came out rather unusually.
Renata and I arrived in this country in a completely non-trivial way – by sea from Italy. For two weeks we crossed the Atlantic aboard a cruise liner along virtually the same route as Columbus. It had been a longtime dream of mine to reach the shores of America by sea, leaving the harbors of old Europe. I am madly happy that this important dream has come true!
On the liner we arrived in the port of La Romana. From there we took a shuttle bus to a small, cozy resort in Baiaibe, where we checked into the wonderful all-inclusive Whala!bayahibe 4* hotel for four days. We rested and traveled around the country. We rented a car and drove to the Samaná Peninsula, which attracted us most of all with its nature, sparseness, and expressive oceanfront beaches. For four days we stayed in the cute village of Las Galeras and explored the surrounding area. After that we returned to La Romana airport, rented a car and took a bus to Santo Domingo, the capital of the country. We walked around this scary town, slept overnight, and flew to Cuba.
In total during independent travel in Dominica we had time to relax in the hotel AI, saw different resorts and beaches, drove around the country by car, visited several sights and got acquainted with the capital. It was quite full and varied. It took us less than $1000 for two people. The diary of expenses and a description of the trip I kept in a series of notes:
Renting a car
For a complete vacation and travel in the Dominican Republic I advise to rent a car. This way you will save a lot on excursions, which there are ungodly expensive. Especially if you are traveling with family or friends. You can rent a car for $ 40-70 dollars a day, plus a little spend on gasoline, while even the cheapest group tours in the Dominican Republic are $ 70-150 dollars per person. Also by car you will visit places where tourists are not taken, and you will be free to use your time, and not be guided by others. And it is better to forget about public transport in this country.
Driving in the Dominican Republic is quite easy and comfortable. The main thing is not to go into big cities, otherwise you'll be stuck in traffic jams for a long time. I rented a car from the trusted Rentalcars.com service – it's cheaper and safer than the on-site offices. Our Kia Rio automatic at La Romana airport cost us $42 a day, but if you book in advance, there are options for $27. In Punta Cana, it's more expensive. So far this is the most expensive car rental in my experience, even a BMW X5 in Georgia cost me much less. Such are the prices in the Caribbean! Although in Cuba car rentals are even more expensive.
The tracks in the Dominican Republic are of good quality.
Where to vacation
We like privacy and tranquility. So for his vacation we chose small resorts: the tiny Bayahibe near La Romana and the remote Las Galeras on Saman with miles of wild chic beaches.
But most tourists prefer large, bustling resorts with developed infrastructure. According to reviews, the palm is held by Punta Cana and Cap Cana . Actively developing La Romana and Juan Dolio . A small lagoon Boca Chica with an extensive coral reef beloved by fans of snorkeling.
Waters of the Atlantic Ocean is washed by the popular resort area of Puerto Plata . The beach line along it stretches for 100 kilometers. It includes several resorts: the elite Playa Dorada – for fans of golf and clubbing, Sosua with a vibrant nightlife and Cabarete, where the paradise for windsurfers.
Apart is the Samaná peninsula, rich in unspoiled nature and the protected island of Saona.
The most tranquil coastline and comfortable beaches are in the west and south of the country, as well as on the island of Saona.
We meet the sunrise with Renata on the beach at Las Galeras on Samana, Atlantic Ocean. Dominicus Beach near Bayahibe, Caribbean Sea.
When to go
We were in the Dominican Republic in December and the weather was wonderful. Daytime temperatures up to +30 ° C, and in the evening and at night a comfortable +23 ° C. The sea water is nice, about +27 ° C. At this time it is almost always dry and sunny, rains and storms come rarely. But we were lucky enough to get caught in a tropical downpour once, and it was epic! Raging waves, hurricane wind, and then a slow fading of the elements, gently turning into a beautiful sunset – perhaps that was our most vivid impression of the Dominican Republic. In general we would advise to go on vacation to the Dominican Republic from October to April.
By the way, the same temperature is felt differently in different resorts. In Baiaiba (near La Romana) it was cooler and not as humid as in Las Galeras (Samana).
There is a rainy season in the Dominican Republic when the humidity is 83-87%. It begins in mid-May and lasts until mid-July . If you can't stand the heat, don't visit during this time. Also from late August to late November the island can be hit by hurricanes with strong winds.
Read more about the seasons in the Dominican Republic.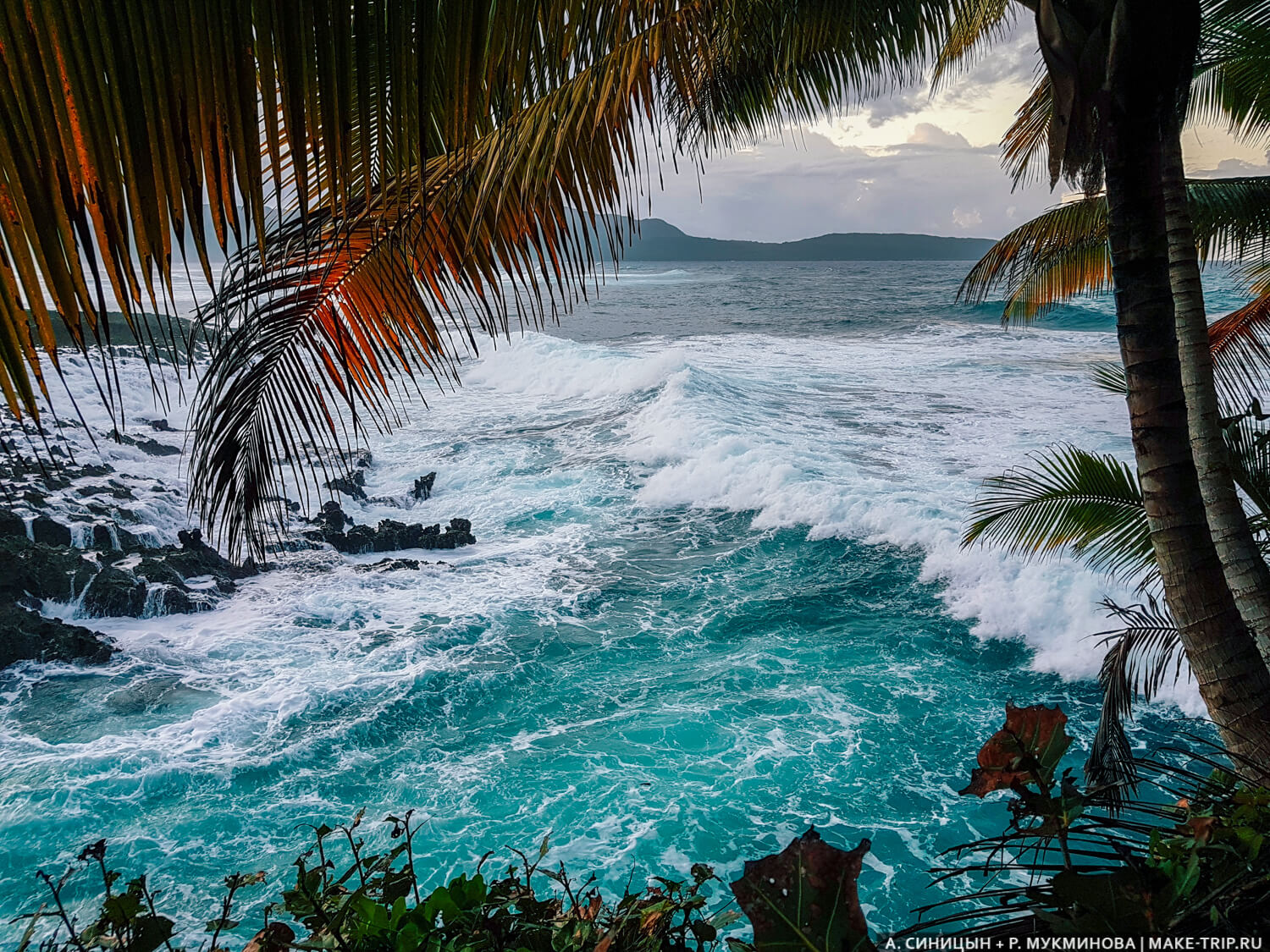 The sea waves once.
Airfare
Tickets to the Dominican Republic are expensive, especially now that there are few flights. It used to be possible to get cheaper through Europe, but during the pandemic you have to be careful with that and double-check transit conditions. Tickets from Moscow on direct Aeroflot flights to Punta Cana and back cost 50-60 thousand ₽. Flying, by the way, for 12 hours is tough.
Sometimes you can catch cheap one-way charters: either there or back. There are tickets for 12,000 ₽, 6,000 ₽, and even 2,700 ₽. Yes, yes, it happens, and even in a pandemic. But, first of all, it's rare, and not everyone will suit those dates, and secondly, for a ticket in the other direction, you're likely to have to shell out a lot more. You can, however, instead of flying home and continue your trip to the Caribbean, as we did. However, tickets from the Dominican Republic to neighboring countries are obscenely expensive for such short distances.
Hotels
The level of service in the Dominican Republic is higher than in Cuba, but slightly lower than some of the Caribbean islands. There are many 4* and 5* all-inclusive hotels in popular resorts, and they usually match their stars. In the smaller villages, you can find soulful boutique hotels and cozy ghettos. It's easiest to look for lodging on Booking.com.
Look at the prices. They are quite high in the Dominican Republic, especially in Punta Cana. For example, in high season a room for two in a five star with "all inclusive" and a high rating on Booking will cost about $ 300 a night. But a room without meals in decent hotels with less stardom or apartments can be rented for $ 50-80. In other resorts the prices are slightly lower. For example, at the resorts of Samana is five with rooms for $ 150-200, though, there are only breakfasts. But in those areas you can find a nice little hotel or apartment for $ 40-60. However, cheaper than $20 accommodation in the Dominican Republic can not find, and the options for $20-30 will be spartan simple and harsh. Alas, the Caribbean is not Asia! Find out where to find paradise for pennies.
Pay attention to the location of the hotel, some are in the middle of nowhere. Read reviews carefully.
Five-star AI hotels in the Dominican Republic look something like this:
Our AI hotel.
We chose the best value for money hotel in the entire Dominican Republic for our dates, which was Whala!bayahibe 4* in the village of Bayahibe. Booked on Bookings, but there are tours on Travelate. The area is large and beautiful, and we counted 5 pools, 3 of them are great infinity pools overlooking the sea! It is very romantic to watch the sunsets there.
Wi-Fi is free and stable, there is animation. The meat is cooked excellently, the alcohol is of good quality (although we are not fans and not connoisseurs). Minus – no sandy beach, but there is a stony with stairs into the sea. The shuttle to a nearby sandy beach is free. "All inclusive" costs $ 90 for two per day. Try to find cheaper with equally good conditions!
Infinity pool at our hotel in Baiaiba.
What to see
In terms of natural and architectural attractions, the country is quite weak, but you can still find something interesting.
First, in the Dominican Republic is worth watching the migration of humpback whales. We went on a whale safari in Sri Lanka, so we were not interested here, besides whales appear here from January to March, and we were in December.
The most interesting place for us personally was the Samaná Peninsula, where there are few people and a lot of nature. We spent four pleasant days there: we walked a lot, wandered the wild beaches, swam in the waters of the Atlantic, went for a short hike to the 50-meter waterfall El Limon. Of the beaches, the one I liked best was Colorado. It was also very nice to walk along the coast to the east of Playa del Acerradero, where we found the bizarre rocks of an ancient coral reef. On the sharp cliffs beat huge ocean waves, around a forest of beautiful slender palm trees, huge blocks of petrified coral on the shore, and in some places the wave passes under the rock, as under the floor, and with all its power bursts through the narrow windows, shooting up a multimeter geyser. In the network wrote only about the beauty of the local beaches, and all these discoveries we made by accident, and that makes them a hundred times more amazing and enjoyable. I love discoveries like this!
Colorado Beach, completely deserted, beautiful and pleasant. Corals on the shore. Calling the Dominican "geyser." Renata admiring the view of El Limon Falls.
In Los Aites National Park, you can take a boat tour through the mangroves and see the caves with cave paintings. There are several other national parks in the Dominican Republic.
Saona Island is known as a tropical paradise and an ideal vacation spot.
Away from all the popular resorts, Eagle Cove attracts the most motivated tourists with its white sand beaches, cleanliness, the opportunity to see rare animals (there is a nature reserve) and an almost complete absence of people.
History buffs should look at the capital of the Dominican Republic – Santo Domingo . It is one of the first cities founded by Europeans after the discovery of America. Founded by his younger brother Columbus back in 1498. Almost half a century the city was the capital of the Spanish colonies of the New World, all trade and military routes passed through it, until it ceded this role to Havana, Cuba. To be honest, not many historical monuments have survived in the city, but it's mostly a huge dump. Lovers of trash will definitely like it there. See my photo report about Santo Domingo.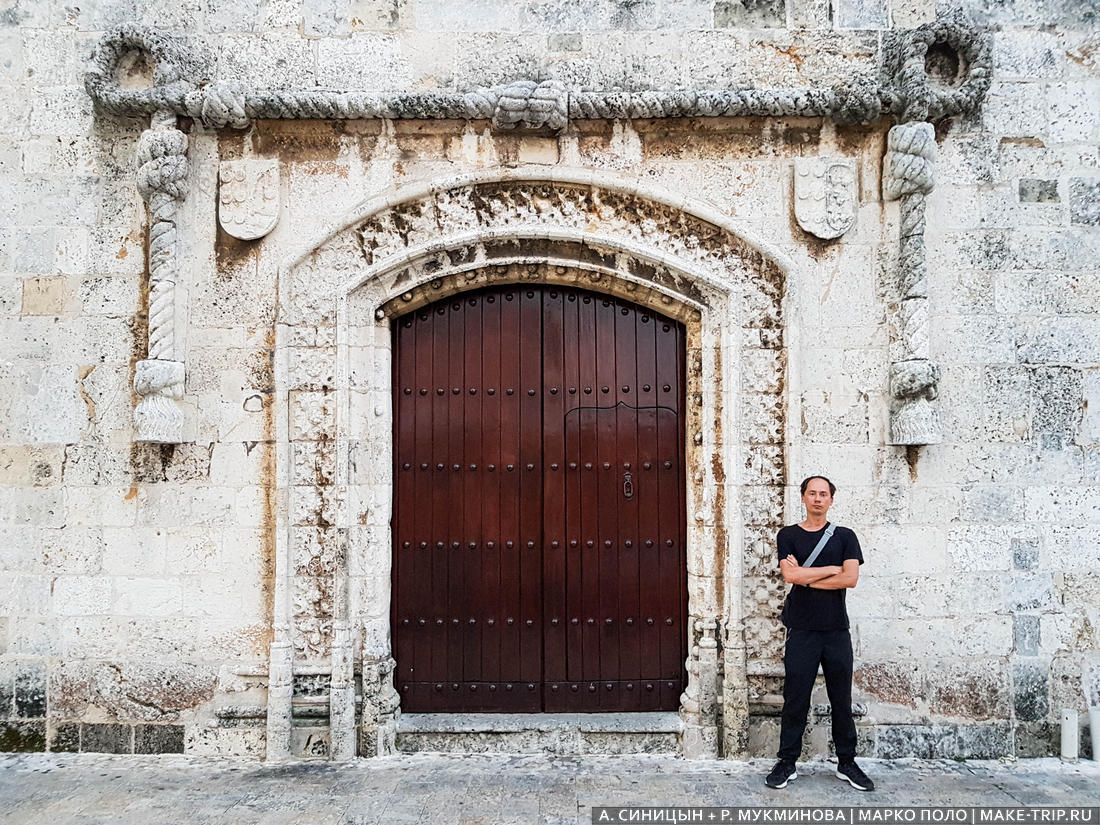 Casa del Cordon . The first stone house in America and possibly the first two-story house. A UNESCO World Heritage Site. One of the few sights to see in Santo Domingo.
Excursions
As I wrote earlier, excursions in the Dominican Republic are expensive, so it is more profitable to take a car and travel independently. We did so. If you do not want to take a car, then excursions or cabs will help you (it's hard to count on public transportation there). Unfortunately, on our favorite tour service Tripster there are not many programs for the Dominican Republic, although from time to time there are new options. In all trips we buy excursions only there: it is reliable, convenient, favorable and of high quality. If possible, I advise you to use this service. About other firms, alas, can not tell you for lack of personal experience.
This is the weakest point of the Dominican Republic. They do not know how to cook and overpriced. This country reminded me of the Maldives, where the food is also very bad. So do not count on interesting gastronomic experiences, unless you eat exclusively in expensive restaurants with a high rating. Read about food prices in the Dominican Republic.
However, at our all-inclusive hotel the food was quite good, and we were satisfied.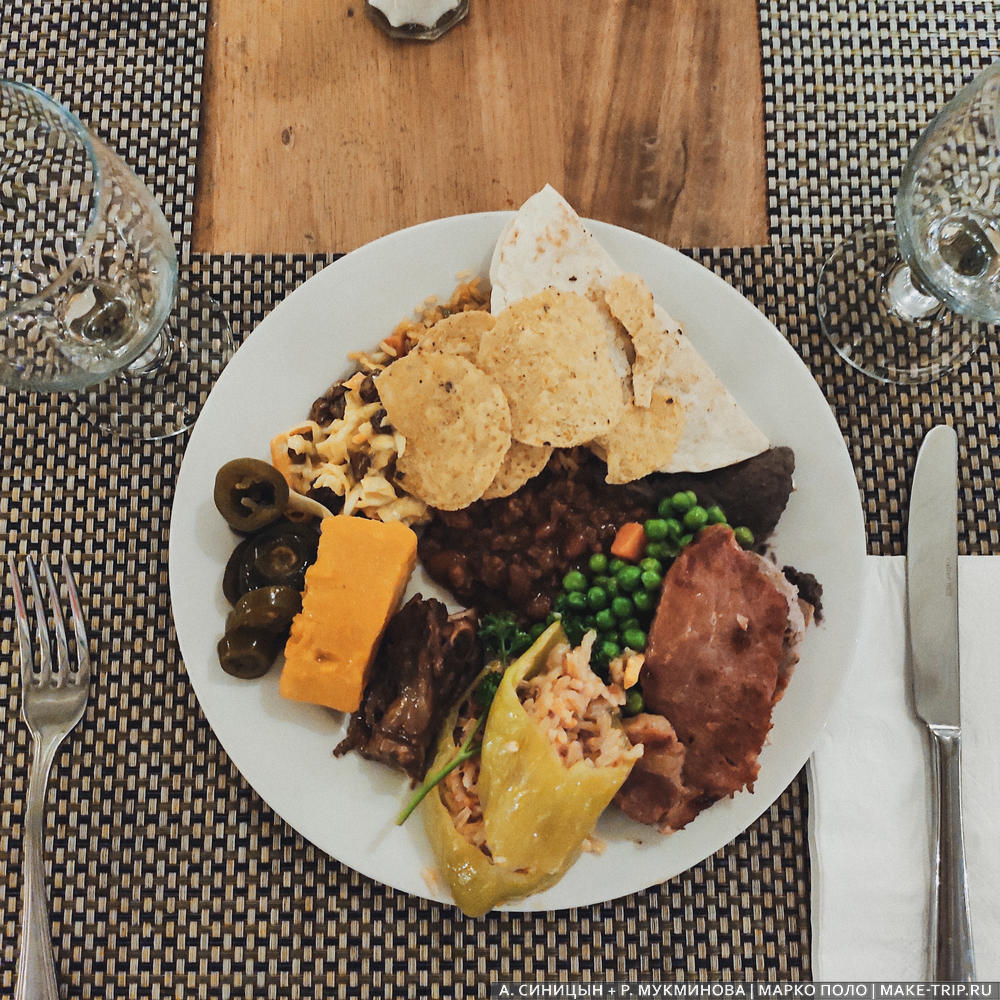 Lunch at the hotel AI.
Security
The Dominican Republic is not the safest country in the world, it's a fact. However, it is not worth believing the horror stories of cunning tour operators, who are trying their best to terrify poor package tourists (say, just leave the hotel without our tour, and you will be immediately stabbed, robbed, raped, and stabbed again). These scoundrels willingly spread such legends to cut green papers from frightened tourists. I know from my own experience that they carry such nonsense even about Turkey and Greece! People have no conscience. In general, do not believe these guys, and soberly assess the situation and thoughtfully study the reviews of other tourists.
And here are the curious facts. In the ranking of crime rate Numbeo.com for 2021, the Dominican Republic ranks 22nd place (the higher the worse). At the same time Belarus is ranked 24th, although in the minds of people this country is not at all associated with a bastion of crime. Kazakhstan was ranked 40th, Ukraine – 57th and Russia – 86th.
Our experience of independent travel in the Dominican Republic is purely positive. There was not a single unpleasant situation, and yet we drove half the country by car, riding on public transport and wandered alone on wild beaches. However, I will be honest, in the wilderness, we did not feel very safe and tried to walk without equipment and large sums of money. Thefts and robberies, alas, do happen at times, although it's hard to say how often it happens – there are too many rumors from unverified sources.
We even visited Santo Domingo, and after all this city is known worldwide for its high crime rate. The capital is safe only within the historic center, where the police are on duty and tourists stroll around. Outside of those areas, it's best not to walk around. While we rode through the city by bus, and then walked a kilometer from the bus stop to the rented apartment (it was waiting for us at the border of good and bad neighborhoods), we saw all sorts of crap: poor people, lumpen, mountains of garbage, ugly houses and alleys. It's interesting when you observe it from the bus or cab window, but I had no desire to walk there.
In general, be careful and sensible and take a minimum of valuables with you. Then everything should be fine!
Learn about the Dominican Republic:
The True Face of Santo Domingo.