Turkey's open and certified health hotels in 2022

How to check if a hotel in Turkey is open in 2022? Which hotels have received a health certificate and are ready to welcome tourists? I will tell you from personal experience.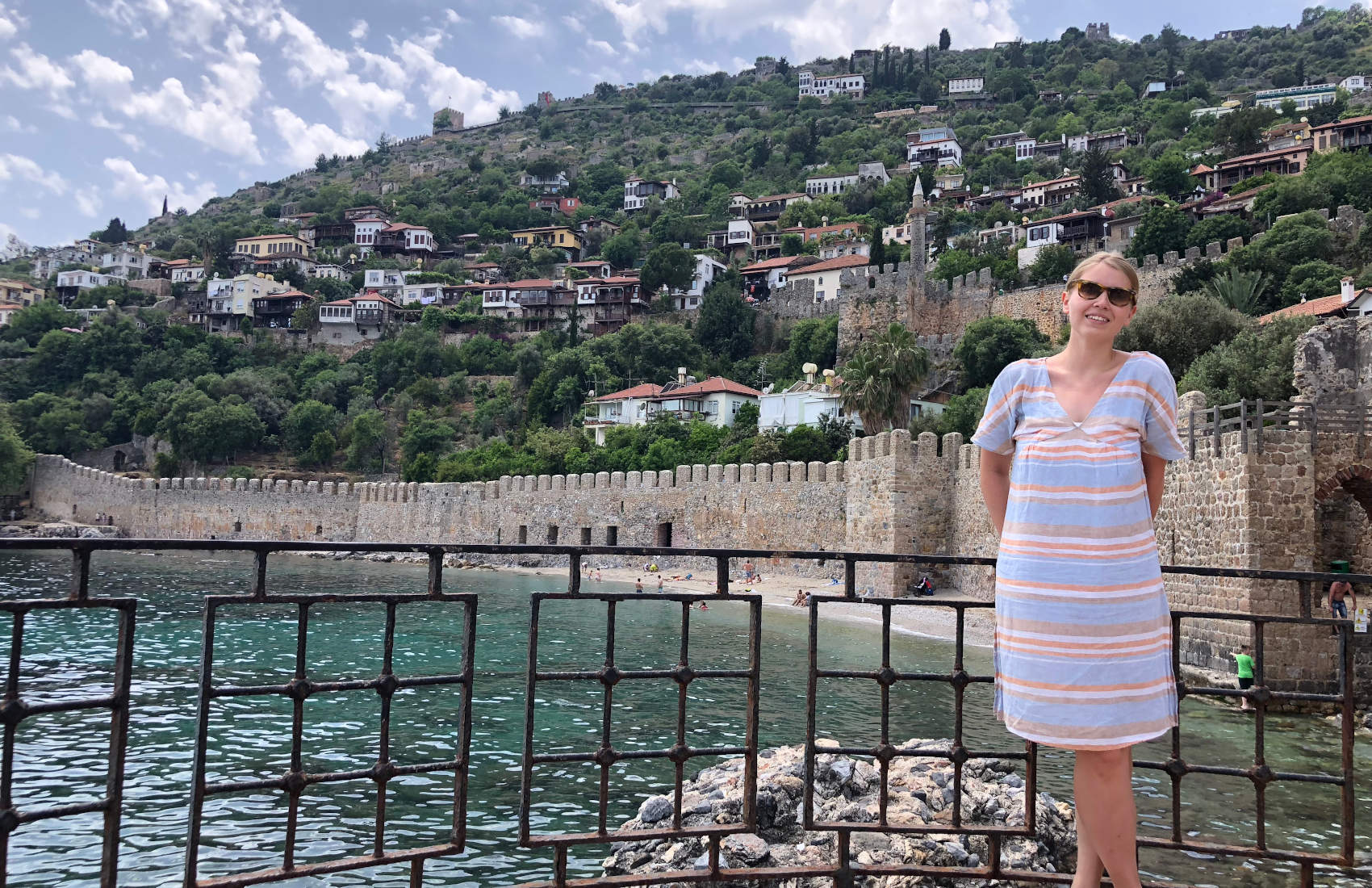 We decided to go on a tour to Turkey this holiday season. Preparation went a little harder than usual – if only because I had to study, but what hotels are open in Turkey now?
I spent the night looking for relevant information – but I found official resources, and realized the easiest way to "identify" the open hotels in Turkey (no, not to write them an email). I share what I found with you, and may we all have time to have a great vacation at the Turkish coast!
Content
What hotels are open in Turkey now?
According to official sources, more than 2500 hotels are now open in Turkey, of which about 1000 are in the resorts of Antalya and the Aegean Sea. The rest are in Ankara, Istanbul and provincial cities. The pandemic and quarantine in Turkey has significantly "thinned" the hotel business.
1. HOW DO I FIND OUT WHICH HOTELS WERE OPENED IN TURKEY? Actually, it's easy, it does not require digging all over the Internet. You can go to any of the aggregators of tours – they show tours only to open hotels:
Aggregators are connected to the databases of all major Russian tour operators. Accordingly, the cooperation with which hotels has been resumed, and those are displayed on services. There are also prices for tours directly from the tour operator (without extra charges) and the latest reviews of tourists.
This is a 100% working version of the search for open hotels for vacation with a planning horizon of 1-2 months, or here's tomorrow. If you are looking for a particular hotel on the aggregator, and there are no tours there, or it can not find the name at all, then the hotel is closed (but be sure to check with each service).
The convenience of these three sites I myself have long appreciated. And it's not just "all online" – the question of going to the office is not worth the last three years, I book and buy tours on aggregators – but also "all in one place". Here's a personal example: the tour operator Tui would not find my hotel, and I would be rashly upset that it is closed – and it turns out the company just stopped cooperating with him. Aggregator, however, quickly showed that the hotel is working and picked up the best price for my dates. As a result, a tour to Side for September was bought (this time I chose Online Tours).
2. HOW DO YOU KNOW WHICH HOTELS IN TURKEY HAVE BEEN CERTIFIED? For this, the Ministry of Culture and Tourism of Turkey has done on their website a separate page. In the search form in the section "Name of facility" enter the hotel name in English (not completely, the search works only by one word) and click "Search" – if the document is received, you will see a green light "Certificate Given" next to the hotel. If the hotel is not on the site, then it does not have a certificate of health.
There are dates of opening of hotels in Turkey, and there are dates when the certificate is issued. The fact that Turkey open hotels are required to obtain a document within 7 days from the date of opening. In this case, in front of the name will be marked "Certification Process".
Ready to book Turkey now? We remind you that you can get a discount of 2000 rubles on a tour to Turkey from Travelata service:
AFT2000howtrip – a coupon for 2000 rubles for tours of 100 000 rubles and more
Coupons must be entered on the final booking page – before payment. The tour can be for any date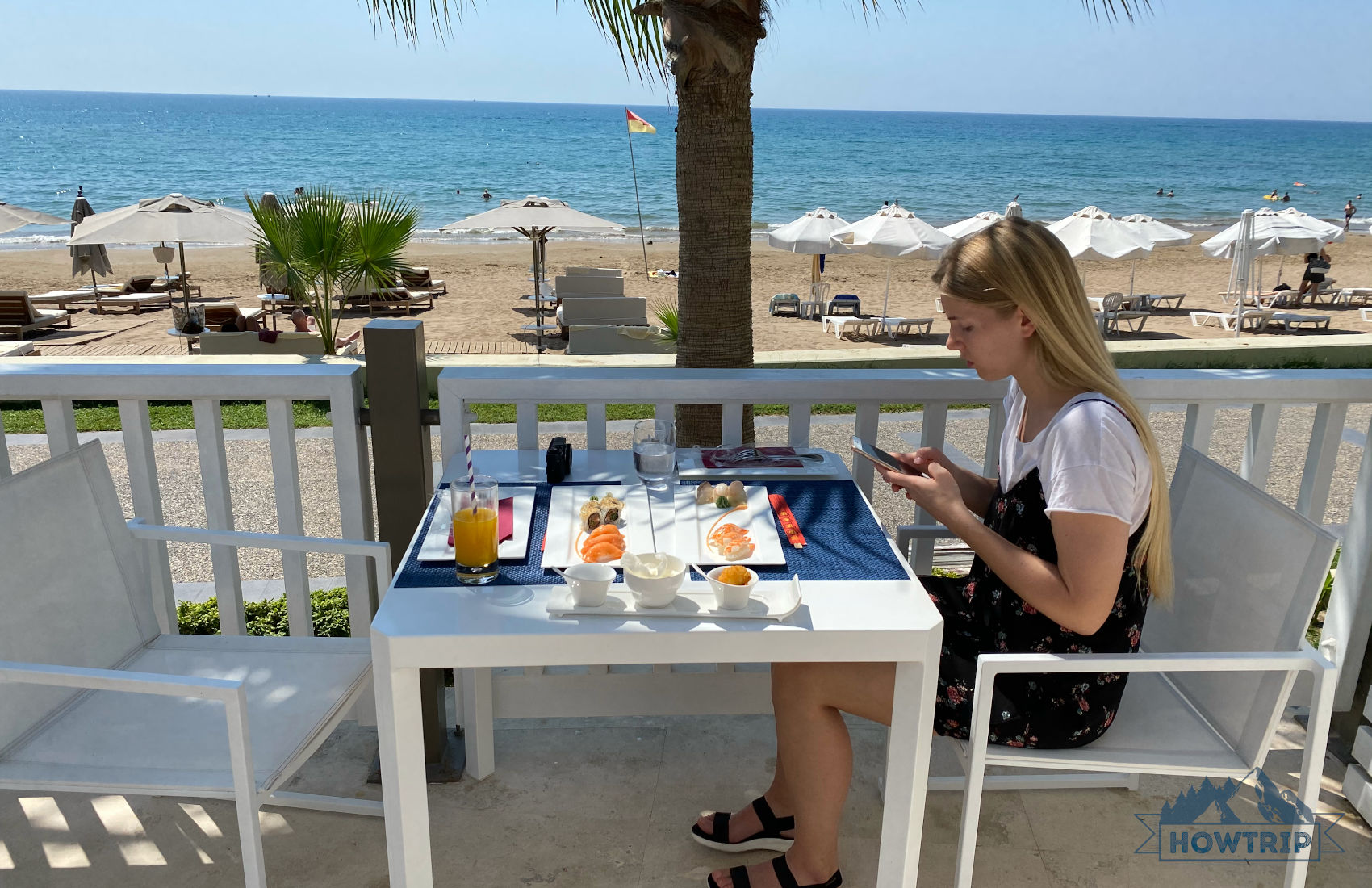 Come to Turkey, find out what it's like here now that the borders are open
List of open hotels by resort
To fit a thousand open hotels into one article is a bit odd and hardly necessary for anyone.
Let's put it this way: a complete list of open hotels in Turkey will come out too long and useless. Instead, I will make a selection of 20-30 hotels for each resort, dividing them into 3 categories:
The most popular at the resort.
For a budget holiday
For vacations with kids
Well, you already know the algorithm on how to see other open hotels.
Kemer
Let's start with the resort of Kemer, because it has the most open hotels in 2022.
5* Alva Donna World Palace
5* Asteria Kemer Resort (ex. Asteria Hotel Fantasia)
5* Amara Dolce Vita Luxury
5* Orange County Resort Hotel Kemer
5* Rox Royal
5* Simena Sun Club
4* Fame Residence Goynuk
5* L'oceanica Beach Resort
5* Akka Antedon
5* Limak Limra&Resort
4* Rose Resort Hotel
5* Viking Star Hotel
4* Astoria
4* Aleria Belport Beach
4* Grand Mir'amor
5* Perre La Mer Resort&Spa
5* Armas Labada
5* Ozkaymak Marina
3* Castle Park
FOR FAMILIES WITH CHILDREN:
5* PGS Hotels Kiris Resort
5* Gural Premier Tekirova
5* Daima Biz
5* Queen's Park Le Jardin
5* Euphoria Hotel Tekirova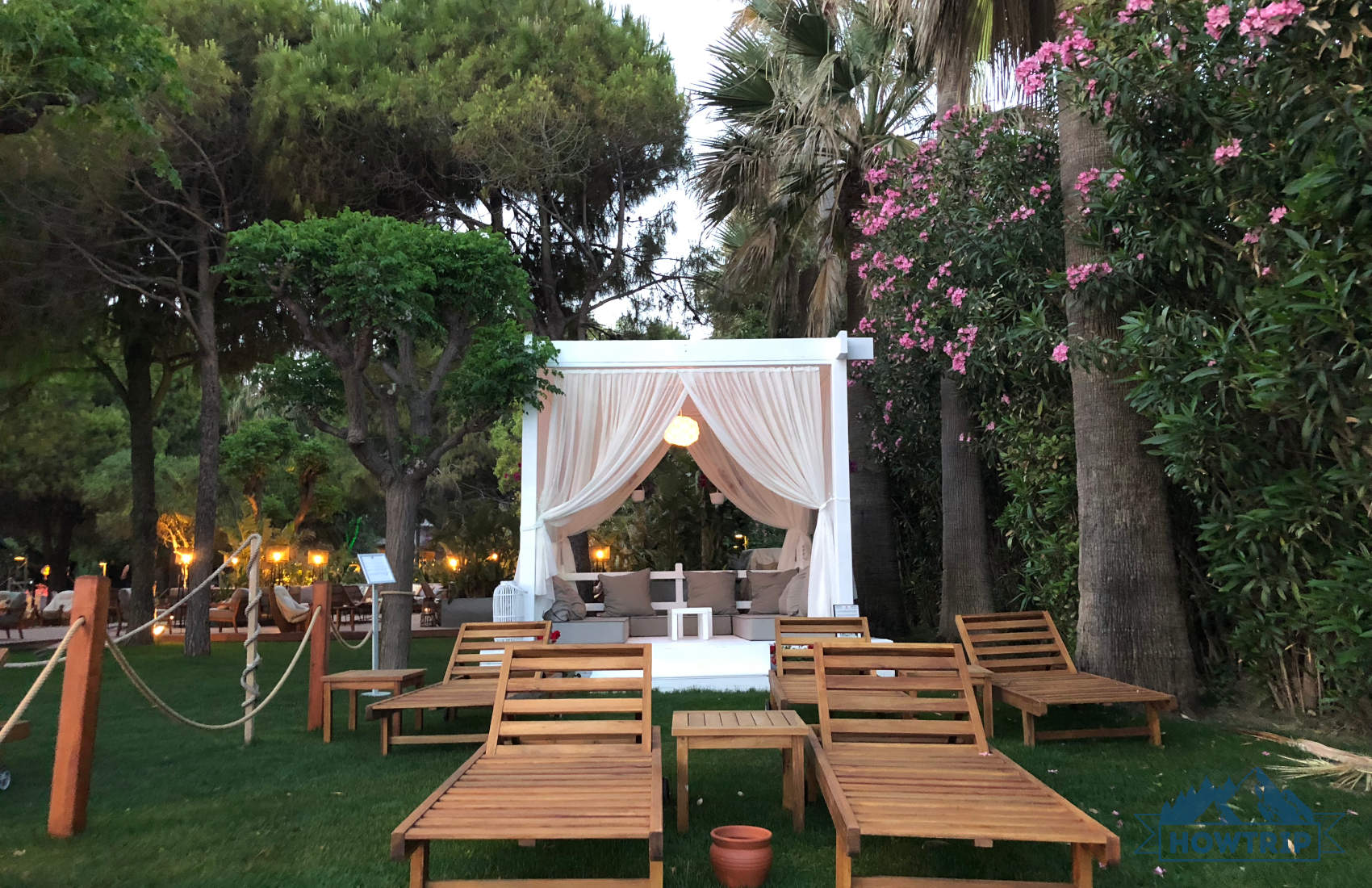 Here is how the beach in Side looks like now / And the buffet is separated by these glasses
And what about Side? Here are the local hotels in Turkey that have received a health certificate.
5* Alva Donna Beach Resort Comfort
5* Side Crown Palace Hotel
5* Barut Acanthus&Cennet (the hotel where we stayed this time – see link for review)
5* Royal Dragon Hotel
5* Seven Seas Hotel Blue
5* Lake & River Side Hotel & Spa
5* Vonresort Golden Beach
5* Club Hotel Turan Prince World
5* The Sense Deluxe Hotel
5* Side Royal Palace Hotel&Spa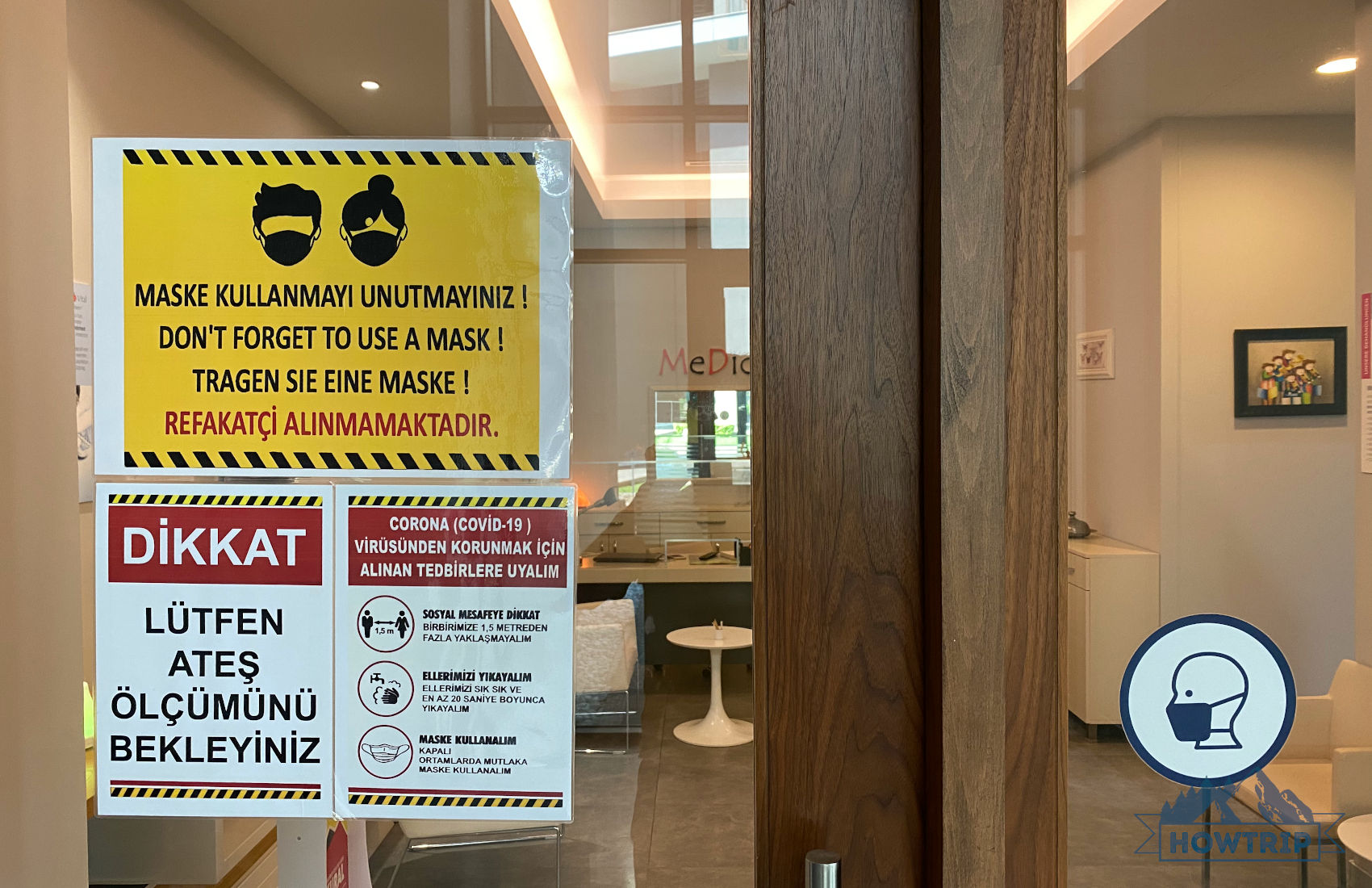 5* Sural Resort
3* Sunlight Garden
3* Park Side
3* Orfeus Park
4* Maya Golf
5* Club Side Coast
5* Narcia Resort
4* Side Su
5* Diamond Elite Hotel&Spa
FOR FAMILIES WITH CHILDREN:
5* Sueno Hotels Beach Side
5* Xanthe Resort
5* Water Side Resort
5* Linda Resort Hotel
5* Victory Be Mine
5* Aydinbey King's Palace&Spa
Alanya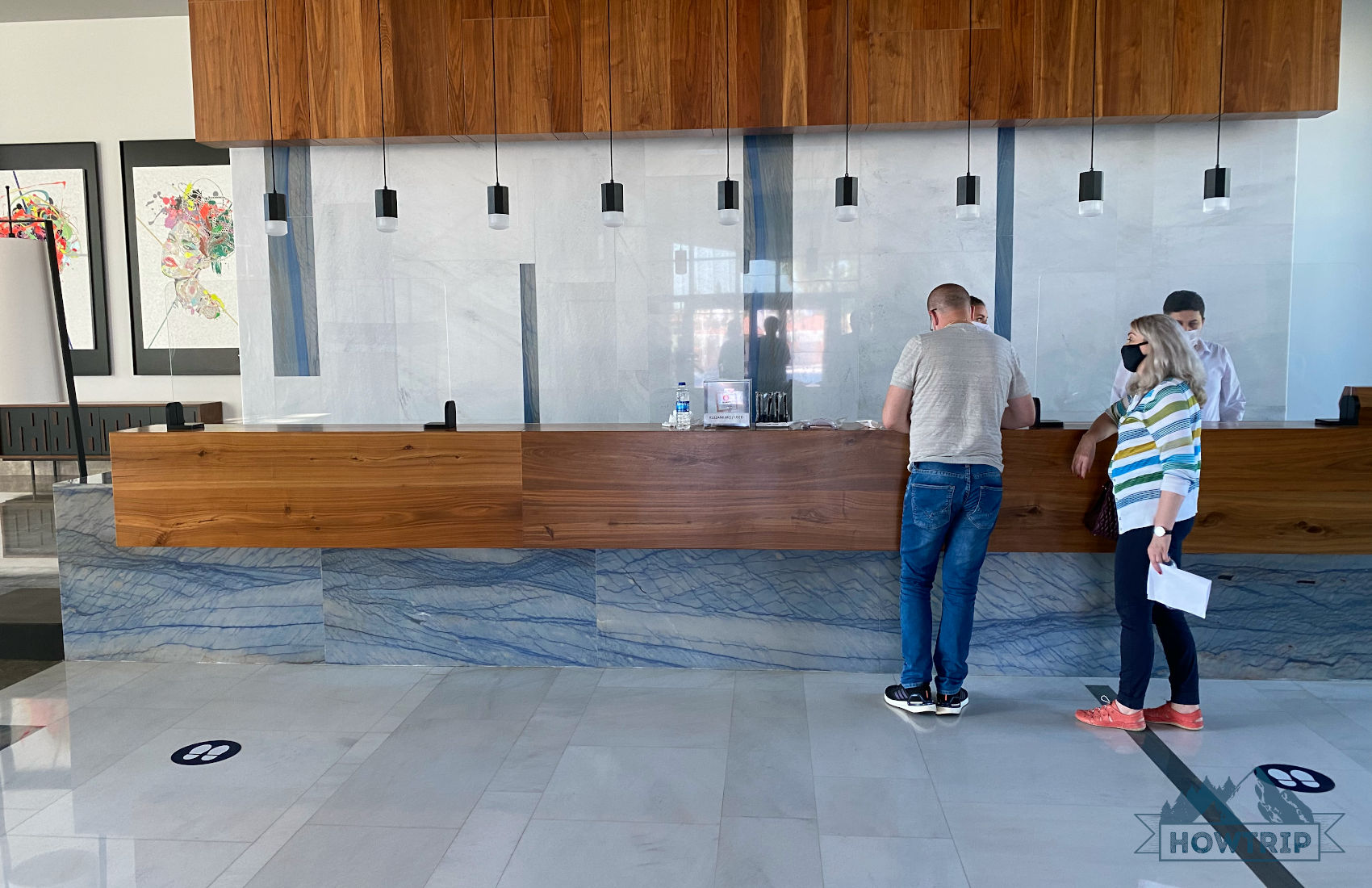 The hotel reception in Turkey is separated by glass, and the staff are all wearing masks.
Where to spend your holidays in Turkey in 2022 in Alanya?
5* Aydinbey Gold Dreams
5* Sealife Buket Resort & Beach
5* Palmeras Beach Hotel
5* Long Beach Resort&Spa Deluxe
5* Utopia World
4* Lonicera World
5* Rubi Platinum Spa Resort Suites
5* Insula Resort&Spa
5* Numa Bay
4* Krizantem Hotel
4* Artemis Princess
4* Incekum Su
5* Goldcity
5* Diamon Hill Resort
4* Gardenia Beach
3* Lonicera City
3* Kolibri Hotel
3* Club Sea Time
FOR FAMILIES WITH CHILDREN:
5* Orange County Resort Hotel Alanya
5* Alaiye Resort & Spa
5* Oz Hotels Sui
5* Kahya Resort Aqua&Spa
5* Q Premium Resort
Other resorts in Turkey
Now about the opening of hotels in Turkey in 2022 after the quarantine in other resorts.
In Antalya work – popular and with a good rating:
5* Trendy Lara.
5* Adalya Elite Lara Hotel
5* Club Hotel Sera
5* Grand Park Lara
5* Rixos Downtown
Open in Belek:
5* Gloria Golf Resort
5* Crystal Family Resort&Spa
5* Cornelia Diamond Golf Resort & Spa
5* Kaya Palazzo Golf Resort
5* Lykia World&Links Golf
5* Maxx Royal Belek Resort
5* Adam&Eve
In Marmaris tourists are welcomed:
4* Marmaris Park
4* Tropikal Beach
4* Marti la Perla
5* Golden Rock Beach
4* Julian Club
3* Myra
Entry and Return to Turkey Rules
In a week I myself will have to go through all the entry-exit procedures – which I will definitely tell you about in this section – but in the meantime here are the main common knowledge points: *update: Already rested and gone through the departure-flight. I'll make notes in italics that did not match.
– Tours to Turkey are available for many cities in Russia, not just Moscow or St. Petersburg; look for great deals on aggregators. – To enter Turkey, the test for the virus MUST be 72 hours before arrival, and everyone over the age of 12. But you can just show a certificate and not bother with the tests. – Attention! On charters and scheduled flights you CANNOT take backpacks as hand luggage – these are precautions. At the boarding table you can check them in (for free). You can only take a handbag, a purse and a laptop case on board. But that's not quite true. On our Azur Air charter we let you on the flight with backpacks and big bags. – Also on the flight there is no food, you may be given water or tea. – On the plane to Turkey you must fill out a form that specifies the flight, seat number, date of arrival (take a pen with you). – On arrival they measure your temperature with a thermal imager, masks are compulsory.
On the way back to Russia:
– Before you fly back or already at home you have to fill in the form "Providing information about test results… for those arriving in Russia" on Gosuslugi. – On the plane you must fill in a paper form for those arriving in Russia – with your data, your registration address and the address of your stay for the next 14 days. – After landing, the whole plane is waiting for a person who will measure everyone's temperature with an infrared thermometer, take the completed questionnaire and give instructions on what to do next. This is no longer the case. The plane landed – everyone got off without delay. – A 14-day isolation is NOT required, but unvaccinated people should have time to take a coronavirus test within 4 days and upload the results to State Services.
Hotels in Turkey after the coronavirus – what has changed?
Requirements to keep a distance of 1.5 meters / And this is how the hotel health certificate looks like
Of course, opened hotels in Turkey after the quarantine are required to comply with certain security measures. After the pandemic, out of a number approaching 10,000, only 2,500 hotels decided to reopen.
What is a health certificate that hotels receive? Basically, it is a document that obligates and confirms that the hotel complies with established safety standards:
Monitors and creates a social distance between guests.
Frequently and thoroughly disinfects everything that is subject to common use.
Checks employees daily for suspicious symptoms.
Provides staff with personal protective equipment.
What are they like, hotels in Turkey after the quarantine? The most striking difference from Turkey before is in the buffet. It is no longer a public buffet, but a "handout." There is an employee (or several) attached to each food station who will put anything you point your finger at on your plate, in whatever quantity you want. The food is behind glass and only the employee touches it. In some ways, this is even a plus – you don't have to worry that someone brazenly palmed this peach and, not satisfied with its perfection, threw it back into the vase.
Forks, spoons and knives, as a rule, are removed from the common areas, and they are placed in individual packages right on the table. It's the same with plates and glasses. There are antiseptics everywhere.
The staff wear masks and gloves. What about tourists? It depends on what the requirements are. Mask may be mandatory at reception, in the lobby, in the restaurant (yes, to reach the table with a mask – and then take it off). At the beach and by the pool personal protective equipment is not insisted to use.
To illustrate the above, you can watch our video about the changes in Turkey. This, of course, not me, and my boyfriend – but he is also nice (and tells a good story)
Pools, fitness rooms, spas and water slides in most hotels are open . Before entering – mandatory temperature measurement.
Animation also adapted to the new reality. Some hotels have abandoned it, while others organize dance performances, fire shows, live music concerts, but not mass discos. Sports animation – yoga, aerobics in the pool – is still conducted, but participants are kept at a distance. Much where the game zones (billiard room, table tennis) are closed.
Reviews of tourists about rest in Turkey after the quarantine.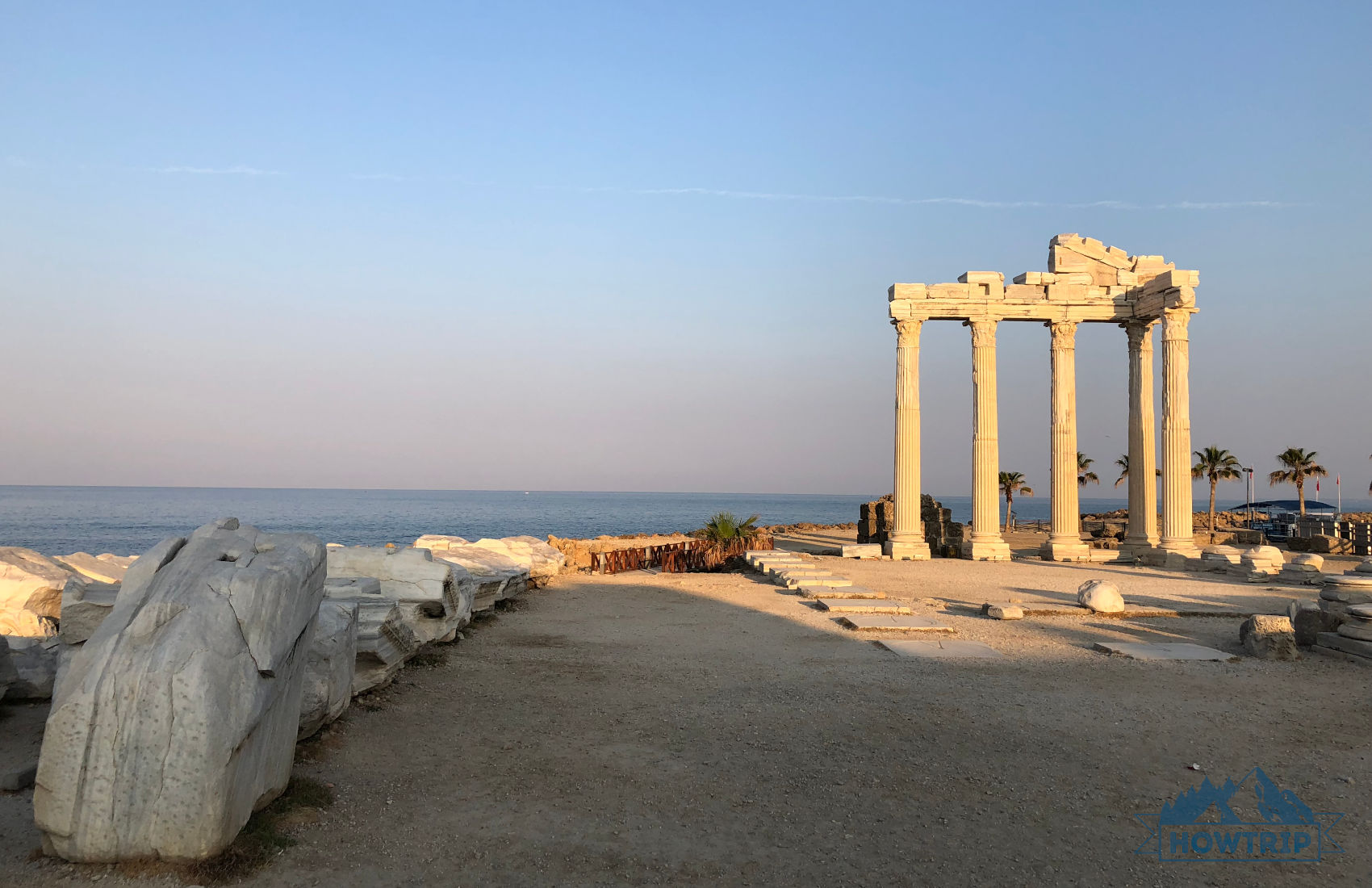 I update information: here is my review of a recent trip to Side. I tried to tell an interesting story, with usefulness and photos.
For Russians Turkey was opened twice: in August 2020 and at the end of June 2021 – and the piggy bank of new reviews has been updated. After running through the reviews, listening to friends, acquaintances, who flew to all-inclusive on June 1 via Istanbul, I have allocated this.
How to get to Turkey now? There are two options: by tour and on your own. Tours are sold with a flight from many cities in Russia, choose the right one for you on:
Regular direct flights are from the same cities – fly Turkish Airlines, Pobeda and others. For example, on Aviasales flights from Moscow cost from 10,000 rubles per person round trip.
What is the situation? Turkey and the open hotels have changed little in a global sense – only some restrictions have been imposed (as described in the section above). But they also cause a different reaction from holidaymakers.
For example, someone is dissatisfied with the new system of food distribution. Like, "stand in a queue at the distribution, walking from station to station with outstretched hand, all waiting, all tired, dissatisfied, rest to pieces. Others will say, "the hotel should choose more carefully, we have in the five". Well, or timely "report the inconvenience managers, ask to increase staff at the issuance.
More on the food note that some hotels have removed flatbread (gozleme) and ice cream on weight (replaced by individual in the package). Particularly suspicious tourists meticulously compare last year's assortment of buffet with the current one and conclude that "it became scarcer. But again, it all depends on the hotel.
Someone is "baffled" by contradictions in security measures: masks are demanded (by the way, too take them, some hotels "are not obliged to supply tourists with sisas"), sun beds are placed on one and a half meter, and "the bus to the beach goes chock full" .
But all agree that the main purpose of the holiday – the sun and the sea, and that they are the same in Turkey!
But there are new hotels in Turkey, opened in 2021-2022. Yes, it's not the best season to start, but who knew? Read about fresh and newly renovated and in our separate article!
Copying materials are allowed only with the obligatory indication of a direct, active and open for indexing a hyperlink to howtrip.ru.
Open hotels in Turkey with health certificate in 2022
The opening of Turkey in 2020 was on June 12, and in August flights with Russia resumed. Since that time, tourists began to sweep away their tickets. After all, the season promises to be short and will last until the end of November.
Probably the main questions for potential holidaymakers now are about open hotels in Turkey, what they are and what are the restrictions for tourists. I would be happy to say that there are no changes, enjoy. But the coronavirus made adjustments to the beach and seaside relaxation. About them we will talk.
For the record. My brother has already been to Turkey (Side), I got news from him and the news in Insta. Rest happy, although he noticed some "innovations" from hoteliers. I begged him for photos for the article.
What are the rules of entry into Turkey and back?
For starters – it's not so bad. But since you're going on vacation in Turkey in 2022, think ahead about the insurance. It was better not to forget about it before, especially not in the era of Covid-19. No one has canceled safety precautions.
My option is Cherehapa, where insurance will ensure a peaceful sleep at night and at the same time will not hit the budget (from 360 rubles per person). Note the option "Covered by Coronavirus Treatment".
And this is how the airport looks like today
So, now about the rules, in places about their absence in Turkey in 2022.
To enter the country you need to take a psr test for the virus (not earlier than 72 hours before departure / border crossing.
You have to fill out a special online form (personal information, hotel, contact information, etc.) before your flight.
Do not forget the masks, they are compulsory in public places: at the reception, in the lobby and in crowded places.
Fill in a special form on Gosuslugi, take the test for kovid, within 3 days we upload the results to the portal.
More about the rules of entry and exit wrote a whole material here.
And yet, no less important clarification. On the plane: a) now do not feed, b) no bulky hand luggage (backpacks). Maximum laptop and a small handbag.
What is a hotel health certificate in Turkey?
In case you're curious, this is what a health certificate looks like (taken from the website of 5* Euphoria Hotels & Resort)
The opening of hotels in Turkey in 2021 after the pandemic has been neat and slow. Now the hotels are open for 2022. Each must obtain a health certificate, guaranteeing that all epidemiological safety measures are taken here. That is, social distancing, checking employees for covids, and sterilizing all surfaces. There may be some other requirements, but these are some of the most important.
In short: such a hotel is able to accept foreign tourists within its walls. That is us.
What hotels are open in Turkey now? List by resort
The sea and the pools are not going anywhere, still waiting for the Russian tourist.
Once again, guests from abroad, the Turkish hotel can take only after all the necessary sanitary and epidemiological requirements and obtain a certificate of health. You can, of course, search for the site of the Ministry of Culture and Tourism of Turkey and sort out a list of such hotels by yourself … But a long time.
Then how do you find out if a hotel in Turkey is open after the pandemic? Just open at least three online services and look for travel on them. In that sense, I trust the following aggregators:
They only offer tours to open hotels that have received certification. My brother got a trip on Onlinetours for 64 thousand rubles for a couple to a five.
I'm not going to make a big table with all the hotels working after the pandemic. I'll just make a selection of good ones by resorts – hotels in Turkey that are open now.
By the way, I did not notice that the prices of tours somehow jumped significantly. The cost of a one-week trip with a flight from Moscow for two people starts at 35,000 rubles.
Alanya
Hotels in Turkey, which have received a certificate of health in 2021-2022, let's start with Alanya:
✓ 4* Artemis Princess
5* Telatiye Resort
5* The Marilis Hill Resort Hotel & Spa
Click here for more hotels and resorts.
Antalya
5* Grand Park Lara
5* Sealife Family Resort Hotel
5* Porto Bello Hotel Resort & Spa
5* Fame Residence Lara & Spa
There are quite a few working post-pandemic hotels in Antalya, just take a look.
Kemer
Viking Apart Hotel
4* Tu Casa Gelidonya Hotel
5* MG White Lilyum
Of course, Kemer is not limited to this list. Curious?
Turkey's post-quarantine hotels opened in Side – take your pick. Some of them:
✓ 3* Smartline Sunlight Garden
4* Merve Sun Hotel Spa
5* Cenger Beach Resort & Spa
5* Bieno Club Sunset
Marmaris
Which hotels in Turkey have been certified in Marmaris:
4* Prestige Hotel & Apart
What does Travelata say about this?
What has changed in hotels in Turkey?
"Hotels in Turkey after quarantine" sounds like the title of some feature-length horror film:) Yes, of course, not all hotels have survived this difficult period. And almost half (or maybe more) of the Turkish hotels have no lights on and empty beaches, according to my brother. But those that have stood firm and taken all possible measures, there are still many.
Of the innovations are already familiar to all the masks on the staff and tourists. As I understood, the last do indulgences on a private beach and at pool. (With correction: on 08.09.2020 the news that in all provinces of Turkey imposed a mandatory mask regime in public places caught up with me).
Upon arrival at the hotel everyone is taken temperature (in some even at the entrance to the restaurant, pool and spa). There are antiseptics in all favorite tourist spots. Rooms are disinfected, at least after cleaning there is a sign on the door of the room informing about it.
With animation this season is scarcer. In some hotels there is none at all, in others it is limited to concerts. But in any case you should forget about the music after midnight and discos for some time.
How does all-inclusive work?
Now food is hidden behind glass from unwashed hands and other people's spoons:)
The quarantine in Turkey did not have any significant effect on the all-inclusive system. Still the same table, with the same choice of dishes and desserts. But. Now the temptation to stuff a plate to the brim and not to eat it all will diminish. The food is glazed, and there is a special person at each "station" with dishes. The task of the tourist is to point his finger at the snack that appeals to him and get his "order" at the distribution.
Personally, I do not see anything wrong with it, only advantages. None of the tourists will get into a common plate with their spoon and return the fondled apple back to their fellows.
And cutlery is packed in bags.
By the way, my brother tells me that cutlery is now packed in disposable bags. They don't throw them into a container like they used to. The distance between tables is 1.5 meters and there are fewer of them.
As for the rest of the all-inclusive perks, we have a whole article about them. Go ahead, if suddenly you are not familiar with the system.
Reviews of tourists about the holidays in Turkey after the opening of the borders
A little nice gastronomy and a modern all-inclusive table
There are as many tourists as there are opinions. And everyone is different. Someone hungry for the sea and Turkish service, glad that this year it happened to soak his feet in salt water and bask in the sun.
Someone was upset because of the queues at the distribution for vegetables/meat/fruit. Someone doesn't recognize masks. But, it seems that most of all the tourists (especially those unfamiliar with the portal of public services) were stumped by the downloading of the test results on arrival .
There is no need to be afraid of that. Throw in a search for the service "Transfer the results of the test for coronavirus infection", fill out and submit the form. But first, log in to the portal.
P.S. Brother has already arrived, took the test right at the Moscow airport. He received the results in 2-3 hours by e-mail. He was glad to have a rest, he accepted the innovations and restrictions. And I found only pluses in substitution of a buffet table for a passing station.
Reminder. To find out which hotels have opened in Turkey, which do not, yourself is not necessary. Although if you want, you can go to the hotel website and make sure there is a certificate. It is easier and faster to hit the resort/country in the search Travelata, Onlinetours or Level Travel and immediately get the current list (with prices!).