Holiday tips in Paphos.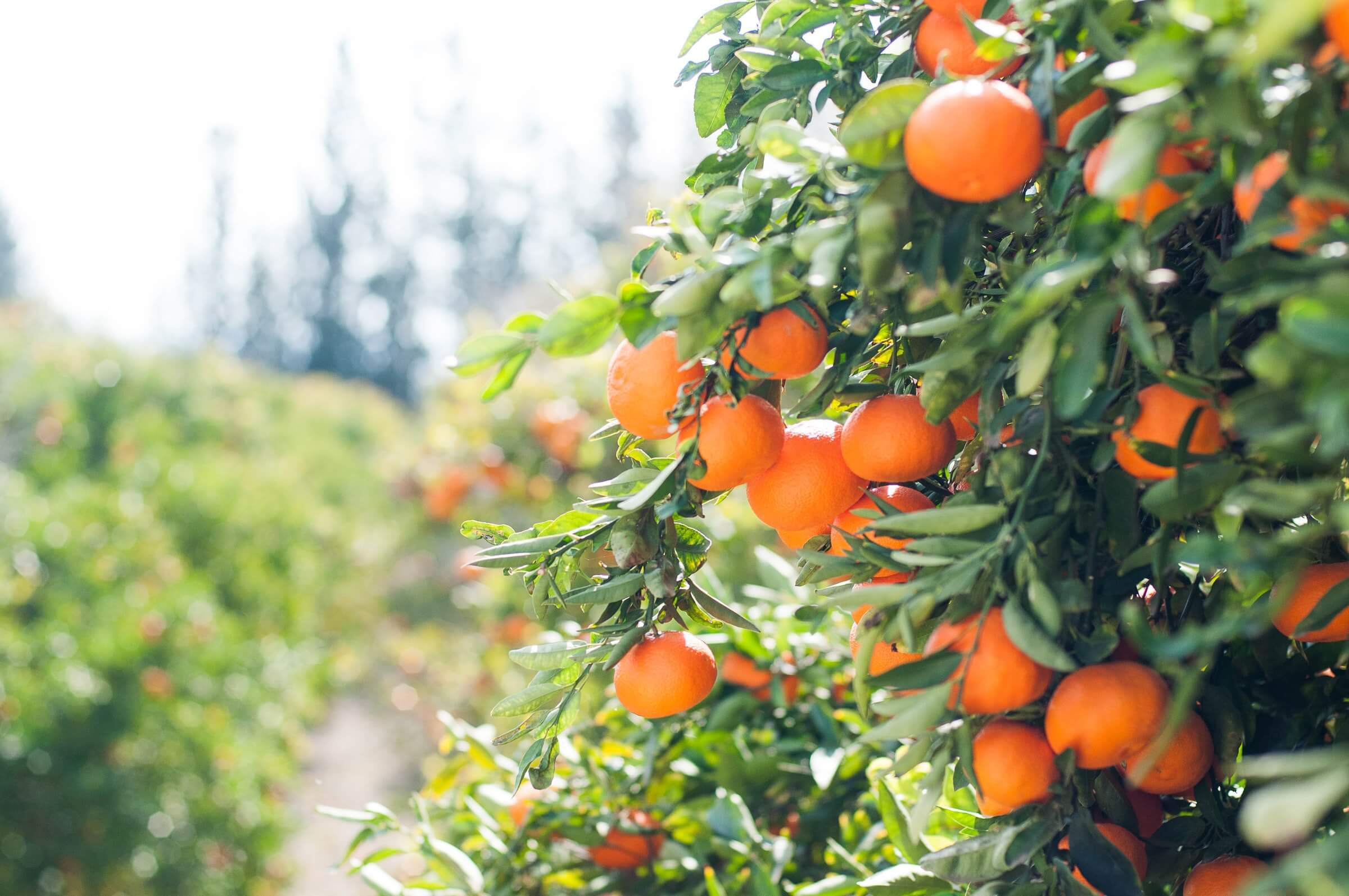 Collected reviews of tourists about holidays in Paphos – the birthplace of Aphrodite. Learn first-hand about hotels, weather, beaches, excursions and entertainment. The pros and cons of vacationing at the resort in 2022.
Look for last minute tours on Level.Travel and Travelata services – they will find the best deals among different tour operators. Want to save your money? Explore our 7 rules for buying tours online.
Content:
Paphos weather reviews
Cyprus has a dry and warm climate. It doesn't rain much, so tourists vacation here all year round. Summers in Paphos are hot. In July and August, the air warms up to +28. +38°C, and sea water reaches +24. +26°C.
Elena: "We came to Cyprus in the second half of May. During the whole vacation the daytime temperatures ranged from +24°C to +31°C, which was quite comfortable. The nights were also warm from +17°C to +21°C, sometimes you could wear a jacket. The water was nice, but we were with children, so we swam closer to lunch, when the temperature reached +22 ° C."
Parents with children and older tourists like the blooming spring and the velvet season in Paphos. In April and May and in autumn the coast is not hot and the beaches are not crowded.
Irina: "The most pleasant month in terms of weather conditions is September. No rain, no heat and no abrupt changes in temperature. The water in the sea +25. +27°C. The air in the daytime is +30. +32°C. In the evening it is cooler +22. +24°C. In the mountains of Troodos it can rain. But it is rare. And the temperature will be lower than by the sea.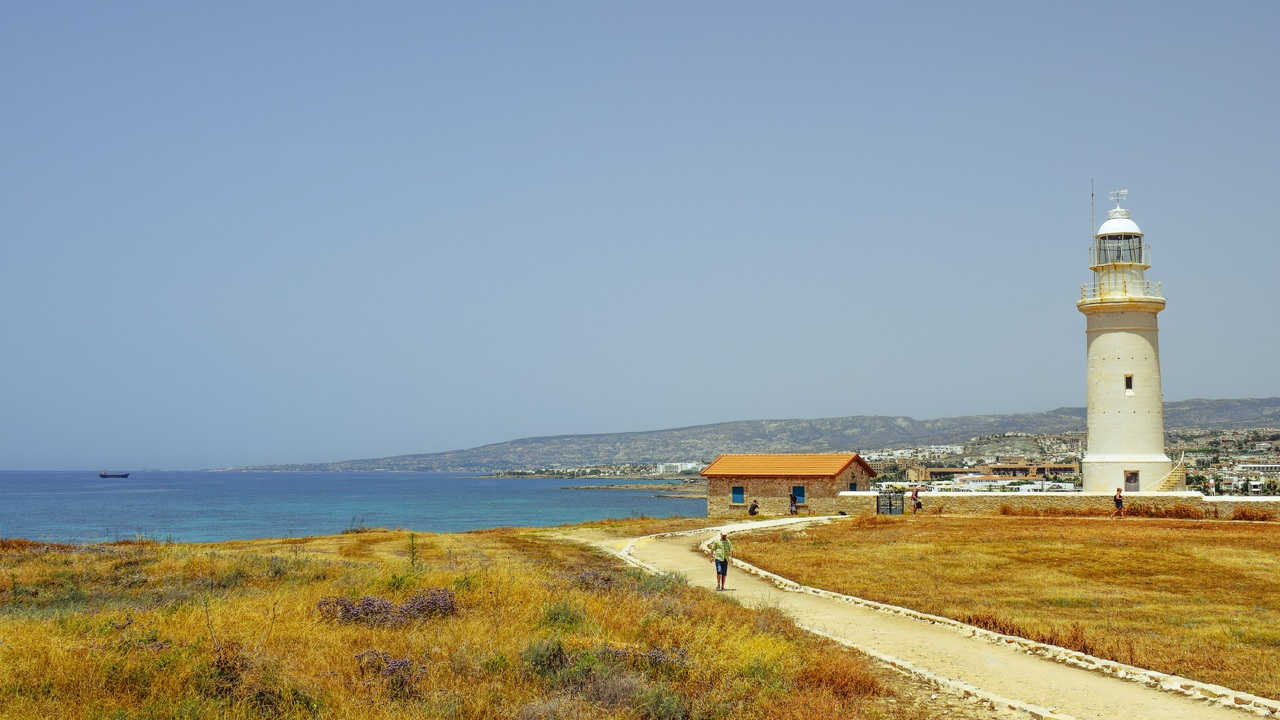 Paphos lighthouse (pxhere.com)
According to tourist reviews, the winter in Paphos is mild and pleasant. In January-February it is +17. +19°C. Those who can't stand the summer heat come to Paphos in December, New Year's holidays and early spring. In the interseasonal period it's nice to breathe the fresh sea air, admire the landscapes and visit interesting excursions.
Evgeniya: "We spent New Year holidays in Cyprus. Paphos greeted us not only with antique sites of Roman rule, but also with warm weather. During the first days of January the temperature was +19°C. Only two rainy days marred the whole two-week vacation.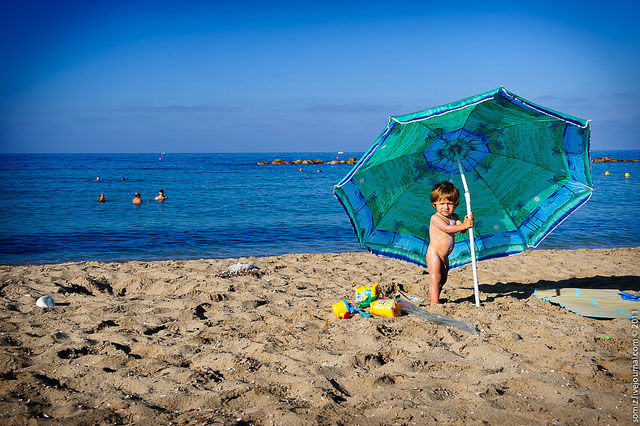 The beach in Pafos (Photo: somiz / flickr.com)
Reviews of hotels in Paphos
For tourists at the resort built hotels 2-5*. Many are on the front line to the sea and offer a good level of service. Hotels 4-5* and some 3-star hotels have their own beaches. Almost everywhere tourists are fed only breakfasts, and in hotels 3-5* a buffet is laid out for guests. Working Russian-speaking staff, but the animation is poorly developed.
Budget holiday in Paphos is quite comfortable. According to reviews from tourists, the resort is a good apartment hotels with kitchens. Highly rated by vacationers received 3* hotels in Paphos: Queens Bay, Veronica, Cynthiana Beach, Agapinor, Sunny Hill Hotel Apartments, Marica's Boutique, Helios Bay and Roman Boutique.
Irina A. : "We stayed at the Queens Bay Hotel 3*. Rooms and service were great, the view over the sea was amazing, comfortable large double bed, they cleaned everyday and changed towels too. Our room was very clean and our room was very nice.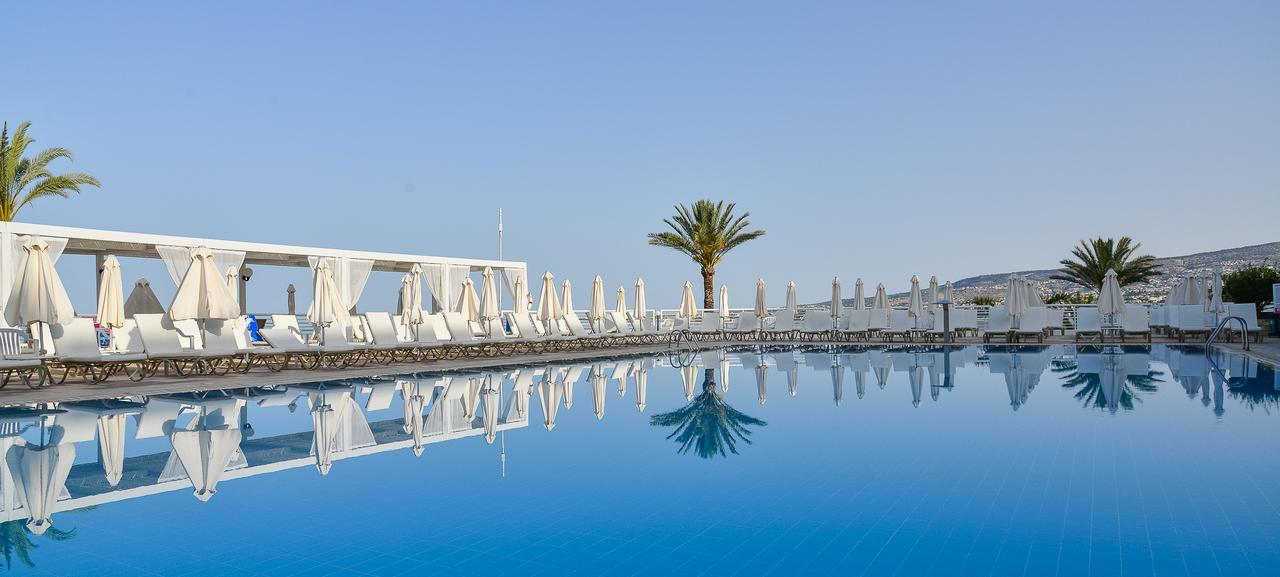 Queens Bay Hotel pool (Photo: booking.com / Queens Bay Hotel)
Katya : "I was pleasantly surprised by this hotel! The food is excellent, the room is gorgeous, large, has its own kitchen where you can prepare food, good bathroom, cleaned every day. Bathroom was nice and clean every day, very comfortable benches. It was a bonus, you can book a free sauna and jacuzzi. On food all excellent.
There are hotels that disappointed guests. The 3* Papouis New York Plaza Hotel received unflattering reviews from tourists in Paphos:
halutomusic : "Very modest hotel, small area, pool. The rooms have old faulty furniture and appliances, no cleaning."
Some people didn't like the St. Nicolas Elegant Residence.
Elena : "The room is poorly cleaned, bed linen and towels are gray and not in a complete set. The internet, kettle, tea set, chairs on the balcony were missing, you had to ask".
Princessa Vera Hotel grounds (Photo: booking.com / Princessa Vera Hotel Apartments)
Reviews about the beaches and the sea in Paphos
The resort has sandy and rocky beaches. The entrance to the sea is not convenient everywhere because of the stones, and bathers go down into the water by ladders. Beaches, toilets, showers and parking are free. For renting sun beds and umbrellas from the sun charge 2.5 euros. From water sports offer boat rides and boats, diving, catamarans, aqua-bikes, riding "bananas" and parasailing.
The sea water is clean. For recreation with children there are comfortable beaches with a gentle entrance to the sea. According to reviews of tourists, the best beaches of Paphos are Coral Bay, Corallia, Geroskipou, Lara, Lachi, City Beach, Pachiamos, Vissourdia, Faros and St. George beach. Some of them have been awarded with the honorary blue flag for their cleanliness and safety.
Master-S: "There are a few beaches in Paphos, but they are all cozy, not so massive as in popular resorts. We were at Pachiamos beach, a small beach. It's easy to get to by car."
Sweet22: "Crystal clear water. I couldn't believe my eyes! Like glass! Beautiful!!! Not too salty, just like in the Black Sea."
Readabout: "You can admire the waves hitting the rocks on the shore and breaking apart. It's an amazing view. I was there in the evening, so the water was golden in color."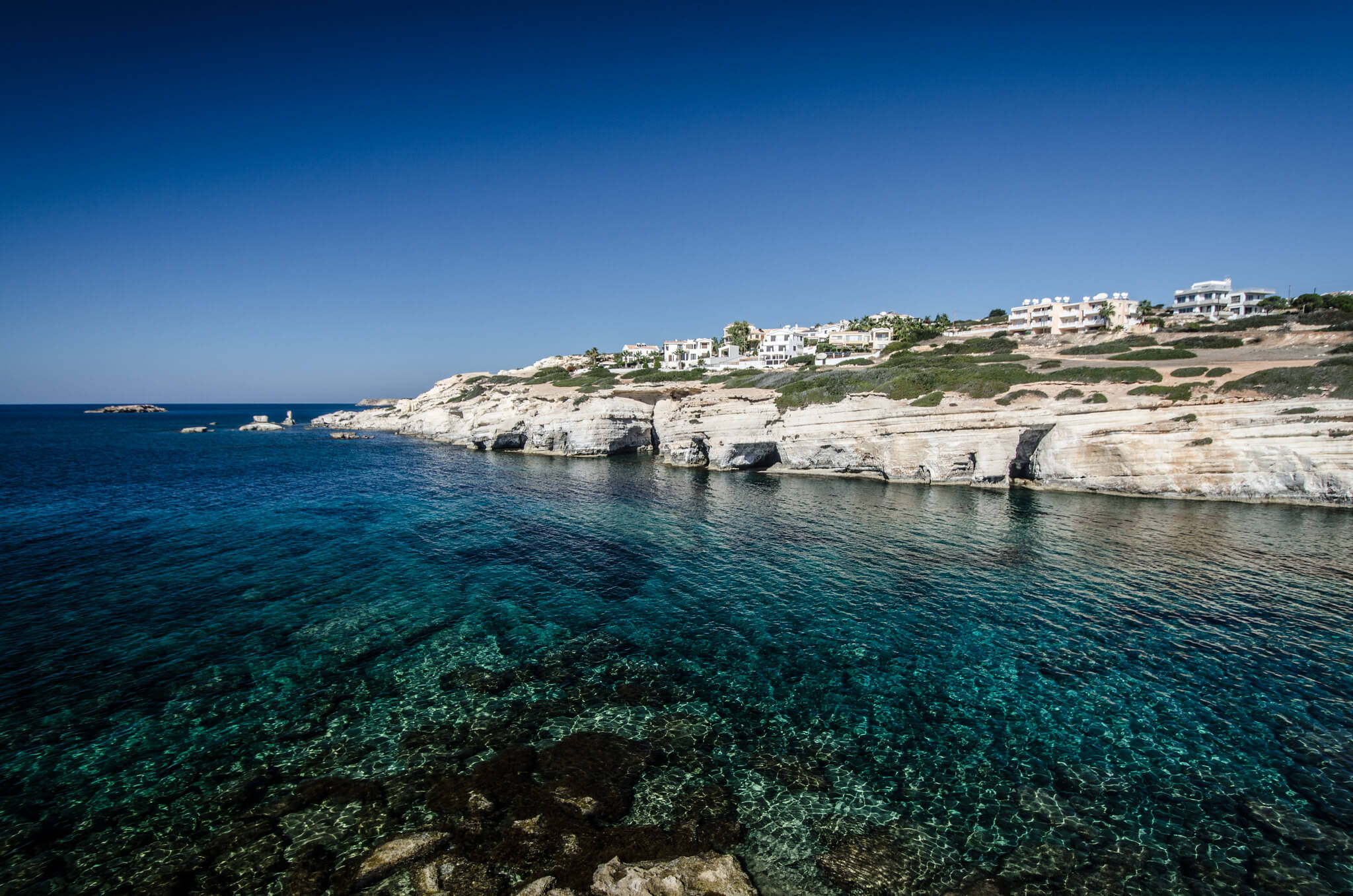 Peyia, Paphos (Photo: Tobiasvde / flickr.com)
Reviews of tours in Paphos
The seaside city has a rich history. In ancient times and under the Romans, it was the capital of the island. No wonder that in Paphos itself and nearby there are many architectural and historical monuments.
See the ruins of Paleo Paphos, the mosaics at the Villa of Theseus, the picturesque Aphrodite Bay and the ancient tombs at Mount Fabrika. All year round vacationers are offered bus tours. According to reviews of tourists in Paphos popular trips to Ayia Napa, Larnaca, Limassol, Nicosia, Kakopetria, Zigi, Lefkara, Meniko and Protaras. Many people enjoy going on sea cruises.
Elena: "In one day I got a complete impression of Cyprus and the people here. I am fully delighted with the trip. Read more about the tour →
Both winter and summer excursions to mountain villages, pilgrimage trips to the monasteries in the Troodos mountains and the Byzantine churches of Cyprus are in demand.
Tatiana : "Atmospheric small villages, beautiful views of the Troodos mountains. All things considered, we were picked up from the hotel itself and returned to the same place in the evening. Told us a lot of interesting legends. More about the tour →
Elena : "Very grateful to the guide for the tour! She was able to convey my love for the island of Cyprus, and I also fell in love with this fabulous island, I will definitely come back here again. Tour details →
Tourists recommend going on wine and gastronomic tours. You will taste Cyprus meat delicacies, gliko jam, sweet carob syrup, mountain honey, the famous dessert wine "Komandaria" and rose products.
Paphos Castle (Photo: dimitrisvetsikas1969 / pixabay.com)
Entertainment Reviews
If you want to learn about the historical past and cultural traditions of Cyprus, go to museums. The largest museums in Pafos are the Ethnographic Museum, the Byzantine Museum, the Folk Art Museum and the Center for Applied Arts. Visit the Archaeological Park of Pafos, which is included in the UNESCO World Heritage List.
Gorokha: "You can walk around the park for hours, it's really interesting and quite picturesque, I guess it's just beautiful in spring.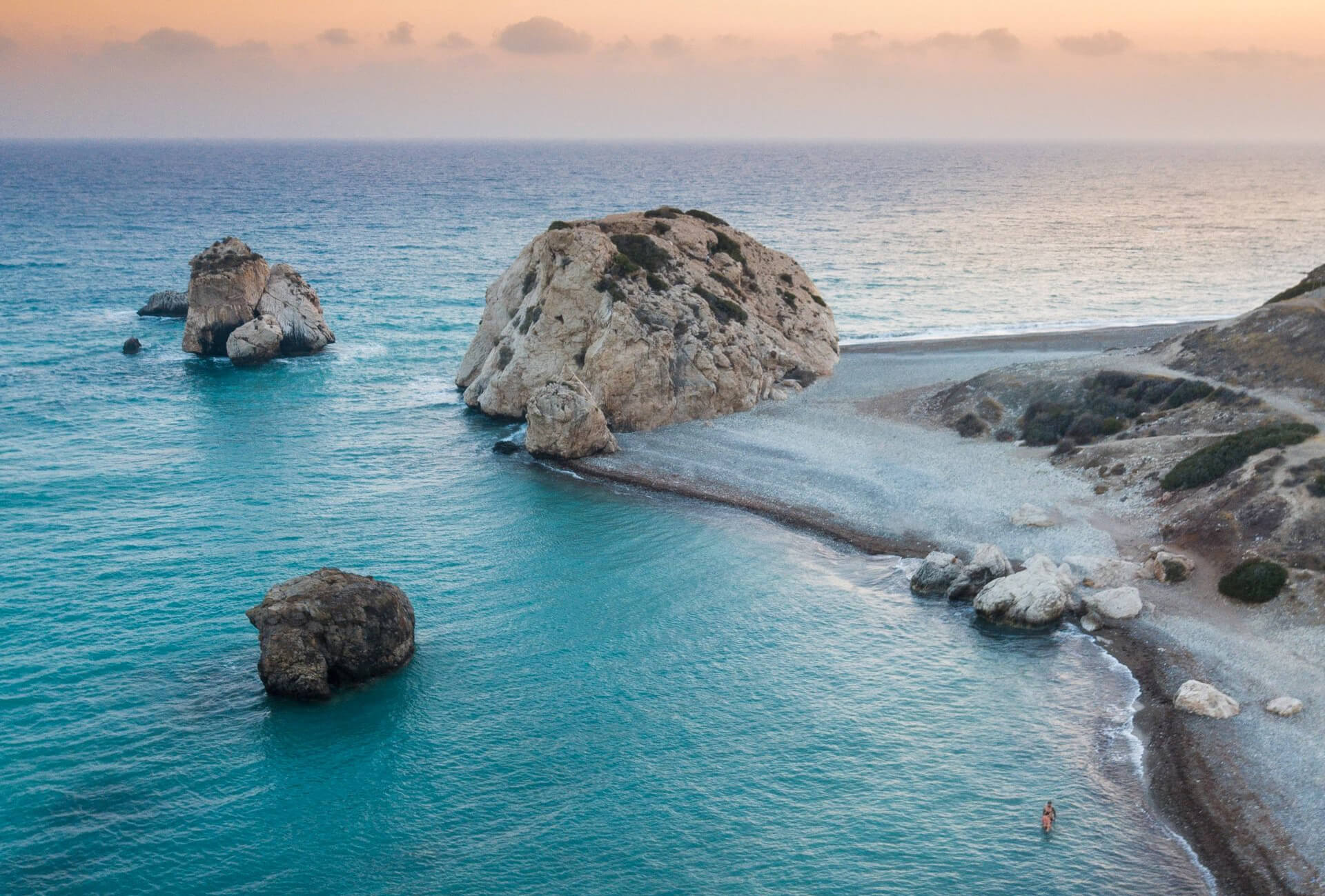 Aphrodite's Rock 20 km from Pafos (Photo: unsplash.com / @diddymonaco)
Outdoor enthusiasts love jeep safaris in Southwest Cyprus for 35-65 euros.
Attilia: "Is it worth the trip? Definitely yes, but you must have patience, water and food! If you're not in the front seat, the jeep is bumpy.
Go to Paphos Zoo with children, go to a donkey farm and ride horses along the beautiful coastline.
Traveler-lady: "The donkeys are great, we had a great ride, wonderful tour, show, dance, chic table, souvenirs. Made a great impression.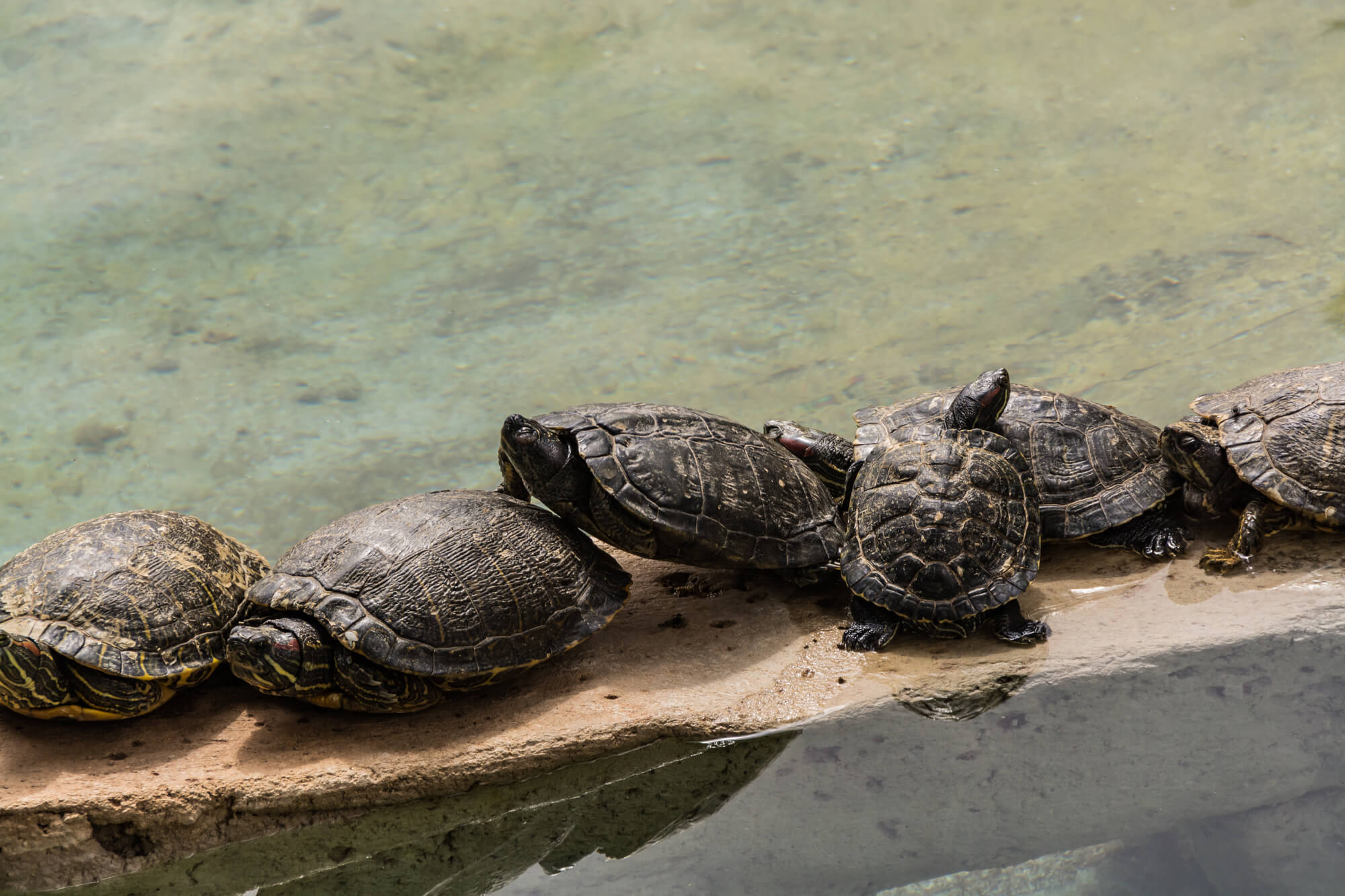 Turtles in Paphos zoo. Photo: ALogunov / Depositphotos.com.
The pros and cons of vacationing in Paphos
Paphos is a resort for wealthy people, which many vacationers like. Here come not only foreigners, but also Cypriots themselves. According to feedback from tourists, quiet and not noisy Pafos is especially good for luxury holidays and families with children.
The pros of vacationing in Paphos in 2022:
Warm climate and clean sea.
Nice beaches.
First-class restaurants.
A wide choice of hotels with a decent level of service.
Good tourist infrastructure.
A lot of museums, archeological sites and ancient temples. Some of them are protected by UNESCO.
Interesting tours.
Transport accessibility. Near the resort there is an international airport.
Shakymiss: "You will have to drive a maximum of half an hour to forty minutes to the hotel, so you will not get tired at all after the flight.
Minuses :
Almost no nightclubs (for some this is a plus).
The hotels are not developed animation. Playgrounds for children – a rarity.
Good sandy beaches are outside the city. You need to get to them by cab or bus.
In some places near the shore there are dangerous sea currents, and at the height of summer there is algae.
The prices of hotels, tours and entertainment are high.
Igor: "The vacation is wonderful, but expensive. Holidaymakers are mostly elderly British and a few Russians. The food is expensive, but delicious, large portions.
Features of a vacation in Cyprus
Nuances of a vacation in Paphos.
Convenient beaches for bathing in Paphos are located at the resort itself and in its nearest suburbs. Before you go, study the coastal map and choose a hotel near which there is a suitable place for a beach holiday. If you are only interested in sandy beaches, stay near Coral Bay or Corallia.
According to tourist reviews, it's too hot in Paphos in July and August, so excursions can turn into a real ordeal. To make it less of a hassle, sightsee in the morning or closer to the evening. Don't forget comfortable shoes, drinking water and hats against the sun.
Unicorn E.: "In the heat of +38°C the sun was merciless, the sand underfoot was hot, creating discomfort even in flip-flops. Probably on cooler days, it's much more comfortable to explore the open-air museums."
Paphos Hotel Reviews
It's a beautiful place, very nice. The hotel is quiet and cozy, there is also a restaurant, and the food is delicious. If you need a quiet holiday, this is the right place. When I arrived they gave me a room of a higher category without any extra charge. The staff were very helpful. Read more
Huge hotel on the beach. Green area and good breakfast. Good staff, pool towels. Constantly restocked the bar What was not to like : Very many children with families when you want to. Read more
Everything was cool, live music in the evenings, gorgeous view of the sea,cleaning every day. Walking distance to bus and nice coral bay beach. Lunch and dinner were delicious and varied. Breakfast was very disappointing. Read more
The location was great, private pool in the villa Did not like : not very nice staff at the hotel reception. Read more
Breakfast included in the price – 3/10 ! Water from the machine, juices and coffee – disgusting ! It smells like chlorine ! I did not have any of my own! Read more
My wife was very well looked after and my wife was very happy to see me. I liked the hotel, good food without any frills, not too much fruit and the meat was a bit hard. Small beautiful grounds, sun loungers on the lawn were always free, no need to occupy. The hotel is very well looked after and the food is good. Read more
Room: mattress, pillows… gorgeous. Breakfast: excellent. Cafes and restaurants – excellent. fitness – super! Cons : Small, not private beach. Read more
We have a clear separation between a vacation for us and a vacation with the kids. This is as they say 2 big differences.We decided to go to Paphos first of all because of the proximity. The flight from us is only 50 minutes. With children it is. Read more
Absolutely lovely hotel, nice and cozy! What was not to like: I didn't notice any flaws. Read more
Everything was great. The staff was friendly and communicative. They speak russian. The food was very good and the food was good. Breakfast and dinner was great. Very happy. I did not like it. Read more
Very polite and helpful staff , always willing to help , especially Anna at the front desk . Thank you Minus : quality and condition of linens . Read more
We stayed at this hotel in late August/early September 2021. We chose the hotel for adults to relax without small children. Assumed that there would be as much entertainment as in the family hotels. Read more
We were at the Roman Boutique, but not the Roman Boutique 2. There was a mistake. Everything I wrote about Roman Boutique 2 applies to Roman Boutique. Nice staff, good breakfast, cleaning every day. Not far from the city center. Read more
I did not like it: Breakfast was okay, pool, parking, cleaning everyday, safe in the room. Read more
Overall Overall, I was very disappointed with the experience.
Sun, sand and the centuries-old history of Paphos The city of Paphos has a lot to offer besides the beaches. The ancient Greeks, of course, knew about it, that's why they founded their sacred settlement a little away from the coast, overlooking the sparkling cape in the place of today.
Holidays with children in Cyprus Did you know that almost all hotels in Cyprus provide free accommodation for children under 12 years? And that's not the only reason why the island is perfect for families. Even in the famous.
Excursions in Cyprus We present a selection of the most popular, and most importantly – the most proven excursion routes in Cyprus, according to TEZ Tour. "Grand Tour" To whom to recommend: first of all.
Tourists
The company
Popular Destinations
Where to buy
Discount Travel Shop ® Saletur.ru (2005-2022) – the website is for information purposes only and is not a public offer, as defined by the provisions of Article 437 (2) of the Civil Code of the Russian Federation. Up-to-date information including the cost of the tourist product can be obtained from the managers of the company on the telephone numbers indicated on the website. Any reprint or inclusion of advertising information is allowed only with a written permission of the site's editorial board. Privacy agreement