Features of an independent holiday in the Philippines
Philippines is a beautiful island state in Southeast Asia. Comfortable climate and romantic atmosphere of the resort attracts many tourists from all over the world. This is a heavenly picturesque corner of the planet with magnificent beaches, waterfalls, rice terraces, and a variety of coral reefs.
The Philippines will appeal to fans of relaxing languishing under the sunlight, and fans of active pastime. Hiking, biking, skydiving, mountaineering and other fun activities can offer this wonderful place. Our step-by-step guide on how to organize your own holiday in the Philippines.
Philippines on the map
Philippines is an island country, its coastline is the fifth longest in the world.
The seas that surround the Philippines: the South China Sea, the Philippine Sea and the Sulawesi Sea.
The archipelago consists of more than 7000 islands, the largest of which are Luzon, Mindanao, Mindoro, Palawan, Visayi.
The capital city of Manila is on the island of Luzon.
The time difference with Moscow is + 5 hours.
Main resorts of Philippines
Boracay is a popular tourist destination for an unforgettable beach vacation. Despite the small size of the island, it has many pristine white beaches. Developed tourism infrastructure allows travelers with different income to find a suitable accommodation. It is ideal for diving and snorkeling, besides the fun nightlife, a large selection of bars and restaurants will not get bored.
An interesting resort – the island of Bohol is also available for independent exploration. It attracts tourists with its lush tropical vegetation, chocolate hills, interesting historical buildings, unique wildlife, unlimited opportunities for diving and underwater photography.
Palawan is rightly considered the best place for a secluded beach holiday. Not for nothing this archipelago is a national park of world significance. Pristine exoticism of flora and fauna, diverse underwater world, majestic cliffs, primeval caves – all this and more can be seen after visiting the island.
Fans of respectable hotels, high service and cultural attractions can be recommended Cebu – the oldest island of the Philippines. It will appeal to those who want to enjoy a wild nightlife, interesting diving and hospitality of colorful locals.
Climate in the Philippines
In general, the state is in a hot climate zone with a high level of humidity. However, there may be some differences in weather on the eastern and western sides of the archipelago.
Philippine meteorologists distinguish four types of climate affecting the duration of the dry and rainy seasons:
On the west coast, the dry season lasts from mid-November to late April. The rest of the time it rains;
A climate with no dry season per se, with maximum rainfall between December and the second decade of March, and minimum rainfall in the spring months of late March through May.
A climate that is similar to the previous one stands out, where you cannot specify a specific period in the year with a minimum number of rainy days. Precipitation falls evenly throughout the year. The third and second types of climates are characteristic of the eastern coast of the Philippines.
Weather conditions due to the short dry season (December-February or March-May). This climate is more prevalent in the central part of the country.
Given these features, the best time to vacation in the Philippines is from January to March.
Advice! Even if the dates of the planned trip fall within the best climatic period, it is first necessary to clarify the conditions for recreation on the selected island. For example, in February on Boracay – the time of algae bloom, which means that for bathing in the azure sea will have to walk three feet on a slightly slimy mass.
Particular attention should be paid to the rainy season. The Philippines is not subject to the feature of the greatest amount of rainfall in the dark, as it is in most countries of Southeast Asia. The rains in the archipelago are floods, cancellations of flights and ferries, and the danger of typhoons.
The most dangerous month in terms of typhoons is August.
How to get to the Philippines
The only possible way to visit the archipelago is by plane.
The country has 10 international airports, the largest of which are located in Manila and Mactan Island (Cebu).
There are no direct flights from Russia to the Philippines.
Residents of the central region can build a flight to the Philippine capital or the island of Cebu with connections in Abu Dhabi, Hong Kong, Tokyo, Singapore and other cities.
People from the Far East have an opportunity to make a connecting flight to Seoul, Beijing and other Chinese airports.
A flight from Moscow to Manila, which offers the best price-length ratio, via Guangzhou in February 2022 costs 320 euro, and takes almost 16 hours, including transfers.
While a flight from Khabarovsk at the same price would take 35 hours and involve two connections in China. A shorter connecting flight would cost 470 euros and take less than 10 hours.
Entry Procedure
Important: Russian citizens can stay in the Philippines without a visa for a maximum of 30 days.
You must have a passport with a validity of at least six months on the date of entry, a completed migration card and proof of date of return (copy of the itinerary receipt or e-ticket).
The procedure of customs and passport control is generally standard, the result of which is a stamp in the passport with the date of entry and permission for a 30-day stay.
If the 30 visa-free days allowed to a tourist is not enough, you can ask for a 59-day permit upon entry. Such a stamp can be given instead of a 30-day visa-free entry permit. This service is not free of charge.
Incidentally, if the need for a long stay in the country has already arisen, this extension can be done in any of the 44 immigration offices located in most major cities.
Transportation in the Philippines
You can travel between islands by ferry or by air, almost each of the islands has an airport.
Air Transportation
Local carriers are Zest Air (Air Asia), Philippine Airlines, AirphilExpress, Cebu Pacific Air, SEAIR.
Important: The presence of an airport does not guarantee direct flight connections to other islands. Often, to get from one airport to another it is necessary to make a connection in Manila.
Some airports apply a system of charges on departure, it can be built into the ticket price, or can be charged in cash on the day of departure. The amount averages 100 pesos.
Water transportation
There are boats, ferries, small boats and even sailing boats between islands. The choice is solely up to the traveler. It is worth considering that traffic by sea is organized by both large companies and smaller firms and even private entrepreneurs.
Advice! It is preferable to travel on ferries and boats of large companies, which, as a rule, are in a better condition, which is noticeable even in appearance.
The price of the ticket depends on two factors – the distance and the ferry company. In addition you must pay a port fee of 10 to 30 pesos.
Wheeled transport
The most popular way to travel around the islands – Jeepney – something in between the military jeep and van, usually pasted outside with bright stickers. It is possible to get into such a car simply by waving your hand at the roadway. The fare is about 10 pesos.
Tracycles are a kind of motorcycle cab, where the motorcycle is attached to the booth for passengers. Such a machine costs about 8 pesos per 1 km.
Motorcycles are the most common mode of transport among the locals.
Manila has an excellent bus network as well as the LRT light rail.
In addition to Manila, buses mostly operate on intercity routes.
Cabs are an inexpensive option to get around town or within the resort. The cost of travel is based on 12 pesos per 1 km. The car can be ordered at the hotel or simply stopped on the road.
Important: Before the cab pulls up, make sure the driver knows where you want to go and has turned on the meter.
Where to stay
Choosing a hotel is the second question after choosing your itinerary.
The Philippines has a wide range of lodging options, from rundown bungalows to Luxury hotels.
You can make an advance reservation on the sites www.roomguru.ru, www.booking.com if it's about hostels and hotels. Resource www.airbnb.com is suitable for selecting private apartments
Worth knowing! The cheapest accommodation in the Philippines is unlikely to suit those who are squeamish about insects or reverent about comfort. Saving on lodging, you save on amenities, and often the sanitary side of your stay.
On the island of Boracay, the most economical option for 2-bed accommodation offers Blue Bamboo Hotel, where the night will cost from 10 euros.
Optimal in terms of price and quality is Marnin's Place hotel, where a night will cost – from 16 euros. Or more expensive, 4-star hotel Coast Boracay, where the accommodation costs from 137 euros per night.
On the island of Bohol, famous for its Chocolate Hills, you can find an accommodation option – from 7 euros per night – Hostel Dormitels.ph Bohol.
The best value for money are Hotel Open Doors Haven, where accommodation in a budget 2-bed room will cost 11 euros, or a little more expensive Imagine-Bohol, offering apartments for 26 euros per night.
Similar accommodation prices can be found on the islands of Palawan and Cebu.
Money
The national currency is the peso. Not everywhere in the country, with the exception of large cities and resort areas, you can pay with a bank card, so you either have to carry cash or use local ATMs.
A 200 peso fee is charged at almost any ATM when withdrawing money from the card. The allowable amount of a single withdrawal is an average of 10,000 pesos.
Currency exchange at a rate close to the official rate is possible only in large cities. In resorts the exchange will be less profitable, plus ubiquitous service charge of up to 10 % and tips are accepted for the staff of the exchange office.
It is preferable to carry dollars.
Planning Your Budget
Expenses inside the country besides accommodation are made up of several blocks:
Food. Those who are calm about the lack of gastronomic delights, enough 10-20 dollars a day;
Moving around the city. Travel costs about 2200 pesos or $50 per day. You will manage to keep within this amount if you often choose the latter variant from cabs and jeepneys.
Sightseeing. Some sites may be completely free to visit, others you will have to pay to enter. In any case, any trip will be accompanied by a tip of about 20 pesos or the purchase of souvenirs. This item of expenditure in full each tourist can plan for itself.
Safety
Recommendations for security measures are limited to a standard set peculiar to all Asian countries:
Observe personal hygiene, wash your hands before and after eating;
Drink bottled water only;
Fruits and vegetables should be thoroughly washed and bottled before eating;
Watch your pockets and purses in crowded places to keep your personal belongings safe.
What else you need to know
– The state is quite poor, especially in the provinces and small islands. The "rich white" tourist is literally overpowered by crowds of beggars, most often children.
Filipinos are open and hospitable people, ready to help. But, returning to the phrase "big rich tourist" in large cities are not uncommon facts with those who want to help not out of kindness, but for financial gain. Therefore, before you agree to help, make sure that the intention of the helper is unselfish.
Do not set aside more than 1-2 days to visit major cities. A trip to Manila is unlikely to leave positive emotions, although it will certainly be informative. The reason for this is widespread noise, not too clean streets and crazy overcrowding supplemented by tourists.
When planning your trip, allow extra time for transfers. In the Philippines, literally every kind of transport is delayed, from buses to planes. The reason is that one of the character traits of the locals is laziness and slowness.
Be sure to take an adapter for power outlets.
Be prepared that you will be searched and searched when entering a store or a bank. This is how local security measures show up.
Ignore the fact that wherever you have to pay, the amount will be higher by an average of 10 pesos. Tipping, fees, and bonuses are common practice in the country.
Knowing these simple rules, well-planned budget and bought a plane ticket on time will allow you to save significantly on an independent trip to the Philippines in 2022. Duration of the flight to the place of rest pays off with unique attractions of the archipelago, the beauty and warmth of the island beaches.
Philippines: independent travel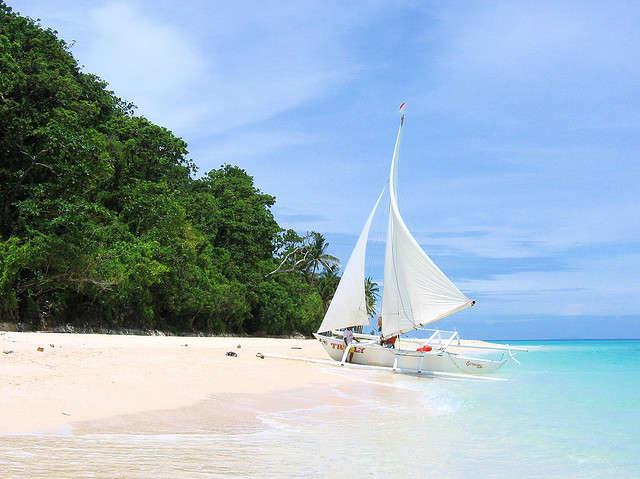 This is one of the most fabulous places on Earth! Talking about our experience traveling to the Philippines on our own: transportation, food, prices, beaches, cheap accommodation and tips. Read, be inspired and brave the trip in 2022!
Exchange rate: 1 Philippine peso (PHP) ≈ 1.5 RUB.
The Philippines accepts visitors from Russia, but only immunized with a vaccine approved by the WHO. For convenience, we give pre-pandemic prices for flights and tours. Information about visas and flights may not be current, check with official resources. Take a look at the list of open countries.
How to travel independently in the Philippines
The Philippines is an island nation, so there's a wide range of transportation – from the usual buses to exotic trailers and jeepneys. Moving between islands is quite convenient – you can almost always get where you need to go by water, air or land.
Water transportation
There is no shortage of water transportation in the Philippines: ferries, boats, sailboats and boats are connected between the islands. There are both large ferry companies with credible ferries (OceanJet) and small ones (usually their ferries are not in the best condition). There are also hydrofoils and small motor boats that can be used to travel short distances. The cost of the ticket depends on the company and the distance. For example, the price of a Cebu-Tagbilaran ferry ticket with OceanJet is about 400 pesos. Do not forget the port charge of 5 to 25 pesos.
(photo © mayrpamintuan / flickr.com)
Land transportation
Land transportation is even more varied than waterborne. You can take the more usual buses, cabs, trains (around Luzon Island), or risk the more exotic transport typical of the Philippines: tricycles and jeepneys.
Tricycles, or tricycles, are a motorcycle or moped with an attached box for passengers. This method is very common, especially in large cities, and is very cheap – from 7 pesos per kilometer (depending on the city and distance).
Jeepney is one of the most popular ways to travel. It is a mixture of American jeep and minibus without windows and doors. Typically, drivers cover their jeepneys with all sorts of colorful stickers. Definitely worth a ride in such a colorful and unusual form of transport! Jeepneys can be stopped on the road and jump on the back step or even ride on the roof. The fare is about 8 pesos.
Filipinos also ride motorcycles, sometimes in groups of 5-7 people – I think, not every tourist would dare to do that. It's extreme, you can't say anything about it.
Buses are mostly used for communication between cities, but can take you to another island (by ferry). There are both comfortable and not so comfortable. In addition, there are a variety of minibuses – a la our shuttles. There are also trains on the island of Luzon, which connect the capital with the northern and southern cities of the island.
If you are used to travel in comfort, then you can always get a cab, besides they are very inexpensive. Or you can rent a car.
(photo © Bangkokcalling / flickr.com)
Air Transportation
It is easy to move around the Philippines on your own by plane – there are a huge number of airports on the islands. The two largest airports are located in Manila and Cebu. They are used for both local flights and international flights. Philippine Airlines, Qatar Airways, Etihad Airways, Cebu Pacific, low-cost carrier Air Asia and others fly here.
Local flights are available daily from Manila. Popular airlines include Zest Air (Air Asia), Philippine Airlines, AirphilExpress, Cebu Pacific Air, SEAIR.
If you pay a fee on your trip, it may be on the passenger fare. Ask your airline representatives for more information. For example, when we departed from Tagbilaran we had to pay a fee of 100 pesos.
Where to look for cheap tickets? The best way to do this is with the Aviasales and Skyscanner search engines. To find the best price, check with both and see tickets for different dates. Read also for instructions on how to search for cheap airline tickets and how to get to the Philippines cheaply.
Visa to the Philippines
Read about how to get a visa to the Philippines for Russians and how to extend it: a detailed instructional article that will be useful both for those who are just going to visit the islands and for travelers who already live there.
High season, rainy season and typhoons in the Philippines
The high season in the Philippines begins in December – you don't want to witness the tropical rains and typhoons that hit here from May to November, and wait out the bad weather in a hotel. The sea in season is amazingly clear and inexpressibly beautiful color! In such crystal clear water just to do snorkeling and diving.
Typhoons peak in August, but there is also a risk of them during the high season – for example, we caught Typhoon Melor in mid-December 2015, which hit Luzon. Fortunately, we were on Bantayan Island at that time, 300 km away from the typhoon, and the only things we saw were clouds and some rain.
Remember that the most "risky" island is considered to be Luzon – more precisely, its northern part, which falls in the so-called typhoon zone. But the more southern the island, the less likely to catch bad weather.
What to see in the Philippines by yourself
If you have planned an independent trip to the Philippines, it is worth getting used to the idea that you will not be able to explore all the islands – there are more than seven thousand. The most popular islands visited by travelers are considered Boracay, Cebu, Luzon, Mindanao, Palawan, Negros, Bohol.
Before you go to the Philippines, you need to decide what you're going there for: enjoy the sun and sea on the beach, explore the islands, explore the underwater world or sightseeing.
Don't forget to take out insurance, especially if you plan to rent a bike or engage in active sports.
Boracay
The most popular among tourists is the island of Boracay. A quick walk around the island, this small island is perfect for a beach holiday. Anyone can enjoy it: there are secluded areas, nightclubs and opportunities for sports (windsurfers and kitesurfers are concentrated on Bulabog Beach). The most famous beach is White Beach. On the island there is a mangrove forest (Bakhawan eco-park).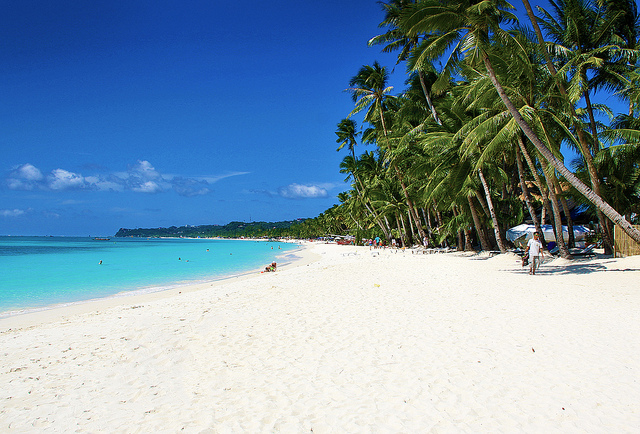 (photo © Just One Way Ticket / flickr.com)
Luzon
Many people believe that this is the right place to start exploring the Philippines on your own. Often the capital of the state – Manila – is undeservedly overlooked. And in vain – it is worth at least two days to devote to it and the island. In Manila, the first place to explore the historic district of Intramuros, built by the Spanish colonialists, and the business district of Makati. Luzon is known for the amazing mountain resort Baguio and natural attractions – volcanoes Banahoa, Taal and Mayon, rice terraces, Magdalio Waterfall and Sagada Caves.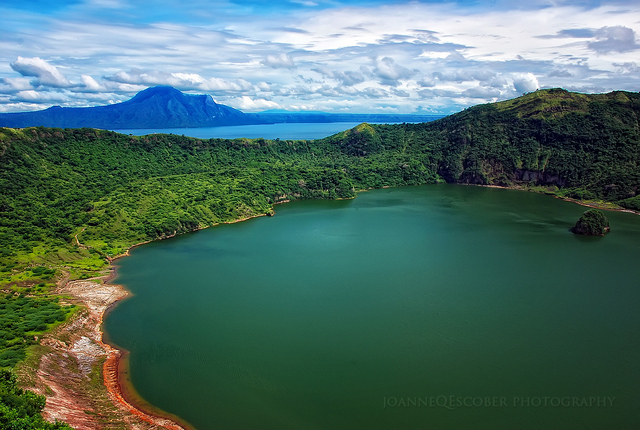 (photo © tacit requiem (joanneQEscober ) / flickr.com)
The island of Cebu and its satellite islands are home to many hotels, including respectable ones. The island is the second largest and oldest, and there are many historical sites and monuments: the Basilica of Minore del Santo Niño, Last Sapper Chapel, St. Augustine Church, Fort San Pedro, Magellan Monument, and more. Next to Cebu is the wonderful island of Bantayan – great for a measured life and secluded vacation (that's where we mostly vacationed).
Palawan
Eco-tourism lovers will definitely enjoy Palawan. The uninhabited islands and wildlife, Puerto Princesa Subterranean River National Park and El Nido are enough to give anyone a head start.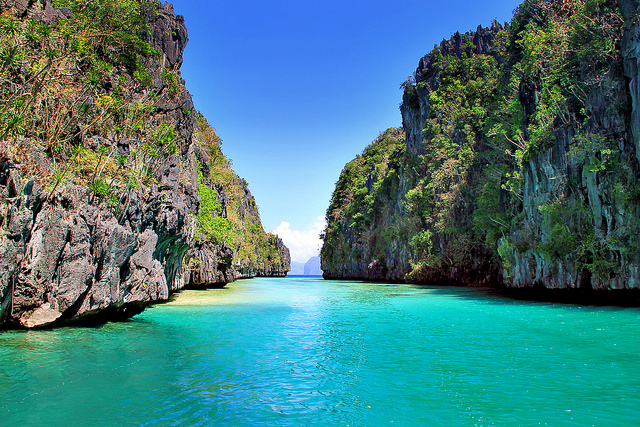 (photo © Just One Way Ticket / flickr.com)
Bohol
Bohol is worth going to for the famous Chocolate Hills and Tarsiers, scenic waterfalls, caves and a nature reserve. Bohol is surrounded by 70 small islands, which are also interesting to explore. It and its satellite islands are great for diving.
This, of course, is not the end of interesting islands – we've listed you just the most famous. On almost every island you can find something to your liking. If you're a solo traveler, the Philippines is a delightful place to visit.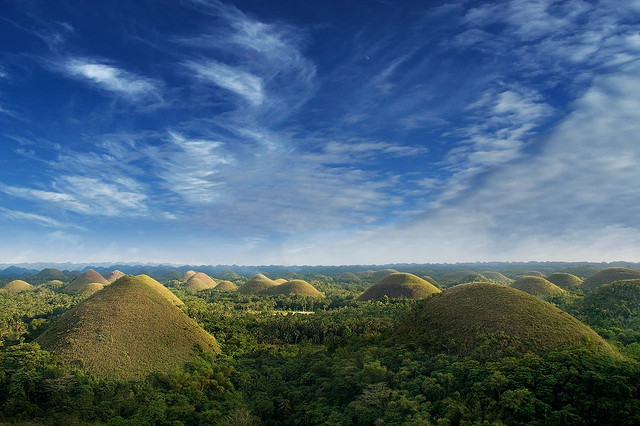 (photo © An diabhal glas / flickr.com)
What's on offer: Food in the Philippines
When you're traveling on your own in the Philippines, pay special attention to the local cuisine. It differs slightly in different areas of the Philippines. The main ingredient is, of course, rice, since Philippine cuisine is typically Asian. Filipinos love to add to their dishes seafood, tropical fruits, coconut milk and shavings, and a variety of spices (although compared to neighboring Vietnam, Philippine cuisine is sparing to the European stomach). In addition to rice, noodles and vegetables as a side dish are common on the islands.
What to try on your own trip to the Philippines:
Lechon – spit-roasted suckling pig;
Siniganga – clam or shrimp broth flavored with fruit;
Carabao – ox meat;
Kare-kare – soup made of ox tails and much more.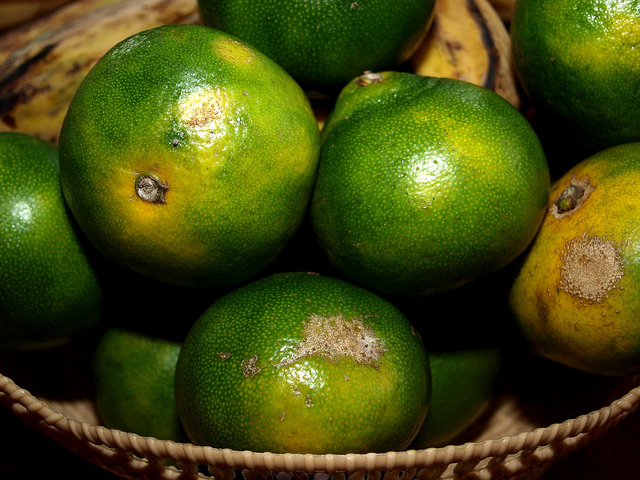 (photo © Roberto Verzo / flickr.com)
As for desserts, they are mostly made of local tropical fruits or rice and coconut: cakes, pastries, ice creams, jams. We recommend the halo-halo (ice cream with fruit), durian candies, rice cakes.
Alcohol: Try Philippine rum, beer, and palm wine.
When traveling in the Philippines on your own, stick to the proverbial rule: eat where the locals eat. This way, you'll get to know all the traditional local dishes, and the locals' unpretentious establishments usually have the tastiest food (and prices). And if you're tired of exotic dishes, you can easily find cafes and restaurants on the islands that offer European cuisine.
Prices for food in inexpensive cafes:
rice – 10 pesos;
grilled pork (3 kebabs) – 20 pesos;
grilled chicken leg – 45-50 pesos;
plate of vegetables – 20 pesos;
seafood – 40-50 per plate;
Rice with pork and egg from 45 pesos;
Instant coffee or tea – 15 pesos;
A small soup, from 35 pesos;
Grilled squid – 85 pesos.
Read more in this article about prices in the Philippines.
Accommodation: Hostel or hotel?
Those who go to the Philippines on their own, do not need to worry about lodging – here you will find it in sufficient quantity. Hotels, apartments, bungalows, houses, villas – the choice is impressive! You can search for hotels on Rumguru, but for private accommodation (villas, apartments, etc.) – on Airbnb. Frugal travelers are advised to book an accommodation a little farther from the sea – it will cost much cheaper.
Note that in Manila there are almost no hotels cheaper than $11. We stayed at Wanderers Guest House in Malate, a very small and stuffy room without a window with a fan at 800 pesos for two – very not recommended. Conditions are spartan, bathroom on the floor. Then we wandered around the streets and found Chill Out – a great hosthouse, very cozy and homely (address: 612 Remedios Street). It has a spacious room with a fan, private bathroom and window for 1200 pesos. You can drink free tea and coffee.
We also stayed in two hotels in Cebu (and both had cockroaches). The first is the Cebu Elicon House for 1,050 pesos, has a bathroom and air conditioning, but Wi-Fi only in the lobby. The address is P. Del Rosario Cebu City.
The second is McSherry Pension House, very cheap – 600 pesos for a room with air conditioning and bathroom and table. The room is shabby, with insects, but you can spend the night. Wi-Fi is only good on the first floor. Address: At the intersection of Pelaez and Sanciangko, there will be a sign.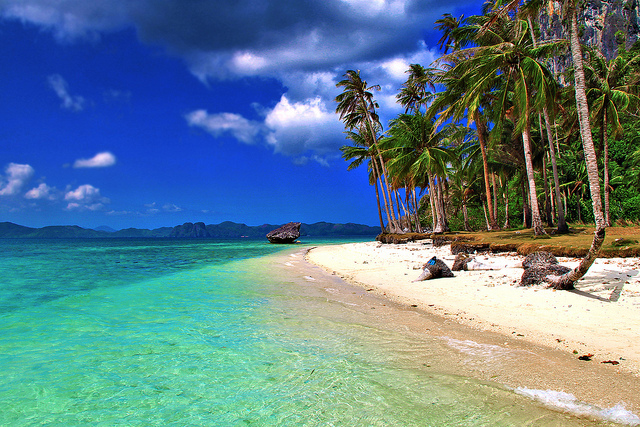 (photo © Just One Way Ticket / flickr.com)
Withdrawing money in the Philippines
Before our trip, we gathered information on which ATMs in the Philippines you can withdraw money from without a fee. It turned out that all ATMs charge 200 pesos except Citibank (but only for bank customers; limit is 15 thousand pesos). The maximum amount that ATMs give out is mostly 10 thousand pesos at a time. According to some reviews, you can withdraw 20,000 pesos from BPI (we checked it out at Cebu airport), BDO can withdraw cash in US dollars, and HSBC can give up to 40,000 pesos (we didn't have such an ATM and couldn't check the information).
Telecommunications and mobile Internet in the Philippines
The most popular carriers are Globe and Smart. Smart SIM card costs 50 pesos, Globe – 100. Buy a prepaid plan. Globe Tattoo is better not to take – then it's almost impossible to find a place where you can recharge (ask "load"). But there are a lot more tents labeled Smart. The tariffs for both operators are about the same: 50 pesos per day, 299 per week and 999 per month.