Expensive or cheap to vacation in Thailand – Phuket prices in 2022
The largest island of Thailand, located in the south of the country, attracts many tourists with its gentle sun, beautiful white sand beaches and beautiful scenery. This place is deservedly called the "beach capital" of the Kingdom.
The prices in Phuket are relatively higher than no less popular with the Russians in Pattaya on average 30%. Justified by the fact that Phuket – an island, and the delivery of goods to the island are many times more expensive than on the mainland. On how much money to take on vacation in Thailand, we told here.
Accommodation
The cost of accommodation in most of Phuket is depending on the season . The most expensive to rent between November and March. Apartment prices in Phuket Town, Chalong and Kata Beach are generally not seasonally dependent. Here you can find a good accommodation at reasonable prices even in the high tourist season.
In general, the cost of housing is influenced by such factors as the number and size of bedrooms, the availability of air conditioning, fitted kitchen, internet access, telephone.
Hotel prices
We recommend renting accommodation on safe websites:
– the world's leading hotel rentals – compare hotel prices in 70 booking agencies
Hotels in Phuket are among the most expensive in Thailand . In addition, during the peak of the high season, prices go up twice. The average cost of accommodation in a simple room, equipped with necessary furniture, shower, toilet and fan is 400 baht per day.
Average room rates for two guests in one room at the beginning of 2022 (in baht):
Grand Mercure Phuket Patong 5* – 8,800,
Kalima Resort & Spa 5* – 4,300,
Millenium Resort Patong 5* – 5,500,
Sleep With Me 4* – 2,100,
Novotel Phuket Phokeethra 4* – 4,900,
Karnvela 3* – from 1800,
David Residence – 1400.
Apartments
Comfortable studio apartments on the island are offered for an average cost of 360 baht per day. Apartments away from tourist areas are available at an average cost of 9,000 to 13,000 baht per month. Prices for similar accommodation by the sea, as a rule, one and a half to two times higher. Accommodation in a condo with 3 beds and private sauna costs on average from 2700 baht per day.
On a side note. Minimum prices for renting small houses, located a few kilometers from the beach is from 12000-15000 baht per month.
Rent a villa with a pool can be at a cost of 40000 baht per month. In the winter period is popular daily rental. The cost of one day accommodation is on average 5000 baht.
Bungalows by the Sea
Bungalows by the sea – a very exotic type of housing in Phuket. The level of comfort and cost depends on the type of housing. They can be as simple as the most simple or luxurious.
Cozy one-bedroom bungalows with a pool, located near the beaches of Kamala or Bangtao, can be rented at a cost of 1200 baht per day. Accommodation in an inexpensive one bedroom bungalow on Kata Beach will cost an average of 1900 baht per night.
Budget options
Apartments and rooms with a minimal set of amenities, far enough from the beaches, can be found at a cost of 6000-7000 baht per month. The lowest price for a small house can be found at about 11000 baht.
Meals
The price of lunch or dinner in Phuket depends not only on the level of the establishment, but also on where it is located. The lowest prices for food in Phuket are in the local macashnas, food courts and night markets. At macashtnahs tourists mostly buy barbecue kebabs at a price of 50 baht, fried corn from 35, pancakes – from 45. The price of the main course with seafood or meat in street cafes, from 80 baht.
In the budget cafes, located across the street from the beaches, the cost of a dish is on the average 150-200 baht. In the beach restaurants on the island the average check is 500 baht. For example, in restaurants, located on the second line from the sea in Patong, the seafood on the menu starts at 150 baht, Tom Yam – from 120 baht.
Average prices for a number of popular dishes (in baht) in cafes:
Tom Yam – from 70,
Pad Thai – from 80,
Fried calamari – 160,
Rice with chicken – from 50,
Pancakes with banana from 40.
Keep in mind that in remote corners of the island some dishes can be purchased from street vendors at a cost of 35-50 baht.
The average cost of products in local supermarkets (in baht):
A liter of milk – from 40,
A dozen eggs – about 45,
1 kg of potatoes – 40-55,
1 kg of cucumbers – 35-40,
1 kg of tomatoes – 40-50,
1 kg of pork – 150,
1 kg of beef – 400,
1 kg fresh shrimp – 230.
Fruit prices vary depending on the season. Cost of some fruits (in baht):
Watermelons (whole) – from 50,
Pineapples (whole) – from 40-45,
Coconuts – from 30 (per piece)
Lychee – from 70,
Mango – from 50,
Papaya – from 40 apiece,
Bananas – from 80 per bunch,
Durian from 150,
Passion fruit from 80.
Shrimp can be bought here for 350 baht, lobsters – for 900, crabs – for 350. In addition, bought seafood can be cooked on the spot, paying for the service 100 baht per 1 kilogram.
Entertainment
Phuket – a great place where you can not just relax on the best beaches, getting a bronze tan, but also active and interesting to spend time on the excursions, visiting the Thai massage and more.
Massage
The average price of a classic Thai massage in the salons of Phuket from 200-300 baht. On local beaches service is a little cheaper, but also the quality is correspondingly lower.
Excursions
Excursions for vacationers and travelers in 609 cities around the world: Tripster.ru – service unusual excursions from local residents and guides who can interesting and fascinating stories about the most interesting in their cities.
Among the popular excursions from Phuket to local attractions are tours to Phi Phi Islands at an average cost of 1500 baht, tours to James Bond Island – from 1400, Simimlan Islands – from 2200. In great demand is the Russian-speaking sightseeing tour of Phuket, its cost – 1000 baht.
Prices for island tours in 2022 (in baht):
Excursions to the island of Krabi – from 2200,
Trip to Singapore – from 12500 baht for 2 nights,
Trip to Cambodia – from 7,500 baht for 2 nights.
The cost of evening shows and performances in the excursions:
Siam Niramit historical show – from 1,550 baht,
The popular show Fantasia with elephants, buffalo, tigers, birds, clowns and acrobats, based on an old Thai legend – from 2100 baht,
One of the country's premier transvestite show Cabaret Simon – from 750,
Shocking performance for adults XXX show – 950 baht.
Important: It is forbidden to take photos or videos at the show. Violators expect impressive fines of several thousand baht.
For families with children
To kids do not get bored during a trip to Thailand, rest in Phuket can diversify the visit of a number of places where it will be interesting not only for children but also for adults. Very popular with vacationers enjoy the Phuket Zoo, where visitors can see the colorful show of giant crocodiles, elephants and monkeys.
Tickets cost: Children – 300 baht, adults – 500 baht.
No less interesting is the local Oceanarium at Cape Panwa, where you can get acquainted with the underwater fauna and observe the numerous marine life.
Lovers of active and fun rest will like Splash Jungle water park, which we described in detail here.
Admission costs 650 baht for kids 5 to 12 years old, 1295 baht for adults. Entrance is free for children under 5 years old.
Other places to visit on the island include the Mini-Golf dinopark on Karon beach (tickets from 90 Baht), the Butterfly Garden where you can see the amazing insects (tickets from 150 Baht), and Bird Park (tickets from 300 Baht).
Other options
Diving – from 3500 Baht
Elephant rides – from 800 for half an hour,
Fishing in the lake – 2700 baht,
Helicopter ride – 6,400 baht for 20 minutes
Thai cooking lessons – from 1800,
Banana Ride – 600,
Jet Skiing – 1500 for half an hour
Parasailing – 1500 for 5 minutes.
Transportation
The public transport system in Phuket is not very well developed. Away from the popular tourist routes plyutsya sungteo, the passage of which costs no more than 30 baht.
Cabs and Transfers
You can easily book a cab or shuttle on Kiwitaxi.com, an online booking system for private transfers and cabs:
fixed price
meeting with a nameplate
round the clock support
However, travelers most often do not have to take this type of transport. In order to get from one beach to another, you will need to take a cab .
A cab ride will cost an average of 200 to 450 baht.
Tickets for trains, buses, ferries, charters
12Go.Asia provides online reservations for all types of transportation on one platform, in Southeast Asia and Oceania.
Bike and Car Rentals
The cost of renting a bike, as the most popular vehicle on the island varies from 300 to 3000 baht, depending on the model, design and technical condition of a particular model.
The average cost of renting a car varies from 600 to 2800 baht and also depends on the brand and a number of characteristics.
The cost of gasoline
As a rule, bikes on the island are fueled with E10 or E20, the average cost of which is from 30 baht. For up-to-date fuel prices visit local petrol station websites.
Shopping
The variety of products offered in Phuket is very wide. Tourists can buy everything they need: clothes, souvenirs, jewelry, etc. Favorite places for shopaholics in Phuket are concentrated in Patong and such major beaches of the island as Bang Tao, May Kao and Surin.
Tip: Experienced travelers recommend haggling, because very often you can get a reduction in the original price at markets, small boutiques and private stores up to 40%. In shopping malls bargaining is, of course, inappropriate.
Clothing and Shoes
Prices for clothing and shoes in shopping malls in Phuket do not differ much from Russia. Jeans can be purchased at a minimum cost of 1500 baht, shoes – from 300 baht.
Prices for summer clothes in specialty stores start at 200 baht. Products at markets are cheaper, but their quality is significantly lower. Clothing and accessories can be bought here at low prices.
Souvenirs
Tourist trips are rarely without souvenirs.
In Phuket, in memory of the journey you can buy wooden, metal, ceramic figurines (from 65 baht), magnets (from 20 baht), soap with a fruit or floral fragrance (from 65 baht).
Children's toys
For toys is better to go to Central Festival – the most famous shopping center in Phuket, where there is a wide selection from the simplest rattles and teethers to interactive toys, both local and European production.
The average cost of some toys for babies in 2022 (in baht):
Teethers – from 65,
Musical rattles – from 195,
Developmental wooden toys – 390-800,
Inflatable baby pool – 2300.
Jewelry and Pearl Factory.
Thailand is one of the largest producers of pearls these days. In Phuket you can buy high quality sea and river pearls . A wide variety of products can be found in the following stores on the island: the oldest Phuket Peark Industry, the world's largest chain of jewelry factories Gems Gallery, the relatively new pearl farm Phuket Pearl Art and one of the largest jewelry factories in the country – Wang Talang.
The minimum price for jewelry is from 960 baht.
All about the food prices in Phuket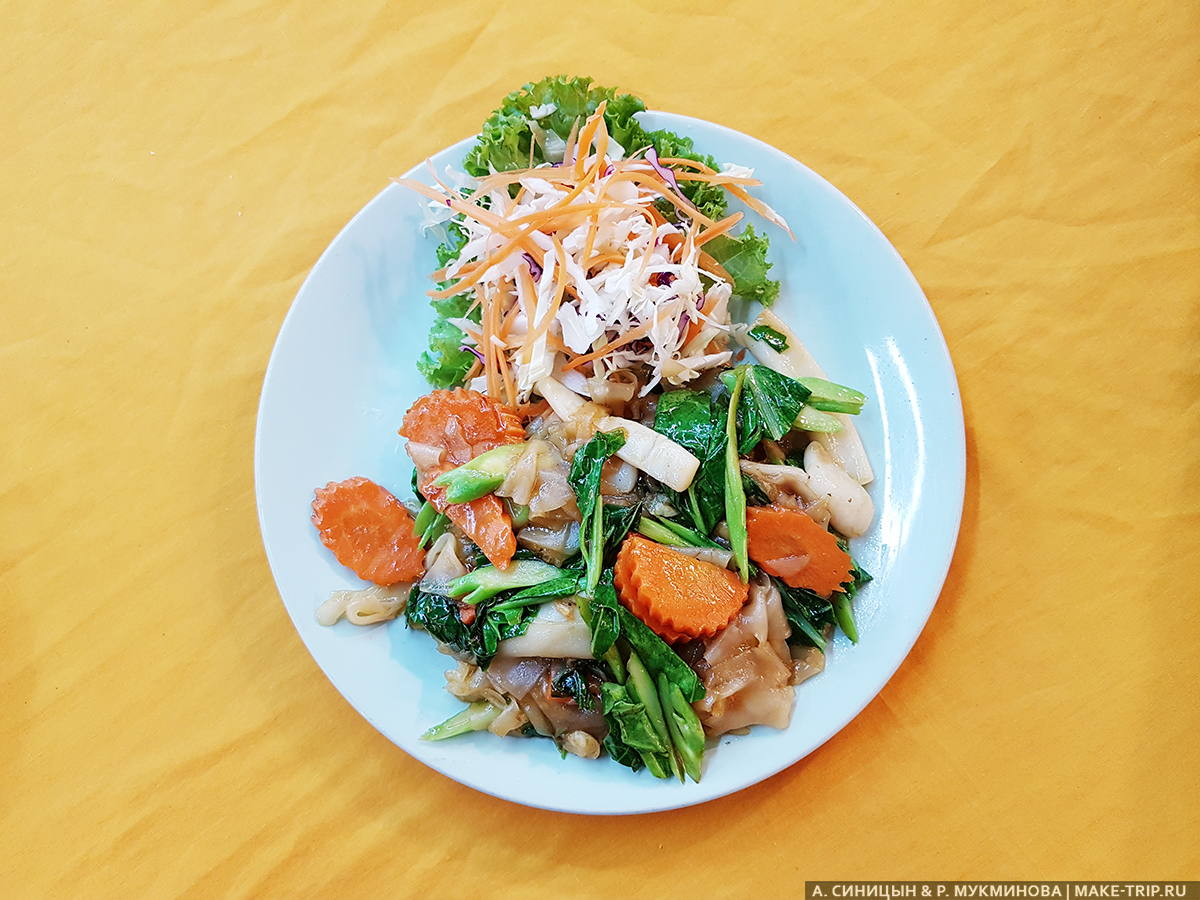 Phuket is not the cheapest place in Asia. Prices for food, hotels and transportation here are higher than the Asian average. It is a popular resort and you just have to put up with the inflated prices. We have vacationed on the island three times and know the local prices very well. We share information and tips with you. Find out how much it costs to eat in cafes, restaurants, what the prices in the markets and stores in 2022.
Our review will help you navigate the prices of food in Phuket, not to overpay, tasty and inexpensive to eat.
Exchange rate: 1 Thai Baht (THB) ≈ 1.5 RUB.
Content:
Our review of food prices
When we first arrived in Phuket, we ran around Patong in panic looking for cheap food. We were bouncing in horror from the macashnikas: the prices for regular pad Thai were almost twice as high! We were clutching our hearts and wondering how not to starve to death in Phuket with such high food prices. Our budget at the time was modest, prices were biting hard and the future was painted in gloomy colors. Of course, all this was in contrast to the prices in Pattaya, Bangkok and Krabi. If the first place we visited had been Phuket, we would not have reacted so acutely.
Vacationing in Phuket for the second and third time was easier. We had already adjusted to the local prices and knew where to eat inexpensive. Dinners in cafes and restaurants, seafood, no limit on fruit – a complete diet at a low cost.
Where is the cheapest in Phuket
It's hard to say where in Phuket the lowest food prices are. Many tourists think Patong is the most inexpensive beach in Phuket, but this is not true. In most cafes and restaurants in Patong, the prices of food are quite high. However, you can eat inexpensive here – you just need to know the place. This is true for almost any beach.
At Cat, Kamal, Karon, and Surin, the food is cheaper than in Patong. On more secluded beaches – like Banana Beach, Paradise or Nai Harn – there is no competition, so prices are high. Rawai and Chalong are the cheapest beaches, but they are "technical" and you can not swim there. Cheap also in the area of Nai Yang Beach.
Food prices on Phuket beaches in 2022
Restaurants. Prices in trendy beach restaurants on the first line are the highest. It is worth eating there only if you want to arrange a romantic evening and meet the sunset. The average bill in such establishments usually starts from 500฿ per person.
Cafes. In simpler places the main course costs 150-200฿. You can get a cheap meal even there if you take rice or noodles without meat for 70-80฿. They are usually located across the street from the beach.
Street cafes and food courts. You can eat here at reasonable prices: main dishes with meat or seafood cost from 80฿! True, drinks are from 70฿. We ate at such cafes in Surin and Karon. The exception is Nai Harn beach, where prices are high everywhere.
Makashnitsy. According to our observations, tourists in Patong, while on the beach, prefer not to dress up and leave the beach – and snack at the macashtikas. Popular are fruit slices and grilled meats (from 50฿), fried corn (30-50฿), pankakes (50-80฿), and ice cream.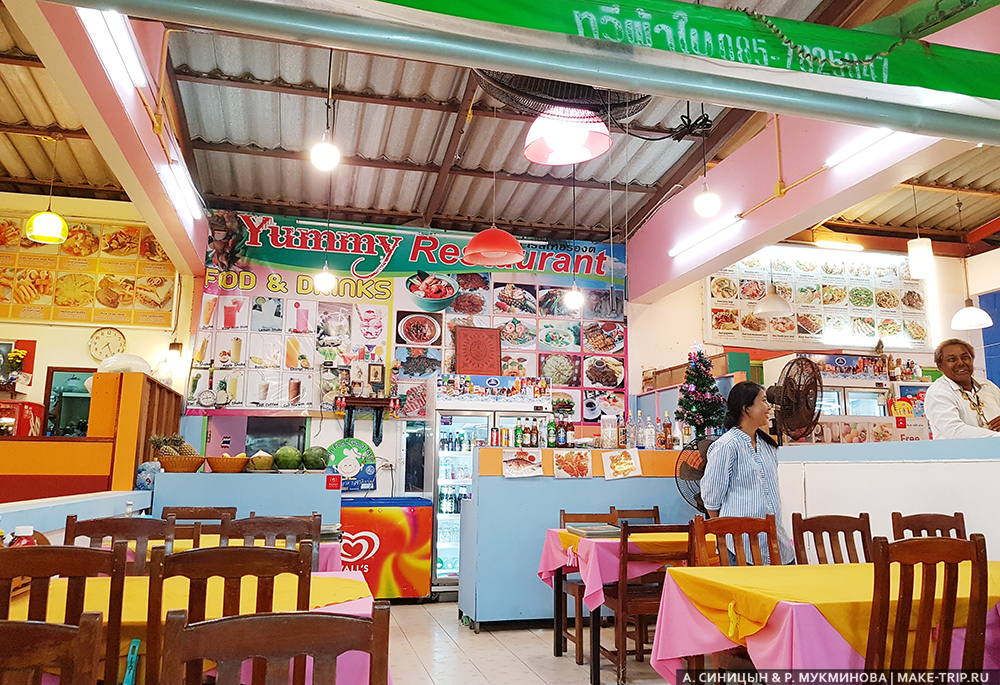 Prices in Phuket restaurants.
In beach restaurants, the average bill ranges from 500฿, farther away from the beach it is cheaper. In Patong, second line restaurants have prices from 150฿ for a seafood dish. Tom-yam from 120฿, pineapple rice with seafood from 150-200฿, pad Thai or fried rice with meat from 80฿. Prices depend on the level of the establishment and service.
Prices in street cafes
If you want an inexpensive and tasty meal, choose street cafes or food courts . Prices for main dishes with meat usually from 70฿, soups from 50฿. Seafood is more expensive, from 90฿. Coconuts from 40฿.
You can eat even cheaper at mobile makashnikas: rice or noodles with meat from 50฿, soups from 40฿. Grilled meat 10-50฿, sausages 20฿. But you will get your food wrapped in a plastic box. You can come to the beach with it – such picnics are very much loved by Thais.
Tourists don't really trust macashnikas. We heard people asking if it is safe to eat from carts. The answer is safe! Not once we were poisoned.
Inexpensive beach stalls are on Kata: coconuts from 30฿, shakes from 40฿, pancakes from 40฿ (while on Patong they cost from 50฿).
: comparison of popular resorts : for food, hotels and transportation : photos, description and reviews
Prices at night markets in 2022
Night markets are a realm of food and a riot of flavors. The variety is dazzling. It's crowded and hot, but worth the patience for inexpensive and delicious food. Are you looking for the lowest prices on Phuket food? Look for the markets.
Prices using Patong as an example: pancakes with banana and chocolate cost from 50฿, shakes from 40฿, pad Thai with seafood from 60฿, rice or noodles with meat from 50฿, grilled meat from 20-50฿ a piece.
Tell us about Patong's night markets: prices, addresses, opening hours, what to buy.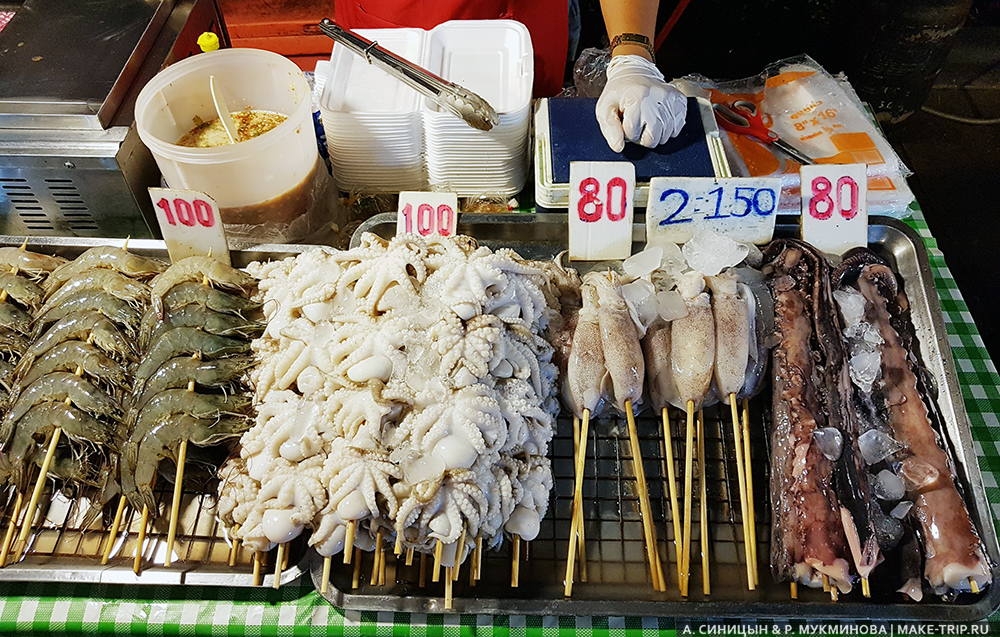 Food prices in Phuket stores
Prices in chain supermarkets in Phuket are static everywhere and do not depend on the location. Often there are promotions and discounts (1 +1, 2 +1, in the evening is cheaper ready-made food).
Popular supermarket Big C , where you can buy almost everything. We bought dairy products, pastries, fruit and sometimes meat there. In Big C you can buy fresh seafood and ask to cook it.
Prices in Big C (ready to eat and fruit) :
| | |
| --- | --- |
| Groceries | Price per kg/piece |
| longan | 65฿ |
| mangosteens | 130฿ |
| bananas | 30฿ |
| peeled durian | 900฿ |
| pitahaya | 45฿ |
| yellow mangoes (price depends on variety) | 50-200฿ |
| fresh juices | from 45฿ |
| noodles or rice | 30฿ |
| half chicken | 70฿ |
| fried fish | from 50฿ |
| croissants | 5-35฿ |
| slice of pizza | 35฿ |
The small FamilyMart and 7/11 supermarkets at the resorts are at every turn. There you can eat inexpensive sandwiches (from 30฿), sausages (20฿), and yogurts (15฿). Be warned: the sandwiches are extremely unpalatable.
Where to eat inexpensive in Phuket
If you go further away from the beach inland, you can find inexpensive places and eat quite budget – like in Pattaya or Bangkok. We know a few places to eat cheap in Phuket.