How to get from Prague to Berlin
The distance between Prague and Berlin is 349 km. For many tourists this is not a big problem, and they do not miss the chance to take advantage of a Schengen visa, going to the capital of Germany. Transport links between the capitals work "like clockwork. Let's tell you how to get to Berlin in the best way.
By train
A trip by train will be a great opportunity to experience the real German quality and punctuality, because the transportation of passengers is carried by the national company Deutsche Bahn.
At the international ticket offices (Mezinárodní doprava) of the main railway station in Prague you need to buy a ticket. You can also do this online on the official website of the station.
Between the cities there are two types of trains: standard international EuroCity and night Euronight. In the first you travel in a seated car, in the second – in the sleeping car. To give you a clear idea of what you get for your money, here is the pricing policy of rail carriers in Germany:
The minimum ticket price is 40 euros. This is for a seat in second class, which is not much different from first class. Two rows of cushioned seats separated by a wide aisle, each car has a toilet, free Wi-Fi network. That's how most tourists travel.
For first class will have to pay about 10 euros. There will be even more free seats, and you can change your ticket for free before the trip to another time or destination.
Weekdays, except Fridays, are cheaper. But if you see a price of 20 euros per ticket, pay attention to the possibility of transfers.
Choosing a special seat (only at the window or at the head end) increases the ticket price by 4.5 euros.
You can save a lot on early booking (the sale begins 60 days before the trip) and buy tickets in both directions at once. Group travel is also more profitable than the individual.
In German trains it is possible not to print out a travel document, and show the controller of the barcode on his smartphone. Check this information in advance.
On the trip you will definitely need a passport and health insurance. Documents are checked not at the entrance, but directly on the way, and there may be several checks.
By bus
Bus service between Prague and Berlin is provided by transportation companies: RejioJet, Flixbus, ArdaTur, EuroLines. All cars are new, high comfort class. Inside there is a bio-toilet and an air conditioner. Chairs are soft, with computers built into the back. There are sockets and free internet. There are stewardesses in the cabin, offering drinks and food as desired.
An undeniable advantage of public transport is its low cost. A one-way ticket will cost you 19 euros. You can also order it online or buy it at the terminals and cashiers of the bus station. You do not need to print out an electronic ticket, just show it on the screen of your mobile device.
It takes 4.5 hours to get to the place. The backs of the seats recline at 45 ° C, so it is easy to pass the road in a half-sleep. You can get detailed schedule of trains and buses between Prague and Berlin on the official websites of transportation companies or from our managers by phone.
By car
The road to the capital of Germany goes almost straight through Dresden. This is a great opportunity to see another beautiful city of Europe. Enough to rent a car in Prague and follow our recommendations:
One of the search sites that compares prices and conditions will help you choose the right rental option. On average, the cost will be 29 euros per day.
To travel around the Czech Republic you need to buy a vignette for 16 euros, but some companies already include it in the rent. The document is attached to the windshield.
In Germany all roads are free, but before entering Berlin you have to pay 5 to 15 euros ecological fee.
Travel time will take at least 4.5 hours. Despite the excellent condition of the highway, there are many sections with speed limits.
Don't forget to include the cost of gasoline (1.4 euros per liter). Summing up all the expenses we get about 250 euros for three days, which exceeds the cost of public transport, but allows you to visit Dresden and be free to travel around the cities in the Czech Republic and Germany.
By plane
The fastest way to get to Berlin. If you use a low-cost airline, the cost will be comparable to traveling by train or car.
Flights are operated by EasyJet. The flight time is 1 hour. A round trip can cost you up to 110 euros, but you need to think about the trip in advance:
Monitor the prices of several websites in the hope of finding "hot seats";
choose Wednesday or Thursday to fly;
pay for a round trip at once;
book tickets in advance.
You can find detailed flight schedules on the official website of Vaclav Havel Airport in Prague. Remember that check-in begins 2 hours before boarding the plane.
The route Prague – Berlin is well used by tourists and convenient for independent travel. If you want a quiet ride in comfort, choose the night train. If you need to save money, a bus trip will do. Lovers of freedom and adventure is best to rent a car. An air flight will save you a lot of time and devote it to sightseeing in Berlin.
How to get from Prague to Berlin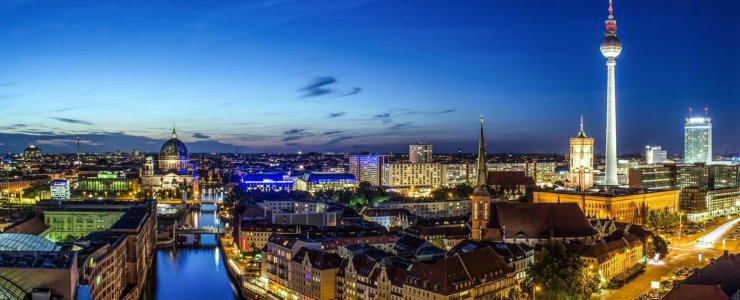 Every tourist, getting to Europe, seeks to learn and see as much interesting things as possible, especially since the modern visa regime is favorable to this. The way from Prague to Berlin can be overcome by several ways that differ from each other in price and time spent on the road.
By air
Today the quickest and most comfortable way is by plane – a direct flight takes only 50 minutes. A round-trip ticket in economy class will cost from 100 to 180 €.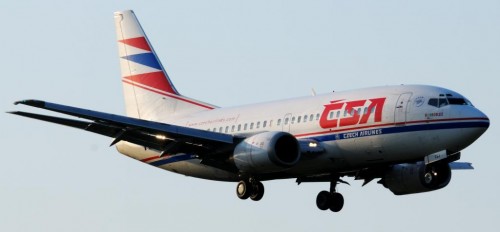 In addition to direct flights you can take a connecting flight in Dusseldorf or Frankfurt.
Check today prices
| Departure | Return | Airline | Price |
| --- | --- | --- | --- |
| 2022-10-12 | 2022-10-14 | | 4949 rubles |
By train
Today there are 8 direct trains between Prague and Berlin. Departure takes place from the Main Railway Station in Prague, the trains arrive at the Berlin Central Station. However, sometimes it is specified that the place of arrival can be an underground vestibule. The duration of the trip will be 4 hours and 45 minutes.
Fares vary depending on the class and type of train. If you prefer the standard international train (EuroCity) to the night (Euronight), then you will have to pay from € 20 to € 100 per bed. In the spacious First Class carriages (the number of seats in a row is not four, but three), travelers can have lunch for a fee. The price of First Class tickets can vary from 50 to 90 €. Second class tickets cost 30 to 60 €. First and second class tickets, the price of which does not exceed 50 €, must be taken into account that they are non-changeable and non-refundable.
Experienced travelers advise to buy tickets 15-20 days in advance through sites specializing in the sale of tickets. At the same time, you need to compare different offers, because they can differ significantly from each other. For example a ticket bought at the Czech Railways website will cost 29 €, the same ticket bought at "Czech Transport" will cost 40 € and at the train station ticket office you will have to pay up to 66 €. Reservation of electronic tickets is paid separately (its cost 3-4 €) and you must buy them at least three days before the trip. A group ticket for five people on the day train at only 39 € and a weekend ticket at 42 € can save you a lot on travel expenses.
By bus
Modern international bus transport differs greatly from that in Russia. Here you can not only comfortably get to your destination, sitting in leather seats with seatbelts, but also take advantage of free WI-Fi (though only in the Czech Republic). In addition, all buses are equipped with air conditioning, personal TV and a toilet, located in the cabin, and on the way stewardesses will offer you free newspapers and drinks. For the rest, however, will have to pay extra. Time spent en route will be about 5 hours.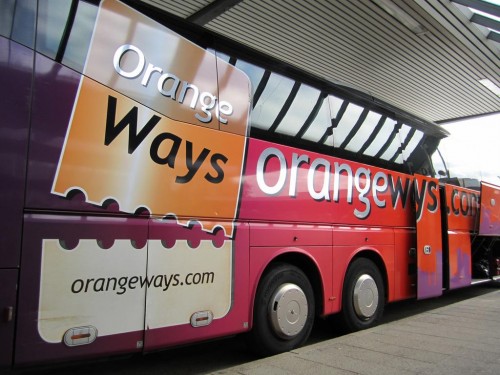 The most popular are the yellow buses "Regio Jet" with a ticket price of 29 €. Every day from the Central Bus Station Florenz in Prague to the Central Bus Station Berlin there are 8 trips.
Another well-known carrier is Eurolines, whose white buses also provide travelers with maximum comfort. They leave only twice a day and the ticket price is 27€.
For those wishing to find an even more economical option can use the services of the Hungarian budget carrier Orange Ways, whose buses run daily on the route Budapest – Berlin. In this case the price is 23 €. Boarding the bus every day at the bus station Florenz.
Another option for a budget trip will be a bus Bohemian Lines – Czech carrier, the cost of the ticket will cost only 18 €.
In addition, when choosing a bus, keep in mind that if you buy tickets in both directions, you can save up to 10% of their cost. Both in Czech Republic and in Germany there are discounts for children under 14 years of age of 50%, for persons under 26 and for people over 60 – 10%, as well as 15% discount for students and teachers.
So, if a traveler is limited in time but not in money, the most comfortable and fastest way to get to Berlin from Prague is by plane. The most acceptable, both in terms of price and time spent on the trip, will be a trip by bus or rail. However, how to get from one capital to another, everyone determines on the basis of personal preferences and capabilities.