Budget and priceless for the heart vacation in Montenegro
Holidays in Montenegro can be considered a great choice for companies that plan to spend their holidays with children. But for other lovers of nature and beach vacation there are always a few quiet and comfortable beaches, located in the bosom of nature. Vacationers can stay in comfortable hotels, and in private individuals who are very happy to give you a separate room or a small house. Budget holidays in Montenegro in 2022 can be planned with ease if you know where to go, what to see and how to save money.
A little about Montenegro
Almost the entire territory of this small state is occupied by mountainous and rocky terrain. The view from an airplane will help to explain the true meaning of the native name of Montenegro – Crna Gora, because the rocks, covered with a dense forest, seem really dark and impassable. Kayak lovers will appreciate the abundance of mountain rivers and streams located nearby. The lack of any buildings and structures of industrial use have made this area known throughout Europe as the most environmentally friendly region on the continent.
The country's climate is also favorable to a good holiday. The coast is the Mediterranean zone, in summer the weather is pleasant with about 25 degrees Celsius, the water is warm at times up to 26 degrees, it is clean and clear.
The coastline of Montenegro is about 300 kilometers of beaches. Conventionally, it can be divided into several regions: the Bay of Kotor, Budva Riviera and Ulcinj Riviera. The best beaches in Europe are located along the Budvan Riviera, but the cost of such a holiday may run into tens of thousands of dollars. However, do not despair and completely exclude the possibility of a holiday in beautiful Montenegro, because the country has a fairly inexpensive resorts, as well as opportunities to save on various items of expenditure.
Ulcinj Riviera
For lovers of seaside holidays there are the longest beach seasons on the Ulcinj Riviera. The sandy beaches are appreciated for their natural iodine and salt content. The excursions will help you to feel the spirit of the old cities, where the architecture of the past times is preserved. Long walks will surprise you with a variety of landscapes, high cliffs and cliffs. Most of the guides really love these surroundings and will show you the area with great pleasure and will tell you some interesting and romantic legends.
Ulcinj
The southernmost resort in the country where the sun shines for more than 200 days a year. The city has undergone the pirate invasions and the Venetian domination and now is a popular holiday destination for Montenegrins and tourists alike.
How to get there?
One of the airports of international importance is located in the center of Montenegro, in Podgorica. A one-way ticket in the summer of 2022 will cost about 10 thousand rubles. But you will have to transfer to the resort itself. Of course, you can order a cab or shuttle, because the trip will last a couple of hours, but you do not save. Therefore, you will have to get by two buses, changing ones in Budva or Bar.
Where to stay?
Ulcinj is very popular among tourists wishing to save money, so there are quite budget accommodation options. So, stay fairly close to the center you can in a hostel or apartment: accommodation for two tourists a day will cost about 1-1.5 thousand rubles.
What to see and do?
The beaches of Ulcinj are rich in the very same salts and iodine, so the vacation at the resort will be especially useful for those who suffer from diseases of the musculoskeletal system and the upper respiratory tract. However, and all other vacationers will enjoy the beaches of Ulcinj. The sand here is just silky, the water is warm, and the air is clean. Those who love active holidays will also appreciate the resort – it offers very favorable conditions for surfing and kiting.
In Ulcinj there are a lot of inexpensive restaurants and cafes that are nestled along the promenade. By the way, in the resort you can enjoy not only the local but also Albanian cuisine – the proximity to the state border affects. If you want to save on food, choose a place a little further from the center.
Watch the video to see the atmosphere and the sights:
The city has a stunning historic district called Uptown. Lovers of learning new things should look at the City Museum of Ulcinj, the Archaeological Museum, the Ethnographic Museum. By the way, you can walk around the old town completely free, and the entrance to the museums will cost about a couple of euros. Free of charge you can stroll through the local olive grove. Well, if the natural beauty is not enough, go to Skadar Lake. You can save money and do not take a tour, and go on public transport. On the lake you can watch the many birds, to be in an atmosphere of harmony and peace.
Ada Bojana
The Ada Bojana resort is located in the very south of the country and is ideal for tourists who like to be in touch with nature, as it has a famous nudist beach.
How to get there?
In fact, Ada Bojana is located very close to Ulcinj, a couple of dozen kilometers away. The problem is that public transport doesn't go here specifically, so you'll have to take a cab from Ulcinj.
Where to stay?
Ada Bojana is also an inexpensive resort: there you can find an accommodation option for even 1 thousand rubles per day for two people. However, most of the institutions of the hotel infrastructure, according to the reviews of tourists – it is quite old, though quite acceptable places. According to international classification such hotels pulls at about "two or three". It is possible to rent a house in a nudist village – if you are a fan of such "natural" recreation.
What to see and do?
In addition to the nudist area, the island of Ada Bojana is a true nature reserve. It is very picturesque, the sand here is soft, and also rich in minerals and biologically active substances. Do not worry: there are beaches where the rest is not nudists, and ordinary families with children – gentle entrance to the water and ecological purity dispose to it. You can do here and water sports: surfing, yachting, water skiing. Local residents love fishing and then cook the catch in small cafes and restaurants.
Going to the vicinity of the island and Ada Bojana beach, be sure to ask if your hotel establishment and the beach at it are nudist.
On the island there are also ordinary bathers, but be aware of the presence of such an area: if it is unacceptable for you categorically – it is better to choose another place for recreation.
Budva Riviera
The most popular region of Montenegro, the largest center for vacationers in this country. Excellent clean beaches, interesting architecture and plenty of entertainment attract millions of tourists here. The most famous resorts are Budva and Becici, but they can be classified as expensive. However, if you really want to go to this region – consider other options!
Rafailovichi
Settlement next to the resort of Becici, which is notable for the fact that the rates here on average 15% lower than in the popular among tourists Budva. In the peak season there are a lot of holidaymakers.
How to get there?
The easiest way to get to Tivat. Travelling by air will take from 3.5 hours, the cost will be about 7 thousand rubles. Then, if you want to save money, go by bus to Budva, and then take a small train to Rafailovichi.
Where to stay?
At this resort, the main type of accommodation are apartments and small hotels. To accommodate a couple here is possible for about 2.5 thousand rubles per day, the housing will not be luxurious, but it will be clean and there will be everything you need for recreation.
What to see and do?
Beaches of the resort mostly fine pebble. They are quite beautiful, though not as well-appointed as in the larger resorts of the country. The infrastructure is favorable for athletes: there are tennis courts, you can do rafting and diving. In addition, there are small stores, which means you can cook your own food, but wishing can also dine in cafes and restaurants: the locals are skilled fishermen, which means the meal will be delicious.
Rafailovichi is a small village with beautiful streets and gardens, which is designed for leisurely walks. But if you get bored, it is not far to Budva, and from there you can go on an excursion (including self-organized) to interesting places in Montenegro:
. Visit the Old Town, where ancient Christian and Muslim temples are preserved, including those with fabulous frescoes, and admire a modern landmark – the Millennium Bridge.
Cetinje. A true "museum in the open air. Believers should definitely visit the local monastery, and the city is also rich in museums and galleries.
The natural beauty of Montenegro. The Canyon of the Tara River, the Valley of 18 Lakes and the island of Sveti Stefan are just some of the interesting destinations.
Petrovac
This village is very good for recuperating, because it is surrounded by pine trees and olive groves, the breath is very pleasant. The locals appreciate this resort, most of the holidaymakers are families with children.
How to get there?
The resort is accessible both from Podgorica and Tivat. The distance is about the same, you will have to go through Budva or Bar.
Where to stay?
Petrovac offers a large number of different options for accommodation, including expensive. But the thrifty tourists will be interested primarily in apartments – two people can rest for about 2 thousand rubles per day, a little more expensive you can find an accommodation option even in the center.
What to see and do?
The quiet, peaceful town has two beaches. Both are covered with fine pebbles, the sea is quite deep, so you should not go here with kids, or you need to keep a good eye on them and not let them go from the shore. The beaches of the resort are equipped with everything you need for recreation, there are free zones.
The resort has catering facilities, market and stores. There is even a beach for party-lovers, however, young people prefer, as a rule, the larger cities of Montenegro.
The beauties of the resort are a Venetian fortress, a small temple and an observation deck. You can see them in a couple of days. What to do then? You can ride a boat, go scuba diving, go to the sports field. Some hotels have children's animation. Well, and for the main sights of the country should go through Budva.
Sutomore
The resort also refers to the healing due to the content of minerals in the sand. In addition, it is surrounded by picturesque cypresses and pines.
How to get there?
Sutomore is half an hour drive from Podgorica and is accessible by train, which is very convenient for those who want to save money and not take a transfer or a cab.
Where to stay?
If you want to live far from the center, you can find a guest house or apartment for only 1 thousand rubles per day for two people. Besides, the accommodation can be quite close to the beach, so if that's what matters to you and the privacy – that's what you need!
What to see and do?
Get ready for the fact that the resort will be full of residents of the capital – they are happy to come here on weekends. So don't expect any peace here. However, you can be sure that the sandy and clean beaches will accommodate everyone. Due to the abundance of holiday-makers there is a developed entertainment infrastructure: bananas, catamarans, seaside cafes and restaurants, of which there are more than fifty.
A popular stroll among tourists to the local fish market. If you live in apartments with a kitchen, you can buy fresh seafood and cook for yourself. The town itself is a small cozy place with paved streets, remnants of old buildings, there are ruins of a monastery dating from the 11th century and a church built in the 12th century.
Very good and the fact that the resort is located very close to Podgorica, through the capital you can go on an excursion to any place of the country. The railway connection also helps to travel at least to the nearest towns.
How to save on vacation in Montenegro?
Whichever resort you choose, there are general recommendations for organizing an economical vacation.
A romantic dinner for two at a restaurant in Montenegro will cost at least 30 euros. The menu for such a dinner will include a variety of seafood, several types of fish, wine, appetizers and dessert. Of course, at least once such a treat is worth afforded. But if you can not constantly eat for that amount, rent an apartment or guest house with a kitchen. Problems with fruits in Montenegro should not arise, since pomegranates and tangerines grow in almost every yard, as we have pears or apples. And on vacation by the sea there will be no difficulties with seafood – because you can buy not exotic, but simple, but fresh, natural fish, and cook it with local spices and sauces.
Think about staying in the private sector. The locals are very friendly and do not try to cheat or extort more money. If you book a trip through an agency, the accommodation will cost from 15 euros. In such a cost includes one bed and breakfast. From 40 euros will cost a full room with a small kitchen and private bathroom with hydromassage. And if you take the time and surf the Internet sites for rent from private individuals, you can find a cheaper place, while getting to know the owner and reading the real reviews.
In Montenegro there is almost nothing that would cost less than €, but do not panic. You will save money on the beaches, because almost all of them are free, if you can do without an umbrella and sun lounger. More than half of the tourists speak fluent Russian, which means you can find some "experienced" people and ask where here you can go or travel without spending a lot of money, in addition, you'll find a pleasant company, which will also diversify your holiday. If you can not afford the excursions – choose interesting places that can be reached by public transport, because even without a guide to contemplate the beauty will bring you a new experience.
Montenegro – quite suitable for an interesting and inexpensive vacation country. Nature is free, accommodation at the listed resorts is inexpensive, and most importantly – go on a trip in good company and a pleasant mood, and then the trip in any case will please you!
How much does the holiday cost in Montenegro? Prices for accommodation, food and tours
Properly planned budget – the key to a good vacation. So I decided to write a detailed article about the prices for holidays in Montenegro in 2022. Especially I made a photo of the prices of products in stores and supermarkets, counted how much food, accommodation, tours, and how much money to take to Montenegro for 7, 10 or 14 days.
If you are going to Montenegro, there is a separate post "Everything you need to know about vacations in Montenegro," which is also a lot of useful information.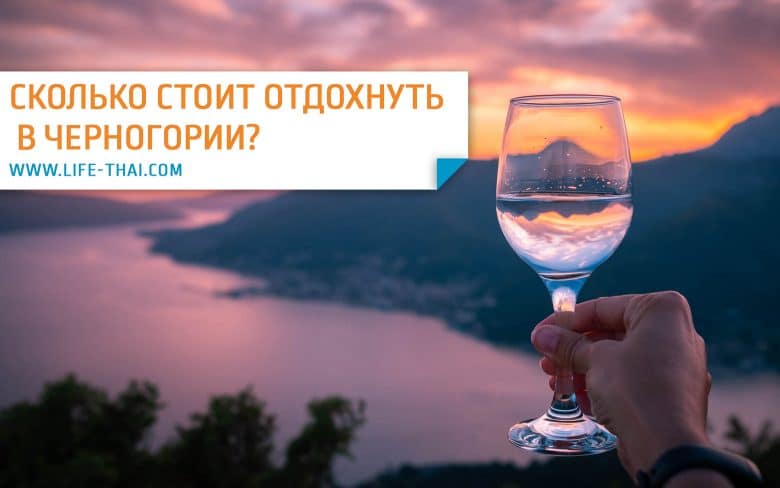 How much does it cost to vacation in Montenegro in 2022? We calculate it by ourselves.
7 ideas how to save money during a vacation in Montenegro
Prices for food in cafes, restaurants and street food in Montenegro
Prices for food in stores in Montenegro
How much money to take with itself in Montenegro?
How much does it cost to vacation in Montenegro in 2022? We calculate it by ourselves.
To calculate the cost of holidays in Montenegro, you need to add up the price of round-trip airfare, the price of accommodation, excursions and cab from the airport and back. Let's look at each item of expenditure.
The price of airfare to Montenegro strongly depends on the region and the airline. The cheapest flights are from Moscow. In a separate article I talk about prices from different regions, and how to find tickets to Montenegro at a good price. On average, a round trip ticket for one person will be 20 thousand rubles.
Prices for housing depends on the type of housing, proximity to the sea, the resort of Montenegro, where you will vacation. On average, a good apartment in the second or third line can be rented for 40 euros / day. The price for an apartment closer to the sea will be from 70 euros / day. Learn more about how to find a place to stay in Montenegro.
The prices for excursions are also different. Individual tours are about 200 euros per car (in rubles it's 16 thousand rubles). Group bus tours cost from 20 euros per person (in rubles it's 1600 rubles). List of tours, which is worth visiting →
The cost of cabs from the airport and back greatly depends on the city on the coast, where you will be vacationing. For example, from Tivat airport to Buda and back a transfer costs from 30 euros per car. From Podgorica airport to Budva and back will cost 100 euros. How to get from airport to the seaside hotel →
The price for car rental depends on the class of the car and the rental period. For example, you can rent a small car for 25 euros a day, and prices for convertibles start at 50 euros a day. You can read about the nuances of rental cars in Montenegro in a separate article.
Organize a budget trip to Montenegro for two people for 7 days can be organized for 70 thousand rubles. This amount includes budget accommodation, cab to and from the airport, and one group tour.
You can arrange a more comfortable holiday for two people for 7 days with a rental car and a good place to stay for 100 thousand rubles.
With a budget of 140 thousand rubles for two people a week will get a very comfortable holiday in Montenegro with accommodation on the first line and a car rental for the whole vacation.
Now let's figure out how much money to take with you to Montenegro for food and various expenses.
7 ideas how to save money during a vacation in Montenegro
Rent a car with pickup and drop-off at the airport – this will save the cost of a cab to/from the hotel. Show car prices →
Cook by yourself at home or buy ready-made food. For example, in a store a kilo of mussels costs 2 euros, and in a restaurant for 0.5 kg you will have to pay from 5 to 7 euros.
In Montenegro there are meat stores (mesars) where you can immediately grill bought meat. Also, next to some stores there is a grill, and there they also cook meat on the rotisserie. For example, in Tivat they are Queen Supermarketi stores.
Do not buy fruit in stalls on the street. I've caught sellers at twice the price several times and now I avoid them.
Come to the beach with your own bedding and don't rent a sun lounger. Another option is to relax on wild beaches.
Use free wi-fi in cafes/restaurants and don't buy a local sim. The cards can be cached in advance and you can use them offline.
Think about what excursions you want to take, and take them all at once. If you buy 3 tours at once, 3% discount. For 4 excursions at once – 5% discount. For 5 tours – a discount of 7%. For early booking you can get a 10% discount. See list of excursions →
The most radical way to save money is to move your vacation to May or September-October. These months are not considered a high season, and recreation prices will be cheaper. Traditionally in June, July and August the prices for recreation are maximal. When is the best time to go to Montenegro?
Prices for food in cafes, restaurants and street food in Montenegro
Food prices in restaurants are plus or minus the same. My average expenses are as follows:
Scrambled eggs with 3 eggs, bacon, bread, pickle costs 3.5 euros.
Full breakfast with coffee for two 12-15 euros
lunch for two 15-30 euros
cappuccino 1.5 euros
Freshly baked goods in the bakery: croissant/strudel 0,70 €, pizza 1,5-2 €
⚠️ In Montenegro it is customary to leave a tip (about 10% of the bill), and this is an important rule of local etiquette.
Restaurants often have huge portions. There were a few times when I physically couldn't finish my meal and there was still half of it left, and the waiter himself offered to wrap the food for me to take home. Later I learned that this is normal practice in Montenegrin cafes.
Examples of prices in restaurants: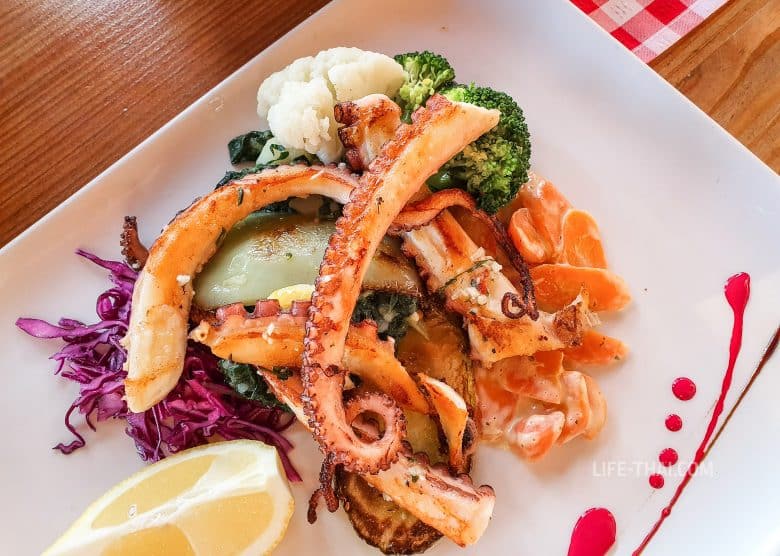 Hobotnica on the heat or grilled squid at a restaurant in Herceg Novi costs 12 euros. This is a full dish with a side of vegetables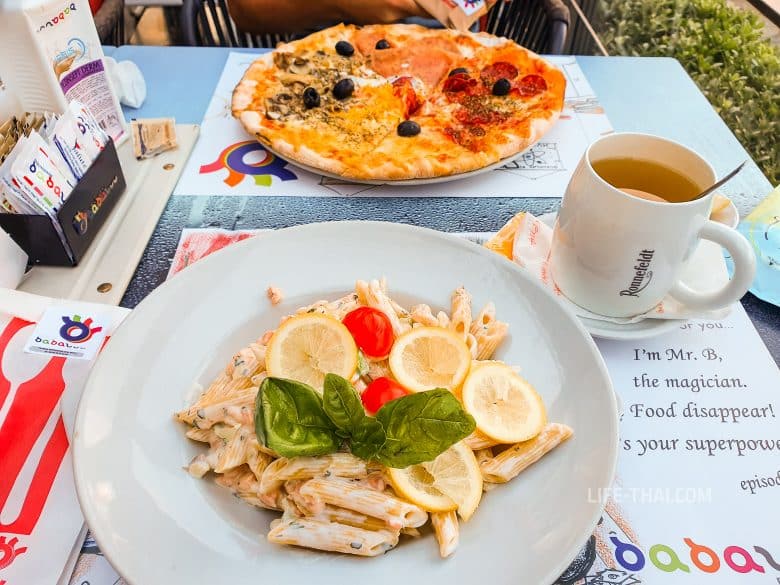 It cost 20 euros for dinner for two at Babalu restaurant in the center of Budva. And the portions are so huge that neither my husband nor I could finish it.
You can save money on food, if you buy ready-made meals in stores or eat in canteens. The departments with ready-made meals are in some stores Franca, Mega, HDL.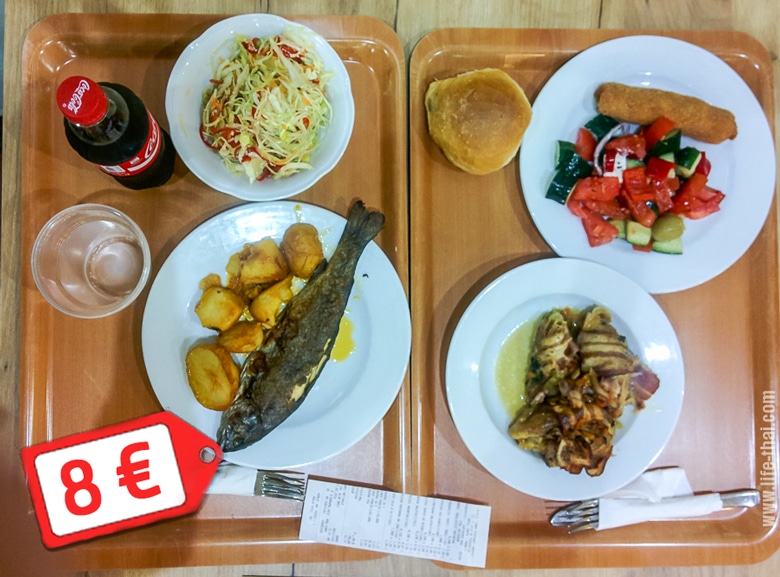 The cost of such a meal for two in the dining room is only 8 euros.
Almost every city has its own budget restaurant where locals eat. In Budva it is "Kuzhina", in Bar "Gradski restaurant". Prices there are very budget, but do not expect anything special from the food.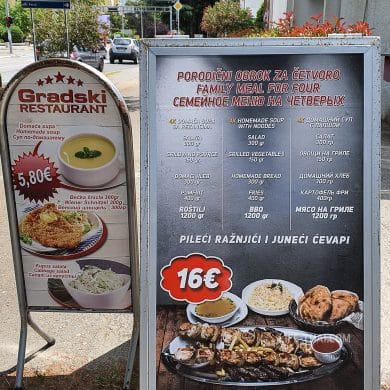 A family menu for 4 for 16 euros is a very generous offer.
The cheapest way to grab a bite is to stop at a bakar and buy some pastries there. In addition to traditional bakeries, there are many burger and gyros in Montenegro lately. It's not the healthiest food, but it's very budget-friendly.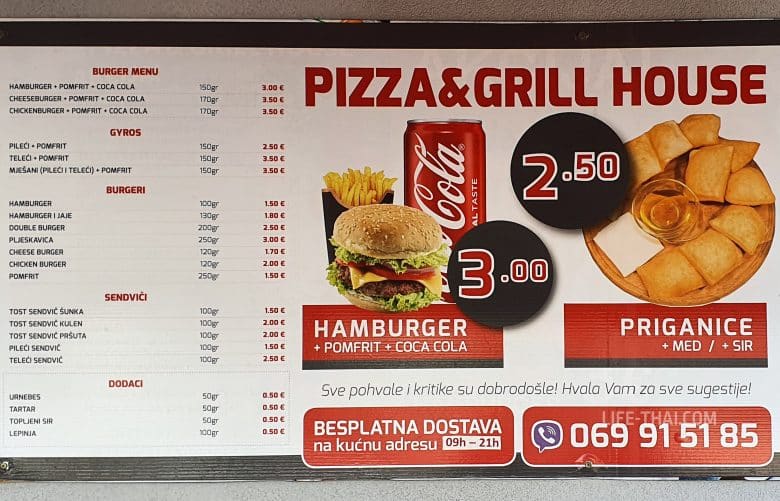 A burger with a Coke at the Bar costs only 3 euros.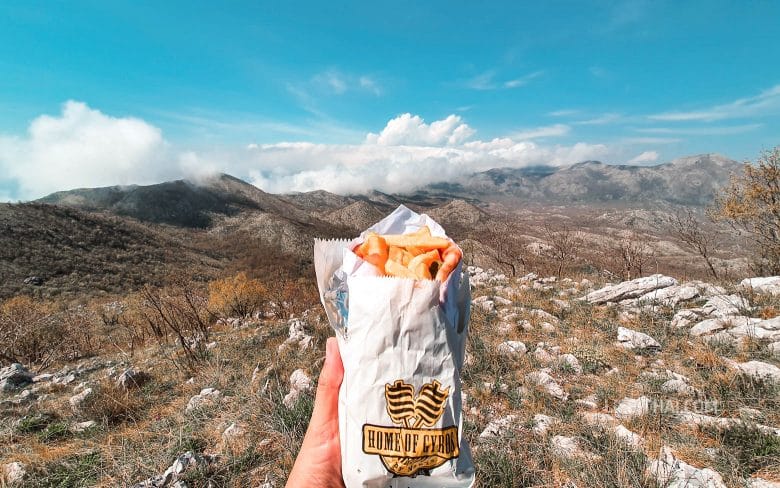 This super hearty gyros with meat and fries costs 3.30 euros at Home of Gyros in Budva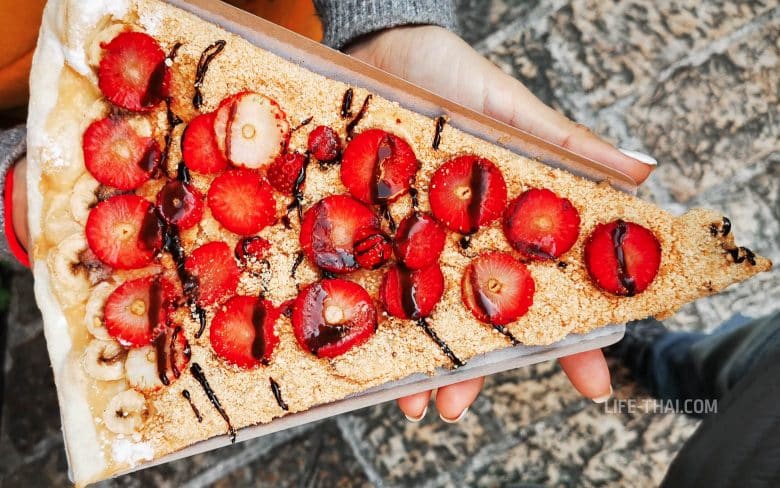 A slice of pizza like this in Budva's Old Town costs 2 euros
Prices for food in stores in Montenegro
Food in Montenegro is inexpensive and delicious. A huge range of pastries, meats and pasta. I like the fact that the stores are constantly some action and discounts on products. To get the price in rubles, multiply by about 80:
Fresh trout costs 5 euro/kg.
Dorado 10 euro/kg.
Mussels 2 euro/kg
Fresh shrimps 10-15 euro/kg
Beef €3.69
Pork – 2.69 euros/kg
Chicken thighs 3 euro/kg
Eggs from 0.9 euro to 1.3 euro per dozen depending on the size
Olive oil from 2 euros/liter, extra virgin oil from 5 euros/liter
Penne (pasta) Barilla 2 euros/kg
One liter pitted green olives from 2.29 euros
Potatoes 0.5 euro/kg
Alcohol prices are as follows:
Wine from 2 euros
Niksiczko, Tuborg Beer – 0.7 euros for 0.5 l
Vodka "Absolute" 0,7 L costs 15,5 Euros, "Russian Standard" 0,7 L costs 14 Euros
Johnnie Walker Red label Whiskey 0.7l costs 19 euros
More prices for different products in the photo (click on the photo, it enlarges):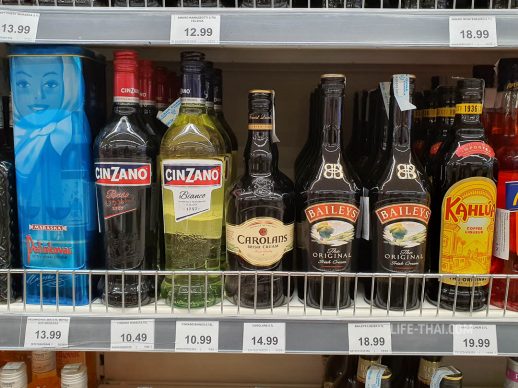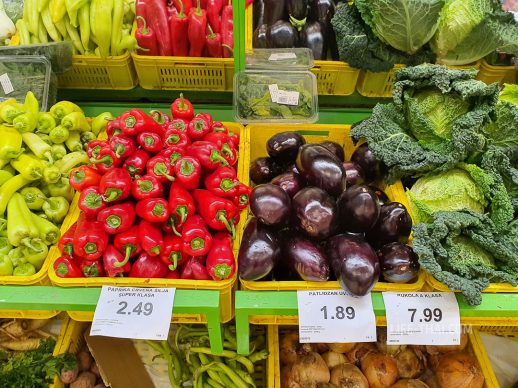 Which store is better to buy products? In Montenegro there are several chain stores. Their prices are about the same, but the assortment is different:
HDL – large supermarkets with the most democratic prices and a huge selection of products.
Voli, Franca, Mega, Idea are often small shops with a similar assortment.
In Idea there are some vegetables, for example asparagus, which are not available in other stores.
In Franca, Mega and HDL there are departments with ready-to-eat meals.
I buy seafood and fish at Montefish (there are 2 stores in Tivat) or from locals. For example, I buy mussels (2 euro / kg) and oysters (1.5 euro / item) at Milos' farm in Držin Vrt.
How much money to take with itself in Montenegro?
The biggest expense on vacation is food. If you eat not only in restaurants, then on average for two people a day will go 50 euros for food. For a week that's 350 euros + 10% tip = 385 euros.
What additional expenses could be incurred?
If you rent a car, you will have to pay for it:
Parking. Parking costs from 0.4 euro/hour to 5 euro/hour.
Toll roads. Although there are only two, and they cost 2.5 euros each, but still.
Gasoline: 95 €1.10, 98 €1.05, diesel €1.
Car wash. I spend about 7 euros to wash my car well at a self-service car wash.
Expenses for transport also strongly depend on what you'll move around by:
A shuttle bus from Budva to neighboring villages and towns costs from 1-5 euros.
Intercity buses cost 5-10 euros.
Renting scooters costs from 20 euros/day.
Cab prices start at 3 euros and go as far as the cab driver's imagination allows
Rental of sun loungers.
Beach activities (jet skis, bananas, etc.).
Admission to museums, fortresses, water parks.
Souvenirs.
So how much money to take with you to Montenegro? For all extra expenses it is worth allocating 20-30 euros per day. This is to buy water, and ice cream, and wine for the evening. That is another 140-210 euros (10400 – 16800 rubles).
To sum up. Holidays in Montenegro for a week for two people will cost:
Budget option: 100 thousand rubles or 14300 rubles per day.
A comfortable option: 150 thousand rubles, or 21500 rubles a day.
Very comfortable option: from 220 thousand rubles or 31000 rubles a day.
The resulting amount includes everything – flights, accommodation, meals, transportation, tours, and entertainment.
Let me remind you that everyone has his own requirements for recreation, and these figures are approximate. You can have a much more budget-friendly vacation by buying a ticket from "Pobeda" for 1,200 rubles and eating gyros. And you can fly "Aeroflot", live in a 1 line by the sea and eat oysters for breakfast.
More useful articles about vacations in Montenegro:
Hi, my name is Tatiana, and I'm happy to see you on the Life is Unpredictable! blog. I love to travel, and on the blog I share my experiences, tips and other useful notes.