Panjin Red Beach, a natural wonder in northeastern China
Whether it's your first time setting foot on Chinese soil or you've lived in the country for several years, traveling in China is a great way to learn more about the culture, history and life of our Chinese contemporaries. With the help of our China Travel Guide project, you can not only expand the geography of tourist places in the country, but also learn local best practices. Let's go?
Panjin Red Beach (红毯盘锦/ 盘锦红海滩)
Northeastern China, Liaoning Province, Liaohe River Delta is located 23 km from Panjin City (盘锦) in the Shuantai-Hekou National Nature Reserve entrance fee for each area: 80 yuan
Panjin Red Beach is one of China's most colorful natural attractions. Located in the province of Liaoning, it is positioned by the Chinese as the second largest wetland in the world, carefully preserved in its original form by man. Red Beach was the salvation of an entire generation of Chinese experiencing hunger in the 1960s: here you could hunt animals and fish, collect roots, stems and seeds from plants mixed with cornmeal.
Why Red Beach.
Sand is the first thing that comes to mind when we talk about a beach, but you won't find a single grain of sand at Red Beach, located near the city of Panjin in northeastern China. In fact, this is not a beach at all, but the name comes from the grass Suaeda prostrata, which grows on seashores and the shores of saltwater reservoirs. Sveda begins to grow in April, remaining green, but in the autumn takes on a rich red color. Therefore, to see the fantastic red carpet stretching for many kilometers, you need to come in the fall, in September or October.
The place, open to tourists, is only a small part of the huge Shuantai-Hekou Nature Reserve (辽宁双台河口国家级自然保护区), covering 600,000 hectares. The endless red fields are set in a reedy swamp with a unique ecosystem. The reserve is a major resting place for migratory birds traveling from Eastern Europe and Asia to Australia. Each year 250 species of birds pass through this reserve, of which 20 species are listed in the Red Book.
The soil at Red Beach is clay and wet, so there are wooden decks on high legs and observation decks along the red beaches for the convenience of tourists.
How to get there
The starting point for Red Beach is the city of Panjin, which is best reached from Beijing by night train. Or you can start your journey from Shenyang by taking the high-speed train to Panjin, with a travel time of 1.5 hours.
The Red Beach itself is not easy to get to by public transport. The fact is that it is divided into two zones, each of which requires a different ticket. The distance between these zones is very large. Bus takes you only to the entrance of the park, but from the entrance to the red beach is a long way to walk. Most likely, you will be offered their services by private tuk-tuks, but they are not always there.
The easiest way to see Red Beach is to take a day trip to local travel agencies in Panjing or Shenyang. Or rent a cab for the day, no money is charged for cab fare to the park, and the driver will show you the most picturesque places.
How to get around the park
Red Beach Park consists of two areas:
Gallery (廊道) was opened in 2015, all sightseeing areas are along the same road, many long bridges, there are areas just with the sea or with rice paddies.
Liaohe River Delta (辽河口) – here, in addition to the red fields you can see other landscapes, there are areas overgrown with reeds, which look like a green-gold sea, shimmering waves in the wind.
The entrance fee to each zone is 80 yuan. One day is enough to visit both areas.
Where to Stay
You can stay overnight at one of the hotels in Panjing, but there are virtually no offers on English-language websites. A wide range of hotels can be found only on Chinese sites, such as Ctrip.
What to do
Marvel at the space scenery and breathe the clean sea air. Walk on sun-whitened wooden bridges and watch lots of little crabs living in the wet soil. Take a boat ride among the red fields. Stay until evening and admire the sunset.
Other editions of the Magazette's China Guide:
Wǒ ❤️ Magazeta
Did you enjoy our article? Maybe it will be interesting for your friends – share it in social networks (just click on the icon at the bottom of the page).
If you want to keep up with our news, subscribe to Magazeta in fb, vk, twitter, google+ and our WeChat account – magazeta_com.
Author: Elizabeth Kirina
A physicist by training, she worked a lot in the field of light and electrics, and in 2011 she went to Shanghai with her family. She loves traveling and photography. She has been to different parts of China and never ceases to be amazed by the beauty of this country. In China photography turned from a hobby into a profession. www.kirinaliza.com
1 Comment
How to get from Vladivostok to Panjin? If you go via Beijing to, somewhere horn… Can I get by bus in China…for example from Hunchun. Plniruyu trip to September something like 22-23 numbers.
Red Beach in Panjing, China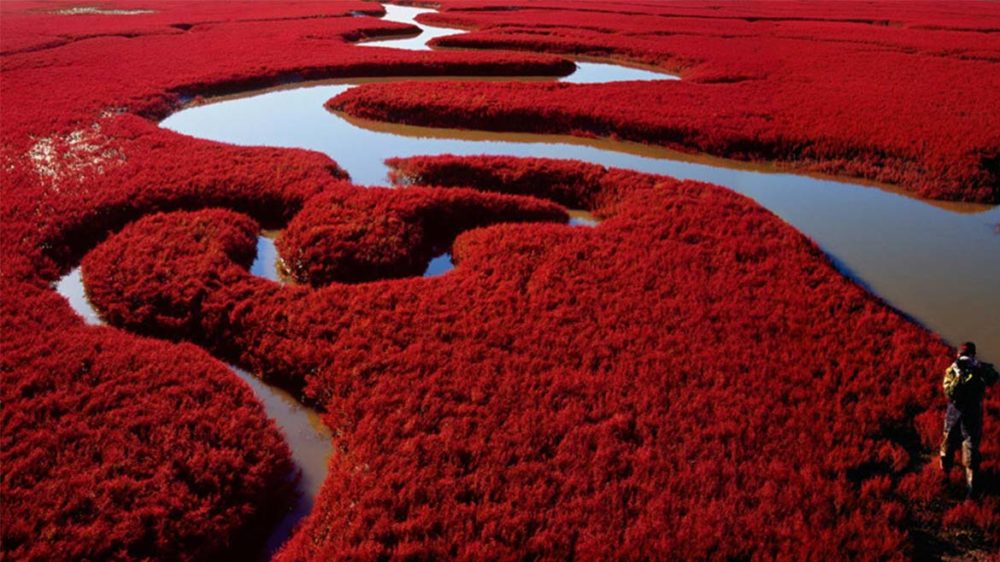 Where to go
Another fabulous place where we will go today will be Red Beach in Panjin, China.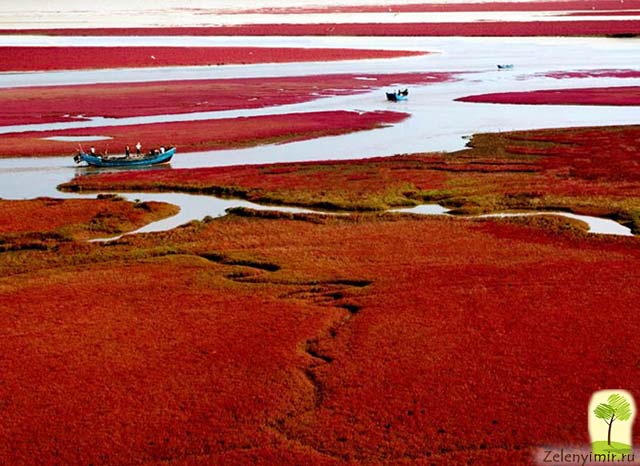 Where is Panjin Red Beach
Panjin Red Beach is a beach in China that is located on the Liaohe River, about 30 kilometers southwest of Panjin village.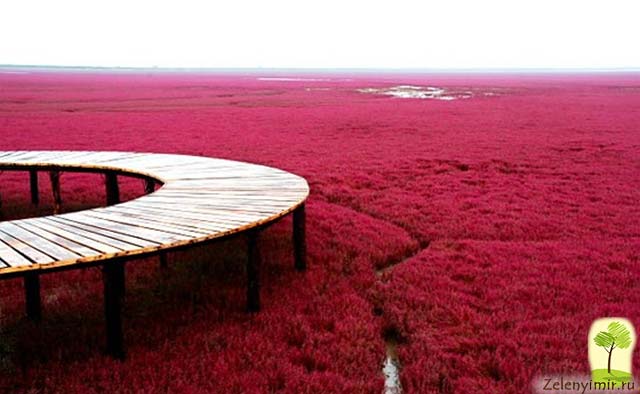 The red beach is not an allegory at all, just like the glass beach. Such an unusual name and color the area received because of the special algae.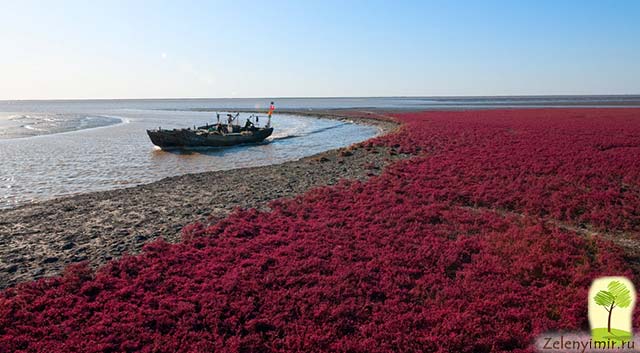 If you are in China, you should definitely take the time to visit Panjin and Shanghai. You can't go without it. It is a favorite city for tourists.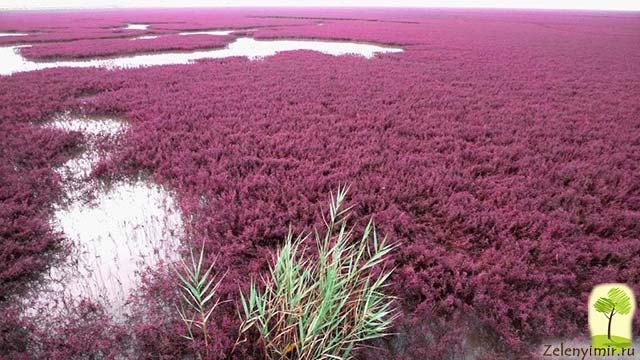 Why is the beach red?
So why is the beach in China red and not purple, beige, or green?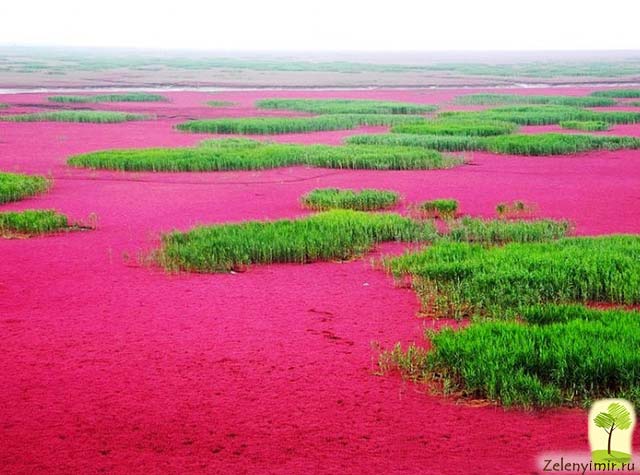 Red algae are creatures that live in the water column. It is a kind of sea grass. Only the grass is not green, as we are used to, but bright pink.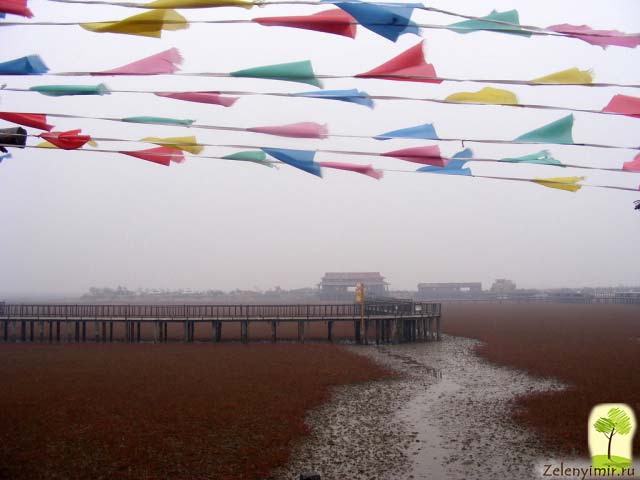 Why are they so red?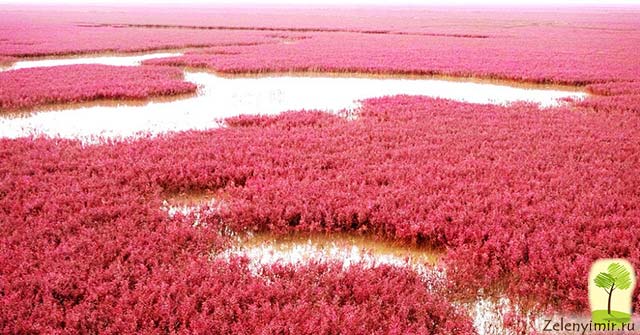 Yes, simply because their organization is inherently very interesting: the algae absorb all the sun's energy and are "content" with all the ultraviolet rays.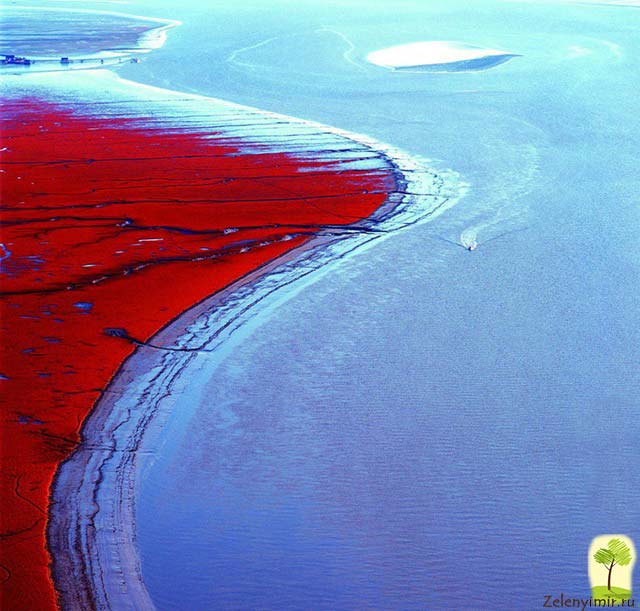 You know, the advantage of these algae is not only that they cover the beach with such a beautiful carpet. They are also very useful for us: they make us all known agar-agar.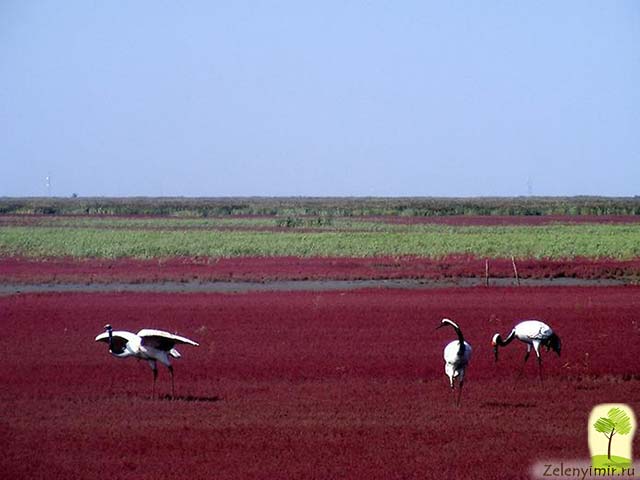 Algae resemble crocheted lace. Red lace made of thin cobwebs.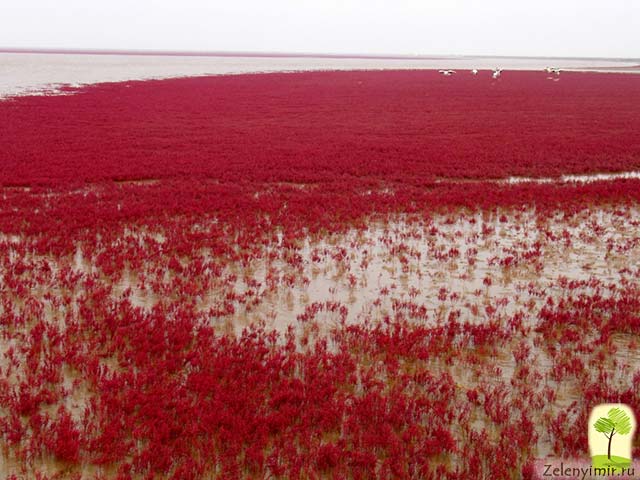 When is the best time to visit the Red Beach in China
Nature looks most "bloody" in the fall. Since the algae begin to "develop" in the spring, just in time for the fall, a "bloody" carpet grows out of the green, at first glance, most ordinary shrubs.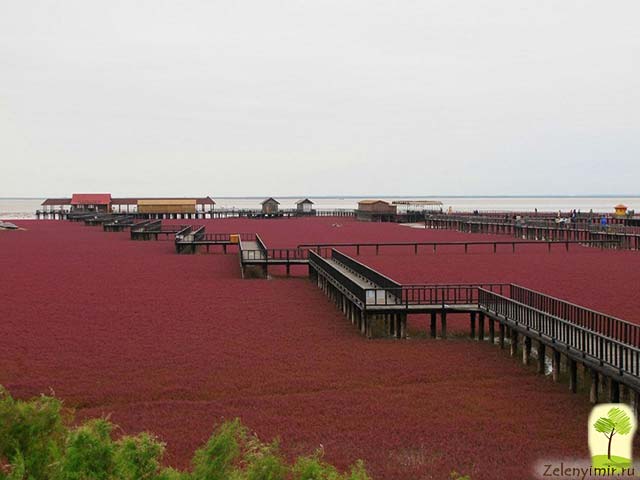 Red algae are the main reason for the popularity of Panjin red village among tourists. They attracted and continue to attract tourists even from the opposite corner of the world.
Perhaps you will be interested in the very popular Hobbiton Village, which we have already written about.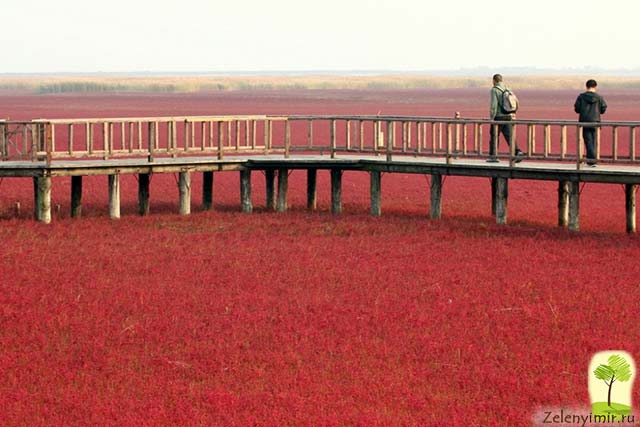 Even the fact that only a small part of the area is open to the public doesn't bother you.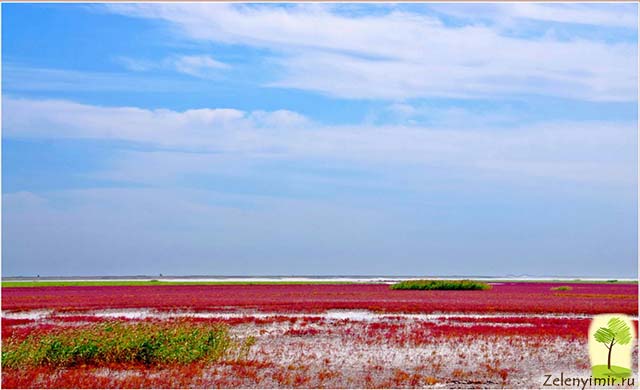 You can't say that in this small area you can enjoy all the power of the beauty of this place…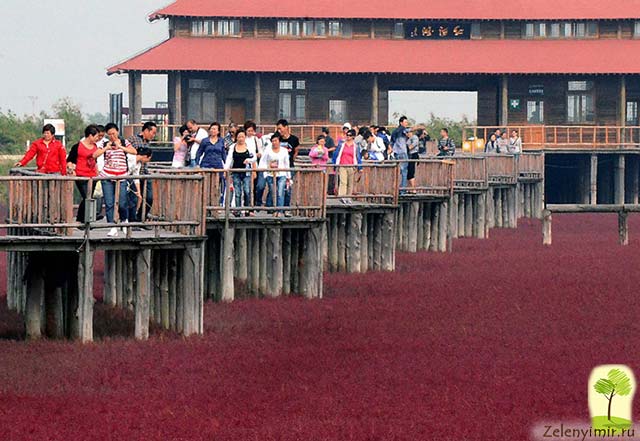 And imagine how unusual, magical and at the same time strange the beach looks from a bird's-eye view.
It seems as if a divine goblet of wine spilled on the shores. As if someone, probably a great painter, carelessly sprinkled scarlet paint on the "canvas".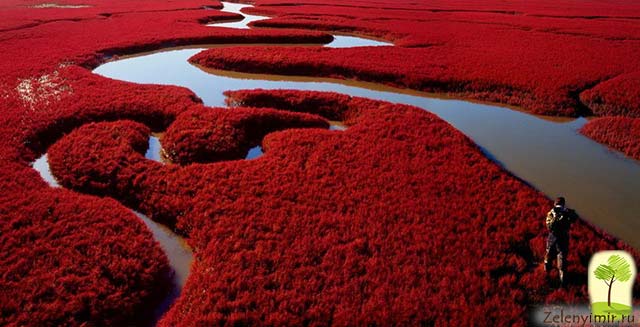 This is a place that will remain in your heart forever.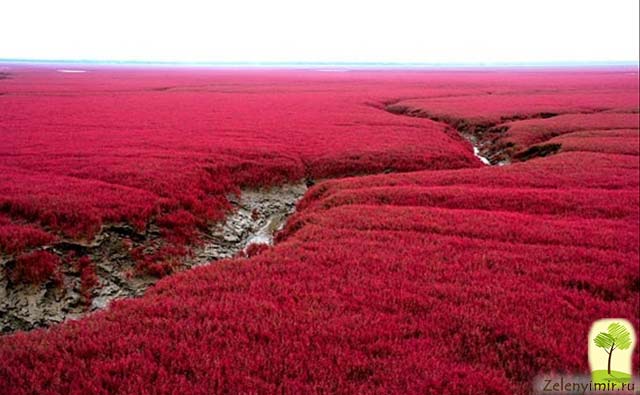 It will take you to a fairy tale. Take you to a place where you imagine yourself as Assol, waiting on a scarlet shore Scarlet Sails.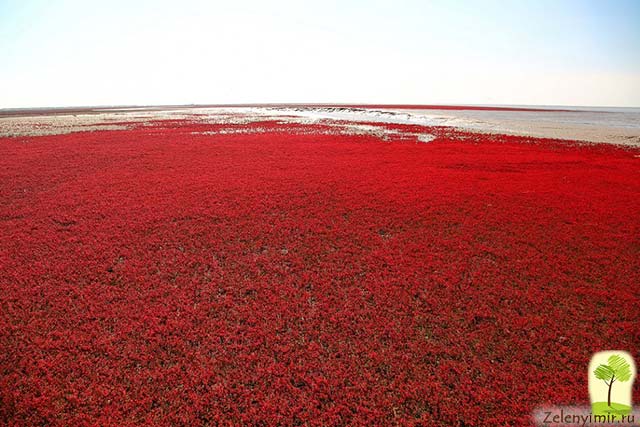 Do not be lazy, do not lose a minute and go on a fabulous journey with us. And you will not regret it.