Rent a car in Italy – 2022: prices, conditions, tips
We're talking about car rental in Italy in 2022: where to rent a car cheaply, how much it costs to rent a car from international and local firms, what documents are needed, what to look for.
Popular car rental places:
Rome / Rome airport
Milan/Milan airport
Rimini
Bari
Where to rent a car in Italy
You can rent a car from one of the international companies or look for local firms
Most tourists visiting Italy prefer to rent a car through a popular service Rentalcars – it allows you to compare prices from all major rental companies and find favorable options.
According to drivers' reviews, it is cheaper, safer and more reliable. Among the companies represented on the service of car rental in Italy the best reviews are Hertz, AVIS, Maggiore, Sicily By Car.
Travelers rarely turn to local car rental firms in Italy. Among local companies we can single out Locauto, there are many positive reviews in the network.
Photo: © fourthandfifteen / flickr.com
Prices for car rental in Italy – 2022
Many factors affect the rental price: car class, gearbox type, rental duration, seasonality.
International companies
Average car rental prices in Italy in 2022 through Rentalcars:
Small cars (Renault Clio, Fiat 500) – from 14 euros (on average about 20 euros) per day;
medium cars (VW Polo, Ford Fiesta) – 20-23 euros per day;
roomy cars (Citroen C4 Picasso, Renault Scenic) €23-30 per day;
minivans (Opel Vivaro, VW Caravelle) – 80-120 euros per day.
These figures are valid for cars rented for 10 days and more. The longer the term, the lower the prices.
From the end of December to the end of March the cost of car rent in Italy can grow by 20-30%, but almost at any time of the year you can find great deals that allow you to rent a car at 30-40% cheaper than the usual price.
Local companies
The cost of car rental from Italian rental company Locauto (if you are afraid to contact directly, you can book a car from them through Rentalcars):
small cars (Fiat Panda, Renault Clio) – 18-20 euros per day;
middle class (Toyota Yaris, VW Golf) – 21-25 euros per day;
capacious cars (Volvo V40) – from 32 euros per day;
minivans (Opel Vivaro 9PAX) – from 83 euros per day.
Necessary documents
To rent a car in Italy you need only 3 documents:
Passport
Driver License
Credit card (for blocking the deposit)
Debit cards like Visa Classic are widely accepted but it is better to clarify this point with a car rental company in advance. In any case, if you use a debit card, you should have the full amount of the deposit and the deductible on your account.
In addition, each company may have its own conditions regarding the age of the driver and his experience – carefully study the requirements before proceeding with the booking. As a rule, the renters require the age from 21-24 years old and the driving experience from 1-3 years.
Photo: © Joi Ito / flickr.com
Bail and deductible
All companies offering cheap car rental in Italy in 2022, will require a significant deposit from you – the franchise from 1000 to 3000 euros, as well as a deposit of 500 to 1500 euros.
These sums can be reduced by registration of full insurance – then the cost of renting will increase by about 15-30 euros a day, but the deductible and the deposit will be much lower.
Advice: It is recommended to buy the maximum possible insurance policy, as it is quite difficult to park in Italy and rented cars can easily get scratched. In addition, the car can simply steal – in Italy it happens quite often (which is why such a huge deductible).
Driving features
A brief list of things you should know before renting a car in Italy:
Renting a car in Italy.
Find out how easy and safe it is to rent a car in Italy in 2022. Where it's cheaper to rent and how to save on insurance. Features of roads, traffic rules and parking. Tips and reviews of tourists.
Content:
Where it is better to rent a car in Italy
In Italy, there are enough places where you can rent a car.
Airports . Very popular rental firms at airports. In these places car rental in Italy is cheap. Prices are lower and the choice of cars is greater than in the city offices. It is convenient to rent a car after arrival. The paperwork takes a little time and you can go!
Train stations . In Milan, Genoa, Rome, Florence and other cities, through which trains pass, there are also firms that rent cars. True, their prices are 5-10% higher than at the airports.
Websites . If you want to save money and time, rent a car for trips around Italy at Rentalcars.com. You can pick up and drop off the car at the airport.
Tip . Cheap car rentals in Italy are available through local firms rather than international rental offices.
Val di Fassa Valley (Photo: Antelao / pixabay.com)
Features of car rental in Italy
License. To rent a car in Italy, you need a national and international license, where the last name and first name are written in Latin script. In addition, you will need a credit card with at least 500€ on it. This money will be frozen for the duration of the rental.
Experience and age. The client must have at least one year of driving experience. Some companies set the minimum age for the driver to be 21 or even 23 years old.
What car to take. It all depends on preferences. Some people are satisfied with a small economy car, others want to drive around Italy in a luxury car. In the winter the sedan is popular, while in summer many are seduced by a convertible. A small car is more convenient for trips around the city, and for travel in the countryside – a more spacious car.
What is necessary before renting a car in Italy
Prices for car rental in Italy
Car rental companies accept payment with a bank card, which is registered to the driver. Prices depend on the brand and class of the car, season, additional equipment, amount of insurance, level of rental office and many other factors. Pretty cheap car rental in Italy is during the off-season and winter. In summer the prices are 15-20% higher. Automatic transmission and diesel engine drive up the rental price by 20%.
How much does it cost to rent a car in Italy for a week? Cheap cars cost 50-60 € for a Fiat 500, 45-70 € for an Opel Corsa and 160 € for a Volkswagen Polo. More expensive are the Renault Talisman €330, the Mercedes-Benz E-Class €490 and the respectable BMW 4 €700. See the current prices on Rentalcars.com.
At the customer's request, the car will be equipped with different equipment. Here are the prices for the most popular additions, per day:
installation of a child seat – from 9 €;
GPS navigator – 13 €;
Wi-Fi access – 10 €;
fixing skis on the roof – from 5 €;
winter wheels from 20€;
snow chains from 7€.
If the rental contract is for more than one week, only the first week of use is paid. Many companies give out free snow chains in winter.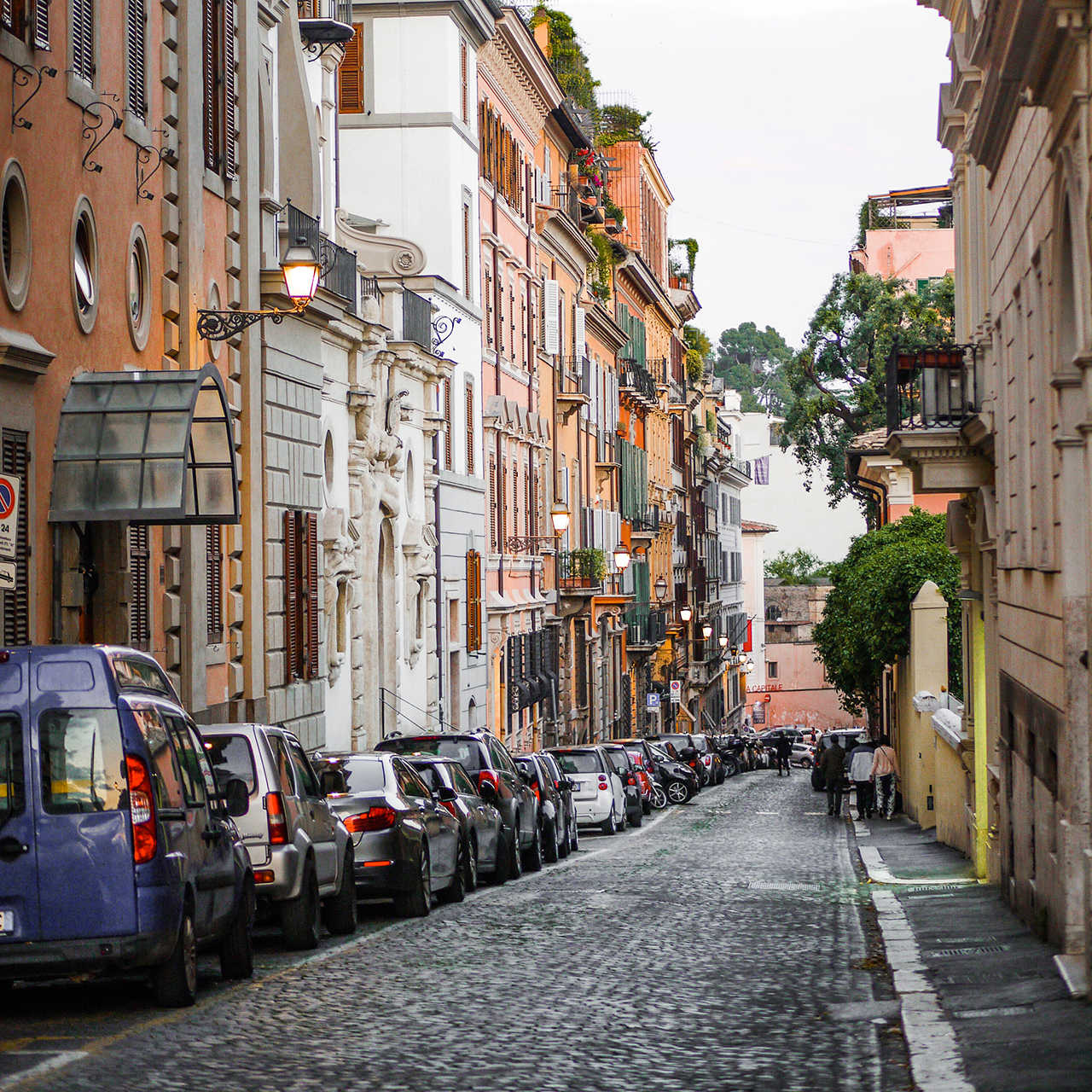 The narrow streets of Rome (Photo: unsplash.com / @sarah_elizabeth)
Car insurance
All rental cars in Italy are insured, but the amount is small. It doesn't cover the scratches the car can get from passing bikes and motorcycles. To compensate for possible losses, the car owner takes a deductible from the tourists. This is a deposit that is frozen in the account for the duration of the rental.
The amount of the deposit is 500-1000 € for budget cars and much more expensive for luxury cars. According to what tourists say the deposit often becomes a real problem. When they find scratches and chips in the car upon return, it is impossible to get the deposit back.
Is it possible to rent a car in Italy without a deposit? Yes, you can do without a deposit. You can get it in a rental company or on the Rentalcars.com website. You should pay about 80-200 € for a week. You will not get the money back, but you can be sure that the sum insured will cover all possible expenses for the repair of the car. If you only rent a car for a short period of time (up to a week), comprehensive insurance is better than a deductible.
There are cases where insurance does not cover the consequences of an accident. You will have to pay out of your own pocket if the driver was drunk. It is forbidden to hand over control of the car to a person who is not entitled to do so and is not listed on the lease documents. Under the terms of the insurance, it is forbidden to tow another car for repairs and to take part in a race.
Brescia (Photo: unsplash.com / @gigantfotos)
Is it safe to travel by car in Italy
According to tourist reviews, renting a car in Italy is not a hassle. Driving around the country is generally safe. In the cities and beyond it there are many narrow roads with one-way traffic. Drive carefully! You may see a scooter pull out of the car or miss a turn, and it will be difficult to come back.
Few locals speak English, so learn a few phrases in Italian beforehand. If problems arise, feel free to ask for help. Drivers and police in Italy are very responsive and will do their best for you.
Roads in Italy
Take a rental car through the picturesque surroundings of Rome, Naples, Florence, or to drive around Sicily – a pleasure. The roads in Italy are wonderful. The pavement on the main highways is always on top. Problem areas are only at the entrance to remote farms and beaches.
Toll roads . The only difference between toll roads and free roads is the speed of travel. Wherever there are toll highways, there are always free detours. The price toll depends on the type of car and is about 7€ per 100km.
When you enter a toll road you take a receipt for the payment. There are three types of toll booths for passing the checkpoints. At the toll booths with a yellow bar and the word Telepass you can pay for buses, tollbooths and toll-free or low-cost services. The blue self-service checkouts accept credit card payments and the white ones accept cash payments to the cashier or through a machine.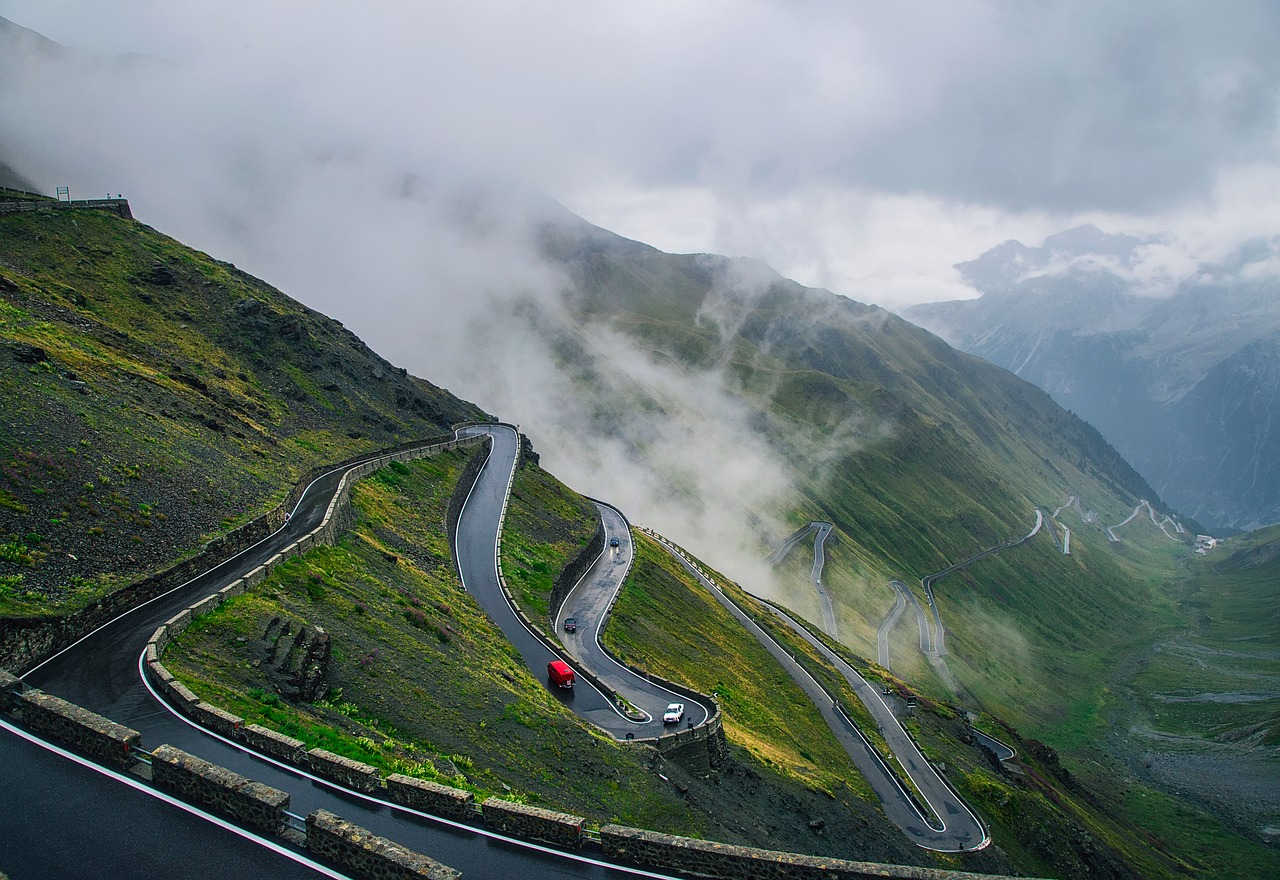 Serpentine in the Italian mountains (Photo: 12019 / pixabay.com)
Fines, traffic rules and signs . Condice della strada – Traffic rules in Italy are similar to those we are accustomed to in Russia. In the countryside, drivers must turn on dipped beam. For motorcycles, this requirement applies in cities as well. Children from 2 to 12 years old must be in special child seats.
Most Italian intersections are traffic circles. Drivers who are in circular traffic have the advantage. Anti-radar devices may not be used. For carrying them charge a fine of up to 3000 €.
After overtaking you must immediately take the right lane. Driving in the left lane is not accepted. There are no fines for not having a first-aid kit and fire extinguisher, but if you fail to produce a reflective vest and emergency parking sign, you may face serious penalties.
Here are the amounts of the most common fines in Italy:
Speeding – from 41€ to 3287€;
Driving through a red light – €162 to €646;
Overtaking on the right – 80€ to 308€.
Useful selection: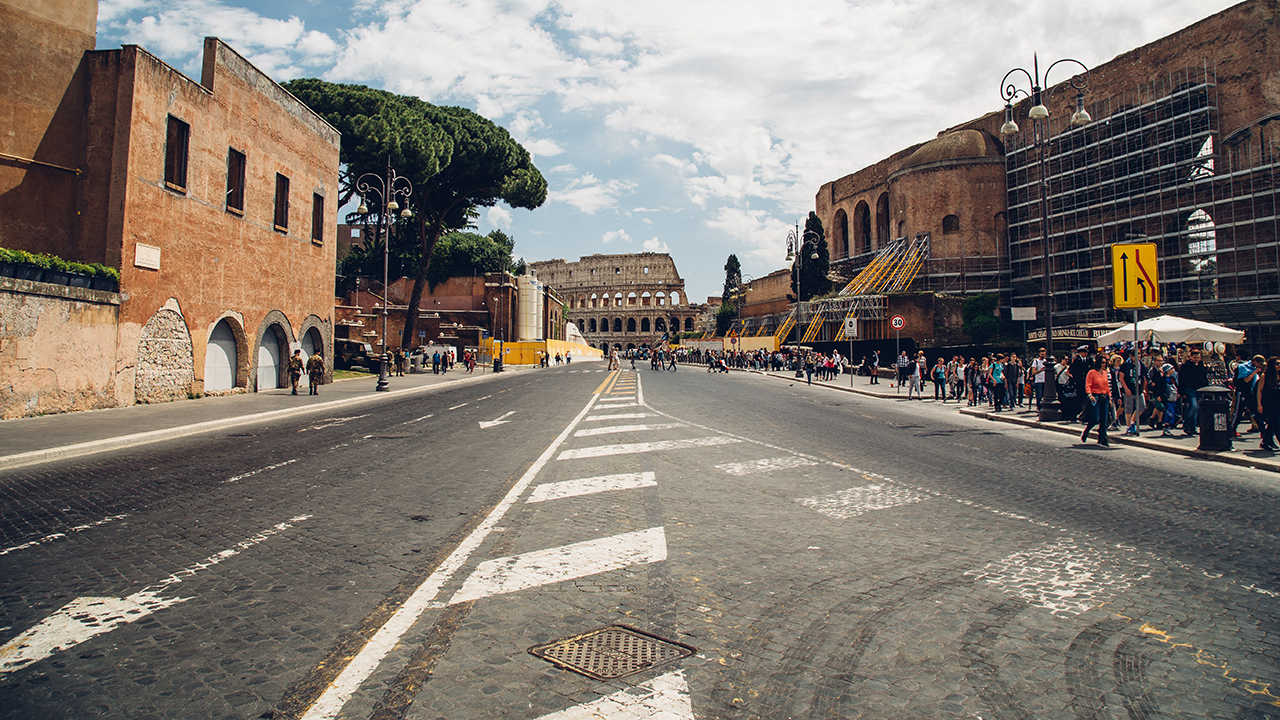 The road towards the Colosseum (Photo: unsplash.com / @superpippo)
If the violation occurred between 10 p.m. and 7 a.m., the fine is increased by 1/3. Fines receipts for car owners come in the mail, for rental cars come to the rental company. Even when you have already left Italy, your card may be charged. If there are unpaid fines, you will not be able to apply for the next Schengen visa.
In Italy there is little space for free parking, so tourists often park their cars wherever they can. Drivers who leave their cars under the Passo carrabile (no parking allowed) sign for a couple of minutes usually get a fine.
If you do not drive on the roads of large cities, you should carefully watch the "no parking" signs. Only buses and special urban transport vehicles may drive under the Zona traffico limitato sign, but not cars. This is the most common traffic violation in Italy.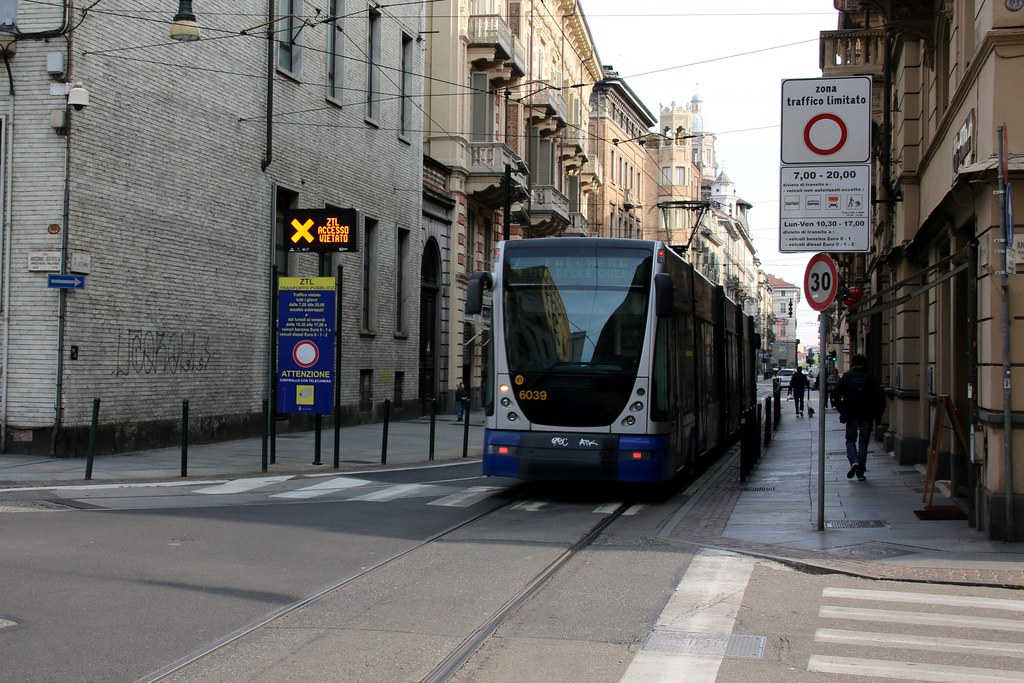 Zona Traffico Limitato in Turin (Photo: rouilleralain / flickr.com)
Speed limits and cameras . Under no circumstances increase your speed above the speed limit! In cities it is 50 km/h, outside urban areas it is 90 km/h. On public roads you may only drive up to a speed of 110 km/h and on freeways up to 130 km/h.
The traffic police – polizia stradale – work mainly in cities. On highways there are not many policemen, because the roads are equipped with a large number of registering cameras. Tutor radars monitor the speed of traffic around the clock.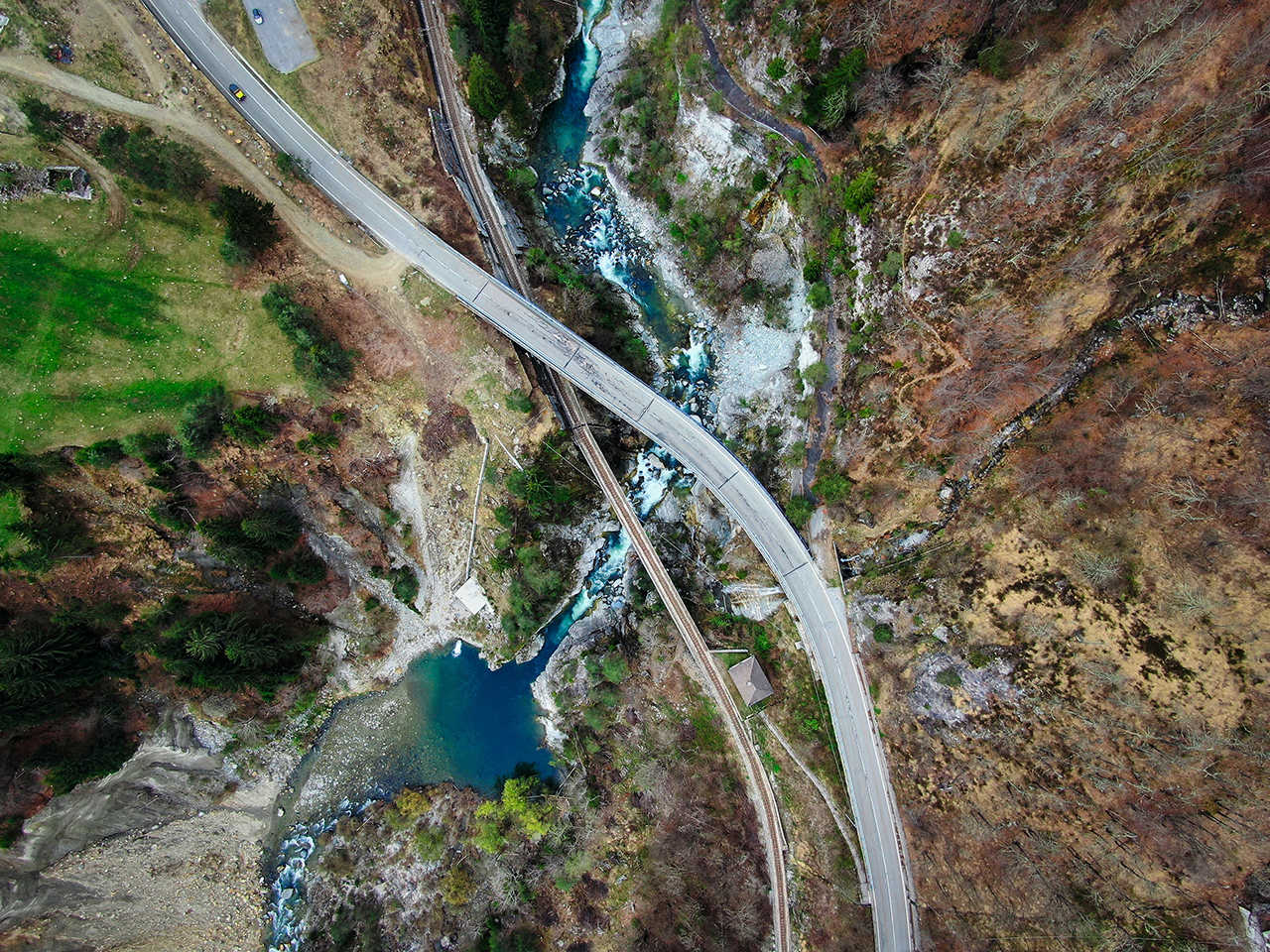 Bridge over Melezzo (Photo: unsplash.com / @nathan030997)
Police . Traffic police officers in Italy know their job. They do not take bribes, so there is absolutely no point in "negotiating" with police officers. If you do not want to get in trouble, do not fight or get angry with those who caught you in the act. A mitigating circumstance can be a child in the car. At the sight of children Italian police officers immediately become kinder.
Peculiarities of local driving. Italians are temperamental, determined on the roads, have excellent reactions and are excellent drivers. Their style is a bit aggressive, but they know traffic rules perfectly and have a negative attitude to violators and "mumsy".
Gas stations and prices for gasoline . Gas stations are everywhere in Italy, so the fuel problem is solved simply. Small stations may close during the day from 1:00 p.m. to 3:30 p.m. and not work on Sundays. In 2022, a liter of gasoline-95 costs 1.62€, gasoline-98 costs 1.64€, and diesel costs 1.51€.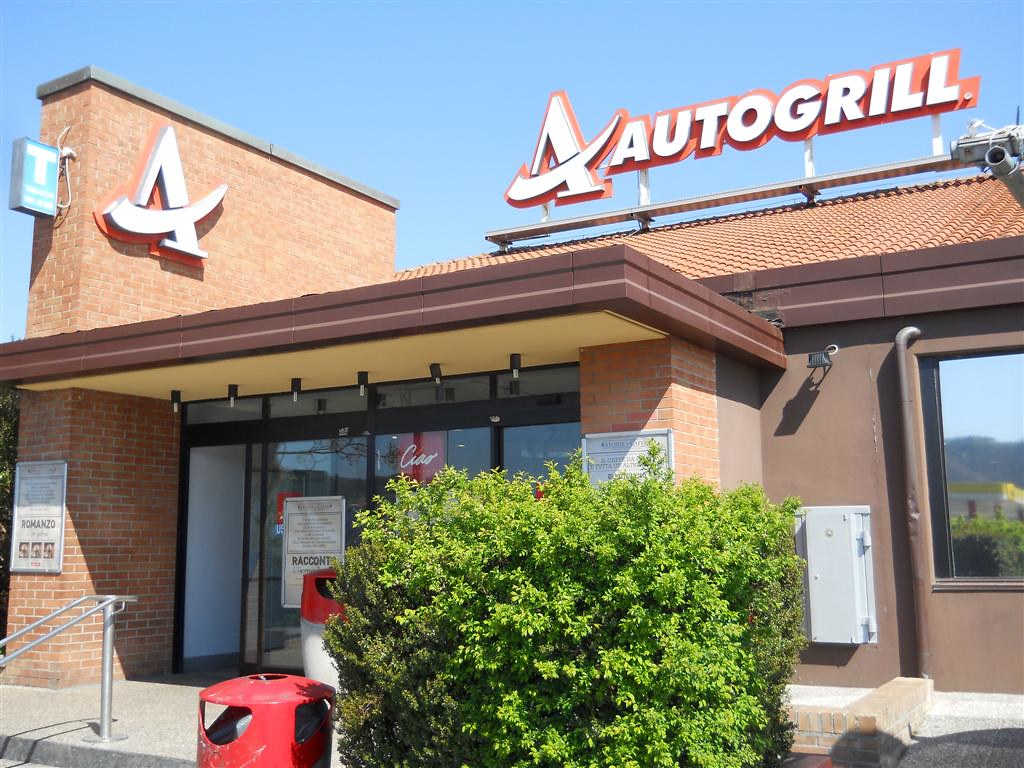 The popular AutoGrill gas station in Italy, between Pisa and the French border (Photo: BBuzz1 / flickr.com)
Parking lots in Italy
There are four types of parking lots in the country, and they are easily distinguished by color. Parking lots with white lines are free. However, each municipality has its own rules and nuances. For example, in Florence, free spaces are the privilege of locals, and tourists pay for parking at certain rates.
In Italian cities there are few free parking spaces, and it is difficult to find them. There are exceptions. In Florence you can park for free in front of Michelangelo square. But there are so many people who want to park for free that it is hard to find a free spot.
Parked scooters in Genoa (Photo: CandyGuru / pixabay.com)
The free parking lot may have a sign that indicates that it is allowed with a time limit. In this case, a cardboard parking disc, or disco orario . They are sold at gas stations and tobacconist's stands. Mark on the disc the time you arrived at the parking lot and place it under the windshield so that the numbers can be seen by a police officer.
Yellow lines indicate that the parking lot is designated for the disabled. Some cities have green parking lots. You can only park there on weekdays between 4 p.m. and 9:30 a.m.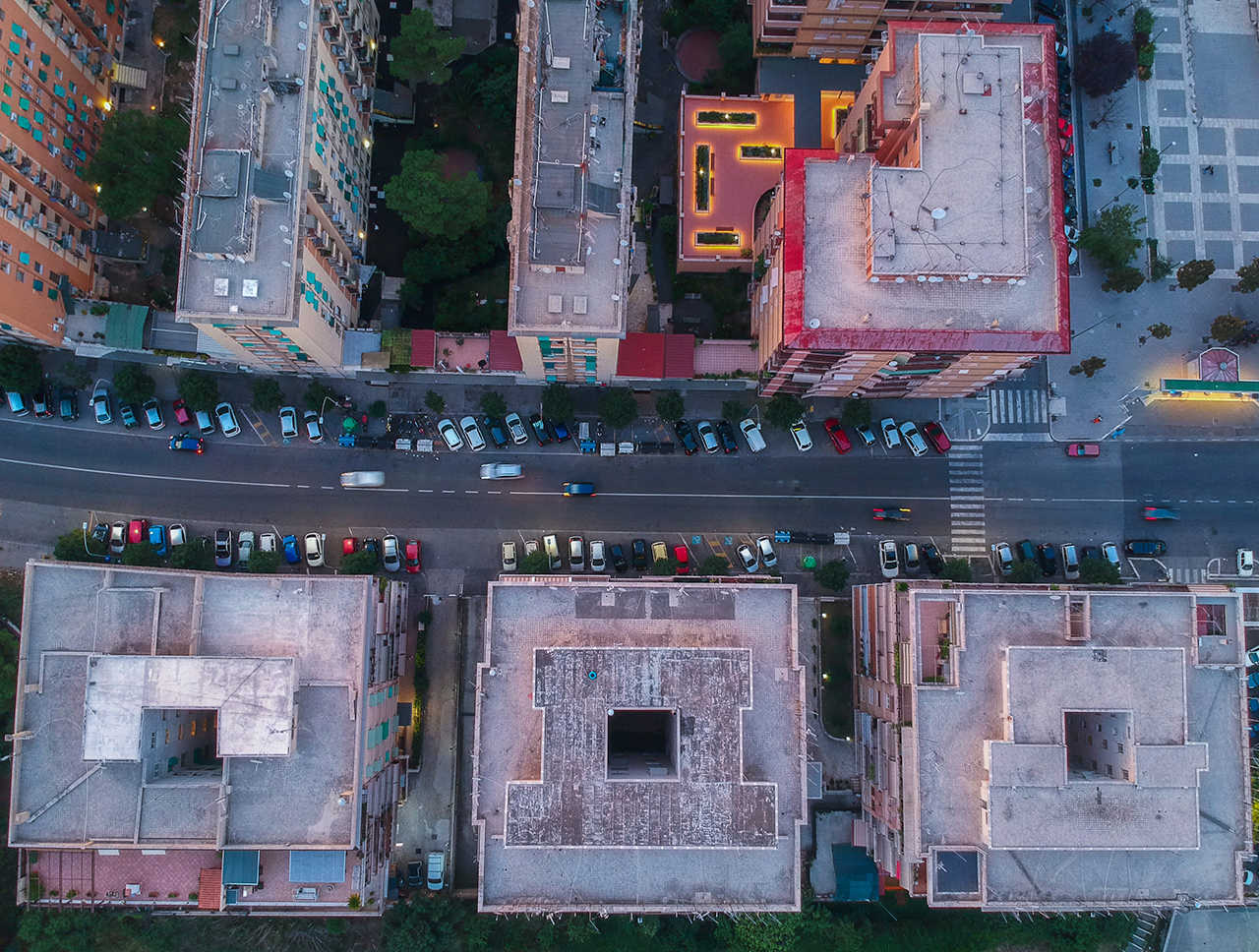 Parking pockets in Rome (Photo: unsplash.com / @ilferrets)
Blue lines are drawn on paid parking lots. Exact fares are listed on the parking machines. Prices range from 0.6-2€ per hour to 20-30€ per day. Payment is made in coins. The minimum time is one hour. Instructions for using the machines are written in English, Italian, German and French.
In large cities there are underground parking lots. When entering, the driver takes a ticket from the machine or from a staff member, and when leaving, returns it and pays for the parking time from the machine or to the attendant.
Tip . Read the signs carefully! The two crossed hammers in the parking lot tell you that restrictions only apply on weekdays. Parking is free on Sundays and holidays.
Dedicated cab stop area in Milan (Photo: IgorSaveliev / pixabay.com)
Car rental reviews and tips in Italy
According to most tourists' reviews, renting a car in Italy in 2022 is not difficult.
Pros :
Freedom of movement and the ability to build a travel schedule as you want. With a rental car you can easily turn off the main road and reach a remote beach or picturesque vineyards.
Traffic in Italy is calmer than in Russia. Rules are broken less often, and there is no rudeness on the roads.
The brand of car does not play a role in the organization of traffic. Everyone, including motorcyclists, enjoy equal rights.
The police are not corrupt.
Minuses :
Different communes have their own rules and traditions, and these nuances are difficult to understand. Parking fees and fines can vary not only from town to town, but also from street to street.
In Italy it is forbidden to use canisters to store fuel. Everyone is guided by gas stations, so you can't buy gasoline "in stock".
Here are tips on how to make traveling in Italy by car cheaper and more convenient: