7 great vacation rentals in Dubai from $50
I have chosen 7 great apartments that can be rented inexpensively in Dubai for daily rent, a week or other period. Telling you in which areas of Dubai it is better to rent an apartment. I give tips on how to choose inexpensive and comfortable accommodation.
– Hotels and apartments – tours in Dubai – excursions in Dubai.
Content:
Beautiful view studio.
Relatively inexpensive in Dubai, you can stay in a comfortable studio near the Palm Jumeirah, at the Amani aparthotel. It's a short walk from the streetcar stop that takes you to Dubai Marina and the monorail station that takes you to The Palm.
The studio is spacious, with a kitchenette and everything you need to relax: refrigerator, washing machine, coffee maker, microwave, silent air conditioning and a comfortable bed. A full-fledged apartment! The staff cleans every day. There is an outdoor pool, restaurant and parking.
The studio is for two people, but the aparthotel also has 1 or 2 bedroom apartments. Some have sea views and others have city views. A studio costs $140 in low season and $260 in high season.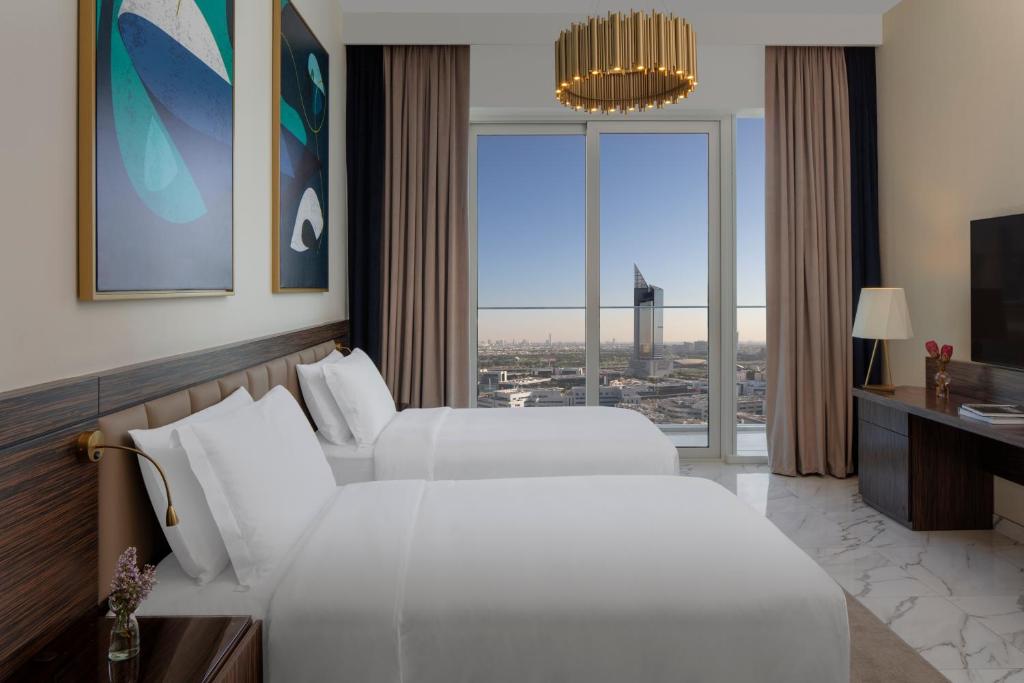 Studio.
Cheap apartments.
Want to rent an apartment in Dubai inexpensively? Then you have to compromise and stay in the not the most prestigious, but in its own colorful district of Bur Dubai. Savoy apartments with a kitchenette and a bath do not shine with stylish interiors, but they have everything you need for a comfortable stay. And if anything goes wrong, the super helpful staff is always there to help. You can have breakfast in the cafe on the first floor. A bonus is a free outdoor pool.
There is a subway station and the BurJuman shopping center about 10 minutes away on foot and an easy walk to the lovely Old Town. There is a free shuttle to the beach.
The prices with such quality and services are perhaps unprecedentedly low by Dubai standards! Apartments for two in the low season cost from $50, and in high season – $100. Nearby are two other Savoy complexes with similar prices: Savoy Central and Savoy Suites.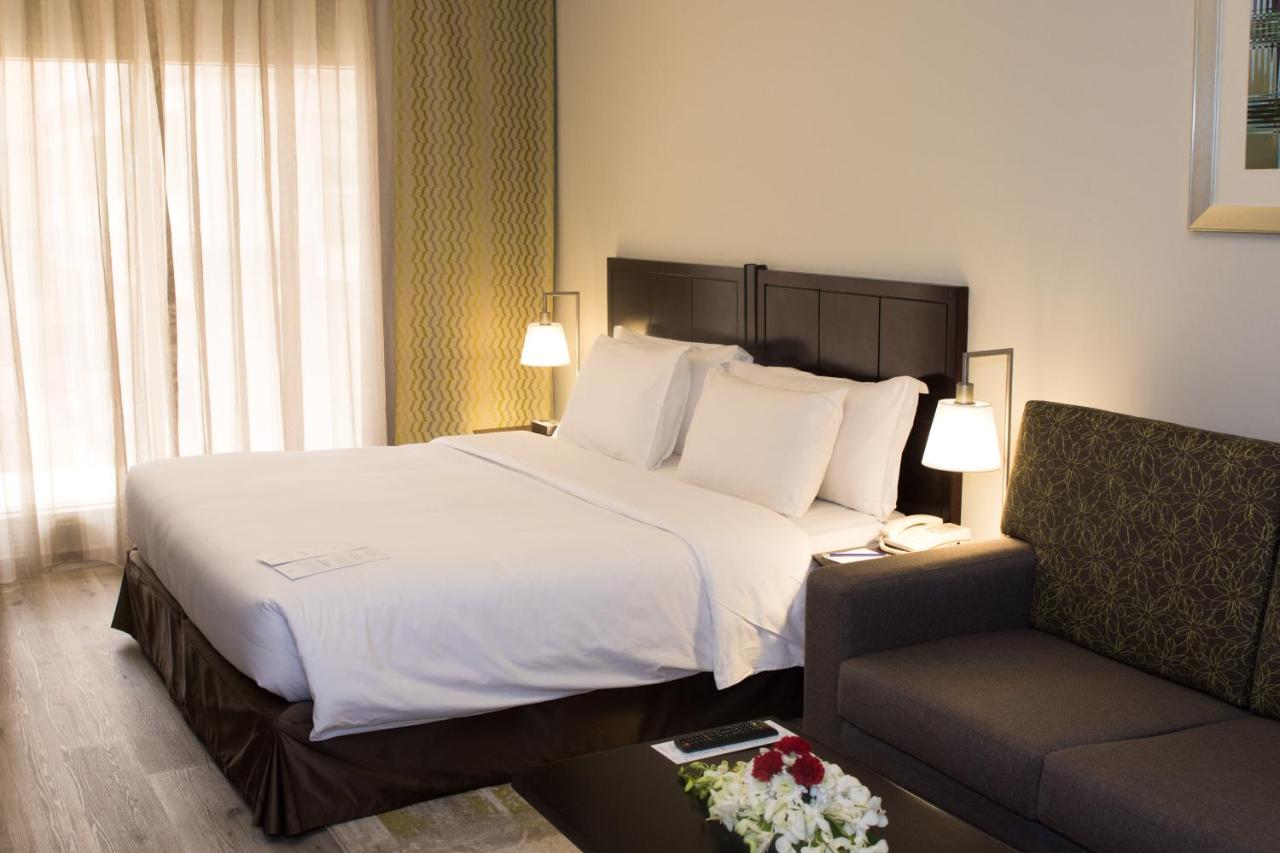 Inexpensive apartments in Dubai.
One bedroom apartments near the beach
Rent an apartment in Dubai for a week or more in a modern residential complex Jumeirah Beach Residence, which is located in the Dubai Marina. The beach is about 15 minutes on foot.
Apartments are stylish and fully furnished for a comfortable stay. And if something is not enough, the staff will help. Apartments are spacious: it has two bedrooms, living room and bathroom, so you can live as a family or a company. Complementing everything is a gorgeous view of the city, of course.
In low season, apartments cost from $160, and in high season – from $430.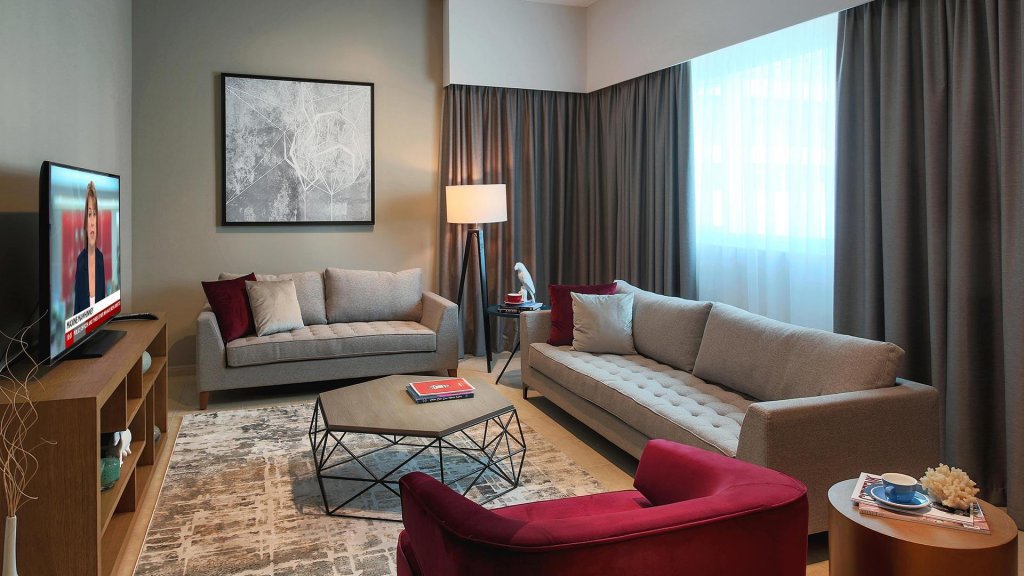 One bedroom apartments in Dubai Marina.
Apartments by the Dubai Fountain
If you're looking to rent an apartment in downtown Dubai, check out this cozy apartment in Downtown. It is a short walk to the Burj Khalifa skyscraper, the Dubai Mall and the music fountain. The apartment, which is on the 25th floor, has an amazing view of the city, especially at night. You can watch the show of the light and music fountain right from the balcony. Wonderful place to get to know downtown Dubai!
The apartment is nice, there is a bedroom, living room, kitchen with utensils and appliances, balcony, good Wi-Fi. The house has a gym, swimming pool, sauna, parking. Everyone praises the friendly owners.
Up to 3 people can live in the apartment. The apartment is very inexpensive for the center of Dubai: in low season – from $120, and in high season – from $240 per day.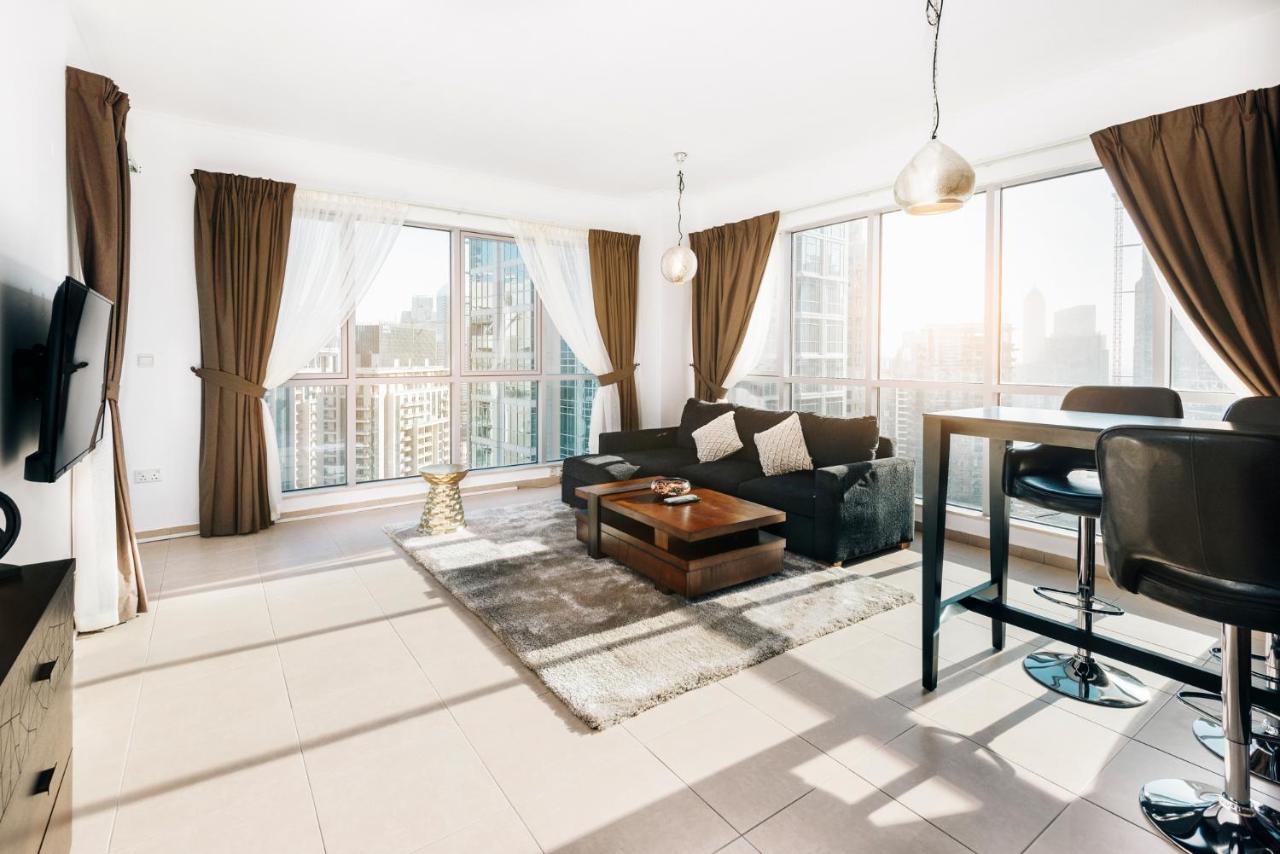 View apartment on the 25th floor in the center of Dubai.
Apartment with a view of Dubai Marina
If you want to live in the trendiest and most cosmopolitan area of Dubai overlooking the Marina, we recommend renting one of the apartments in the Guesta apartment complex – there are both two-bedroom and one-bedroom apartments. All apartments are fully equipped with everything you need, as well as free parking, landscape and children's pools, gym, sauna, hot tub, playgrounds and other entertainment. The apartments themselves have a variety of styles, and almost all have a view balcony.
In low season apartments cost from $150, in high season – from $280 per night. Book a minimum of three nights.
Apartment in Dubai Marina.
The best apartment in the Marina
A beautiful apartment in a perfect location is what tourists say about it. It has a very high rating, because it has absolutely everything for a comfortable holiday in Dubai. The most important thing is the convenient location: 5 minutes walk to the beach and a long promenade on the JBR, walking distance to stores, pharmacies, all kinds of entertainment. There are three pools, playground with trampoline, gym, free parking.
The apartment is fully equipped with appliances and utensils, so you can cook yourself. An excellent choice for recreation with children! The apartment is very clean and neat. Especially the guests note the hospitality of the hostess Sylvia.
The apartment has only one small minus – it is on the 1st floor, so it does not have a nice view. You can live in it for four people. The price – $ 400.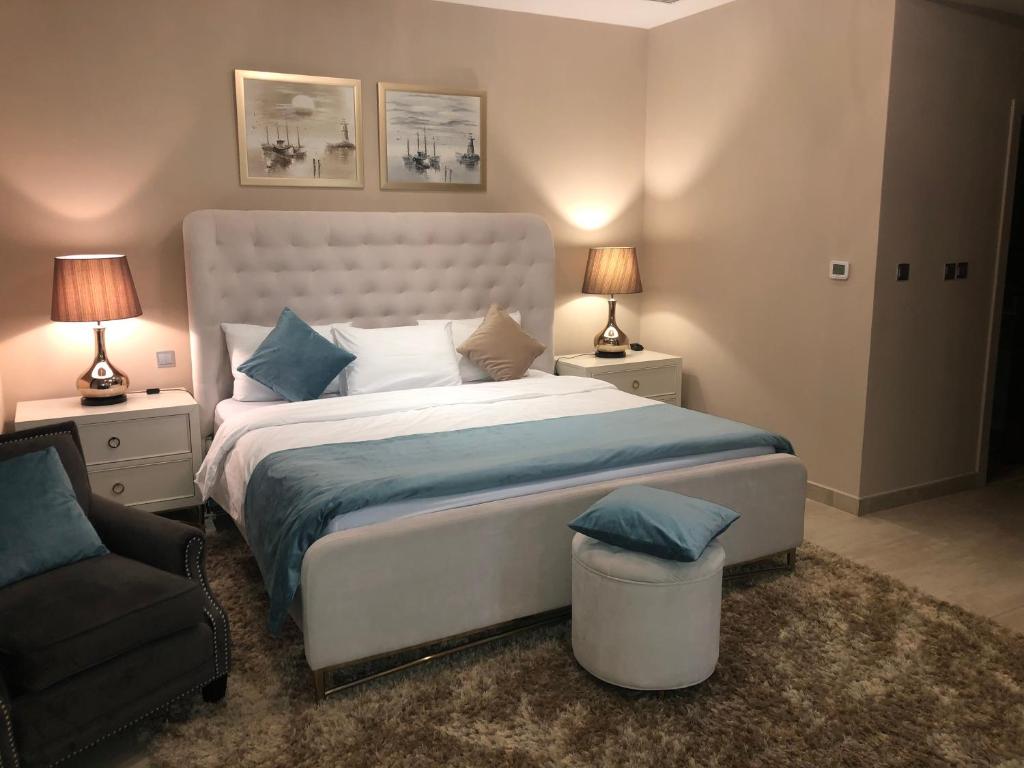 Apartment in Dubai Marina.
Apartments at the Palm Jumeirah.
Want luxury living in Dubai right on the Palm Jumeirah? Stay in these beautiful designer apartments. The staff is very complimentary (there's even a Russian-speaker), and the housekeeping is quality. There is a view pool and an excellent restaurant. The location is very popular with tourists: there is a nice private beach with a bar and a shopping mall with a supermarket and an alcoholic store, there are cafes and restaurants.
Studio apartments in low season cost $270, and in high season – from $440.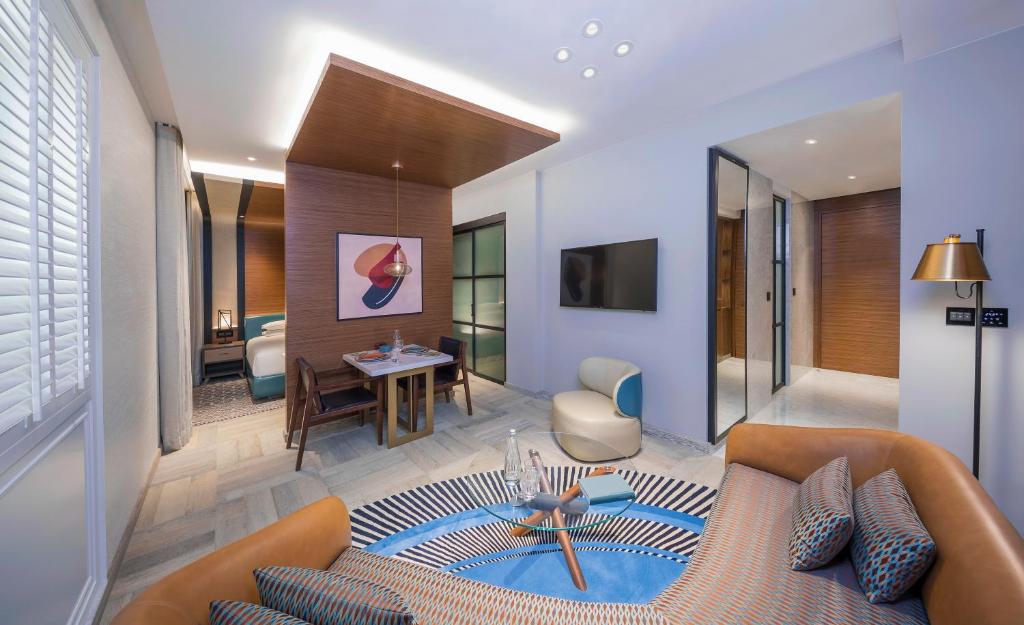 Studio Apartments.
Hotels in downtown Dubai
Neighborhoods of Dubai, where is the best place for a tourist to stay
Choose your accommodation depending on the purpose of your trip.
Deira is the historical center of Dubai. It suits those who want to enjoy a mix of old and new, oriental bazaars and skyscrapers. Deira has few attractions and only one public beach, but it has inexpensive lodging.
Bur Dubai . The bustling neighborhood includes the colorful Old City. Bur Dubai has many places of interest, but no beaches. You can, however, stay in an aprat-hotel that has a free shuttle to the beach. It is not difficult to find cheap apartments.
Jumeirah . Prestigious area is famous for its excellent tourist infrastructure – water park, beaches and entertainment centers. From here it is convenient to get to the attractions of Dubai, but housing is expensive.
Dubai Marina . The stylish and modern area makes a strong impression. It is not cheap to rent a house here, but it is very comfortable to live in. And what an amazing view from the apartments on the upper floors!
Downtown Dubai . Ultra-modern part of Dubai suits fans of shopping and entertainment. Budget apartments are not available here.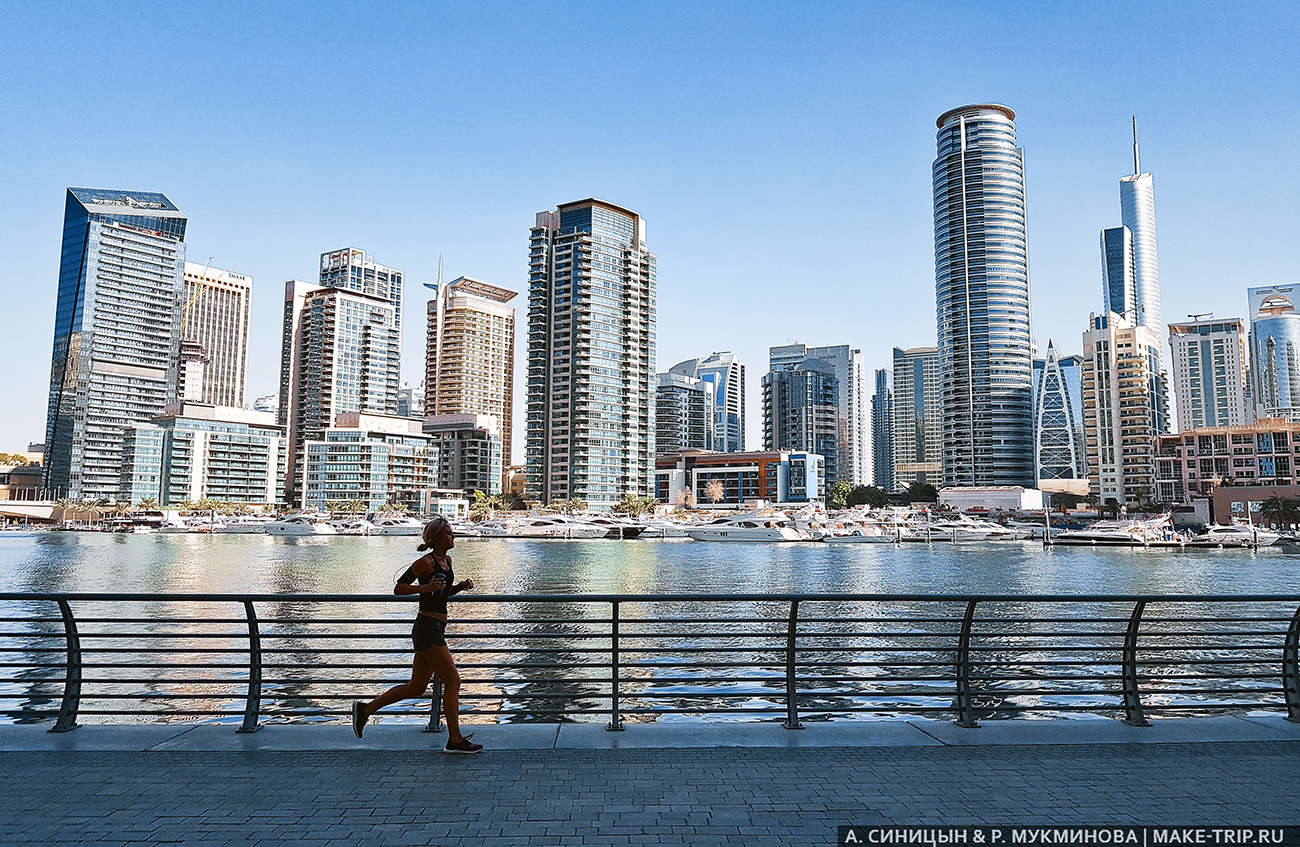 District Dubai Marina.
Rent an apartment in Dubai in 2022.
Renting an apartment in Dubai is the most suitable option for foreigners who plan to stay in the UAE for a long time.
Negotiate about the rental of housing is better not on the Internet, and after arriving – the picture on the network often has little in common with reality. Previously, you can search and ask options by subscribing to the Russian-speaking chat Dubai on Telegram https://t.me/russiandxb.
Now a very popular among the Russians is also the purchase of real estate in the UAE, which is an excellent investment to keep money in a stable currency and growth of 10% on average annually. The exchange rate of the Arabian dirham to the dollar has remained stable for 30 years. You can read more about available properties from a direct developer by subscribing to our Telegram channel at https://t.me/homeindubai.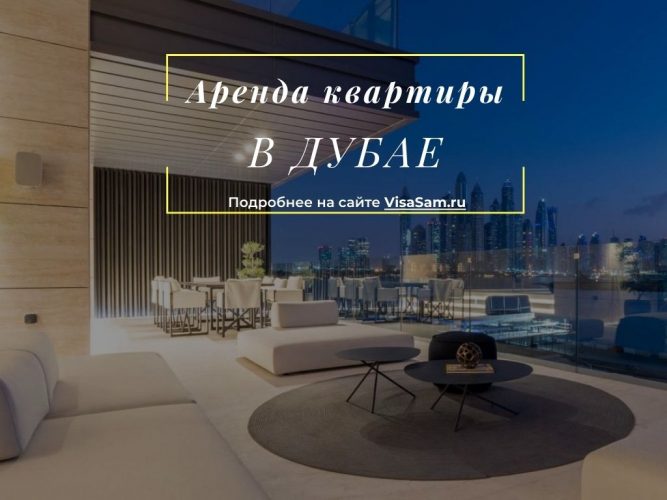 Economical and comfortable housing in Dubai: how to find a budget option
Prices for rentals in Dubai are listed on the website for the year. This is due to the fact that the accommodation is usually rented under contract. If a traveler wants to know how much he will have to pay per month, he will need to divide the annual price by 12.
There is one "but": in general, the rent is not paid monthly. You have to pay once a year, or once every six months, or once a quarter.
Option with 4 payments per year, provided that the apartment or apartment in Dubai is rented for 12 months, is considered optimal.
Bargaining with the landlords can and should be done – the only way to "bargain" a normal price for renting an apartment.
Main sites for apartment searching in Dubai
Rent an apartment in Dubai for a week, month or year.
To find a suitable option can be on the following sites:
; ; .
Telegram channel and chat https://t.me/russiandxb.
Booking apartments through agencies
99% of all rentals in Dubai are booked through an agency. Directly renting an apartment is almost unreal.
When renting an apartment you'll need to pay a commission fee. It is approximately equal to the amount of monthly rent payments.
And also before you move in you must pay the security deposit:
Security deposit (1500-2000 dirhams). It is a payment for the benefit of the apartment owner.
A deposit for the Electricity and Lighting company (AED 2000).
Contract (AED 200).
Gas connection (AED 500).
Sometimes the tenant is additionally charged for the air conditioning. If there is such a deposit, it is also about AED 2000. In some cases a connection fee for the internet is also required.
In total, when renting an apartment for a long period of time you will have to pay at once about 9220 dirhams ($ 2526).
If you want to buy a ready-made property without intermediaries from the direct developer Seven Tides – go to the telegram channel https://t.me/homeindubai. You can pay in rubles and currency in Moscow.
Learn more about investing and buying property in Dubai in this video. Do not invest in buying your own apartment until you watch this honest interview. It will help you avoid unnecessary spending and losses when investing.
What does the cost of renting an apartment in Dubai depend on
The cost of renting depends on several factors. One of the most important role is played by the time of year. In summer the real estate market falls, and vacation in Dubai will be much cheaper than in the fall and winter.
In summer you can find a 1-bedroom studio apartment for about $ 30,000 – the minimum price.
But also take into account the area – renting a villa or apartment near the beach will cost much more than in an area far from the sea.
Find out from the video: in what months it is better to go to the UAE in 2022.
The cost of apartments near the beach in the tourist area
You can rent apartments in Dubai in the ultra-modern Jumeirah complex, which is located in the Dubai Marina area.
The cost of rent per year is presented in the table:
| | | |
| --- | --- | --- |
| Number of rooms | Size | Annual rental price (US$) |
| 1 | 2189 sq.ft. ~ 203 м² | 43 716 |
| 2 | 987 sq. ft. ~ 92 м² | 40 984 |
| 3 | 2,250 sq. ft. = 209 m² | 54 645 |
| 4 | 2,500 sq. ft. ~ 232 м² | 57 377 |
The cost of a villa in Dubai ranges from $66,000 to $92,000. USD.
The cost of apartments and studios by neighborhoods in Dubai
The cost of apartments, studios, houses and villas by neighborhoods is presented in the table:
| | |
| --- | --- |
| District | Cost of renting a home (USD) |
| Palm Jumeirah | 35 000-62 000 |
| International City | 8 200-15 200 |
| JLT | 15 000-40 800 |
| Silicon Oasis | 16 300-20 400 |
| Dubai Marina | 15 000-46 300 |
| Remraam | 9 500-20 400 |
| Downtown | 17 700-51 700 |
| Dubai Invt Park | 6 800-21 800 |
| Business Bay | 16 300-38 100 |
| Discovery Gardens | 10 900-23 100 |
| Sports City | 12 300-23 100 |
How does the price of renting an apartment vary depending on the area
Rental prices depend on the area in which the apartment or villa is located. The highest prices for housing in the tourist areas, which are located near the sea and the major attractions.
In the residential areas and the outskirts of the city rental prices, including daily rent, are much lower.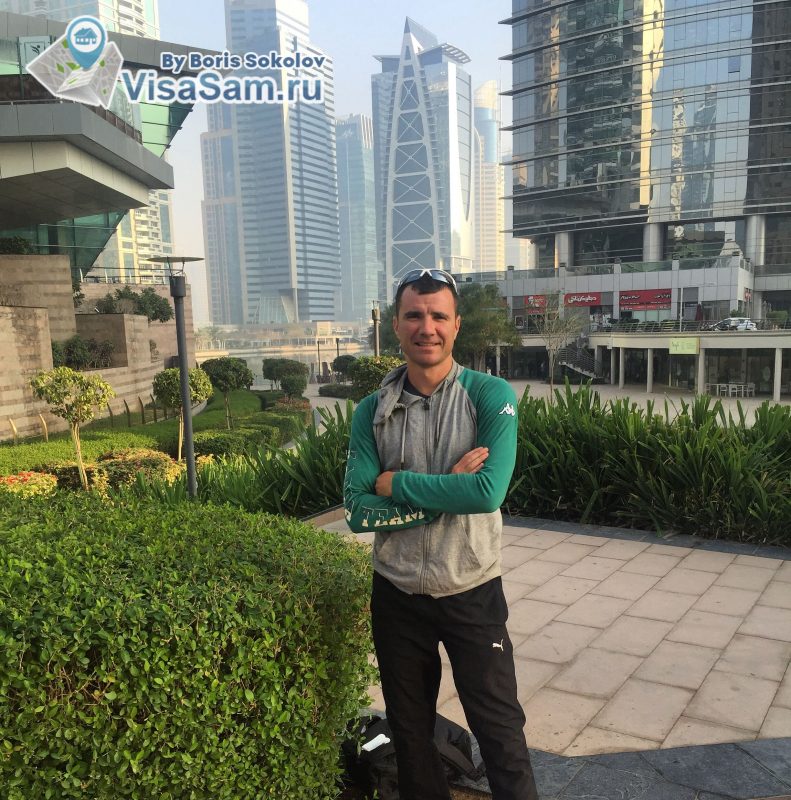 Dubai has many skyscrapers and modern districts
Downtown Burj.
This is the most modern district of the city. There are many high-end stores, cafes and restaurants – this area is most suitable for lovers of expensive entertainment.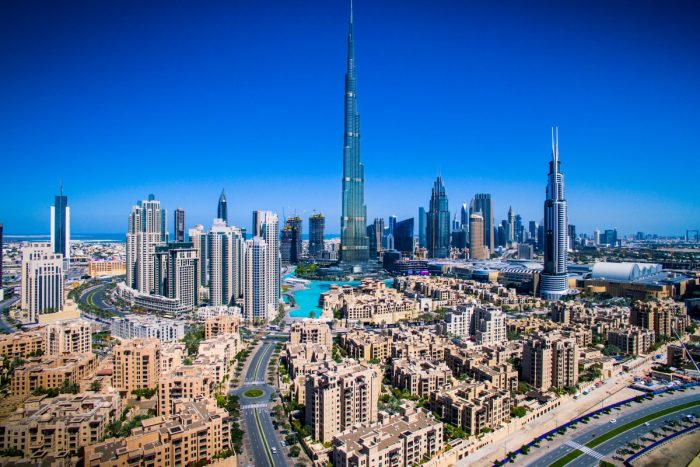 You can't find budget accommodation in Downtown Burj.
According to tourists, the Downtown Burj is not just an area, but a large-scale complex. There are the main attractions of the city, including the Burj Khalifa – the tallest building in the world. It has 163 floors.
On the lower floors are offices of various companies and hotel rooms. Apartments start at 40 and reach the 108th floor. Then there are also office buildings.
This skyscraper is a mini-city: there are several libraries, fitness centers, a large number of restaurants, boutiques, stores, supermarkets and various clubs.
And also here is a huge shopping center The Dubai Mall. It is unofficially considered the largest shopping center in the region.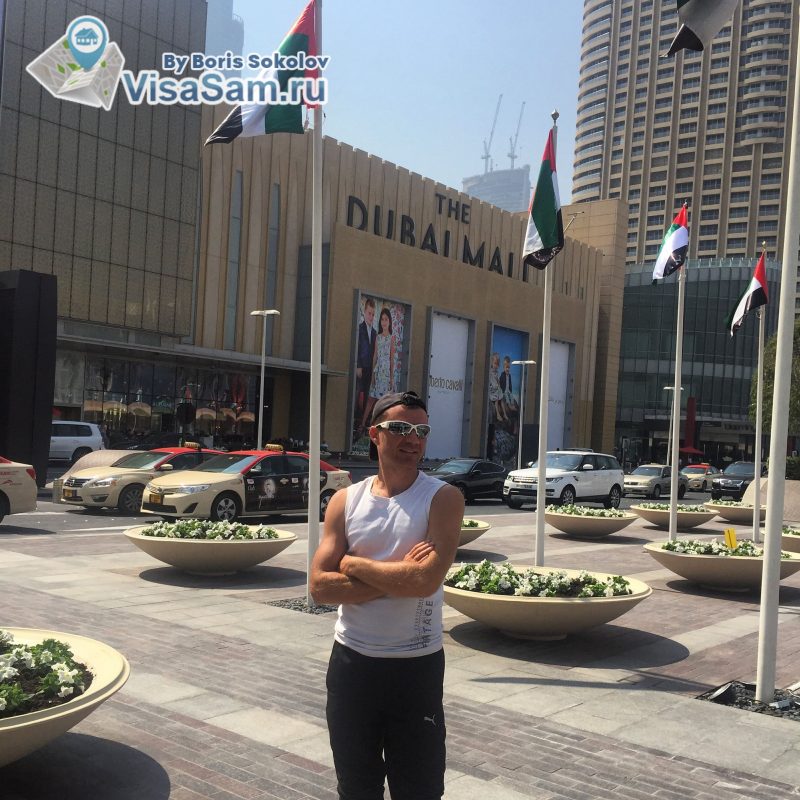 Another attraction – the dancing fountains, which are known throughout the world.
Approximate rental price in the area is as follows:
$250 per day. THE ESTIMATED COST FOR RENTING ACCOMMODATIONS IN THE AREA IS AS FOLLOWS: ONE DAY – $250 PER DAY;
Week – $ 1,750. FOR A WEEK – $1,750;
Month – $7,000. USD.
Jumeirah
This is a high-end, suburban neighborhood. Here you can find both expensive boutiques and picturesque parks. This place is especially popular with tourists: it has an ultramodern infrastructure for entertainment and recreation.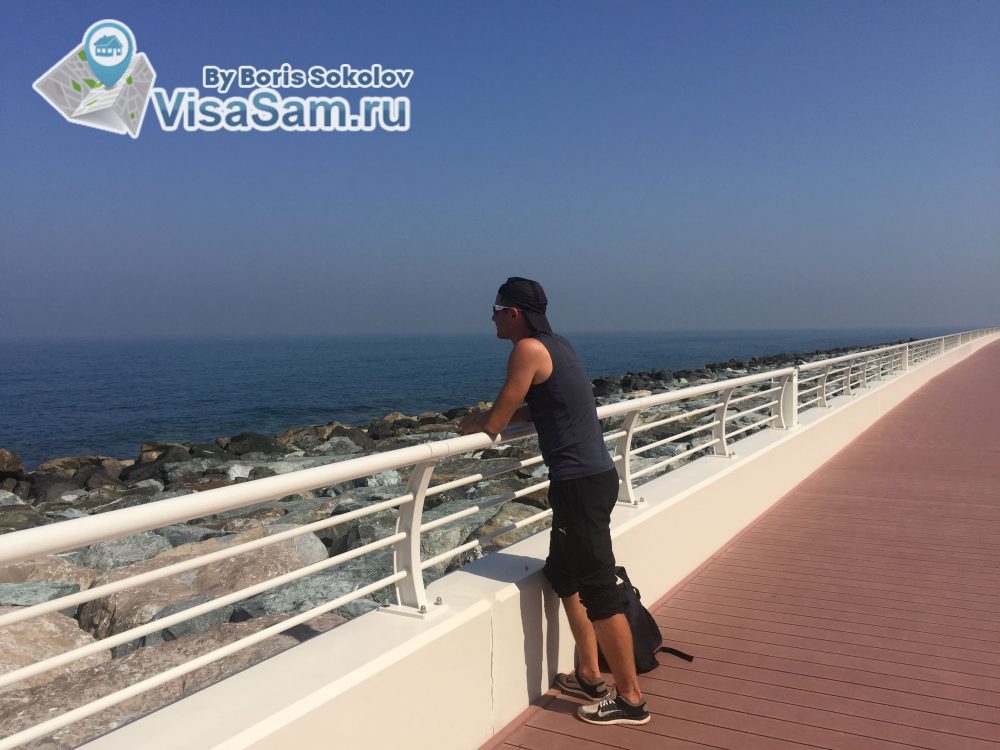 Dubai's Palm Jumeirah Waterfront
In Jumeirah there is a small zoo, which contains the rarest representatives of fauna. Over time, the authorities of the city plan to convert the zoo into a safari park, which will allow all its inhabitants to feel more free.
The cost of rent in the area is as follows:
A day – $100. USD;
A week – $700. USD;
Month – $2,800. THE COST OF THE APARTMENT IS $2,800 PER DAY.
A good investment and investment would be to buy finished apartments or hotel apartments from a direct developer at Palm Jumeirah. If you do not need the housing yourself, the management company can rent it for you. You get a monthly income in foreign currency and increase the property itself by 10% per annum in foreign currency.
Get all the details when you subscribe to the telegram channel https://t.me/homeindubai.
The UAE currency the Dirham is very stable over the past 30 years against the dollar.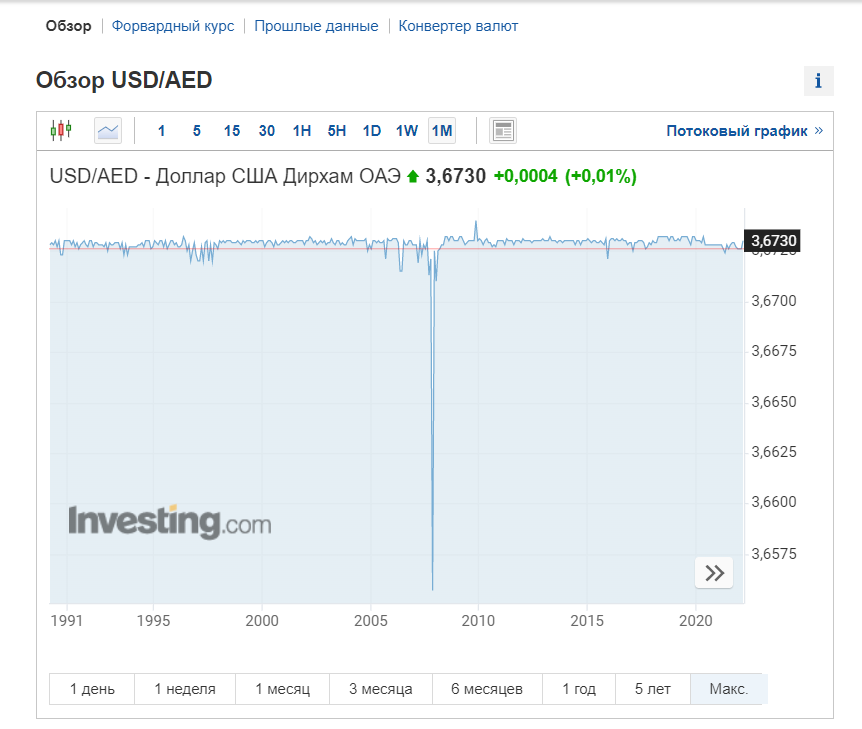 The exchange rate of the dirham against the dollar has remained stable for 30 years!
Deira
Not the most comfortable area to live. First of all this is the shopping center of the emirate. There is a huge concentration of supermarkets, stores, and markets.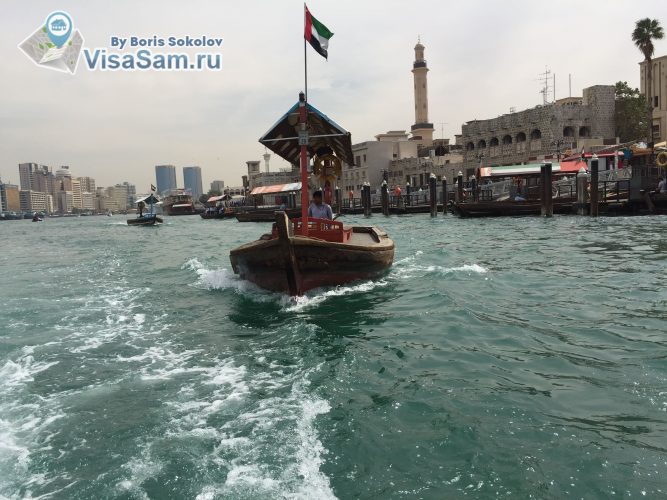 Deira area, where the old city of Dubai is located, is divided into two parts by the river
There are no sights, except for the world famous markets. Almost 90% of the population is from Asia and Iran. According to travelers, they are not the most friendly neighbors.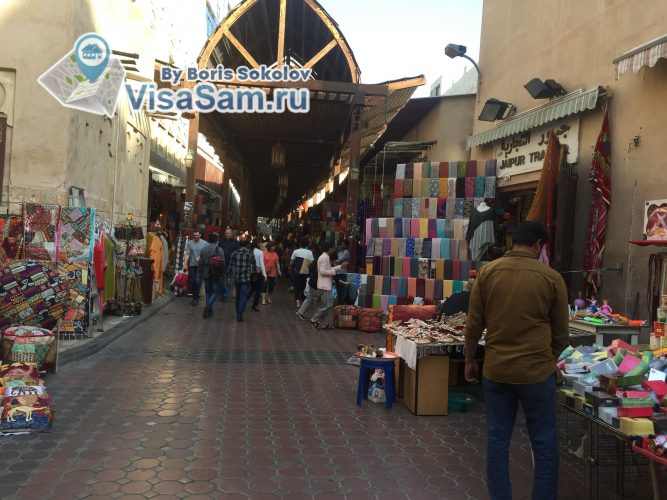 The Old Market in Dubai – a place where you can find a wide variety of goods
Another disadvantage of the area is the problem with transportation. If a traveler is used to riding the subway, he will not feel much discomfort.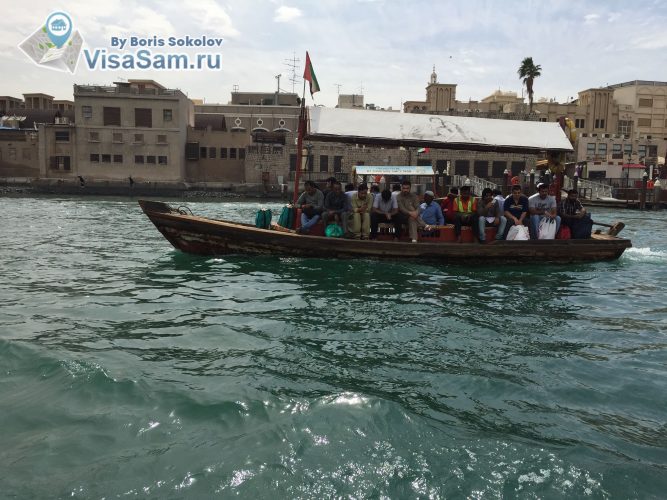 In the old district of Dubai, you can take these boats from one bank to the other
The cost of a cab ride here is very high – higher than in other areas.
Watch the video: cab ride in the UAE in 2022.
The price for rentals is as follows:
A day – $85. USD;
A week – $595; a week – $595; a week – $595; a week – $595. USD;
Month – $2,380. US$2,380.
Al-Barsha
This is a new, modern neighborhood in the city that is still under construction. As of 2022, 75% of the neighborhood is ready. The residential buildings here are new, comfortable and very beautiful.
This area is not yet classified as a tourist destination, because there are almost no entertainment venues.
But here is one of the main attractions of Dubai – Mall Of The Emirates. This place is considered a business card of the city.
The cost of rent in the area is as follows:
A day – $150; a day – $150; a day – $150. RENT PER DAY – $150;
Week – $ 600; or USD;
Month – $2,400. USD.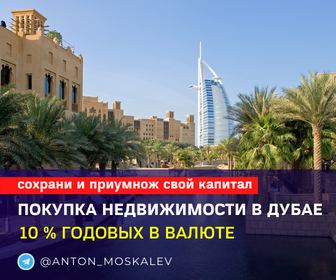 Marina District.
This is a small but upscale neighborhood. The choice of housing here is quite extensive, you can find a budget apartment or house.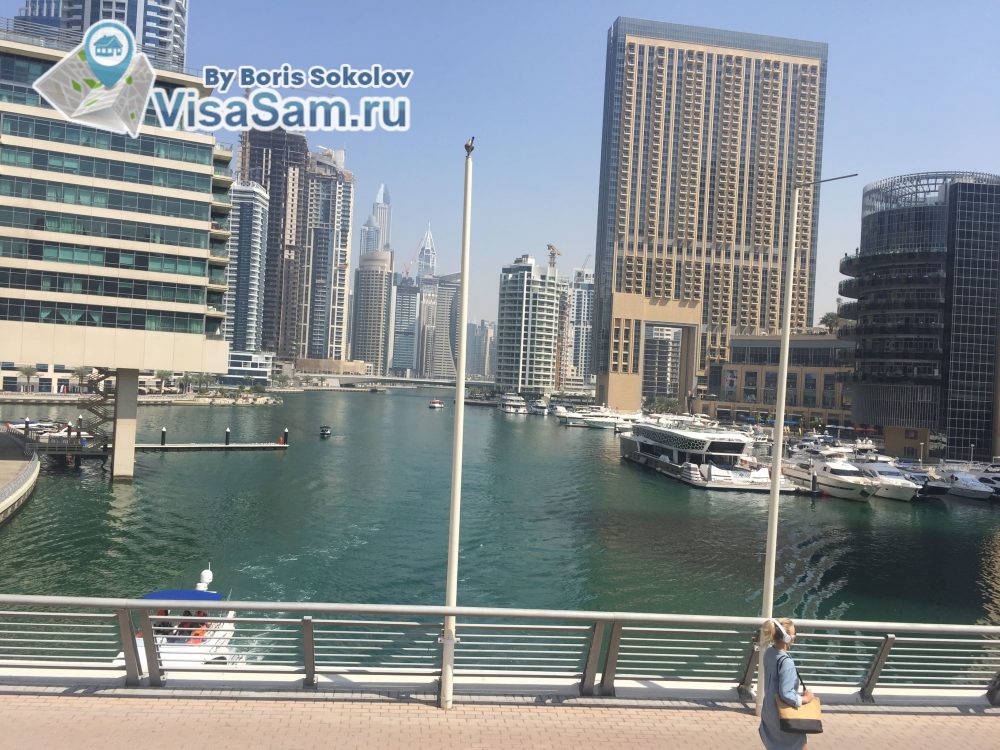 The Marina District is one of the most expensive in Dubai.
In this sector there is a famous beach – JBR. It is considered the best beach in the region. According to tourists, if this beach were on the European continent, it would definitely receive a "blue flag".
Transport accessibility in the area is very good: you can walk to the metro from any point in maximum 20 minutes.
The infrastructure is represented by hotels, restaurants, stores and shopping centers, cinemas and playgrounds.
The cost of renting is as follows:
A day – $155; a day – $155; a night – $155. U.S;
Week – 1,085 U.S. dollars. THE RENT IS AS FOLLOWS: A DAY – $155; A WEEK – $1,085;
Month – $4,340. USD 4,340 PER MONTH.
Choice of accommodation near Burj Khalifa
This is the center of Dubai. Good accommodation can be found in Souk Al Bahar.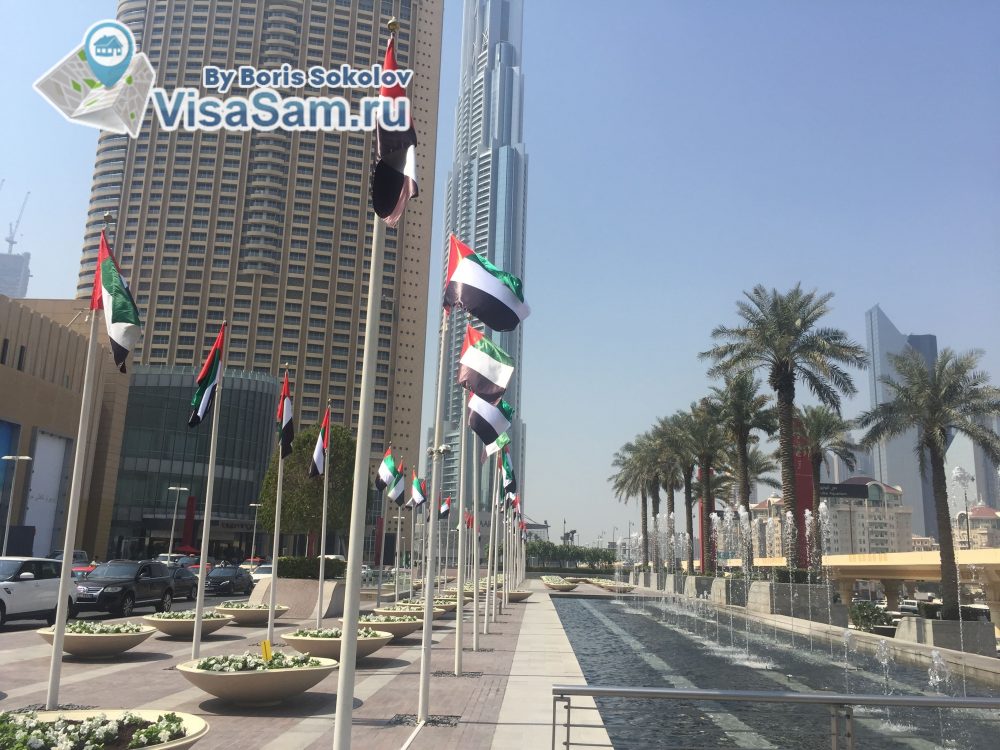 A day – $197 PER DAY – $197 USD;
Week – $ 1,379 WEEK – $ 1,379;
Month – $ 5,516. THE RENT IS $1,516 PER MONTH.
Which neighborhood is the best place to rent an apartment for the long term
The choice of neighborhoods depends on the purpose of the trip:
Downtown Dubai. The most modern district of the city. It is recommended to choose it for all fans of shopping and entertainment. The only "but": it is almost impossible to find budget accommodation in this area.
Deira. Historic city center, a bizarre mix of ultra-modern and old buildings. Here one can find both colorful oriental bazaars and modern skyscrapers, the height of which can compete with the famous "Trump" new buildings. The main disadvantage of the area – the presence of only one beach. The main advantage is that you can find an inexpensive apartment.
Dubai Marina. A modern area, which is popular with tourists. Budget accommodation is not available here.
Bur Dubai. An interesting, but rather noisy area. The main disadvantage is the lack of beaches. But there are many interesting attractions, which are located in the Old Town. In this neighborhood you can find budget accommodation.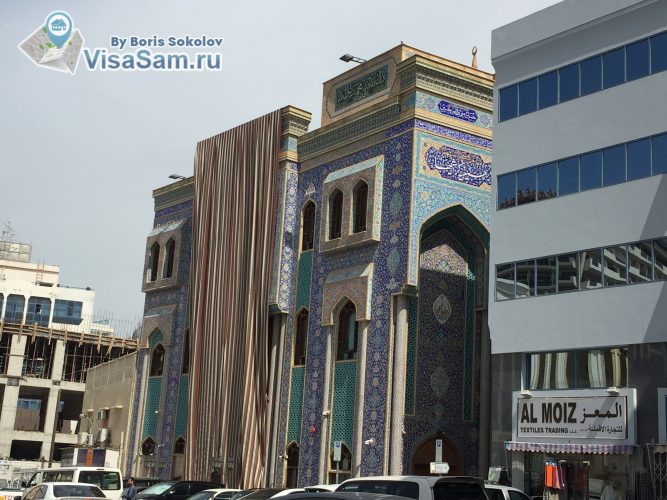 In the old district of Dubai live mostly locals
Jumeirah. Prestigious tourist sector of the city. There are many attractions, also there are shopping centers and a water park. The main disadvantage – the lack of inexpensive apartments. Real estate in the area is in high demand, because you can get income from the growth of its price by 10% per annum in foreign currency and to rent out immediately with the help of a management company. Get all the details when you subscribe to the telegram channel https://t.me/homeindubai.
How rent prices change over the seasons
The cost of renting an apartment goes up with the high season. This is the time from October to April. Prices increase by about 20-30%.
Summer is the low season. In May and August the cost of renting goes down.
You should also keep these features in mind if you buy your own home to rent. Learn more about investing in real estate in Dubai in this video.
Direct sales of real estate from the builder without intermediaries in Moscow
Sevetides Dubai real estate developer has opened an office in Moscow at this difficult time, so for Seventides clients located in Russia, sanctions are no problem. You can close the deal in Moscow, including in rubles.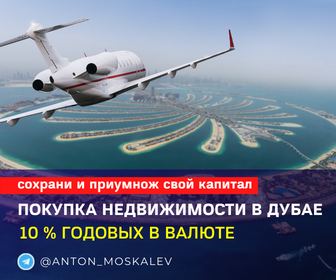 The company ranked second in 2021 in Dubai after Emaar in the number of units sold. Russians love Seventides for its top locations, quality, service, and uniqueness.
The first of them is Marquise Square in Dubai has gained huge popularity for Russian citizens.
Property prices have always risen, apartments in Dubai are rented all year round, and areas such as Business Bay and Palm Jumeirah are guaranteed to be popular at any time of the year.
If we compare it to Moscow, Business Bay is Moscow City, while Palm Jumeirah is Rublyovka.
Marquise Square is a 29-storey building in the financial and business center of Dubai and today the world. Five minutes to Dubai Mall, 8 minutes to the Burj Khalifa, breathtaking views, top restaurants and a sea of luxury.
The building has a swimming pool, fitness center, children's playgrounds and security. The building is fully completed and has already lived in it not a few Russian citizens who have gone to Dubai. Prices start from 230 thousand dollars. A guaranteed income of 10% for 5 years!
The second project is hotel apartments NH Group, developer Seventides, this building in the heart of Palm Jumeirah, on the beach.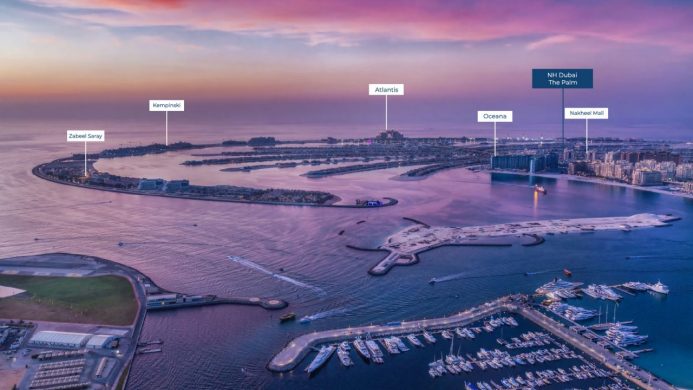 Unfortunately all apartments are already sold out, only hotel rooms remain. On the roof of the hotel is a swimming pool with a view of the Dubai Marina and the JBR.
By the way now, if you buy a hotel room, you get guaranteed management company income of 10% per annum in dollars! This is a unique opportunity to increase your capital. Prices from 250 thousand dollars.