7 cool apartments in Istanbul from 25$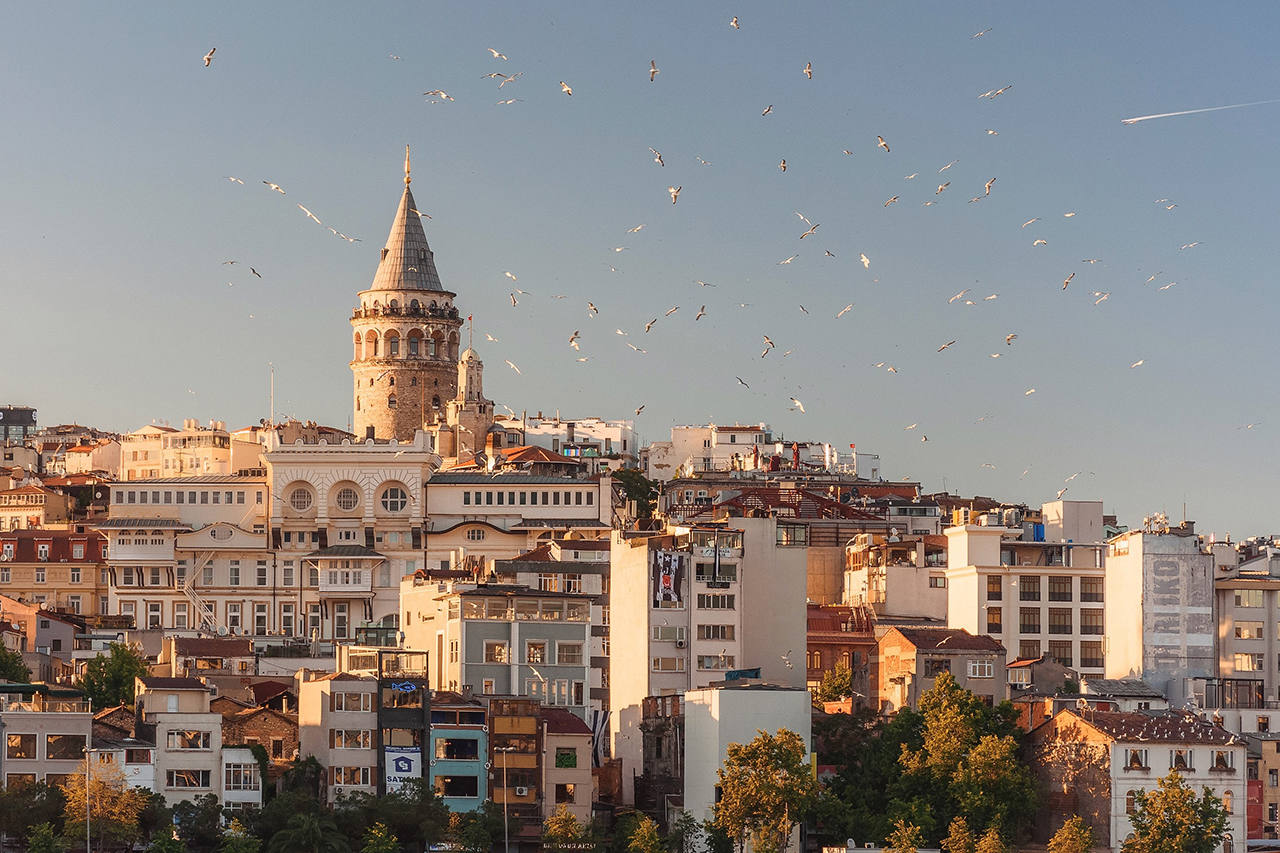 Turks know how to decorate their accommodations in style! The apartments you can rent in Istanbul for 25$ are the smartest and most affordable way to live in Istanbul. We tell you which neighborhoods in Istanbul are best for rent. We give tips on how to choose a cheap and comfortable accommodation.
– Discount hotels – hotels, apartments, houses
Content:
Apartments in the Old City – from $25
If you want to rent an apartment in Istanbul to explore the historical part of the city, the colorful Sultanahmet district is a good solution. We liked the apartments in this family-run Green Life apartment hotel very much: cozy, bright, with a kitchenette and a sofa. The owners are wonderful. The location is comfortable, close to Aya Sofia, but you have to go uphill. However, the coolest thing about the hotel is the terrace on the top, where you can have amazing views! We loved meeting sunsets here. The price ranges from $25-35 in the summer depending on the type of apartment. I advise to rent apartments with a sea view!
Green Life Hotel Apartments. Photo: booking.com. View from the terrace of the Hotel Green Life. We liked meeting sunsets here.
Apartments near Istiklal from $30
Where's the best place to stay in Istanbul near Taksim Square? We stayed in this apartment hotel. We liked it very much, we didn't want to leave the room (especially when the weather in Istanbul went bad). The room was above and beyond our expectations, warm, cosy, nicely lit and with a great mattress. The apartment has heating and a kitchen. Nice interior, large windows, walls lined with decorative bricks. It is 30 sqm in size. We stayed in a room with a window overlooking the courtyard so we did not hear any noise from Istiklal. Staying in one of our rooms costs from $30 for an hour.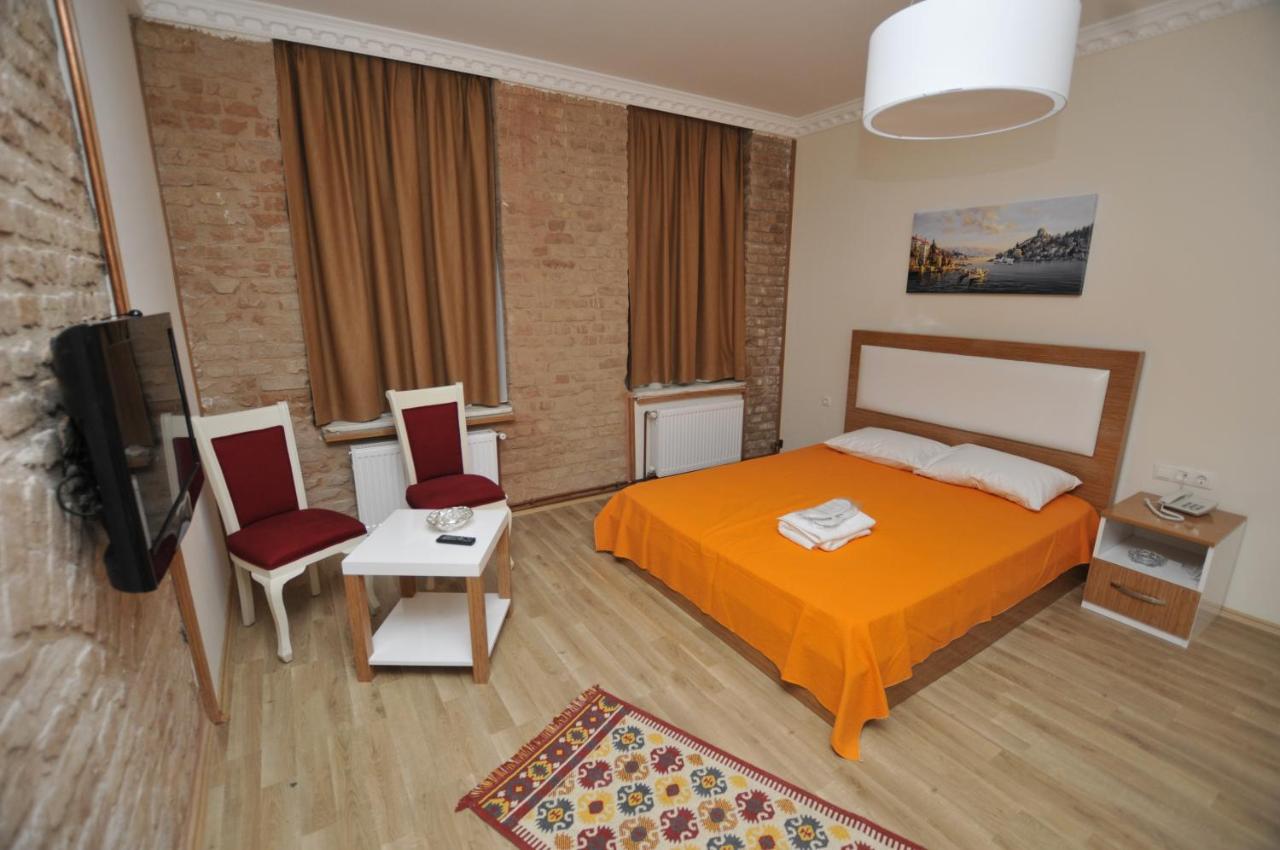 A room at the Apartof. Photo: booking.com.
Apartments with a view of the Bosphorus – from $50
Incredibly cozy apartments with views of the Bosphorus. If you're looking for where to rent a cheap apartment in Istanbul, this is the option for you! Aparthotel is brand new and stylish. There is a kitchenette. It is literally a stone's throw from the Blue Mosque, but since the noise insulation is excellent, you can barely hear the prayers in the morning. Regular apartments cost from $50 and superior apartments from $68 a night. There are apartments with a balcony.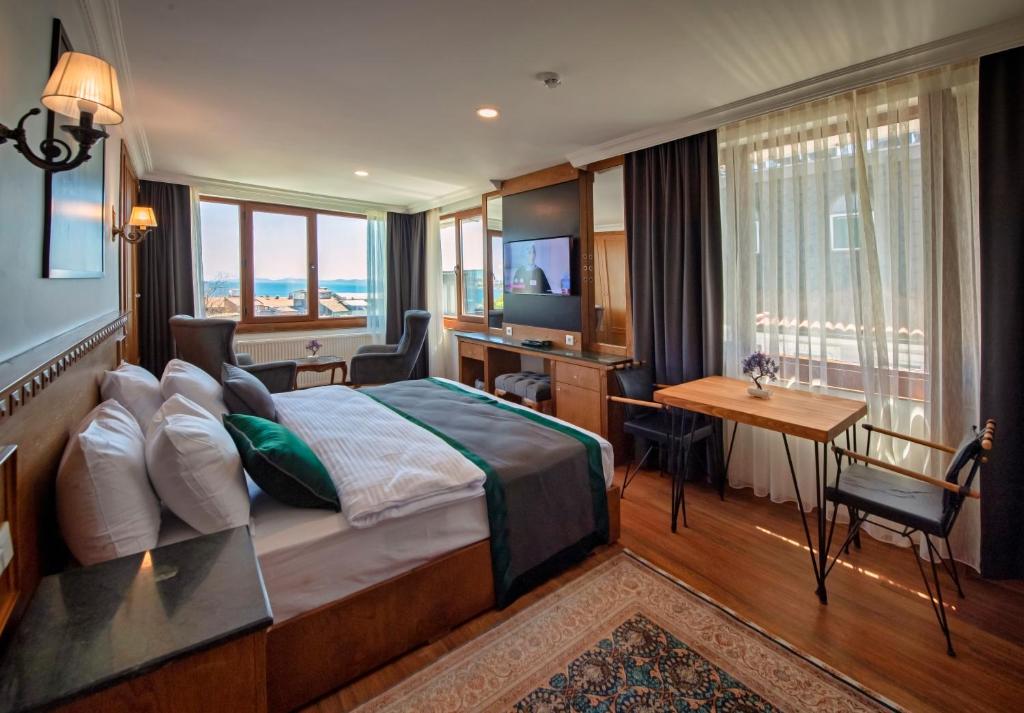 Superior apartments with views of the Bosphorus at Duru Sultanahmet Apart & Suites. Photo: booking.com.
Ottoman luxury from $54.
Want a cheap stay in Sultanahmet suites? Book an apartment at this hotel in central Istanbul. They're spacious (from 40 m²), clean and furnished in Ottoman style: lots of gold and patterns. There is a kitchenette and a seating area. Reviews are good. Prices start at $54 a night in the summer.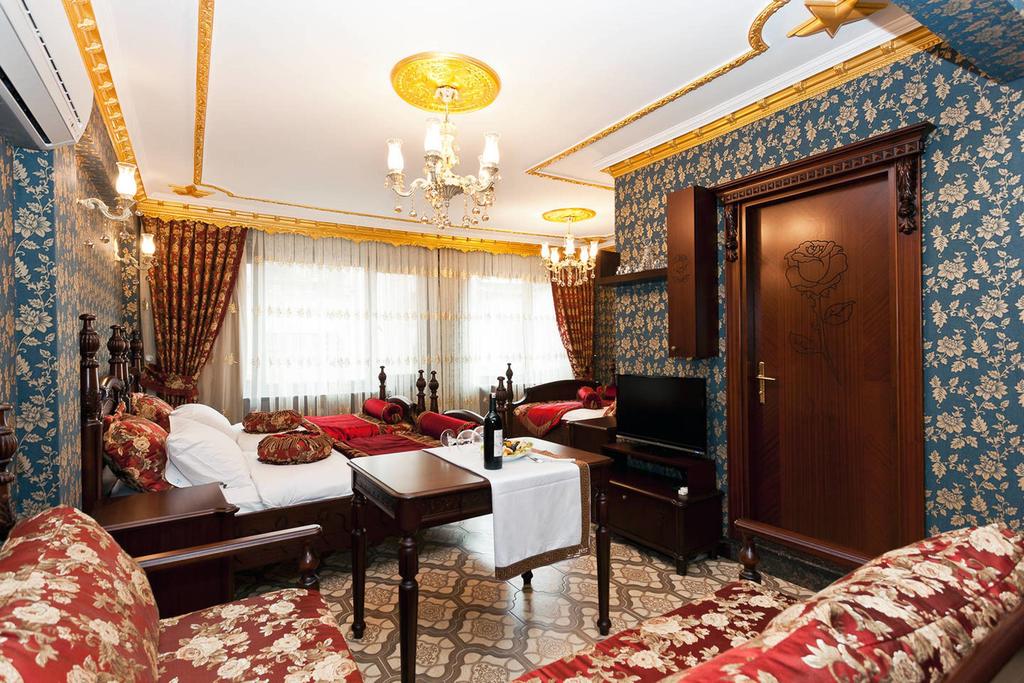 Apartments at The First Ottoman Apartments. Photo: booking.com.
Apartment in Taksim – $70
This studio apartment with a kitchen-living room is ideal for longer stays. According to reviews, the kitchen has everything – even paper napkins and a dishwasher. It is clean, quiet, and close to Taksim Square. The owner is very responsive and friendly. What is important, the temperature in the apartment can be adjusted independently. In summer the rent ranges from $70.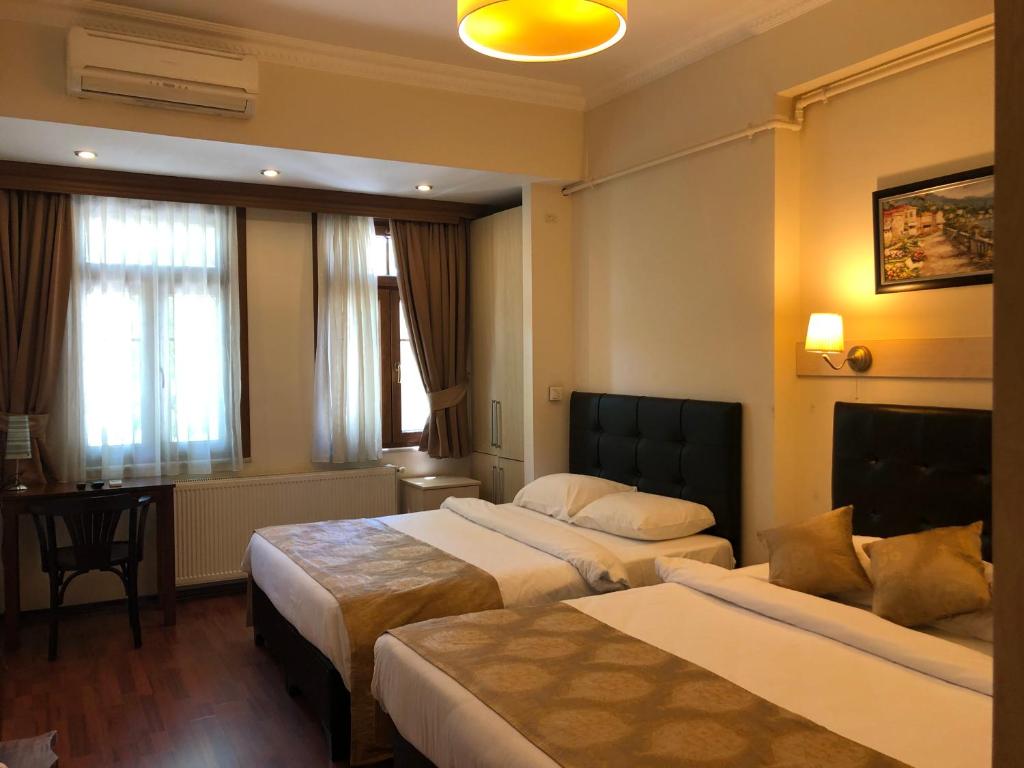 Studio apartment at Taksim House Suites. Photo: booking.com.
Colorful apartments in Jihangir – $90
This is a small apartment for a couple in the bohemian neighborhood of Jihangir. They feature a curious interior with bright accents and details. There is a kitchenette and a balcony. Apartments cost from $90 in the summer. Apartments with a terrace overlooking the sea start at $130.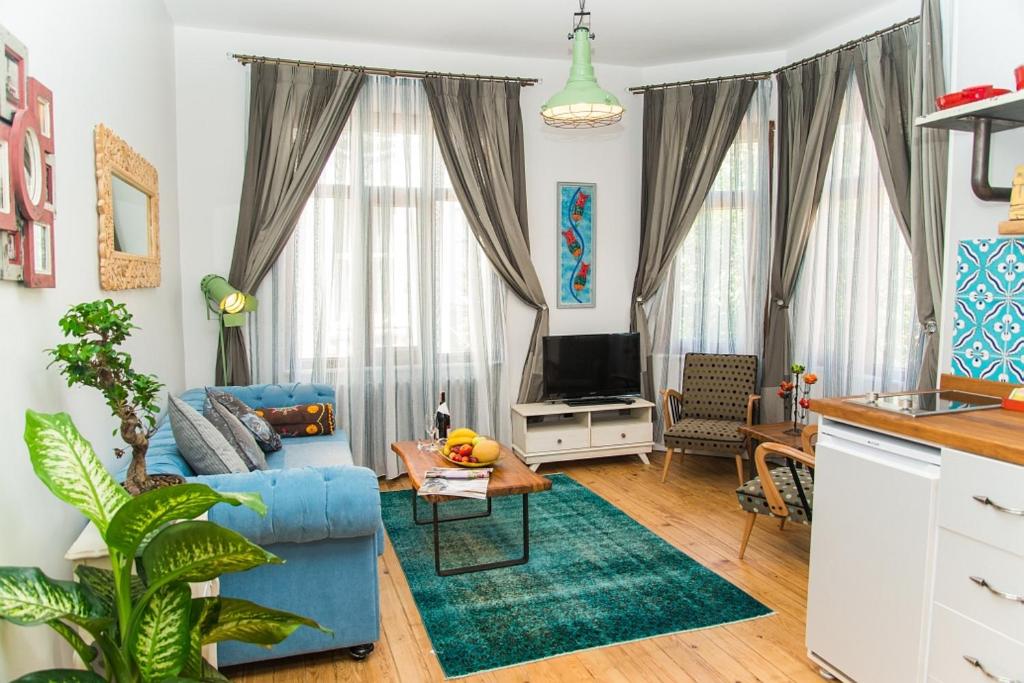 Apartments at MySuite Istanbul Cihangir. Photo: booking.com.
Home Apartments – $90
A very cozy two-bedroom apartment for a company or family. Nice design, pastel colors, lighting, colorful curtains and embroidered pillows make the apartment very homely. This is a convenient option if you want to rent an apartment in Istanbul for a long period. Choose one with a balcony so you have a view of the sea! The apartments are located near the Blue Mosque. The price in summer – from $ 90.
Mehmet Bey Suites. Booking.com.
Inexpensive hotels in Istanbul
Where to stay in Istanbul
The city stretches along both sides of the Bosphorus Strait. Many people prefer to settle in the European part, where most of the tourist attractions of Istanbul are located.
Sultanahmet . The prices for housing in the historic center are average. But within walking distance are Hagia Sophia Cathedral, the Blue Mosque, Topkapi Palace, Basilica cistern and Grand Bazaar. There are many inexpensive cafes and stores. If you want to go to another part of Istanbul, use the subway, T1 streetcar and buses.
Sirkeci . The neighborhood near the station of the same name is good for walking to Sultanahmet and to the Egyptian Bazaar.
Beyoglu . In the area north of the Golden Horn are Taksim Square, the popular Istiklal Street and the Galata Tower. Further south is the hipster neighborhood of Karaköy, famous for its laid-back vibe, graffiti on the walls, and cheap cafes. It's comfortable and inexpensive to live in. The drawbacks are the frequent ups and downs.
Laleli . If you come not for the monuments but for the shopping, rent an apartment in Istanbul in the area of shopping streets.
Besiktas . For those who like walking and beautiful views, this respectable neighborhood on the west bank of the Bosphorus is the place to be. Besiktas has the Dolmabahçe Palace, a well-kept promenade, and several museums.
Asian part of the city . The colorful part of Istanbul is loved by all who come to the city not for the first time. Experienced travelers like to stay in the districts of Kadikoy and Uskudar.
Discount on excursions! When we travel, we buy excursions on the Tripster website – there is a huge selection and real reviews of tourists, so it is easy to choose a good guide and an interesting program. Plus, you'll get a ₽500 discount on your first tour by registering at this link. Check out the top 10 tours in Istanbul that will help you get to know and love the city.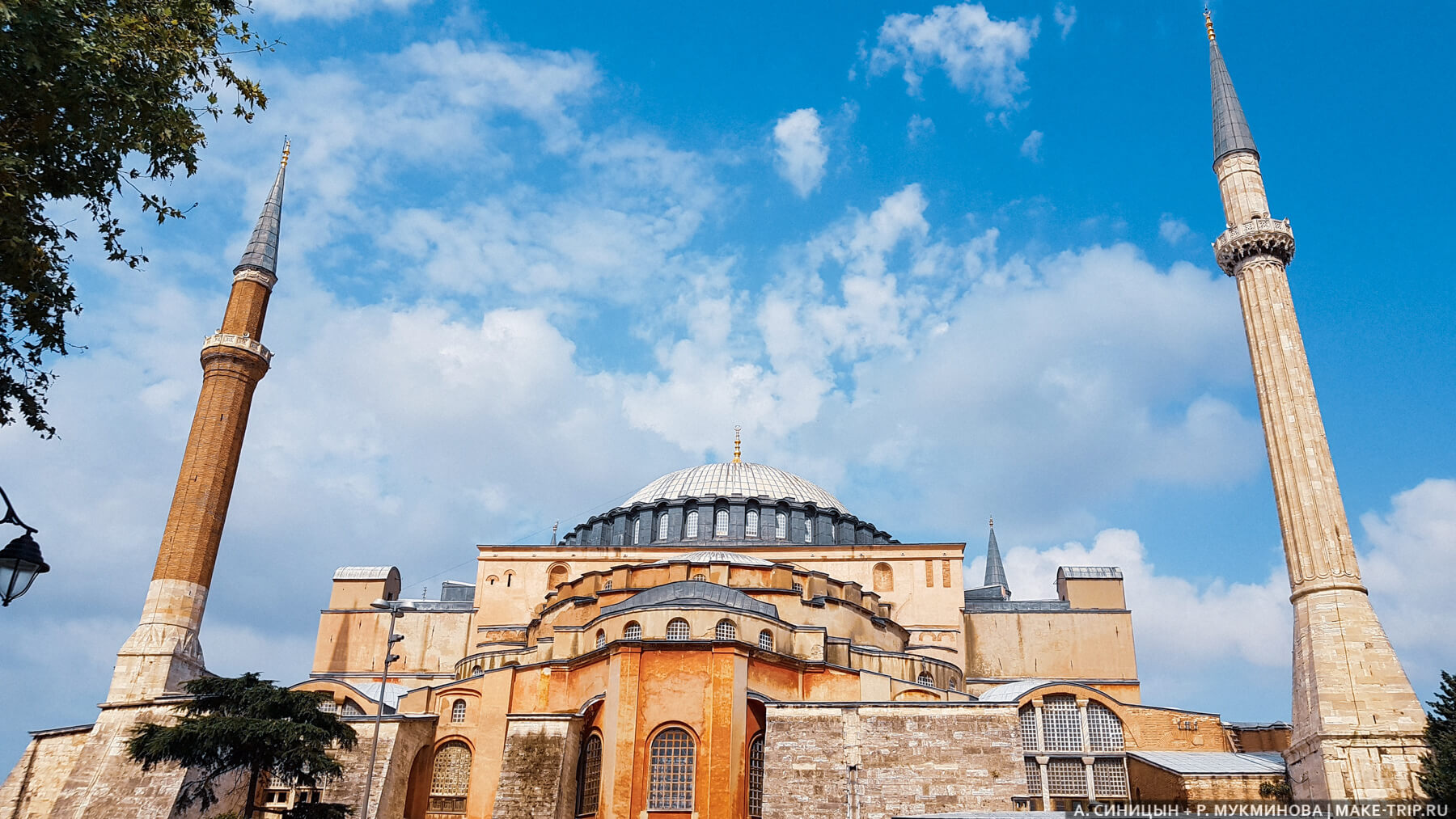 Ayia Sofia.
How to save money and find comfortable accommodations
The city has a large selection of accommodations for tourists. There are so many proposals that you can find a good option at any time of the year. Renting an apartment in Istanbul is not a problem. During the high season the prices start at $ 20.
Where and how to rent an apartment in Istanbul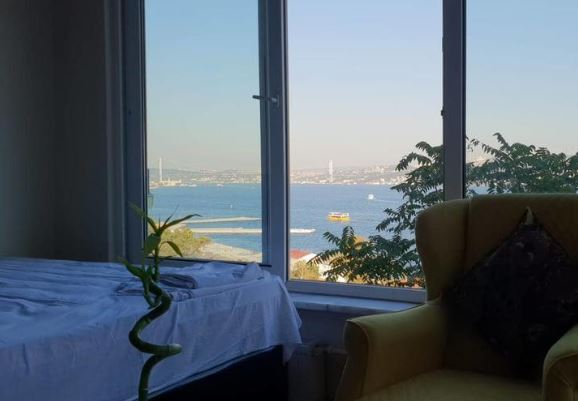 In comparison with hotels to rent an apartment in Istanbul is inexpensive. Prices of apartments in 2022 start from $25 per day, while hostels are cheaper – from $16/day.
For example, the price of accommodation in a well-known hostel in central Istanbul Stay Inn Taksim (formerly Bunk) ranges from $ 21 in the off-season and $ 45-60 in the summer.
The price of an apartment directly depends on the area and you do not need to worry about the useful space: there are few tiny apartments in Istanbul. Very inexpensive apartments can be found in the developing European neighborhood Esenyurt.
The coastal Asian neighborhood of Kadıköy is worth looking into. Here you can buy and rent housing for the middle class. This is the oldest district of Istanbul with well-developed infrastructure, the beaches of Jaddebostan, the business district Kozyatağı, the picturesque green neighborhood Moda and the stadium Fenerbahce FC. Apartments for rent in Kadıköy are much cheaper than in the prestigious central European Besiktas, where the famous soccer club of the same name is also located.
You can rent cheap apartments in Istanbul for a week on the above Booking. To make sure your week-long stay in the city is not spoiled by unsuccessful accommodation, be sure to take into account the reviews and ratings. Istanbul apartment owners take ratings seriously, and reviews on Booking can definitely be trusted.
Not bad reviews for cheap serviced apartments in Istanbul are from Apartments:
(Fatih) – 7.7 out of 10 on reviews on Booking (Beyoglu) – 8.5 points (Shishli) – 8.1 points (Fatih) – 8.4 points (Taksim) – 8.7 points (Sultanahmet) – 9.4 points
Apartments with a view of the Bosphorus
Istanbul apartments with a view of the Bosphorus Bridge can brighten up any vacation or business trip. Among them are both expensive 90-120 euros per night and good budget apartments with a view.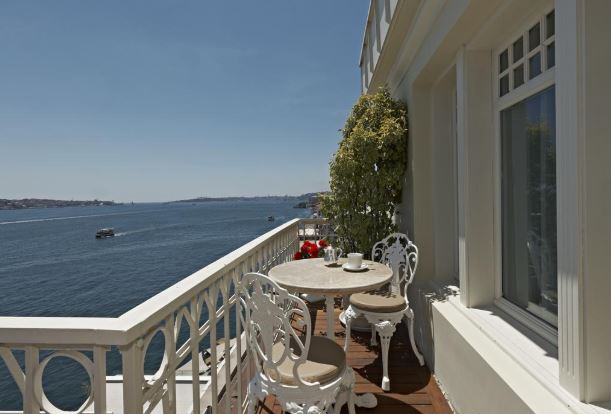 For example, to stay in an apartment hotel Corner Hot with a rating of 8.7 out of 10 is 30 euros / day. The complex is located in the European central district of Ortakoy, 150 meters from the Strait and 800 meters from the Bosphorus Bridge.
Apartments in the center of Istanbul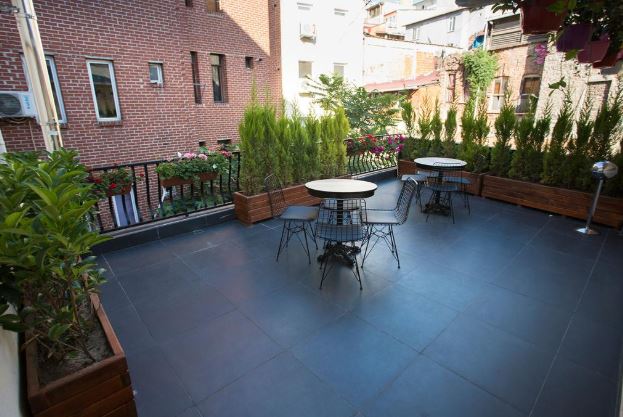 The list of the top 10 best apartments and condos in Istanbul according to ratings and reviews by visitors on Bookings includes:
Ardilas Residence and Taksim Residence on Taksim
Capricorn by Otantik Suites in Sultanahmet
Nisantasi Residence in Shishli
Norah Suites Hotel Istanbul on Taksim
Element Garden on Taksim and others.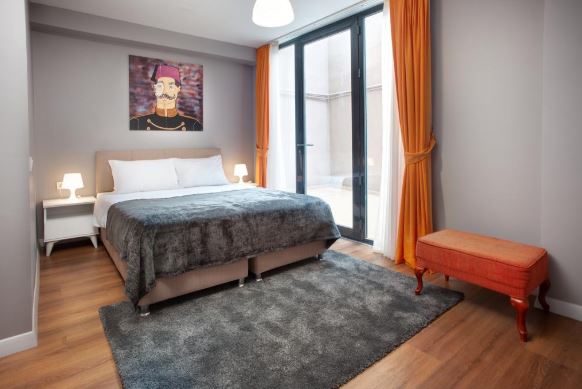 How to Rent an Apartment in Istanbul on a Long Term Rental
Renting an apartment in Istanbul for a long term provides that in addition to the rent, you need to pay for utilities (water, electricity, gas), garbage collection, cleaning the entrance, the services of the elevator.
Renting an apartment for a long period of time is better on Agoda. You need to filter the options by selecting "private housing".
Due to the fall of the Turkish lira in 2022, the cost of a full-length apartment without furniture in the area Esenyurt this year starts at a ridiculous $140 per month.
In the good European neighborhoods of Ortakoy and Cihangir, furnished housing prices start at $360/month. A reasonable price for a renovated apartment in the very center is up to 450 euros/month.
For apartments of 150 square meters. m with a pool at the house will have to lay out from $ 700 / month.
Small apartments are unpopular among the Istanbul citizens and intended for the poorest segments of the population or non-residents
Small apartments of 30 sqm are not built in Istanbul. Apartments with the minimum area (up to 30 square meters) are offered only in hotels, boutique and apart hotels and guesthouses for tourists. In some residential complexes built low-budget housing economy class and studio apartments to 50 square meters. However, such housing is extremely unpopular among Istanbul residents and is designed for the poorest segments of the population or non-residents.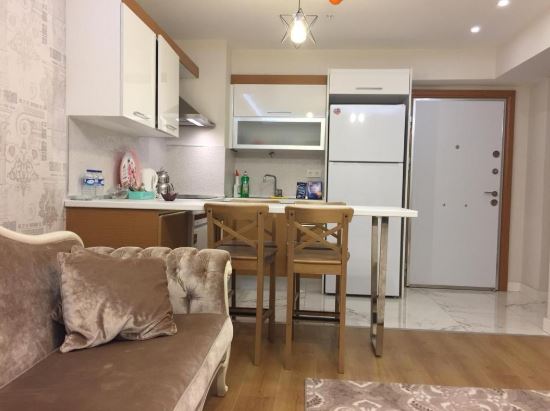 A standard apartment in an Istanbul high-rise is a three-bedroom apartment with two bedrooms, a living room (salon), a kitchen and one or two bathrooms. It is denoted by the symbols 2 +1. This is the most popular housing option in Istanbul. The minimum option is the same apartment, but with one bedroom and one living room (1 +1). Other designations: 4+1 (4 rooms and a hall) and 3+1 (three bedrooms and a living room), such apartments are also very common. Studio apartments type 1 +0 is the most "miserable" and unpopular option of housing, which appears in the new housing estates.
Renting an apartment in the center of Istanbul is better on the Turkish apartment rental sites from owners. For example, sahibinden.com. Their advantage over the Russian-language portals and agencies is significant. Firstly, they specify the area, the neighborhood, the price in lira, the direct phone numbers of owners. Secondly, they offer a wide range of apartments.
Apartment in Istanbul for Month
Renting an apartment in Istanbul for a month is more expensive than for a long term. So, for a long term lease (a year) the cheapest apartment will cost 250-300 euros per month. And for a similar accommodation for one month usually have to pay from 1.5-2 times more. The standard prices: from € 450 for an apartment for a month in a remote beach area Floria, from € 500 for an apartment or apart-hotel in the central Beyoglu district.
You can rent an apartment in Istanbul for a month on Booking.com. The site allows renting accommodation for 30 consecutive nights. The cheapest room of 10-20 square meters in an apartment hotel in the central district of Fatih will cost €460. A one-month apartment of 60 sqm (1 bedroom+1 living room) in the central business district of Pera/Beyoglu costs €900.
The disadvantage of this option: not always the best price-location ratio apartment is available on the right dates.