Rent a car in Georgia 2022: prices, conditions, reviews, license, insurance.
Car Rental
Georgia is a country with an interesting history, extraordinary nature and friendly people. The number of tourists increases annually. To visit the many ancient fortresses, temples and beautiful nature you need a car.
It is convenient to rent a car on the spot. In Georgia, several companies offer car rentals. Tourists who intend to rent a car have questions: which company to contact, what car to choose, what documents are needed, and so on.
It is possible to search through mountains of information in the Internet, read dozens of articles and reviews, often contradicting each other…
In this article, you can find answers to all the questions about a rental car. It is useful for experienced travelers, as well as for those who travel to Georgia for the first time.
Where to rent a car in Georgia
There are many ways to rent a car:
On the city streets. On the favorite tourist routes there are often offices of companies that offer this service.
You can search for contacts of such companies on the net.
Special search engines. There are many car rental offers (with options, dates and prices) on these sites.
Using one of these sites is the most effective way to find a suitable car at a reasonable price and book it.
Among such search sites stand out:
LocalRent – this site collects information about offers from local small and large rental companies. There is Russian-speaking tech support. The car is easy to book. Up to 20% prepayment.
EconomyBookings – here the prepayment is 100% or partial.
If the car is booked, you can order delivery to the airport.
The cost of car hire in Georgia in 2022
Prices for renting a car in Tbilisi start at $35; in other cities, they are $2 to $5 cheaper.
Circumstances on which the rental price depends:
The price goes down when renting for a long period of time,
goes up in the high tourist season,
the price goes down if the car is reserved in advance.
Because of the pandemic, demand for rental services has declined. Now LocalRent is offering to book cars at a low price, with a free cancellation option with a refund of the advance payment.
Prices are affected by additional conditions:
Car mileage limit per day. Customer must pay for exceeding the limit.
Age limit. Some companies require additional payment if the driver is less than 21-25 years old.
Driving experience.
Installation of additional equipment.
Ability to travel abroad.
The cost of renting between a sedan and an SUV is often about the same. So it is better to rent an SUV and feel more confident on the mountain slopes.
Prices for car rentals in Georgia in 2022
Here are the approximate prices of car rentals at the Tbilisi airport for the summer of 2022. Prices are in US dollars when booking a car a month for a week.
| | | | |
| --- | --- | --- | --- |
| Price per day in $, if booked for a week | Economy, $ | Average, $ | SUV, $ |
| Rentalcars.com | 33 | 35 | 50 |
| LocalRent | 16 | 40 | 54 |
| Discover Cars | 31 | 41 | 58 |
What you need to rent a car in Georgia
In almost all cases, car insurance is limited to the deductible. That is, the customer is obliged to pay the damage with an amount not exceeding the value of the deductible. It depends on the class of the car and is set by the company.
When renting a car, the client makes a deposit. If he/she returns the car with damages, the company can deduct the cost of damage from the deposit amount (up to franchise). If there is no damage, the client gets full refund of the deposit.
Usually, the deposit amount is the value of the deductible. Sometimes the deposit is more or less than the deductible. You can find out all about the deductible and its size on popular sites:
LocarRent – if you rent a car from this site, the deductible will be between $100 and $300. Some companies make offers that are hard to refuse: no deductible, ie, no deposit.
EconomyBookings offers a deductible of $200 to $1,200.
Is it worth it to buy a hull insurance policy in Georgia?
All the cars that are offered for rent are insured. But the conditions of insurance and liability are different:
MTPL. Liability occurs if the driver is at fault in the accident. It does not cover the damage to the wheels, windows and the car interior. If there is a scratch on the body and there is no fault, then the driver pays.
CASCO. This is a car insurance. The insurance doesn't cover the undercarriage, glass and tires. If the driver is at fault, he doesn't pay. If a deposit has been made, the damage is deducted. The insurance company pays the rest. If there is a scratch but no culprit, the driver pays.
Super Casco. In either case, the driver doesn't pay. But if the driver made a deposit, the damage is compensated from this sum.
Super Casco is worth buying, if you will have to drive many kilometers on an unpaved road.
Deposit for the car
The driver gets the deposit, which is paid in cash, when he returns the car. But things are more complicated with the card deposit. The amount will be frozen for the duration of the rental. If the car is returned without defects, the company will unlock the amount.
You won't be able to use the amount until two weeks later (that's how long the procedure takes at the bank that issued the card).
There are ways by which you can rent a car without a deposit in Georgia.
To do this one must:
buy Super Casco. This insurance reduces the deductible to zero,
in the filters of the site Myrentacar you need to put a check mark near the point "no deposit.
For some cars KASKO or Super KASKO insurance is a free option.
Getting a car: what documents are necessary and what to pay attention to
It is not required to have an international license to drive a car on the territory of Georgia. You can drive with a national one, i.e. with an ordinary one.
One needs to have a category B license. Russian, Ukrainian, Belorussian automobile license will be suitable. Driving experience must be from 1 to 3 years. The age must be 21-23.
Each company has its own requirements to its customers. For some people driving experience does not matter. In this case, they try to impose an expensive insurance policy. There are companies that provide cars to drivers at least 25 years old.
List of requirements:
License with category B. License must be issued no earlier than 1991.
Driving experience of at least 3 years. If not enough experience, you can ask for support to pick up a company for which experience is not a problem.
Age – at least 23 years (if younger, you can ask for help from the support).
Passport.
It is desirable to have a bank card.
Leasing, you should carefully inspect the car. Make photos of all body defects. And it is better to make a video!
Differences in the rules of rental companies in Georgia
Renting a car in any country of the world is one thing, but in Georgia it is quite another.
The car rental industry in Georgia has its own peculiarities. There are both pluses and minuses.
The advantages of the car rental market in Georgia:
Prices. It is much cheaper here.
Quality roads to many attractions are built.
It is not difficult and does not take much time to find and book a car.
Low cost of insurance.
Low deposits and possibility to rent a car without deposit at all.
Loyalty of car rentals to customers.
Polite policemen.
The negative sides of rent a car:
Most of the fleet is cars that are more than 5 years old.
Many cars are "restored", i.e. have been in a serious accident,
Many cars are rebuilt from "right-hand drive" cars.
Many companies have a daily mileage limit. Sometimes only 150 kilometers.
Companies forbid driving on difficult and broken roads, including SUVs.
Main rules of road traffic
Traffic rules in Georgia are the same as in other CIS countries. But there are slight differences.
The differences concern the speed limits in built-up areas (60 km/h), outside built-up areas (90 km/h) and on highways (110 km/h).
Emphasis is made on "inevitability" of punishment. Installed everywhere, cameras record the violations, and the driver receives a bill for the fine.
Even a tourist should not hope to "get away with it". The fines are checked at the border.
The driver can only use a cell phone with a headset.
Low beam should be turned on in poor visibility and in the dark.
The maximum permitted blood alcohol level is 0.3. The refusal of the driver to pass medical examination is considered as an admission of violation. Penalties are the same as driving while intoxicated.
Police and traffic fines
The police are friendly to tourists. If you do not violate the traffic rules, there are no problems with the police. If, however, the rules are violated, you should behave politely, never offer a bribe.
A few years ago, a 100-point system of violations was introduced in Georgia. Each violation corresponds to a certain number of points. If a driver reaches a hundred points, he loses his license for one year (with re-examination).
Drivers are most often fined for speeding: over 15 km/h – 50 GEL, over 40 km/h – 150 GEL.
For driving without license – 500 GEL.
Peculiarities of driving in Georgia
In each country one has to get accustomed to the local manner of driving. After a couple of days you feel at ease.
The peculiarities of the national driving in Georgia are expressed in the horns. They can be heard everywhere. This is how Georgian drivers communicate. One beep means "hello!" Two beeps means "attention!" A long beep means "you're wrong!"
The horn sounds before every maneuver. It helps when driving on mountain roads when visibility is up to the nearest serpentine curve. You have to be careful with pedestrians. They are brazen in Georgia: they cross the street wherever they want.
If the battery is dead or a tire is flat on the road, they will always help you.
Highways in Georgia
The roads in Georgia are generally not bad, but there are many on which it is forbidden to drive a rental car. There are no toll roads.
Good roads on the routes often taken by tourists. Dirt roads on the outskirts, at the foot of the mountains. Going out of town, you must be prepared that a herd of cows or pigs may walk right along the road.
Calculating the route on Google Maps when driving on mountain roads, you need to take into account that in reality it takes twice as much time. Therefore, it is better to think out in advance and lay out on the map the route of the trip.
Parking in Georgian cities
It is possible to use paid parking lots in large cities. In places, where tourist routes are often met by parking attendants. They offer to pay up to two GEL per place.
City. After paying for a few hours, you can use the parking lots of a certain company around the city.
Private, with an hourly fee.
But you can park for free in many places. You can even pull into the nearest courtyard and leave your car there. It is difficult to find a place to park for free in the old part of town, where the streets are narrow.
Violation of the rules when parking is punishable by a fine of ten GEL. The car can also be towed away, if:
The car interferes with the traffic.
Is in an area where stopping is prohibited.
Occupies a place intended for persons with disabilities.
If you rented accommodation in the old part of Tbilisi, think about parking in advance. The streets there are narrow.
What to do if you bump, scratch or get into an accident in a rental car?
If you are involved in an accident, you should:
Contact the company that provided the car,
Report the accident to the police.
If you know that you are the cause of the accident, do not try to "resolve the issue. This does not work in Georgia. Police officers there are friendly and incorruptible.
If there is a scratch on the rental car (and there is no culprit), the responsibility is on the driver. The bodybuilder charges about $100 for painting one part. If the scratch is small, you will have to pay about $50.
Rent a car at the airport in Tbilisi
You can rent a car directly at the airport. Car rental companies have offices at the airport building.
Here are the major international and local companies:
Rentalcars
Localrent
EconomyBookings
DiscoverCars
The companies are located near the arrivals area and are open 24 hours a day.
Companies have standard requirements for drivers:
At least 19 years old.
At least one year of driving experience.
Customers under 21 and with little driving experience are offered to pay an additional fee.
Attention! The longer the term for which the car is rented, the cheaper the price per day.
What car is better to rent in Georgia. My review and hints
For a car in the mountainous country two points are important:
Power in hp.
Fuel consumption.
To drive on mountain roads, you need a car with 110-120 hp. If the power of the car is less, the engine can overheat on difficult sections. It will also be difficult to perform some maneuvers that require a power reserve.
In the filters on the LocalRent website, there is an option to specify approximate fuel consumption.
The older the car, the cheaper is its rent, but you should not rent a car older than 10 years. First, they are in poor technical condition. Secondly, the fuel consumption of a worn out engine is much higher.
Diesel or gasoline? Certainly, the diesel is more profitable. But the rent for the diesel car is higher. Than for the petrol one, so what's the sense then?
I would choose the best option. That's the brand that cab drivers drive. For Georgia, it is a Toyota Prius.
Hybrid car, comfortable enough. With a low fuel consumption.
In the mountains, the fuel consumption is much higher than the description. It depends on the power and engine displacement.
Saving on gps navigator when renting a car
When renting a car, it is convenient to navigate using maps.me. You need to download the application and download a map of Georgia. You do not need the Internet to use it. By enabling geolocation you can navigate around the country without a gps navigator.
The map is more convenient to use if you open it in a new window,
to remove the marking of regions, you need to uncheck certain layers.
Gas stations and gasoline prices
Gas stations in Georgia are common. Appearance of the filling station must inspire confidence. Cards are accepted everywhere. Almost all gas stations are staffed by gasoline attendants. They will refuel themselves and offer to wash the glasses.
You can ask the gas station attendant what kind of fuel to fill up your car.
It is easy to find a gas station in the city and it is easy to find the right one. But as you get further from the city the number of gas stations decreases. So it is better to fill up with extra fuel.
| | |
| --- | --- |
| Type of fuel | Cost |
| 92 petrol | 3.09 GEL (€0.886) |
| 95 petrol | 3.18 lari (€ 0.912) |
| Diesel | 3.07 lari (€ 0.880) |
| Gas (LPG) | 1.95 lari (€ 0.559) |
Average prices for all fuels as of 26.01.2022
Emergency phone numbers
The tourist should have phone numbers which are always at hand:
The single telephone number for emergency, police, fire and gas dispatch services is 112.
For questions about border crossing +995 32 226 11 12.
Russian Federation Interests Section at the Embassy of Switzerland in Tbilisi +995 32 291 24 53.
Hotline of the Ministry of Foreign Affairs of Georgia: +995.
Tbilisi airport +995 32 231 04 21.
Travelling around Georgia by a rental car is much more interesting than by bus or minibus. It is easy, inexpensive and safe to rent a car here. It's better to choose and reserve a car in advance. There are often discounts and bonuses at the sites of rental companies.
Video on the subject
Websites which we always use to save money when we travel:

Hotellook – search and compare hotels with up to 60% discounts

Booking – the most popular hotel search engine

Rentalcars – rental cars around the world

Discovercars – rental cars (sometimes cheaper than previous rentals)

Tripinsurance – travel insurance

Hotline is another insurance search engine

Travelata – online tour search to 68 destinations

Aviasales – flight searches to 728 airlines
How to Rent a Car in Georgia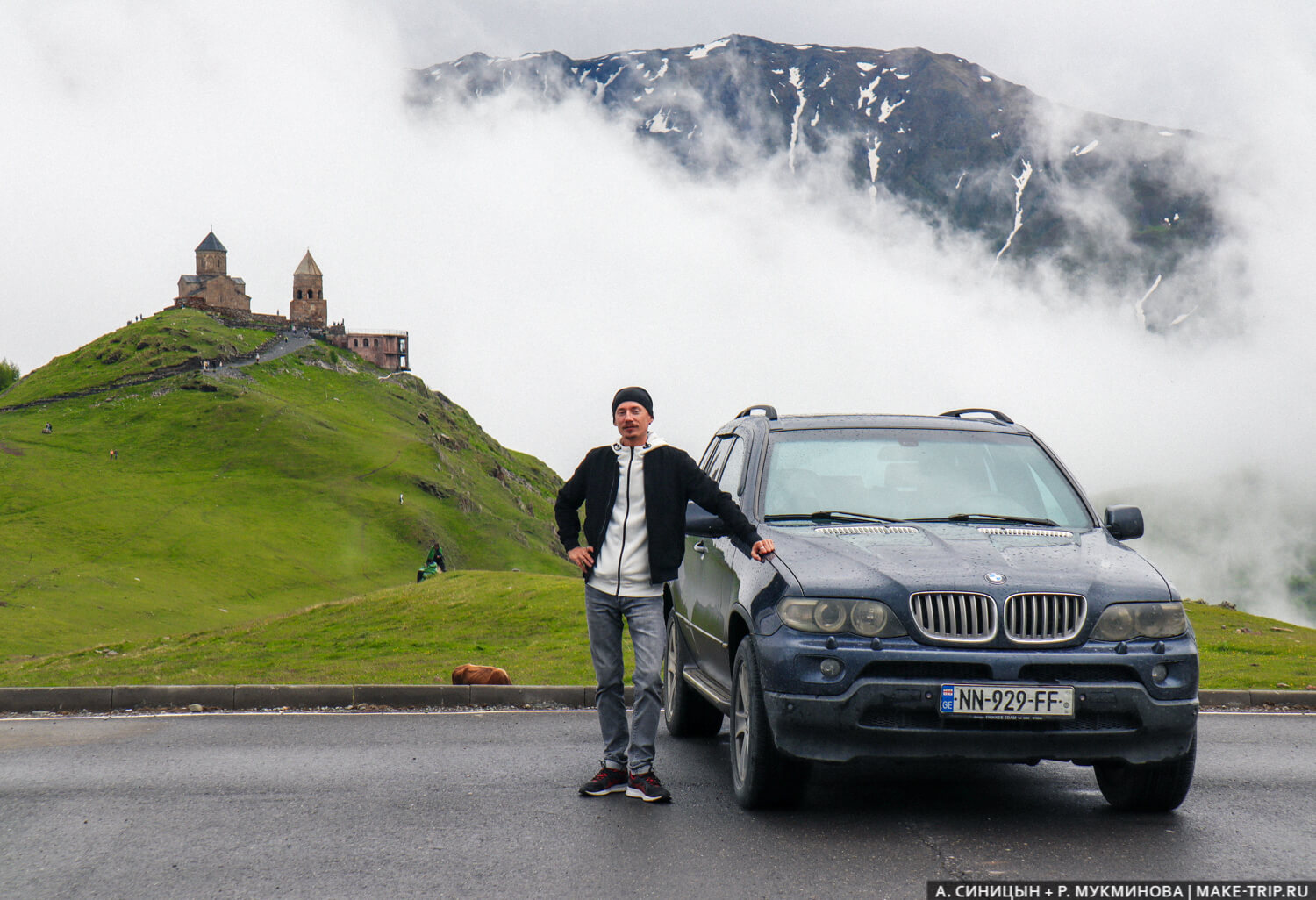 The best way to travel in Georgia is by car. I'm sharing my personal experience of renting a car. It's easy, inexpensive and a heck of a lot of fun. See for yourself!
Contents:
What for?
"Do I need it? – The tourist who is going to Georgia will ask. – To bother with renting a car, to spend money on gasoline, to get used to the local manner of driving, to lay the routes and go through God knows what difficulties". "You should," I will answer him firmly and emphatically. There are many reasons in favor of this, and here are the ones that moved us:
To visit Kakheti, the country's main wine-producing region.
To wander through a 3000 year old cave city.
To admire the beauty of the Georgian Military Road.
Visit ancient temples and monasteries.
See a completely surrealistic picture of how poor refugees from Abkhazia live on the ruins of luxurious Soviet sanatoriums-palaces.
To see the tiny house, where Joseph Stalin was born, and the museum dedicated to him.
Be mesmerized as the mists envelop, caress, hide and reveal again to your eager gaze the silhouette of the Trinity Church in Gergeti and the surrounding mountain peaks, meadows and valleys. That was the culmination and perhaps the most joyous moment of our trip!
These and other pleasures will give you a car trip to Georgia, if you are not afraid to dare! The list can be multiplied many times – it all depends on personal tastes and interests. All of the above we managed to see in just six days in Georgia. Is it possible to survive such a fascinating adventure without a car? You can, but you will have to spend at least twice as much time and probably twice as much money.
But the most important thing is that you will get to know Georgia. Get to know Georgia not "casually", not superficially, but seriously and thoroughly. Get to know each other so that to go straight to the "you" and if the characters meet, thus lay the beginning of a long and pleasant friendship. You will never get to know and feel this country just by visiting its capital or the seaside resort. Georgia is a complex phenomenon: multi-component, multi-layered, multi-faceted. It has too much at its base: this holy Mtskheta, and ancient Tbilisi, and majestic Kazbek, and legendary Kakheti, and snow-capped mountains, and fertile green valleys, and people themselves, and their loyalty to tradition. The list is incomplete, to complete it would take years. Or even a lifetime. Or even more than one.
That's the beauty I was going to Georgia for! Fabulous luck with the weather.
Our Car Trip
We arrived in Tbilisi in June after a big two-month trip through Turkey. At that time, traveling through Georgia was the only way to get back to Russia from Turkey, which was closed by our government. We were already tired, but we wanted to finally get acquainted with Georgia, because we had not seen anything in this country, except the capital and Mtskheta. And we wanted to see more! So we decided to rent a car in Georgia. Well, how else could we see so much interesting things in six short days? No way! So we rented an old, but still full of energy BMW X5 and went to get acquainted with the legendary Sakartvelo.
Our auto-trip through Georgia in numbers: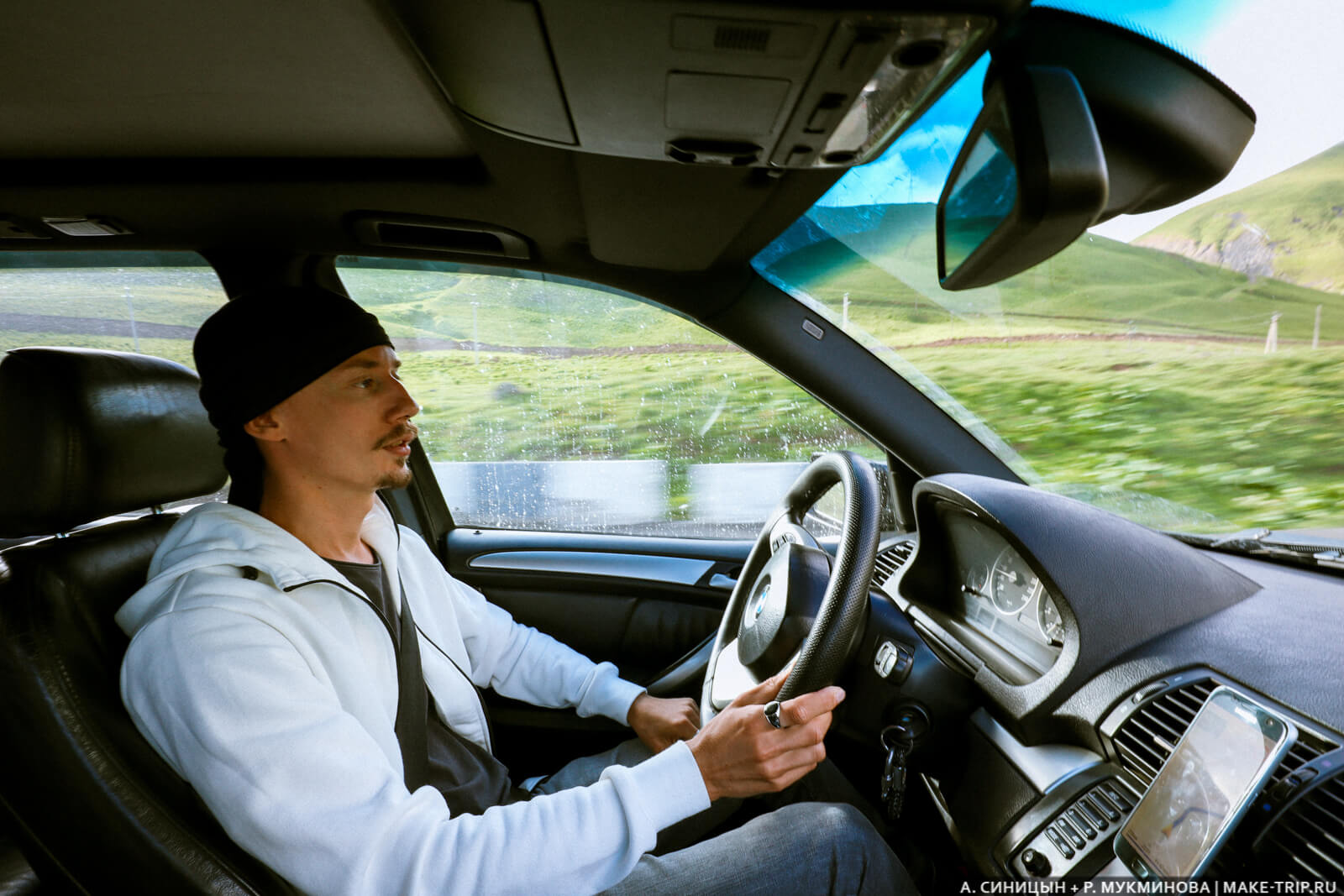 Spinning the steering wheel on the serpentines of the Georgian Military Road.
Where to rent a car
There are many options: there are different sites, firms, private individuals – just like in any other normal tourist country. Personally I usually rent a car at Rentalcars.com when traveling around the world. This is a big aggregator, a sort of analog of Buking in the car rental industry (in fact, it belongs to the ubiquitous Buking). However, I preferred to use the Russian service Localrent.com to rent a car in Georgia. I will explain why.
First of all, it is a hundred thousand times more convenient and clear than its foreign brother.
Secondly, it is often cheaper, because the service does not work with the world rental brands (Hertz, Avis, and so on), but with the local rental companies. In addition to the benefits, it is simply more humanly pleasant to support a local manufacturer rather than a soulless multinational corporation.
I can recommend Localrent.com as a convenient and reliable service. I also used it to rent a car in Turkey. Alas, this website does not yet work with all the countries of the world, but it has already mastered many popular destinations: in addition to Georgia and Turkey, they work in Sochi, Crimea, Greece, Montenegro, Bulgaria, Cyprus and so on.
When booking on the site need to pay only 15% as an advance, the rest on site when picking up the car. If necessary, reservations with the "Free Cancellation" option can be cancelled without penalty up to 24 hours before the rental begins.
The page of the car I rented in Georgia is on Localrent.com. Full insurance is included and there is a free cancellation option. View from the Friendship Arch to the Georgian Military Road.
This is how much it costs to rent a car
Here I'll give you some examples of current prices for 2022 from Localrent.com. I have used it myself, and the prices there are usually the lowest. Here's what the cost of renting a car in Georgia depends on:
season and demand
rental location
Make, age and conditions of a car rental.
Season and demand
We booked a car during the pandemic, so the demand was minimal and the renters were lowering prices as much as they could in the struggle for a rare customer. For June, I saw a lot of offers for $10-15 a day, and already with full insurance. Now even for the off-season I see that prices start at $18. In summer it is more expensive – from $30-40 per day. When the pandemic is over and air travel with Russia resumes, I believe prices will rise even higher.
Location
The cheapest place for renting a car is in Tbilisi. The cost of renting a car in Batumi, Kutaisi and other cities will be higher, as delivery of a car from another city is often added to the price.
The cheapest cars
For $18-20 in low season you will rent the most basic cars: for example, Toyota Prius, Honda Insight, Ford Fiesta, Kia Rio, Hyundai Accent. However, the car will be automatic, with no mileage limit and already with maximum insurance. These cars are usually 7-12 years old. It is difficult to find new cars in Georgia; people mostly drive old American and European cars there. There are no Russian brands in Georgia at all, only a rare "Bukhanka" somewhere in the countryside will remind you of our shared historical past.
New cars
Rent of a two- or three-year old car costs from 30 dollars. And the models will be more interesting.
SUVs
From 25$ a day will cost the most popular SUV in Georgia – Mitsubishi Pajero IO from about 2003-2008 years of production. A good price for a four-wheel drive car, which will come in handy in this country. Mitsubishi Outlander, Ford Escape, Toyota RAV 4 and other models will cost a little more. For $35-40 you can get an older Land Cruiser Prado.
We took a BMW X5 with an automatic. The car at the time was already 17 years old, but its condition was excellent. For the pleasure of driving around Sakartvelo in a great German car, we paid $216 for 6 days, which means that the rent was only $36 per day. I looked at the prices of such cars now – even in the off-season they are rented from $50 per day. I managed to get a bargain!
Older luxury cars start at $35, newer cars start at $60.
From $65 you can get a convertible, such as a Mazda MX-5 or BMW 328i.
It costs $230 to rent the most expensive car I've seen among the offerings in Georgia, a Maserati Ghibli.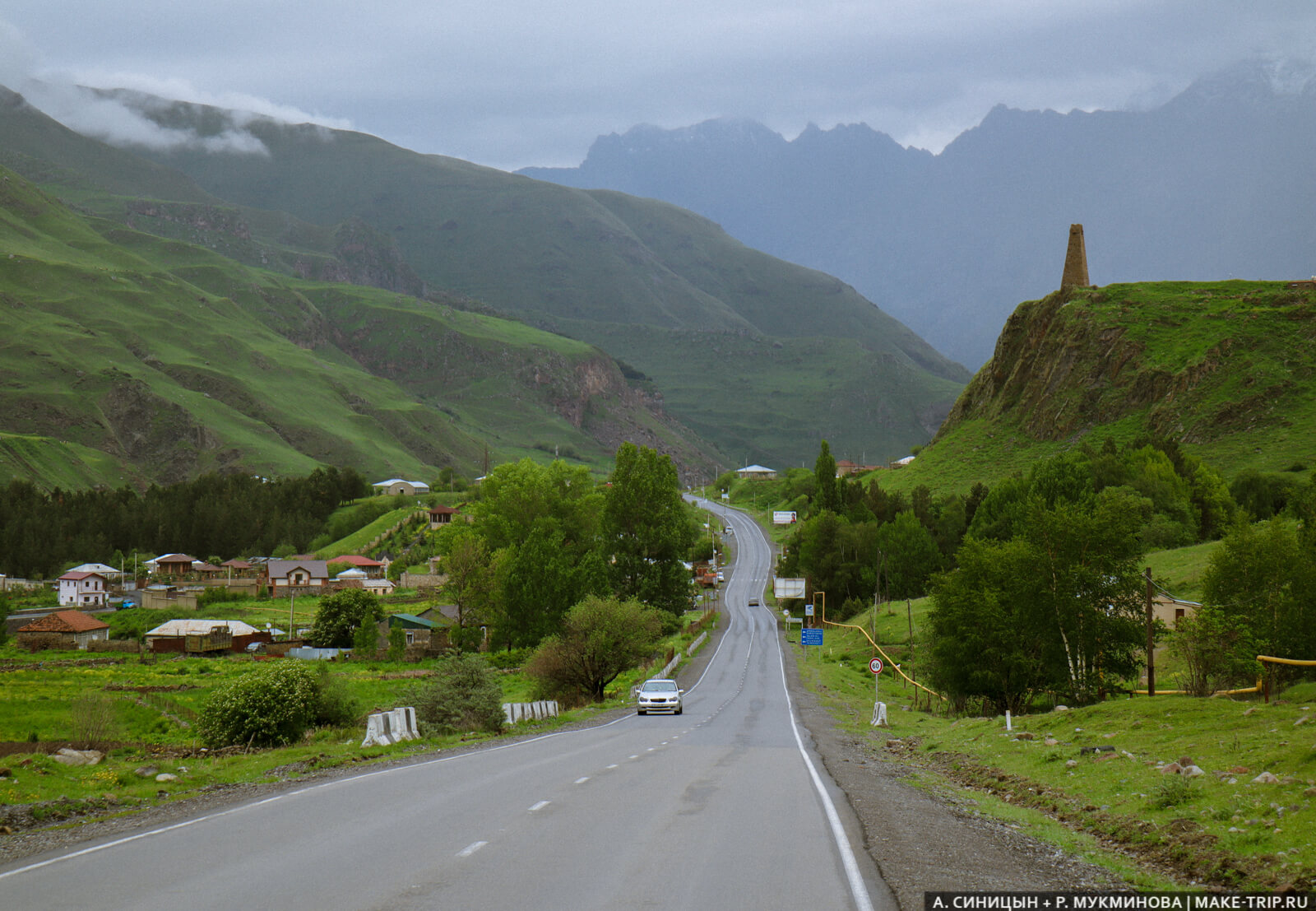 The Georgian Military Road is incredibly beautiful.
What kind of car to take
Any car will do for visiting most of Georgia's attractions. But if you have a trip to some unusual and remote place, then be sure to find out the latest information about the road to it on the Internet – perhaps a four-wheel drive and high ground clearance will come in handy. However, regardless of your route, I advise you to take a car with a more powerful engine – it will be very helpful on steep rises in the mountains, especially on IOP.
In the mountains I used to travel by a large car, yet half of Russia has already passed on his "Patriot. So in Georgia, I also decided to take a more brutal carriage – a BMW X5. There is not much to tell: as it should be, this car has proven itself perfectly in all situations.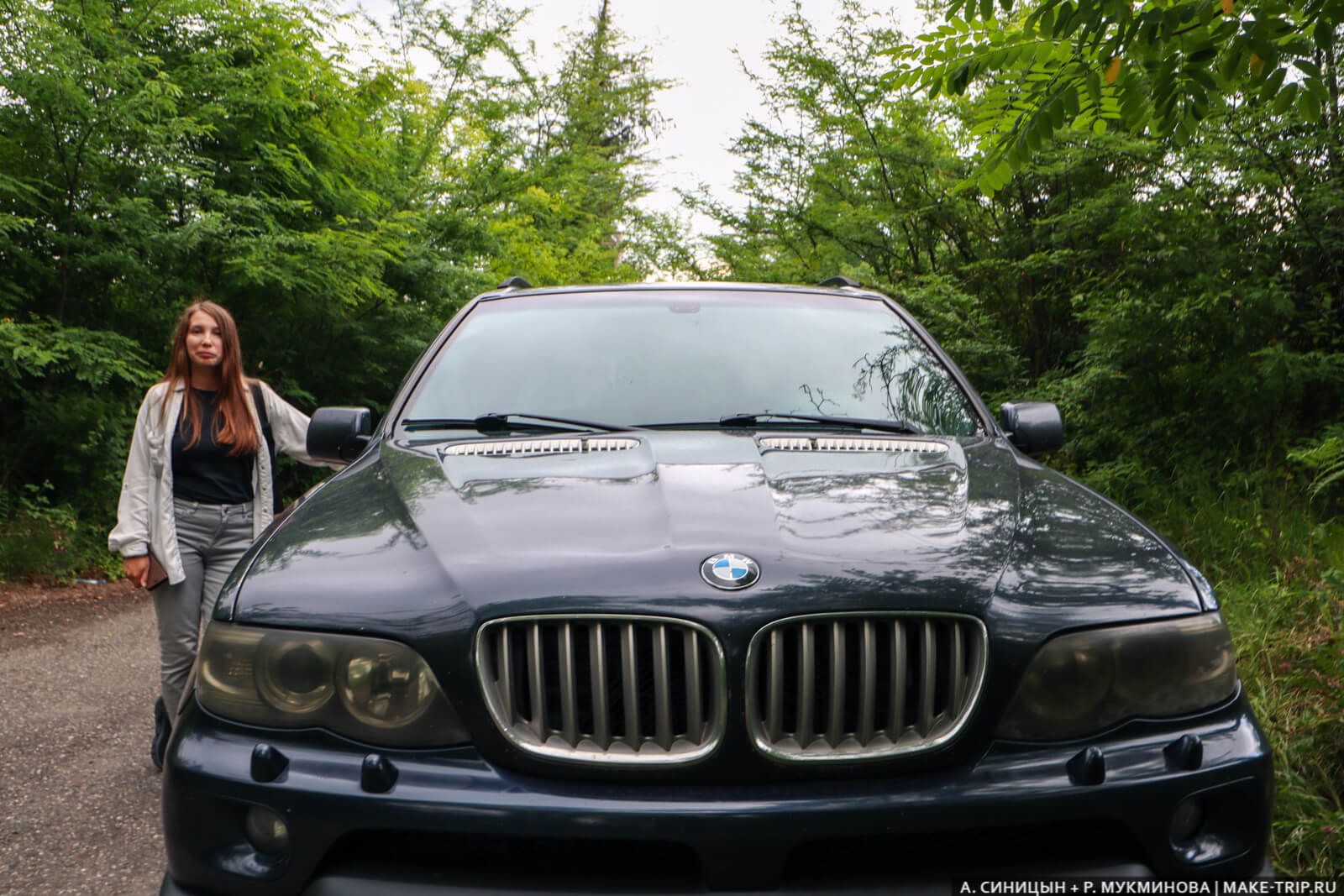 It is not terrible to drive in the woods or to assault a steep hill by such car.
Deposit and insurance
On the Localrent.com service, most cars in Georgia already have maximum Super KASKO or at least regular KASKO insurance included in the rental price. In other cases, only MTPL is included, and you have to pay extra for extended coverage. When there is full insurance, you do not need to leave a deposit. It is very convenient. Plus, you can relax and not worry at all about scratches and damage.
The topic of insurance, deductibles and deposits is quite complicated. I told about them in details in another article: All nuances of renting a car abroad.
Requirements for the renter
To rent a car in Georgia in 2022, you need:
Passport.
Driver's license (international license is not required).
Be over 23 years old and have more than 3 years of driving experience.
A bank card or cash for a deposit, if available.
Accepting a car
Everything went simply, quickly and heartily.
I WhatsApped my landlord the day before to ask about the possibility of paying in Georgian GEL instead of dollars. He agreed and gave me the exact amount according to the fair exchange rate from Google. We agreed on a place and time to meet.
In the morning we were way too late for our appointment: we had checked out of the apartment, got a mobile internet, called a cab, and drove there. Malkhaz, the owner of the car, was already waiting for us in the car with a package of documents. He had filled out the contract himself, and I only had to read it and sign it. Along the way I asked him about the peculiarities of driving in Georgia, traffic cameras, parking lots, fines – in general, I asked all the questions that had accumulated. Renata, meanwhile, took pictures and videos of the car's scratches and defects. This time the ritual was unnecessary because we had full insurance, but out of habit and for the greatest peace of mind we took it anyway.
It took us about 20 minutes to receive the car and all our questions. Then Malkhaz wished us good luck, handed us the keys and drove off. I got the hang of the car for a while, adjusted the seat and steering wheel, and we were off on a long-awaited road trip around Georgia.
I should note that during the following days the owner was always in touch via messenger and willingly helped us with any small questions.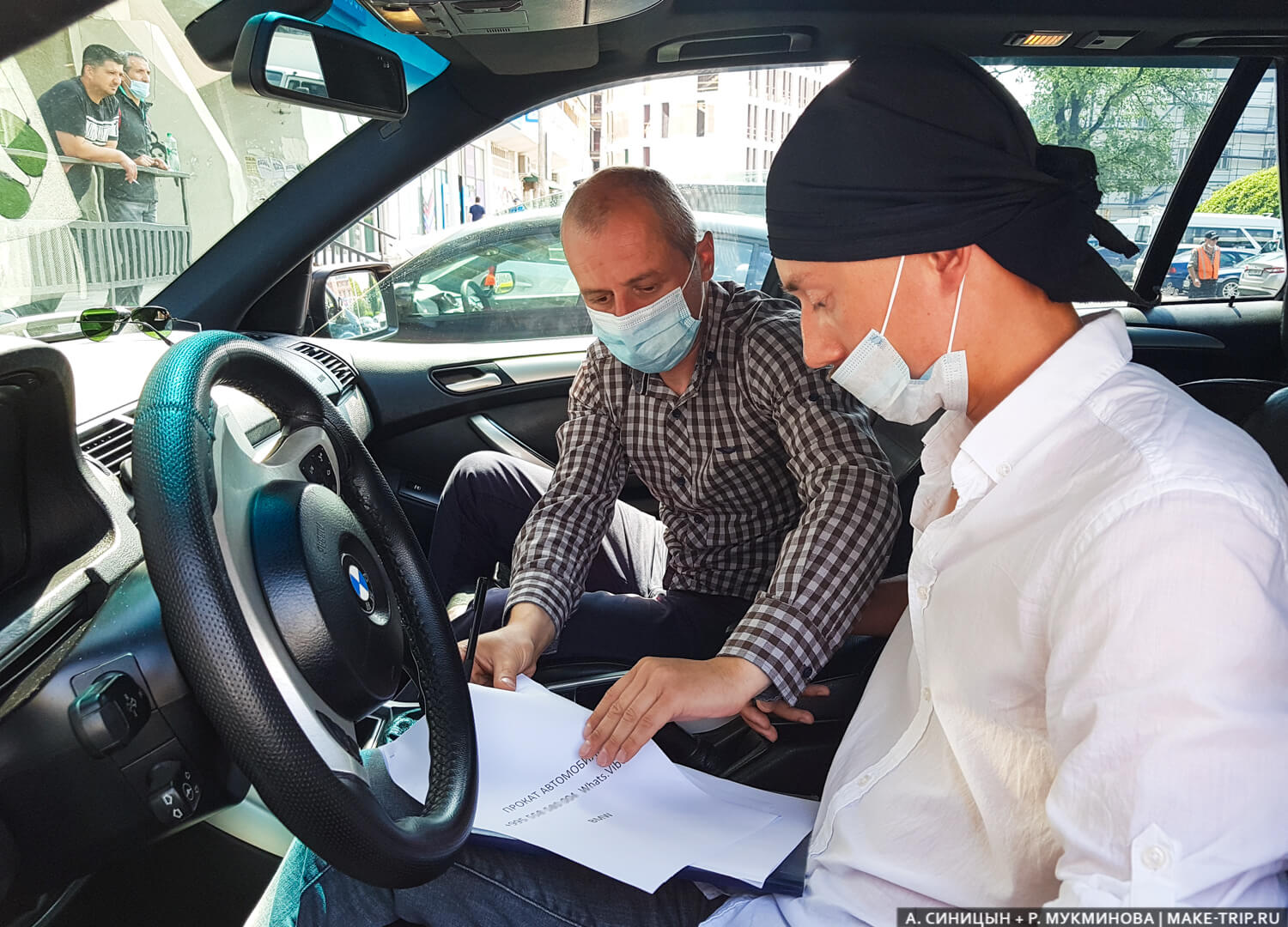 We signed the documents of the auto rental.
Where to go
Georgia is a small country, but because of the mountainous terrain and a long history is rich in all sorts of interesting things, beauty, and curiosities. You can not list everything here! So here I will only tell you about the route of our 6 day trip, and for details I will send you to the links:
In 6 days we had driven 1236 km, starting and ending the trip in Tbilisi, where we rented a car. Here is our itinerary by day:
| | |
| --- | --- |
| Day 1. | Getting the car, Dzhvari, road to Gori, Uplistsikhe. |
| 2 day | Stalin Museum and fortress in Gori, road to Imeretia, Gelati and Motsameta monasteries. |
| 3 day | Imeretia: Okatsi canyon and elite soviet resort Tskaltubo. |
| day 4 | Walking in the old town Kutaisi, road back to the center of the country, Georgian Military Road to Gudauri. |
| Day 5. | Upper part of the Georgian Military Road. Overnight stop in Tbilisi. |
| 6 day | Drive to Kakheti, return to the capital, rent a car. |
It is important to know that the renter is not entitled to go to any region of the country. Strictly prohibited to drive by rented car on route "Mestia – Ushguli – Lentekhi – Kutaisi" (in Svaneti), as well as in regions of Tusheti, Omalo and Shatili. These are hard-to-reach places high in the mountains. It was to Tusheti that the main character of the film "Mimino" flew in a helicopter: at that time these places were inaccessible by land transport, and little has changed since then.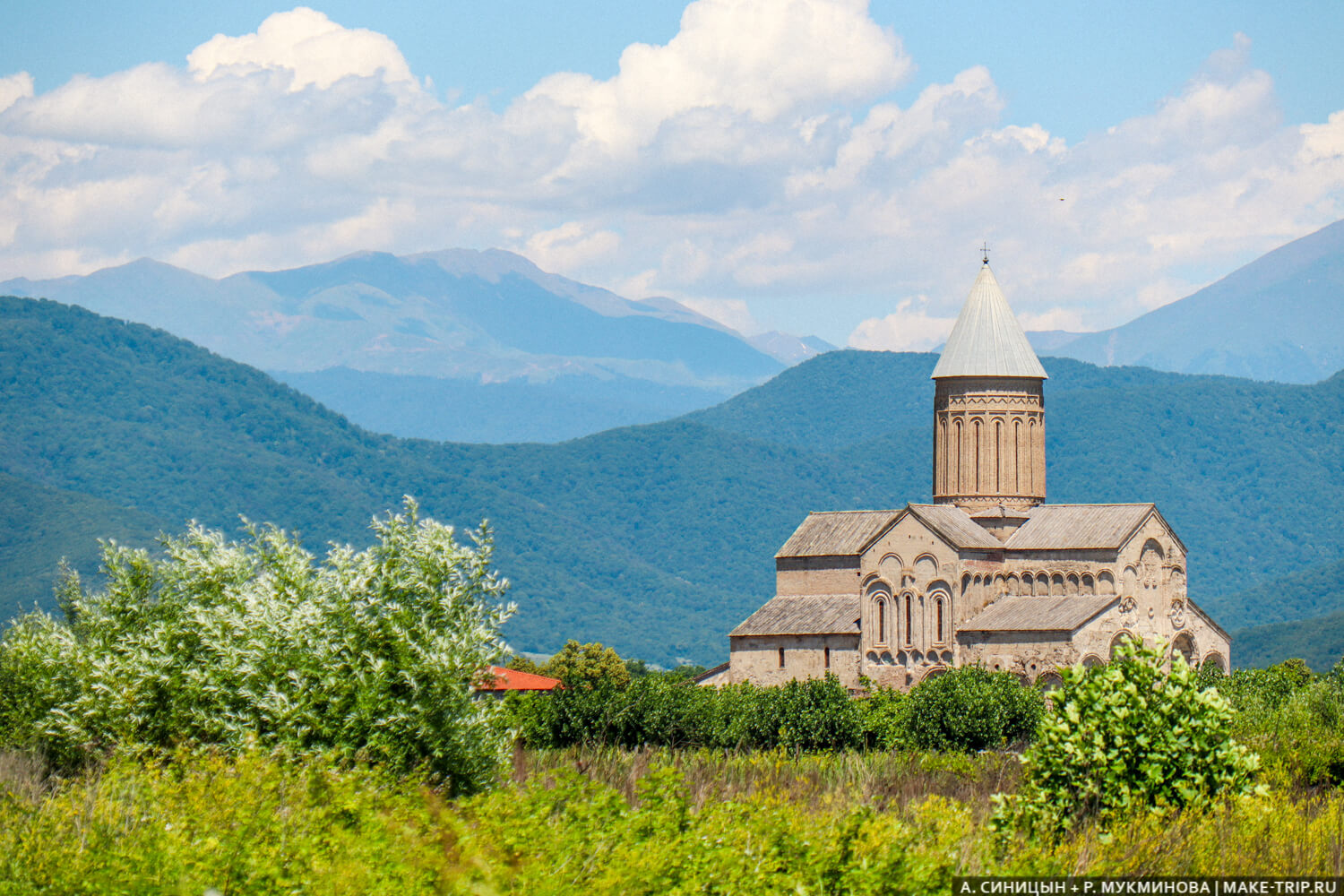 Alaverdi Monastery in Kakheti. In Tskaltubo (Imeretia) it is interesting to see the once luxurious Soviet sanatoriums where Georgian refugees from Abkhazia now live.
Renting a car
We immediately decided that we would rent the car a little earlier than the expiration of the lease: the evening of the sixth day instead of the morning of the seventh. In the morning we contacted the owner of our car and everything was agreed. He was so kind as to agree to come to the outskirts of Tbilisi, where we had booked a hotel for our comfortable departure to Russia the next morning, and to accept an unwashed car. For this inconvenience he asked only a purely symbolic amount of 40 GEL ($13) to cover the cost of the car wash and the cost of the cab. Malkhaz arrived at the appointed hour, took a quick look at the car, inquired about how our trip had gone, and left.
Thus, our mission was successfully accomplished! The experience of renting a car in Georgia was successful and enjoyable.
For this trip we burned 114 liters of diesel, which cost 340 lari, or $110. Consumption was 9.2 liters per hundred.
Pros and cons
✔ Huge time saving.
✔ Saving money on excursions.
✔ The opportunity to see many more interesting places.
✔ Renting a car in Georgia is inexpensive.
✔ Large selection of cars.
✔ Opportunity to see the country from different sides, to learn regional differences, which are tangible and important in Georgia.
✘ Bad roads.
✘ Many mountain roads and serpentines.
✘ Expensive fuel.
✘ You have to get used to the driving habits of Georgians.
Alternatives to renting
A car is the most useful thing in travel. I became firmly convinced of this after numerous car tours in Russia and abroad. Of course, you can do without a car in Georgia, but I think it is an extreme and undesirable measure. It is better not to limit yourself. If you cannot afford to rent a car, I offer the following alternatives.
Trip by own car. It is possible to travel from Russia to Georgia by your own car, but during the pandemic it is difficult to do – you need a serious reason. But even without that there are many difficulties: the way there and back from many Russian cities will take several days, and it is easy to lose a whole day in a queue at the border. Learn more about traveling to Georgia by your car.
Excursions . Their choice in Georgia is extremely rich. You can easily do without a car by taking tours to Kakheti, Imeretia, Borjomi, Mtskheta and other popular places. I advise to book tours on Tripster – they have low prices, more than 350 programs of the most different subjects and, most importantly, there are real reviews of tourists about the quality of each tour. I willingly use this service for traveling, including going on a couple of excursions in Tbilisi. This option may well replace renting a car, and for many will even be more interesting and convenient.
A car with a driver . This service is widely available in Georgia. Being something between a cab and a tour, this service seems to me completely ridiculous and unnecessary. If you can not drive yourself, it is better to take a full tour with a clear program, and good reviews, which is more reliable and convenient than renting a cab driver with a guide.
Public transportation . It's simple: you pay for cheapness with time and comfort, so choose. And don't forget that there are no shuttles or buses to many cool places.
I should also warn that tourists often speak ill of Georgian drivers, saying that they drive dashing and smoke like a locomotive in the cabin. This also applies to cab and minibus drivers.
Having weighed all this, we decided without a shred of doubt to rent a car. Especially because we are free birds by nature and we live our life mainly in the road movie genre.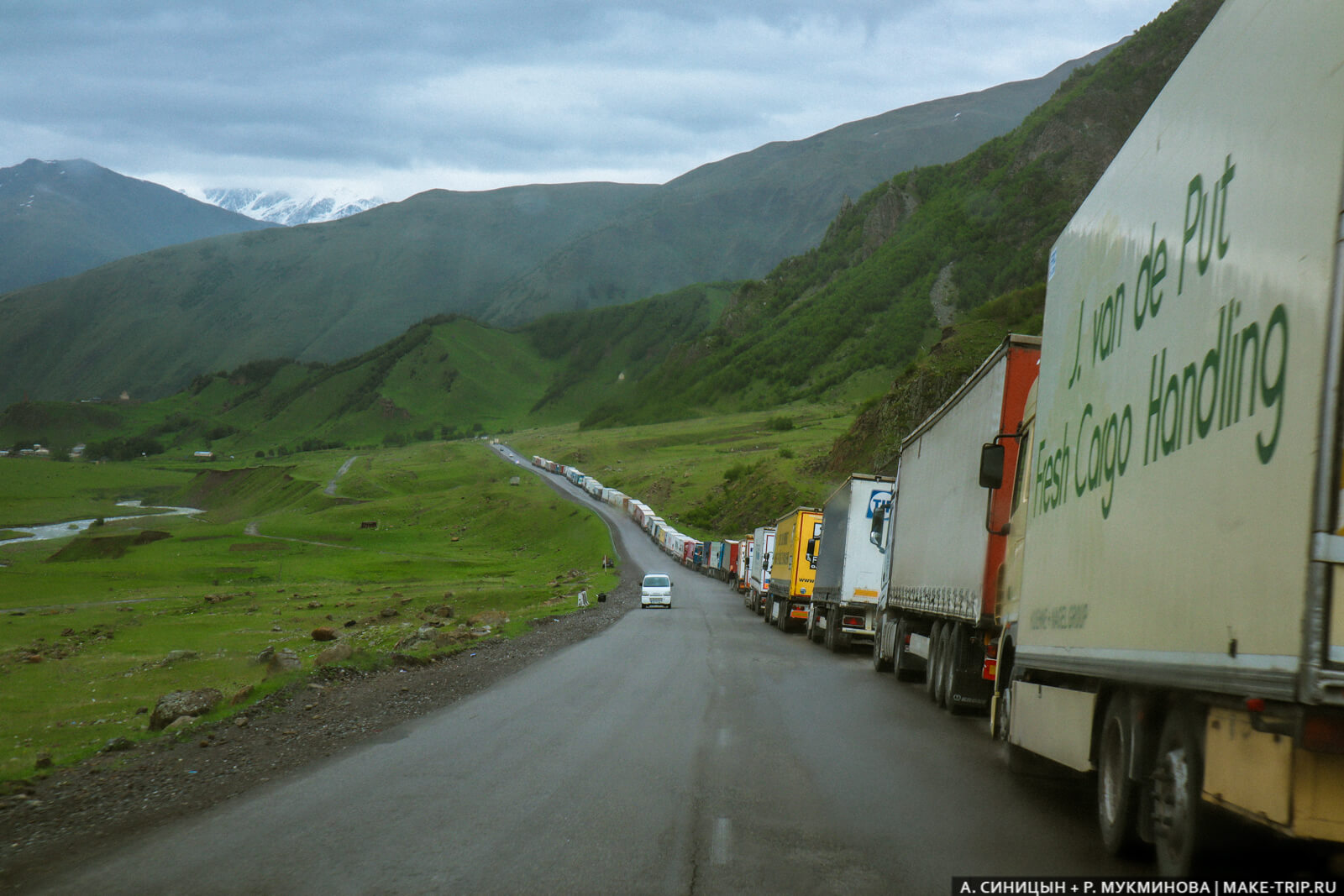 A line of trucks waiting to cross the border at the Upper Lars checkpoint. Such multi-kilometer-long queues line up at various sections of the highway. Cars also have to stand in long lines at the border. Fortunately, these troubles are not a problem for a tourist renting a car.
To summarize
It is advantageous and easy to rent a car in Georgia on the website Localrent.com. This is a reliable service that I use myself.
The best prices for car rentals are usually in Tbilisi.
Renting a car in the off-season is considerably cheaper.
Choose a car with a powerful enough engine to feel confident on the hills.
Be sure to check the current state of the roads if you plan a trip to a less-popular place.
To rent a car you will need a passport and a valid driver's license.
Take a photo and video of any damage to the car when you pick it up.
Do not hesitate to ask questions to the owner of the car in messengers.
Renting a car in Georgia is the best way to explore the country. With a car your trip will surely become more interesting and more memorable. And for the company or family, this format of travel will be much cheaper and more convenient than excursions. I hope my experience and tips will dispel any doubts and help you easily and with pleasure drive around Sakartvelo by car.