Renting a yacht: where to start?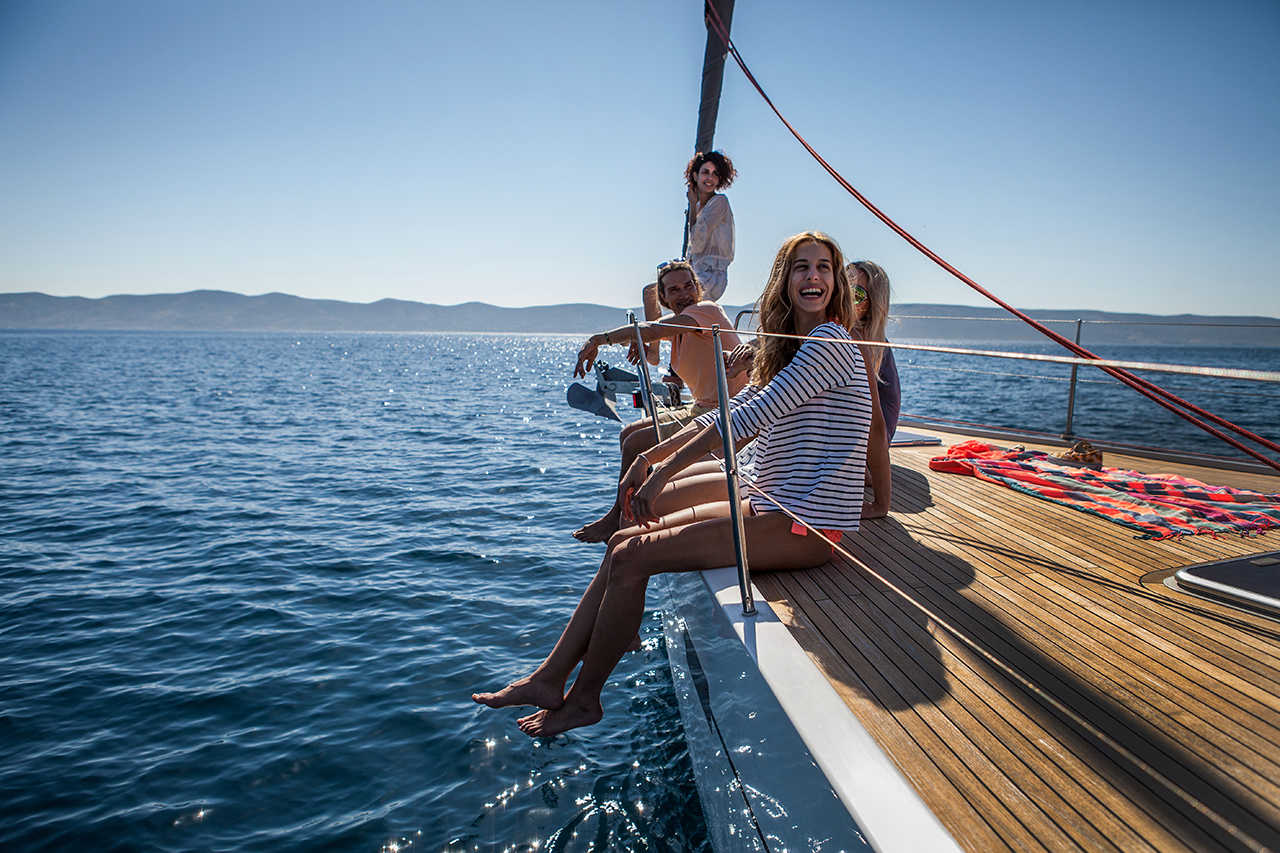 Everyone can venture to go to sea on a rented yacht, just not everyone knows how to organize such a trip. In fact, it is much easier than it seems at first sight.
The specialists of the European service Nautal, which allows renting yachts around the world, told about simple rules following which it is possible to organize unforgettable vacation. Waves, spaciousness and picturesque places leave bright impressions, which are impossible to get even in a luxurious five-star hotel.
Contents:
Choosing the country
Before you start your journey should decide on the region. The Mediterranean Sea is considered one of the best for yachting. Even Australians who are not sea-sick are willing to fly from the other side of the earth just to get a chance to sail between Spanish, Greek or Turkish islands. The Mediterranean is best explored in summer, during high season, when you can stop your boat in the middle of the sea and have a swim at your pleasure. The water area of the Mediterranean Sea is safe due to the fact that there are no sharks, no poisonous jellyfish and almost no visible tides. You can go from island to island and do not worry. In each European country you can find a unique route. In Greece alone, more than two thousand islands – these beautiful places can be studied for half a lifetime. At the same time Turkey, for example, is considered the most comfortable country for yachting. There even the smallest piers and marinas, like Ekinchik near Marmaris, are equipped with conveniences for yachtsmen and if you go to a local restaurant for dinner, you may not even have to pay for parking. The main thing is to decide which country to go to for the experience.
There are no sharks or poisonous jellyfish in the Mediterranean Sea.
Paving the route
The most important step is the construction of the route of the trip. For this you need to understand how many days the charter is designed for. In three days it is impossible to cross the Mediterranean Sea – at best it is possible to overcome only 60-70 miles and visit a couple of islands. "The Nautal website already has ready-made itineraries uploaded by experienced sailors who know the waters well," says Alexandra Tucha, a specialist in yacht rentals and communication with sailors of the Nautal service. – It's important for them to share experience with beginners and experienced sailors".
Experienced captains recommend choosing the shortest distance for the first crossing so that on the first day everyone in the team will get used to the rocking. In a short time the body is able to adapt to the unusual conditions and stop feeling discomfort. Sometimes even four hours are enough to get used to the waves. On the other days you can spend more time in the open sea, but still you should not overload the body. Therefore, with an average cruising speed of five knots, that is five miles per hour, it is better to go from 15 to 25 miles a day. If a boat or a boat has a different estimated speed, then you should count on time and spend no more than four to five hours on the water. Then you will have time to walk through small towns and sit quietly in a tavern.
Actually, with the calculation of the route and begins the most pleasant part of the trip. After a detailed discussion with like-minded people about the stops and the port of departure, it's time to look for a charter boat.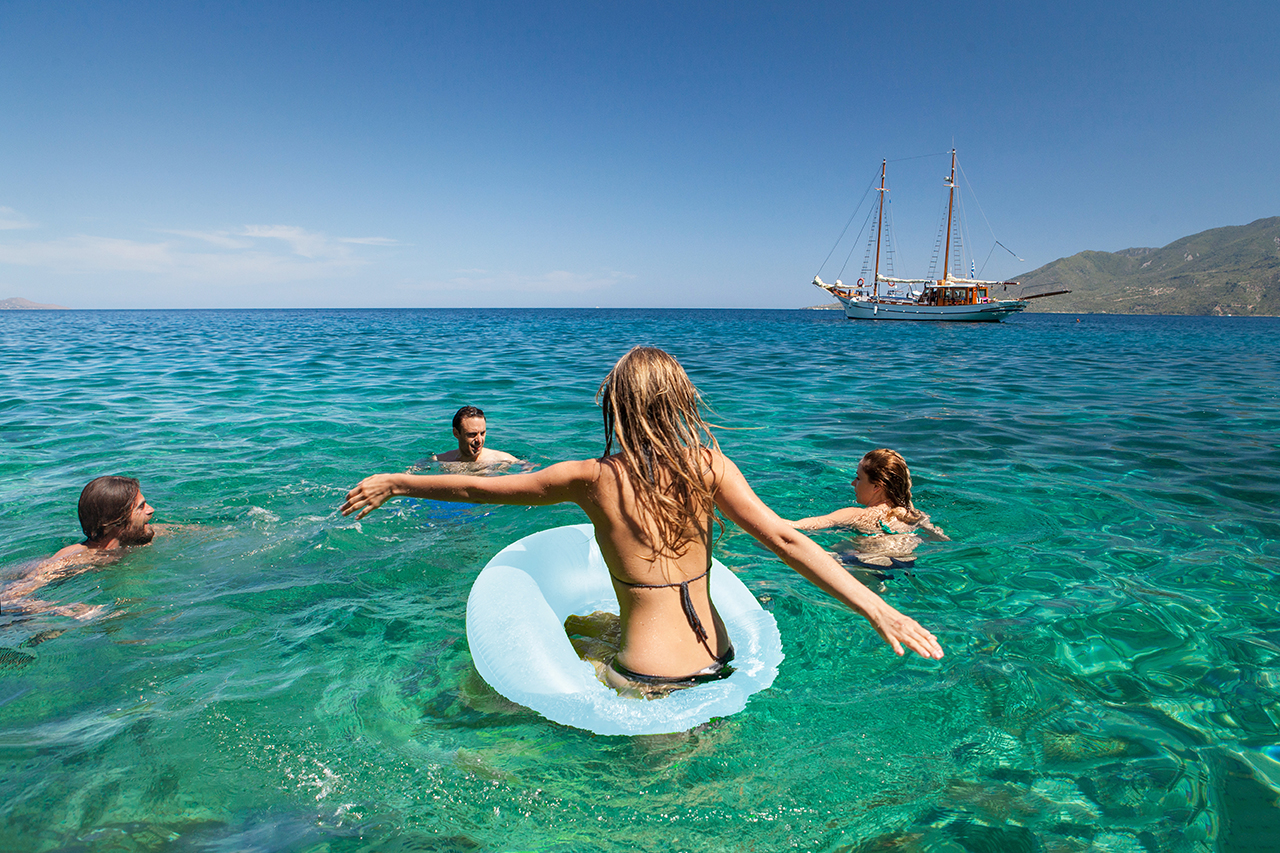 Go on the boat not more than 4-5 hours a day.
Looking for a suitable marina
Depending on the itinerary you have thought out, it is necessary to choose the locations where the charter yachts are located. For example, in Greece there are two major marinas in the Athens area where sailing boats, catamarans and other vessels are available for rent: the Alimnos marina in the city and the Lavrio marina in the neighboring municipality. If there are no suitable yachts for the period you are looking for in the nearby marina, you should widen your search. You may even have to adjust the itinerary if you find a good option, but in a more distant location. Generally, when planning a trip, as a rule, first of all one finds a yacht and then starts to look for appropriate air tickets. And if both factors coincide in terms of prices and level of comfort, it is possible to begin lease registration.
Any mishaps or mismatches should not be upsetting. The sea is a very capricious but fair element, it will not let you go where you do not want. So you should just relax and look for it.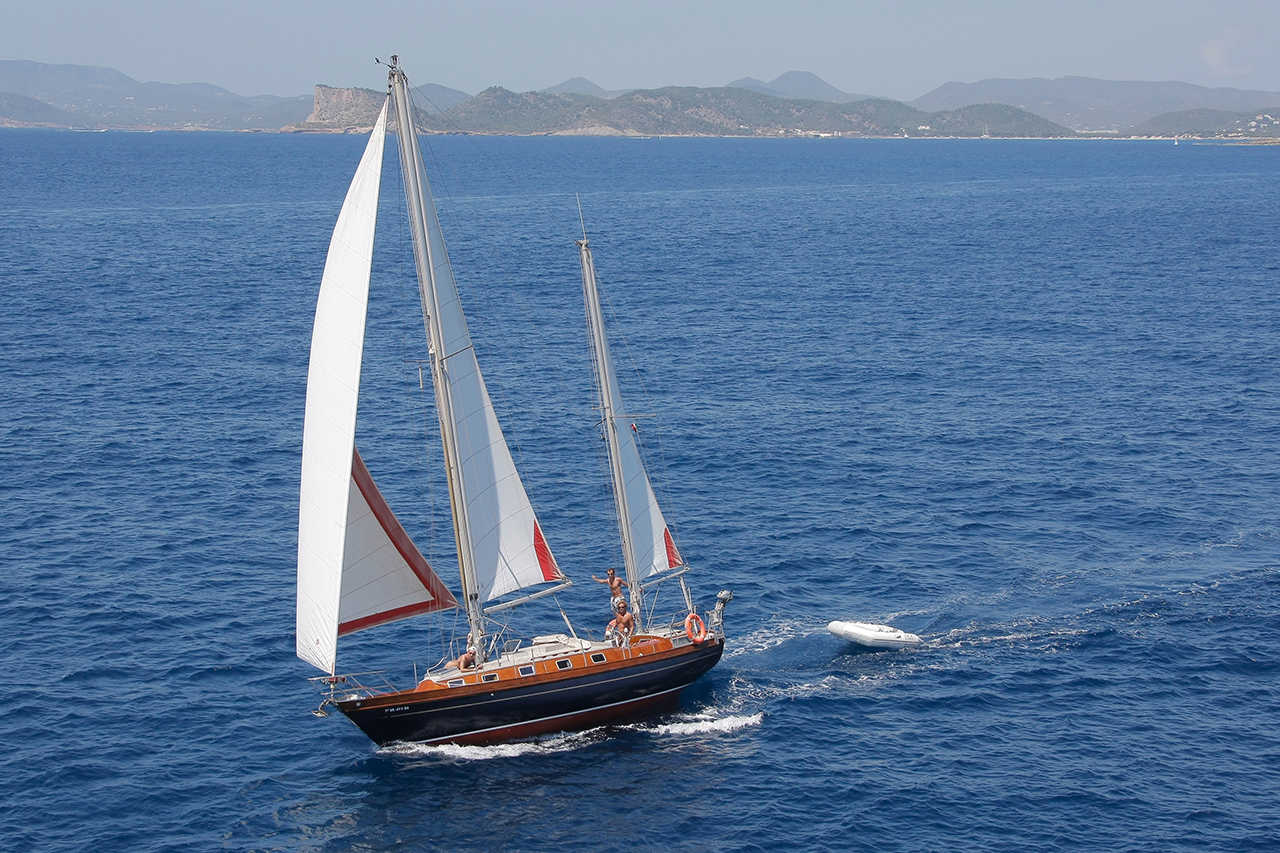 Choose a boat and a marina first and then plan your route.
Booking a monohull or a catamaran
According to observations of specialists from Nautal service, the most popular in Europe are sailing ships and catamarans 12 to 14 meters long. These vessels have several cabins and can accommodate up to 10 people, including the captain. As a rule, they are rented for one week – from Saturday to Saturday. That is, on Saturday, yachtsmen come to the marina, who on Saturday afternoon receive the boats, load provisions from nearby supermarkets, spend the night in the port, and then, on Sunday morning, leave for the charter. They return to the port on Friday, spend the night on the boat and return on Saturday morning. It is also possible to rent a yacht for a multiple of a week. Some companies are ready to rent ships for a few days, but in this case, a suitable yacht at a reasonable price will be much harder to find.
Arrive at the port the day before you return.
When choosing a suitable watercraft, it is important to decide for yourself in what conditions you want to spend your time. For example, there are two common options: a single-hulled boat or a catamaran. They have serious differences. A regular sailboat is cheaper, but comes with a normal 30% downwind slope: in this position you will have to secure all the dishes in the kitchen, and lying on the deck will be somewhat problematic. Catamaran is more stable, it is more convenient to cook and sunbathe on board. However, it is often more expensive. You must take into account that in addition to the price of the boat hire you need to calculate the costs for fuel, food for the crew, the cost of moorings in marinas and the deposit, which for a standard yacht is a few thousand euros, but returned at the end of the trip, after the boat comes back to port without damage.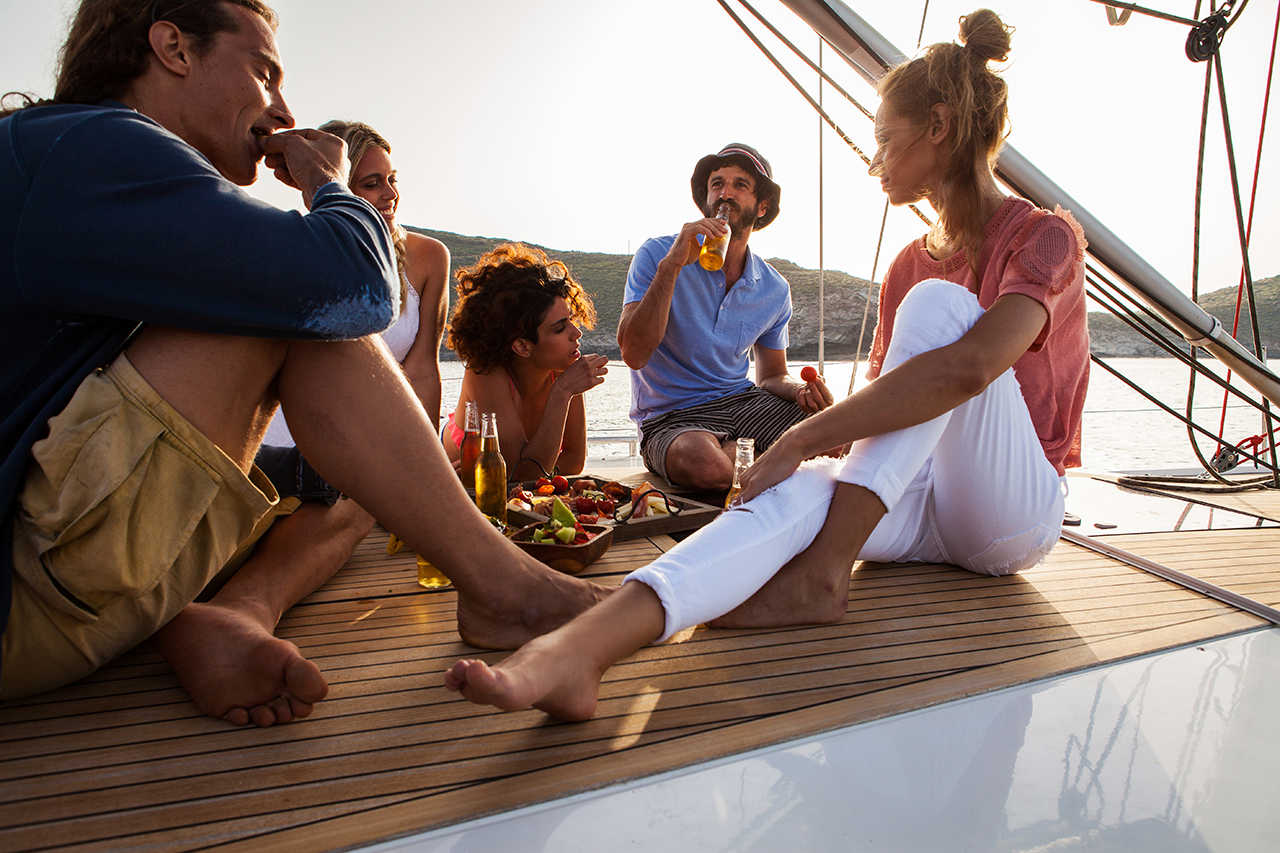 The catamaran is more stable on the move
Putting a team together
A good crew is the key to an interesting yacht trip. Quarrels and arguments between people in a small space can spoil everyday life and the whole vacation. That is why you should choose your traveling companions very seriously. Even if you go on a yacht with old friends, remember that the sea is bound to test your friendship. There were cases when people after the trip never spoke to each other again or, on the contrary, became best friends.
"The most important assistant on a voyage is the captain," says Nautal Service CEO Octavi Uya. – Most captains have strict rules of conduct, the basic one being: "Make the passenger happy." With that kind of attitude, it will be easy to solve the many problems that arise." Not surprisingly, the Russians rent yachts in more than 70% of cases already with a captain – such a service costs an extra 150 euros a day, but it saves the crew from mistakes that an inexperienced skipper can make.
All details of the voyage should be agreed with the crew on shore. Meet before departure and honestly discuss everyone's wishes. It is important to understand what each passenger wants: in this case you will always be able to come to a compromise. And remember the sea will put everything in its place. On a yacht you should relax and enjoy new impressions and salty wind.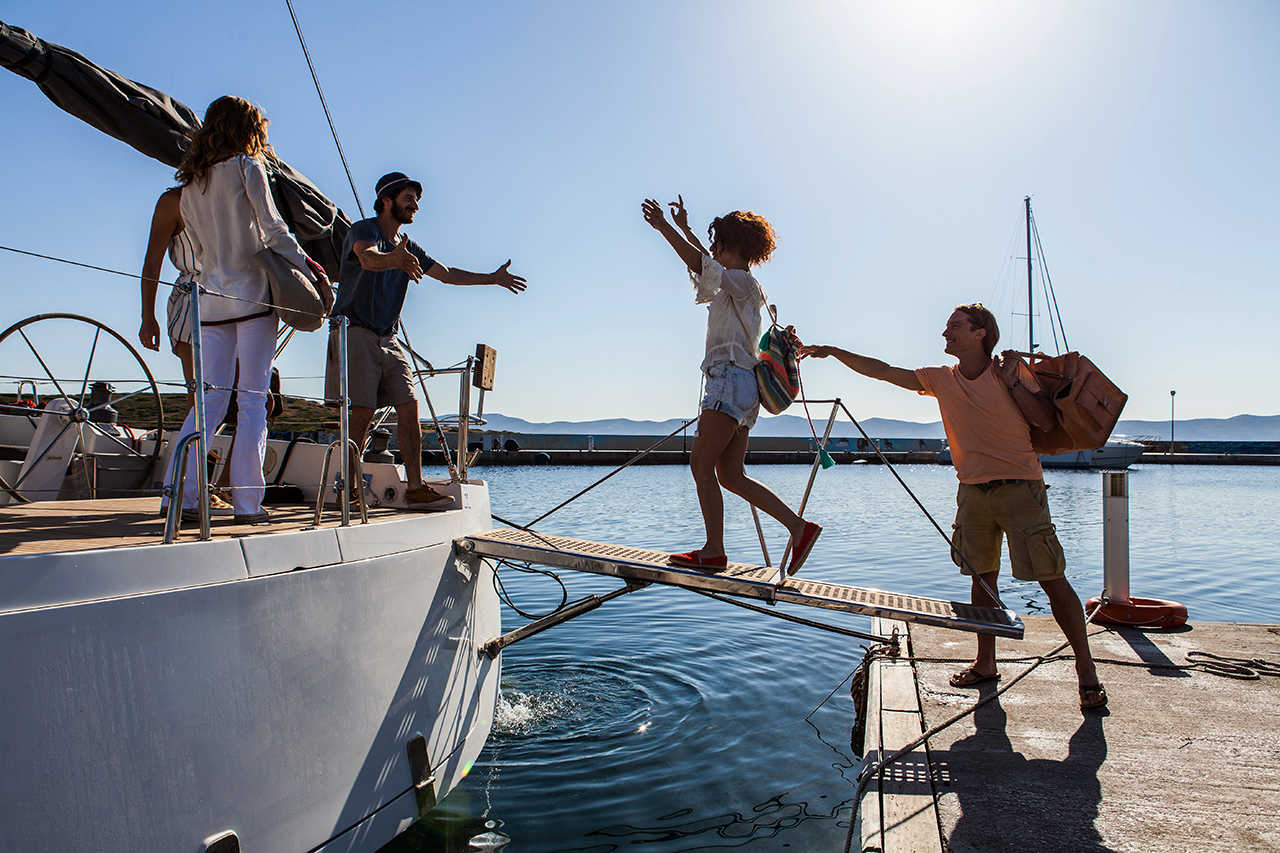 Get to know your crew beforehand.
Pack your bags
Sailors have a rule: any suspicion is interpreted for the worse. And if there's a chance of bad weather, it can't be ignored. A waterproof jacket, non-slip shoes, a cap and sunglasses should definitely be in your luggage. Moreover, instead of a suitcase, which will be difficult to place on board, it is recommended to pack things in a sports bag. And do not forget about swimming trunks and swimwear, otherwise what is the point of such a trip?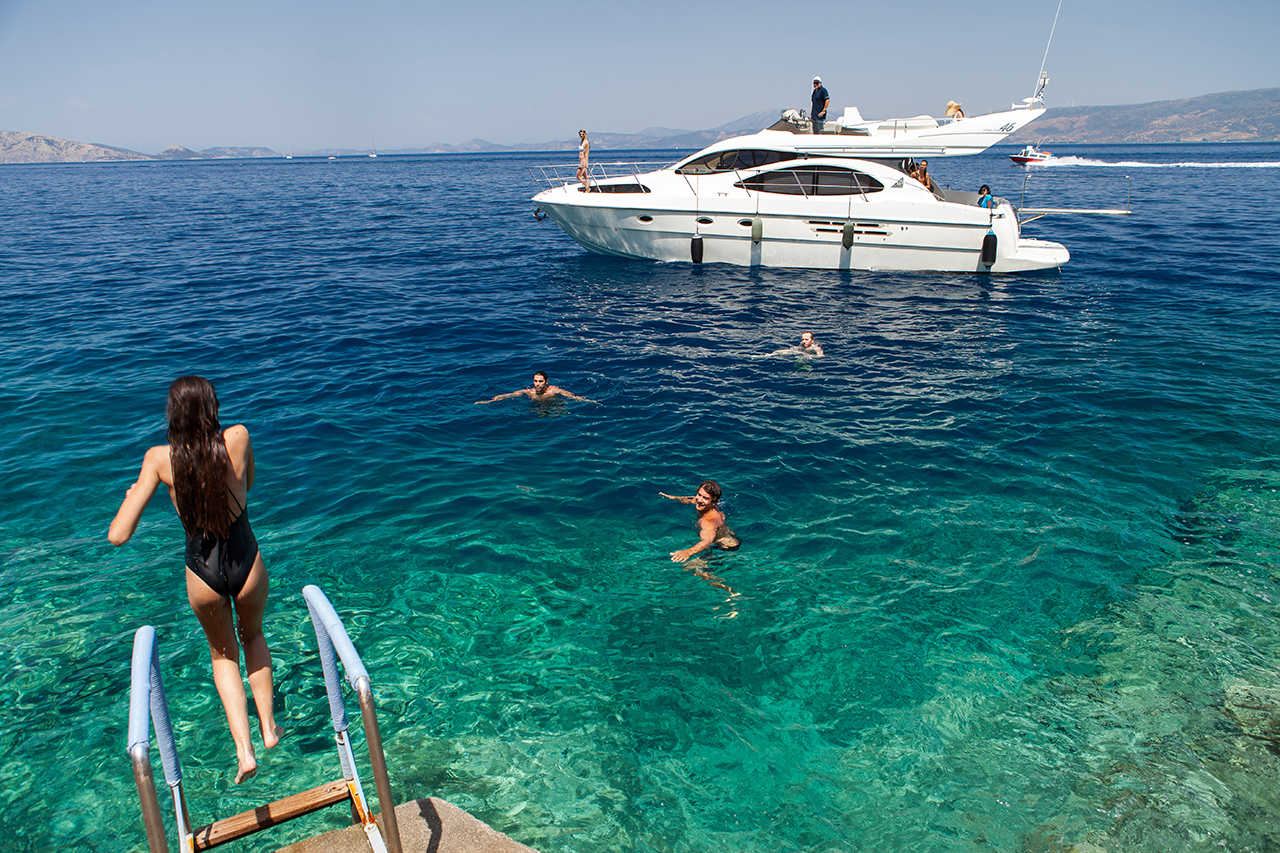 Have a nice rest!
First trip on a yacht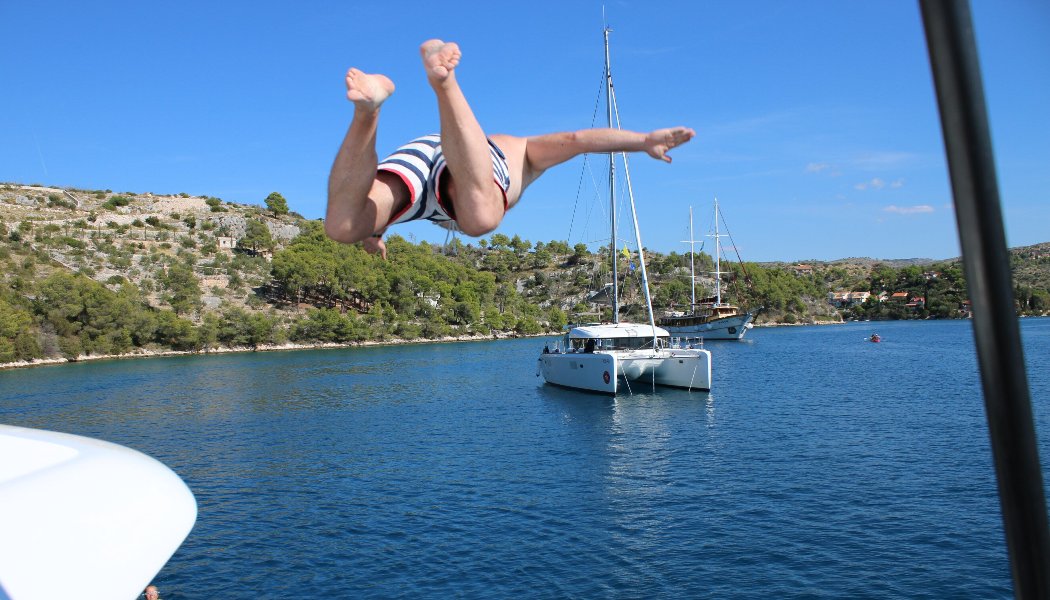 You first thought about going on your own trip on a yacht and find out in practice what a vacation on a yacht is. And immediately there are a lot of questions. Where to start, how to organize your trip, where to look for a yacht and hitchhikers. We have put together a step by step list of questions and answers to help make the first and most confident step in organizing a yacht trip. The most important and sometimes the most difficult thing is to find a crew and companions. First and foremost, you need to decide with whom you would like to spend your yacht vacation together.
Who to go on a yacht trip with
If you have a group of like-minded people with whom you have already traveled together many times, this question is very easy to solve. Or if you prefer to vacation with just your family, you can also get together with two families. It's up to you, in any case, it should be people whose philosophy of life is close to you and understandable, because you will be together for almost 24 hours a day in a fairly limited space. It will be necessary to jointly make a route for the trip, taking into account the wishes of all members of the crew, to plan a joint pastime, moorings, dinners, and much more. Although quite often assembled crews are formed when people practically get to know each other only on the yacht and spend the whole week in perfect harmony. Maybe because initially people who are close in spirit choose to travel on a yacht? In any case, if you organize your own holiday on a yacht, you need to know a specific number of people, as on each yacht the allowed number of passengers is limited.
Choose specific dates for a yacht trip
To travel independently, tourists book hotels, but to travel on a yacht it is necessary to choose and rent a yacht or catamaran. Minimal term for yacht rent in charter companies is a week from Saturday to Saturday. The standard time for putting the yacht on the charter is Saturday 17:00, i.e. you arrive at the yacht club by that time and get on the yacht, then the boat is accepted for charter. A week later, on Friday, you should return to the Yacht Club at 17:00. The employees of the charter company check the yacht for damage, and then you can stay overnight on the yacht until Saturday, 09:00 o'clock in the morning. Therefore, it is not possible to look for a yacht from about June through August. You need to know the specific dates so that you can be given all the yachts available at that time to choose from.
Choose a region for your boat trip
The next step is the anticipated region for the yacht trip, which depends on the dates you choose. The main yachting destinations can be divided into summer and winter.
Summer yachting destinations are from April to October when the Mediterranean area with a comfortable climate, a special indented coast, plenty of islands and a good yachting infrastructure (comfortable harbors, safe bays with restaurants, wide choice of yachts for charter) are the most popular. Greece, Turkey, Croatia, Montenegro, Italy, Spain, France, Portugal.
Winter destinations for yachting are more distant, mainly island regions of our planet: Thailand, Malaysia, Canary Islands, Cuba, islands of the Caribbean, Maldives, French Polynesia, Florida, Australia, New Zealand. Of course the farther away the yachting region is, the higher the cost of the trip. The choice of yachts and catamarans for charter is rather limited there, so yachts are rented in advance, especially for the period of New Year holidays.
All the most interesting yachting destinations, read more
Find a yacht captain
There are several variants of cruising on a yacht: an independent journey on a yacht (bareboat), with a captain (crew), and it is also possible to rent a separate cabin on the yacht (cabin charter).
The first option is a solo voyage on a yacht with a crew (bareboat). This is the most popular and cheapest way of travelling on a yacht. Of course, you must have a certified yacht captain. It is very good if your company has such a specially trained person with appropriate knowledge, experience and of course a certificate for the right to manage the yacht. If not, you can hire a professional captain. Services Captain costs 150-190 euros per day. If you enjoy a holiday on the yacht and later you would like to run a yacht yourself, you can take a training course at the yachting school Relax Yachting. Later you will be able to charter and operate the yacht yourself.
The second option is a trip on a yacht with a captain and crew. If there are a few crew members on the yacht, in addition to the captain, then the passengers have nothing to do not only with the management of the yacht, but also with all the household issues regarding the cleaning and cooking. If, on the other hand, the yacht is rented out with only the captain, whose task is solely to manage the yacht, then the passengers have to deal with all other matters of everyday life. Read more about yacht charter with a captain and crew
The third option is to rent one of the cabins on the yacht and join a ready-made tour. Nowadays there are many yacht tours in different parts of the world, and it is easy to join them. It is also a good opportunity to expand your horizons and meet new interesting people. Read more about renting a cabin on a yacht
Choose and rent a yacht for your trip
You can rent a yacht on your own, directly from a yacht charter company or from a yachting agency. What do I need in order to rent a yacht by myself? The knowledge of English and the possibility of a long correspondence with the charter company. How does it happen? For example, you are recommended a charter company for renting yachts, and you apply to them, but they do not have a suitable yacht for the period. You apply to the next one, check the availability of yachts in their fleet, compare the cost. If there is nothing suitable you have to look for the next company and so on. All this requires a lot of free time which you are ready to spend on searching for a yacht suitable for your trip.
It is much more convenient to get in touch with a yachting agency that will offer you all the possible options of free yachts for rent, which are available for the period you are interested not only from one but from all the charter companies having bases in the necessary region. In addition the yachting agency has knowledge about the technical condition of yachts in the charter company. They will help you to compose your itinerary, select a professional skipper, arrange airport transfers, help book hotel and air tickets. There are agreements between charter companies and yachting agencies thanks to which the agency can always offer you a lower price than the one offered by the charter company.
Buy air tickets
Now you only need to buy air tickets to the nearest airport and find out how to get from the airport to the yacht club where your first trip on board will start. So you need to find out how you can get from the airport, if there is a train or shuttle bus service. Of course the easiest way to get from the airport is to take a cab (if you are not far) or to book a transfer and then pick you up at the airport in a separate car and bring you straight to the yacht club. All charter companies provide such service, you may also order it from independent transport companies.
Read more about all the extra costs of renting a yacht.
Private Enterprise "Relax Yachting" UNP: 192794316 Republic of Belarus, 220131 Minsk, 12 Miroshnichenko str.