What to do in Krasnaya Polyana in summer and off-season
When Sochi was first announced as the capital of the Olympic Games, many could not believe that winter sports are possible in the subtropics. Eight years after the Olympics in Sochi, and many people still think that Krasnaya Polyana is just a winter ski resort, and there is nothing to do there in summer. But this is not the case.
Let me tell you what to do in Krasnaya Polyana in summer and off-season.
Spa and relaxation
Bathhouse, sauna, hammam, outdoor pool with an incredible view of the mountains and other areas for relaxation. Coming to Krasnaya Polyana to visit the spa is the choice of true hedonists. The fresh mountain air and natural beauty only add to the experience of vacationing at the resort.
This is a luxurious spa complex with twelve massage and treatment rooms. There are also outdoor and indoor swimming pools with children's area, Finnish and Russian saunas, Turkish hammam, Jacuzzi, fitness center, vitamin bar and beauty salon.
In addition to the standard spa pool, sauna and jacuzzi, this two-story complex has a floating room. This is a chamber with a solution of English salt, so dense that it keeps you afloat as if in weightlessness, and due to the absence of external stimuli, the effect of floating is comparable to meditation.
This spa is equipped with an indoor pool, Finnish sauna, steam room and hammam. Masters from the tropical island of Bali are responsible for the spa rituals. A small fitness room with workout machines, dumbbells and treadmills is open 24 hours a day.
Sauna, steam room, relaxation areas, as well as Balinese and Thai treatments, massages and spa rituals by Balinese masters. Traditional massages are performed with coconut oil, which perfectly moisturizes the skin and gives it a light tropical fragrance.
It is a cozy and comfortable spa in European style with a Finnish sauna, steam room, salt room, relaxation area with soft chaise lounges and a gym overlooking the mountains. A variety of massages, spa treatments and grooming are also available.
Book your stay at selected spa hotels on Yandex Travel.
Open-air pool with views of the mountains. Official website of Krasnaya Polyana Resort /krasnayapolyanaresort.ru
Extreme and adrenalin
Not only alpine skiing and snowboarding can help you get your adrenaline pumping – there are also a lot of other things you can do in summer and off-season at Krasnaya Polyana.
Rodelbahn
Ride "Rodelban" is a symbiosis of bobsleigh and roller coaster. You get in the sled and rush along the track through real curves. The sled has two seats and the length of the track is about one kilometer. In some sections the track runs above the ground, with a maximum height of 10 meters. The sled can reach the speed of 40 km/h, but there is a handbrake, just in case if it gets scary. Tickets cost ₽890.
You can get to the lower station of the ropeway "Laura", then take the cable car A1 up to the shelter "Psekhako", change to the cable car A2 and get off at the stop "Pikhtovy Shelter". Next to this station there is an open ropeway H, near which the ropeway operates.
The rope bridge
Suspension bridge is not just a great viewing platform, but also an extreme experience. The route is about 200 meters long and starts at the top station of the cable car "Vershina", which is located at an altitude of 2200 meters above sea level. The views are breathtaking! Walking on the bridge is under the control of instructors, wearing a helmet and mountaineering insurance. Walking tickets cost ₽500.
Swinging Over the Abyss
A mega swing is an attraction at Gorky Fly Park. Swing stands firmly on the edge of the steep Aibga ridge, and the ride over the picturesque valley can be compared with the feeling of flight, especially at the highest point, when it seems that the swing soars somewhere under the clouds. And what great photos we get! The flight lasts 3 minutes and costs from 1000 ₽.
Supertrolls
Supertrolls is a relatively new type of extreme entertainment. The essence of the attraction is very simple – moving from one point to another on a tightrope using high-speed rollers. At speeds of up to 100 km / h to fly a distance of 900 meters can be obtained in seven minutes. Cost is from 1,500 ₽.
The pictures on the trolley are just great. Official website of Krasnaya Polyana resort /krasnayapolyanaresort.ru
Trekking routes
In winter the cable cars lead to the pistes, and in summer – to hiking trails of varying difficulty. Most of the routes can be taken by yourself: they are accessible even to people with minimal physical training. The more difficult routes require a guide, and some require almost mountaineering skills.
You can buy tickets for the ropeway, and also book a professional guide on the resort's official web-site.
"Mendelikha
The most popular route at the resort runs through the park of waterfalls "Mendelikha" and consists, in fact, of several routes. The shortest and easiest will take about forty minutes, and the longest and most difficult – 2-3 hours.
Polikaria Falls.
There are two routes leading to this waterfall. The easiest takes about half an hour and is suitable for the whole family, the most difficult route leads through protected relic forest and takes about four hours. The best time to walk is in June, when the mountain rivers are full because of the melting snow, and you can see how the ridge of the mountain divides the stream into two, and they rush on.
Black Pyramid
The Black Pyramid Mountain can be climbed with mountaineering insurance and only when accompanied by an instructor. This route is of medium complexity, but accessible to children from 10 years.
Guided routes
From the side of the cable car "Laura" begins beautiful and long routes: Bzerpin Cornice, Achishkho mountain, Cold Camp, Dzitaku lake valley. It is best to go there with a guide.
Reserves with animals
The Caucasus reserve is very large and covers three regions at once, including the Krasnodar region. On Krasnaya Polyana you can see not only the inhabitants of the reserve, but also other animals.
Aviary complex
Here you can see, for example, raccoons, deer, foxes, wild boars and not only. Not just representatives of the local fauna, but animals that, for one reason or another, could not survive in the wild. The complex is home to the Caucasian leopard, an endangered species listed in the Red Book.
The Caucasian leopard is a subspecies of the leopard inhabiting the Caucasus. Sochi national park/npsochi.ru
Husky
In winter the huskies take everyone for a dog sled ride, and in summer they just relax and frolic. They are very friendly dogs, with whom you can play and take pictures. You can meet the huskies at the Husky Center, which is located at Glade 960. The cost of an adult ticket is 500 ₽, children from 5 to 14 years old are 300 ₽, children under 5 years old are free. Dog sledding rides are paid separately. There is a small discount if you buy your ticket online rather than at the ticket office.
Reindeer Farm
The reindeer farm is located at the top of Wonder Land Park behind the Gingerbread House. There stands a real tent, brought back from the Far North. In winter, the reindeer are harnessed, and in summer they slowly change their coats and grow antlers. The tundra animals got accustomed to Krasnaya Polyana long ago and eagerly trust people.
Cost of visit of a reindeer farm together with the park Wonder Land is 1400 ₽, separate visit of a reindeer farm – 700 ₽, children's ticket – 500 ₽, children under 5 years – free. Reindeer food and reindeer sledding are charged separately. If you buy your ticket online rather than at the ticket office, there is a 5% discount.
Tips for tourists
In summer the cable cars run from 9 a.m. to 11 p.m. depending on the route, for example some finish at 4:40 p.m.
2. The cost of a ride ticket depends on the destination and fare. For example, the fare "Panorama Krasnaya Polyana" will cost 1950 ₽ for adults, 1200 ₽ children from 7 to 14 years, 1200 ₽ discount. Free for children under 6 and people over 70.
3. If you buy your ticket online, you can take advantage of special offers depending on the number of days and planned activities.
4. It is more advantageous to buy tickets on the official website of Krasnaya Polyana resort than at the ticket offices, and even more so from the hands.
5. Moreover, even on the hottest summer day you should wear a windbreaker or a hoodie. For each thousand meters of ascent the temperature drops by 6-7 ° C. Therefore, the upper stations of the cable car can be much colder than the bottom.
Which resort in Krasnaya Polyana is the best in summer?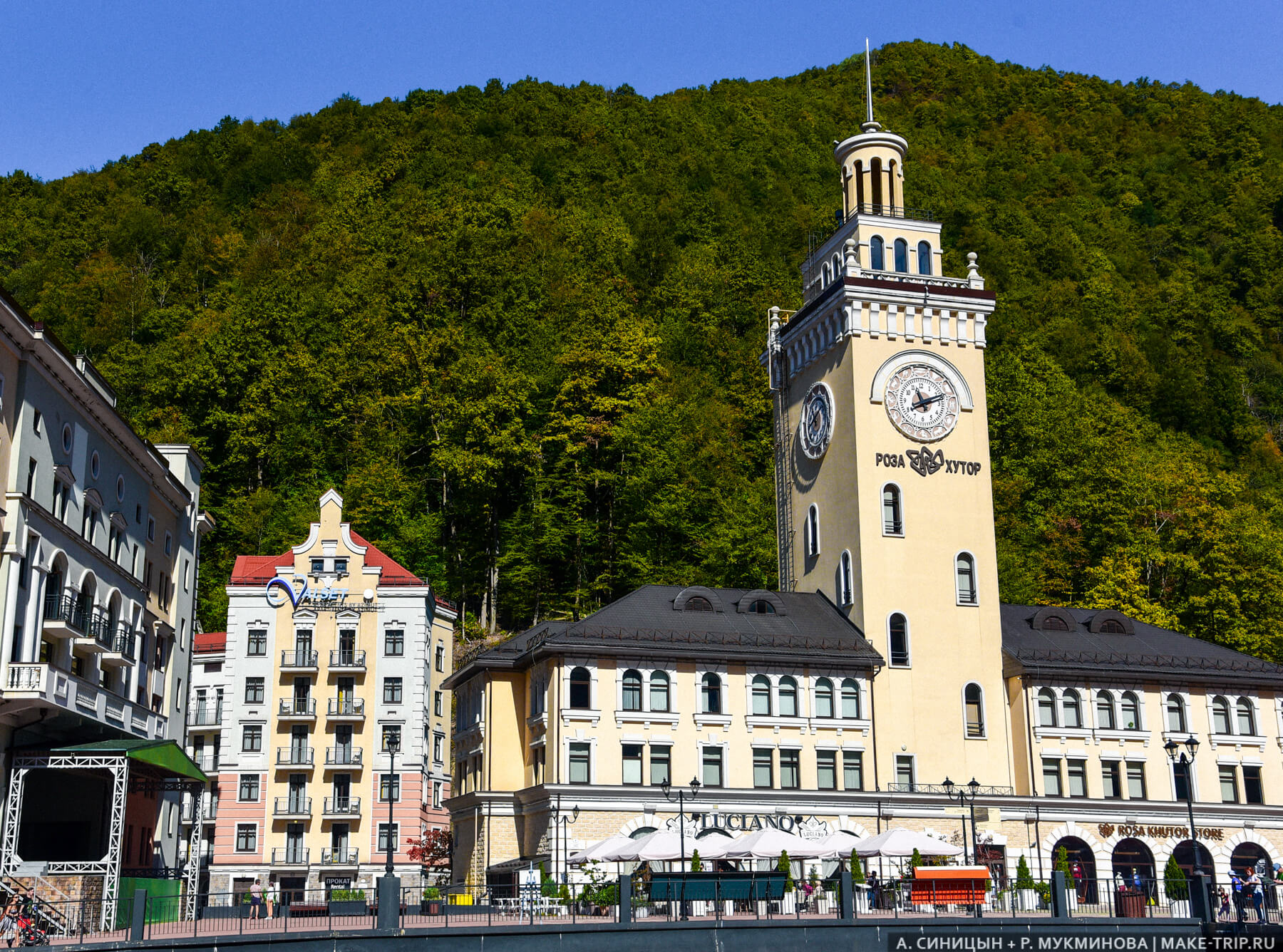 Krasnaya Polyana is a tangle of various names of resorts, villages, complexes and ski elevators. A newbie will find it hard to understand! I will give you a guiding thread to help you get out of the maze: tell you about the differences between resorts, how they are arranged and what is better to choose for your summer vacation, I will show you photos and share my impressions.
Contents:
What is "Krasnaya Polyana".
First of all, you need to understand that when they say and write "Krasnaya Polyana", they may mean:
a particular residential village
A ski resort, which, until 2019, bore the silly name of Gorky Gorod.
A resort area with all the complexes and settlements, or a mountain cluster.
So that you are not confused, I will always specify what I am writing about. Now tell you about each village and resort.
Where is the best place to book accommodation in Krasnaya Polyana:
– booking hotels – finding the best price on hotels – buying tours with flights and booking hotels at a bargain price from tour operators
On this trip, we gave preference to the ski elevators Rosa Khutor and Krasnaya Polyana, because they are the most spectacular.
Map of Resorts and Villages
The village of Krasnaya Polyana
Before the Caucasian War, the mountaineers lived here, and then they were expelled. Now Krasnaya Polyana – nice residential village with wooden chalets, stores, cozy cafes and hotels. Until recently it was small and modest, but for the Olympics it was built up. Settle here if you want to live in peace and quiet, not among the crowds of tourists.
It is a little cheaper to live and eat in the village, but you have to take a bus or a cab to the elevators, which is inconvenient. It seems to be not far, but in fact from Rosa Khutor to Krasnaya Polyana we had to take a bus for about 30 minutes!
If you are driving from Sochi, Krasnaya Polyana is the first settlement to get there. To get there, you have to turn left from the modern high-speed road, otherwise the settlement will be left aside.
This is how Krasnaya Polyana settlement looks like. Houses in Krasnaya Polyana. There is not much transport, and not many people on the streets.
Esto-Sadok
About five minutes by car, and you are already in Esto-Sadok. All the resorts and complexes in Krasnaya Polyana belong there: Rosa Khutor, Gazprom, Alpika, Krasnaya Polyana (formerly Gorky Gorod).
Esto-Sadok is a residential village with a developed infrastructure, so we chose it for our summer vacation in the mountains of Krasnaya Polyana. If you want to be in the center of resort life, settle here: there is a walking zone, a lot of stores, a wide range of entertainment (even a casino), cafes and hotels, including inexpensive. To the elevators of the resort "Krasnaya Polyana" can be reached on foot, but to go to the others you need to take a bus.
In Esto-Sadka we liked everything, except for the wide and noisy Estonskaya Street, which runs through the entire village. To get to many cafes, restaurants and stores, you have to walk along it. This is uncomfortable, and lauded mountain air does not breathe. To all other things, there are few crosswalks, and traffic lights for pedestrians do not turn on in a hurry.
I think in a hotel overlooking Estonian Street with the windows open you can't sleep well. To avoid the noise of cars from the road, look for a hotel further away from it or with windows on the other side. We chose a cozy mini-hotel "Usadba" on a quiet street, but in the center of the village.
There is a wide highway through the whole Esto-Sadok, and it is possible to cross it only by several crossings. I think in a hotel overlooking Estonian Street with the windows open you can't sleep sweetly. It's nice to wake up in the morning, sitting on the balcony with a cup of coffee and admiring that view! A part of resort town "Krasnaya Polyana" is situated on the territory of Esto-Sadka, 540 meters away. Almost all hotel-restaurant-entertainment life is concentrated there, including a casino and a shopping center.
Krasnaya Polyana resort
The resort is divided into lower Glade 540 and upper Glade 960.
Glade 540 is located in Esto-Sadka and is separated from it by Estonskaya Street. The 540th Glade is home to a big casino, 5* Marriott and 4* Courtyard Marriott hotels, Gorky Gorod apartments, a lot of cafes, restaurants, stores and even shopping malls. It is always lively, with lots of lights and entertainment, and music playing.
Glade 960 is a continuation of the village, but at an altitude of 960 meters above sea level. In summer, it is quite quiet and sparsely populated, so it is pleasant to live here. At this altitude, there are many prestigious hotels and cafes, beautiful mountain views, clean air and no car noise, but the prices are quite high and the choice of food is small. However, you can always take a cable car down to the Glade 540, where life is boiling! You can get there not only by chairlift, but also by car. Rope access from 540 meters to 960 meters and back is free of charge for the guests of the hotels of Upper Glade. The most luxurious hotels are Novotel 5*, Sberbank Corporate Center 5* and Rixos 5*.
I was interested in the resort "Krasnaya Polyana" by its picturesque eco-trails. If you also like hiking, choose it for your first acquaintance: you will get to alpine meadows and see blooming rhododendrons, admire large-scale circuses, walk through a relict fir forest and see mountain waterfalls and lakes.
By the way, until 2019 this resort was called "Gorki Gorod". The name wasn't the prettiest, but at least it brought less confusion to tourists' heads!
View of the resort "Krasnaya Polyana" 960 from the cable car. Hotel at Polyana 540, in Esto-Sadka. View from the panoramic platform at Krasnaya Polyana.
"Mountain Carousel."
This is not the name of the resort, but a large complex of ski elevators, pistes, cafes, the ski jump "Russian hills" and other infrastructure on the northern slope of Aibga Ridge. On the territory of Gornaya Karusel is the Krasnaya Polyana resort. It is not clear to me why the resort needs a separate name – it is just confusing. A summer tourist does not need to fill his head with this name.
"Rosa Khutor".
This is the most photogenic and picturesque resort with a large ski complex. To illustrate Krasnaya Polyana, the media and websites almost always use a photo of the main square of Rosa Khutor with the town hall. More often than not, when tourists talk about Krasnaya Polyana, they also mean Rosa Khutor.
Like Krasnaya Polyana resort, Rosa Khutor is divided into two levels – Rosa Dolina at 560 meters and Rosa Plateau at 1170 meters (mountain Olympic Village).
The valley is divided in two by the river Mzymta, on the banks of which there is a succession of bright hotels in pseudo-European style, plenty of cafes and coffee shops. Hotels are all solid, with an above-average price tag: Radisson 5*, Tulip Inn 3*, Park Inn 4*. Also a little away from the center there is a great boutique hotel Nevsky 4 * – we even wanted to stay there, but in the end we decided to stay in Esto-Sadka. There is a lake with a beach, where you can sunbathe on a lounger with relaxing music, the My Russia ethnopark, a concert hall, the Trail of Health and Trolls. It is convenient to come to the Valley by a swallow, because here is the terminus of the railway station, as well as a bus stop.
On the Rose Plateau are hotels in the Alpine style. Prices in them are lower than in the Valley, except for the balneological resort Rosa Springs 4 *. It is quieter and less crowded than below – just mountains, greenery and clean air.
Just like Krasnaya Polyana resort, Rosa is good for the first ascent to the mountains, because it suits almost all tourists: it will impress them with views, treat them to mulled wine, charge them with adrenaline on swings, suspension bridge and rodelbane. It gives you the opportunity to hike on mountain trails, feed deer, and visit the ethno-hutor. Children on the Plateau also have plenty to do: yeti park, children's club, husky hutor.
"Rosa Khutor is one of the busiest resorts. There is a picturesque embankment of the Mzymta River with cafes, stores and hotels, a beach near the lake and a ropeway. Rosa Khutor has a lake with a sunbathing area and its own beach on the Black Sea coast for tourists staying in the resort hotels. View from the panoramic platform at Rosa Peak.
"Gazprom."
It is also Laura. Full-fledged ski resort, which is divided into two levels – glade and plateau. On the clearing, tightly squeezed between the mountain slopes, there is a huge shopping center "Galaxy" with a water park, stores, cafes and other pleasures of life. Also below is the huge complex "Grand Hotel Polyana 5*".
"Gazprom" is not particularly popular with summer tourists, because the end point of the cable car ride is not as high as its neighbors – only 1,660 meters. And there is not much of interest on the way. On a plateau it is possible to rise traditionally with the change, but it is possible and without – from the bottom station "Alpika" way will occupy about 30 minutes. Up there is a deer and husky farm, "Green Planet" park, sovarium and the highest mountain hotel "Glade 1389 hotel and spa" – it looks cool, and it must be great to live there!
Why go up to "Gazprom" in summer? Most people just ride the ropes. For example, there are ski-passes to two peaks at once – 1660 meters and to the neighboring slope "Alpika". There is a curious G ropeway with stunning panoramic views of Aibga Ridge. Besides, it's convenient to start some hikes from here – for example, to the Bzerpin Cornice.
We compared all the resorts and ski elevators and decided to leave "Gazprom" for later, when we go to the ledge. But it's a long hike, 8 hours or even more. If you need an easy one-day hike, choose Rosa Khutor and Krasnaya Polyana.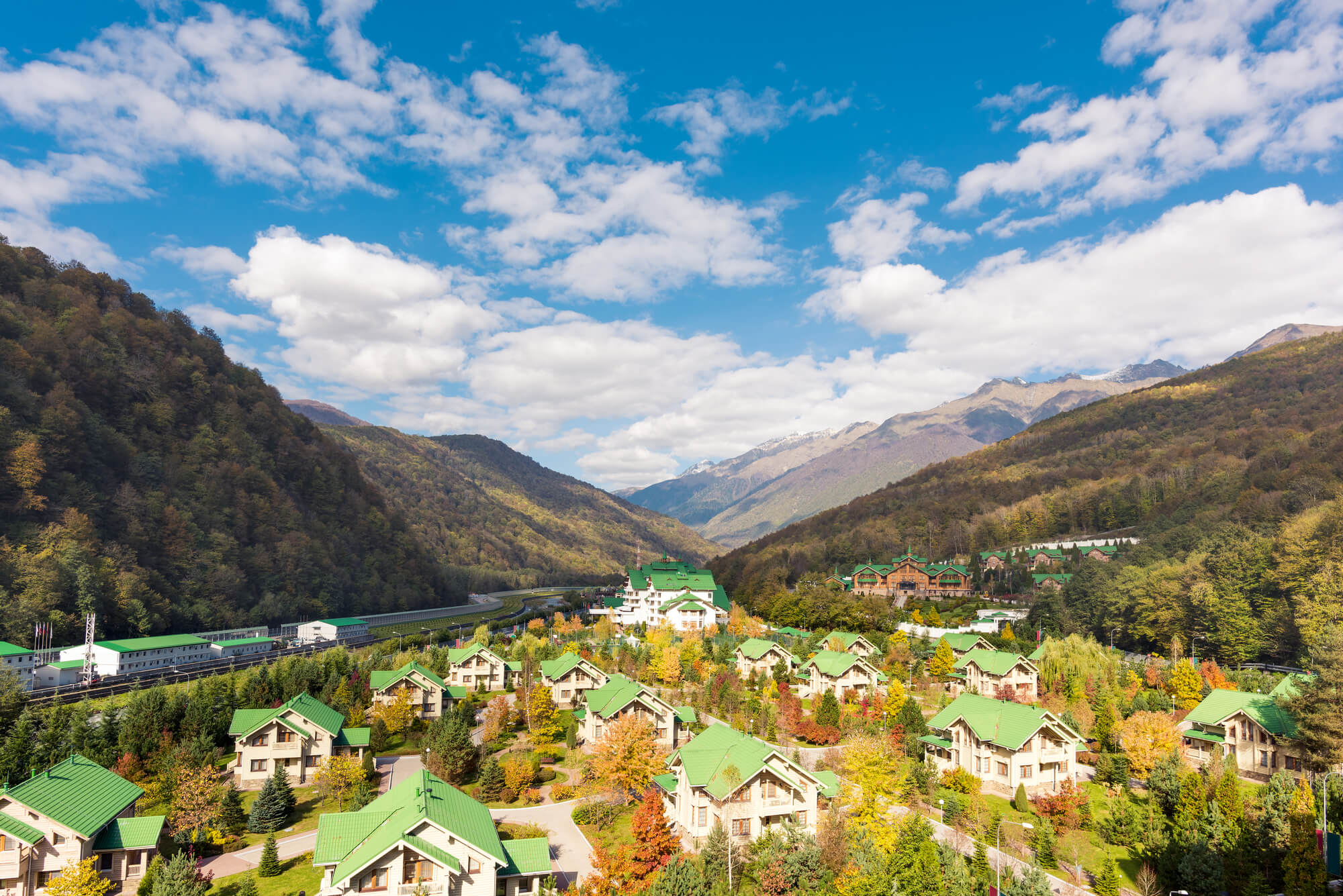 Grand Hotel Polyana 5*. Photo: autau / Depositphotos.com.
"Alpika-Service".
"Alpika-Service is where the history of Krasnaya Polyana as a ski resort began in general. It used to be a separate complex and didn't work for a long time, but now it became part of Gazprom. There are two elevators from the lower station – "Alpika" to the "Shelter of the Winds" and the uninterrupted "Laura" (A3) to the "Firtovy" shelter, which is located on Gazprom's plateau.
"Alpica" is a separate slope. The cableway with wonderful views, it will take you up to the "Shelter of the Winds" at an altitude of 2256 m. There is not much of interest at the transfer stations, and at the lower station only the Art of Flight trampoline center is curious. But on the top, besides the beautiful views, there is #NeProstoBanya with panoramic windows – you can take a steam bath and admire the mountains! This is the highest mountain bathhouse in Russia. It is especially beautiful when snow-covered mountain peaks rise out of the thick clouds covering the valley.
Is it worth climbing "Alpika" in summer? We decided to leave it for later and climb Rosa Khutor and Krasnaya Polyana first, because these resorts have more entertainment, viewing platforms and trails for the first introduction to the mountains. Climb here if you've already seen everything on the other slopes or want to fly a paraglider.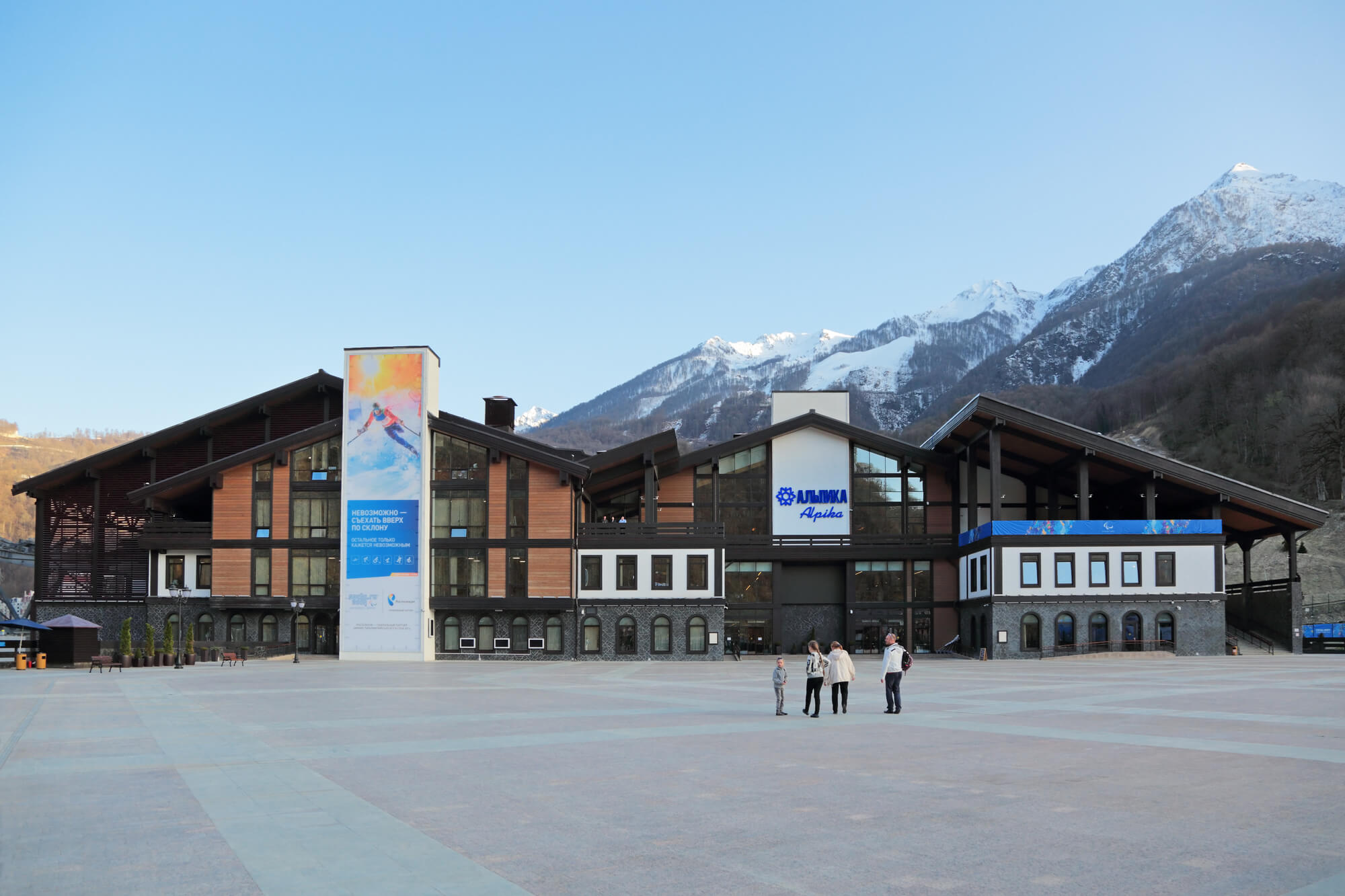 "Alpica Service" is not very popular in the summer because there is not much entertainment here. Photo: id1974 / Depositphotos.com.
Conclusions: to whom which resort to choose
The village of Krasnaya Polyana is suitable for a simple and quiet life. It's the cheapest place to live, but you'll have to get to the elevators by car or by bus.
Esto-Sadok will appeal to those who like to be in the epicenter of everything. There are a lot of cafes, restaurants, stores, entertainment, and hotels, including inexpensive. Elevator "Krasnaya Polyana" under the side, to others you have to go. It is noisy, but you can find a hotel away from the road.
The resort "Krasnaya Polyana" is as two-faced as Janus. Glade 540 is active and cheerful Esto-Sadok, and Glade 960 is a quiet town at altitude. In summer, the mountains are quiet and peaceful, with clean air and views. The choice of cafes is less, but on the elevator it is easy to go down to Esto-Sadok and eat there. On the slopes and at the top there are many interesting trails.
Rosa Khutor resort is also two-faced: at the bottom – expensive hotels and active life, at the top – cheaper and quieter. You can spend a whole day at the Peak in an interesting way.
"Gazprom" and "Alpika" are for those who want to be on their own. There are only two hotels, but what they are. There is everything for a comfortable life, and if something is missing, you can go. The resorts are not so rich in entertainment, and there are few eco-trails.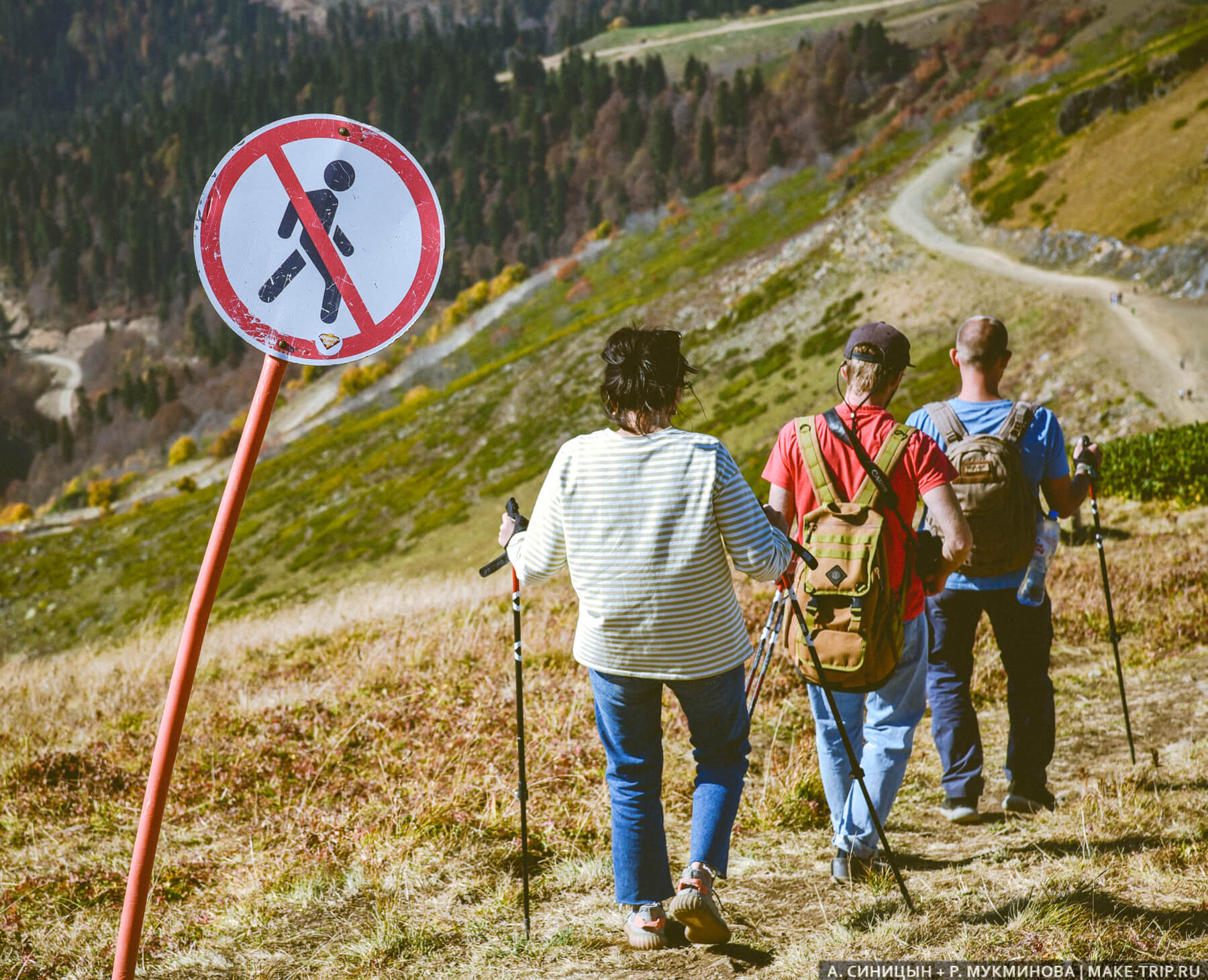 Next time we will definitely go to the Bzerpin Cornice! And the photo is an easy hike to the Stone Pillar at Rosa Peak.