Where to have an inexpensive vacation at sea in the Krasnodar region
The Krasnodar region offers many interesting opportunities for recreation. Moreover, it is not necessary to go to Anapa or Sochi, where there are more tourists, and prices are higher than in smaller resorts. You can rest in small villages by the sea with clean comfortable beaches, saving money on accommodation and a break from the crowds. In total, these places are more than 70, but if you need a budget holiday and the opportunity to spend time not only on the beach, it is worth considering 10 of the most popular options. So, where to go to rest inexpensively in 2022.
Arkhipo-Osipovka .
A small resort village, located 50 km from the city of Gelendzhik, where it is not difficult to get by plane and then by bus to the village. Another option of the route – through Novorossiysk or Goryachi Klyuch by train. And from there – by cab or bus.
Beaches. Tourists arriving on vacation should visit the sand and pebble Central beach, which has a developed infrastructure and is not too deep. There is Prokhorovsky beach near Camel mountain, which is pebbly and does not offer much entertainment. And if you go a little further, you can find several wild sections, already coarse-pebble.
The beach in Arkhipo-Osipovka
Near another mountain called Hedgehog is a nudist beach. And the territory outside Arkhipo-Osipovka, in the direction of the Betta village, has an interesting underwater relief and attracts divers. By the way, there is a great number of camping sites situated on this area.
What to see. Guests of the village should visit the dolphinarium located on Central Beach. Visitors can also visit a crocodile farm, a museum of cosmonautics, and a historical site, Mikhailovskoye Fortification, built in the XIX century.
Where to stay (price 2022). The cost of living in Arkhipo-Osipovka budget – one of the lowest in the Krasnodar region. Rent a room for 2-3 people within 1 km from the sea, you can only for 600-1000 rubles.
Dederkoi .
A quiet and cozy place where you can count on a clean beach and a good resort infrastructure. The village is located 7 km from the town of Tuapse, which can be reached by train.
Beaches. For tourists who need exactly a beach holiday, the choice is small. Covered with pebble zone, has a length of only 1.5 km. But on this territory there are changing rooms, showers and toilets. And even places where you can rent water equipment and sun loungers.
Where to go. Within the resort village and its surroundings you can find many interesting sights – including waterfalls, relict groves and mountain rivers. Rest can be combined with hiking in the mountains and excursions, and even better – go to the Red Glade or Sochi.
Where to stay (prices 2022) . Despite the fact that the village itself is small, it offers many accommodation options, from mini-hotels to sanatoriums and boarding houses. The cost of a room for two starts at 900 rubles.
Novomikhailovsky .
The village is located at a distance of about 40 kilometers from Tuapse. Therefore, to get here from almost anywhere in Russia can first take a train, and then – passing the rest of the way by bus. Another way is via Gelendzhik, where dozens of planes land every day.
Beaches. Most holidaymakers in Novomikhailovskoe, gives preference to the Central Beach, 800 meters long and covered with fine pebbles. Among its differences are the gentle descent to the sea, the possibility of renting a deck chair, visit the water attractions and cafes. Hotel "Tornado" has its own beach area, with a paid entrance, but also with an excellent infrastructure, allowing you to choose to visit the bar on the waterfront, beach holidays or diving.
On the southern side of Novomikhailovsky is a beach of the base "Primorskaya", covered with fine pebbles. And there is also a beach of the country-wide famous camp "Orlyonok". Holidaying here for children, entrance to the beach area is free, the rest have to pay 150 rubles. And you should come here to lie not on the usual pebble for the coast of the village, but on a soft clean sand.
Where to go. Novomikhailovsky guests have a lot of entertainment. Including – a visit to the tourist complex "Eagle Rock", where you can do active recreation, try Caucasian cuisine, admire waterfalls, take mud baths. There is an opportunity to ride a cross-country vehicle and go on a boat trip.
Where to stay (prices 2022) . The cost of living is quite affordable. You can rent a room for two for only 1200 rubles per day, although such prices are found at a distance of about 1 km from the sea. Closer to the coast is not worth choosing a hotel, and an apartment, which in 2022 can be rented for 2000 rubles per day, but for 3-6 guests.
Sukko
Settlement located in a quiet area just 15 km from Anapa, which is usually an intermediate point in the route to Sukko. You can also reach it via Novorossiysk.
Beaches. Local beaches are covered with pebbles. And the noticeable depth begins as early as 3 meters from the shore. But the water near the coast near the village is transparent – ideal for diving. That's why both beginners and experienced divers come to Sukko. Moreover, there are a lot of sunken vessels in the vicinity.
The largest beach – Central, crowded and offering lots of entertainment. If the crowds of holidaymakers do not like guests, you can choose "wild" beach areas, without infrastructure, but with fewer tourists.
Where to go. Among the interesting places to visit, there is a beautiful protected area with the beach "Varvarovskaya slit". In the valley grows juniper, saturating the air with healthy phytoncides. You can visit and Cypress Lake, and the local "African village" and the castle "Lion's Head", families with children – dolphinarium in the nearby village.
Where to stay (prices 2022) . The cost of a room for two people is approximately 1250 rubles per day. For this amount you can rent a room of 15 square meters. m with one double bed and located 1 km from the sea.
Divnomorskoye .
The village is located 12 km from Gelendzhik. You can get here by plane to Gelendzhik, then take a cab or bus. You can also take a bus to Divnomorskoye via Novorossiysk.
Beaches in the village of fine pebbles. The entrance to the water is comfortable even for children, and the bottom is covered with sand. The main beach area stretches for 400 meters and offers a good infrastructure. On one side of Divnomorskoye there are health resorts that have their own beaches.
Where to go. It is worth visiting the mountain river and pine forest, several ancient dolmens and, of course, the mountains. In the center of the village there is a small but very beautiful embankment. We really liked the excursion to the Pshad waterfalls.
Where to stay (prices 2022) . For a double room with one double bed, pay about 1500 rubles. The average distance from the sea for such inexpensive accommodation options is about 700 m.
The settlement, located in the Sochi agglomeration, is only 25 km from the center of the main local resort. You can get here both through Sochi and from Adler, where there is also an airport.
AquaLoo .
Beaches. The length of the coastline is 6 km. The main part is taken by the central beach, wide, covered with sand and pebble, with an excellent infrastructure. But there are also many other interesting beach areas – "Mountain Air", "Dolphin", "Ivushka", "Akvaloo".
Where to go. For recreation will suit the mountainous area, where go hiking and excursions on off-road vehicles. There are other options – from diving and motor ship to the Vorontsov Caves.
Where to stay (prices 2022) . The cost of accommodation is average. The two of us can stay for only 1500 rubles per night. Moreover, choose for this money an apartment with a view of the sea and at a small distance from it.
Vityazevo .
My choice – I RECOMMEND.
The settlement on the outskirts of Anapa, located just 5 km from the airport – this makes the way to get here very simple. Although you can get to Vityazevo by train, and already to Vityazevo – by cab or bus.
Beach in Vityazevo
Beach areas are covered with sand. And the main place for tourists to relax is the Central beach, very wide and with a full range of entertainment. If you want to rest from the large number of people, it is worth choosing Bugazskaya spit or the beach "Tortuga".
Where to go. Vityazevo offers many interesting ways to spend time, both adults and children. You can visit amusement parks, dolphinarium and water park. Or take a walk along a beautiful boulevard and visit the Church of St. George the Victorious.
Where to stay (prices 2022) . To accommodate with comfort, it is enough for two tourists to count on about 1500 rubles per day. Moreover, the distance to the sea will be only 500 meters. And, if you want, you can find options with a little higher cost, but already for four people.
Another inexpensive place to rest between Vityazevo and Anapa – Dzhemete.
Kabardinka .
Kabardinka, which is located between Gelendzhik and Novorossiysk, can be reached through any of these towns. From each of them runs a bus to the village.
Old Park in Kabardinka
The beaches of Kabardinka are covered with pebble and sand, and stretch towards Novorossiysk. All beach areas have a good infrastructure, so tourists have the opportunity to ride a jet ski, banana and catamaran, or do diving.
Where to go. Visit the old park with interesting architectural sights. And also a water park and an oceanarium, and such an unusual tourist attraction as the stranded cargo ship "Rio".
Where to stay (prices 2022) . The cost of accommodation in a double standard room – from 1500 rubles per day. For this amount you can count on one double bed and a distance of 500-700 meters from the sea.
Golubitskaya .
Town, or rather stanitsa Golubitskaya is located on the Azov coast, at a distance of about 10 kilometers along the highway from the town of Temryuk. Get here usually by plane or train to Gelendzhik or Anapa, then changing planes and getting to the right place by bus. Other popular ways to travel to Golubitskaya on their own personal auto.
Beach in Golubitskaya
The beaches here are covered with light and soft sand of white color, the sea is shallow, but quickly warming up and maintaining a comfortable temperature for vacationers throughout the summer. The sand zone is narrow, but long. In the village there are several official beaches with sun beds, cabins and umbrellas for rent. And there are excellent conditions for surfing – especially on the western side of the village.
Where to go. Almost every tourist will find a vacation to his liking here. If you want picturesque places, it is worth to go to the Lotus Valley, with children usually visit the dolphinarium and water park. You can also go to a nearby lake with therapeutic mud.
Where to stay (prices 2022) . The cost of accommodation is slightly above average for this rating. But still more than affordable, because only for 1800 rubles a day you can stay for two in a 15-meter room at a distance of 600-700 meters from the sea. There are also a lot of camping sites.
Lazarevskoye
Settlement, which belongs to the Sochi agglomeration (Big Sochi), but is located at a distance of about 70 km from the city center. But it is easy to get to Lazarevskoe. It is enough to fly to Adler and take a train. There is also an opportunity to get directly to the village by train, which go to Sochi from different regions of Russia.
Lazarevskoe .
The beach area is mostly covered with pebbles of medium size, but sometimes you can see small sandy areas. Suitable for recreation area, quite wide – sometimes up to 70 meters. The entrance to the water is relatively gentle, suitable for tourists with children.
Beaches in the Lazarevsky area there are both paid and free. The first is engaged in the city, and the infrastructure is quite suitable for most tourists – there are water entertainment, umbrellas and sun loungers. Among the most popular beach areas are "Dolphin", "Bagration" and "Central". One more beach, "Prometheus", belongs to the hotel, though you can come here for free.
Where to go. The list of the most interesting local attractions includes more than 30 waterfalls, many dolmens, the "Berendeyevo Tsarstvo" park and Mamedova Gorge. If you need a cultural holiday – go to the waterfront with restaurants, cafes, clubs and stores. And families with children should visit the water park "The Star".
Where to stay (prices 2022) . Accommodation costs are a little higher than in the previous 9 settlements. But for the amount of about 2000 rubles per day you can find a good double room at a small distance from the sea.
Stanislav recommends:
Hello friends. My dream has come true, now I have to go to work and have some free time to travel. Now I work on the Internet and investing.
The best resorts in the Krasnodar region
Summer – the time of the year, associated in many with the sea, golden beaches, active recreation and long-awaited vacation. Despite the fact that summer has already passed the baton to autumn, we still have a little time for recreation, because the velvet season has arrived.
Where to spend your last warm days in the Krasnodar region to leave an impression on the whole next year? This review provides information about the 7 best resorts in the Krasnodar region.
Arkhipo-Osipovka .
The settlement is ideal for holidays with children, it is located on the Black Sea coast. To get to him not difficult, because it is located just 50 km from Gelendzhik.
Settlement occupies the valley between two rivers – the area is characterized by beautiful nature and is the ideal option for those who are not picky in recreation.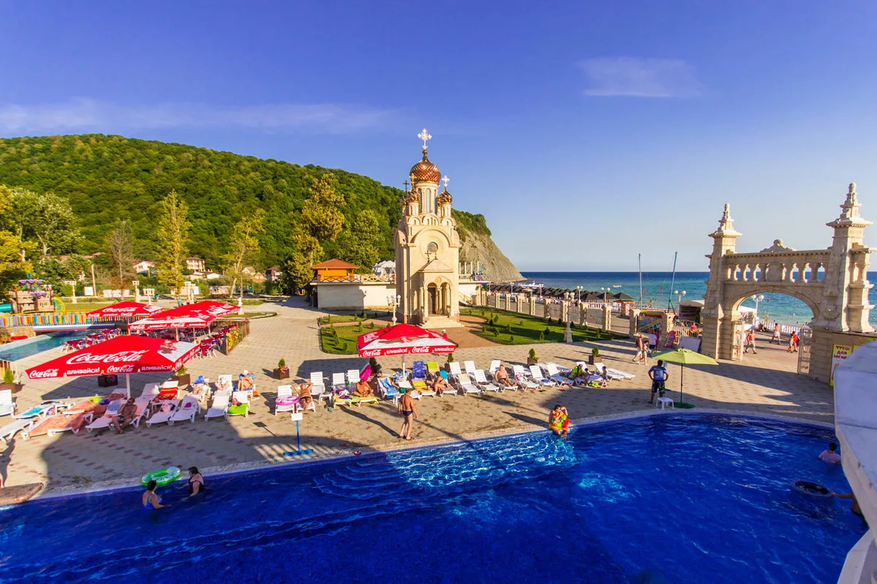 The central beach is dominated by sand and pebble surface, medium depth and good infrastructure will allow tourists with children to have a good time. There are all kinds of water entertainment, umbrellas and sun loungers. Fans of secluded vacation should visit the wild beaches, which are right behind Mount Camel.
Vityazevo .
The settlement is located just 15 km from Anapa, to get to him quite simply. Vityazevo is a very popular place for recreation with children. Virtually all infrastructure of the village is aimed at a comfortable pastime for children. There is a modern water park with a huge number of slides, dolphinarium and small parks with rides.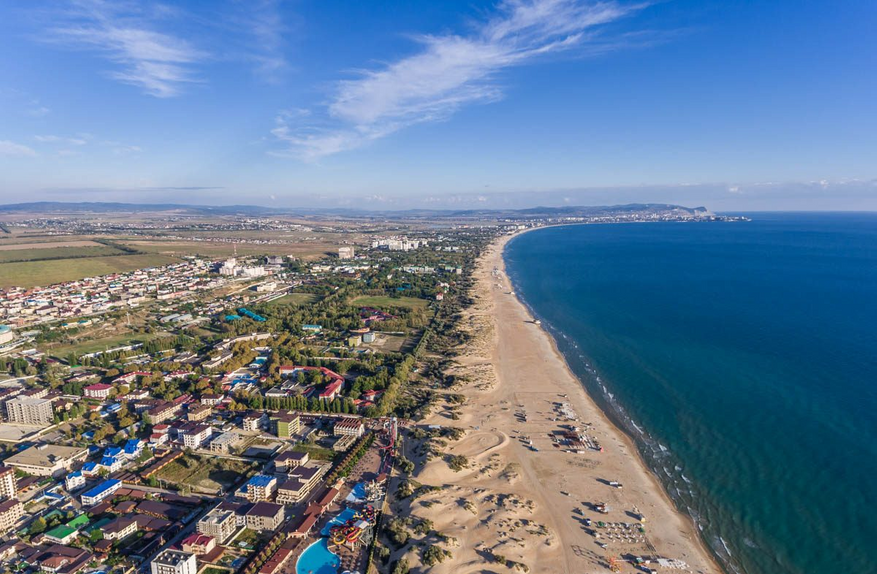 Local beaches are mainly sandy and have all the necessary infrastructure for a good holiday. Apart from the common beaches you can find beaches belonging to health resorts and beaches of private hotels.
Stanytsia Golubitskaya
The road to the village will require an interchange in Temryuk, but even this small road discomfort does not affect the popularity of the resort. The village is located on the coast of the Azov Sea, the shallow coastline which contributes to the rapid warming of the water.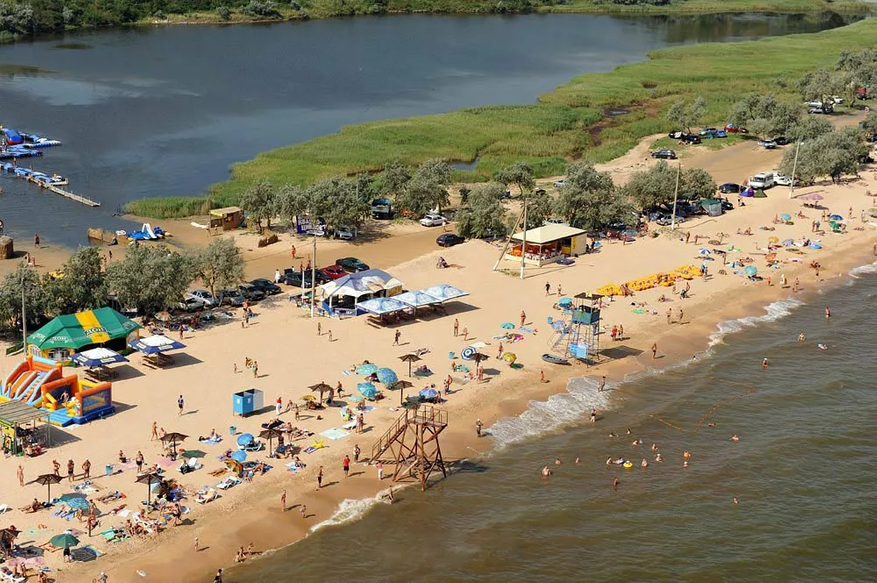 Thanks to its budget, shallow coastline and warm sea, this resort village has become a favorite place of summer vacation for many Russian tourists. This resort is also often visited by windsurfers and kitesurfers.
After water procedures the children can be taken to the zoo or water park, and thrill-seekers should visit the crocodile farm. Within walking distance of the village is a lake with curative mud and a picturesque lotus valley.
Divnomorskoye .
The village is located 12 km from Gelendzhik, it is away from the freeway, and its closest neighbors are many pine trees. Water on local beaches is very clean, and if you climb the cliffs, you can admire the emerald blue shade of sea water.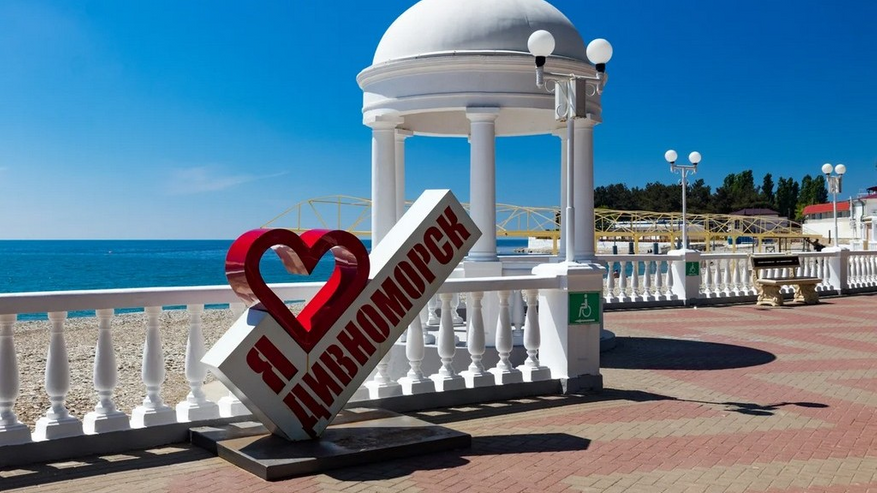 Entertainment in Divnomorsk in truth to say virtually none. This is an ideal place for connoisseurs of wildlife. Lovers of entertainment will have to go to Gelendzhik. The settlement is known primarily for its spacious beaches, clean sea and beautiful nature.
Kabardinka .
Resort village Kabardinka is located between Gelendzhik and Novorossiysk. The village seems to buried in a sea of greenery, and high mountains do not allow winds and storms to spoil the mood of tourists.
Local beaches are clean, and the water is crystal clear thanks to the pebbles. Lovers of secluded recreation should visit the wild beach, where there is a small influx of vacationers and a beautiful view of the cliffs.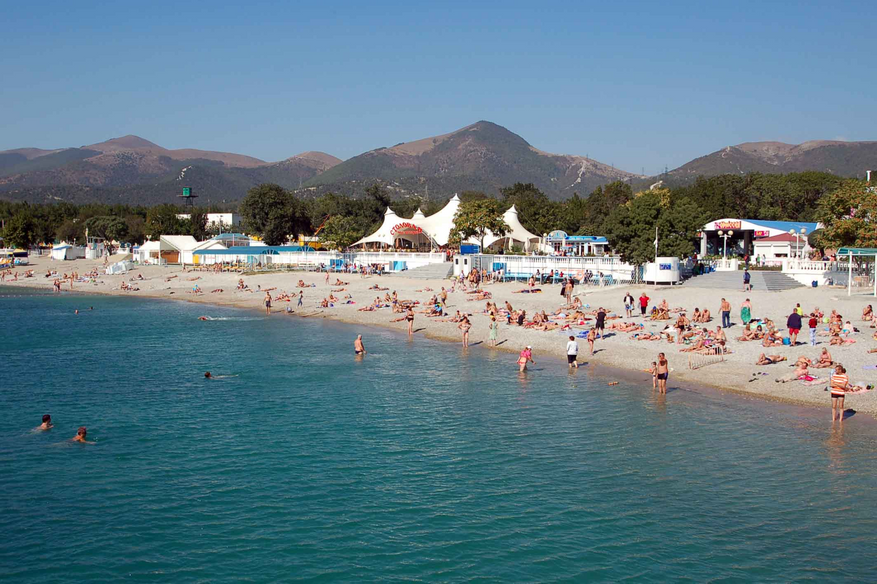 If you are with children, then it is better to give preference to the Central beach. There is a good infrastructure and a huge number of all kinds of attractions – catamarans, scooters, bananas and plushki.
In the evening you can visit the old park and enjoy the architecture of the Renaissance. Children will be interesting to visit the Dinopark, a little plunged into the era of the dinosaurs.
Lazarevskoye
The settlement, in fact, is one of the districts of Sochi. In Lazarevskoye convenient to get from Adler – good luck traffic jams on the highway almost never happens. The settlement is very popular among tourists, the flow of which does not stop during the whole season. The surrounding area can also pleasantly surprise you with its picturesque places.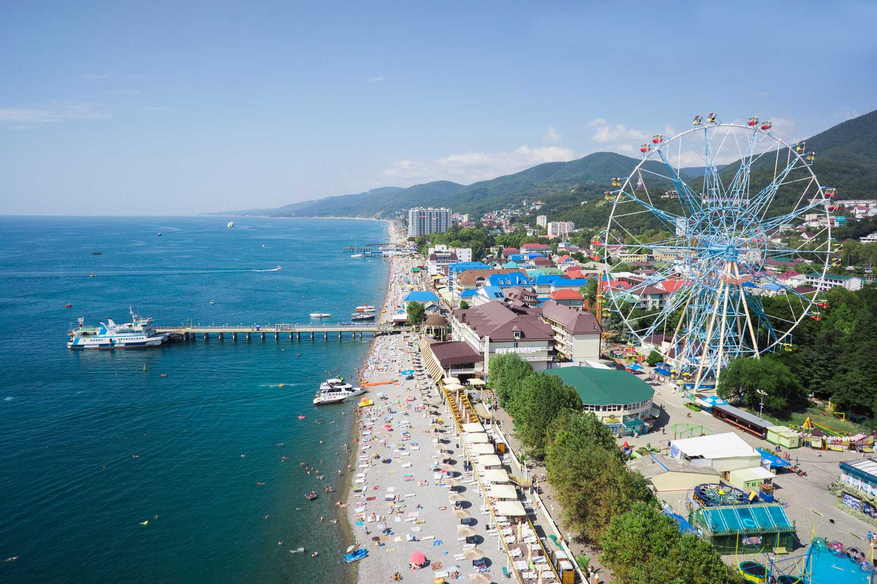 A huge number of beaches allows you to find places to relax with friends and family. There is always a wonderful atmosphere, and not a bad infrastructure will allow you to have fun. The only drawback – a large number of vacationers.
The settlement is located in half an hour from the center of Sochi. A humid subtropical climate prevails here, and high mountain ranges provide reliable protection from strong winds blowing from the sea. Ideal time to visit Loo – June. At this time, the water is already warm enough, and the air temperature is not as high as in July and August.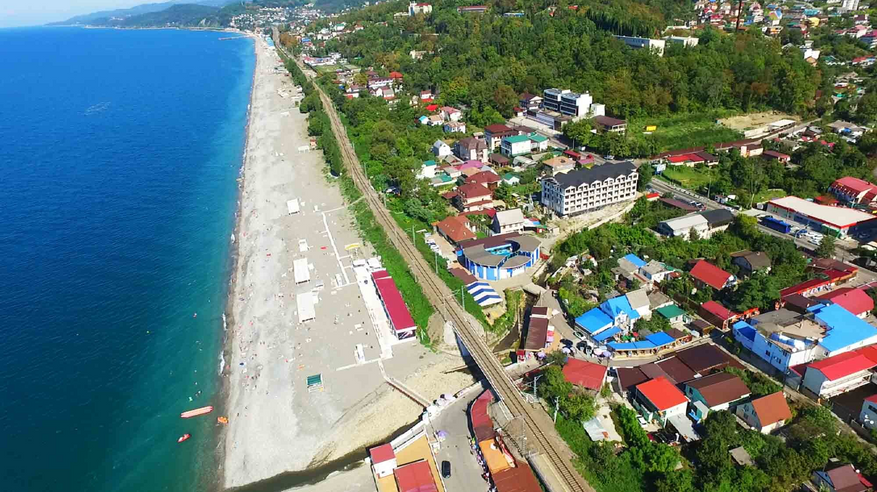 This area is rich in natural attractions. Here you can admire the waterfalls, visit the Witches' Gorge and walk through the Caucasus Biosphere Reserve.
Children will love the boat ride, and adults can get scuba diving lessons. Water park, amusement park and thermal springs will please both adults and children.
If you want to visit one of these resorts or just going on a trip, be sure to use the Yandex Travel service to find the cheapest tickets and best hotels.