Top 10 Hotels in the UAE for vacations with children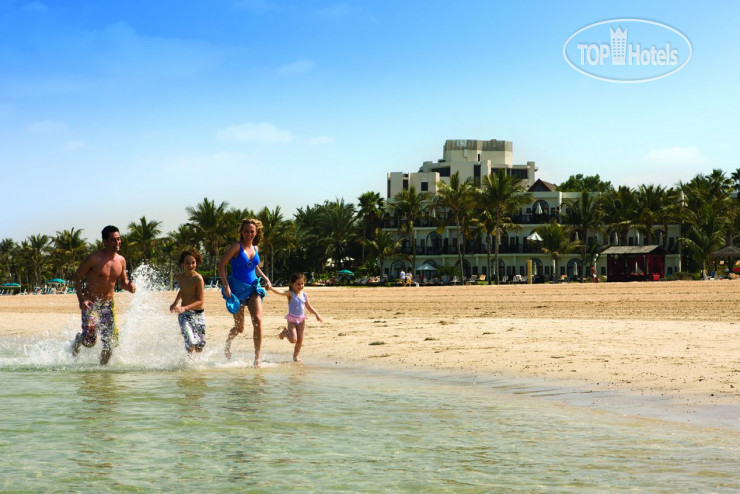 1
The stylish JA Palm Tree Court 5* hotel on the Persian Gulf is the perfect place for a vacation with kids. If you know for sure that your little travelers are not satisfied with the beach and ice cream, but require entertainment, you will like the fact that in JA Palm Tree Court 5* there are three children's clubs, where children are not only entertained under supervision, but also taught something useful and interesting. By the way, there is not only a separation by age, but also a ratio of teachers to their charges. A lot of restaurants and bars will offer a variety of dishes and drinks for both adults and children. There are a lot of rooms in the hotel, you can choose the one that is perfect for you. And, by the way, in JA Palm Tree Court 5* there are a lot of privileges and pleasant additions to the rest.
Jumeirah Beach Hotel 5*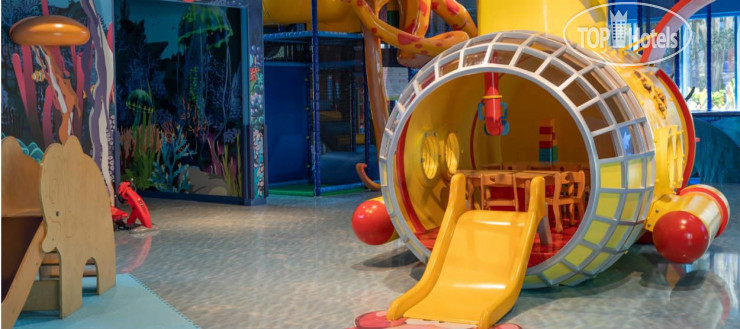 2
Ranked in the world's lists of the best hotels for families, Jumeirah Beach Hotel 5* really offers a wide range of options for holidays with children of different ages. For example, guests can have a great time at the hotel's water park with 30 slides and all sorts of entertainment. Or enjoy the sand paintings created by the artist on the hotel's private beach. During the day there is an animation program for children, which is important – in Russian, there are also playgrounds and a club for teenagers. In addition, in Jumeirah Beach Hotel 5 * – so many restaurants and cafes (there is even a confectionery) that you can find a suitable place to eat, there are high chairs for kids. The hotel rooms are cozy, elegant and equipped with everything you need, including cribs. And the Jumeirah Beach Hotel 5* itself delights with style and the relaxed atmosphere of a great vacation spot.
Al Raha Beach Hotel 5*.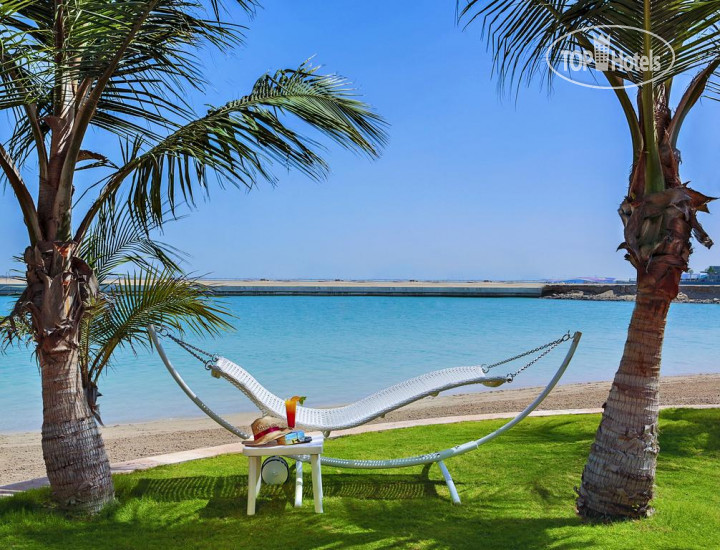 3
The elegant and luxurious Al Raha Beach Hotel 5* stands on the beach itself. This hotel is also ideal for a holiday with children. There is a kids club and playground, where the kids can have a great time together. In addition, the hotel has a swimming pool with views of the bay. And one of the main advantages of Al Raha Beach Hotel 5 * is the possibility to book not only a comfortable standard room or a nice spacious suite, but a luxurious villa on the coast, which has absolutely everything you need for family holidays: fully equipped kitchen, living room, private pool, beach, garden and garage. Parents can order not only a crib, but also a music player for watching cartoons and a stroller. In addition, Al Raha Beach Hotel 5* has a spa and enough restaurants and bars to have a wonderful gastronomic experience. For children there is a separate menu with healthy meals and a corner with small tables and chairs, where the youngest eaters will feel comfortable and be able to show their independence. Desserts, sweets and many kinds of ice cream are also on the menu!
Rixos The Palm Dubai Hotel & Suites 5*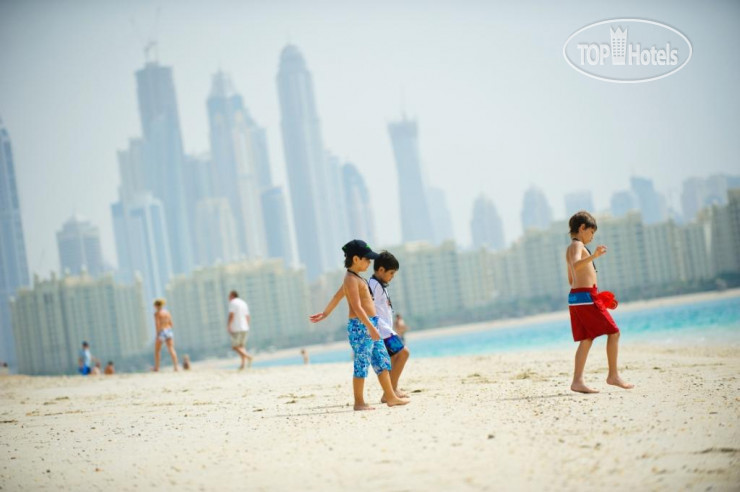 Rixos The Palm Dubai 5* is the hotel, where parents will feel comfortable with both kids and teenagers, and even with very grown-up children keeping them company on vacation. The entertainment program is extremely extensive: live music, DJ performances, yoga, water sports, and this is not the full range of activities. In addition, there is a club for children, where magic shows, treasure hunts, discos, talent shows and a variety of developmental activities (and not only for the little ones) are waiting for the guests till late evening. In short, the children will be busy. And parents can visit the spa center or just lie on the beach and drink a refreshing cocktail. In Rixos The Palm Dubai 5* a wide range of in every way comfortable and beautiful rooms, and – several restaurants, where you can enjoy dishes from around the world.
Fairmont Ajman 5*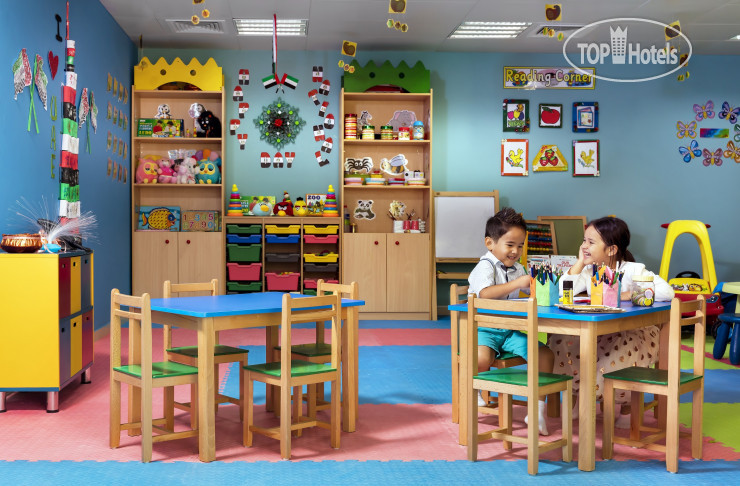 The Fairmont Ajman 5* is ideal for a relaxing holiday with the family. Bright, stylish and full of air, it stands on the shore half an hour from Dubai – far enough to enjoy the peace, but also close enough to be able to get out into the city. The Fairmont Ajman 5*'s wide range of facilities will cater for all members of the family from small to large: kids club, water and "land" sports, beach holidays, spa and fitness center and swimming pool. In the evenings, cartoons are shown on the big screen. Many restaurants and cafes where you can eat and eat something tasty is also an advantage of the hotel. Rooms at Fairmont Ajman 5* are perfectly equipped with everything you need (and also – not necessary, but nice to have on hand: iron, alarm clock, bathrobes, cosmetics). On the beach is equipped with a children's sandpit, and deckchairs are wide and covered with awnings, which will allow you to organize the day outdoors. Thanks to the breakwater the sea is calm, so that even the youngest swimmers can splash in peace under the supervision of parents.
Fujairah Rotana Resort & Spa – Al Aqah Beach 5*
The magnificent Fujairah Rotana Resort & Spa – Al Aqah Beach 5* offers guests to relax on a long private beach, swim in the open-air pool (water temperature controlled), visit the spa to relax and pamper yourself, and – try the strength in water sports. We also have a children's club, with entertainment, education, discos, toys, air hockey, storytelling, storytelling and much more besides, as well as a water slide and playground. Rooms and suites at Fujairah Rotana Resort & Spa – Al Aqah Beach 5* have a unified style where comfort and style complement each other perfectly. The hotel owners have taken care to ensure that your holiday meets the service expectations of a five-star hotel.
Atlantis – The Palm 5*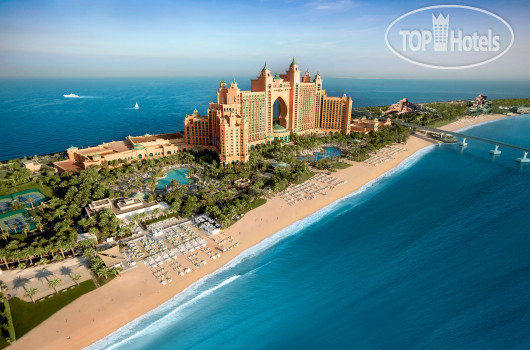 A family holiday in Atlantis – The Palm 5* promises to be an exciting adventure. After all, there is a special entertainment program based on the movie "Aquaman": 2-meter statue, thematic cocktails and other attributes will certainly provide a new experience. But even without a son of the sea, Atlantis – The Palm 5* has something to please both adults and children. A water park, entertainment center, restaurants, dolphinarium where you can swim with dolphins, underwater world museum, all kinds of entertainments – a great choice for those who want to spend a fascinating and bright! And thanks to the comfort and coziness of the rooms you can perfectly sleep and take small breaks.
Miramar Al Aqah Beach Resort 5*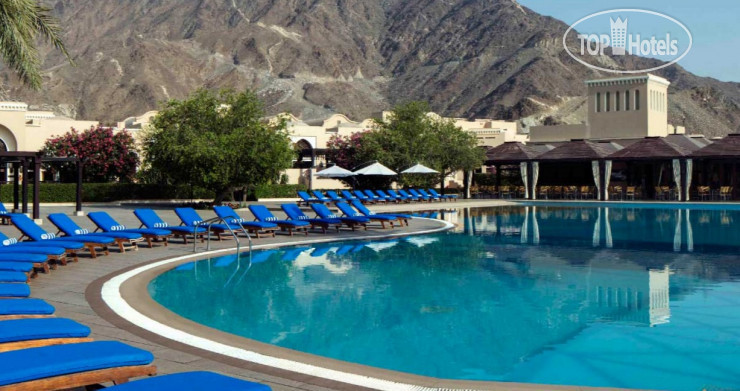 Miramar Al Aqah Beach Resort 5* is an unusually elegant modern hotel surrounded by mountains and with its own long private beach, also well suited for holidays with children. Guests are offered a rich entertainment program with a lot of sports for all ages – there is dancing, archery, volleyball, and water sports center, and of course, children's club. There is a separate 'paddling pool' for the little ones, very appropriately located in the shade. There are a lot of interesting and unusual rituals in the spa center of the hotel. There is even a special massage for expectant mothers. Rooms and suites of Miramar Al Aqah Beach Resort 5*, it should be noted, are not just cozy and comfortable, they are decorated in bright colors, which creates the mood, corresponding best of all to the atmosphere of joy, lightness and carefree fun.
Anantara The Palm Dubai Resort 5*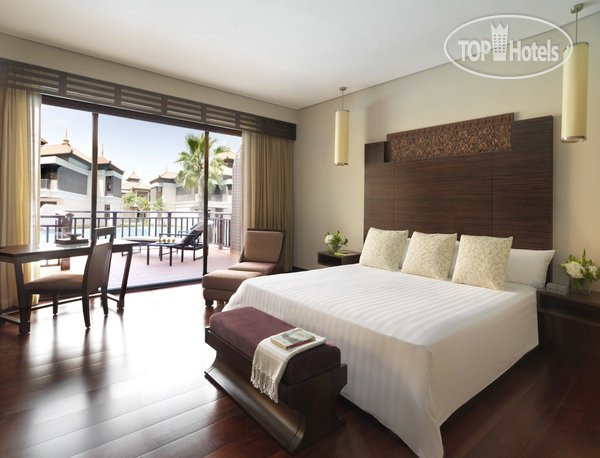 Anantara Dubai The Palm Resort & Spa 5* offers the most beautiful setting with lagoons, greenery, luxurious villas with private plunge pools, and comfortable rooms, where every detail has been thought out. For children and teenagers in Anantara Dubai The Palm Resort & Spa 5* there are clubs where the guests are offered entertainment. Last but not least the clubs are open from early morning until 8pm. Our little guests can play with a variety of toys for boys and girls, including doll houses and electric cars, a sandbox with moulds, buckets and spades (so you can leave a big bag of sand accessories at home to make your luggage lighter). The animators always have an entertainment program ready, so there is no chaotic pointless fun. And, by the way, on a large, beautiful area you can ride on an electric car, which is also great fun for children and teens, and adults, too. The hotel restaurants serve Asian and European cuisine, and the choice of dishes is vast. And, of course, Anantara Dubai The Palm Resort & Spa 5* has a spa where you can get real healthy treats.
Hilton Ras Al Khaimah Resort & SPA 5*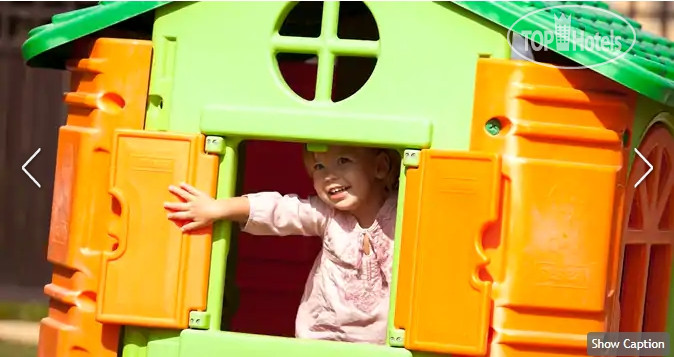 And of course, our list wouldn't be complete without the Hilton Ras Al Khaimah Resort & SPA 5*, a majestic hotel on the coast. There is a separate swimming pool, play clubs for different age groups, children's menu. For toddlers – high chairs and other necessities that are heavy to carry with you. The area will please fans of walks, and the menu at the restaurants – gourmets (as well as moms of those gourmets who change their taste preferences to the color of the bathing suit). At Hilton Ras Al Khaimah Resort & SPA 5* you can stay in a room, suite or villa. Regardless of the category, accommodation will be comfortable and well-stocked.
I hereby give my consent to the processing of my personal data by Media Travel Agency LLC (INN 7705523242, OGRN 1127747058450, registered address: 115093, Moscow, 1st Shchipkovsky per. 1) and confirm that by giving such consent I am acting of my own free will and in my own interest. In accordance with Federal Law of 27.07.2006 No. 152-FZ "On Personal Data" I agree to provide information relating to my identity: my full name, first name, middle name, residence address, job title, contact phone number, email address. Or, if I am a legal representative of a legal entity, I agree to provide information relating to the details of the legal entity: name, legal address, activities, name and full name of the executive body. In case of providing personal data of third parties, I confirm that I have received the consent of the third parties, in whose interests I act, for processing of their personal data, including: collection, systematization, accumulation, storage, clarification (update or change), use, distribution (including, transfer), depersonalization, blocking, destruction, as well as any other actions with personal data in accordance with applicable law.
I give my consent to the processing of personal data in order to receive services provided by "Media Travel Agency" LLC.
I express my consent to the following actions with all the above personal data: collection, systematization, accumulation, storage, clarification (update or change), use, distribution (including transfer), depersonalization, blocking, destruction, and the implementation of any other actions with personal data in accordance with applicable law. Data processing can be carried out with the use of automation, and without their use (in case of non-automatic processing).
At processing of personal data "Media Travel Agency" LLC is not limited in application of methods of their processing.
I hereby acknowledge and confirm that Media Travel Agency Ltd may provide my personal data to a third party for the above purposes if necessary, including engaging third parties to provide services for the above purposes. Such third parties have the right to process my personal data on the basis of this consent and to notify me of service fees, special promotions and offers on the website. Informing is carried out by means of telephone and/or e-mail. I understand that by putting a "V" or "X" in the box on the left and clicking on the "Continue" or "Agree" button below the text of this agreement, I agree in writing to the terms described above.
*Authorized users only need to consent to data processing once.
What is personal data
Personal data is contact information as well as information which identifies an individual, left by the user on the project.
Why do I need consent to process personal data?
Article 9 Clause 4 of Article 152-FZ "On Personal Data" states the need to obtain "written consent of the subject of personal data to process their personal data. The same law clarifies that the information provided is confidential. It is illegal for an organization to register users without such consent.
LEGAL DISCLAIMER
By using the services offered by www.tophotels.ru, you signify your agreement to the Terms of Use of the resource. By using the services offered by www.tophotels.ru, you accept the terms and conditions set out below Terms of Use Agreement regardless of whether you are a "Guest" (which implies your simple use of the service) or a "Registered User" (which implies your registration on the www.tophotels.ru website), and regardless of the purpose and subject of your use.
AGREEMENT ON THE TERMS OF USE OF THE RESOURCE
as amended on December 29, 2014.
1.Terms and definitions
Agreement – Agreement on the terms of use of the resource www.tophotels.ru. Administrator – administrators, moderators, copyright holders, as well as other legal owners of the resource www.tophotels.ru. Resource (Service) – internet site www.tophotels.ru. Materials – information placed on the resource: texts, articles, photos, videos, illustrations. User – a specific person or organization, which visits the Internet resource www.tophotels.ru.
Depending on the purpose and subject of the use of the resource there are different types of Users: 1.Ordinary users – Individuals, most often tourists, as well as those planning their vacation, visiting the resource for personal purposes without the possibility of making a profit. 2.Commercial users – Legal entities, individual entrepreneurs, as well as their representatives or other persons acting in the interests of the above entities, visiting the resource in connection with their professional activities and with commercial purposes. The commercial users of the text of this Agreement include, but are not limited to, the following Users – travel agencies, tour operators, hotels, tourist search and information systems and other tourism business entities, as well as persons acting on their behalf.
2.General Terms
2.1 A necessary condition for using www.tophotels.ru service is the User's consent to act in full compliance with all applicable legal norms of the Russian Federation and norms of international law, as well as in accordance with this Agreement. 2.2.Site Administrators may modify this Agreement at any time. Any changes of this Agreement come into force from the moment of their publication on www.tophotels.ru. By continuing to use www.tophotels.ru service after the publication of changes you agree to act according to the terms specified in the modified Agreement. 2.3 Administrators of the resource (including hotels, cooperating with the resource) have the right to send the User useful, relevant, interesting and other information by e-mail and posting in their personal cabinet. At any time Users can unsubscribe from the mailing lists through their personal cabinet.
2.4 Visiting and using the resource means that the User accepts all the terms of this Agreement in full without any exceptions or limitations. Use of the resource on other terms is not allowed. 2.5 Due to the fact that an active link to the Agreement is placed on the main page of the resource and is available to the general public, the Agreement is considered to be concluded with the specific User from the moment when this User visits the resource, even in spite of the absence of User registration on the resource.
3.Description of the resource
3.1.www.tophotels.ru is an information rating of hotels and hotels around the world, based on opinions and reviews of professionals in tourism business (travel agents) and tourists. 3.2 This resource is a daily updated directory of hotels and hotels around the world, which includes descriptions of hotels, their photos and contacts. Everyone who visited this or that hotel can leave a review about it, to rate the accommodation, the level of service and food in hotel, further commenting its rating in the review, thus forming the rating of TOP Hotels. 3.3 In addition to general information about the hotels users can find at www.tophotels.ru a number of additional materials and services that may be useful when choosing a place to stay. These include information about special promotions, hotel news and other related information. 3.4. www.tophotels.ru, as well as the owner of this resource is not a travel agency and does not sell travel services.
4.intellectual property. Restrictions on the use of the resource
Resorts in the UAE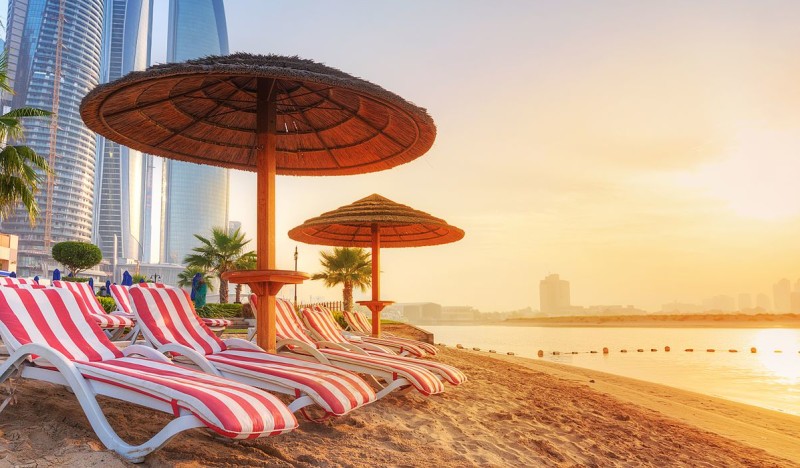 Family resorts: vacation friendly, fun, interesting!
Family vacations in the United Arab Emirates is a journey into the 22nd century, as many tourists who have been here say. UAE resorts can captivate guests with their ultra-modern architecture, which takes your breath away, impeccable service and advanced technology, which created the ultra-modern entertainment. To come on holiday with your child to one of the richest countries in the world is to see with your own eyes the wonders that civilization can achieve even in adverse climatic conditions. In this section you will find a detailed description of the resorts of the country and be able to choose the most interesting places to stay and the most striking sites for excursions. Luxury hotels are waiting! A photographs of resorts will tell you what to focus on, what will please you and your baby in this exotic country.
The best resorts for families
The review of resorts, where family tourists will feel the most comfortable, necessarily includes such cities of the UAE as Dubai, Abu Dhabi, Fujairah, Sharjah, Ras Al Khaimah. It is worth noting that security here – at the highest level, you can not worry about the safety of luggage and do not fear the street thieves. The map of UAE resorts shows that in the summer months, holidays on the Arabian Peninsula will not be comfortable for families with children: too hot and humid, even at night.
The most favorable period for the trip is autumn and spring, but in winter there is no cold, but the water in the sea is cool, and you can swim only in the pools. Resorts in the UAE for children offer a huge selection of the most incredible entertainment. Grandiose water parks Dubai – an unprecedented number of water rides. Abu Dhabi amusement parks are ready to compete with them for the palm. Children will love walking along the waterfront: a huge number of playgrounds, cafes with delicious treats, fountains, bike lanes and paths for rollers … I will not list everything! Children and adults alike will enjoy dancing fountains, parks and lush gardens, zoos and aquariums, forts and fortresses, museums and shopping malls. The best resorts in the UAE will delight tourists with a huge choice of hotels of different categories, well-groomed beaches with a smooth entry into the sea, a lot of excursions. If you want to rest at a resort with lush local greenery – choose the northern cities of the country, such as Ras Al Khaimah. This place attracts tourists with children with its mild climate, beautiful nature, relatively inexpensive hotel accommodation. If you are traveling with a teenager, you can diversify your leisure time on an ATV safari in the desert, playing golf or bowling.
Prices in the UAE resorts
The cost of traveling with a child in the UAE depends on many factors: the choice of the resort, hotel, sightseeing program, the organization of food, the need for additional services, etc. It is no secret that recreation in the UAE is not among the economy options. However, here you can find both very expensive hotels, and more affordable, and the level of service, regardless of the category – excellent, above all praise. If you look at the UAE resorts on the map, you can choose to rest as the northern and southern emirates, as well as settle in smaller towns located near the capital of a particular emirate. Sharjah, for example, is a great way to save on accommodation and enjoy the enormous opportunities of Dubai, as it is only 28 km away. Air travel to the country usually does not take much time, and only in rare cases there may be flight delays due to adverse weather conditions.
Popular resorts for children provide discounts on accommodation and meals, as well as visits to various excursions with parents, the use of children's accessories and some other services. Almost everywhere the UAE resorts offer an "all inclusive" format, but you can save if you stay in apartments with equipped kitchens and cook your own food. Also a good option – half board, with breakfast included. Despite the fact that the national cuisine has its own peculiarities, you and your child can have lunch and dinner in many restaurants and cafes, without worrying about the quality of food. An infant who is not yet eating from the adult table will not go hungry: your hotel's chef can order dishes adapted for the youngest guests. In addition, in supermarkets you will find a wide range of products for kids of all ages, including milk formula and puree for babies.
Family tourists are advised to choose hotels on the first coast line, as well as clarify in advance all the features of the beach. You should also take into account that the category of hotels in small resorts can be overpriced compared to similar hotels in the capitals of the emirates. Reviews of travelers who have visited a resort in the UAE will help to make the right choice and enjoy the trip to this exotic eastern country.