Where to go to the sea in Ukraine with children
Vacation at sea with a child is for sure on the list of obligatory plans for summer for most parents. They want their kids to run in the snow-white sand, pick up shells, breathe fresh air and say that they are not cold in the water at all. In this article we'll tell you where you can go with children to the sea in Ukraine and what these resorts are remarkable for.
Friends, we want to remind you that we have added a very handy application for iOS, which is available in the App Store.
Download, try it, and leave your feedback!
Odessa
An option for those who don't plan to build sandy pasties on the beach all the time, but also expect to take walks, museums, movies, malls, water park, ponies and happy meal. With the entertaining program in Odessa certainly there will be no problem. With beaches, by the way, too. In this regard, the choice is huge. Many parents-travelers for a holiday with children recommend "Otrada", where from the French Boulevard leads a cable car. It is clean and everything is in order with activities for little tourists. You can also go to the "Gold Coast", where there is a playground, swimming pool, water slides and other things.
Read more about the city beaches here and remember, of course, that in the summer in Odessa is crowded, like on Kreshchatik at the weekend.
© depositphotos
There are dozens of restaurants, cafes and food zones along most of the beach areas in Odessa, so you'll definitely have a place to feed your child. Plus – couriers successfully deliver food to the beaches. Sellers baklava rejoice not that much, but vacationers in seventh heaven with happiness eating pizza, sushi, noodles and soups.
Full bathing season in the city starts in early to mid-June. The average water temperature at this time 21.5 degrees. In July, the mark reaches 23.8 degrees, and in August the water in general is a song – 24.2 degrees.
Rest with children by the sea, plan in advance. If you book accommodation in Odessa already in May, you will act very wisely.
As for prices, in summer everything is steadily expensive, but at the same time very dear to the heart. In order to feel relaxed and not to worry about not having enough money for unforeseen expenses, get the credit card VseMOZHU from FUIB. The grace period of this card is 62 days, which means that during this period you will not have to pay any overpayments. When it is over the monthly rate will be only 3.99%. Available loan amount is up to UAH 200 000, and you can withdraw cash without commission fee from all ATMs of the world and Ukraine. The grace period for cash withdrawal will be applied to the transactions made from 01.06.2021 to 30.08.2021.
Zatoka
Recreation in Zatoka with children is more affordable than in Odessa. And even in this village the rhythm is slower and the people on the beaches are smaller. Such a variant will suit parents, set up mainly to sunbathe, swim and play with a child on the beach and in the water.
Sea in Zatoka is good: shallow and clean, the entrance is flat, ideal for recreation with children. In early June it is still cool to swim, but by the first days of July the water gets up to 23 degrees. Beaches in Zatoka free, with clean fine sand. To avoid getting burnt, take an umbrella or rent one right by the sea.
With a cultural program in Zatoka gap, but not far is the Belgorod-Dnestrovsk fortress. Take a day for a tour, you won't regret it. Knightly tournaments and theatrical performances are often held on the territory, and you can take great family photos there.
© depositphotos
© depositphotos
Chernomorsk
This town near Odessa has everything for a comfortable vacation with children. On the streets there are no crowds of tourists, the beaches are clean and sandy (with an admixture of small shells). In the central part of the coast is wide enough. There is a children's area with a small shallow pool. There are also sun beds with umbrellas, cabins for changing clothes, toilets, showers, fountains with drinking water, ramps. Most beaches in the city are free, you can rent everything you need for recreation.
Already in mid-June the sea in Chernomorsk is absolutely comfortable for swimming. So, come breathe the healing air, build sand castles and accumulate precious memories.
Holidays with children in Chernomorsk are usually quiet, cozy, unhurried. With a child you can walk along the promenade, walk to the Black Sea Lighthouse, visit the Seaside Park or the Museum of Old Porcelain. The city beaches are equipped with various attractions. But if you need more than enough of them, go for a day to Odessa, which is 30 km away. There you will be able to go to a water park, and a dolphinarium, and entertainment centers. With stores, restaurants, markets, parks, pharmacies and hospitals in Chernomorsk everything is fine. On this point for sure do not worry.
© depositphotos
A separate item in preparation for the trip – packing for it. On what to take on a trip to the sea, we told in detail in this article. And, if you are suddenly worried that it will be expensive, you can take an installment from FUIB. With it you can split any purchase starting from 1000 UAH into several payments. Repayment period without overpayment is 3 months. Learn more about this service here.
Koblevo
You can also rent a house on the Black Sea in Koblevo, Nikolaev region. The coastal area here is large, and the beaches are large and clean. The western part of the resort has a cover of sand, while the eastern part has a mixture of sand and small barnacles.
The sea in Koblevo is rather shallow with a flat bottom. Deepening begins about 15 meters from the shore – for a holiday with a child is just right. If you have not yet had the opportunity to be in these parts, come. Koblevo has a lot of attractions for kids of all ages. There are two water parks, a lot of classic water attractions, as well as dolphinarium, lunapark and rodeo park, which plunges its guests into the atmosphere of the Wild West.
Season in Koblevo starts in May and lasts until September. The average temperature of the sea water is +27 ° C. In early June there are usually not many tourists, but in July and August there is a full house. The prices during this period soar.
© depositphotos
Berdyansk
Are you thinking about where to go to the sea in Ukraine with your child? Consider Berdyansk in Zaporozhye region. Here is a warm, clean shallow Azov Sea, excellent infrastructure and adequate prices.
The city has a water park, a zoo and a dolphinarium, many bizarre sculptures that will be interesting for kids to explore, and a beautiful promenade with a lot of activities for children of all ages.
© depositphotos
© depositphotos
Also in Berdyansk you can visit several museums, go to the movies, go to the old lighthouse and, of course, enjoy the sun and the gentle sea on the spit Berdyansk. Because of the shallow water there warms up very quickly, so the season on the spit starts in mid-May. Locals begin to swim. Tourists as well in Berdyansk usually attracted in June when the sea warms up to 23 degrees. In July and August the water is warmest. The average temperature in these months reaches 25 degrees.
Ukraine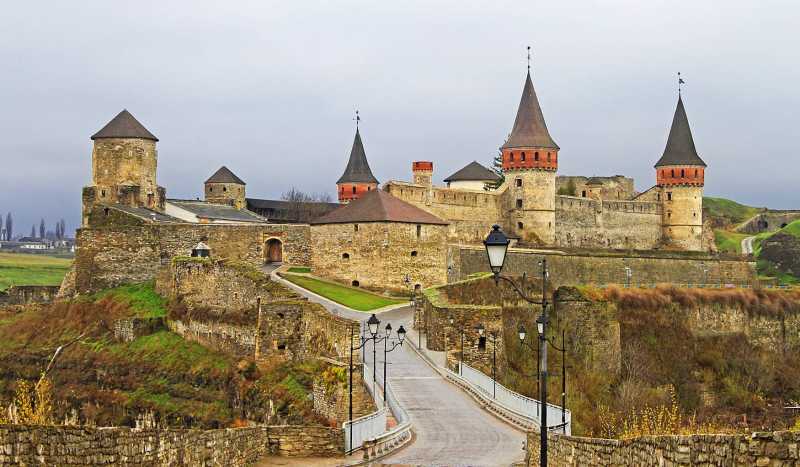 The name "all-Union resort", which was assigned to Ukraine during the Soviet Union, still attracts holidaymakers.
The Black Sea coast is a favorite destination for people from all over the former Soviet Union, the Azov Sea coast, which is considered a children's resort, health resorts in Prykarpattya, which is famous for its healing mineral water, the pristine beauty of the Carpathians, the solitude of lakes in Polesie – Ukraine is rightfully proud of its unique nature.
Nowadays, when the choice of countries for tourism is unusually wide, many still prefer family vacations in Ukraine.
A Kidspassage review will tell you why Ukraine becomes more and more popular as a travel destination and what is remarkable about vacations with kids in Ukraine.
Where is Ukraine?
Ukraine is a state in Eastern Europe. It borders on Russia, Belarus, Poland, Slovakia, Hungary, Romania and Moldova. The south of Ukraine is washed by the Black and Azov Seas.
In the south-west of the country there are the Carpathian Mountains. The climate of most of the territory is temperate continental. The population is about 46 million people. The area of the territory is 603 628 km². The capital is Kiev.
Citizens of many countries do not need a visa to enter Ukraine for up to 90 days. For border crossing it is enough to have a valid foreign passport.
Customs regulations in Ukraine do not have any peculiarities. However, if you enter the country by land transport, border and customs inspections may be prolonged.
Rest with children
Holidays in Ukraine for many people is a good habit: almost all residents of the former Soviet Union keep fond memories of family trips to this hospitable country (then still a republic of the USSR).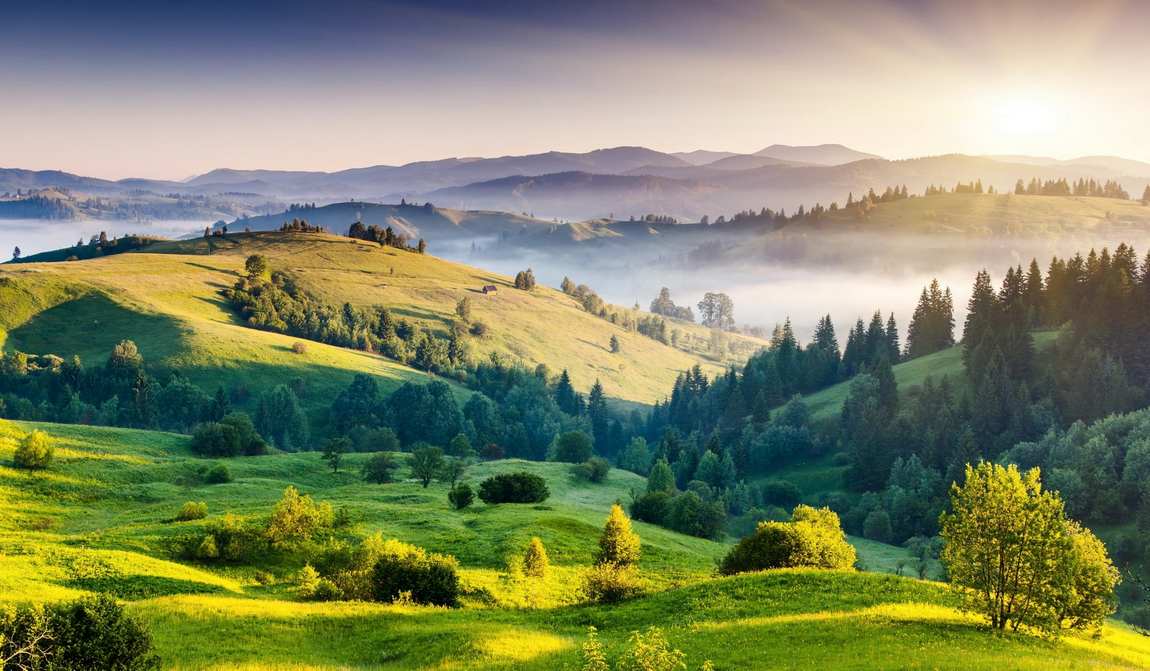 May be summer vacations spent in a children's camp near the sea, hiking in the mountain trails of the Carpathians, fishing on the Shatsk lakes, dark sweet cherries and sunny peaches, sugar Kherson watermelons, the beauty of the steppes and forests, stately Kiev, colorful Odessa, ancient Lviv …
You want to come back to all of this again and again. Refresh your childhood memories and discover Ukraine for children. All the advantages of vacationing here are preserved, and new ones are added.
Firstly, traveling to Ukraine has become easier due to the reconstruction of international airports and the increase in the number of flights from different countries.
Secondly, the country has a good tourist infrastructure. It is still far from perfect, but it develops in the right direction.
Ukraine has family hotels, which are convenient for a vacation with infants or pre-schoolers. Winter resorts have children's ski schools, water parks at the sea, and the cities have all sorts of entertainment for kids.
Thirdly, there are plenty of options to relax with your child at any time of year. You can go to the sea in summer, see the Carpathians in winter, or go for a walk in Kiev when the chestnuts are in bloom – choose the holiday that suits your taste.
Fourth, a trip to Ukraine with children is simply a pleasure, even despite the rough edges of the service. Let yourself enjoy the beauty and hospitality of this country, as children know how to enjoy.
When it's better to go
Tourist season in Ukraine never stops. There is no time in the year when you don't want to visit this country. Snowy winter with a light drizzle is the best time for active rest in the ski resorts of Carpathian Mountains.
March-April and autumn off-season are suitable for vacations with a child in sanatoriums. The warm days of May are favorable for city walks and hiking in the mountains. With the advent of summer the beach season opens.
May through September is a good time for traveling to Ukraine with children. You can go skiing from January to March. And if you're going to sea resorts, plan your trip in July and August, because the swimming season in Ukraine starts rather late.
It's best to visit Ukraine with a baby in May or early June or in the first half of September. This time the weather is warm and dry, which is suitable for outdoor recreation.
Is the weather the only thing you should consider when choosing the best time to visit Ukraine? No, not really. Will the frost scare children who want to visit St. Nicholas in Lviv?
Come to Lviv on New Year's Eve and stay until Christmas to listen to carols and see live Nativity scenes. While making your summer vacation it is better to add an ethno festival to your itinerary.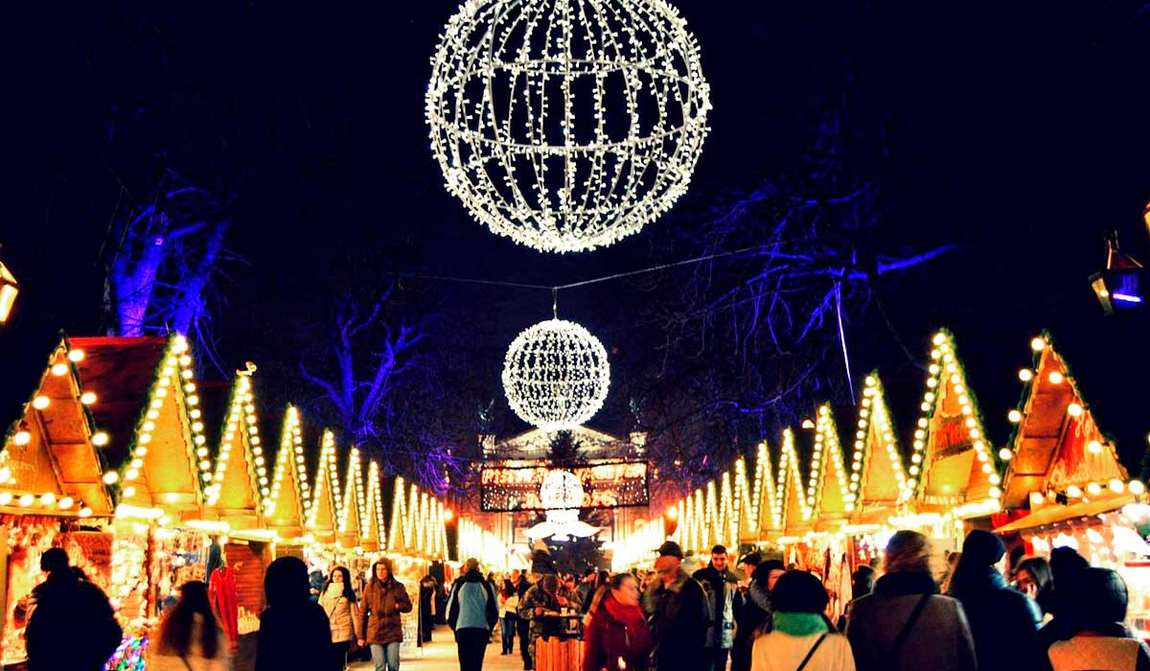 Weather and Climate
The temperate climate of Ukraine is a gift for travelers. Firstly, because there is a real winter, and you can ski in the mountains.
Secondly because the summer is very warm, just as you need for vacation at the sea. And thirdly because the off-season, which is clear and not too hot, is suitable for city walks.
The weather in different regions of Ukraine is really different. Summers are hotter in the east and colder in winter than in the west.
In northern regions there can be ringing frosts and snowfalls in winter, while in the south the frost and snow is rare. Carpathians have very special microclimate with mild warm and rainy summer and mild snowy winter.
Late spring, summer and early autumn are the best time for a vacation with kids. When the temperature is within +20-28 ° C, you can go on excursions and sunbathing at the sea, and choose one of the options for active pastime.
The holiday season in Ukraine starts in May, but it peaks in July and August, when the sea is really warm. There are rarely unbearable heat at the sea resorts – it's the cities far away from the sea that suffer from heat.
In mountains season starts in December. Usually when winter comes, the Carpathians get good snow cover, which lasts until April. In winter the daytime temperature ranges from -10 C to +5 C, and at night it may get very cold.
To make it easier for you to choose a time for vacations in Ukraine, we present data on the average temperature in different regions of the country (the first indicator is the night temperature, the second is the daytime temperature):
Kiev
Lviv
Odessa
Kharkov
January
-5…-3°С
-4…-1°С
0…+2°С
-7…-4°С
February
-4…-1°С
-3…+1°С
+1…+4°С
-6…-3°С
March
0. +5°С
+1…+6°С
+4…+8°С
-1…+4°С
April
+7. +15°С
+6. +14°С
+9. +14°С
+6…+14°С
May
+13. +22°С
+10. +19°С
+15. +20°С
+13…+22°С
June
+16. +25°С
+14. +23°С
+19. +25°С
+15…+25°С
July
+18. +28°С
+16. +25°С
+22. +28°С
+18…+28°С
August
+17. +27°С
+15. +25°С
+23. +29°С
+17…+28°С
September
+13. +21°С
+12. +20°С
+18. +23°С
+12…+21°С
October
+7. +12°С
+7. +12°С
+12. +15°С
+6…+11°С
November
+2. +5°С
+3. +6°С
+7. +10°С
+1…+4°С
December
-2. 0°С
-1…+2°С
+3…+5°С
-3…-1°С
Sea water temperature
Bathing season in Ukraine is not as long as we would like it to be, but lovers of sea bathing still have two and a half to three months to spare.
Black Sea gets warm to +21-22 ° C only by mid-June. In July and August, the sea temperature rises to +23-24 ° C, and if the heat holds out for a long time, it may reach +25-26 ° C. In early September, the water cools to +23 ° C, and at the end of the month to +20 ° C.
Sea of Azov is much warmer. In early summer the water temperature is +21 ° C, but in mid-June it rises to +23-24 ° C.
In July and August Azov warms up to +25-27 ° C, although in the last days of summer the water may be a little colder. The normal September temperature is +22-24 ° C, by the end of the month the temperature drops to +18-21 ° C.
Nutrition
It happens that tourists who come with children to Ukraine, try to find a hotel with an "all-inclusive" system. Indeed, there are such hotels, but to leave them to take care of catering is to deprive yourself of some of the pleasure of exploring the Ukrainian cuisine.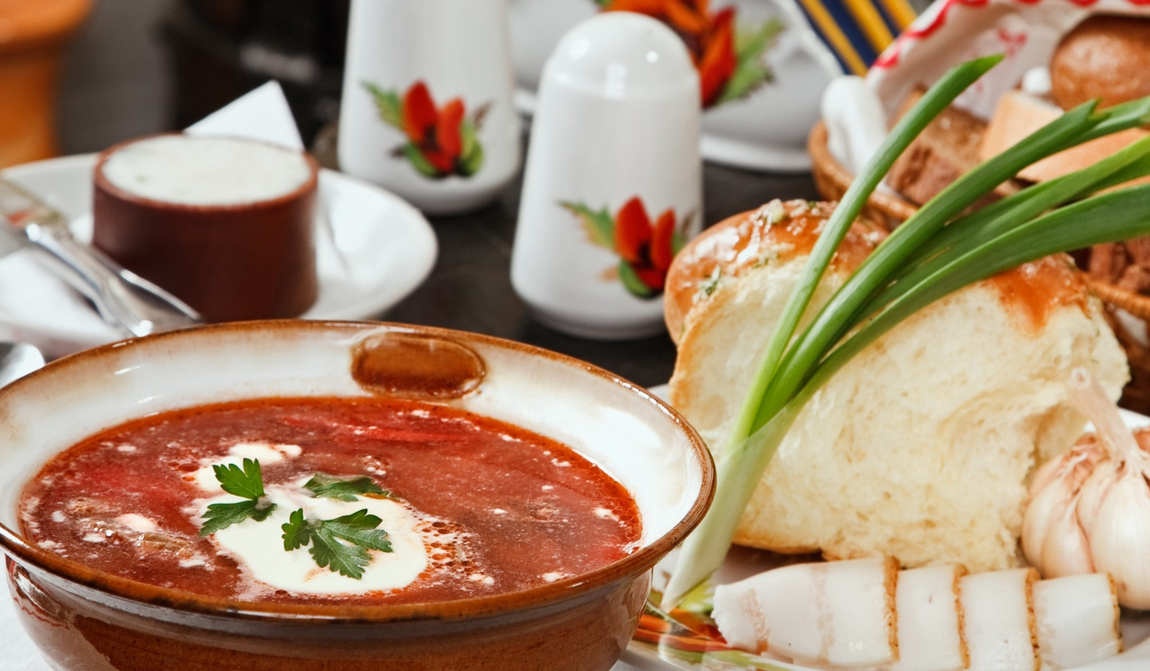 National Ukrainian dishes will only decorate children's table, take for example dumplings with cherries or pirozhki with poppy seeds. And it is hard to refuse from goat's kulesh and borsch with soft pampushki.
However, you can find dishes of any cuisine in Ukrainian catering establishments. The only disadvantage of most restaurants is that they don't offer children's menus and don't create play corners for little visitors.
Moreover, Ukraine's fertile soil grows wonderful fruits and vegetables. In the season children can safely buy strawberries, cherries, apricots, peaches, grapes, figs, melons and watermelons.
The variety of dishes of zucchini, eggplant, tomatoes, cucumbers, peppers will decorate the table and enrich the child's body with vitamins. All this can be bought in stores and at markets.
Baby food – formula, porridges, purees – sold in supermarkets and pharmacies. If you are going to a small resort, it is best to bring the necessary food with you.
Transportation
Ukraine is still attractive because it is easy to get here. Ahead of the Euro 2012 soccer championship considerable sums were spent on the transport infrastructure of the country, which had a positive effect on its condition.
For those who travel to Ukraine with children from other countries the most convenient mode of transport is still a plane. However, Ukraine is relatively close to Russia, Belarus and many European countries, so you can get to it by train, bus or by car.
Travel through Ukraine by train is especially convenient if you're traveling with a small child – do not have to spend tedious hours between check-in and boarding a plane, the baby can be conveniently put to bed, fed at any time, change clothes. Although, unfortunately, the state of Ukrainian trains still leaves much to be desired.
Travel by bus and car also became more comfortable after Euro 2012.
Roadside infrastructure is underdeveloped, so it's a good idea to take a small amount of food and drink, as well as anything you might need to take care of a baby, on a family road trip in Ukraine.
Public transportation in Ukraine includes buses, trolleybuses and streetcars, and in Kiev, Kharkov, Dnipro and Krivoy Rog, there's also the metro. In general, transport adheres to the schedule, but you can't always rely on it.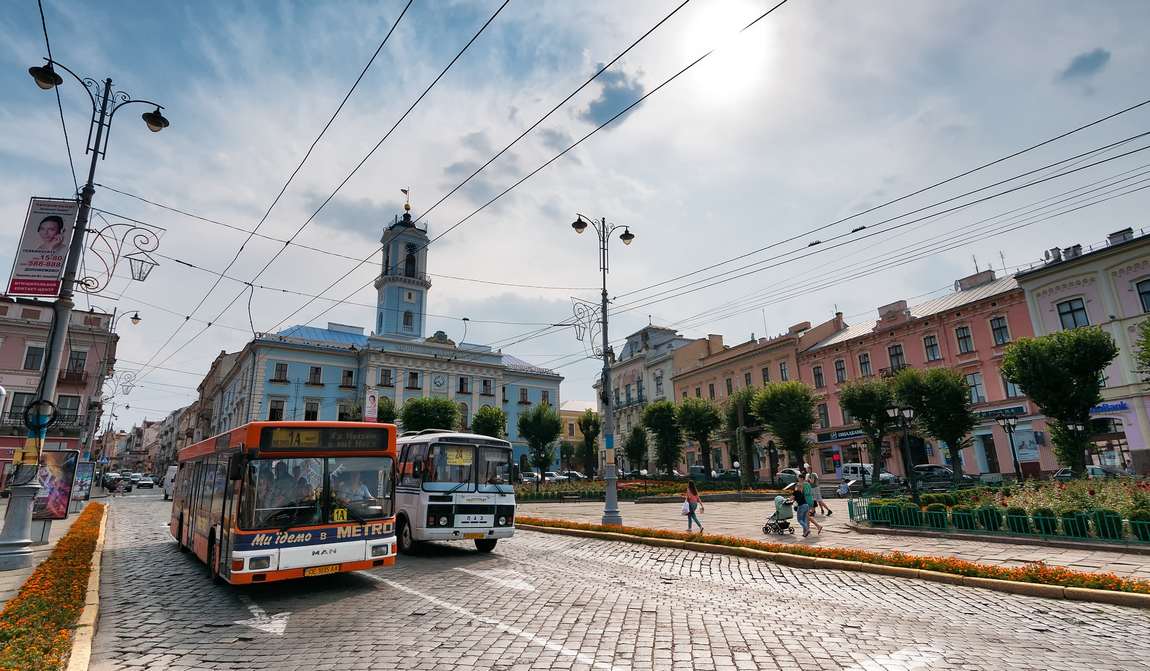 The cost of tickets differs from city to city and is about 5-8 UAH. Children under 6 years old are entitled to free travel, tickets for schoolchildren and students are half cheaper than tickets for adults.
While in most cities there is no single ticket for all modes of transport, but in Kiev the program "Single e-ticket" began to work.
In order not to use public transport in Ukraine, you can rent a car. Offices of rental companies operate at airports and major cities.