11 best hotels in Cuba for vacations with children
Anyone planning a family vacation complete with tropical sun and beaches should consider the top-notch all-inclusive tours that Cuba offers. This paradise is not only safe, but also affordable. You can easily find very cheap vacation options here. Moreover, if you get the urge to stay with your family in one of Varadero's luxurious five-star complexes, you will find that there are many good all-inclusive package deals. Cuba offers unlimited opportunities for great family vacations. The country's coastline is more than 5,000 km long. There are many beach resorts to choose from. Many complexes offer special programs for children and the whole family. These are organized water sports (surfing or scuba diving), nature adventures (hiking, visiting nature reserves), children's clubs with game rooms and cultural activities. In other words, Cuba has it all. All you need is a little preliminary work on the information. That is why we have prepared a list of the best family resorts in Cuba.
This hotel is a great choice for those traveling as a family, as it offers a great beach vacation for all ages. As a popular Cuban resort complex, it is situated in a beautiful location overlooking the white sandy beach of Cayo Coco. The complex is part of the larger Iberostar group and offers a choice of 350 rooms. Many are spacious enough to be family-friendly. The stylishly decorated suites are large, with a sofa bed and a terrace or balcony. Four people will feel themselves quite comfortable here (by the way, children are entitled to extra treats). There is a swimming pool for children, and a SPA procedures and a gym for adults. There are three restaurants on the territory, each with a children's menu. In addition to a variety of water activities (including scuba diving, surfing and kayaking), for which there is a whole 600 meters of beach area, guests can do other things. For example, learn to dance, listen to live music or go to the disco. Babysitting services are also available.
Another complex in this group that is worth your consideration is the Iberostar Tainos. This four-star resort is known for its cleanliness, excellent service and good location. By the way, it is located in the heart of Varadero, on a long strip of undeveloped and safe beach, which is just waiting for its explorers. Only additional structures of the complex are worthy of separate praise. These include: 1. tropical gardens in which to relax; 2. an adult pool; 3. a children's pool designed for maximum fun; 4. a huge playground; and 5. special children's programs as part of the Star Camp Club (ages 4 to 7). Guests have access to a superbly equipped fitness center, health center and spa treatments, as well as great opportunities for water sports (snorkeling, sapsurfing) and four restaurants. Accommodation options include both standard rooms and large spacious bungalows (you can request "pool view" – there is one). Optional all-inclusive packages are available.
The four-star Melia Las Antillas hotel offers good quality services and an all-inclusive beach vacation. It is excellent for families with children 16 and older. Located by a large beach, just 35 km from Varadero Airport, the complex is within good reach of the main tourist attractions, including the Dolphinarium (which can be quickly reached on foot). Accommodation options include modern, brightly decorated rooms as well as large rooms and bungalow-style suites. The hotel grounds are quite extensive and abundantly dotted with a variety of vegetation. There are many quiet places where you can just relax. There are also several ponds with fancy bridges and gazebos (in the main hotel lobby, look out for the hanging garden). There is a huge pool with variable depths (and waterfalls), hot tubs, and ample sunbathing space. Outdoor massages are available for those who wish. There is also a unique outdoor amphitheater used for music shows and other cultural events. The hotel offers a good choice in terms of food, and those who wish to embrace luxury can order exceptional service with their own concierge.
Sol Cayo luxury complex is located near the popular Flamenco Beach. The resort operates on an all-inclusive basis and provides many opportunities for a good family vacation. A big advantage of the complex are the accommodation options. Spacious cottage-style rooms with a wide range of amenities are available for families, including: a bar with a refrigerator and microwave, TVs, coffee machines, terraces and balconies. If that option is too much for your budget, there are several larger rooms with separate areas and pull-out sofas. The large resort complex has a variety of restaurants, and many of them have children's menus. For fun, there are five outdoor pools, as well as your own theater that hosts a variety of activities, including one geared toward children. Add a kids' club, and you've got the complete package for a great family vacation in Cuba.
This is the newest complex of the Iberostar group, located in Varadero. It's definitely worth adding to your list of potential accommodations when planning your Cuban vacation. Accommodation options include several types of bright, well-furnished rooms and suites, as well as bungalows of various sizes. However, you're unlikely to spend much time indoors, even if you're a homebody. Outdoor entertainment always attracts children. From this point of view, the complex has: 1. a large and safe beach, which is great for children's swimming; 2. a children's pool (and a separate one for adults); 3. a children's camp with various organized programs; 4. a children's cafeteria with endless snacks.
This hotel is located overlooking the beach after which it is named. It also boasts a wide variety of family-friendly activities. Among the resort's special attractions is access to a spacious beach where you can snorkel off the nearby reefs. Many different water activities are available to guests: surfing, sailing, and kayaking. For the younger guests, there is a children's pool, a games room and two restaurants with children's menus. The hotel has 412 bright, modern rooms. The rooms have TVs, spacious bathrooms, and wide balconies. Several of the rooms are equipped with accessibility features for those with limited mobility. Finally, the hotel offers eight extra-large rooms for those who need a lot of space.
This complex is famous for its lush vegetation, which is not surprising since it is located near the Cayo Guillermo National Park. For accommodations, you'll be offered quality and comfortable bungalows with ocean views. Standard room furnishings include a minibar, small refrigerator, coffee machine, and TV with access to children's channels. As a popular destination for families, the resort offers 4 restaurants (with children's menu) and a great kids club with plenty of activities. If kids are interested in sports, not only surfing and sailing, but also snorkeling and fishing are available. Tennis and volleyball are also available. Finally, there are several separate children's pools.
Another great place in Cuba for those traveling as a family. This all-inclusive resort has a good reputation for cleanliness, excellent service, convenient location and pricing. The coastal hotel has 296 rooms, most of which are in the standard category. A few suites are larger in size and have views of the ocean. In addition to the views, these rooms feature multiple rooms and a private balcony with a hammock. A choice of three restaurants is available to guests. When the food gets boring, visitors will discover a host of other options for having a good time, from sunbathing and swimming, to scuba diving and guided sightseeing tours.
Cayo Guillermo is famous for its pristine, sandy beaches and for being a favorite destination of writer Ernest Hemingway. Now, it's a great choice for those planning an unforgettable family vacation. One of the best places in this beautiful region of Cuba is the all-inclusive Melia Cayo Guillermo resort complex. It is located overlooking the beach, with countless shady palm trees growing in some parts. Among the popular activities in the area are fishing and enjoying the calm, emerald waters, which means scuba diving or snorkeling, swimming or lazing on the beach. The complex offers several types of standard rooms, elegantly decorated with local motifs. There are also spacious bungalow-style accommodations that are great for families (cribs and babysitting services are available).
This complex is in no way inferior to the other resorts in the Iberostar group, and is a good choice if you're traveling as a family. Providing plenty of opportunities to have fun and enjoy the sun, the complex is considered one of the best in Cuba in terms of beach holidays. The hotel has 386 rooms, some of which are spacious enough to accommodate a large group of travelers. If this is about you, a great accommodation option would be one of the semi-suites. The largest of these rooms are complete with pull-out sofas and boast additional space. Also note the two luxury suites in the penthouse. Now about what the kids can get here. First, the pool area, where there are three of them. One of them is completely designed for children. Secondly, there are a lot of options for beach activities: volleyball, snorkeling, swimming and kayaking. Third, kids can play basketball, archery, soccer, and tennis outdoors. Finally, if you get bored with the outdoors, there's a kids' club for kids 4 to 12 that offers dance lessons and various crafts. Babysitting services are available for guests.
This is one of the best options for those looking for a good but affordable family vacation. There is something to do here for every age. Among the main advantages of the complex note: 1. the beach, which is spacious enough for a relaxing holiday; 2. beach volleyball; 3. water sports (surfing, kayaking); 4. scuba diving (nearby is a diving center). You can dine in one of two restaurants or in one of the simple Cuban-style cafes. There's also live music and dancing (day and night) and a large pool. For children, there are many different programs and a large playground. Guests will be offered spa treatments, tour planning services, and moped or car rentals. There is even a souvenir store on site. The selection of rooms includes well-designed standard rooms and a few more spacious options specifically for families.
Going to Cuba with children: Top 20 family hotels
Specialists of the leading tour operators in Cuba shared the secrets of selecting family hotels in four resorts of this Caribbean country. We present TOP-20 proven hotels in Cuba for families with children. There are both VIP and budget options.
Many tourists still have the stereotype that Cuba remains a preserve of socialism, with all its consequences. For example, such as excessively "tired" hotel infrastructure, unable to provide the necessary level of comfort for holidays with children.
But this is far from it. Few travelprofits, and accordingly, and tourists know that the direction can also be recommended for family holidays. The main thing – to know what hotels in what resort to choose.
In fact, Cuba has all the necessary components for an ideal family vacation: a mild tropical climate, miles of white sandy beaches, lots of activities for children, including trips to national parks, meeting with the vibrant flora and fauna.
And most importantly – a wide enough choice of hotels, working on the concept of All Inclusive and offering a variety of leisure – including for younger guests.
Keep in mind that Cuba is suitable for holidays with children not only because it offers the necessary infrastructure for children – mini-clubs, animation, children's pools, etc. It is important to note that Cuba has a very high level of medical care, so you can fly to Cuba with children without fear for the child's health. The main thing is to have insurance – we recommend ERV Company.
The specialists of big tour operators working at Cuban direction – ANEX Tour, PEGAS Touristik, TUI Russia and Coral Travel – made a master-class on "family" hotel base in Cuba for travel retailers. We will look at hotels in four resorts popular with Russian tourists – Varadero, Holguin, Cayo Coco and Cayo Santa Maria.
WHICH HOTELS TO CHOOSE FOR FAMILY VACATIONS IN VARADERO?
To begin a conversation about family holidays in Cuba, of course, it is worth talking about Varadero – the most famous among Russian tourists resort. Today this is the most visited resort in Cuba – not only because it was first developed by Russian tour operators, but also because it has unparalleled white sandy beaches, stretching for 36 km. Here is a much-needed gentle entrance to the sea for children. It is not unimportant that the beaches of Varadero were recognized as one of the cleanest beaches in the world.
But there are some peculiarities. Note that the resort has been receiving guests since the 1930s, which, of course, could not fail to affect the hotel base. Many hotels during this time strongly "tired", so be very careful when choosing a place to accommodate your tourists. But at the same time you can recommend tourists as hotels of international networks, as well as Spanish.
Thus, some of the best hotels in the resort of Varadero for families with children are hotels Memories Varadero Beach Resort 4* and Grand Memories Varadero 5*.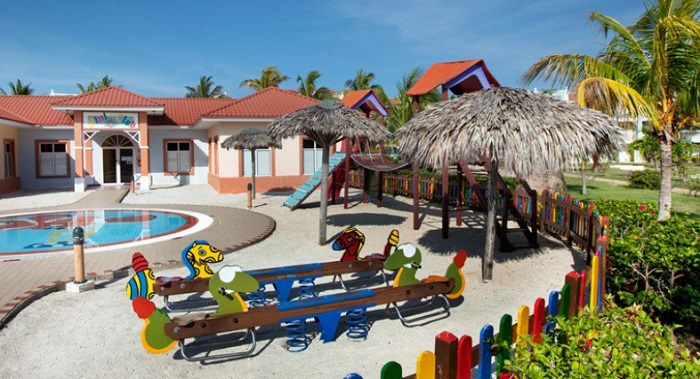 Both hotels have mini clubs for children in the branded concept of Coral Travel – Sun Family Club, there are swimming pools for children, babysitting services are available for a fee.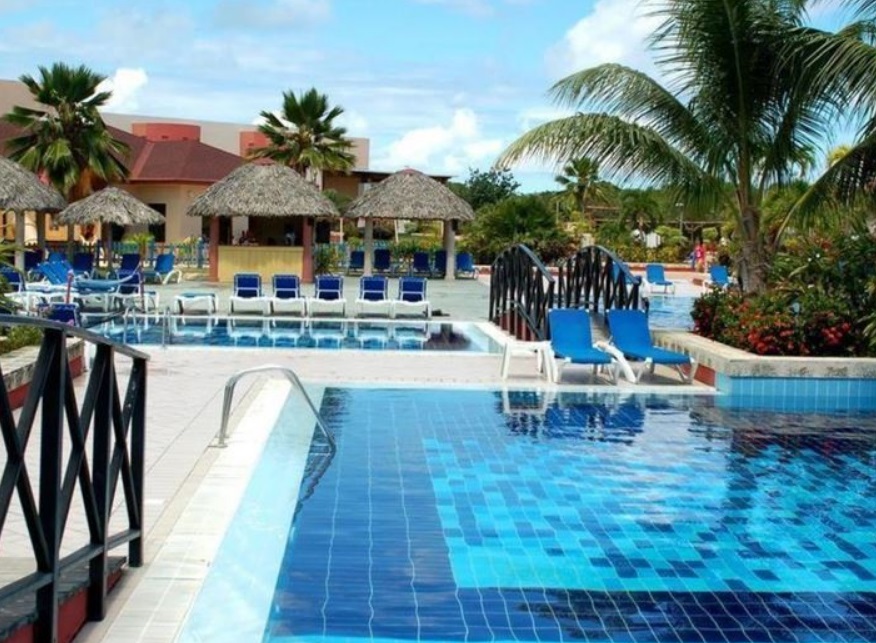 According to Marina Makarkova, head of public relations department of tour operator Coral Travel, Russian teachers of the new international program "River of Time" work in each of the hotels.
"The program has 11 temporary "stations" – days, and every day from morning to evening children study the era in which they found themselves – from dinosaurs, cavemen and ancient times to the times of great geographical discoveries and inventions", – explained Marina Makarkova.
A separate block, according to the expert, is "Fun Country Studies" – children get acquainted with the history, geography and peoples of Liberty Island, as well as learn what animals, plants and sea creatures are found in this region.
Only for young guests from Coral Travel and Sunmar, there's a "Fundamentals of Mental Arithmetic" class and an English course – Sunny English.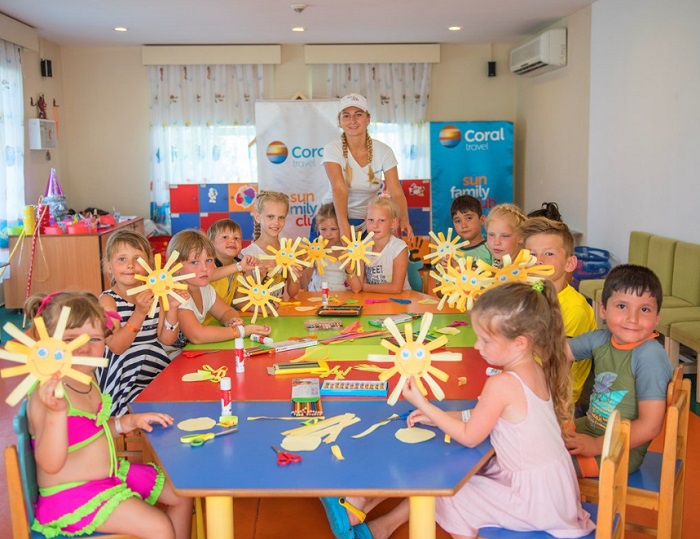 Food and drink at Memories Varadero Beach Resort 4* and Grand Memories Varadero 5* is also adapted to the tastes of Russian children: brand-chef of Coral Sun Family Club has already held a training course for hotel cooks, children's buffets for breakfast, lunch and dinner with "Russian" children's menu is available.
Another hotel that can be recommended to families with children is Cubanacan Brisasdel Caribe 4 *.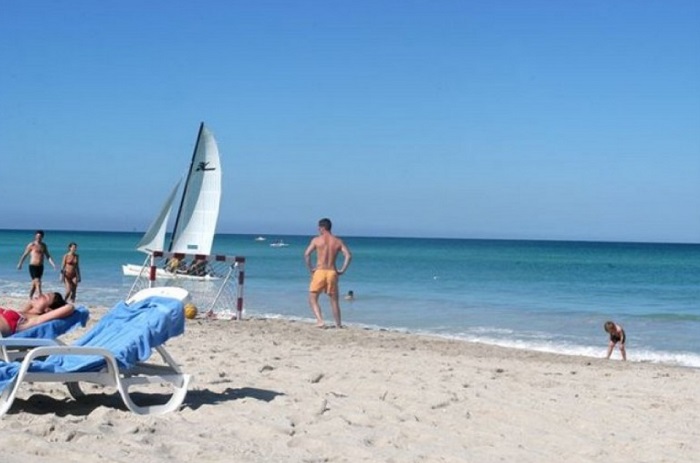 Specialists of tour operator PEGAS Touristik described the hotel as follows: A very good hotel with a great beach, a clear ocean, friendly Russian-speaking staff, green areas, water activities and a convenient location. The hotel has a pool and mini-club for young guests from 4-12 years old.
The specialists of tour operator ANEX Tour also pay attention to the hotel Iberostar Tainos 4*. Decent hotel, which welcomes guests all year round. It was built in 1999, the last renovation was in 2007. The hotel has a mini club for children (4 to 12 years), a play area, swimming pool, babysitting services are available for a fee.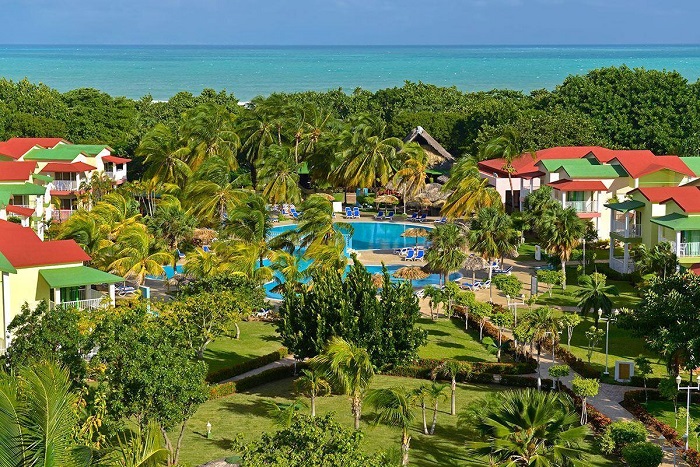 Hotel Iberostar Laguna Azul 5* is also popular with families with children. The hotel is located 17 km from the city center and 40 km from the airport. It is located 200 meters from the beach. It consists of a main building and 2 additional buildings.
The hotel has a large green area, 2 swimming pools for children, mini club for children aged 4-12 years (from 10:00-17:00, 19:00-23:00), outdoor playground.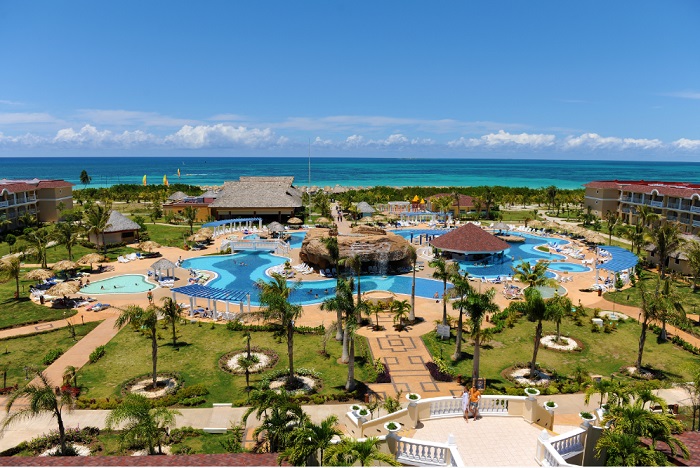 Hotel of the same chain – Iberostar Selection Bella Vista Varadero 5* – can also be recommended for vacation with children, who will certainly appreciate the pool, water park, play area. Also in the hotel there is a mini club (4-12 years).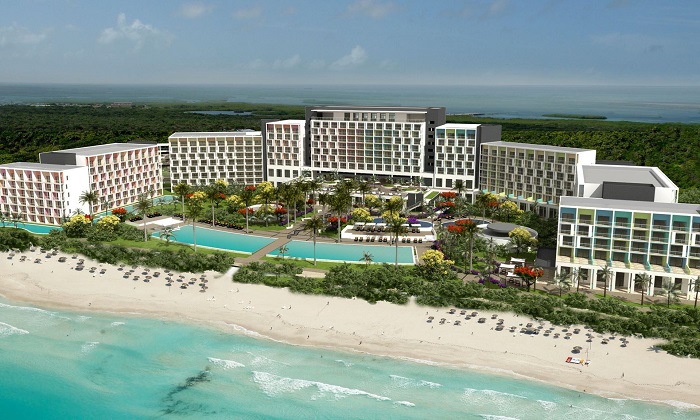 Decent level of service awaits family tourists and in hotel Barcelo Solymar 5*. The hotel has a playground for children, a mini club for children from 4 to 12 years, a pool, paid babysitting upon request, mini disco (20:30-21:30), cribs and high chairs.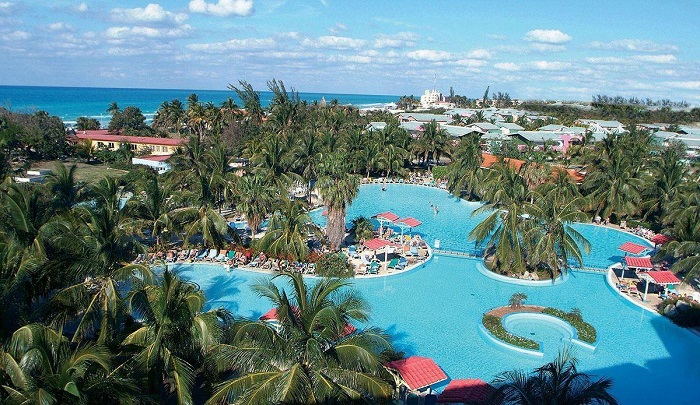 If tourists with children want a more budget accommodation, then, advise tour operators, it is worth recommending them these options:
Starfish Varadero (Ex.Aguas Azules) 3* (crib, high chairs, children's pool, kids club (4-12 years),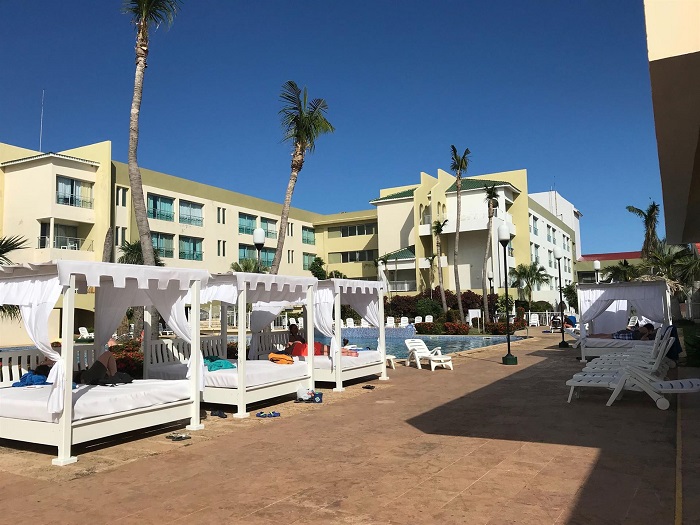 and Sol Sirenas Coral 4* (pool, mini club from 9:00-17:00, animation, playground, high chairs).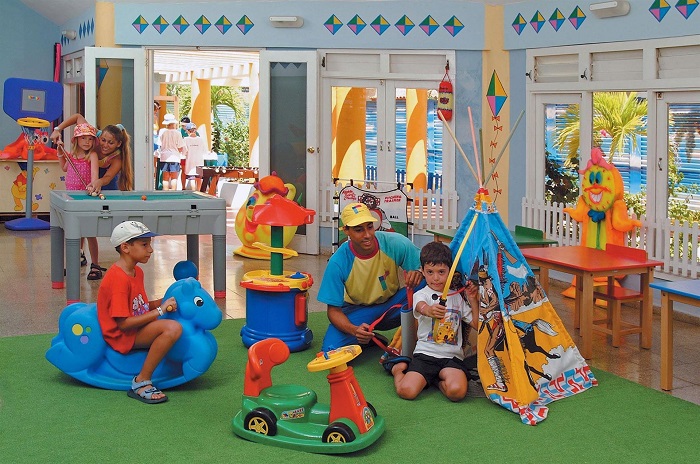 WITH CHILDREN IN THE CUBAN RESORT OF HOLGUÍN: WHICH HOTEL TO CHOOSE?
Holguín is the second most important resort on the island. He is famous for the fact that it was here in 1792 landed Christopher Columbus and was struck and amazed by the beauty of local places, white sand and crystal clear waters.
Five centuries have passed and the resort still lives up to the title of "the most beautiful place", which the great explorer thought it was.
Here is a real paradise for fans of water sports, including diving, will love it and connoisseurs of sightseeing holidays, it is convenient to go on a tour, for example, in Santiago de Cuba, the unofficial capital of the country. Children, in addition to excursions, will appreciate all kinds of entertainment prepared for them in the hotels.
PEGAS Touristik experts advise travel agents choosing a tour for families in Holguín to pay attention to the Playa Pesquero Resort Suite & Spa 5* hotel.
The hotel consists of two-storey buildings. Sandy beach next to the hotel. For children there is a mini club and children's pool.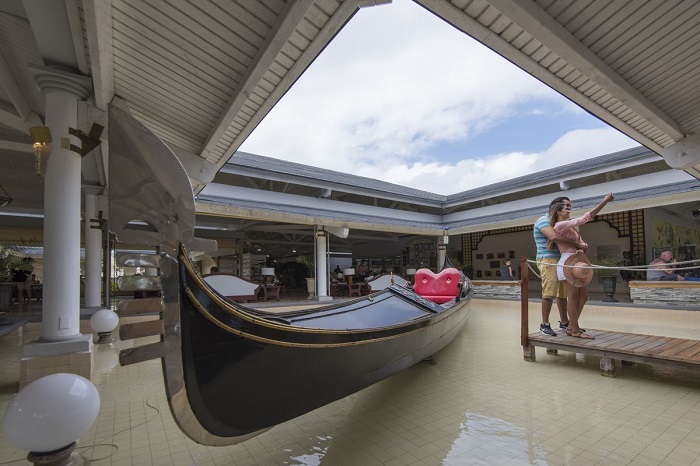 Families with children will also enjoy the Playa Costa Verde Holguin 4* hotel. This hotel has a signature Coral Travel – Sun Family Club.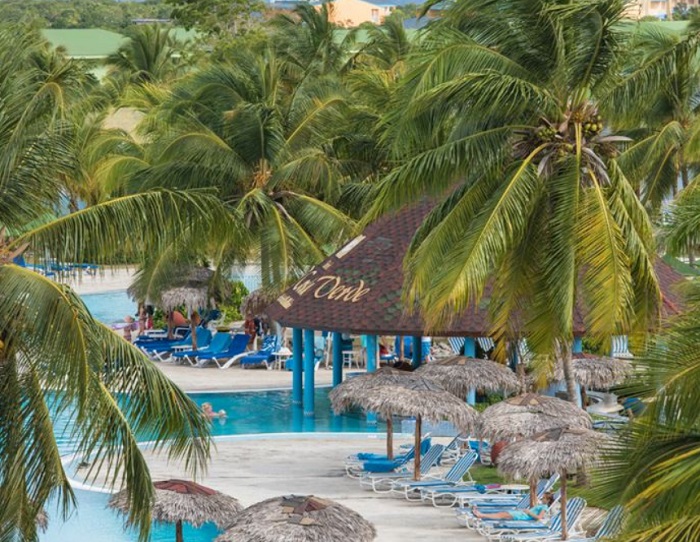 WHICH HOTELS TO CHOOSE FOR HOLIDAYS WITH CHILDREN IN CAYO SANTA MARIA
Cayo Santa Maria is a stunning Cuban island that is ideal for all categories of tourists and, of course, tourists who come on vacation with children. Holidays on the island is considered more "chamber" and expensive than on the same Varadero, which, of course, affects the level of hotels.
Hotel base here is not large: no more than 20 hotels. But they all have a high level of service and are all All Inclusive. There are promenades, huge snow-white beaches, massage salons and bowling clubs, cafes on the island.
Let's take a look at the hotels that are suitable for a vacation for the whole family. According to the experts of the tour operator TUI Russia, which this year for the first time came out with a charter program to the destination, it is worth paying attention to the Grand Memories Santa Maria Hotel 5*. For children the hotel has a children's club, animation and babysitting services.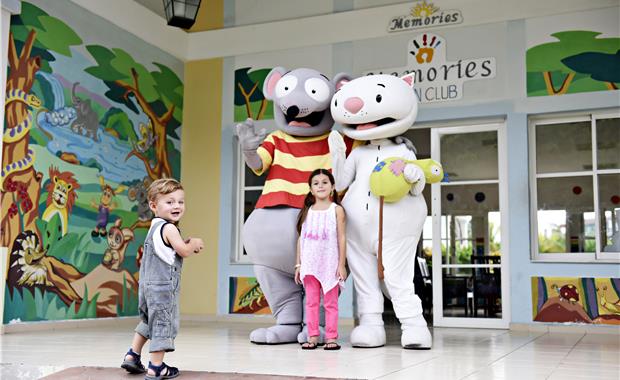 Another option for tourists with children here is Iberostar Ensenachos 5*. The hotel is near the sea, surrounded by unique flora and fauna: 22 species of endemic plants, 154 species of animals, the beach is located 250 meters from the main lobby. It is a VIP hotel for families, there is a separate area for families (family section). For children there is a pool for children: 120 square meters, depth – 0.3 m, office hours: 10:00-18:00.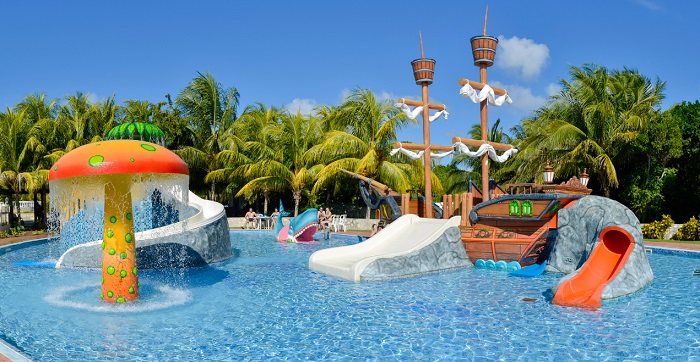 Experts of tour operator PEGAS Touristik also recommend hotels Melia Cayo Santa Maria 5* and Starfish Cayo Santa Maria 5* on Cayo Santa Maria.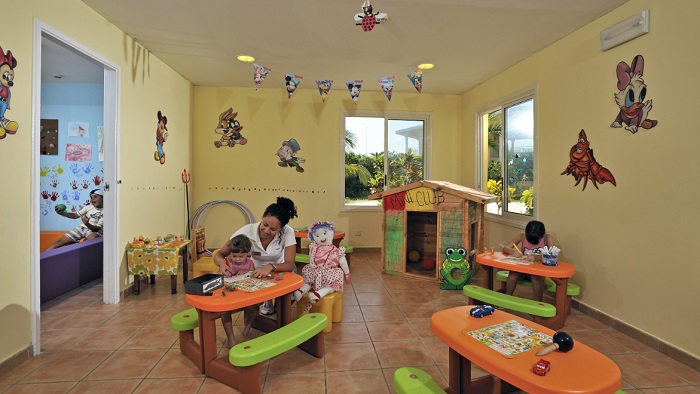 The first is a beach resort with 358 rooms located in two-story bungalows on an area of 12 hectares next to a magnificent beach. There is a children's pool and a mini-club on site.
Hotel Starfish Cayo Santa Maria 5* is located next to the beach with soft white sand, here will be comfortable for all guests, regardless of their age.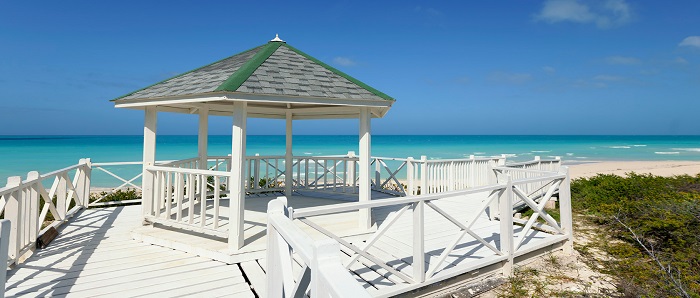 For children there is a children's pool, playground, organization of children's leisure.
WHERE TO RELAX WITH THE KIDS IN CAYO COCO
Another win-win option for holidays with children is the island of Cayo Coco. It is very beautiful and multifaceted: on the one hand, there are high-level hotels that offer guests a full range of recreation, on the other hand, there are wild beaches, jungle and endless solitude. Ah yes, you can also swim with dolphins and admire the flamingos on the island.
What hotels on Cayo Coco should tourists with children consider?
Memories Flamenco Beach Resort 5*. This hotel is located in the resort area of Hardines del Rey, 14 km from the international airport, on the shores of the ocean.
A nice inexpensive hotel, including a vacation for families with children of different ages. There is a playground for children, a mini club (09:00-17:00) for toddlers from 0 to 3 years old, children from 4 to 12 years old and teenagers from 13 to 17 years old. There is an entertainment program for adults and children.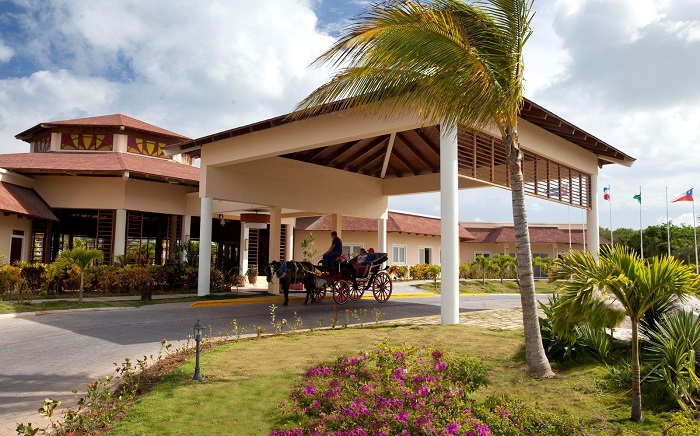 Sol Cayo Coco 4*. This hotel is located on the first coastline, with access to two different but equally comfortable beaches. Surrounded by palm trees and gardens, the hotel owes its name to a bird – a forest ibis, which is also called "coco" (the name of the entire island is also associated with it).
Especially recommended for family vacations, water sports and entertainment, fishing, scuba diving. Closed lagoon with a gentle approach, no waves in any weather, convenient with children. For children there is a children's pool, mini club (10:00-17:00) for kids from 0 to 4 years old, for children from 4 to 12 years old. Mini Disco 20:30-21:00.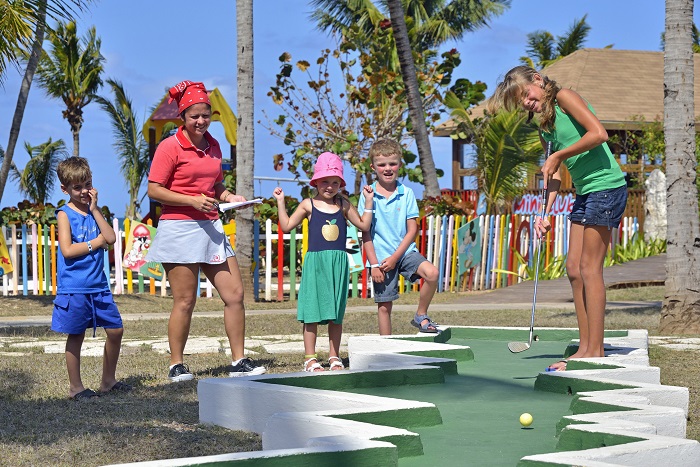 A good option for holidays with children is Playa Paraiso Resort & Suite (ex. Pestana Cayo Coco) 4*: the hotel has a mini club for children (from 4 to 12 years), two children's pools.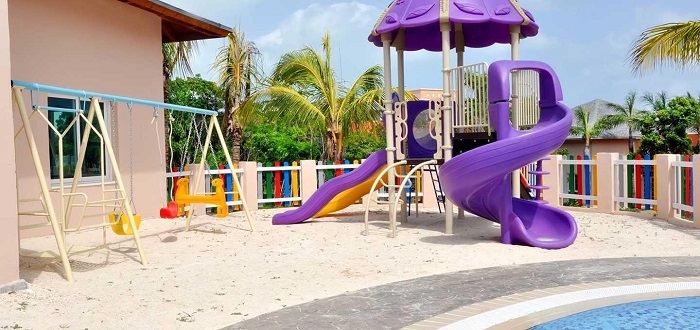 And also Pullman Cayo Coco Hotel 4*. The hotel has a mini club for kids, children's pool, disco, high chairs, cribs on request).
Photos from hotel sites: Memories Varadero Beach Resort 4* and Grand Memories Varadero 5*, Cubanacan Brisasdel Caribe 4*, Iberostar Tainos 4*, Iberostar Laguna Azul 5*, Iberostar Selection Bella Vista Varadero 5*, Barcelo Solymar 5*, Starfish Varadero (Ex. Aguas Azules) 3*, Sol Sirenas Coral 4*, Playa Pesquero Resort Suite & Spa 5*, Playa Costa Verde Holguin 4*, Grand Memories Santa Maria 5*, Iberostar Ensenachos 5*, Melia Cayo Santa Maria 5*, Starfish Cayo Santa Maria 5*, Starfish Cayo Santa Maria 5*, Memories Flamenco Beach Resort 5*, Sol Cayo Coco 4*, Playa Paraiso Resort & Suite (ex. Pestana Cayo Coco) 4*, Pullman Cayo Coco 4*
More from ATOR in our channel on Yandex.Bizen .
Free online courses, webinars and electronic catalogs of tour operators you will find in "ATOR Academy.
Current special offers tour operators on tours abroad and in Russia, see the section of the ATOR portal STRs.