Golubitskaya: recreation tips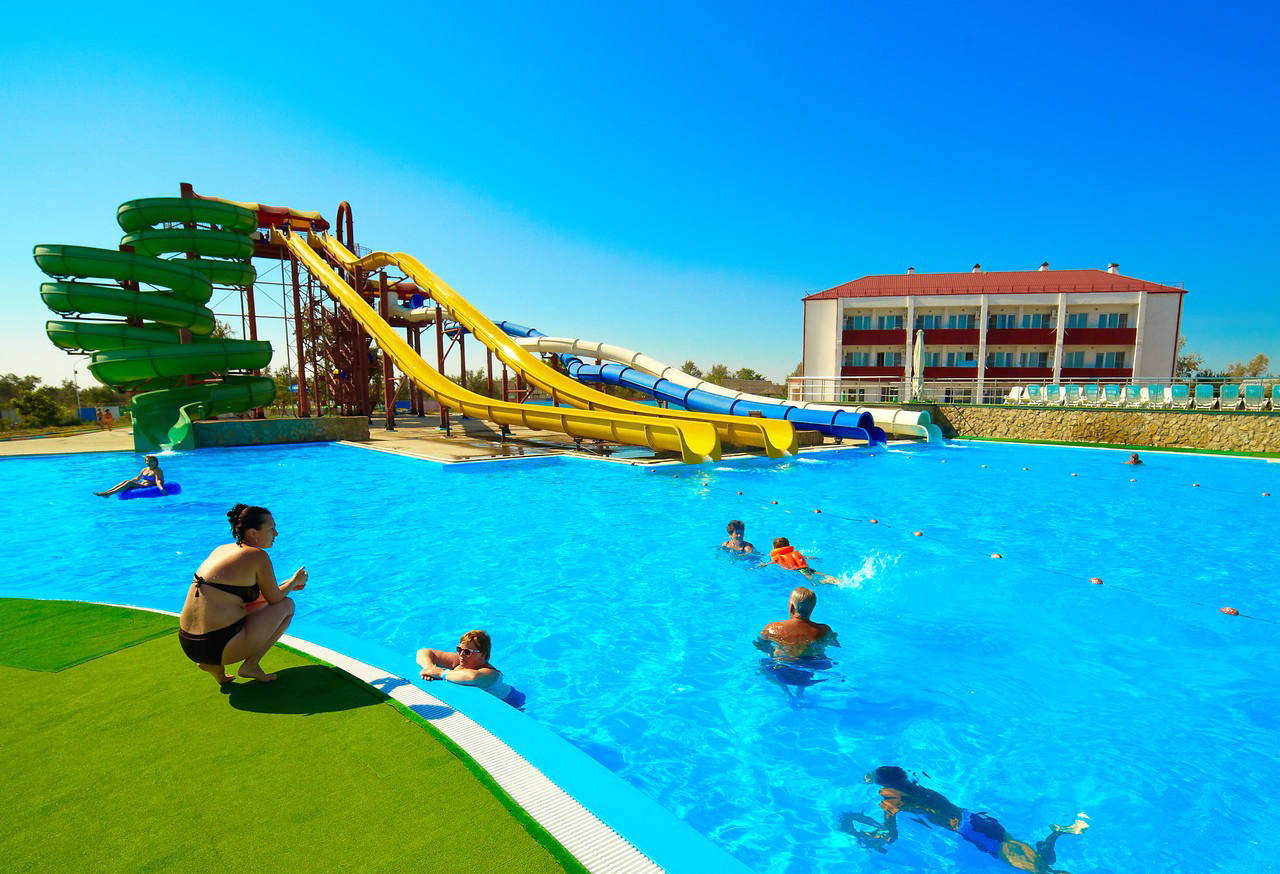 Read tips and reviews of tourists about vacationing at the sea in Golubitskaya for 2021. Is it worth going to 2022? Find out the prices of food, hotels and excursions. When to go, what beaches, what to do at the resort.
– Private sector in Golubitskaya. – Hotels and hotels in Golubitskaya.
Contents:
When to go on vacation in Golubitskaya
The beginning of the season – in late May. On the Azov coast is already warm to +25 ° C, and the water temperature in the sea is +18 ° C. According to reviews, the main stream of tourists come to rest in Golubitskaya in early June. With the onset of summer the sea warms up to +21 ° C.
In July and August at the Azov resort there is a real heat. The thermometer rises to +25 … +30 ° C. The sea is very warm +25 ° C. In the daytime the sun burns tremendously, so tourists try to swim in the morning and evening, and in the afternoon go on excursions or rest in the shade of trees.
All summer is great sunny weather. The number of rainy days can be counted on the fingers. In September, it gets cooler, but until the end of the month the sea is still warm. Bathing ends in October.
Advice . For a holiday with the kids come to Golubitskaya before the heat or in the velvet season. At this time the beaches are not crowded, and prices are lower.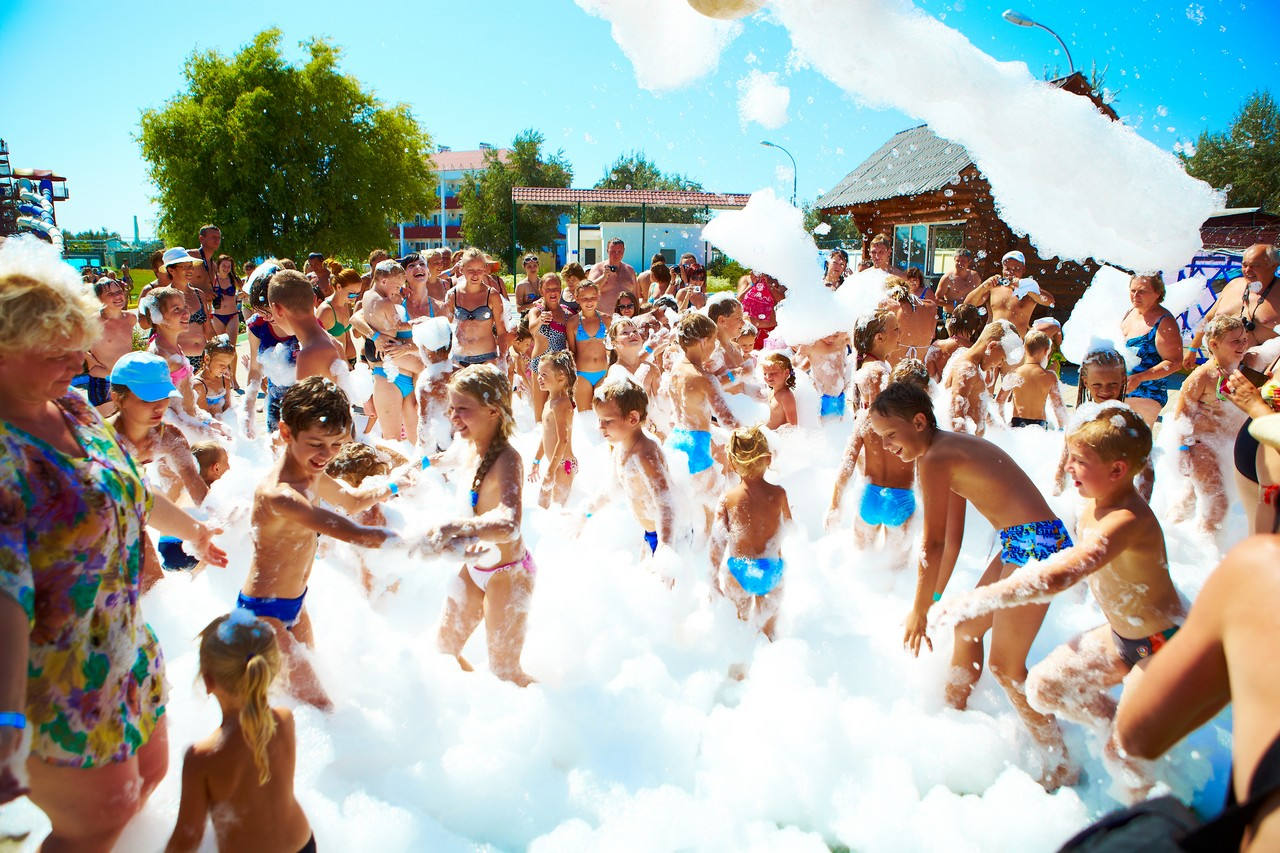 Foam holiday in the water park "Amazon" (Photo: amazon-water-park.ru)
How to get there
The village is located 12 km from Temryuk. The nearest airport is in Anapa. From Anapa to Golubitskaya is convenient to go by cab – 55 km.
If you want to use public transport, take the bus to Temryuk, and then – to the bus number 105 or the marshrutka number 105A to Golubitskaya. They go often, with an interval of 10-20 minutes.
Tourists who go to the south by rail take tickets to Anapa or "Tonnelnelnaya" station. From there to the resort village, there are cabs – 90 km.
Tip . According to reviews, on vacation in Golubitskaya convenient to get by car. On the way from Moscow – 1460 km – will take 17-20 hours.
View of the village and the sea (Photo: booking.com / Astra)
Prices for lodging in Golubitskaya
The resort began with departmental recreation centers. Some of them take tourists even today. In recent years, new guest houses and mini-hotels were built. In summer, about 90% of the housing stock of the village rents to vacationers. Costs accommodation in guest houses inexpensive – from 1000 rubles per day.
To look for hotels on the spot hard – book accommodation on Hotelluk beforehand. So it will be more reliable and profitable, because he is looking for discounts on different sites. Learn how to book a hotel cheaper.
Autotourists for recreation in Golubitskaya prefer to stay in campsites. In the protected areas are air-conditioned wooden cabins for 4-5 people with a park for the car. Inside there is the necessary furniture, TV, refrigerator and kettle. Such lodging costs from 2500 rubles.
If you want to rent a house near the sea for a company of friends or a family with kids. A budget cottage costs 3000-3500 rubles and more comfortable cottages cost from 5000 rubles. You can rent a small bungalow at the tourist bases for 2000 rubles. We advise to rent an apartment, a room or a house directly from the owners on Sudochto.ru – it's a convenient and reliable service with real photos and reviews of tourists.
Tip . Due to the difference in elevation Golubitskaya is divided into Lower and Upper. Settle in the lower part of the village, because it is closer to the sea.
Price for double room in high season, in rubles:
| | |
| --- | --- |
| Recreation center | 1000-1200 |
| Guest house | 900-1000 |
| Mini-hotel | 900-1200 |
| Guest house | 1600 |
| Hotel 2* | 2400 |
| Hotel 3* | 3200 |
| Hotel 4* | 4000 |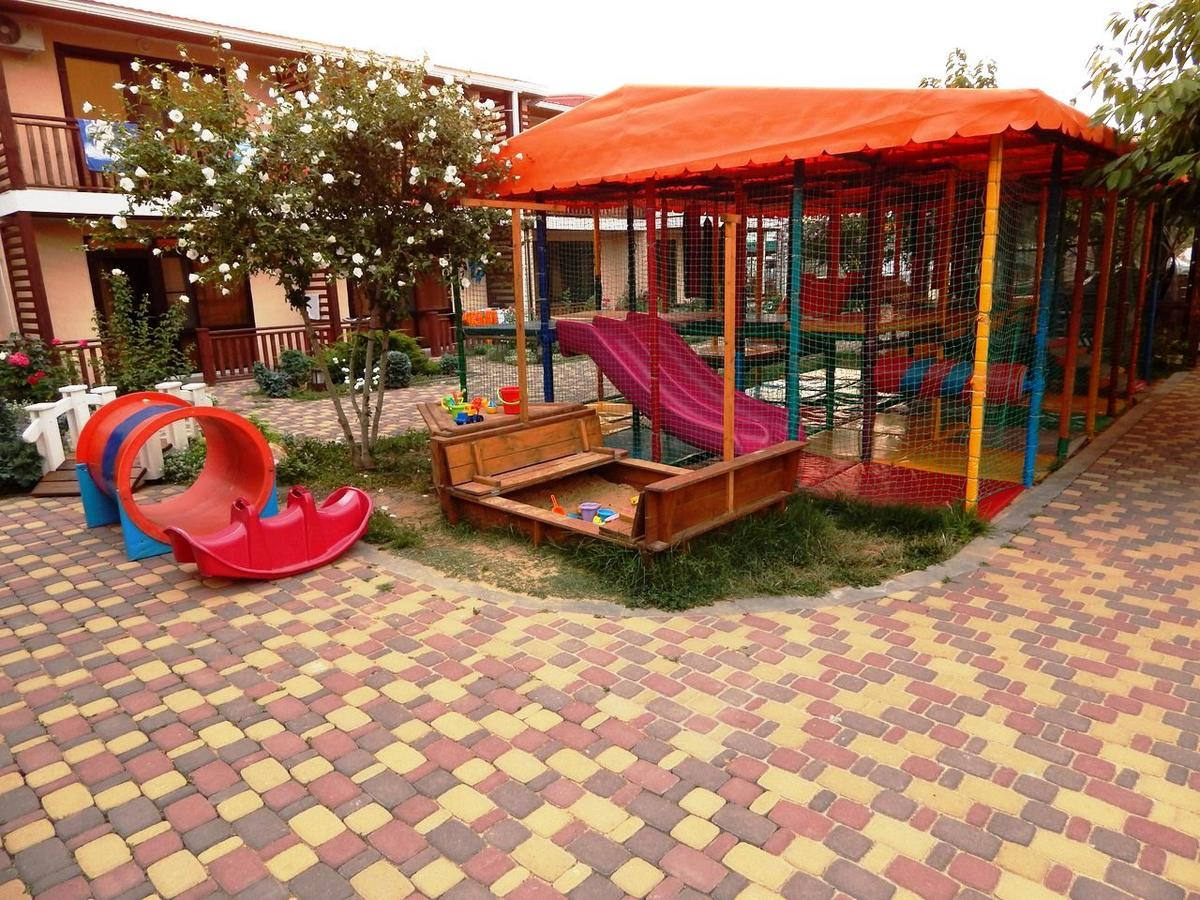 Playground at Flamingo Pension (Photo: booking.com / Pension Flamingo)
Prices for food in Golubitskaya
If you are planning a vacation in Golubitskaya in 2022, calculate the budget for food. According to reviews, food in the village is cheaper than at the resorts of the Black Sea coast of the Caucasus. The average check in a cafe is 400 rubles, and in a restaurant – 800-900 rubles. Most catering facilities are located in Lower Golubitskaya, not far from the sea.
Prices for food in Golubitskaya in 2022:
salad – 90-120 rubles;
shashlik – 150-250 rubles;
deruny – 110 rubles;
borsch – 100-130 rubles;
pea soup – 135 rubles
soup with galushkas – 75 rubles
Fried potatoes with sauerkraut – 80 rubles
buckwheat with butter – 65 rubles
Rice with vegetables – 85 rubles
desserts – 130-160 rubles
coffee – 80-90 rubles;
tea – 80 rubles.
In the village operate two stores "Magnet". Prices there are lower than in small grocery stores, but the range and quality are higher. Vegetables and fruits are sold in shops in different parts of Golubitskaya.
Tip . Cheaper food in canteens. In tourists popular "Cruise", "USSR", "Goldfish", "Stolovka", "Cheburechnaya number 1", "Chaika" and "Veranda". A package meal costs 250 to 300 rubles.
Druny (drunky) (Photo: wikimedia.ru / Brücke-Osteuropa)
Beaches and sea
Tourists have left positive feedback about the beach holidays in Golubitskaya in 2021. The isthmus, which separates the Akhtanizovsky estuary from the Temryuk Bay is one of the best places for swimming. Beaches in the village are covered with a mixture of sand and shell. Some are on the territory of recreation centers and are open only to guests.
The sea water is clear. Shallow water stretches for several tens of meters from the shore. Children enjoy swimming in the warm sea and learn to swim.
There are two equipped beaches. The big beach "Sea Breeze" is situated near the famous mud lake. It is loved by those who combine swimming in the sea and mud treatment. Tourists ride jet skis, catamarans, play beach volleyball and have a good time in the summer cafes.
Beach "Sea Breeze" (Photo: booking.com / House on Kurortnaya 87)
"Youth" beach stretches between the water park and the dolphinarium. Here almost every day there are discos and contests. For children there is a large play area. Connoisseurs of secluded rest choose a long wild beach on the eastern outskirts of the village.
Tip . Want more shade? Rest on the beach, which belongs to the recreation center "Zolotaya Rybka". It has large trees growing along the shore.
Beaches in Golubitskaya on the map
Entertainment
Recreation in Golubitskaya is not limited to the sea. According to reviews of tourists, there is enough entertainment for people of all ages and interests. In the north of the village is open equestrian school, where they teach horseback riding. To the west of Golubitskaya, on the high coast paragliders train. Fly in tandem with an experienced instructor and enjoy the coast from a bird's eye view!
All warm season tourists are welcomed by water park "Amazon". Nearby there are slot machines. Lovers of noisy parties go to local disco bars and nightclubs. However, the choice of nightlife facilities in the village is small. Fans of active recreation prefer the surf club "Nord-Ost" and karting track.
Tip . While vacationing in Golubitskaya with children, go to the crocodile farm to see alligators, caimans and pythons. Ride the Ferris wheel, visit the exotic park, butterfly farm and dolphinarium.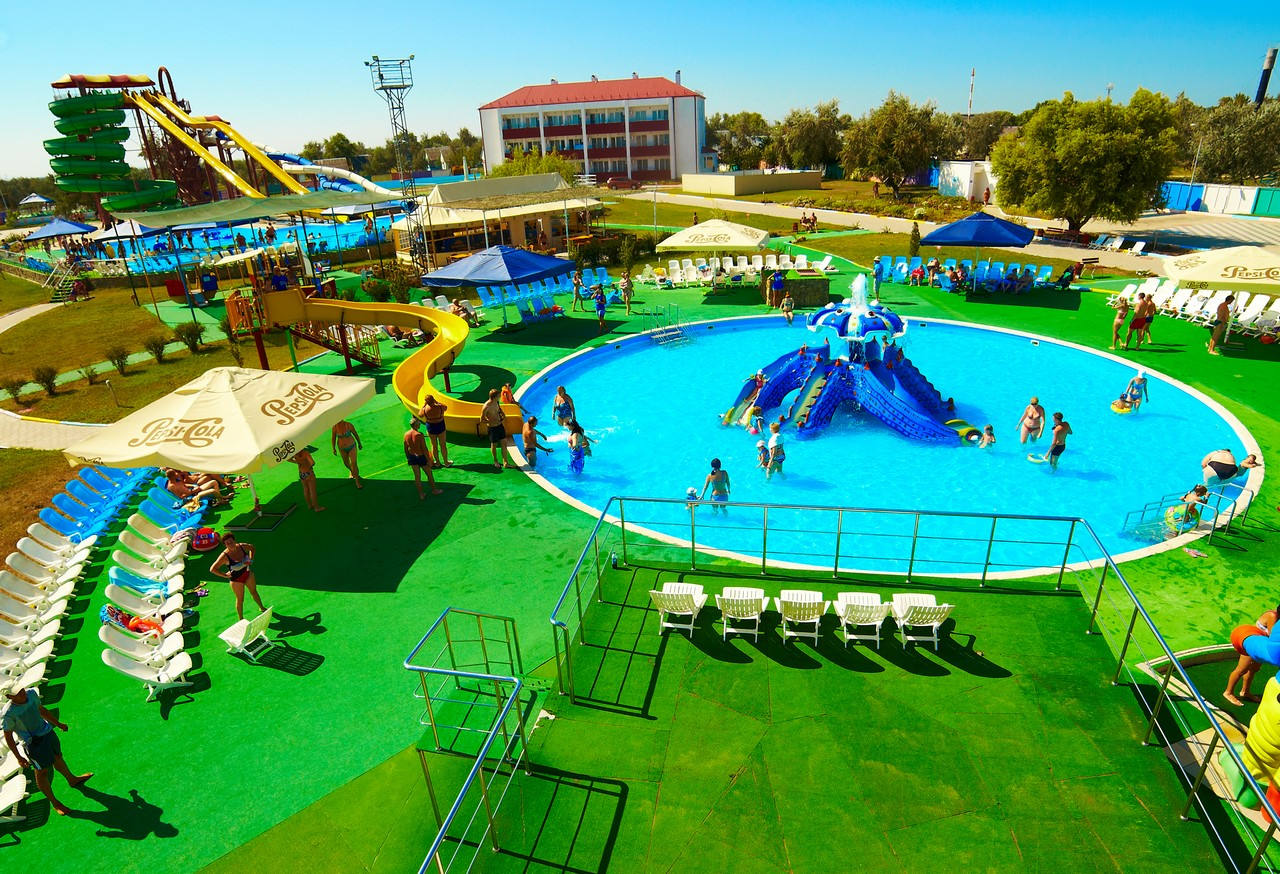 The water park "Amazons" is located in 2 minutes from the sea. Child ticket from 450 rubles, adult – 750. (Photo: amazon-water-park.ru)
Excursions in Golubitskaya
During the holidays in Golubitskaya in 2022 you can not just swim and sunbathe, but also go on bus tours. According to reviews of holidaymakers, the most popular are:
Lotus Valley;
mud volcanoes Tizdar and Shugo;
wine tour in Lefkadia;
excursion along the river Kuban;
sturgeon farm;
ostrich farm;
trip to Ataman.
Tip . There are regular buses and marshrutkas to Temryuk. Go on your own to the district center! Go to the mud volcano "Gefest" and to the open-air museum of military equipment "Military Gorka".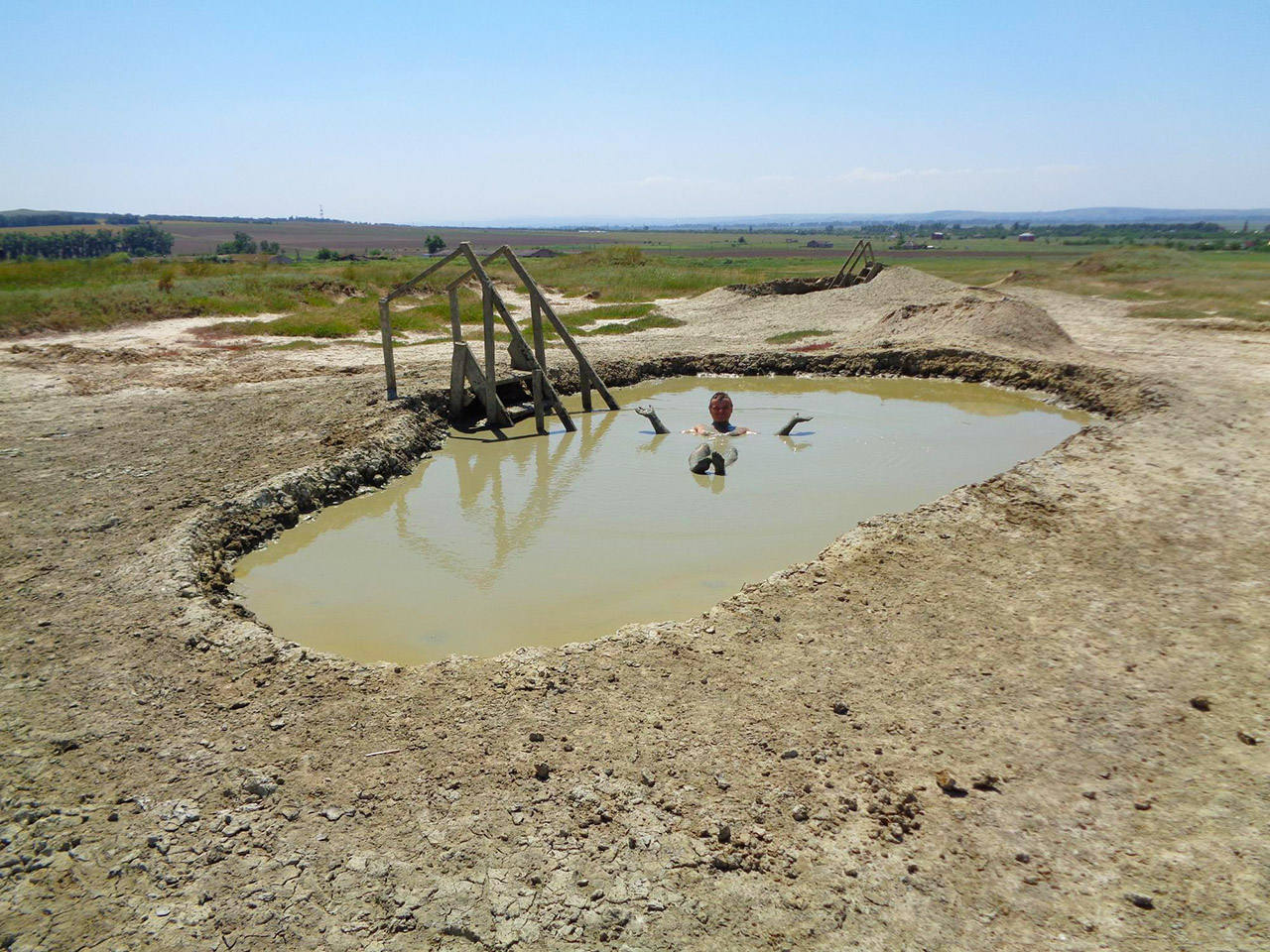 Mud Baths at "Hephaestus". At the volcano there are showers, changing places, cafes and souvenir shops (Photo: vulkan-gefest.ru)
Tourist reviews about rest in Golubitskaya in 2021
How to recollect rest in Golubitskaya? According to vacationers, summer vacation in the village has many pluses:
Rest in Golubitskaya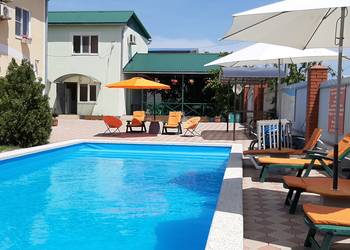 Holidays in June 2022, liked it very much. The house is great, everything you need for a comfortable stay in the house, there is a full amount. The hosts are responsive, responsive to all requests, very decent and nice people. Thank you Natalia and Sergey for a comfortable stay. The sea is close by, a two minute walk from the house, a sandy beach with a smooth entry to the depths, which is important if there are children, easy to control them. The sea is clean, warm and beautiful. All infrastructure within walking distance. Many dining rooms with delicious food. A huge amount of entertainment for children. We had a lot of vacations, but we especially liked this place. Next year, we hope to come to the same house.
Clean, comfortable room, fresh repairs, spacious bathroom, clean beds and towels, there is everything you need. Greeting, friendly hosts! To the nearest beach 5 minutes walk, but we went to another, farther away. We loved it, thank you!
We stayed in room 13 for three years and everything suits us. Kuhnya in number, a yard a miracle, the owners friendly, the sea nearby availability is good, near stores good cafe at the karen nearby. In the evening, you can sit in the barbecue area, the yard with tables cozy. There is a parking lot. Voobshchem thanks to George and his wife for the welcome. Everyone recommend
We stayed at Angela's in August 2022 and we liked it very much. We arrived as snow on the head before due, but in spite of the fact that Angela was not on base, she organized our meeting and accommodation. The territory is closed, which is important as we have children, the sea is at hand, if the sea invasion jellyfish or strong waves, there is a posh pool in which there is enough room for all. On the territory of a trampoline and a children's playground, a children's playground Certainly already old and practically not suitable, but a trampoline to children in pleasure. There is a barbecue area with all stock. The lodge is equipped with everything we needed, and what we did not have, Angela brought the next day. If you are too lazy to cook there is a dining room. Houses though located next to each other, space is organized in such a way that no one disturbs anyone. Within walking distance of stores, cafes and children's entertainment. Very much liked a zoo, with children I advise to visit necessarily. In general rest are satisfied, thank a lot!
Vacationed at the end of June the beginning of July 2022 As they say the theater begins with a hanger so here all begins with the owners! At once hospitality and sincerity of owners disposes to pleasant rest, as to old friends have arrived! The house is excellent clean, cozy and beautiful is all that is needed. As they say to sleep and take a shower (linen and towels) and watch TV and the Internet and for a tasty breakfast and soulful evening get-togethers all is provided: dishes, plate, fridge, water, veranda and a large table) The grill here in own court yard and a sun bed for solar bathing is available. The sea near all entertainments too so music in the evening is inevitable, but it is features of resort places but in the morning it is possible to listen to birds singing and dolphins chattering in nearby dolphinarium wonderful thing I shall tell to you. The child is happy I, too. Plus many: the park nearby, all sorts of cafes with goodies too, stores stores stalls with fruit in 2 steps well and two large stores Pyaterochka not far away. To the sea 1 minute through the closed area by similar houses, and because the territory is closed from the sea to the house boldly let the child alone. With the departure of entry no problems themselves have opened the gate closed when necessary. The beach clean behind it look after it hire of sun beds and awning well, and wonderful kind of ships on horizon the attached. By the way the Crimean bridge is not far razvyazki excellent, we raced to the Crimea to look and the open-air museum of Ataman not far – interesting. Sea sun sincere owners and a positive attitude is actually all that is needed for a great holiday; All kind) Lyubov Sergeyevne and the entire family, a big warm thank you and a special hello to the beautiful Dane from Dasha. See you soon!
Resorts near
Holidays in Golubitskaya by month
Golubitskaya
guest houses
private sector
cottages and turnkey houses
hotels and hotels
Join
© 2009 – 2022 Rest by the sea with Kuda na seore.ru. Hotels and private sector resorts of the Black and Azov Sea.